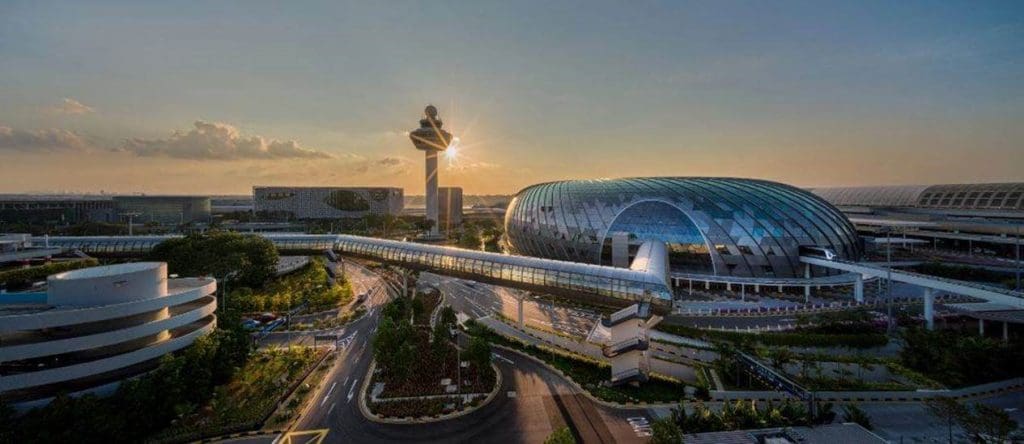 Asia-Pacific's first international travel tradeshow to take place physically during COVID-19, TravelRevive was held successfully in Singapore on 25 to 26h November.

Powered by ITB Asia and Singapore Tourism Board (STB), the event attracted close to 1,000 attendees onsite, of which 65 were foreign delegates from over 14 countries in Asia, Middle East and Europe.
"TravelRevive gave us a platform to testbed the newly developed tradeshow prototype for safe business events, safe itineraries and digital enablers in Singapore, which is part of a public-private collaboration under the Emerging Stronger Taskforce. In line with the gradual resumption of economic activities, it is important to ensure that MICE events also resume in a careful and controlled manner. Our aim is not just to open safely, but to also ensure that economic activities can resume sustainably. Pilot events such as TravelRevive allow us to study the findings and data to refine the safe management measures and best practices for MICE events progressively," said Mr. GB Srithar, STB's Regional Director of India, Middle East and South Asia.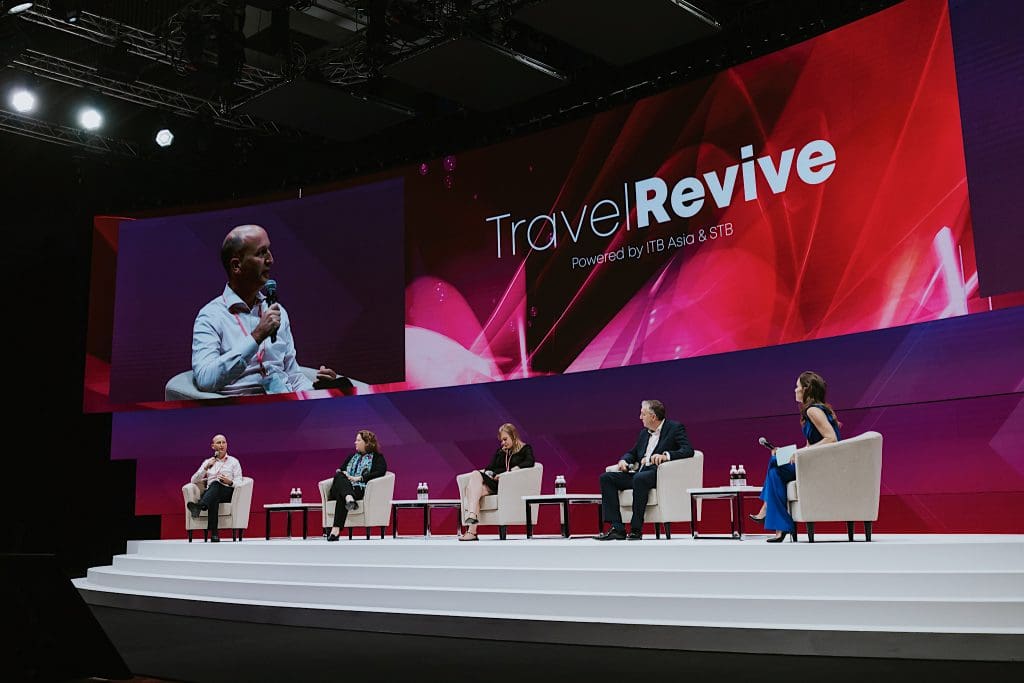 Safe Resumption of Business Events
Singapore has made steady progress in the resumption of business events under STB's Safe Business Event Framework (SBE), which requires event organisers to implement Safe Management Measures to meet a set of health and safety outcomes. In Jul 2020, STB started accepting applications for business events with a capacity of up to 50 pax. This was increased to 250 pax in Oct 2020. Following the successful pilot MICE events like the Singapore International Energy Week (SIEW) in October 2020, TravelRevive was launched in Nov 2020 as the first tradeshow with more than 250 attendees
Various measures were taken to ensure the safety and well-being of attendees at TravelRevive. These included:
Safe management measures for every stage of an event attendee's journey (pre- to post-event).
Crowd density control and cohorting of attendees.
18sqm booths complemented with 9sqm meeting pods that are equipped with protective plexi-glass to facilitate safe one-to-one meetings between exhibitors and buyers.
The use of TraceTogether to facilitate contact tracing for international visitors.
The launch of an online diary mobile app to safely arrange one-to-one meetings between exhibitors and buyers.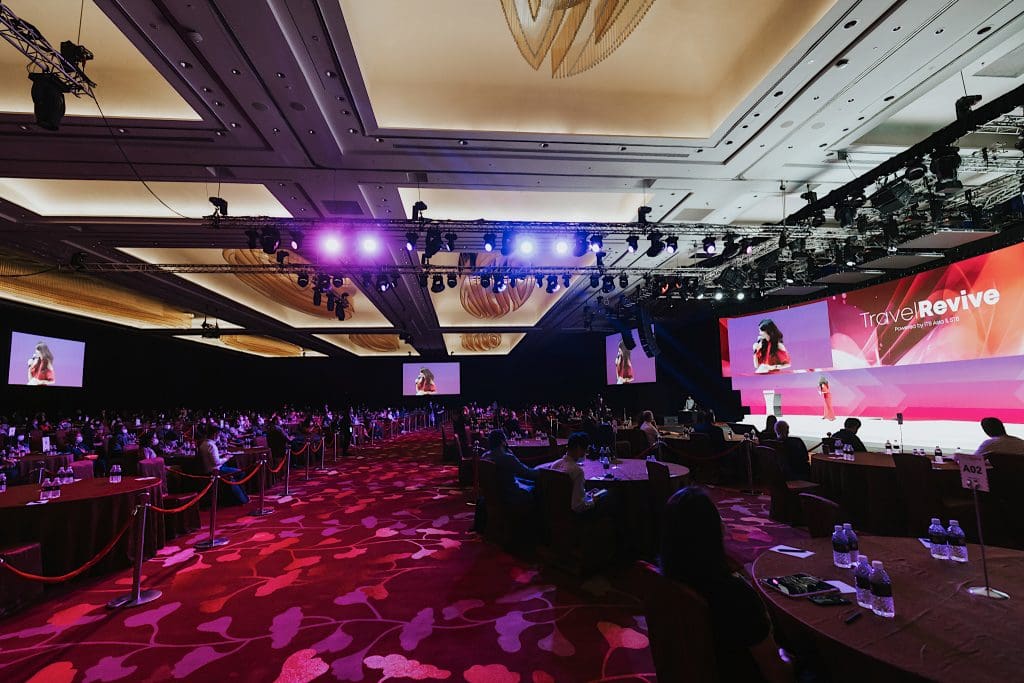 "As a long-standing partner of STB in the Middle East representing dnata Travel as a hosted buyer in the Travel Revive 2020 Singapore presented a great opportunity to collaborate further in the not too distant future post the pandemic. The overall arrangements by the STB team have been fantastic. Safety was paramount throughout the trip, from pre-trip briefing activities to destination experiences and departure protocols. Incorporating virtual tours to re-discover Singapore along with in-person site visits, overall accommodation choice and experiences provided have been outstanding and contributed to a great trip to Singapore. Truly impressive were the TravelRevive event sessions. Having industry leaders addressed key industry topics in a perfectly safe manner along with 1-to-1 pre-arranged meetings with partners helped to instil confidence that Singapore is set to safely welcome visitors back in 2021," said Ms. Cristina Popa, Product Manager of dnata Travel who was among the foreign attendees at TravelRevive.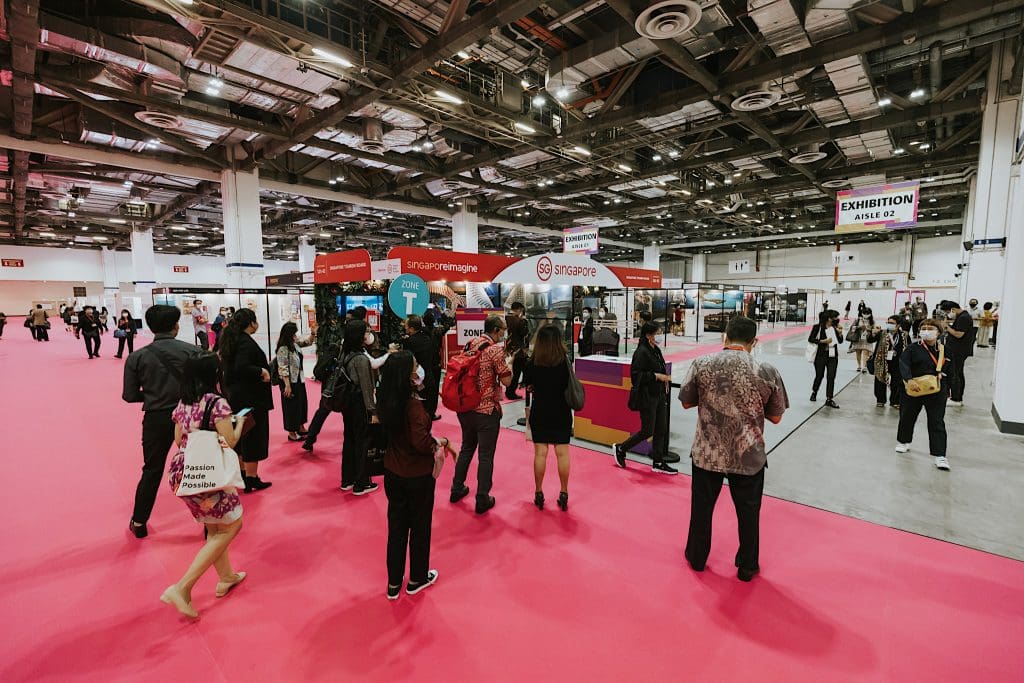 Singapore's horizon for MICE
TravelRevive aims to reinforce Singapore's position as a top marketplace of ideas in the Asia-Pacific, and as a safe and trusted Global-Asia node for MICE and business. Its successful execution has demonstrated how the tradeshow experience can be made safe yet fruitful for attendees – with the degree of interaction that they were used to before COVID-19.
At TravelRevive, two MOUs were also inked to anchor the ASEAN RHQs of new entrants – Messe Munich and Fiera Milano, signifying their confidence in Singapore as a regional MICE hub. In addition, the Infocomm Media Development Authority (IMDA) and STB had signed a one-year MOU with B2B event organiser Informa Tech to launch a new international technology event in Singapore slated for the second half of 2021.
"We hope that TravelRevive will chart a new path for the MICE industry and underline our ambition to be the safest, most trusted and innovative MICE destination in the world. We are pleased that, for the first time ever, PCMA Convening Leaders (CL) 2021 will be taking place outside of the USA and in Singapore. We are working with PCMA and Marina Bay Sands to organize a 2-day hybrid event from 13 to 14 January 2021, with Singapore being the main broadcast centre where regional and international thought-leaders will be featured as part of the mainstage sessions. We are confident that more of such international events will be in the pipeline," added Mr. GB Srithar.
Despite the challenges faced in 2020 due to COVID-19, Singapore was recently named the best meeting city, country and destination for 2019 by ICCA, UIA and Cvent. This shows that the fundamentals that make Singapore a leading MICE hub remain unchanged, and that the industry is resilient. This will put Singapore in a good position to recover and emerge stronger from COVID-19.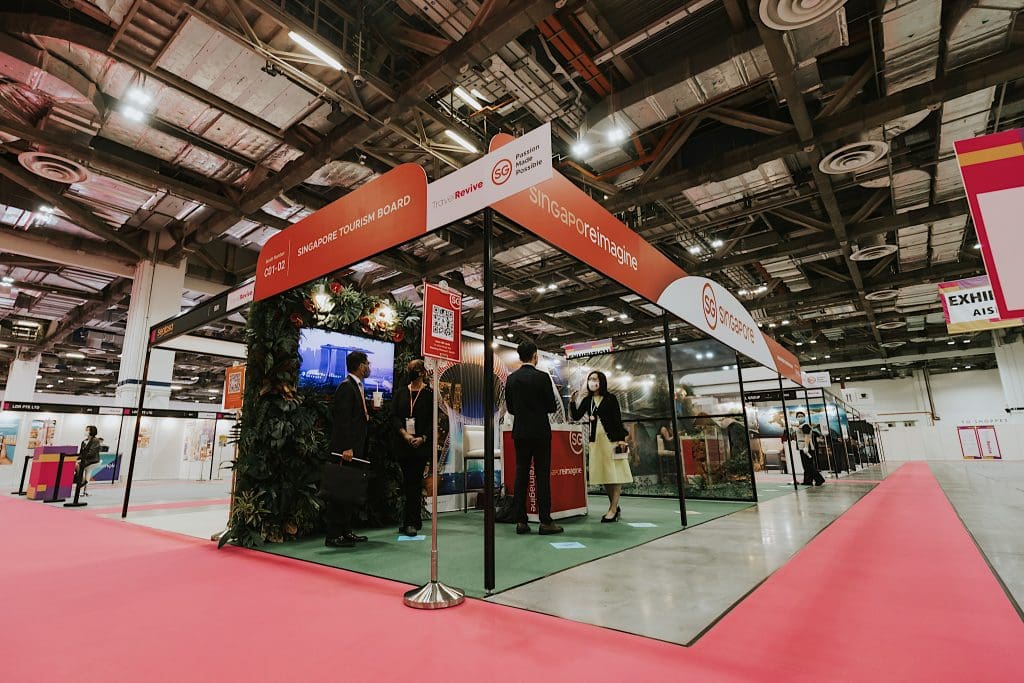 Engaging the India MICE industry
India is one of the key sources of business traffic to Singapore, particularly for the Meeting & Incentive travel segment. "We have been stepping up our trade engagement effort and actively participating in various virtual MICE exhibitions and conclaves, most recently as a Country Partner at Mice Travel Mart 2020. These engagement platforms enable us to continue to reach out to the corporates and MICE intermediaries in India and reinforce the confidence in Singapore as an attractive MICE destination," said Mr. Raymond Lim, STB's Area Director of New Delhi regional office who oversees the MICE portfolio.
Among the latest initiatives by STB India is the launch of a new Destination Singapore Specialists online travel agent learning program in collaboration with TBO Academy. One of the modules of the program focuses on MICE, apart from Cruise and Leisure. In order to equip the industry partners to plan better and pitch more confidently for Singapore as a destination of choice, STB India's suite of MICE support schemes and programs have been enhanced to better meet the needs of Corporates, Events Planners and the Delegates, for different group sizes.
INSPIRE (In Singapore Incentives and Rewards) is a scheme which supports small groups (group size between 20 to 250 pax) and offers more than 60 pre-curated unique experiences to choose from.
BEiS (Business Events in Singapore) is a financial support scheme targeted at large groups which offers corporates a financial grant to help them enhance the quality of their travel program.
SMAP (Singapore MICE Advantage Programme) is a bundle of benefits that various Singapore stakeholders offer to the delegates.
STARS (Special Travel Agent Rewards Singapore) is a reward program to reward MICE agents and event planners for securing groups to Singapore.
"MICE events are essential for the travel economy, enabling business travelers to come together for collaborating, creating and sharing innovative business solutions. We are confident that Singapore will lead the way in reimagining what safe and high-quality business events could look like. We will continue to extend our hands in partnership in India and work with MICE players and corporates to bring groups to Singapore, when the time is right," added Mr. Raymond Lim.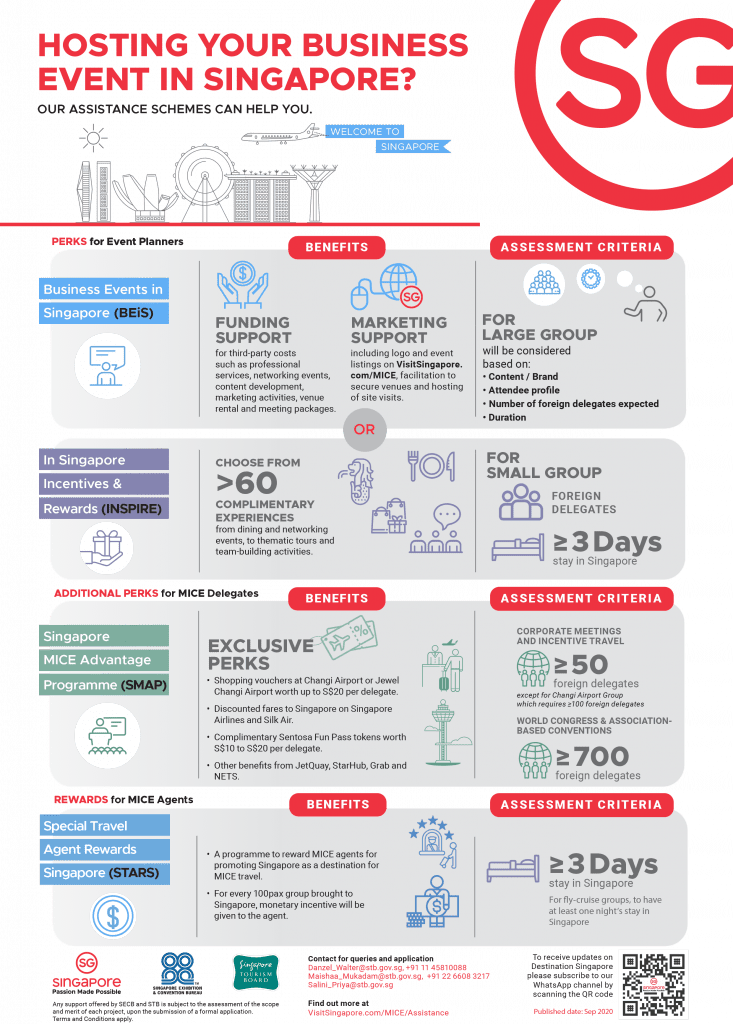 Read more on Singapore