The Smithsonian's National Museum of Asian Art, Washington DC, USA is organizing an international exhibition titled 'A Splendid Land: Paintings from Royal Udaipur' in Washington, DC.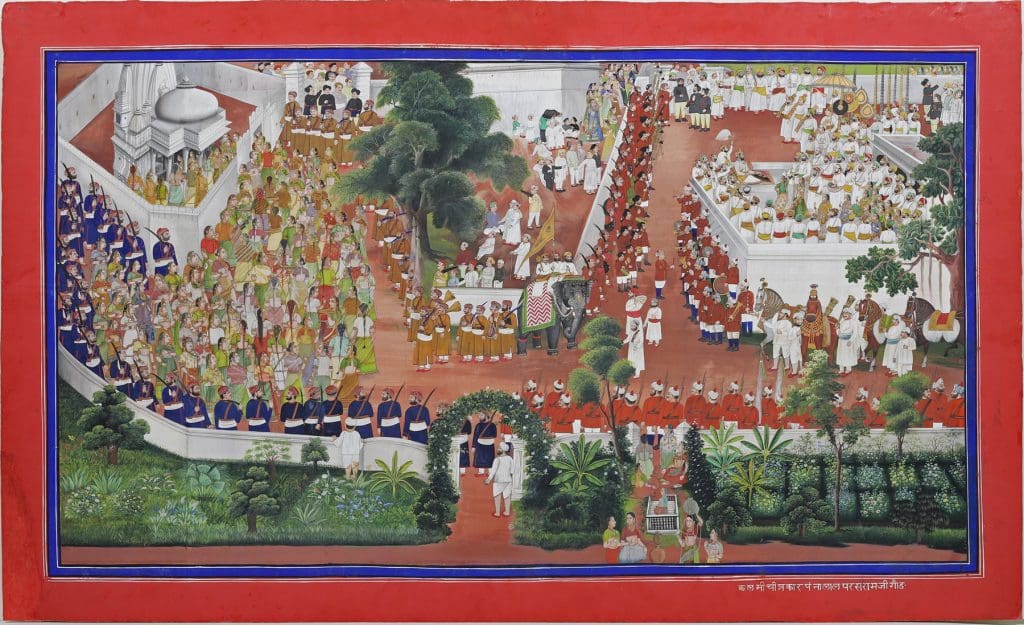 The exhibition will take place from 19th November 2022 to 14th May 2023 in association with The City Palace Museum – Udaipur, Maharana of Mewar Charitable Foundation (MMCF), Udaipur and supported by Friends of Mewar, USA.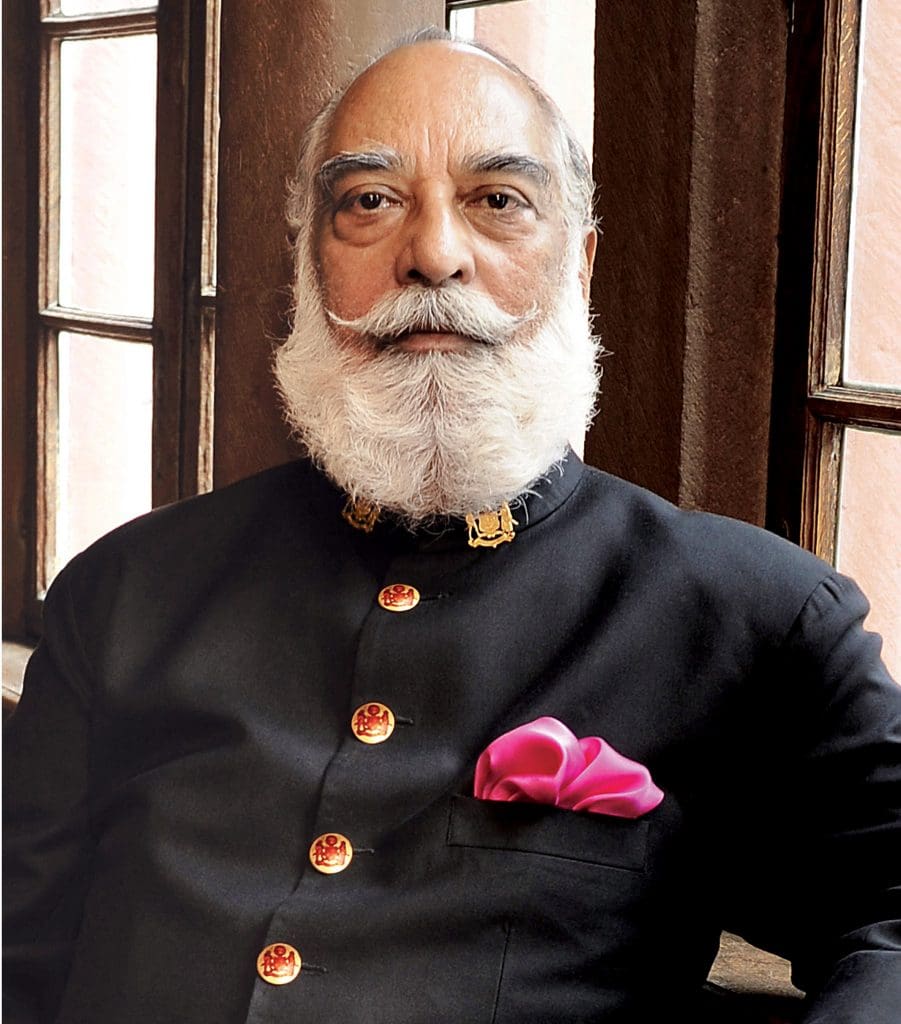 Says Arvind Singh Mewar, Chairman and Managing Trustee, Maharana of Mewar Charitable Foundation, "It brings me immense pleasure to be part of such an incredible initiative where Maharana of Mewar Charitable Foundation has collaborated on such a large international exhibition with the National Museum of Asian Art, Smithsonian Freer Gallery of Art and Arthur M. Sackler Gallery."
He continued, " We at Maharana of Mewar Charitable Foundation are committed to the preservation of cultural heritage and this exhibition is an excellent example of us sharing our intangible commitment to the preservation of arts in a tangible manner on a global front. I wish for this Udaipur exhibition 'A Splendid Land: Paintings from Royal Udaipur' to inspire those who are committed to supporting their history, values, and traditions! Thirty works on paper including paintings, photographs and sketches, from our collection will be exhibited. MMCF is a public charitable trust, that is supporting this exhibition from its own resources." 
The Exhibition:
This exhibition is curated by Dr Debra Diamond, curator of the Smithsonian's National Museum of Asian Art, and Dr Dipti Khera, Associate Professor at New York University. It will feature some seventy-five works of art dating between 1700 and 1900 majorly works from The City Palace Museum, Udaipur, and others.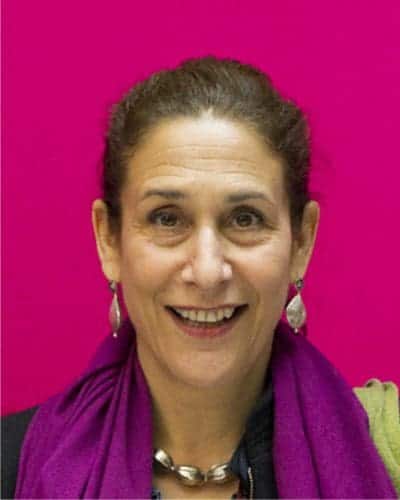 A Splendid Land: Paintings from Royal Udaipur will illuminate the pleasures of Udaipur's lake palaces, the prosperity of its bustling bazaars, and the sensory experience of travelling through its landscapes, the beauty and authority of its kings, and the power of its gods. Sections will have distinctive moods created through a digital projection, ambient soundscapes, and poetry.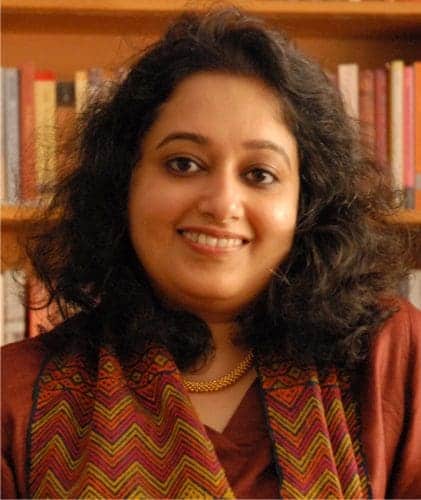 The Mood of the Monsoon:
To introduce the concept of aesthetic mood, this section of the exhibition will immerse visitors in the sights and sounds of the monsoon season. Streaks of lightning, thundering clouds, and lotus-filled lakes will conjure the monsoon mood in paintings both intimately scaled and monumental. An ambient soundtrack (rain falling on water, thunder, etc.) and seating will round out this contemplative and immersive experience.
Delights of Lake Palaces:
Udaipur's kings built seven lakes that created a delightful microclimate in the midst of an arid region. Through a palette dominated by silver and white, painters evoked the effervescent ambiance of palaces situated in the middle of lakes. The works in this section will highlight water's role in joyful palace experiences, ranging from political councils to romantic strolls through lush gardens with splashing fountains.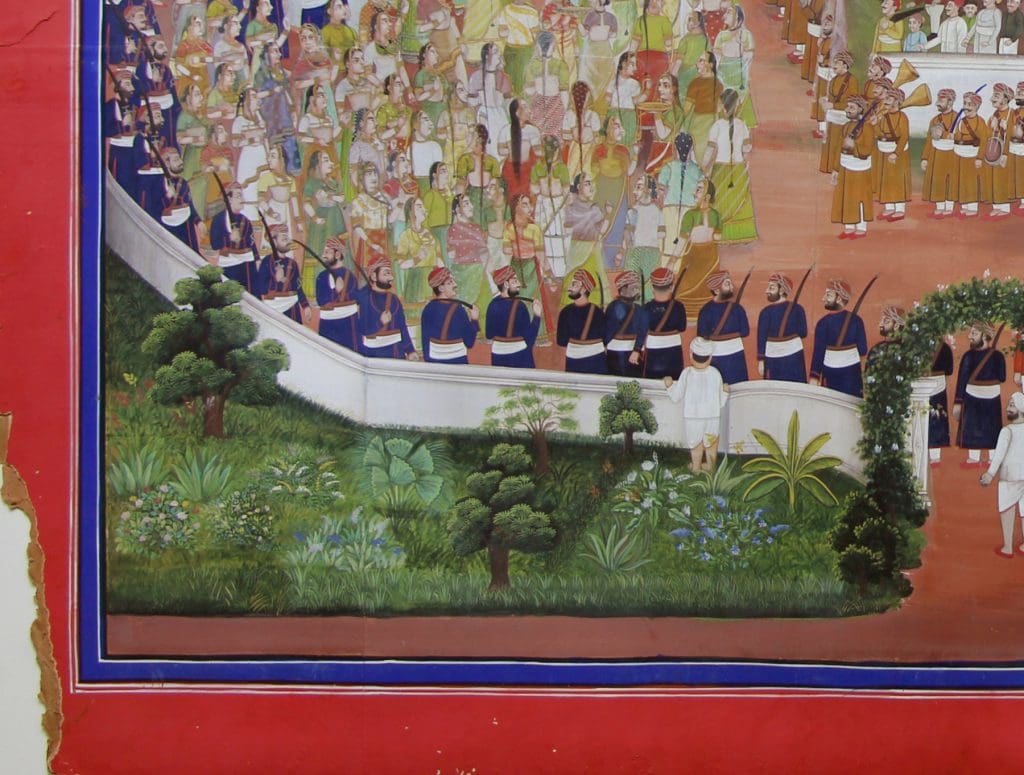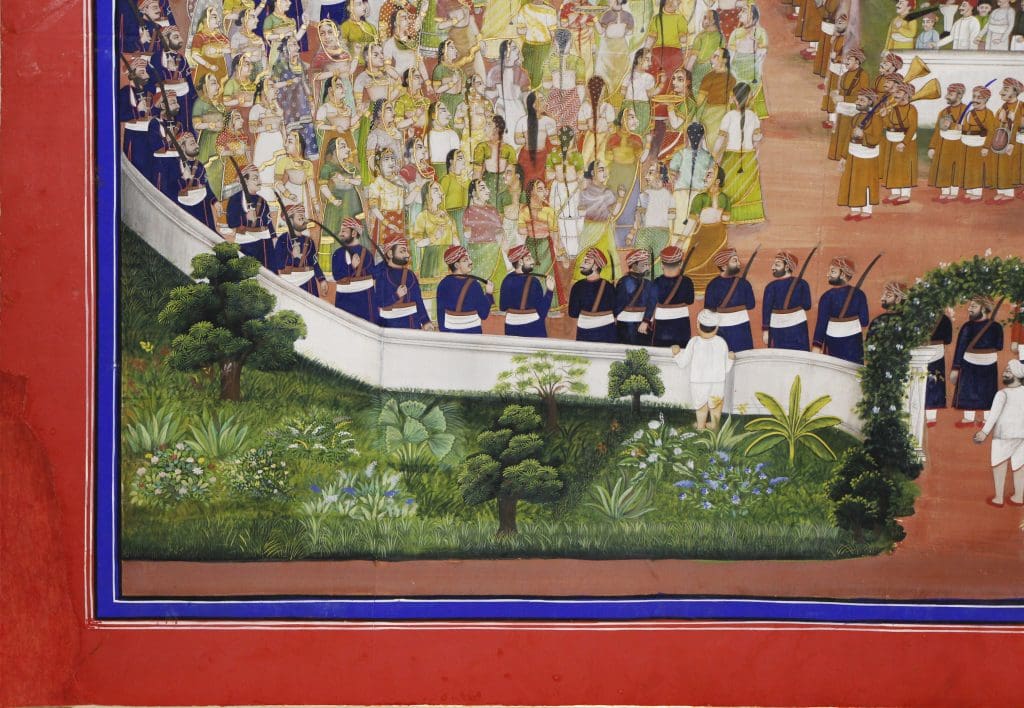 The City Palace Museum Conservators undertook a detailed examination, thorough documentation, and necessary treatment of the 30 artworks from Udaipur. This is at the newly established state-of-the-art conservation laboratory set up within the historic premises of The City Palace, Udaipur.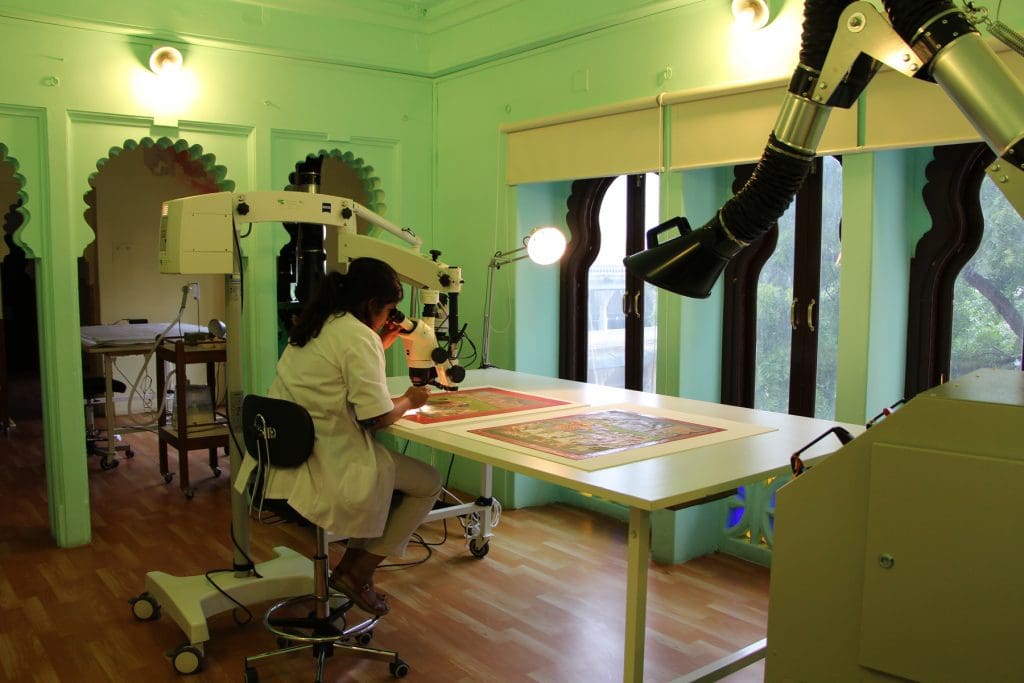 These paintings made on handmade sheets of paper using natural pigments and gold measure up to 6 feet in width in some cases. A step-by-step process involving cleaning of dust and dirt, consolidation of flaking pigments under a stereo microscope, removal of old repairs using steam pencil, infilling of missing portions, and their chromatic integration with the painting was followed by humidification in a low-pressure vacuum suction table and flattening.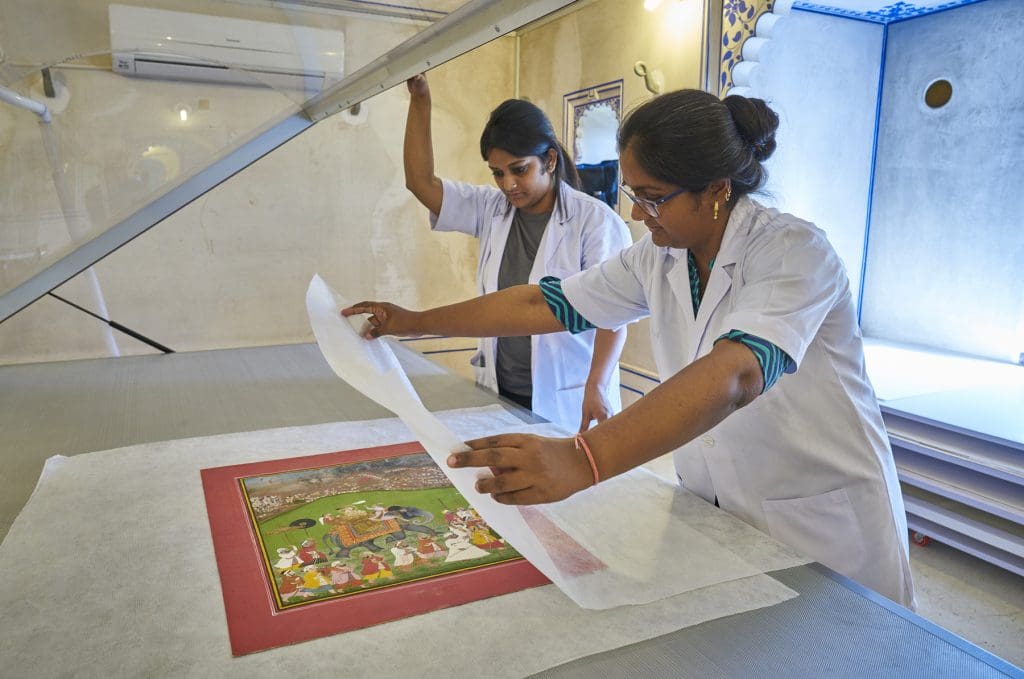 Five photographs selected for the exhibition have also been stabilized in order to make them fit for travel. Finally, these works have been hinged in acid-free mounts, glazed with UV-filtering acrylic and framed in-house, ready to be sealed and shipped to the exhibition venue.
Composing the City Palace:
Over two centuries, artists produced large-scale images of Udaipur's City Palace that foregrounded its architecture's magnificence and the grandeur of its gatherings for Holi play, elephant fights, and wedding celebrations. This section will illuminate the ingenious visual strategies such as multiple viewpoints that artists exploited to evoke the multisensory experience of palace spectacles.
Paired paintings of particular courtyards by different artists further reveal a visual call and response and the vibrant interplay of a sophisticated atelier.
Picturing the City:
Among Indian artists, Udaipur's painters alone represented urban spaces, displacing the idea that premodern Indian art never extended beyond royal portraits and courtly precincts. One highlight of this section is a fifty-foot-long paper scroll featuring Udaipur's streets, bazaars, and temples, revealing that the image and concept of a flourishing city was critical for attracting prominent guests.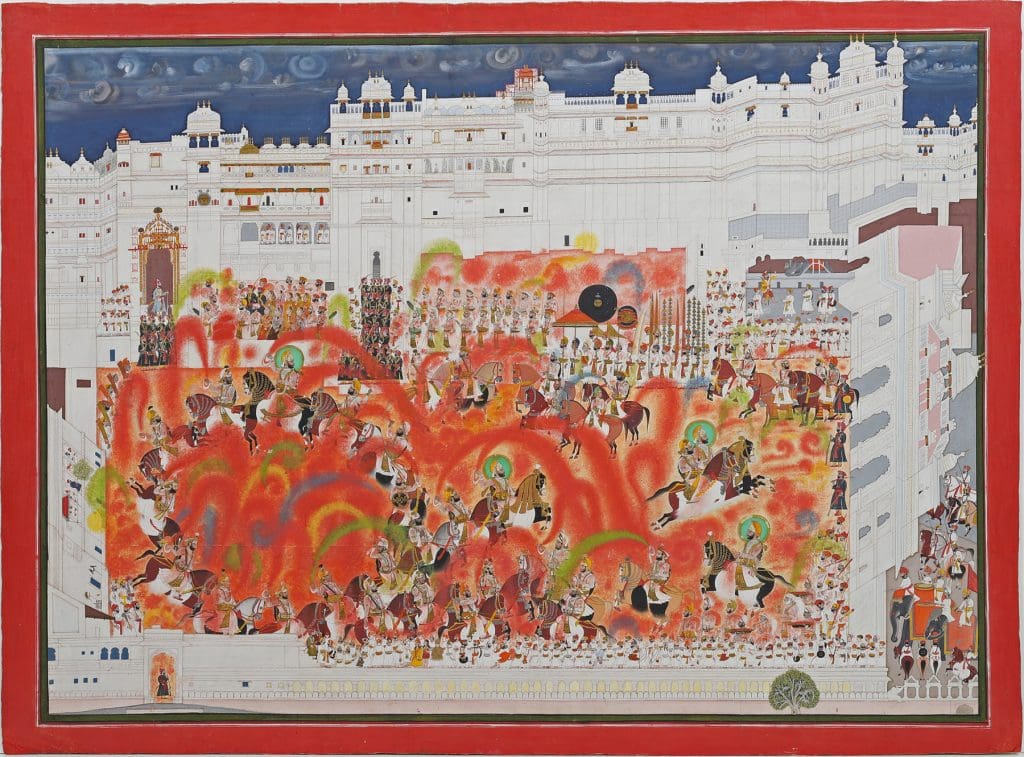 Beyond the City:
In this section, visitors can imagine journeying alongside Udaipur's kings. First, visitors will encounter royal processions moving outward from the city. Next, bird's-eye views will invite viewers to track kings' movements across riverine plains and textured terrains. Finally, we present the results of a GIS mapping project that reveal the exact locations of scenes, offer insights into how artists conveyed time and place, and provide glimpses into processes of deforestation and urbanization.
Heaven on Earth:
Udaipur artists excelled at presenting the charisma of places, both earthly and divine. In this section, paintings of rulers at worship, Hindu deities in divine realms resembling Udaipur, and visions of the city extending into the heavens will demonstrate how vilasa (pleasure) was intimately intertwined with the sacred.
Udaipur
Maharana Udai Singh II (r. 1537-1572 CE), 53rd Custodian of the House of Mewar, propounded the idea of building a new and safer capital.
The earlier tradition in Mewar and the concept of the Medieval kingdoms was that as soon as the capital collapsed, it was believed that the kingdom collapsed with it. In Mewar too, two Jauhars had already taken place to protect the capital – Chittorgarh, one during the childhood of the Maharana himself.
The vulnerability of Chittorgarh could pose a severe threat to the kingdom due to its geographical location, as it had always been the centre of ambitions of political powers, being the main centre connecting North India with the western coast and Malwa.
Situated on a hill, it was easy to besiege from all sides and when logistics and supplies were low, opening the gates of the fort was inevitable and it was a question of Do or Die. It was difficult to defend the fort of Chittor.
Maharana Udai Singh tried to secure the mountainous region and encouraged the people of Mewar to settle in Girwa valley. For the new capital, the Maharana chose a mountainous region covered by ranges of Aravalli hills in the west and south-west of Mewar, which was well protected by nature.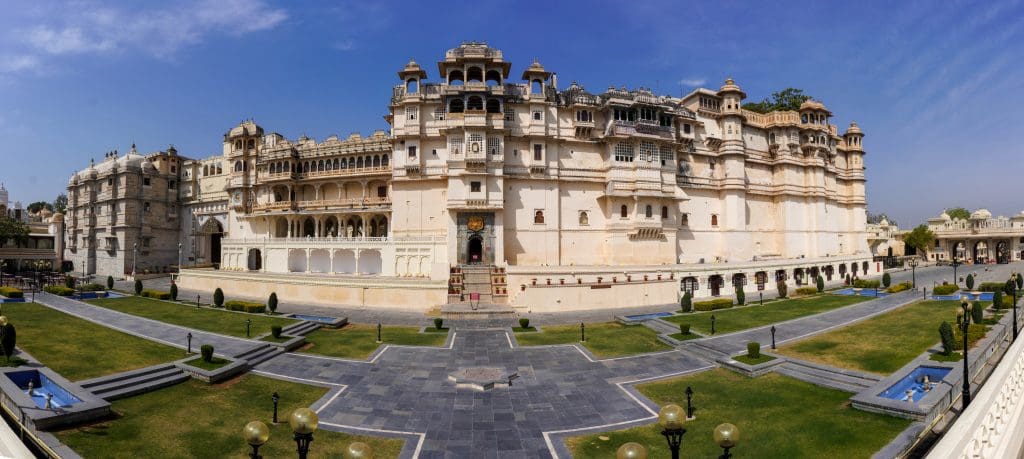 According to the book titled 'Chittor-Udaipur ka Patnama' edited by Dr Manohar Singh Ranawat and 'Rajratnakar' written by Sadashiv Nagar, in 1553 CE, on the day of Akshaya Tritiya, Vikram Samvat 1609, Udaipur was established in the midst of the hills of Girwa and near ancient town Ahar. Ahar was a prosperous town and it also remained the capital of the rulers of the Mewar for a considerable time.
In 1559 CE, Maharana visited Shree Eklingnath ji Temple to commemorate the birth of his grandson, and while returning went for a hunt, during which the Maharana met Goswami Premgiri Ji Maharaj on the banks of Lake Pichola. According to the directions given by the hermit, in 1559 CE, Maharana started the construction of the Palace in the capital under the direction of a Sutradhar named Raja Bhardwaj, grandson of Mandan Bhardawaj, of the famed Fort Kumbhalgarh.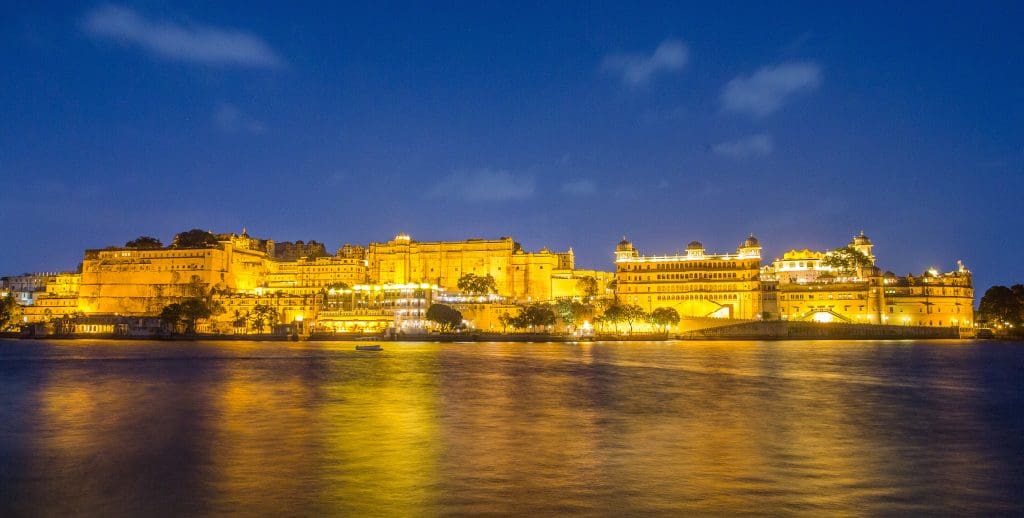 The architecture of Maharana Udai Singh's reign reveals a defensive approach rather than an artistic side. The construction was done keeping future wars in sight. The establishment and development of Udaipur city was an important initiative of Maharana. Maharana built gates at the entrance of the city for defense like Debari Darwaza. 
The construction also comprises Udai Sagar, Badi Pal, Moti Magri's palace, and step-wells which are strong evidence of his architectural approach. The palace of Udaipur, Navchoki, Panera, Rai Angan, Nika ki Chopad, Pandeyji ki Ori, Sej ki Ori, and Zenana Rawala (currently Kothar) were built by Maharana Udai Singh. Apart from this, the construction of the Udai Shyam temple on the bank of Lake Udai Sagar also took place during the reign of the Maharana.
Apart from Maharana, his family was also involved in the development of this area. In 1554 CE, Maharani Sonagari built Badla Wali Sarai and Panghat Baori. Maharani Sahajkunwar Solankini got the Sarai, the stepwell, and the Shiva temple built. Maharani Dheer Kunwar built a stepwell, a temple and an inn outside the village of Debari. The efficient planning and vision of Maharana populated the Girwa region.
Maharana desired to develop a beautiful and safe city by building his new Palace on the shore of Lake Pichola.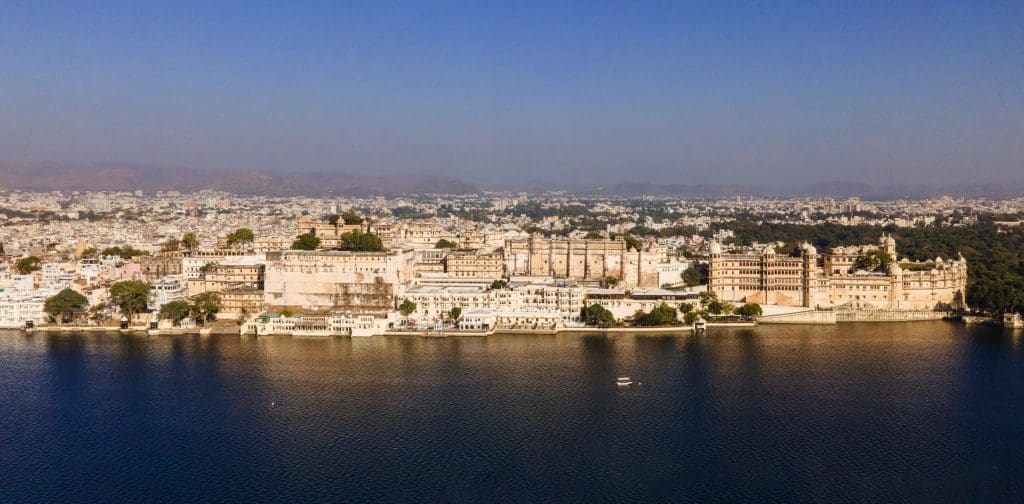 With practicality and farsightedness, he settled several working communities like Jadiya (Gold Smith), Kasara (Brass Workers), Sikligar (Sword Smith), Prajapats (Potters), Mochi (Shoemakers), Suthar (Carpenters), Bunkar (Weavers), Vari (who make utensils from tree-leaves), Ganchi (Bamboo workers), Tamboli (Betel sellers), Chitrakars (Painters), Rangrez-Chhipa (Cloth dyers), Teli (Oil marketers) at Udaipur and granted them lands. 
They all lived near the Palace in their own locality and have played an important role in the development of Udaipur. Presently the handicraft material produced by these communities is the symbol, as living heritage, of vibrant Mewar.
After the reign of Maharana Udai Singh II, Udaipur as the capital of Mewar has been growing under the patronage of various Maharanas.
Read More: Latest