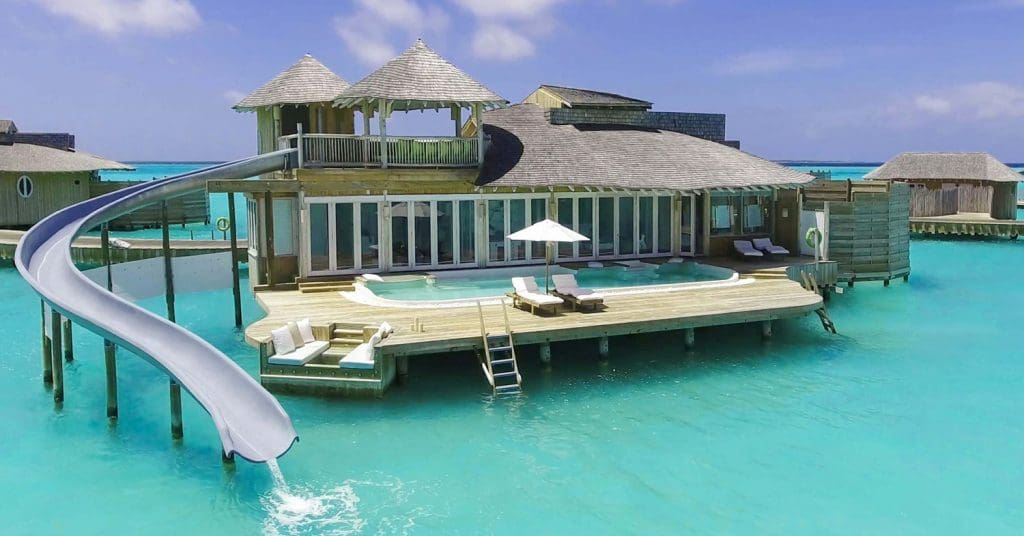 Travel to the Maldives will never be the same again. If it is an all desert island barefoot luxury hideaway in the Maldives that you want, then the award-winning resort Soneva Fushi has long set the standard for luxury. Located in the Baa Atoll UNESCO Biosphere Reserve, Soneva Fushi pairs the castaway fantasy with intelligent luxury. 
What's more, Soneva Fushi's new Water Retreats brings yet another feature to the original barefoot luxury resort. The 1 Bedroom Water Retreats (584 Sq.m./6,286 Sq.ft) and 2 Bedroom Water Retreats (857 Sq.m./9,224 Sq.ft.) are the largest one- and two-bedroom overwater villas in the world and will open their doors to guests on September 25, 2020.   
Reached by a gently curving jetty near Dolphin Beach, at the opposite end of the island to the Out of the Blue dining destination, the eight Water Retreats have been designed to ensure the utmost privacy for guests, as well as to make the most of the picture-perfect ocean vistas.  
Says Sonu Shivdasani, Soneva's CEO and Founder, " After 25 years at the forefront of the global luxury tourism sector and as a bucket-list destination in the Maldives, the new Water Retreat villas will elevate our offering. Having overwater villas gives our guests the luxury of choice, to stay amongst the deep greens of the jungle with the beach just steps away, or wake up to panoramic views of the ocean."
These Water Retreats have been raised high enough above the ocean so that the waves do not break against the underside like most overwater villas, thus reducing noise and vibrations. The walls use recycled Styrofoam as insulation, which helps keep the interiors cooler and serves to muffle the sound of the wind and waves. With a push of a button, the retractable roof slides back above the master bed to reveal sunny skies or starlit nights.
The new one and two-bedroom Water Retreats come with slides into the waves below, outdoor bathrooms with private access to the lagoon, and a retractable roof over the master bed that lets guests stargaze from the comfort of their villa.
Intuitive service is provided by Mr./Ms. Friday butlers, with bicycles and tricycles for each guest.
If the experiences are magical, the philosophy is simple: No news, no shoes. No pretensions either! 
Read More: News