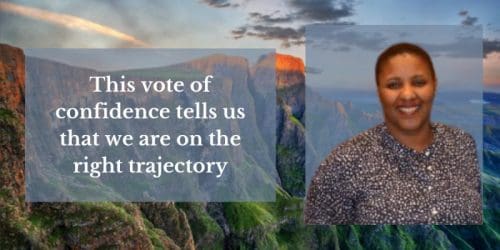 The Rainbow Nation of South Africa has been nominated the most sought-after destination through Tourlane's recent survey, which analyzed aspirations of travel communities across the globe as travel restrictions steadily begin to ease off.
South Africa emerged as the most popular destination for global travellers, towering above New Zealand and Canada. The survey also revealed that after many weeks of confinement, travellers were seeking an escape to the great outdoors (31%), followed by an interest in safaris (18%), beach holidays (15%) and off-beat destinations (13%).
It is no surprise then that South Africa, renowned for unique adventure offerings, captivating wildlife and beautiful golden coastal beaches, tops the charts as travellers begin to consider and plan their next vacation.
The Rainbow Nation boasts of over 3000 adventure activities including the world's highest bungee (among other bungee options for those who are looking for variety / subsequent bungee experiences), shark-cage diving, big swing options, zip-lining amidst beautiful scenery, kayaking and sky-diving. For those who have tried nearly every adrenaline high, there are unique options such as abseiling, surfing, sandboarding and stand-up-kayaking. For off-road lovers, there are off-road driving courses and plenty of challenging terrain to explore.
South Africa has deep pockets of wildlife areas and game parks encircling every possible landscape from deserts to forests, mountains to the coast, teeming with wildlife species. It is home to a large number of the mammals universally associated with Africa – including Africa's Big 5: Leopard, Lion, Buffalo, Elephant and Rhinoceros. It is also the only place in the world where wildlife-lovers can see not just the Big 5 but also the Big 7 that includes the Southern Right Whale and Great White Shark (in Port Elizabeth / Nelson Mandela Bay).
Additionally, 3000+ kilometres of coastline washed by the Indian and Atlantic Ocean, value-for-money and safety are expected to have contributed to interest in visiting the destination.
"We, at South African Tourism, have been strategically working towards developing tourism products and experiences that provide travellers a taste of the real, adventurous and breathtakingly beautiful South Africa. The destination has an adventure waiting around every corner – be it high adrenaline activities, soft adventure sports, wildlife that astounds, lip-smacking indigenous fare or beautiful beaches. These experiences, coupled with the warmth and hospitality of our people, are our biggest strengths.
This vote of confidence by travellers across the globe tells us that we are on the right trajectory, and inspires us to further create unique, off beat experiences that will draw and engage travellers, once South Africa is completely open for travel," says Ms. Neliswa Nkani, Hub Head – Middle East, India and South East Asia, South African Tourism.
About the Survey
Tourlane, a popular booking platform for multi-day tours, polled a global audience comprising of travellers across all ages and types to determine how people are thinking about travel in the post-pandemic world. Questions ranged from the type of vacation and destination, to group size and timeline. The survey was conducted across four languages viz. German, French, Dutch and English and nearly 600 people from Tourlane's worldwide travel community took part in the survey.