Part of Türkiye's first independent carbon-neutral hotel group The Stay Hotels, The Stay Boulevard Nisantasi in Istanbul offers guests the perfect winter wellness retreat for 2023.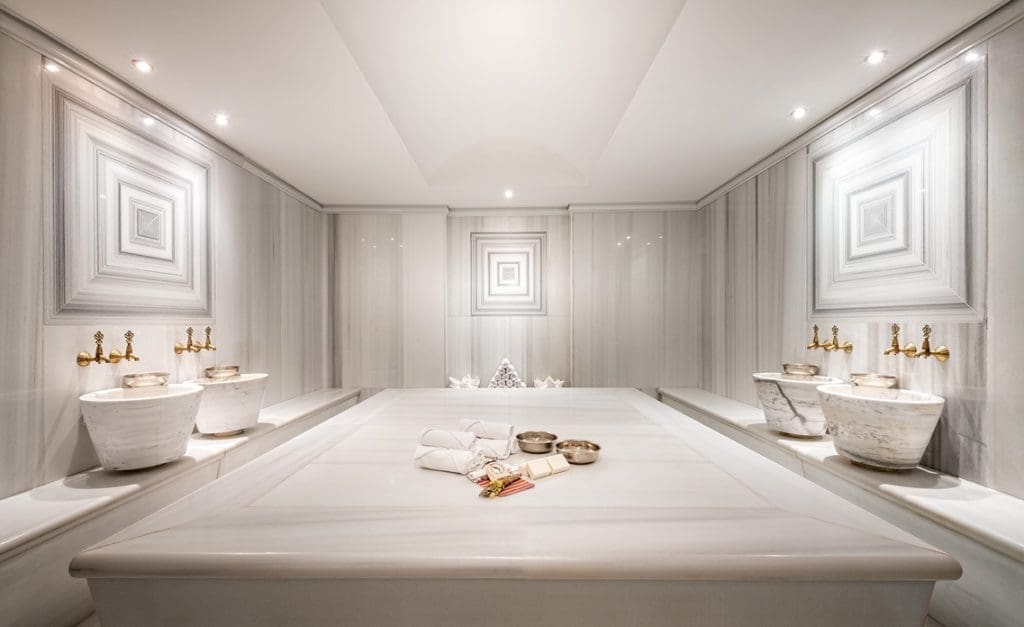 The new 1220 sqm Stay Spa spans an entire floor with nine treatment rooms, an indoor spa pool, an adjoining hot tub, a Turkish bath, and a wooden sauna, and uses all vegan and organic spa products.
Treatments include the reviving Turkish hammam experience, which cleanses, refreshes, and moisturises the body with special herbal soaps and foam, enjoyed in the dedicated private Turkish bath, complete with white marble and ornate brass taps. For the ultimate indulgence, the combined hammam and massage treatment allow guests to choose from one of the spa's massage therapies, from traditional Thai combining acupressure and stretching techniques to healing Balinese with deep strokes and energy-unblocking Shiatsu.
There's also a couple's massage for two to share and relax side-by-side, soothing mother-to-be massages using safely formulated massage oils and hot stone therapy, to help with sleeplessness and tension. After and in between treatments, guests can recline on wooden day beds in softly lit relaxation areas and sip a cup of fresh mint tea.
Guests and non-guests can buy spa packages for six, 10, and 20 treatments. Each treatment is 60 minutes long and can be a combination of Traditional Thai Massage, Stay Spa Massage, Deep Tissue Asia, Shiatsu Therapy, and Aromatherapy.
The soothing Stay Spa at The Stay Boulevard Nisantasi offers the ultimate urban retreat for those looking to wind down after spending a busy day exploring Istanbul's culture and sights and the chic Nisantasi neighbourhood.
About The Stay Hotels
Award-winning The Stay Hotels operates five properties with a total of more than 180 guest rooms in Istanbul and Alacati in Türkiye. In Istanbul, the collection includes its newest property that opened in June 2022, The Stay Boulevard Nisantasi, together with The Stay Nisantasi, which is set in the heart of the Fashion Quarter; The Stay Bosphorus, a revamped 19th-century waterfront mansion; and Bebek Hotel by The Stay, a glamorous and storied hotel. In Alacati, The Stay Warehouse is a cool former industrial space close to the coast, which won the Best International Hotel category of the Food and Travel 2021 Readers Awards.
In 2022, The Stay Hotels became the first carbon-neutral independent hotel group in Türkiye. It was awarded carbon-neutral status by the internationally recognised sustainability specialist Bureau Veritas following an evaluation of the group's adherence to the international standard for greenhouse gas verification. As well as taking practical steps in its own operation to counter any greenhouse gases produced, The Stay Hotels has invested in domestic and green-energy projects locally and globally and works with companies that are committed to using green and sustainable products and processes. The group aims to achieve zero waste by the end of 2022.
Read More: Latest