Jyoti Mayal, President, TAAI, interacted with Shri Sanjay Verma, Secretary – West, Ministry of External Affairs, Government of India on June 17th, 2022.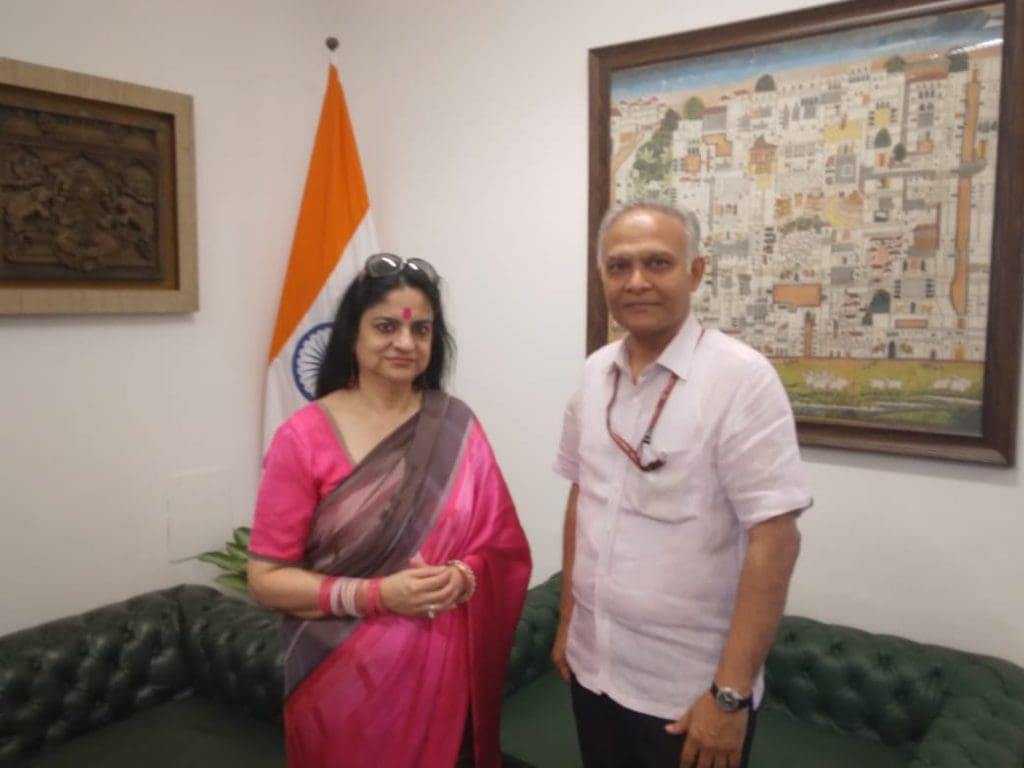 The meeting request was made to the MEA to discuss and deliberate on the delay in the issuance of Visas to the United States, Schengen and other countries. In a communication addressed to the Hon'ble Minister of External Affairs TAAI sought interference of MEA through a government-to-government dialogue to resolve/address the issues.
TAAI being the apex and oldest body representing the trade has been regularly taking up issues related to the ease of travel & tourism with concerned ministries and stakeholders and thus increasing footfalls for outbound, inbound and domestic markets. While sharing the concerns of the industry with Shri Verma, Mayal said that we at TAAI are seeking MEA's assistance by way of addressing the issues and challenges faced by the travel trade fraternity of India to make it more robust.
The pandemic era has been a struggle for tourism survival and there is a huge opportunity to quickly revive as people are wanting to restart travel with huge enthusiasm.
During the discussions, Jyoti Mayal conveyed that the issuance of Visas to the United States, and many Schengen countries, especially Greece is a major hurdle that which travel trade fraternity is facing these days. Members and clients have been reaching out to TAAI that they are unable to secure an appointment for visas for travellers and then the long delays in the stamping of visas without any proper communication.
In addition, some missions keep the passports for an indefinite period resulting in uncertainty and cancellations which incur a huge cost to the traveller given that confirmed air tickets & hotel vouchers are a requirement for visa applications, which must be done away with, requested Mayal.
Further, she conveyed that the extension of the free visas to India and the duration to be of minimum 6 months with multiple entries must be resumed immediately. In line with that, E-Visa must be reinstated for all countries including UK & Canada as pre covid, to boost inbound tourism.
Highlighting the administrative bottlenecks for which TAAI has been communicating to other concerned ministries too and are hampering the growth of the sector, Mayal said that the Air Suvidha form is an encumbrance protocol and therefore the same should be immediately scrapped and supported at the home ministry. Parallelly, mandatory health & comprehensive travel Insurance on Inbound E-Visa / Visa for the safety and security of travellers must be introduced.
Jyoti Mayal apprised Shri Verma that Tourism comes under a wide spectrum of ministries and therefore there is a need to work collectively to achieve progressive & effective results. Taking this thought further, TAAI looks forward to being in continuous communication with the MEA to take more various discussed points into becoming a motivator & enhancer of tourism & bring in ease of travel to drive economic growth.
Taking note of the suggestions and issues, Shri Verma conveyed his assurance to look into some of the matters on priority and assured that his office would remain open to many more such meetings.
Read More: News