Today's Traveller invites Tarun Seth, General Manager, Hyatt Regency Chennai to share his insights on change in consumer patterns even as he celebrates his hotel's 10 Anniversary.
Today's Traveller: How are you planning to celebrate the landmark occasion?
Tarun Seth: In celebration of 10 years of buzzing, the hotel is introducing limited edition unique experiences for guests and travellers to indulge in. To enhance the guest experience, we have curated lucky draws with exciting staycation vouchers at Park Hyatt Chennai, Hyatt Centric Bangalore, Andaz Delhi, Hyatt Regency Kolkata, Hyatt Regency Chandigarh, Hyatt Regency Ahmedabad, Hyatt Raipur as well as some complimentary upgrades.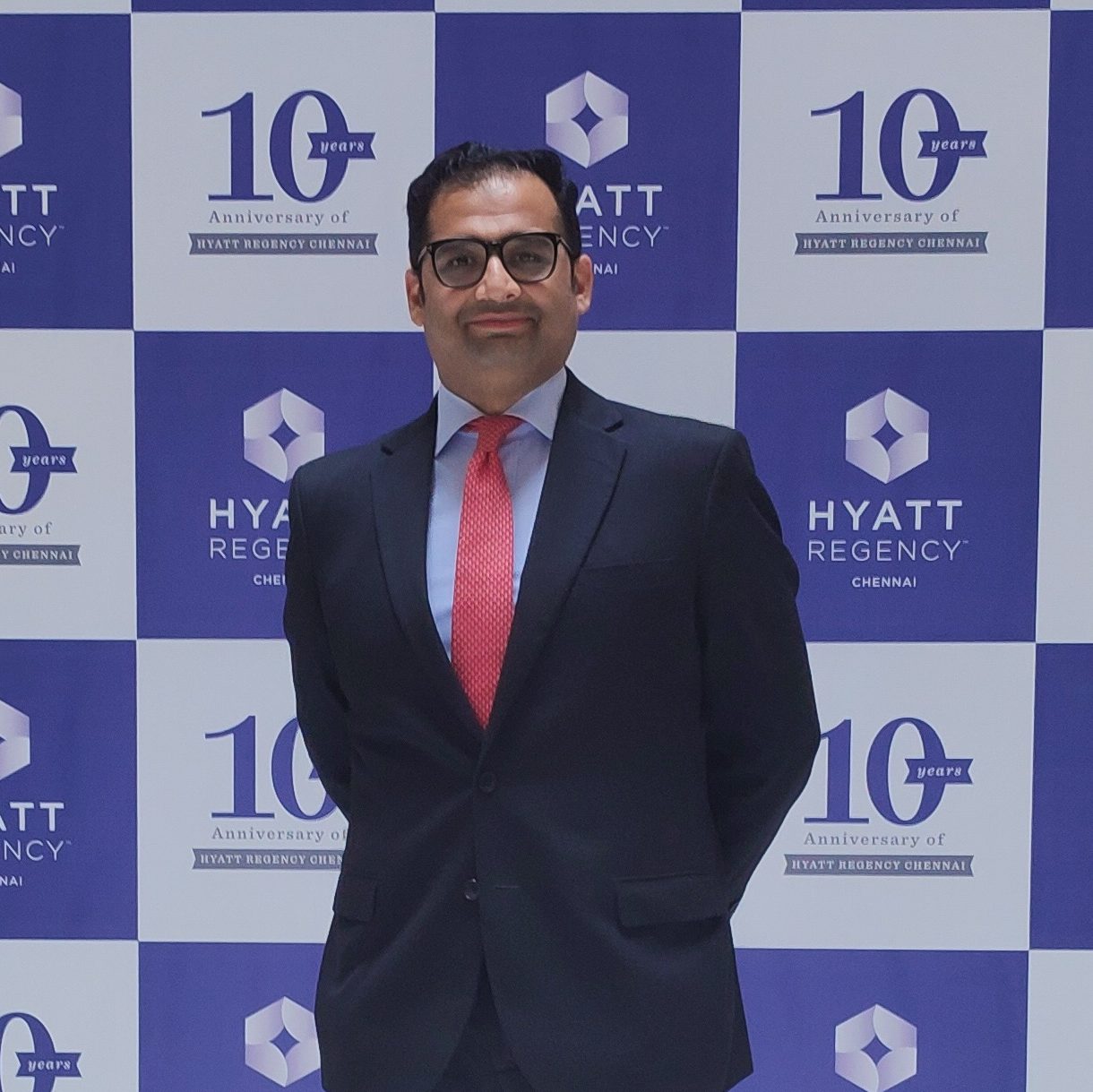 Today's Traveller: Now that hotels are open with further relaxations, what is your strategy to keep Hyatt Regency Chennai at the top of its game?
Tarun Seth: The safety and wellbeing of our guests and colleagues is always a top priority for us at Hyatt Regency Chennai. We are proud to announce GBAC STAR™ facility accreditation for outbreak prevention and response. We have implemented the most stringent protocols for cleaning, disinfection, and infectious disease prevention in its facility/facilities. During the initial few months, the city witnessed limited vaccines. However, with the support of the Greater Chennai Corporation, the hotel initiated multiple vaccination camps for the safety of its employees and guests.
We observed that people were ready to step out; they wanted to dine in with their friends and family. Keeping that in mind, we opened our specialty Chinese restaurant, Stix for both and lunch dinner, Italian restaurant, Focaccia for Sunday Brunch and converted our 24/7 Lobby Lounge as a three-meal, a-la-carte, and a dinner buffet restaurant. It is incredible to see such a significant amount of guests visiting to dine at our restaurants.
The hotel maintains high standards of hygiene from wearing clean chef clothing/aprons prior to each shift, handwashing before getting into uniform, wash and sanitize hands before the start of service, repeat hand-washing/hand sanitizing after each change of task, and no less than once every 20 minutes to all food handlers to wear gloves and masks when handling ready foods such as salads.
While the corporate movement has slowed down, we see a monumental demand in the wedding segment. Due to our prime location and 30,000 sq. ft. of banquet spaces, we are the preferred choice for weddings. This has certainly given us an added advantage during the pandemic.
Home delivery through third-party aggregators and drive-in takeaways certainly remain one of the key strategies for our hotel. We see a month-on-month growth and change in consumer pattern every month, which only drives us to reinvent our strategy.
Today's Traveller: What kind of operational innovation is needed to keep ahead of the challenges posed by Covid-19?
Tarun Seth: We cannot emphasize enough and more on cleanliness and hygiene for the wellbeing of guests. It is fundamental to take controlled measures and innovate operationally during the pandemic.
This includes regularly disinfect car seats, handles, cleaning the outside surfaces of small water bottles, constantly enquire about customer health and wellbeing, checking with the guest if we can handle their luggage, offer guests to use a plastic seat cover and dispose of after each use, ensure frequent supplies of clean facemasks and hand sanitizer.
Wherever possible, we use electronic requisition orders to reduce the need for paper systems. For packaging, it is recommended for all packaged items to be removed from outer packaging before being transported to the store. Routinely sanitize the handles of equipment between usages. Install Plexi-screen at guest reception desk and Sunday brunches to avoid any form of contact. Digitally replace welcome correspondence, subscription to e-newspapers and magazines, valet tags to be replaced by digital porch management systems.
Today's Traveller: In the current context has key stakeholder relationships assumed greater significance?
Tarun Seth: In the wake of the current crisis, all stakeholder relationships have been identified as crucial in a hotel's efforts of survival and success. We recognize that the long-term interests of the stakeholders are advanced by taking into consideration, concerns of our associates, guests, investors, owners, suppliers, and members of the community that we operate it. Our mission is to make a difference in the lives of people we touch every day and demonstrate care in everything we do.
Today's Traveller: How do you motivate your team to ensure key performance during these difficult times?
Tarun Seth: We are surrounded by fear, anxiety; everyone is going through a turmoil of emotions during the pandemic. It is important we keep inspiring our team members by making a conscious effort to listen to them, have a regular one-on-one interaction to help them ease their predicament.
We have to ensure our team members know the vision and mission of the hotel and guide them to achieve the hotels' goal. The head of departments at our hotel ensures their teams are well-rested, both mentally and physically for the challenging times ahead. This is also the best time to groom our team members to be future leaders and empower them with decision-making.
We have reached a milestone through the constant efforts of our team members and what better month to celebrate their achievements and motivate them to soar higher.
Read More: Corporate Connect