The food of warrior kings and brave queens? Rajasthani food is known for its iconic and distinct features which reflect the warrior ethos and history that this state is known for.
Here is a food history that tells its own story in the ingredients and spices used and offered to guests as they sample the wonderful aromas and tastes of royal kitchens and local specialties.
Rajasthani food is the cuisine of North-West India's mountainous Rajasthan area. It was influenced by both the residents' warlike habits and the scarcity of ingredients in this dry location. It boasts delectable dishes that will make your mouth water.
Embark on a gastronomic journey through the past. Delve into the history of Rajasthan's people, cuisine and culture while sampling delightful aromas and flavours. From mouth-watering and traditional to Rajasthan famous food recipes made by generations of locals to extraordinary feasts enjoyed in royal palaces, taste a diverse range of specialties that retain their uniqueness even today.
While Ghewar is already known as a global signature dish from Rajasthan, there's more to Rajasthani food than this delicious crispy and porous, traditional sweet associated with Rajasthan Festivals. For the uninitiated foodie, Ghewar is a disc-shaped, handmade sweet cake with flour soaked in sugar syrup.
Whether you are an adventure seeker or just someone looking for some sensory exploration, you are sure to tantalize your taste buds as we unearth Rajasthan's delectable culinary secrets!
Specialties of Rajasthani food
Here are some delicious Rajasthani dishes and amazing specialties of Rajasthani food for you to try on your trip to Rajasthan.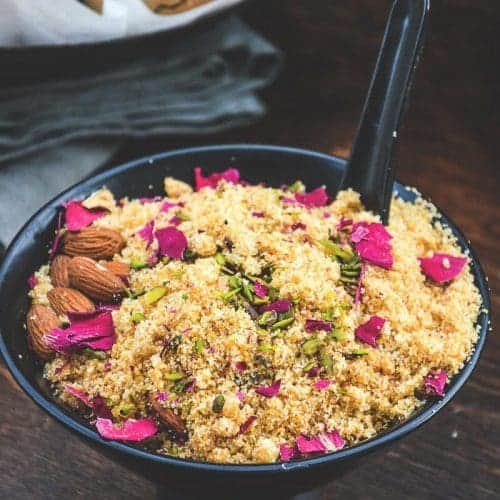 Dal Bati Churma
It's a classic Rajasthani food made with Dal, Bati (wheat rolls), and Churma (powdered wheat balls). Rajasthanis are known for combining sweet and savoury foods in ways that captivate the senses and delight the palate. One such typical combo is a dish of sweet Churma, spicy Dal, and Baati. A fantastic companion to Churma is fresh Baatis dunked in scorching hot Dal.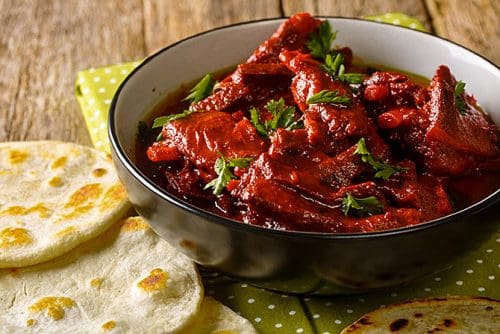 Mohan Maas
Mohan Maas, a non-vegetarian meal from Rajasthan that is also one of the spiciest, falls in between Laal Maas and Safed Maas from the same region. The colour that this meal achieves just via the use of a variety of chillies astounds everyone. It was once considered a Royal dish, but nowadays it has won over tastebuds and local restaurants whip up this dish for guests to appreciate this delectable preparation. Special food tip: Top the Mohan Maas with fresh coriander and a dollop of cream.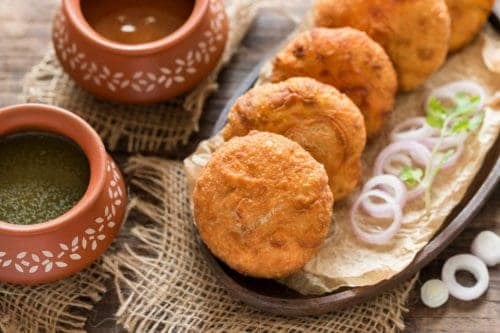 Pyaaz ki Kachori
Rajasthani food is known for its Pyaaz ki Kachori. It's a deep-fried snack recipe made with simple flour and onion stuffing that's crunchy and flaky. It can be eaten for breakfast or as a late-night snack. Pyaaz ki Kachori has achieved an iconic street food status and is often served as a street snack among other chaat cuisines. It is often made well in advance and served with Chutney and Sev toppings.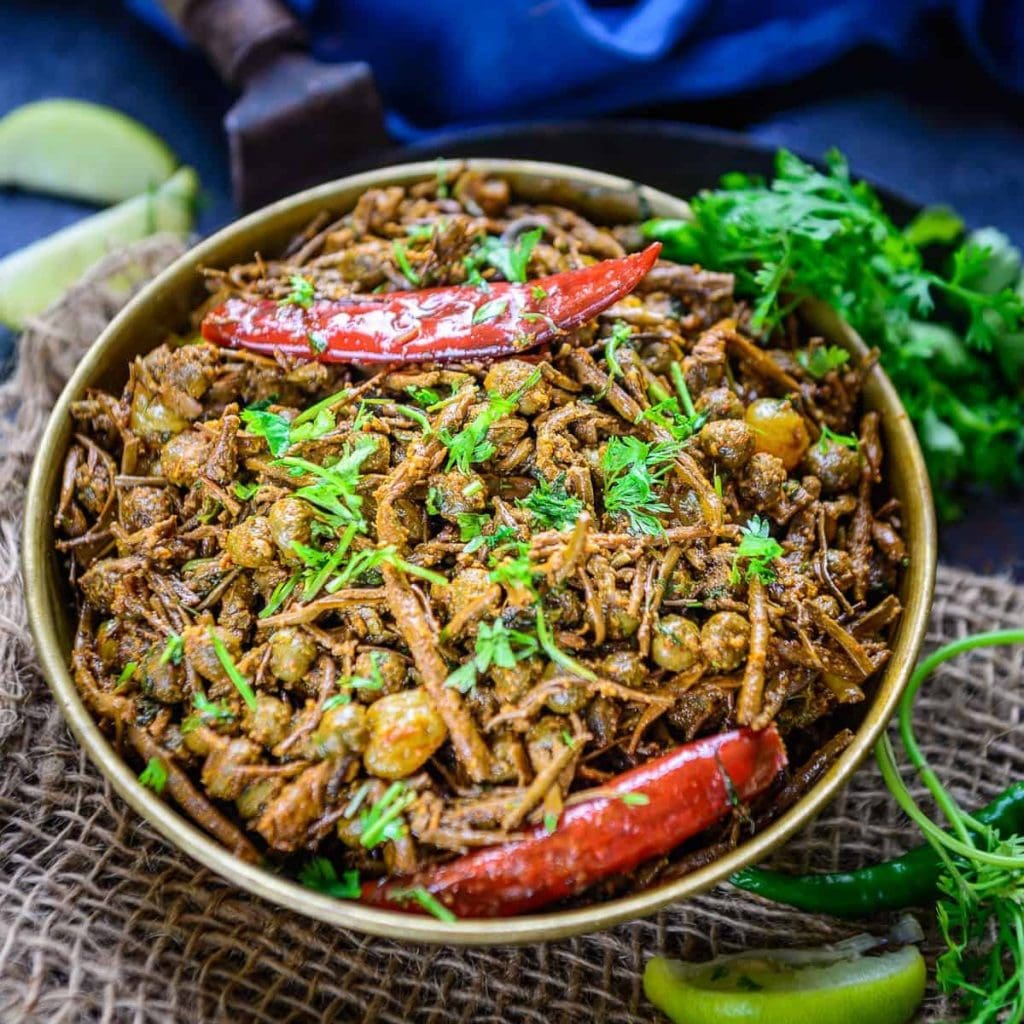 Ker Sangri
Ker Sangri is a traditional Rajasthani food cooked from a blend of dry beans and berries found in the state. It's frequently prepared as a spicy dry vegetable. Chefs also add a little bit of sweetness to the spice. Ker Sangri's richness is enhanced by the inclusion of raisins in the preparation. The dish goes well with Kadhi, Phulkas, and Steamed Rice, not to mention the ghee.
Gatte ki Sabji
Here is a delicious traditional Rajasthani curry recipe made with besan sausages cooked in a spicy yogurt-based stew, and it's usually made without tomatoes or onions, using curd as the main ingredient. Gatta or Gatte (plural) are roundels made from Gramme flour (Besan) that are served with a curd-based sauce. Gatte ki Sabji can be served with Roti, Parathas, Jowar Roti, or Bajra Roti. This Besan ki Sabji goes well with steaming Rice or Jeera Rice.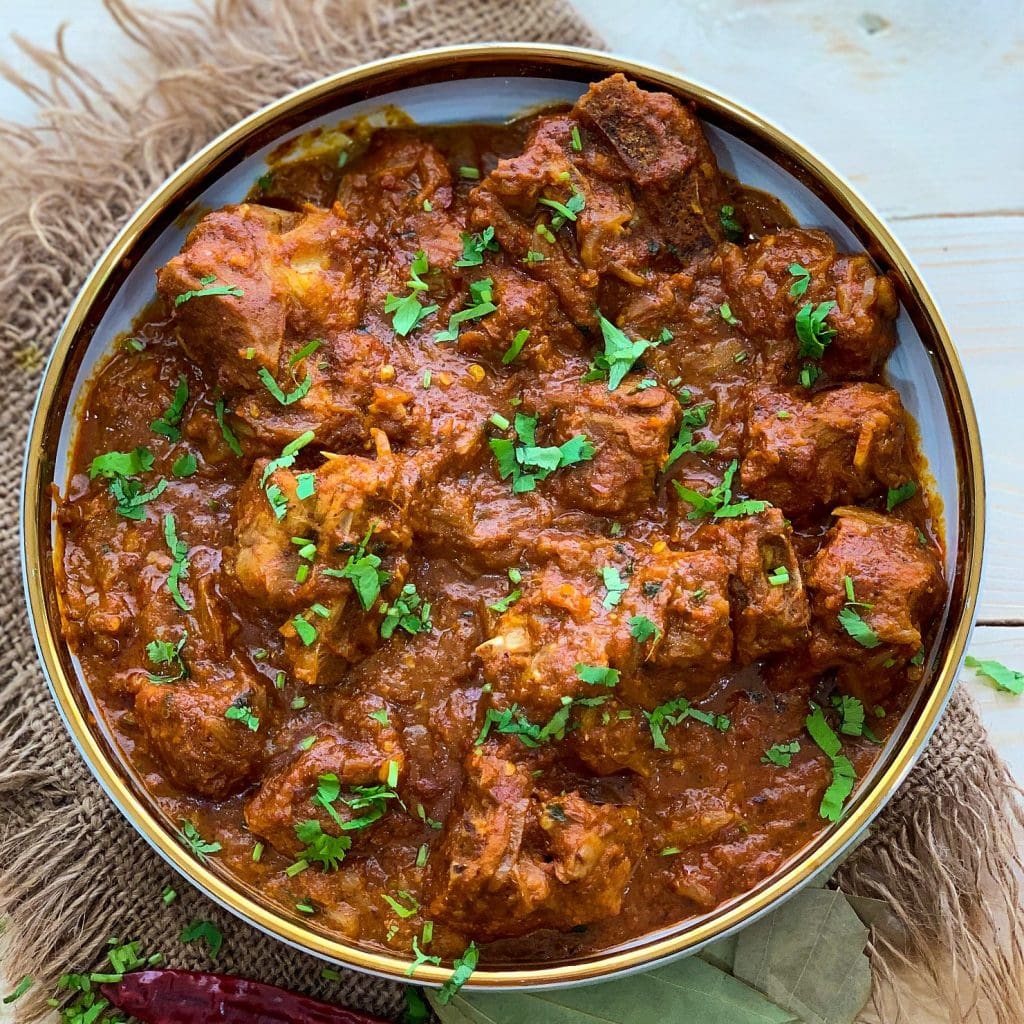 Laal Maas
The most famous Rajasthani food that is now almost cosmopolitan in its availability across the country and even globally is Laal Maas. This is a preparation of Mutton cooked with Ginger-Garlic paste, yogurt, turmeric, and other spices. It's designed to be spicy, and it's produced using a mix of Kashmiri red chillies and other traditional Rajasthani spices. In Rajasthan, this dish is frequently the main dish for important occasions and festivals. This fiery dish goes well with hot whole wheat parathas and jeera pulao on the side.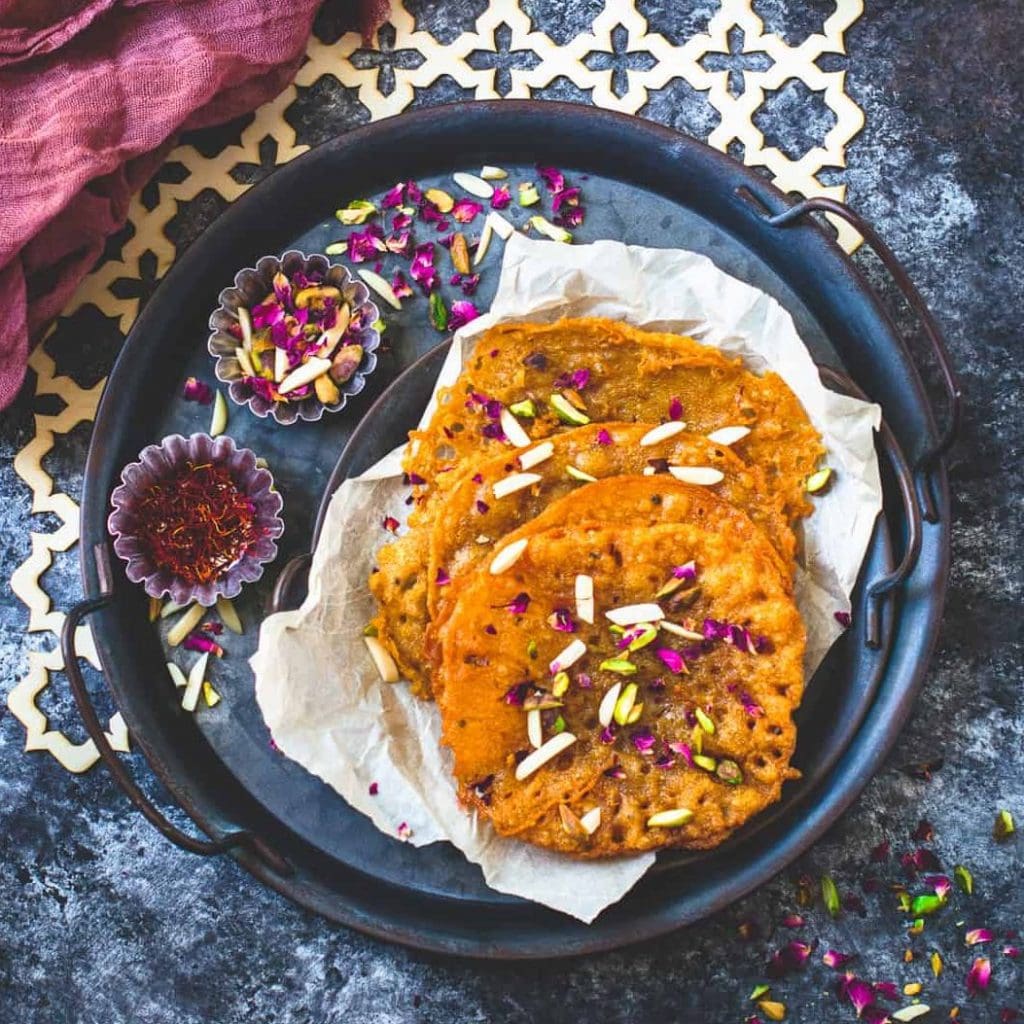 Malpua
Malpua is a sweet pancake that may be found in Rajasthan, Bihar, West Bengal, Orissa, and Maharashtra. It is also popular and widely produced in Nepal and Bangladesh, two adjacent countries. After each religious function or auspicious day, Malpua and Kheer are offered as a tradition. Malpua is available in a variety of styles and flavours. Malpua is eaten with Kheer after being fried and dipped in sugar syrup.
Mawa Kachori
The state of Rajasthan is known for its Kachoris or pies. Mawa Kachoris are Khoya-filled pastries that are similar to Gujjiyas (shaped like empanadas). The only difference between Kachoris and Gujiyas is that Gujiyas have a thinner covering or Pastry than Kachoris. In Rajasthan, Kachoris are a popular morning food. These can also be prepared for special events like Holi and Diwali.
Mohanthal
Here is a typical gram flour fudge or dessert from ancient Gujarati and Rajasthani cuisine. Mohanthal is a popular name for this besan and ghee-based Indian sweet delicacy, however, it is also known as Mohanthar or Mohan Thal. This sweet is prepared during Indian festivals like Diwali, Navratri, and Gudi Padwa. The dessert has an intriguing flavour and perfume thanks to rose water and spices like cardamom and saffron.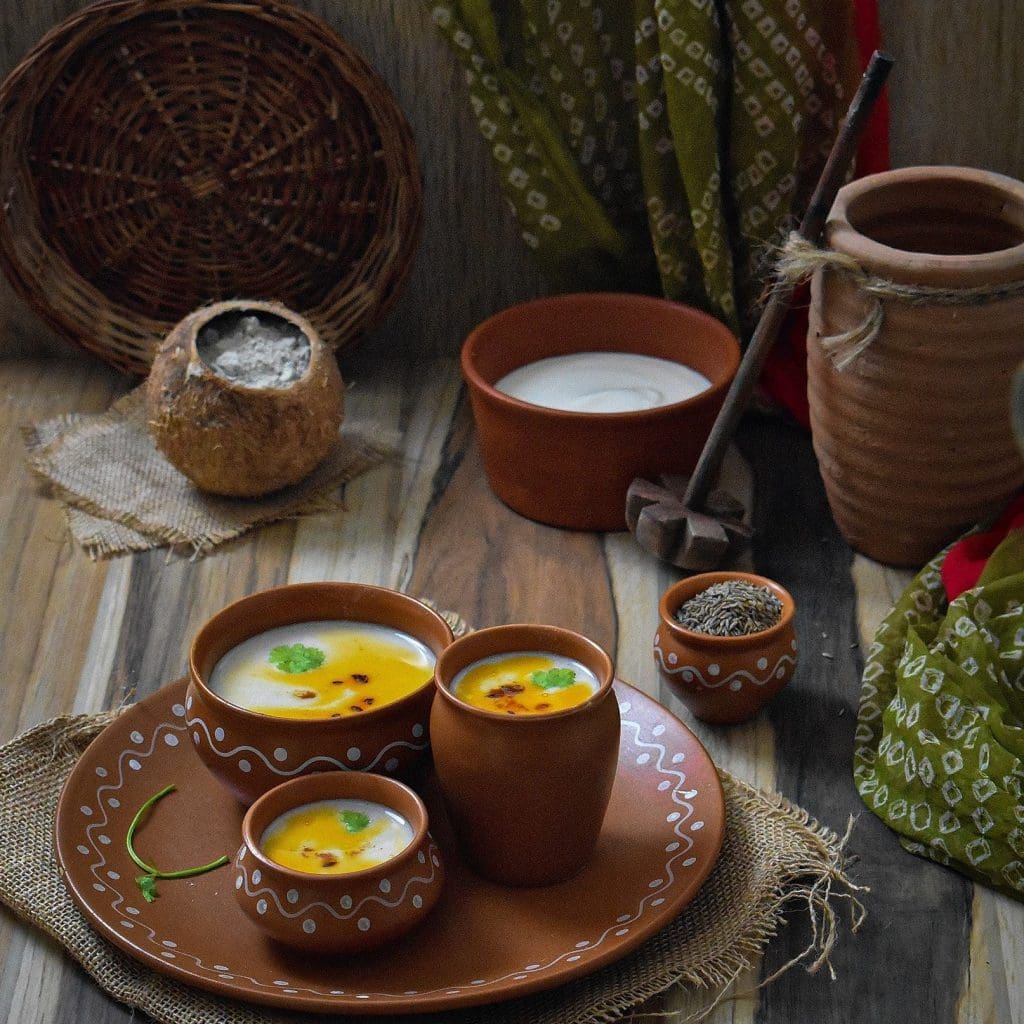 Bajra ki Raab
Bajra Raab is a traditional Rajasthani and Gujarati winter drink. Bajra flour, also known as pearl millet flour, is popular throughout the winter months since it is both nourishing and therapeutic. Raab is a thin drink produced with various millet flours that can be thickened by boiling it for a long time, similar to pearl millet porridge. This drink is usually served hot.
Read More: Latest