Recent research revealed the worst places for you to get pickpocketed in the world – from Las Ramblas to the Trevi Fountain.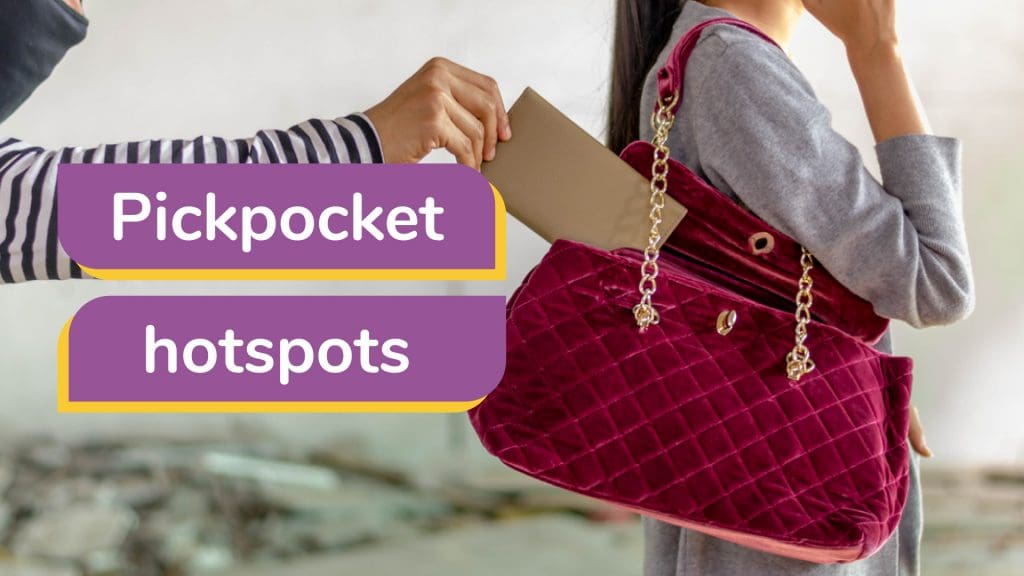 The study by money.co.uk analysed Tripadvisor reviews for popular attractions and transport stations worldwide to reveal the places most likely for travellers to get pickpocketed.

The 10 places to get pickpocketed in the world
| | | | | |
| --- | --- | --- | --- | --- |
| Rank | Attraction | City | Country | Reviews that mention pickpockets |
| 1 | Las Ramblas | Barcelona | Spain | 3,271 |
| 2 | Eiffel Tower | Paris | France | 2,569 |
| 3 | Trevi Fountain | Rome | Italy | 2,206 |
| 4 | Charles Bridge | Prague | Czech Republic | 1,081 |
| 5 | Sacré-Cœur | Paris | France | 914 |
| 6 | Colosseum | Rome | Italy | 666 |
| 7 | Old Town Square | Prague | Czech Republic | 646 |
| 8 | Louvre | Paris | France | 598 |
| 9 | Notre-Dame de Paris | Paris | France | 408 |
| 10 | Sagrada Família | Barcelona | Spain | 407 |
Places to get pickpocketed
The place with the highest number of reviews that mention pickpockets is the famous Las Ramblas pedestrian walkway that runs through Barcelona, with a total of 3,271 pickpocket reviews. Las Ramblas is a very crowded place at the best of times, but especially during the peak tourist season, and this makes it perfect for pickpockets.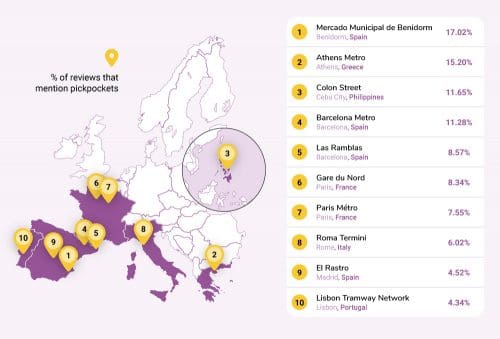 The Eiffel Tower ranks in second place with an overall total of 2,569 reviews. As one of the most popular cultural attractions in the world, it's little wonder that at least some of the people visiting Paris have had issues with pickpockets. Specifically, keep a close eye on your belongings as you walk up the main street from the metro station to the tower itself.
Rome is a magnificent historic city although it has struggled with pickpockets and one of its most targeted historical landmarks is the Trevi Fountain, known for its majestic beauty, with just over 2,200 pickpocket reviews.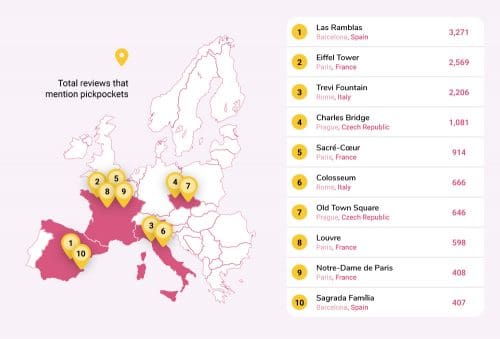 There is a famous tradition of throwing coins into the fountain over your left shoulder, with around 3,000 euros being thrown in each day.
Further study insights: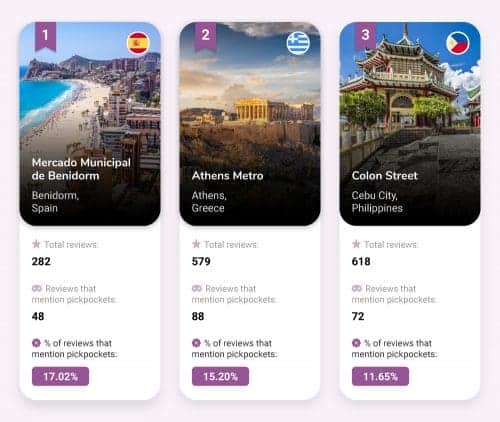 The research also looked at the places with the highest % of pickpocket reviews. The study looked at the total number of reviews compared to the number of reviews that mention pickpockets to reveal the overall % of pickpocket reviews.
The Mercado Municipal de Benidorm has the highest percentage of pickpocket reviews at 17.02%, followed by Athens Metro in Greece (15.20%), with Colon Street in Cebu City in the Philippines coming in third (11.65%)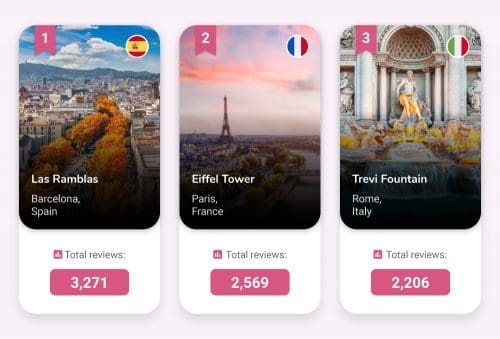 Tips on how to avoid being pickpocketed:
Ensure that all of your valuables are tightly zipped away in a bag or purse when you're in tourist areas.
Zips on bags should also face inwards where possible or be hidden under layers of clothing to make them harder to access.
There are also bags and garments specifically designed to counteract pickpockets, with secret pouches and compartments, for example, money belts are a safe option. Even if a pickpocket knows you're wearing one, the hassle of trying to steal from one makes you less likely to be pickpocketed. Of course, nothing can ever be 100% safe against pickpockets, but a money belt makes you much safer.
Avoid wearing a backpack where possible. Unfortunately, backpacks are perhaps the easiest thing for pickpockets to target as it is of course on your back, therefore you can't always keep an eye on it. The fact that the opening to the bag isn't touching your body also makes them easier to steal from as you won't be able to feel something being taken.
Try not to advertise yourself to pickpockets, so stay alert and don't overtly flash any valuable jewellery, items, or cash when visiting European cities.
Read More: Latest