No trip to India is complete without a visit to the beautiful Taj Mahal in Agra in Uttar Pradesh. Visit other historic places in Agra which are stunning.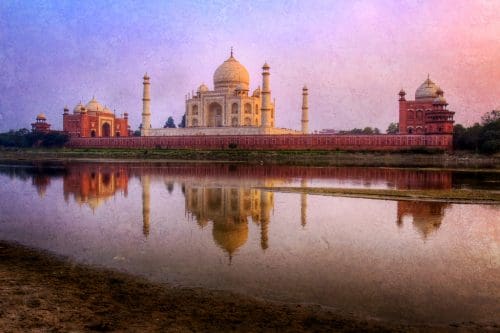 What is The Taj Mahal? people often ask because they have heard so much about it. The Taj Mahal is is an awe-inspiring white marble monument built by Emperor Shah Jahan as a memorial to his beloved wife, Mumtaz Mahal. It stands majestic on the banks of the Yamuna River and can be seen for miles around. This iconic monument has been listed as one of the UNESCO World Heritage Sites and is an architectural marvel.
Apart from the Taj Mahal, you can also explore other Mughal masterpieces and forts in Agra such as the Agra Fort, Fatehpur Sikri and Itimad-ud-Daulah's Tomb.
The beautiful Taj Mahal
The Taj Mahal is often regarded as one of the most magnificent structures across the globe. It is located in the medieval city of Agra and is known as the token of love. A diverse spectrum of tourists come to admire the monument's splendor and to admire the craftsmanship. It is regarded as the Crown of Palaces in Persian, and its devotees are treated to a beautiful sight.
The Taj Mahal, located on the southern bank of the Yamuna River, rises like a fantasy from the hazy and frequently bustling city of Agra. It is also a UNESCO World Heritage Site and is viewed as one of the best examples of Mughal architectural wonders.
One of the most enjoyable aspects of witnessing the Taj Mahal is appreciating the beauty, appropriateness of extents, and splendor of geometrical precedents of such charmingly done lawns that add to the Taj Mahal's grandeur.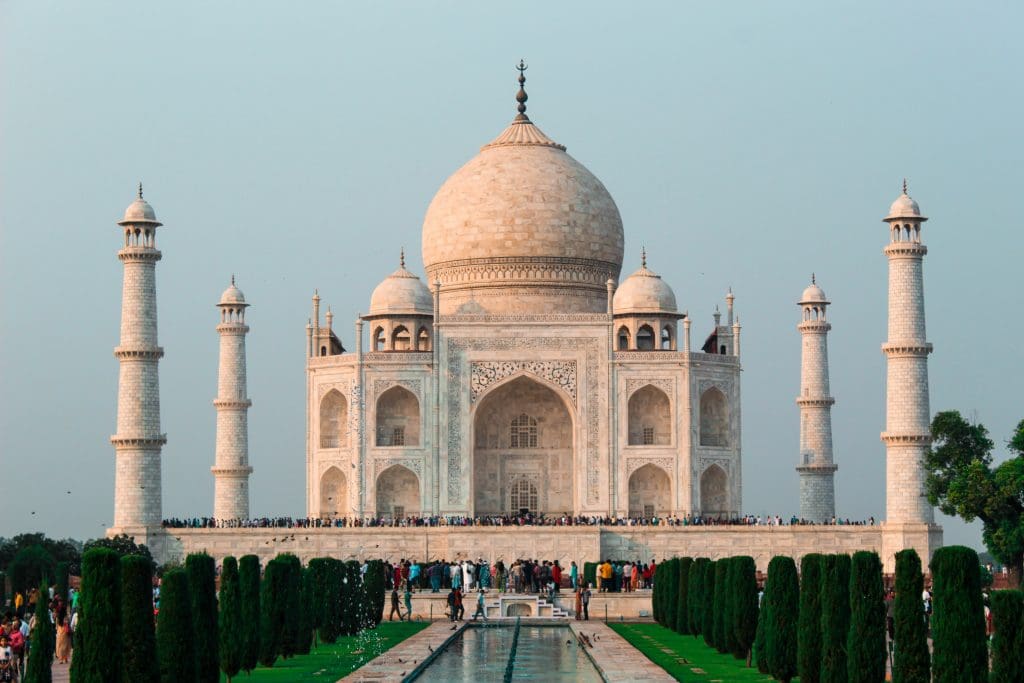 The tomb is the property's focal point. This massive white marble construction rests on a square base and has a geometric architecture with an iwan (an arch-shaped gateway) capped by a big dome and finial. Four minarets, each more than 130 feet tall, demonstrate the creator's passion for uniformity and are situated at the sides of the burial platform to finish the structural arrangement.
The decorative gardens are created in the style of a classic Mughal Charbagh, with a square garden divided by water bodies and an elaborate marble plinth running down the middle. The whole architecture highlights the slenderness of this emblem of love, endurance, and purity.
The Taj Mahal's History
The legendary Taj Mahal narrative never fails to captivate audiences! Emperor Shah Jahan erected the Taj in loving remembrance of his third wife, Mumtaz Mahal, who died right after giving birth to their 14th child in 1631. Considered a symbol of enormous love, the emperor resolved to erect a memorial in her honor, which he did the next year, in 1632.
The main building is said to have taken eight years to complete. The entire structure was not finished until 1653. The unfortunate aspect is that Shah Jahan was deposed by his son Aurangzeb soon after the palace was completed. He spent the final years imprisoned inside the Agra Fort, admiring his magnificent achievement and mourning his beloved Mumtaz through the window. He died in 1666 and was buried beside his wife Mumtaz in the Taj Mahal's mausoleum.
Over 20,000 individuals from India and Central Asia are claimed to have been hired to build the architectural wonder. Shah Jahan brought in European experts to create the beautiful white marbles and pietra dura (marble inlay work) made up of hundreds of semi-precious gems.
The Taj Mahal received a prestigious title in 1983 when it was classified as a World Heritage Site. It received extensive repair work in the early twentieth century. People come to Agra not just for the magnificence of this sparkling white marble monument, but also for the Taj Mahal's glorious heritage.
Taj Mahal Timings and Entry Fee
The Taj Mahal in Agra has no defined hours. Every day, the Taj opens 30-45 minutes before sunrise and closes 30 minutes before sundown. It should also be noted that the Taj Mahal stays closed to the public on Fridays.
The admission price for this monument varies depending on the country of origin. The standard charge structure is mentioned below:
INR 1100/- per person for foreign nationals
Nationals of SAARC and BIMSTEC: INR 540/- per person
Indian citizens: INR 50/-
INR 200/- for the main mausoleum
Please keep in mind that photography and filming are permitted on the grounds but not within the tomb. Tripods are absolutely prohibited. Before entering the mausoleum, make sure your shoes are removed or covered.
Best Time To Visit Taj Mahal
It is recommended to visit the Taj either during sunrise or sunset because these two times of the day give spectacular scenery of the masterpiece against the hues of the sky. Also, October and March is the best time to visit Agra since the weather is ideal for touring and the blistering heat does not upset visitors to the Taj.
 Places To Visit in Agra
Though the Taj is enough to mesmerise your senses, here are a few more places you must try to see while in Agra: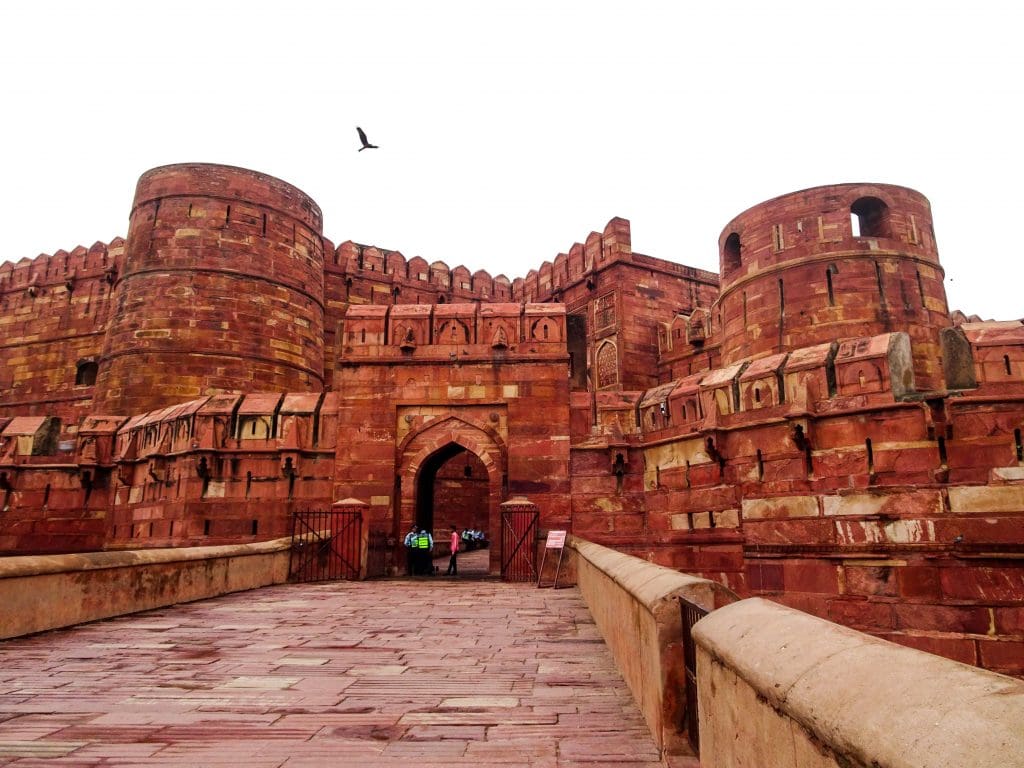 Agra Fort
Also known as Lal Qila, a popular tourist destination near the Taj, Agra Fort is where Shah Jahan was imprisoned for the longest time. This fort was erected in 1565 by Emperor Akbar and is a sight to see. It is constructed of red sandstone and is also a UNESCO World Heritage Site.
Ram Bagh
It was established by Babur in 1528 and is regarded as India's earliest Mughal garden. It is situated on the banks of the Yamuna River, around 3 kilometers from the Taj Mahal and 500 meters away from the Chini ka Rauza. Ram Bagh is a must-see for anyone visiting the Taj Mahal. Before being refurbished, this garden was Agra's oldest garden, a haven during a hectic market, and was renowned as the Aram Bagh, meaning the Garden of Relaxation in textual language.
Akbar's Tomb
Akbar's Tomb, situated at Sikandra, is Emperor Akbar's final resting place. It is just 13 kilometers from the Agra Fort. It was finished by Akbar's son Jahangir and engraved with 99 names of Allah. The design is unique among Mughal structures and highly intriguing, making it one of the top locations to see in Agra.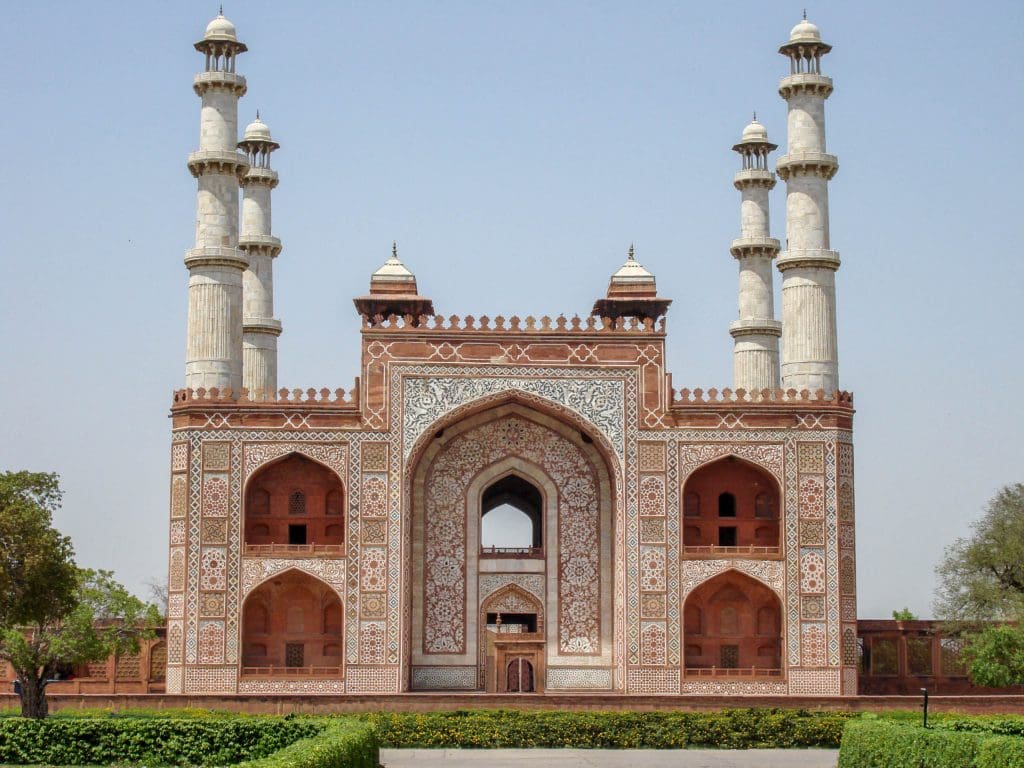 The Akbar's Tomb in Agra is a testament to the great Mughal Emperor Akbar and his reign. This stunning monument is surrounded by lush gardens and includes four main chambers – two above ground and two below. It was built in 1605-1613, during Akbar's rule, and houses the tomb of Akbar himself.
The architecture of the monument is a mix of Hindu and Islamic styles, reflecting the grandeur of Mughal rule. The walls are decorated with intricate carvings, stucco work that includes Arabic calligraphy, and beautiful tile work. The main dome is made of marble and the entire complex is surrounded by high walls, with four gates and two side entrances.
The Akbar's Tomb complex also houses the tombs of several other members of the Mughal dynasty, including Akbar's son Jahangir and grandson Shah Jahan. There are also many smaller tombs that belong to nobles and courtiers from the era.
Visitors can explore the grounds and gardens, and marvel at the impressive architecture of this monument. In addition, there are several other monuments in the vicinity that are worth a visit, such as Itimad-ud-Daulah and Fatehpur Sikri.
Dayal Bagh
Dayal Bagh is one of several architectural beauties to be discovered in Agra. It is a 110-foot-tall edifice made entirely of solid marble. While visiting the area, one can see the renowned pietra-dura inlay work, which adds to the genuine splendor of the location. Radha Swami devotees should be aware of this location since it holds the samadhi of Radha Swami's founder, Swamiji Maharaj.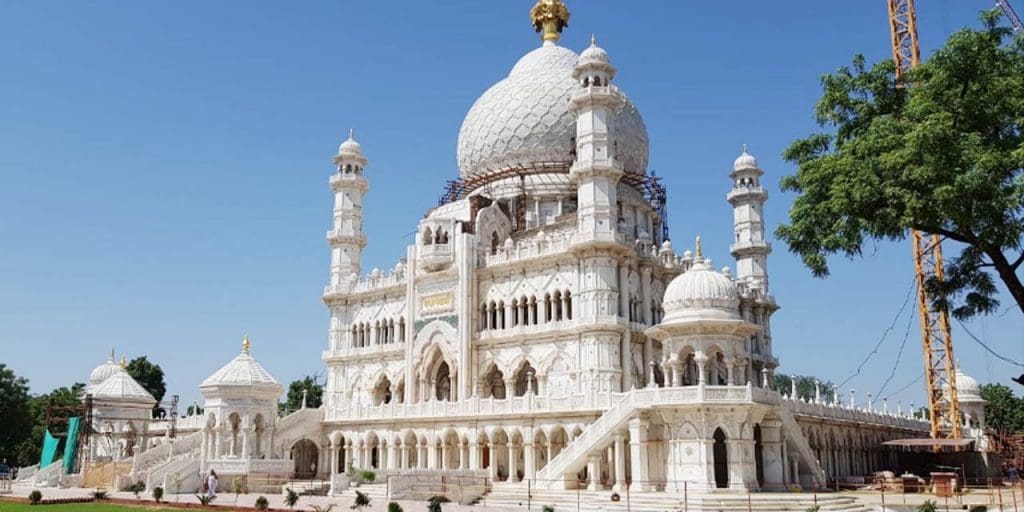 Dayal Bagh history can be traced back to the late 19th century. It started with a small shrine built by Baba Jai Dayal and his son, Lala Jagannath Prasad. This shrine was then developed into a multi-storey temple complex in 1910. Over the years this temple has grown from being a single structure to an expansive complex that now houses over 400 temples and shrines.
The temple has many unique architectural features, including intricately carved marble pillars and domes. One of its most distinctive aspects is the pathway known as 'Akshardham Path' which runs through the entire complex. This path is lined with hundreds of fountains, sculptures, and statues.
Dayal Bagh has a spiritual significance, as it is considered the residence of Lord Krishna who resides in this area. Many devotees come to this temple to meditate and seek blessings from Lord Krishna. Every Sunday morning- thousands of people gather here for special prayers and rituals that are organized by the priests at Dayal Bagh.
The temple is a popular tourist destination, and many visitors come here to enjoy its architectural beauty and spiritual atmosphere. The complex also houses several museums, galleries, libraries, and classrooms where people can learn more about the history of Dayal Bagh and other Hindu beliefs. There are also various festivals celebrated here throughout the year that attract thousands of visitors. In addition, there are a number of shops selling souvenirs, clothing, books and other items related to Hinduism and the history of Dayal Bagh.
Dayal Bagh is truly a place that has something for everyone – whether it be people looking to take in its spiritual atmosphere or those looking to explore its rich history.
Mankameshwar Temple
One of the 4 major and exquisite temples devoted to Lord Shiva is located approximately 2.5 kilometers from the Taj Mahal and around 1 kilometer from the iconic Agra Fort. Each of these stands on one of Agra's four corners and is a must-see sight in your schedule. The architecture of this monument is stunning and flanked by marketplaces from the classic Mughal period.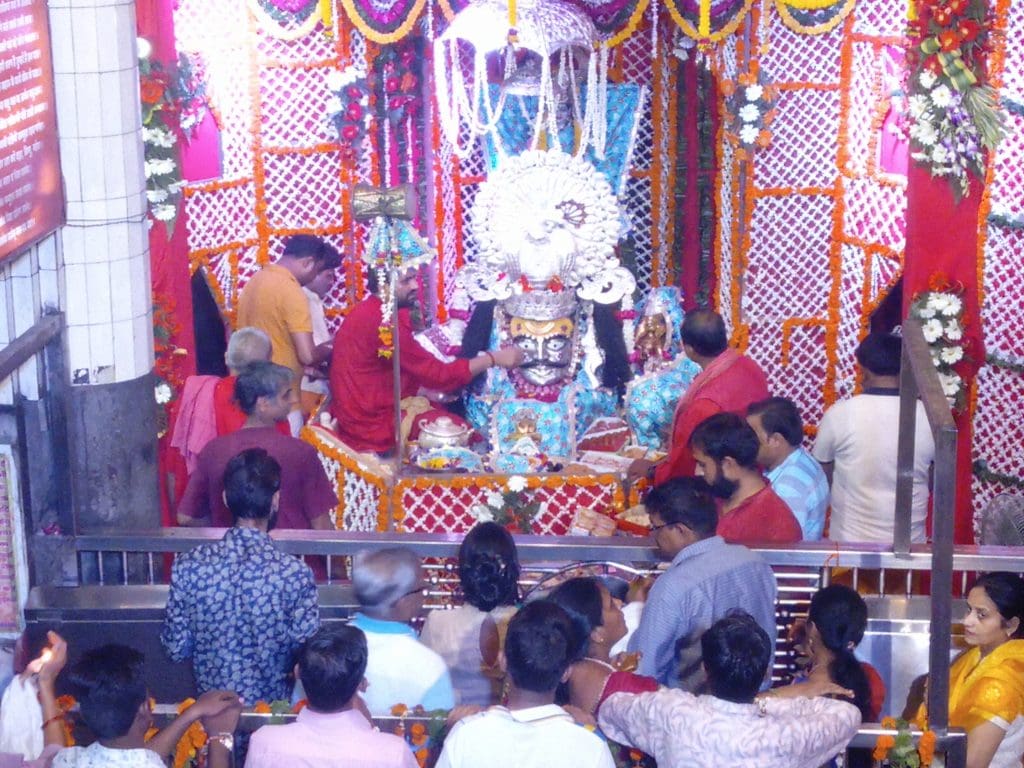 The main idol of Lord Shiva in the temple is about 4.5 feet tall and made of black stone, known as 'moti' or marble. The temple also houses a number of smaller shivalingas and Nandi, who stands guard outside the main shrine. Every year on Mahashivratri, a grand fair is organized at Mankameshwar Temple.
Vrindavan
The sacred city of Vrindavan, one of India's holiest pilgrimages, awaits your arrival. If one is a devout follower of Lord Krishna as it invites visitors from far and wide to bask in its splendor, as there are numerous temples in Vrindavan. It is supposed to have 4,000 temples, each narrating epic stories about Lord Krishna as per Hindu mythology.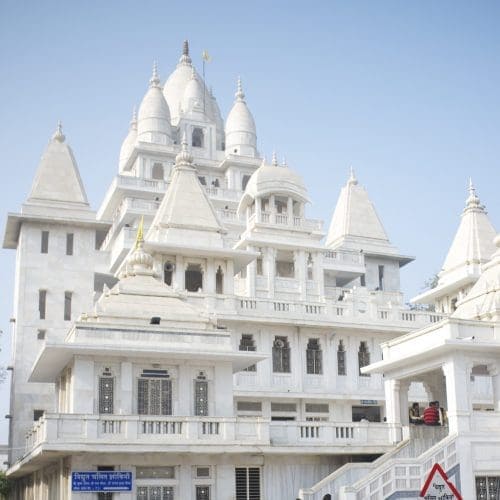 Vrindavan history is full of tales of adventure, legends and folklore that recount the divine love between Radha and Krishna. It is believed that during the famous Mahabharata war, Lord Krishna stayed in Vrindavan while his friends and family were fighting in Kurukshetra. The Bhagavata Purana describes it as a place where the forests were full of different kinds of trees and flowers, where the air was sweet with the fragrance of incense, and where divine music could be heard.
These days, Vrindavan is known for its many temples dedicated to Radha and Krishna, including Banke Bihari Temple, Iskcon Govinda Temple, Radha Vallabh Temple, and Radha Damodar Temple. The area is also home to a number of ashrams where devotees come for pilgrimage.
Vrindavan is also known for its many festivals that celebrate the divine love between Radha and Krishna. Some of these festivals are Janmashtami, Gaura Purnima and Holi. Other than the religious celebrations, Vrindavan is also known for its colorful markets that sell traditional handicrafts, jewelry and clothes.
The city has a unique culture that blends Hinduism with Vaishnavism and Radha-Krishna devotion. This culture is reflected in the locals' traditional attire, music, dance, art and cuisine. Visitors to the city can also explore its surrounding areas for various attractions such as Mathura, Barsana, Mahaban and Govardhan. With its lush green forests, divine temples and spiritual atmosphere, Vrindavan is definitely a destination worth visiting.
Fatehpur Sikri
A journey to Agra must include a stop at Fatehpur Sikri, the imperial capital of the Mughal Dynasty. In the mausoleums, palaces, arches, and columns, one can see the wonderful alchemy of many architectural styles and the notion of Islamic designs.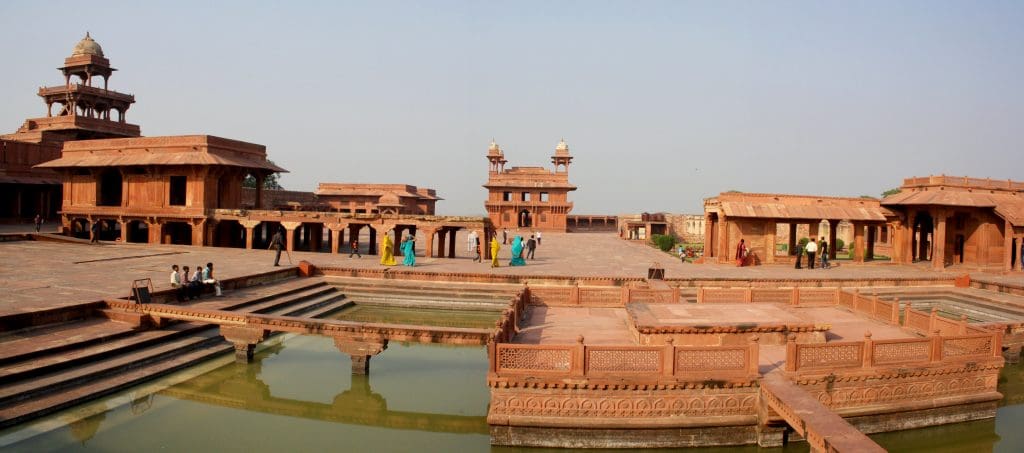 Fatehpur Sikri was founded by the Mughal Emperor Akbar in 1571 and served as his capital for around 14 years. It is known for its distinctive architectural style that combines both Islamic and Hindu elements. The city is home to numerous monuments such as the Buland Darwaza, Diwan-i-Khas and Diwan-i-Aam, Jama Masjid, Jodha Bai's Palace, and Panch Mahal, Salim Chishti tomb and many more.The Buland Darwaza or "Gate of Magnificence" is one of the most famous monuments of Fatehpur Sikri. It was built in 1602 to commemorate Akbar's victory over Gujarat. The impressive entrance stands 54 meters high and is decorated with carved inscriptions from the Quran.
The Diwan-i-Khas, or "Hall of Private Audience", is a beautiful chamber adorned with intricately carved stonework and has a majestic dome at the center of the room.
The Diwan-i-Aam, or "Hall of Public Audience", is an elaborate chamber that features a large open hall with columns and arches, as well as an elaborately decorated ceiling.
The Jama Masjid is another prominent monument of Fatehpur Sikri. This grand mosque has three storeys and is adorned with many intricately carved ornaments. The central courtyard of the mosque was used for prayers and other religious activities.
The tomb of Salim Chishti is one of the most significant monuments in Fatehpur Sikri. It was built in 1571 by Akbar to commemorate a Sufi saint from Khurasan, Iran named Sheikh Salim Chisti. The interior and exterior of this beautiful monument are decorated with intricate stonework.
Fatehpur Sikri is a remarkable historical city that still stands today, drawing visitors from all over the world to marvel at its beauty.
Itmad-Ud-Daulah's Tomb
Itmad-Ud-Tomb Daulah is a mausoleum situated in the city of Agra, India and is regarded as the Taj Mahal's forerunner because of its beautiful carvings and inlay work. It is supported by octagonal-shaped minarets, features arched doorways, inlay work, and floral motifs carved all over everything. Itmad-Ud-Tomb Daulah has drawn the attention of many visitors and historians due to its intricate marble display.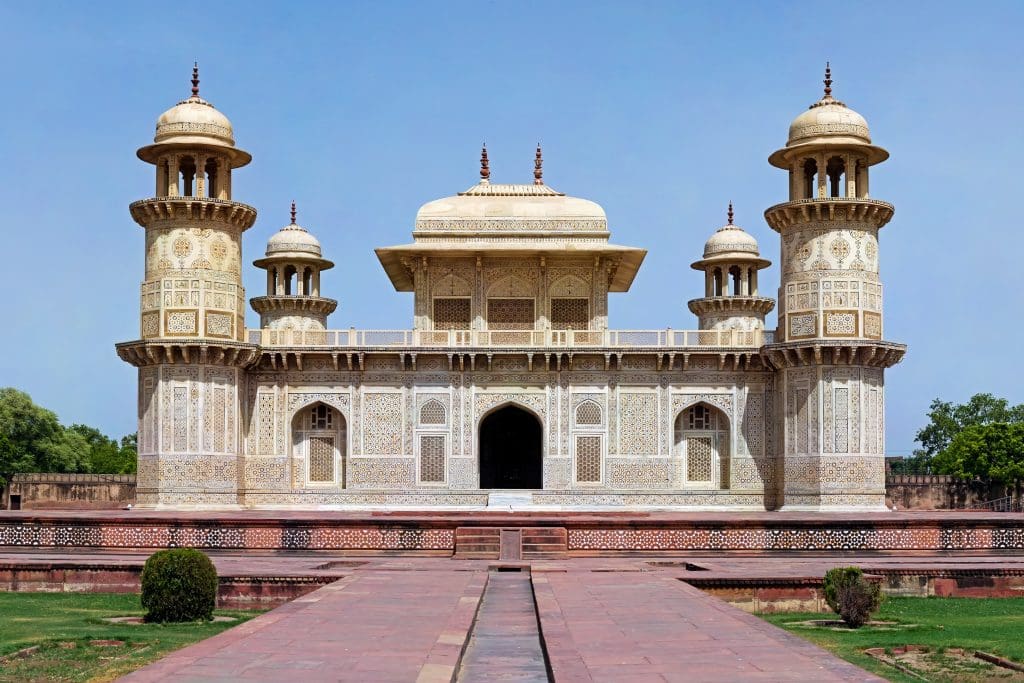 Built between 1622 and 1628, it was commissioned by Empress Noor Jahan, wife of Mughal Emperor Jahangir, for her father Mirza Ghiyas Beg–a Persian nobleman. The architecture of the tomb is a mixture of Persian and Indian styles, featuring a central domed chamber surrounded by four corner towers. The walls and ceilings of the tomb are intricately decorated with marble inlay work, floral designs, and geometric motifs, while glazed tiles adorn the facades.
The garden surrounding the tomb is laid out in traditional Mughal Charbagh style–a four-part garden with water channels, interspersed with floral designs. Furthermore, the entrance gate to the tomb is decorated with intricate marble inlay work depicting scenes from Noor Jahan's life and her relationship with her father.
A visit to the Taj Mahal and other monuments in Agra leave you mesmerised as it serves as a reminder of the power of history and architecture and its ability to stand the test of time.
The combination of beautiful gardens, intricate marble carvings, and exotic design makes a trip to Agra an unforgettable experience for all who visit.
Whether you are a tourist or a local, the Taj Mahal is worth visiting at least once in your lifetime so you can experience the beauty of this incredible monument for yourself.
Read More: Latest