WICCI Hospitality and Tourism Council submitted its recommendations for the 2022 -23 Union Budget to the Honourable Finance Minister, Nirmala Sitharaman.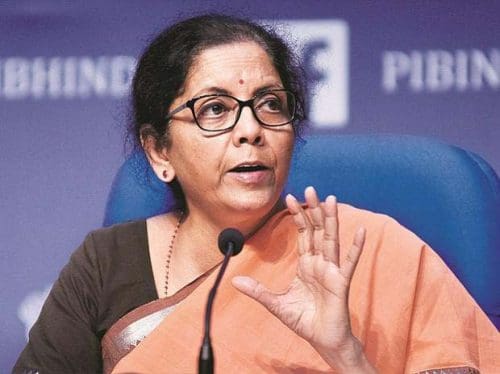 On submitting the budget recommendations, WICCI (Women's Indian Chamber of Commerce & Industry) Hospitality and Tourism Council, National President, Kanika Hasrat stated, "The last 24 months have tested our collective resilience, to say the least. We, the industry stakeholders fully acknowledge the predicament that the Government of India has gone through in this intervening period and yet observe how boldly and compassionately the GOI has addressed problems, both at an individual and institutional level."
She went on to say, "At the same time the hotel industry has demonstrated spirit only next to the healthcare industry – whether turning into temporary Covid care units or providing meal services or even giving its customers the much-needed holiday break."
She continued, "Overcoming accumulated losses of last 24 months, the industry was anticipating revenues of almost $15 billion during Q4 of 2021-22, which was interrupted midway with the 3rd wave of variant Omicron. Cancelled business travels, postponed weddings, forfeiture of loans, stalled construction sites, delayed openings loom large and heavy on an already battered industry."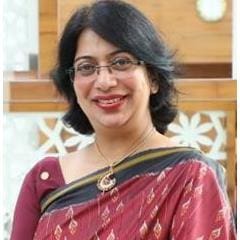 Since its inception in 2020, the WICCI National Hospitality & Tourism Council has worked on several micro projects and initiatives for the upliftment of women in the industry.
With  these budget recommendations which encompasses the efforts of the government, the needs of this beleaguered industry as well as  a focus on gender parity in hospitality and tourism,  the WICCI National Council hopes to inch toward its  charter of a gender agnostic industry and will continue to focus on the growth and development for women in Hospitality and Tourism.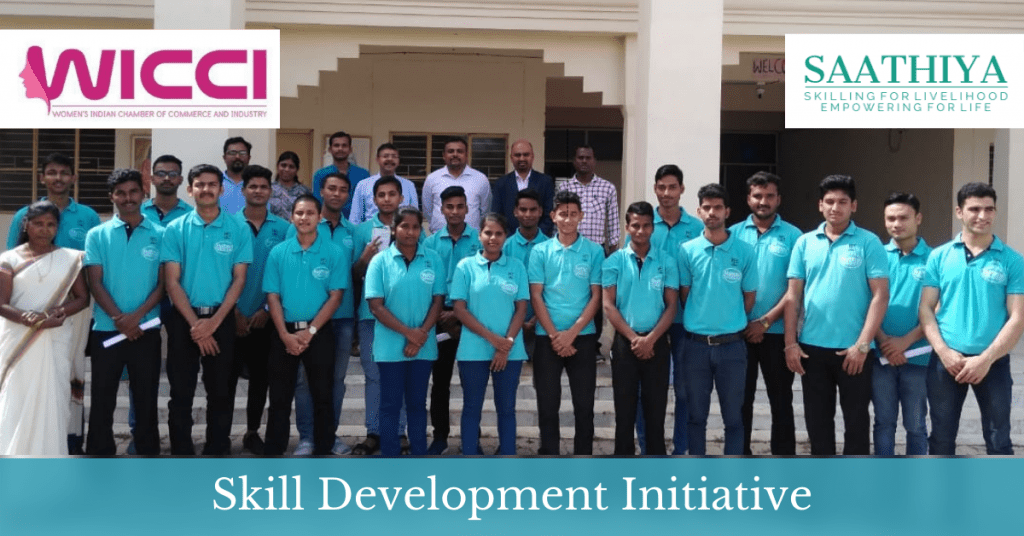 The WICCI Hospitality and Tourism Council's Charter emphasises the growth and development of women in the industry through inspiration, education, sponsorship and conversations.
Some of the key points of WICCI's Budget Recommendations are
-Allow hotels to be considered as part of the LTA . Not only will this encourage citizens to avail safe quality accommodation but also help Hotels build back their revenues
– Improve budgetary allocations in the 2022-23 budget for development of tourism infrastructure in different locations and promote tourism activities
– Accord infrastructure status to Hospitality for hotel projects above Rs.25 cr. of development cost ( excluding land)
– Offer 1% GST rebate for three star hotels in line with the tax holiday offered to affordable housing projects.
– Incentivise organisations which hire more than 50% of women in the workforce with an additional tax/GST rebate.
– Government to mandate environmental social and governance ( ESG ) report on diversity inclusion indicators in the industry this will help in transparent allocation and reporting of the 3% CSR mandate spent.
-To enhance the composition of women and tourism workforce provide scholarship and concession in fees to female students from economically weaker sections and leading Hotel management institutes or even apprenticeship programmes such as Hunar Se Rozgar.
– Fund a project to create women's safety ombudsman for women workforce in the tourism industry
WICCI's comprehensive recommendations for Budget 2022-23
With 37 World heritage Sites, 10 bio-geographic zones, 80 National Parks and 441 sanctuaries, India is a tourism force to
reckon with. Pre-pandemic, Travel & Tourism contributed 6.9% of the country's total GDP, creating 40 million jobs. This
unceremoniously fell to 4.7% and 31 Mn jobs in 2020 (WTTC, 2020).
Since its inception in 2020, the WICCI National Hospitality & Tourism Council has worked on several micro projects and
initiatives for the upliftment of women in the industry.
Today we present to your good offices, recommendations in anticipation of Budget 2022-23. Our approach involves both gender agnostic and woman empowering initiatives:
I. 'Dekho Apna Desh' – A practical approach
To support the beleaguered industry, Honorable Prime Minister Sh Narendra Modi announced the mega 'Dekho apna desh'
initiative in January 2020 – A call to action for domestic tourists to explore our country and pledge to visit atleast 15 location
by 2022.
And rightly prophesized by Honorable PM, it is our own citizens that that kept our industry afloat through domestic
tourism until FTAs revive. We need to take this to the next level of implementation. One important way to do that would be
to allow Hotel stay to be considered as part of the LTA. Not only will it encourage travel, but it will also encourage citizens
to avail of safe quality accommodation for their holiday needs through use of classified hotels.
The GoI in the last 5 years has created world class infrastructure in terms of roads, marquee tourism attractions such as
'State of Unity', inaugurated in October 2018. We urge the Government to facilitate lease of tourism focussed land parcels
in context of PRASAD and Swadesh Darshan.
A glaring fact is that globally land is 15-20% of hotel development cost, whereas in India it can be as high as 50% of total cost thereby severely pressurising return on investment. Providing land at competitive
pricing will lead to better ROI thereby encouraging more entrepreneurs and business creation to enter Travel and Tourism.
II. Budgetary allocation and Spends
India was globally the third largest in terms of investment in travel and tourism with an inflow of US$ 45.7 billion in 2018,
accounting for 5.9% of the total investment in the country.
The budgetary allocation for the Ministry of Tourism was slashed from Rs 2,500 crore in 2020-21 to Rs 2026.77 crore in 2021-22. Out of the proposed budget allocation of Rs 2026.77 crores, about INR 950.00 crores was proposed to be used for
creation of tourism infrastructure at different destinations.
About INR 670 crores was to be spent on tourism promotional activities. Given that the next 12-18 months may not see significant FTA, it may be prudent to re-allocate the marketing and promotion funds to create a Tourism Covid Emergency Support Fund (TCESF) for employees who have lost their jobs by providing them minimum wages. 40% of small-scale hotels have shut operations across the country while large numbers of others are looking at a possible collapse.
The beleaguered hotel owner is already under pressure of high fixed costs of operations that have become unsustainable owing to negligible revenues. It is recommended to use this TCESF as a Direct Benefit Transfer (DBT) to the workforce of Tourism industry (FTCs and entry level staff).
III. Loans, Stamp Duty & Subsidies to overcome Post Pandemic Pandemonium
Financial Institutions have been wary of lending to Hotel Projects even with sound business plans; subjecting them to an
unduly high level of scrutiny.
Given the long gestation and elongated payback periods, it is imperative to increase Tenure of Term loans akin to the 'infrastructure' projects. Most financial institutes do not offer more than 5-7 years term funding, which in effect needs to be upgraded to at least 12-14 years.
25 – 30 % of hotel establishments are in a compromised situation with regards financial subsistence with another 15 per cent
on the cusp. In 2020, GOI launched stimulus via ECLGS 3 to provide a temporary loan relief to business owners. Although
this gave term extensions and postponed financial distress, the side effect of ballooning debt on the company balance sheets
is a dangerous situation waiting to explode.
Need of the hour is restructuring loan mathematics with a combination of increased tenure, subsidising interest rates and partial waivers under some specific conditions . Failure to save assets on the cusp will result in mass consolidation of assets by a handful of super powers, leading to price cartelisation.
As the one of most important forex generating sectors (As per WTTC 20202, USD 30 Bn generated in 2019), Travel & Tourism
sector should also be classified as 'priority' sector by IBA and RBI.
Furthermore, just as real estate allows for gender-based stamp duty for ownership of residential asset, the government
should allow for stamp duty relief for women hotel owners. In case of company ownership having a minimum 51%
shareholding by women to qualify for property tax concessions.
IV. Infrastructure and Industry Status – a long standing request
Re-designation of Hotels under National Infrastructure Pipeline. Usually, for hotel projects the cost of MEP systems is 40% of
total project cost, another 20-25% of Civil and Site development works; balance 30-35% accounts for interiors; bought out
items and consultancy costs.
Considering this, the depreciation rate of 10% is unfounded and financially unviable. We therefore deferentially ask for categorisation of Hotel Projects above INR 25 Cr of development cost (excluding land) as infrastructure project. This threshold currently stands at a whopping INR 200 Cr – a positioning that is highly exclusive and does not benefit the MSME, middle class and new entrepreneurs.
Pressure on Return on investment for the hotel industry is compounded by the fact that hotels are a long gestation and
capital-intensive business. Given this, it is only fair that we be accorded infrastructure status and avail of benefits that go
with it – i.e., availability of 'friendly' capital at competitive rates vis a vis other 'infrastructure' industry along with better
rates of depreciation.
While conferring Industry Status may be a state subject, we urge the Government to create a temporary emergency
response directive towards states to accord industry Hospitality Industry to avail benefits in electricity tariffs, property tax,
refinancing of existing debts, hassle-free loans at subsidized interest rates, taxation, and simplified approval process for hotel
projects.
This will ensure support to the quality end of accommodation thereby encouraging a safe, hygienic, and secure
ecosystem. In the long-term, include Tourism in the Concurrent List of the Constitution, to benefit from policies of both
Centre and State equally.
V. Temporary and Policy level Tax Abatement
Just as GOI conferred Affordable housing projects with tax holidays for one year in the earlier Budget, we urge the Government to extend similar courtesy to 3-star hotels for a period of 12 months.
This will not only support the Hotel Industry but also the MSME set ups as they are the primary consumers of this industry. When tax reduces, it will make hotels more affordable for the large middle-class segment, giving a much-needed impetus to mid-market and budget hotels.
For the larger industry – we urge reduction of GST by 1% for both rooms and F&B to recover insurmountable cumulative
losses and boost travel sentiment for a short term of 12-18 months.
Additionally, women who have been most affected by the onset of the pandemic both financially and socially should get
some fillip by incentivising with a 3% GST rebate for organisations that meet the 50% threshold criterion of women in
workforce.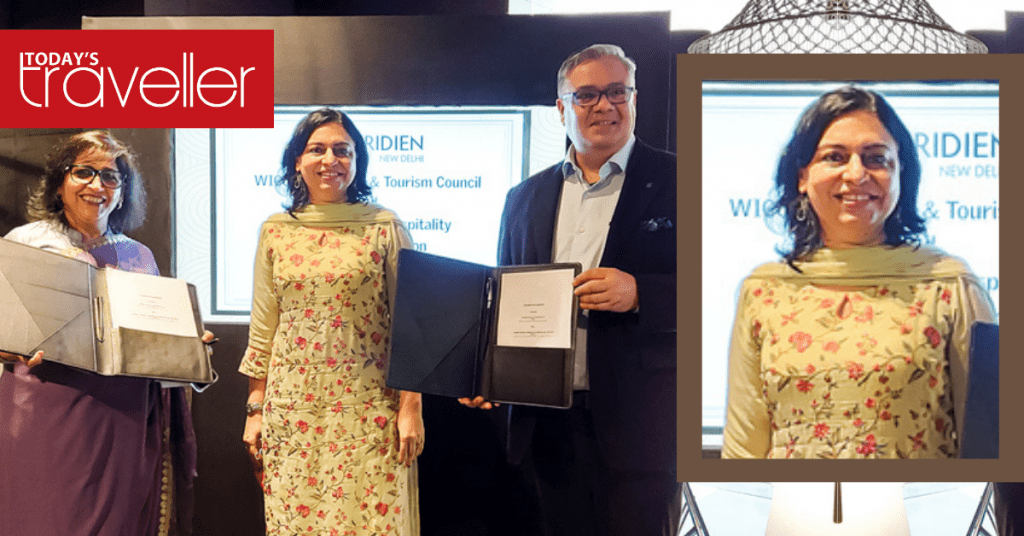 As a measure to increase women participation in the industry, we urge the Government to accord concession in Corporate Tax for Tourism & Hospitality companies having more than 25% salary bill going to women employees.
VI. ESG Report – Integrating Environmental, Social and Governance with Financial Goals
According to WTTC's Reporting Guidance For Travel & Tourism Businesses, the Tourism industry is yet to make strong
declarations regarding renewable energy compared to other sectors, notably customer products, finance, technology, and
healthcare.
Government to mandate Environmental, Social and Governance (ESG) report on diversity and inclusion indicators in the
industry (e.g. of gender pay parity and gender representation at all levels). This will also help in transparent and proud
reporting of the 3% CSR spend mandate.
To enhance composition of women in tourism workforce, provide scholarships and concessions in fee to female students
from economically weaker sections in leading Hotel Management Institutes such as IHM or even Apprenticeship program
such as Hunar se Rozgar. It is recommended that 1% of the 3% CSR budget to be allocated for providing such benefits and
scholarships.
VII. Safety and Security of Women
India ranks 148 among 170 countries as per Women Peace and Security Index 2021/22 published by Georgetown Institute
of Women, Peace and Security. This aspect is as important for women employed in the industry as much the travellers. We
recommend allocating at least 10% of total Tourism budget towards safety of women travellers to enhance sentiment for
travel. Fund a project to create a Women's Safety Ombudsman for women workforce in the tourism industry.
VIII. Gender equality and recalibration of workforce for better equilibrium
Globally, women have been disproportionately affected by the pandemic which has led to further widening of pay gap,
opportunity gap and C-Suite gap, more so across the travel and tourism sector. India ranks 140th out of 156 countries, on
the overall Gender Gap Index as per World Economic Forum report 2021.
We urge the Government to launch an industry agnostic 'Pay to Person' Policy (and not man or woman) in collaboration with MoHRD to bridge this unending chasm of disparate compensation.
The pandemic has reset our mindsets, our health, our professions, our spirituality, and our lives. Let this be a year of cusp, a year of inflexion to bequeath us with the unexpected that will help us reset our businesses for a faster and longer run through an inclusive society and for a flatter financial economy.
We humbly request some of these recommendations to be used to redistribute wealth, opportunities, and happiness among a larger section of the society, focusing on well-being of employees and employer alike for none will survive without the other. Government policies are a palliative that can not only soothe the industry's woes but also give it the boost it needs for the next leap of faith.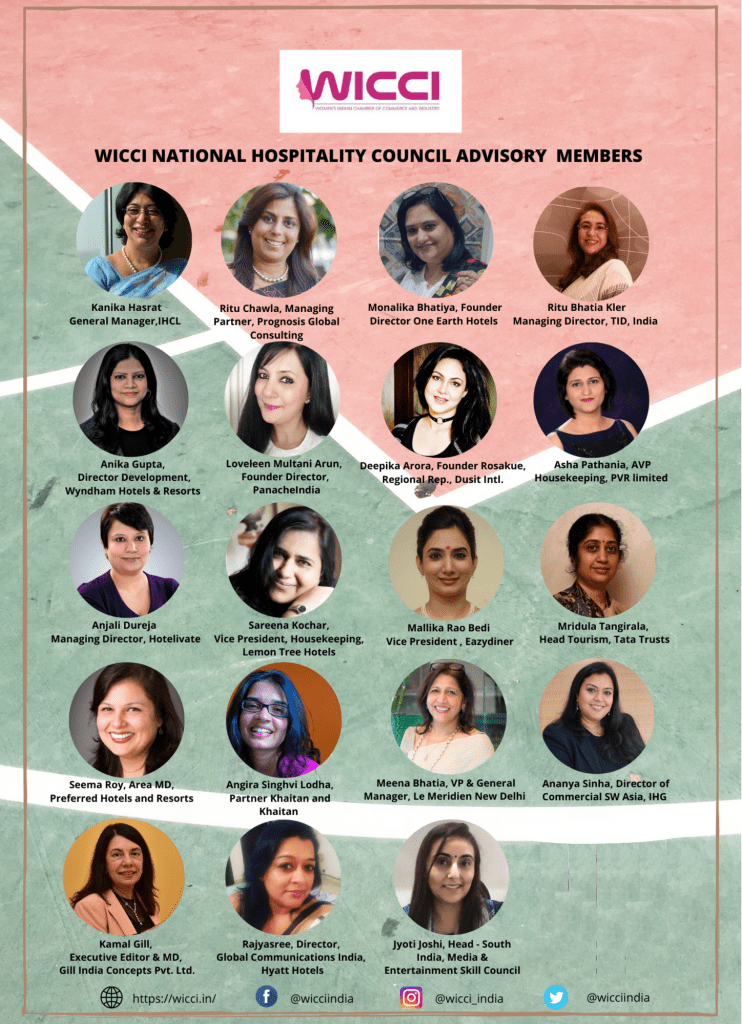 WICCI Hospitality and Tourism Council – National Advisory Board Members:
• Kanika Hasrat, General Manager, Taj City Centre Gurugram, IHCL
• Ritu Chawla Mathur, Managing Partner, Prognosis Global Consulting
• Anika Gupta, Director Development Eurasia, Wyndham Hotels & Resorts
• Seema Roy, Area Managing Director, Preferred Hotels and Resorts
• Monalika Bhatiya, Founder Director, One Earth Hotels
• Deepika Arora, Founder, Rosakue and Regional Rep, Dusit Intl.
• Sareena Kochar, Vice President, Housekeeping, Lemon Tree Hotels
• Meena Bhatia, VP and General Manager, Le Meriden New Delhi
• Ananya Sinha, Director of Commercial , SW Asia , IHG
• Rajyasree Sen, Director Global Communications India, Hyatt Hotels
• Ritu Bhatia Kler, Managing Director, TDI India
• Asha Pathania, AVP Housekeeping , PVR Ltd
• Loveleen Multani Arun, Founder Director, Panache India
• Anjali Dureja, Managing Director, Hotelivate
• Mridula Tangirala, Head Tourism, Tata Trust
• Jyoti Joshi, Head South India, Media and Entertainment Skill Council
• Kamal Gill, Executive Editor and MD, Gill India Publications
• Mallika Rao Bedi, VP Strategic Initiatives and Rewards, EazyDiner
• Angira Singhvi Lodha, Partner, Khaitan and Khaitan
• Gurmeet Sachdev , Publisher and Media Partner
• Shailja Singh, Vice President Human Resources, Oberoi Hotels and Resorts, EIH Ltd
• Ritu Sehgal, Director Travel with Us
• Ratna Chadha, Chief Executive , TIRUN Travel Marketing
• Urmil Khurana, CFO and Finance Consultant
WICCI Hospitality and Tourism Council – State Leadership Team
• Dr. Madhu Chandok, Director and Founding partner PIP2020, State President NCR
• Vani Sengupta, Director Of Human Resources, Westin Velachery, Marriott International , State President TN
• Priyanka Gidwani, Chief HR officer, Mahindra Resorts, State President Maharashtra
• Poonam Singh Veliah, Consultant and Ex. General Manager , Vana Retreats, State President Kerala
• Maulina Gupta, General Manager, Hyatt Chandigarh, State president Punjab
• Artlin Row Thangkhiew, CEO ETPL India Countryspices, President NE
• Nivedita Avasthi, General Manager, Crowne Plaza , Greater Noida , State President UP
• Vasudha Sondhi, Managing Director, OMPL Group, State President Uttarakhand
Read More: News