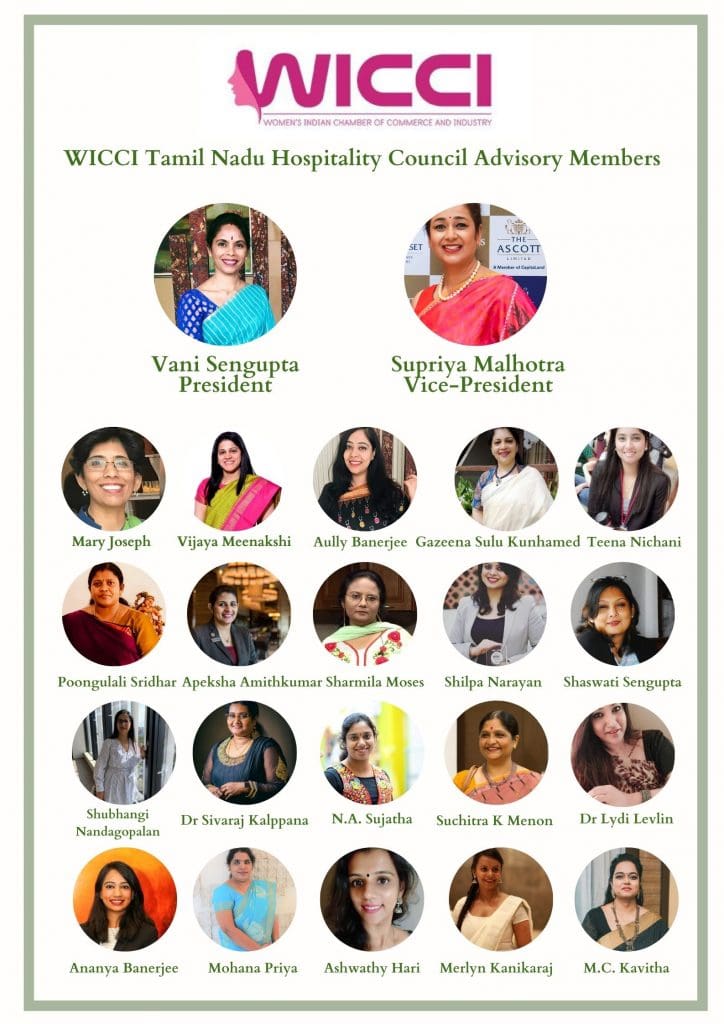 Presided by Vani Sengupta, Director Human Resource at The Westin Chennai Velachery and supported by Vice President Supriya Malhotra, Area General Manager Chennai Cluster Ascott Limited, the WICCI Tamil Nadu Hospitality and Tourism Council aims to work with organisations to help enhance women workforce at workplaces significantly.
The WICCI National Hospitality Council is an online community that mentors and shares inspiring personal stories about 'breaking the glass ceiling' whilst coaching women from all walks of life to pursue a career and grow within the hospitality industry.
According to a study, the Indian hospitality industry has a female workforce of only 20 per cent, with less than 3 per cent in leadership positions. As per the KPMG Women in Leadership Report 2019, 67 per cent of women felt that they need more support to build confidence to feel like they can be leaders but were motivated and inspired by other women in leadership.
Speaking on the occasion, State President, WICCI Tamil Nadu Hospitality and Tourism Council, Vani Sengupta says, "My journey into Human Resources started at a time when the department was still called Personnel Department, and women were not considered competent to hold fort. However, with strong guidance of mentors at work and support from family the climb in the industry began. I wish the same for many women out there who are hesitant to join the industry and would like to be that stick they can hold onto to climb. "
She also says, "WICCI is the vision of Dr Harbeen Arora, Global Chairperson – ALL, WEF, SHeconomy and now WICCI which is an independent National Chambers of Women to strengthen women's entrepreneurship and boost businesses through greater engagement with government, institutions and global trade."
WICCI promotes and supports business success for its members through network building, fellowship, mentorship and sponsorship of select endeavours. Through members' initiatives and collaborative relationships, WICCI promotes professional opportunities for economic success and business leadership.
Vani Sengupta went on to say, "Our primary goal is to provide an independent forum for Women in the Hospitality & Tourism Industry who can 'connect and grow' in their professional pursuits. Our core vision is to enhance the presence and role of women in the Industry and drive State initiatives that support, share, empower, advance, develop and recognize women in order to augment our Tourism and Hospitality Industry."
At its first, one-of-a kind virtual meet, the President and Vice President of the WICCI Tamil Nadu Hospitality and Tourism Council, addressed the Advisory council and shared its goals, vision and agenda for the coming year. Together the WICCI Tamil Nadu Hospitality and Tourism Council and its newly appointed national advisory board have decided to focus on a few initiatives within the first year:
Mentor and coach women to develop skills that help them grow in the hospitality industry.
Build a knowledge sharing platform that enables skill and leadership development across levels by partnering with Industry, Government, NGOs and Associations.
Sponsorship for women to take on key roles.
The WICCI Tamil Nadu Hospitality and Tourism Council will Publish/Voice recommendations and best practices that can help organisation help retain and grow women in hospitality.
Make suitable representations and recommendations for any incentives, concessions, policy, legislative and structural changes to the Government / Ministries.
Vice President, WICCI Tamil Nadu Hospitality and Tourism Council, Supriya Malhotra, says, "Facebook COO Sheryl Sanderg recently said, "Leadership is about making others better as a result of your presence and making sure that its impact lasts even in your absence." I agree and actively believe that representation in leadership plays a strong role in building diverse inclusive institutions and almost translates to enhanced engagement, creativity and results."
Supriya Malhotra goes onto say, "Through this platform and the opportunity to network with so many women leaders, I hope to make a significant impact on working women, in hospitality or in any other field and help them carve a niche. I hope that this representation will empower and help today's generation of strong women to strengthen their presence and succeed in their careers."
WICCI Tamil Nadu Hospitality Council's newly appointed national advisory council not only features senior women leaders from major Global and Indian hospitality companies but also leaders in key hospitality support organisations. With advisors who are new age women leaders from the fields of Hospitality Operations, Business Development, Entrepreneurs, Travel Professionals and Skill Trainers, the WICCI National Hospitality Council hopes to create a culture that fosters and empowers women to achieve greater heights.
WICCI National Hospitality & Tourism Council is headed by: Kanika Hasrat, National President and Ritu Chawla Mathur, National Vice President.
Council Advisory Members of WICCI Tamil Nadu Hospitality and Tourism Council include:
Mary Joseph: Senior Manager, Learning & Development, Marriott Delivery APEC Team
Vijaya Meenakshi: Head of Operations, Apollo Specialty Hospitals (Vanagaram)
Aully Banerjee: Marketing Communications Manager, The Westin Chennai Velachery
Gazeena Sulu Kunhamed: Home Baker and Owner of Sweet Life from Sulu's Kitchen
Teena Nichani: Director of Sales, The Park Chennai
Poongulali Sridhar: Co-Founder, Vice Principal, Aditya's Institute of Hotel Management, Pondicherry
Apeksha Amithkumar: Learning Manager, Park Hyatt Chennai
Shilpa Narayan: Human Resource Manager, Courtyard by Marriott Chennai
Shaswati Sengupta: Managing Trustee, InkLink Charitable Trust. Founder, Lily and The Wonder Women
Shubhangi Nandagopalan: General Manager, Sales & Marketing, GRT Hotels & Resorts
Dr Sivaraj Kalppana: Director Sivaraj Group
N.A. Sujatha: Manager Marketing, Brookefields Mall, Coimbatore
Suchitra K Menon: Volunteer at ANEW, Former Executive Consultant in Housekeeping
Dr Lydi Levlin: Psychologist and Corporate Trainer
Ananya Banerjee: Marketing Communications Manager, Hyatt Regency Chennai
Mohana Priya: Director Human Resource, Park Hyatt Chennai
Ashwathi Hari: General Manager, Keys Hotels by Lemon Tree Hotels
Merlyn Kanikaraj: Revenue Manager, Ascott International Management, India
M.C. Kavitha: Marketing Manager, South India & Sri Lanka, Malaysia Tourism Promotion Board.
Christina Sharmila Moses: Former President, YWCA Madras. Chairperson, Community College for Women, YWCA
Women's Indian Chamber of Commerce and Industry or WICCI is a relatively young organisation and was founded in 2017 with an aim to improve the inclusiveness of women at the workplace. WICCI aims at bringing about a fundamental change in governmental policies, laws and incentives with a view to robustly encourage and empower women in business, industry and commerce across all sectors and fields.
Read More: News