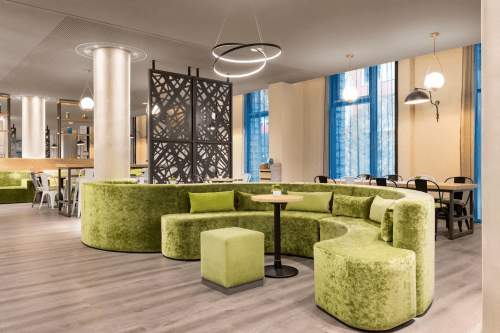 "As the Indian subcontinent continues its recovery cycle, Wyndham remains laser-focused on tapping into its key markets and fulfilling our mission of making hotel travel possible for all," says Nikhil Sharma, Regional Director, Eurasia, Wyndham Hotels & Resorts EMEA.
The observation comes on the back of the India travel market showing positive signs of recovery. Smaller metros and towns are showing resilience, the small to medium-sized businesses segment is regaining momentum and there is some growing optimism for domestic travel in 2021.
Keeping a close watch on these developments, Wyndham Hotels & Resorts has been quick to play to its strengths and reach out with Wyndham Easy Book, the all-new initiative targeting an audience of small to medium-sized businesses seeking to book hotel stays in India.
On account of its flexibility to adapt to a new demand environment, small and mid-sized companies have the potential to generate more domestic travel and respond to new customer segments in the recovery from the impact of COVID-19. Wyndham's initiative is aimed at supporting this segment and everyday business, by offering a broad range of competitively priced accommodation across various destinations and properties around the world.
With a diverse range of product range and destinations, as well as a deeply forged relationship with mid-scale businesses, Wyndham has launched the new initiative with one idea in mind: ease of doing business at competitive rates.
Consider this: With its aim to boost corporate travel for small to mid-size businesses, Wyndham Easy Book is not only accessible across India but also across Europe, Middle East, Eurasia and Africa (EMEA). Moreover, it simplifies and promotes bookings from small to mid-size businesses in an effort to continue to drive more business for its branded hotels.
The offer gives eligible businesses substantial benefits. It includes access to competitive rates, up to 15% off best available rates when booking direct with Wyndham Hotels & Resorts; stays across 9,000 Wyndham branded hotels around the world, with unlimited number of rooms and discounted rates for long stays, including up to 22% off BAR rate when booking direct longer stays.
In its business-made-easy approach the initiative makes eligibility a breeze. Eligible customers include clients booking direct with Wyndham Hotel & Resorts; a minimum of 100 room nights per year without using a travel agency or formal RFP travel programme.
Great hotels in great locations
Wyndham Hotels & Resorts has capitalised well on the rapidly growing mid-market hospitality segment in the country. As it continues to grow its footprint in India, the company includes over 30 Ramada by Wyndham hotels, and properties under the Ramada Encore by Wyndham, Hawthorn Suites by Wyndham, Howard Johnson by Wyndham and Days by Wyndham brands.
To mention a few to showcase the brand:
Ramada by Wyndham Gurgaon Central
Located with easy access to New Delhi, minutes from National Highway 8 – the route to Jaipur – as well as MGF Metropolitan Mall, Kingdom of Dreams, Leisure Valley, and Galaxy Mall, the hotel is the perfect destination for business travellers. Guest rooms at Ramada by Wyndham Gurgaon Central feature wooden floors, oversized desk, LCD TV, in-room safe, mini-bar, and free Wi-Fi. On offer is a fitness centre, Ayurvedic Spa, rooftop pool and free parking.
Howard Johnson by Wyndham Bengaluru Hebbal
The hotel is conveniently located near Manyata Embassy Business Park and Negawara Junction and is only 35 minutes from Bengaluru Airport (BLR). It offers complimentary buffet breakfast and Wi-Fi, an outdoor pool, an on-site spa, fitness center and executive club lounge. Other nearby attractions include Lumbini Gardens, Nagavara Lake, Fun World and the Visvesvaraya Industrial and Technological Museum.
Ramada Encore by Wyndham Bangalore Domlur
Located in the heart of Bangalore IT and CBD, the hotel is within walking distance of Embassy Golf Link Business Center and is the perfect choice for business and leisure travelers alike. The hotel offers three categories of rooms for a comfortable stay, all equipped with a broad range of amenities.
Ramada Plaza by Wyndham Chennai
The hotel is conveniently situated in the business hub of Guindy, just minutes from Chennai International Airport (MAA). Guests have easy access to the Chennai central business district featuring shops, restaurants, and local company headquarters. The hotel is also near the Chennai Central Station, the Indian Institute of Technology Madras, and Chennai Trade Centre. Guests can enjoy complimentary breakfast, fitness center, an outdoor pool, business centre and meeting rooms and a choice of three on-site restaurants and bars. The hotel offers a 24/7 airport shuttle and provides transport to and from Chennai Airport.
Just 6 kilometers from Chaudhary Charan Singh International Airport (LKO), the 107-room Ramada by Wyndham Lucknow offers tremendous event facilities paired with easy access to the Amushi industrial area. Guests enjoy free high-speed Wi-Fi, complimentary breakfast, a fitness and wellness centre, spa and infinity pool. Other attractions nearby include the Ganga Aquarium, Lucknow Mahotsav Sthal, metropolitan Phoenix United Mall and historical sites like The Residency, Maharaja Bijli Pasi Quila and Chota Imambara.
Within minutes of local attractions, including the Gandhi Ashram, the Sidi Sayed Mosque, Swaminarayan Temple, and Science City Ramada by Wyndham Ahmedabad offers complimentary breakfast and Wi-Fi, express checkout, free parking, exercise room, and multilingual front desk staff.
Ramada Plaza by Wyndham Pune Hinjewadi
Business and leisure travelers will enjoy inviting amenities and trademark hospitality at Ramada Plaza by Wyndham Pune Hinjewadi, located on Pune Banglore Highway, with easy access to popular weekend getaways like Lonavala, Khandala, and Lavasa. The hotel is the perfect getaway to join sports events at the nearby Balewadi Stadium, or go shopping at Xion and Westend Mall. Just 22 kilometers from Pune International Airport (PNQ), the hotel is located near the businesses and nightlife of Baner and Hinjawadi.
Wyndham is the world's largest hotel franchising company by number of properties, with approximately 9,000 hotels across 90 countries. Through its network of 804,000 rooms appealing to the everyday traveller, Wyndham commands a leading presence in the economy and midscale segments of the lodging industry.
Feedback
An increase in occupancy, room bookings and sales in F&B outlets
Mahadev Velankar, General Manager, Ramada by Wyndham Gandhidham Shinay, says, "Since the implementation of the Wyndham Easy Book programme at the hotel, we have seen an increase in occupancy, room bookings and sales in our F&B outlets."
Speaking on the success with the SME segment, he adds, "There has been a steady increase in demand over these past months and we expect to continue to see an uptick with SME guests as we are already receiving bookings. We pride ourselves on our impressive meetings and event spaces which offers four versatile venues to meet every guest's needs."
For better understanding, he explains, "Most of our business is generated by corporates and shipping companies and SME has helped drive bookings among smaller and mid-size businesses. The SME initiative has added another enhanced element to our hotel and helped drive more corporate bookings, which in turn has increased F&B sales through word-of-mouth recommendations."
Velankar shares plans to further enhance the market share, "We plan to introduce SME at small events such as food festivals at accessible rates and day conferences, which offer excellent opportunities and benefits. I am pleased with the initial feedback we have received on the SME initiative and I am looking forward to continuing to see the growth of this initiative at our hotel."
SME initiative has brought economic benefits and helped drive demand
Speaking on the SME segment which is doing well with the Ramada Plaza by Wyndham Chandigarh, Dhiren Johar, General Manager, explains, "The Wyndham Easy Book initiative has brought economic benefits and helped drive demand to the Ramada Plaza by Wyndham Chandigarh. Our hotel features 2,030 square feet of event space, two meeting rooms and can accommodate 300 conference or 450 banquet guests."
He goes on to add, " India has limited access to information and technology and unlike large enterprises, several SME's operate outside the main cities and suffer from lack of business environment to trade services. Small and medium enterprises are a key source of dynamism, innovation and flexibility, both in developed and in developing countries such as India."
Johar sums up, "Whilst we are still overcoming the effects of Covid-19, I am pleased to say we have witnessed a positive increase in corporate bookings among small and mid-sized businesses and I am optimistic for what the future brings."
Sponsored Feature
Read more articles like this, Hotels & Resorts