Check out our list of 10 best Chennai street food if you are visiting the fascinating capital of Tamil Nadu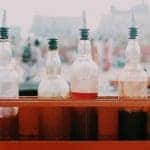 We take you down the streets of the charming city of Chennai to sample 10 mouth-watering, popular street foods you wouldn't want to miss!
Chennai alias Madras, the coastal capital of Tamil Nadu sure turns heads for its authentic filter coffee (or filter kaapi: as the locals fondly call it), poo pondra (super soft) idli sambar, and beach food delicacies! However, the city's famous and underrated street food list is quite big. 
The local street food vendors offer a variety of snacks like bajji and bonda, as well as a range of chat items, such as masala dosa and uttappam. A visit to beach shacks for lunch or dinner is one of the best ways to enjoy authentic South Indian food.
Chennai is also home to some amazing bakeries. From freshly baked breads to yummy pastries and cakes, Chennai's bakeries are sure to tantalize your taste buds. Popular delicacies include the melt-in-the-mouth Mysore Pak, fluffy churros, and aromatic samosas.
Chennai is also known for its distinct sweet dishes, such as Mysore Pak, jalebi, and payasam. These sweets are usually made using a combination of ghee, cardamom, saffron, and other ingredients like dry fruits.
Chennai has a rich vegetarian food culture that celebrates the use of different types of vegetables in its recipes. Popular dishes include Vegetable Biryani, Mulligatawny Soup, Kootu Curry, and Rasam. For those looking for a typical hybrid experience – experience, there is also the fusion of Indian and Chinese flavors in dishes like Manchurian and Hakka Noodles.
From puri, kulfi, idiyappam or jigarthanda – try out some of the best street food places in Chennai from the list below.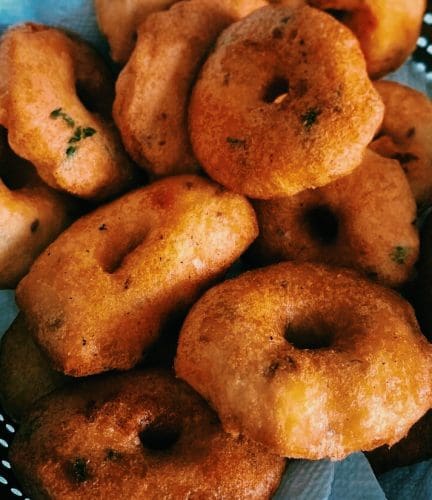 The local favourite: Vadais!
The unique range starts from Sambar Vadai, Medhu Vadai, Masal Vadai, Paruppu Vadai, Rasam Vadai to almost every other kind, this iconic food is served at every hotel but tastes best at road kadais! (roadside shops) Pairing it up with your breakfast or devouring it as a delight on its own, the options are endless with vadais. No wonder they feature among Chennai's famous snacks.
Vadais, though generally fried, is primarily made of ulundu (black gram) which is highly nutritious. So, here's your excuse to munch on some extra calories, at least that's the local mamas and mamis (aunties and uncles) excuse!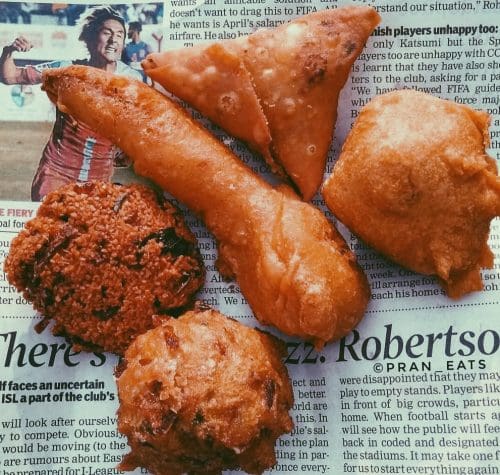 Hard to beat – Bajjis & Bondas!
Well, this simple rice flour batter works like a super dip with almost any vegetable and once fried, tastes heavenly!  It is the locals' go-to street food when the occasional rains hit the city and everyone yearns for a hot tasty snack. Annas & Akkas (a friendly way to refer to the vendors) serve the vadais right off the oil, piping hot with some ketti chutney on the side to go! The Jannal Kadai (The Window Shop) at Mylapore serves some delicious Bajjis, Bondas & Vadais just for Rs. 30 (Quite a steal) and is Chennai top place to eat!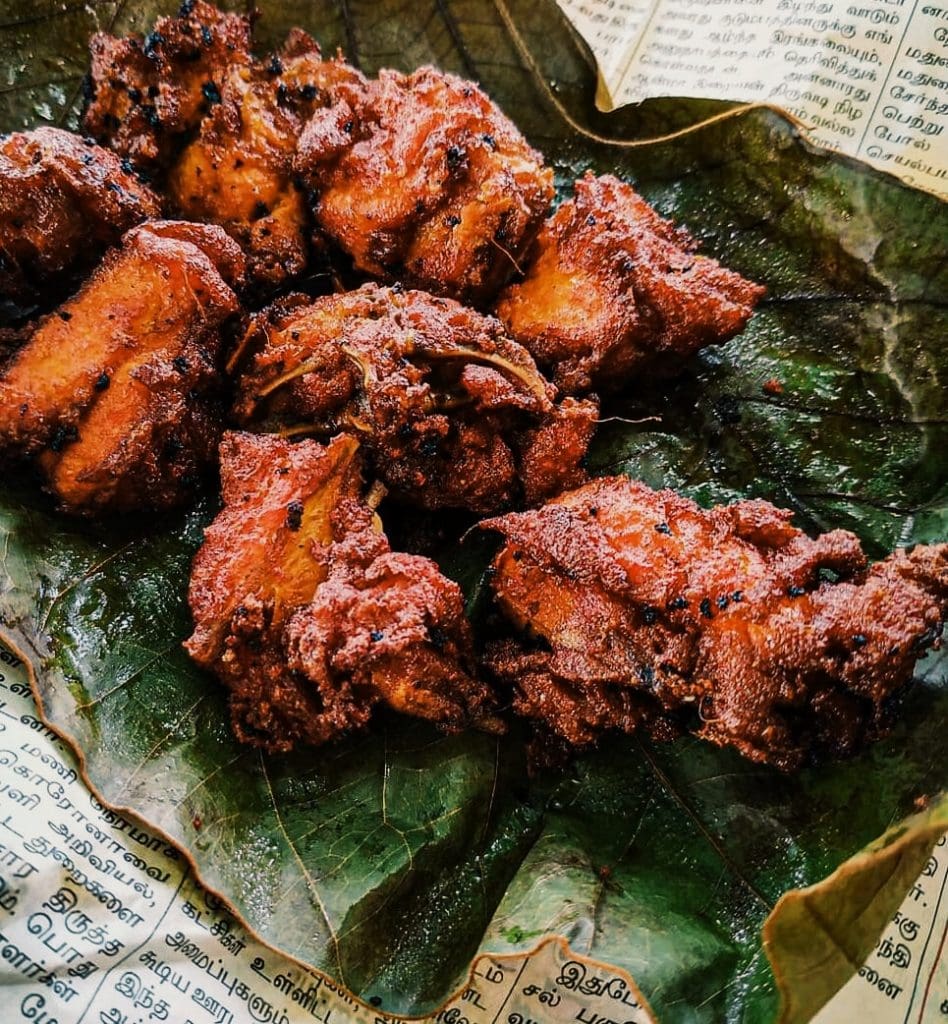 A Non-vegetarian's delight is Chicken 65!
Fun fact: this iconic dish has its roots leading to Buhari (Hotel). The legendary hotel's 65th item on the menu (hence the name) got really famous and reached celebrity status in the city.
Now this dish rules every busy street food junction in Chennai. You can buy the snack in grams or kilos topped with some special spice mix, served with hot and spicy sauce on the side.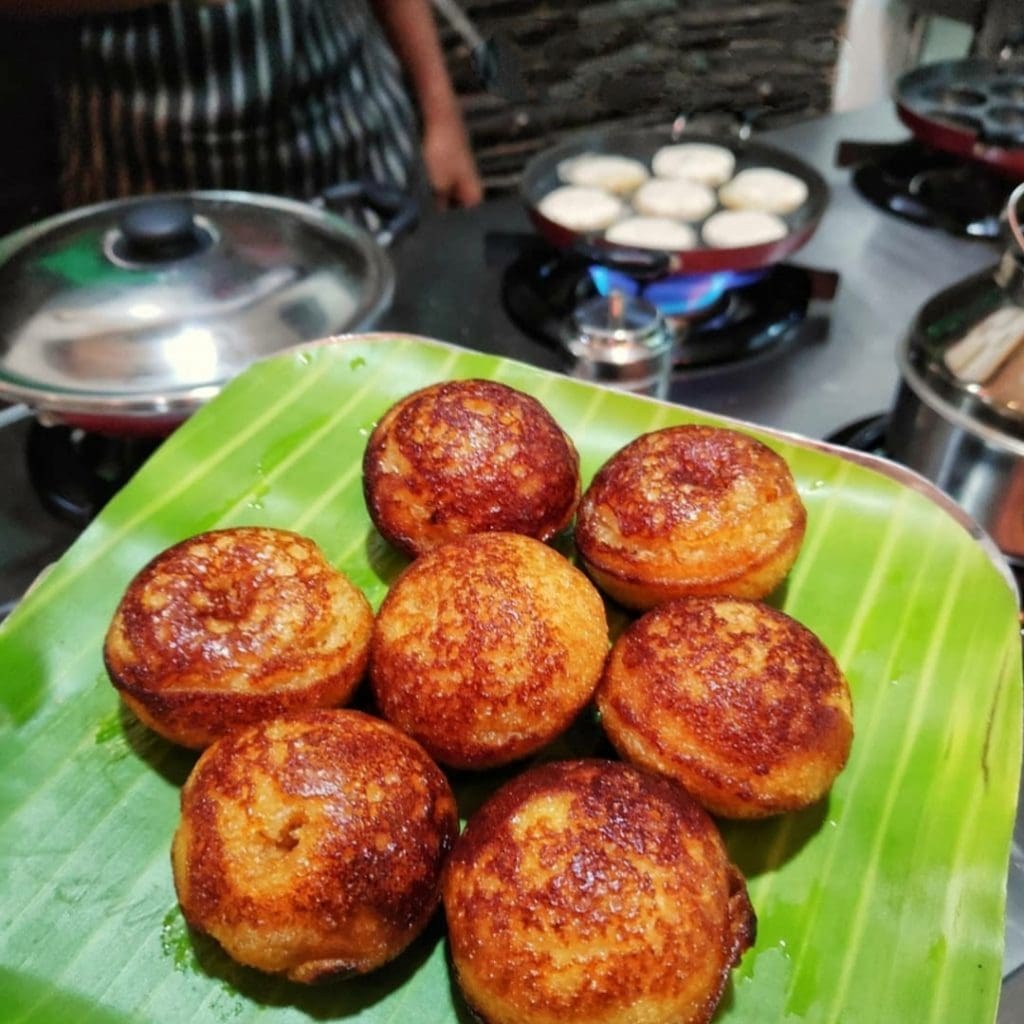 Kuzhi Paniyaram is simply delicious!
Kuzhi Paniyaram is a healthy and delicious snack. You can opt for sweet or savoury Kuzhi Paniyarams when ordering.
These soft and spongy Kuzhi Paniyaram will definitely make you crave for more.  
Murukku Sandwich: Snack on!
Ever imagined a sandwich without bread? Well, here it is – one of Chennai famous snacks! A crunchy munchy snack to relish and savour, till you eat every bit of it. A layer of vegetables with cheese and spicy chutney is sandwiched tight which surprises your taste buds. It is a messy snack for sure, so remember to take your tissues and handkerchief.
You can find this amazing sandwich in any chat shop, but the best ones are at Mint Street and Sowcarpet.
Some other dishes to taste from these areas are the famous Anmol Kesar Lassi, hot jilabis, kachoris, and many more.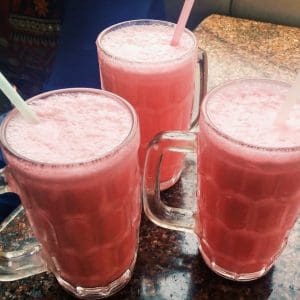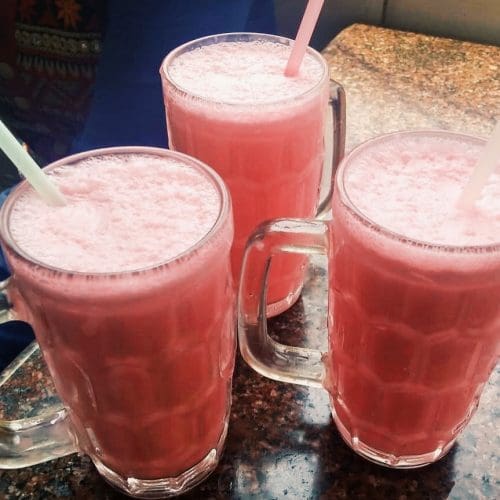 Rose milk: Perfect to toss the heat down!
Chennai's weather is quite hot. An ideal drink for the Chennai summer is rose milk. This refreshing drink is an absolute favourite for everyone who tastes its heavenly combo of rose and milk. Unlike the tinned cans of soft drinks or even tetra packs of rose milk, Chennai's street vendors have original and authentic flavours in their beverages.
Kalathi Newsmart in Mylapore is the city's beloved shop for rose milk. The price is only Rs. 15! Remember to grab yours!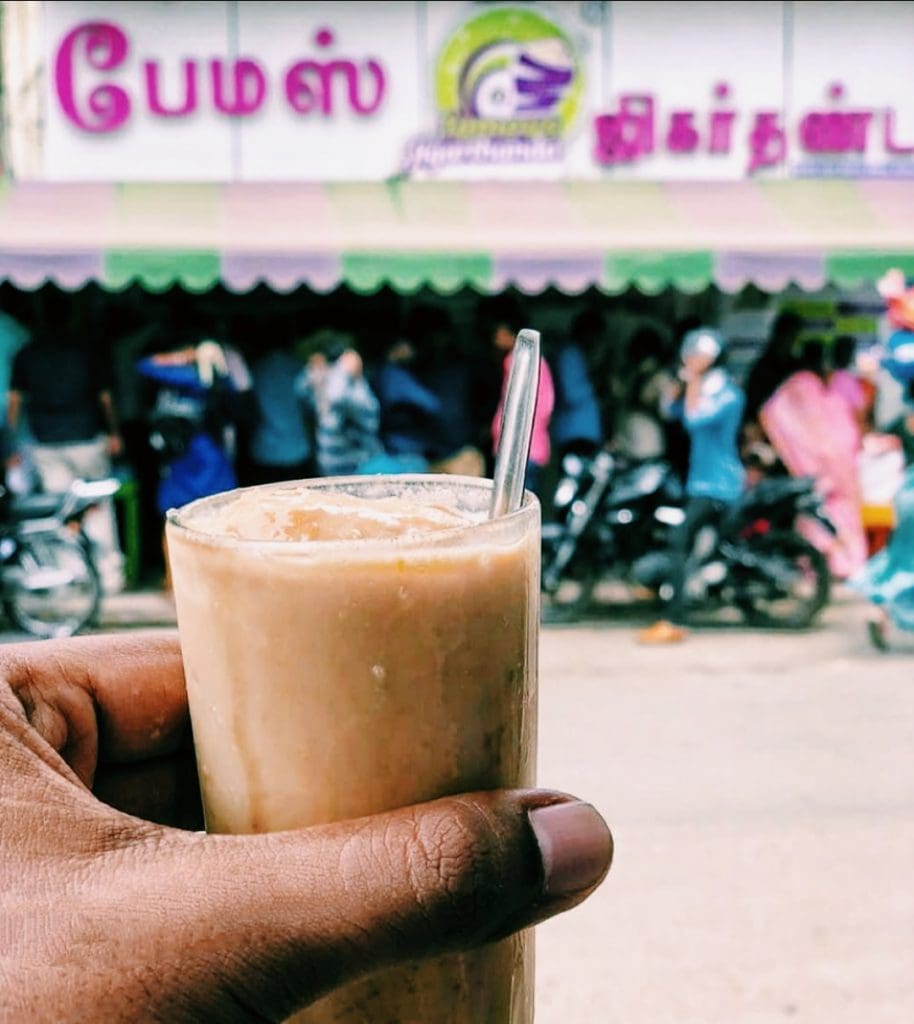 Jigarthanda: super cool!
A cold beverage originally from Madurai, now rules Chennai. This extremely rich and healthy drink is topped up with a big scoop of divine almond ice cream and sabja seeds.
 It is one of the best drinks that goes hand in hand when shopping, as it gives you instant energy to wander through streets or bazaars. Get this super drink for anywhere between Rs. 50 – Rs. 80.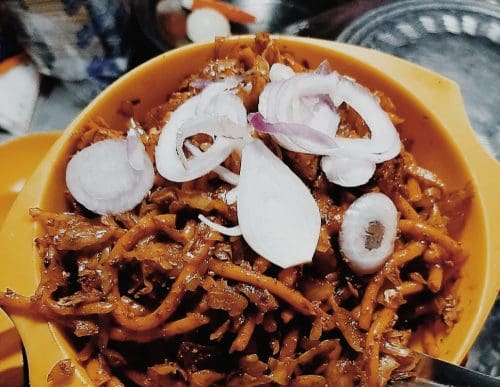 Atho: a Burmese delight!
Atho, a Burmese dish is a sought-after street food in Chennai. And no, it is not your usual noodles! This dish is topped with a masala egg which is lip-smacking and delicious. Almost every busy street corner has an Atho stall. Some crowd favorites from an Atho shop include Bejo and Mohinga.
Parotta: delicious flatbreads!
Parottas or Barrotas as the locals would prefer to call them are layered flatbread. They are available only post 6 pm in the city. There are many kinds of parottas, like 'ennai parotta' or 'bun parotta' served along with the popular saalna or serva (a delicious gravy packed with wholesome flavours). Though it is high-calorie, it is worth the sinfulness!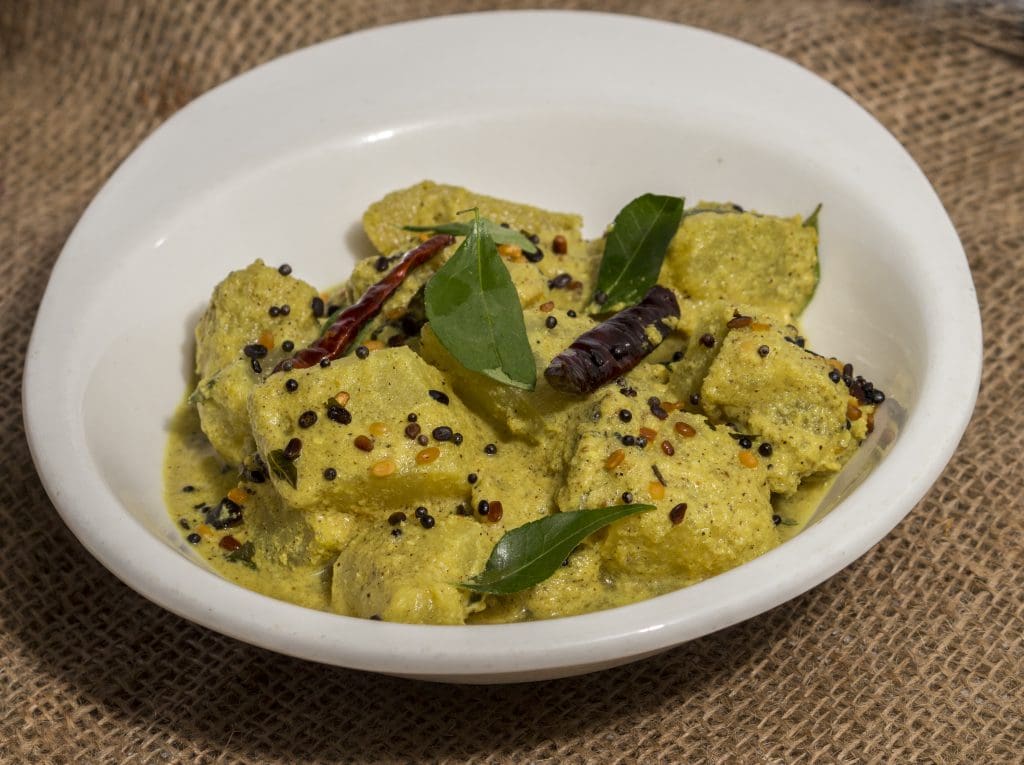 Kalan: scrumptious gravy!
Kalan: this scrumptious mushroom gravy will make every foodie droll! The mushrooms are initially marinated in a flavourful masala mix and shallow fried until it's crispy. It is then tossed in a pre-made secret gravy that stuns your taste buds. Do not forget to ask the Anna or Akka for extra corn mixture and vengayam (onion salad) 
If you want to get a taste of the real Chennai, then head to the streets and check out our list of 10 best street food items that the city has to offer. From idlis and dosas to vadas and pongal, there is something for everyone to enjoy. So what are you waiting for? Grab a plate and start exploring!
Read more : Food Voyager