Nowadays, residents flock to their gates for loaves of bread as the famous ringtone sounds of Für Elise return to Sri Lanka streets with the Choon Paan.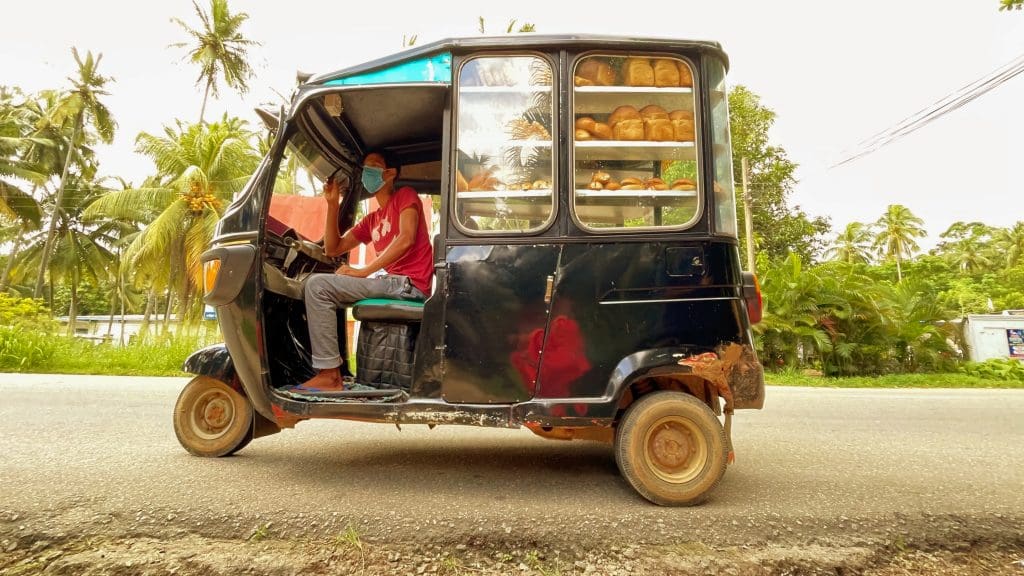 For many years in Sri Lanka, the sound of Beethoven has sounded like a call for bread. Music from my childhood was brought back to life by the rice fields between Jaffna and Anuradhapura in Sri Lanka.
However, it wasn't the rice fields that were singing; it was a bigger version of a Tuk Tuk that was blasting music so loudly that it could be heard from a long way away.
As we neared the black vehicle, it became clear that it was a glass-encased food truck serving bread. Instead of a colourful display, this black three-wheeled Tuk Tuk has a glass display with precisely organized baked goods. The van is driven by a lean man in a red t-shirt.
"It's the Choon Paan. The Sinhala word Choon Paan means music bread," Siri, my driver, said.
Years after going extinct, the island's mobile bread vendors have reappeared for the pandemic. A Choon Paan's freshly baked Kimbulas will make you drool just by looking at them. Choon Paan travels alongside the rice fields north-east of Colombo, twice a day, starting at 7 a.m., selling loaves of bread.
Sausage rolls, round-shaped buttery buns, raisin-strewn pastries, fish buns, and jam-filled sugared bread prepared at local bakeries circle the highways in these black Tuk Tuks. At 4 p.m., they reappear, this time, delivering delectable pastries for tea.
When you hear the gentle hum of the breadman from afar, you know a Choon Paan has arrived. Beethoven's famous Für Elise from 1810 is the source of the recognisable tune, which is known locally as "Choon paan music."
For years, these black bakery trucks have been playing the same pre-recorded music. So, how did an Austrian piece of music become a symbol of Sri Lankan baked goods?
Mobile tuk-tuks became increasingly popular in Sri Lanka in the early 2000s as mobile phones became more widespread around the world. It was common for bakers to use them to distribute buns throughout the country. In the early 2000s, Für Elise, Beethoven's most famous composition, was a popular ringtone.
Similar to Western countries, where an ice cream truck uses a horn speaker to alert people of its presence, the Choon Paan truck in Sri Lanka adapted the Beethoven ringtone. So, anytime people heard the tune in Sri Lanka, they'd go outside and wait for the "music bread" truck to arrive.
Over time, modern bakeries in Sri Lanka replaced the country's previously ubiquitous music bread vans. In 2017, the former government restricted the use of loud music from mobile bakeries, which accelerated their downfall. If Beethoven didn't announce that bread would be arriving, residents didn't appear to take notice. Moreover, many city dwellers went on to think that chain bakery bread is superior.
Choon Paan, on the other hand, provides you with freshly baked products created by local bakeries. When compared to the mass-produced meals available in huge bakeries, these are far superior.
Sprinkled with sugar and formed into slender, claw, crocodile, pearl, and other shapes, these home-baked buns are outstandingly soft and delicious. They are stuffed with tinned salmon, seasoned potatoes, and chopped veggies and go well with a steaming cup of ginger tea. However, I tried some of the Choon paan baked goods with EGB ginger beer. This was, in my opinion, a winning combo!
As the wheel of time rotates, the modern bakeries have phased out, and Choon Paan is in! In recent months, the famed music bread trucks of Sri Lanka have come back to life due to an epidemic of coronavirus. In the face of the pandemic, cities have seen a growth in home-delivery services, making mobile bread vans an essential business.
The government permitted baked goods to be sold door-to-door. No later, bakers dusted up their outdated Choon paan trucks and set up a Tuk-Tuk bread distribution network almost overnight to ensure that housebound islanders could have their buns. Nowadays, residents flock to their gates for loaves of bread as the famous ringtone sounds of Für Elise return to Sri Lanka's streets. While the pandemic may have caused a lot of havoc, it also brought a few old traditions back to life.
Regardless of where you live on the planet, I'm sure you heard Beethoven as a child. Now come and experience it in Sri Lanka the Sinhala way!
(About the author: Veidehi Gite is the founder of KrazyButterfly – 'a mindful journal of curious travellers alike.' )
Read more: Latest