Pilibhit House is a discovery. Located deep within the heart of the holy city of Haridwar and sandwiched between old homes, inns and guesthouses, here is a 100-year-old noble house anchored with a wonderful ancestry.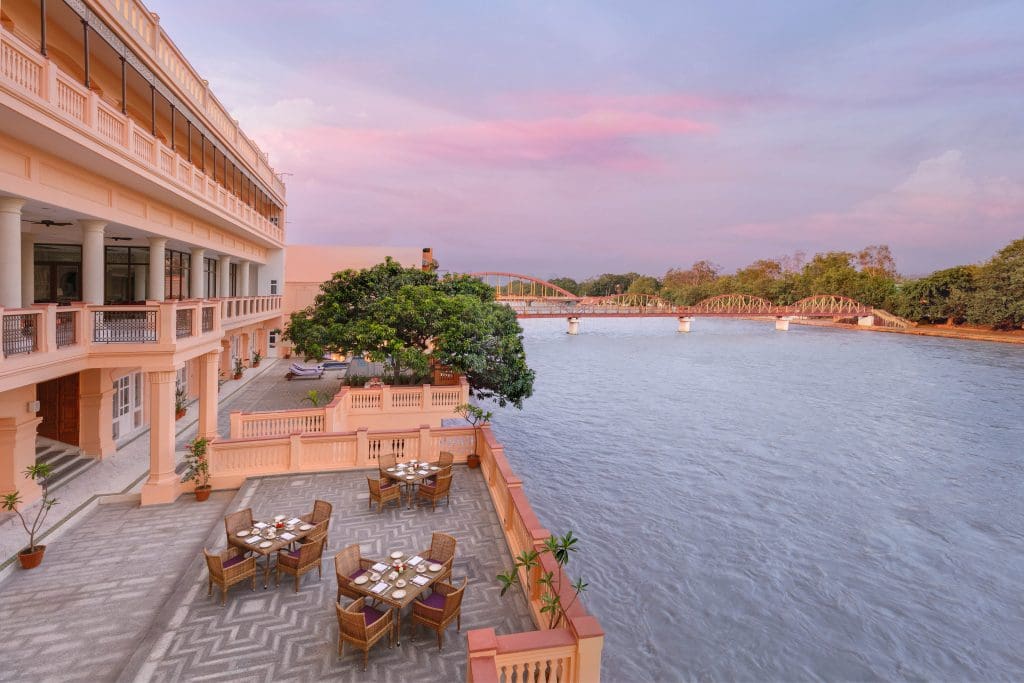 I shake my head in disbelief as I look at this century-old aristocratic mansion, dating back to 1913, which has been meticulously restored with its central courtyard and the largest private bathing Ghat in the city, for the customary dip and some quiet moments with the holy river.
The magic of discovery
The sense of discovery begins as your vehicle snakes its way down tight winding streets alive with traditional shops selling everything from utensils to incense.

The entrance comes up suddenly, a massive wooden gate in blue with gold trappings reminiscent of medieval majesty, that is swung open by a burly tall gatekeeper wearing a fine-looking achkan tunic.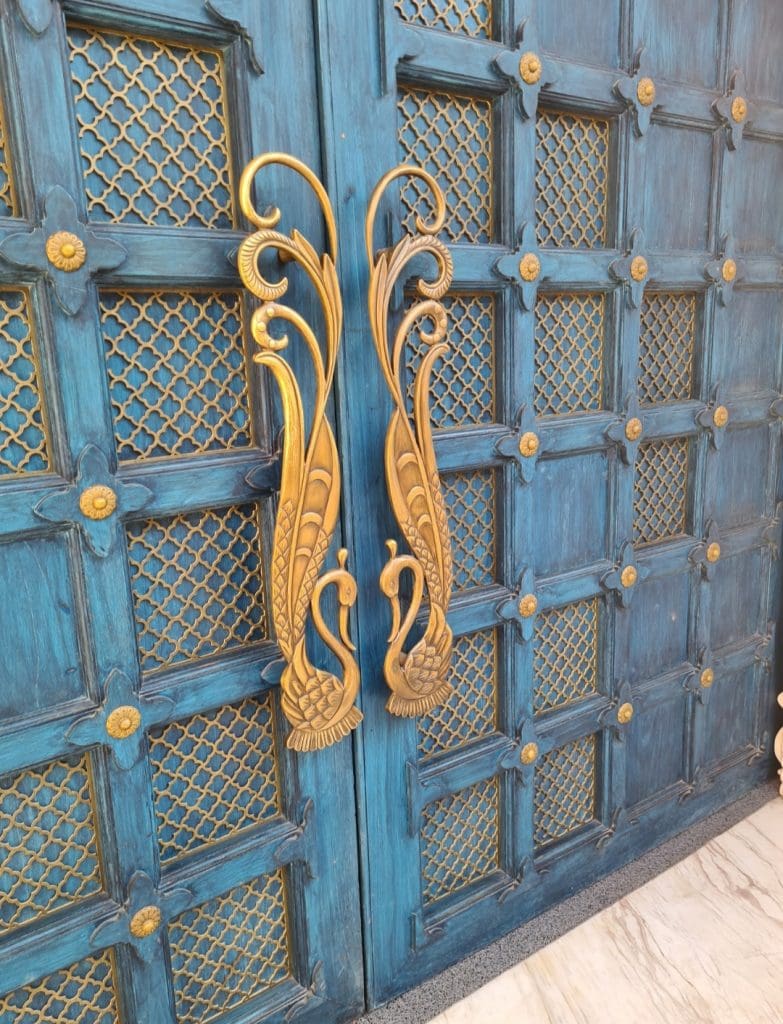 The welcome past the arched doorway is a surprise. Bells toll and chants fill the air as a traditional Indian welcome greets you. The warmth of the welcome replicates the atmosphere of a welcome to the stately home you are visiting.
And this is where Pilibhit House wins hearts and minds. The ambiance is undiluted in its traditional essence and sustains through every element from the soft flute notes hanging in the air, to the traditional pure Sattvik vegetarian cuisine in deference to the holy city to the soothing sound of the flowing waters of the holy Ganga to contemplative spaces to Yoga at the Ganges Deck.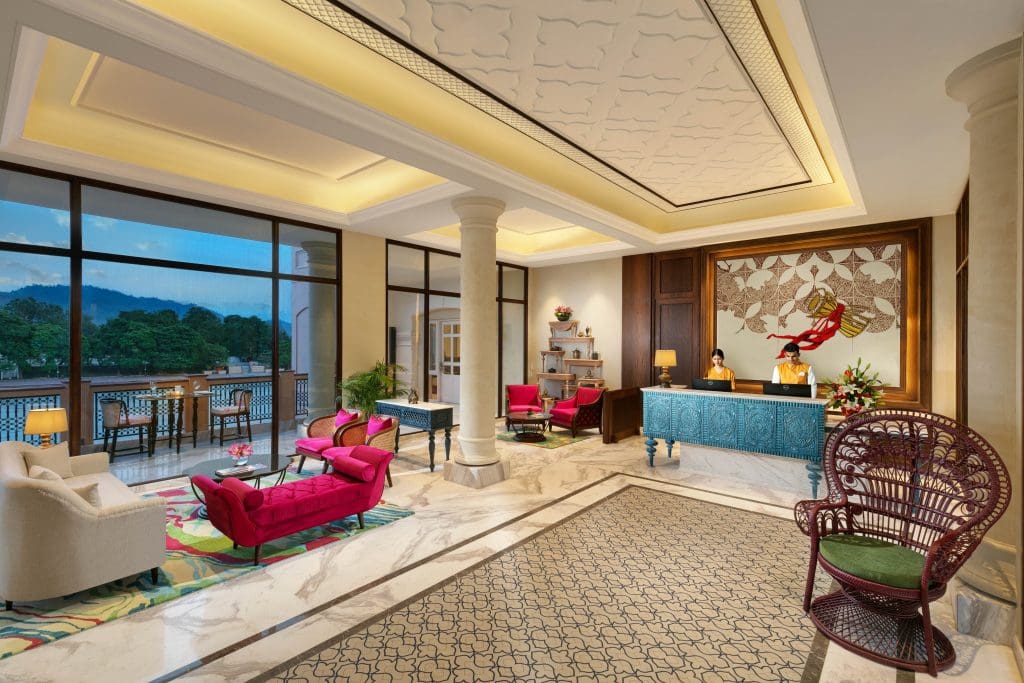 The core attraction is of course the phenomenal view of the holy river as its deep clear waters flow with a fast current alongside the entire front of the building. The rituals practiced here evoke the Puruartha-the four spiritual stages of life. This permits Pilibhit House to conduct an entirely authentic Ganga Aarti every evening.
The soul-stirring Haridwar Ganga Aarti is extremely moving as guests fold their hands in prayer, some kneeling down in devout obeyance as priests perform the puja, accompanied by the bright flames of the diyas and the clash of cymbals. As guests put rose petals into the flowing waters, it is clear that many a guest has come to Haridwar as a seeker, as a pilgrim, as a retreat – and the prayers being chanted are close to their heart.

In keeping with the serene ambiance, there is an ancient Mango tree that lends its age to the chronology of the place as its old branches bend low to provide shade to wooden tables and chairs laid out as a comfortable sit out below. A well-conceived eternity pool overlooks the blue river and provides an 'aha' instagrammable moment.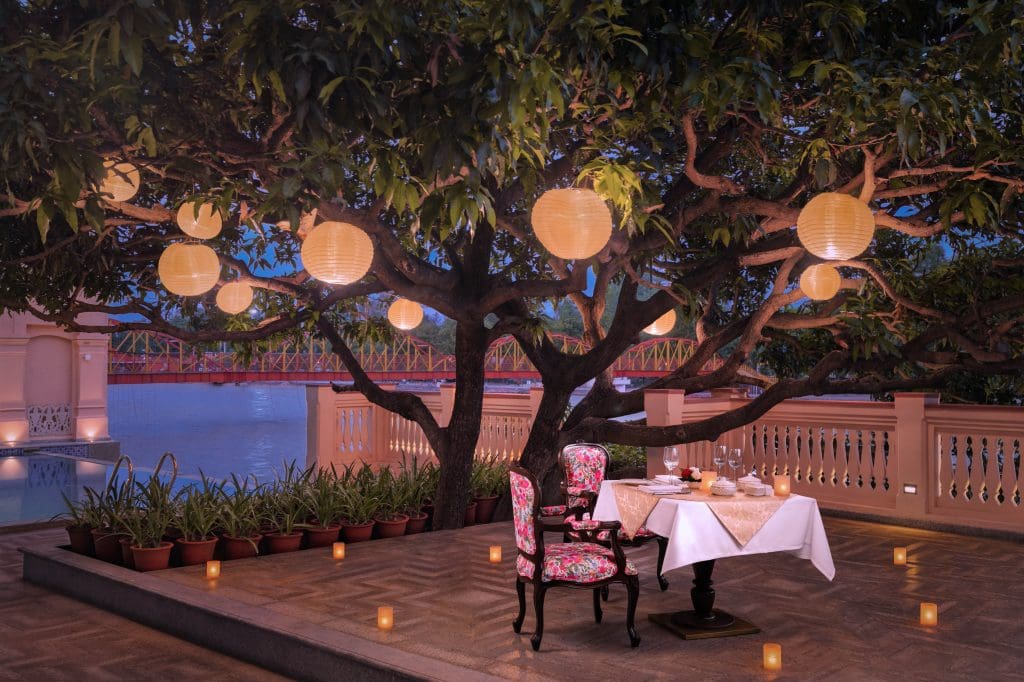 The Residence
Pilibhit House- IHCL SeleQtions offers 31 well-restored rooms and 4 suites on 3 levels with all the elements of gracious living. Restorative ethics call upon traditional materials, ethnic colours, local flavours, and woven fabrics to recreate the ancestral legacy of this royal mansion. All the while contemporary luxury weaves its way into every space, be it the terrace, courtyard, balconies, lobby so that comfort sits well with tradition.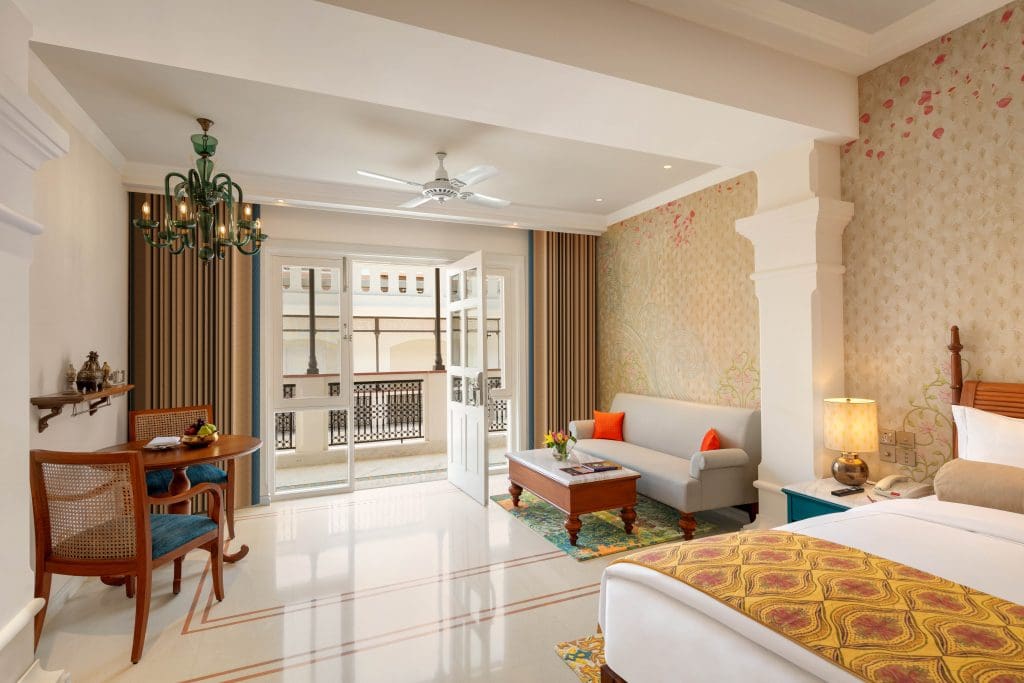 The resort definitely falls in the luxury category on account of its sheer elegance, well-conceived room appointments, high-quality cuisine, serenity, and unique curated experiences.
These experiences are bespoke and range from age-old Indian healing techniques at Jiva Spa, or meditation or Yoga under expert instructors. Guests can trace decades of their ancestry with a private session of genealogy. The other curated experiences that evoke the four spiritual stages of life include an offbeat holy tour, a trip to ashrams, a forest riverbed picnic, and a wetland tour of the Chiriyapur Forest Range.
Re-enforcing my thoughts is Amit Kumar, General Manager, Pilibhit House – IHCL SeleQtions hotel, who shares, "Pilibhit House, located close to the famous Har Ki Pauri, offers an authentic flavour of the legendary city of Haridwar. We look forward to welcoming guests as they explore Haridwar's rich history, which goes back thousands of years, through the lens of the curated and immersive experiences that we have to offer."
The Dining Room
Celebrating the legacy of time is The Dining Room which offers authentic vegetarian cuisine, inspired by traditional provincial cuisine and reimagined home recipes as well as treasured recipes from the royal kitchens of the ancestral family.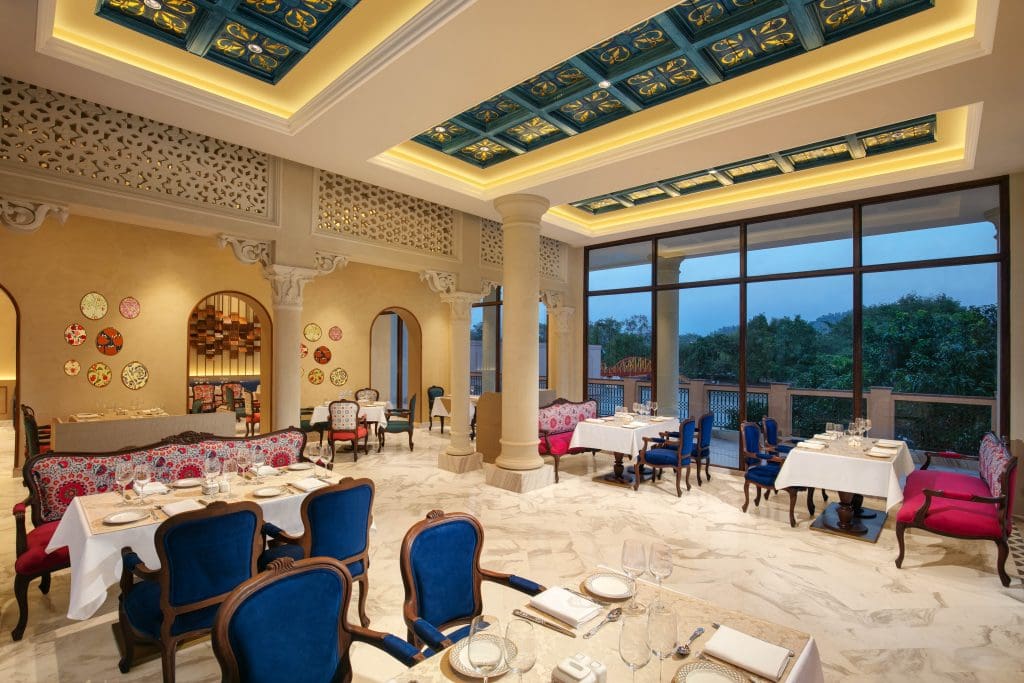 This arched and stately all-day dining venue overlooks the Ganges and also has alfresco seating across its length. The central courtyard is alive from time to time with live classical instrumental music which flows into the open Lobby Lounge. An open sunlit area with contemporary furnishings and a vantage location overlooking the Rives Ganges, the elegant ambiance and casual seating encourages conversations over hot cups of masala chai and local delicacies.
Adding to the quintessential charm of the resort is a choice of alfresco seating that allows guests to take in the panoramic views of the Ganges. Whether it is a twosome, a family party, or a quiet meal, guests can choose from the River Deck, Pool Deck by the Mango Tree, or The Terrace each one will be a memorable dining spot.
A classic Garhwali meal
The famous and special Pilibhit House, Haridwar menu is its Garhwali Thali. The items served in the thali includes Pahadi Green Salad, Garhwali Cucumber Raita, Aloo Kachwani, Kafli (one type of curry), Aloo Jakhiya, Turai ki Subzi, Gahat ki Dal, Mandwa ki roti (Ragi Roti), and rounding off the meal are desserts Kala Jamun and Bal Mithai (local sweets).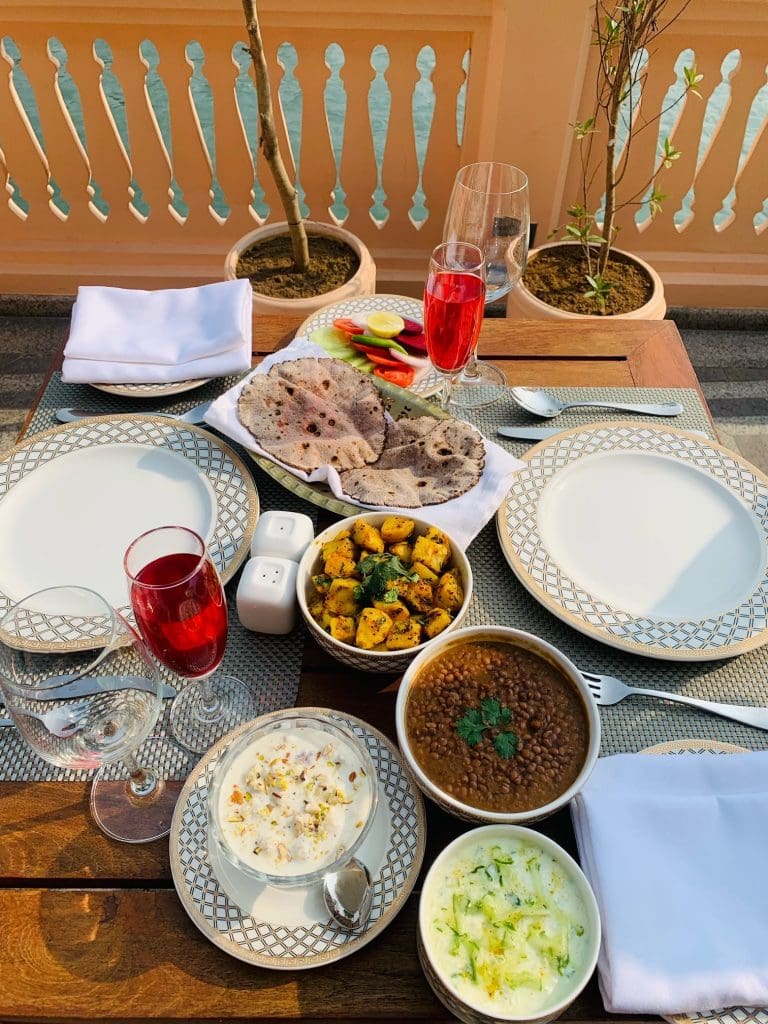 Traditional local Garhwali food has much to offer and guests are in for a treat. Pilibhit House offers some classic traditional delicacies which are also of high nutritional value in traditional Indian cuisine. Start with Burans Ka Juice which comes from Burans, the bright red flower whose scientific name is Rhododendron arboretum and is the state flower of Uttarakhand. The delicious juice has been scientifically proven to cure heart diseases, sugar, liver and kidney problems, and even cancer in some cases. A regular intake of the drink has also been proven to be helpful against mild seasonal diseases, diarrhoea, dysentery, hair-loss, and skin acne.
The mouth-watering Garhwal Ka Fannah – a heavenly Uttarakhand food, is a staple of the region and is good enough to satiate both your eyes and stomach. Kulath dal is known to be full of protein and nutrients. It also has antioxidants and it keeps insulin under control so it is very useful for diabetic. The main ingredients used in it- Kulath Dal, ginger garlic red chili coriander leaf.
Mandua ka Roti is a local staple which is high in calcium and has a lot of fiber. It also has an amino acid methionine which is a protein component. Madua also has carbohydrates, minerals, and iron in plenty.
One of the most famous kebabs in the Himalayan foothills is Horse Garm kebab. This amazing wellness snack also has health attributes like glowing skin, control of Diabetes, promoting weight loss, and protecting liver function, The main ingredients are Kulath dal, chana dal, ginger, coriander leaf, jeera powder, dried mango powder, dates, raisins black salt
Another tasty must-have is Aloo Jakhya which includes the oil extracted from jakhiya seeds, which in turn has medicinal properties. Fresh oil of crushed seeds is used for treating infantile convulsions and mental disorders. Several published studies have shown that leaves of Cleome viscosa are useful in healing wounds and ulcers. Potatoes are also full of antioxidants that work to prevent diseases and vitamins that help your body properly.
A specialty is the Pahadi Raita, which is a preparation of Pahadi cucumber raita. The preparation helps prevent constipation due to water and dietary fibre. Since cucumber is a natural source of magnesium, fibre, and potassium, it also helps to keep blood pressure in check.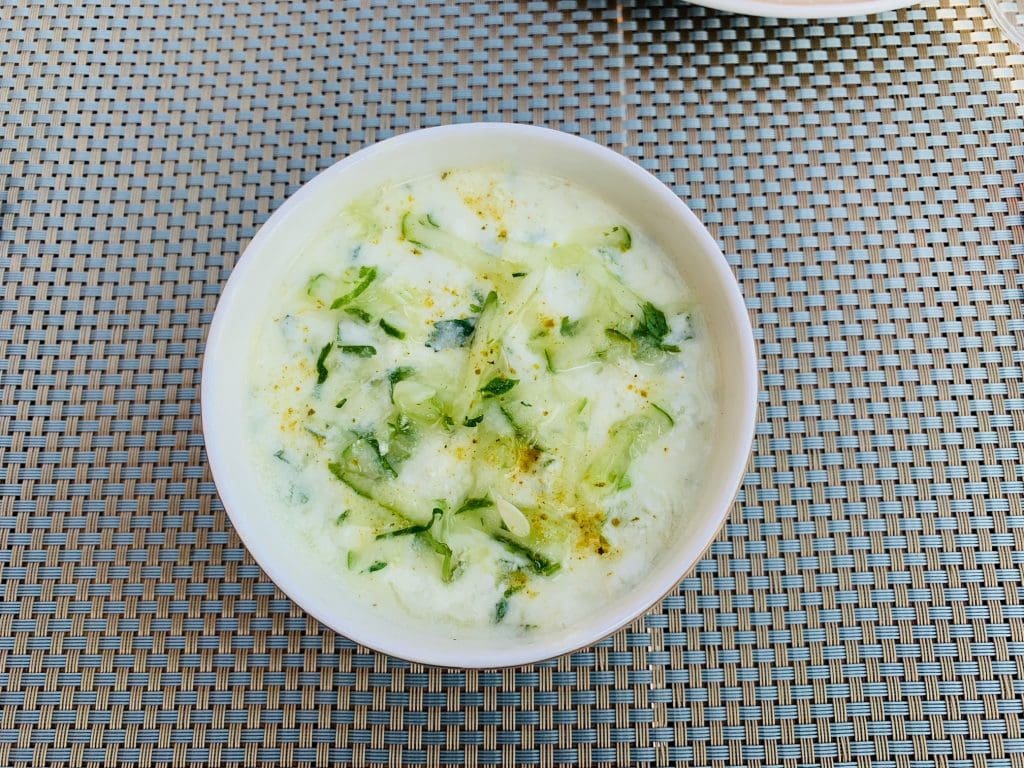 A delicious dessert, Jhangore ki Kheer is great to round off your meal. This authentic kheer is made using jhangora (barnyard millet), milk, sugar and is garnished with kewra essence, almonds and raisins.
Curated treks, nature trails, and temple visits
Discover Haridwar through the lens of Pilibhit House, and specially curated experiences.
Haridwar, a land between history and mythology, offers immersive experiences to travellers across adventure, spirituality, culture and so much more. For spiritual travelers, pristine ancient temples will certainly be a highlight. Not to be missed are long walks along the wide promenade along the Ganga Ghats where cool, fresh winds blow and the pilgrims meditate in silence. Travellers looking to hit pause may enjoy a slow-paced stay, immersing themselves in yoga and meditation.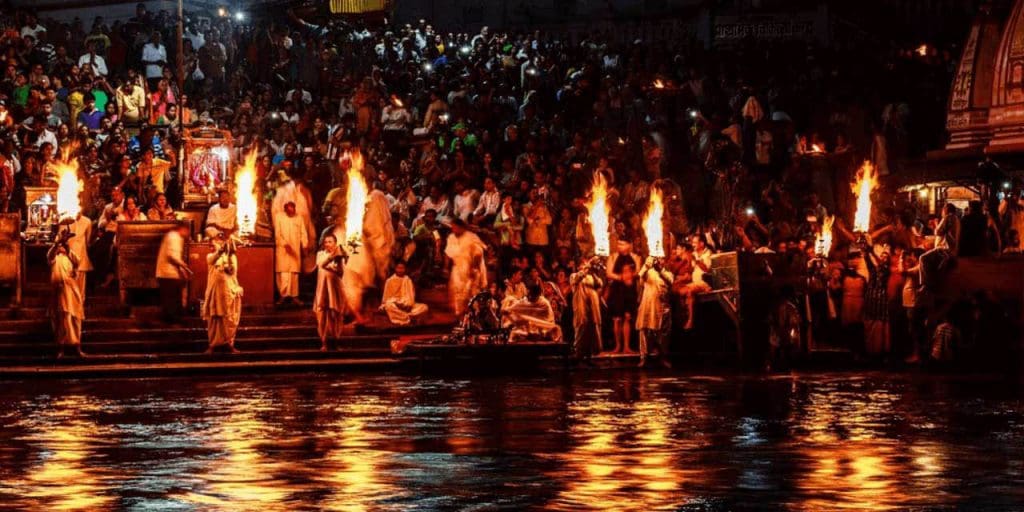 Enjoy shopping and food tours in the ancient streets oh the holy city where shops stand wedged together selling exotic wares and traditional food.
A drive through Rajaji National Park and nature trails make for an unforgettable wildlife spotting experience.
Heritage Temple Darshan
This is a trip to the four iconic temples of Haridwar – Chandi Devi temple, the Mansa Devi temple, Bharat Mata mandir, and the Daksh Mahadev temple of Kankhal. A memorable visit where devotion and deep spirituality can be experienced.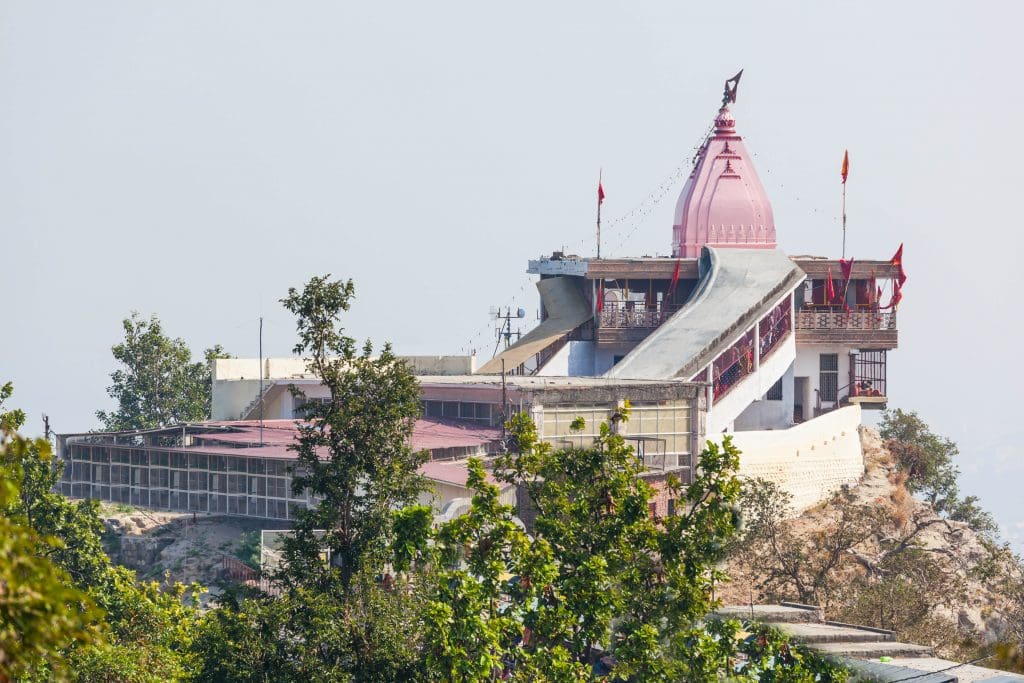 Ashram Tour
This unusual trip to the Beatles Ashram in Rishikesh and its preserved memories can be followed by the famous evening Aarti at Rishikesh's Paramarth Ashram.

Tigris estate and Jhilmil Conservation Reserve
An excellent wetland tour on the banks of the River Ganges in Chiriyapur forest range of Haridwar is a treat. Jhilmil Jheel is a little-known marshy wetland on the left side of the Ganges in Haridwar's Chiriyapur forest area.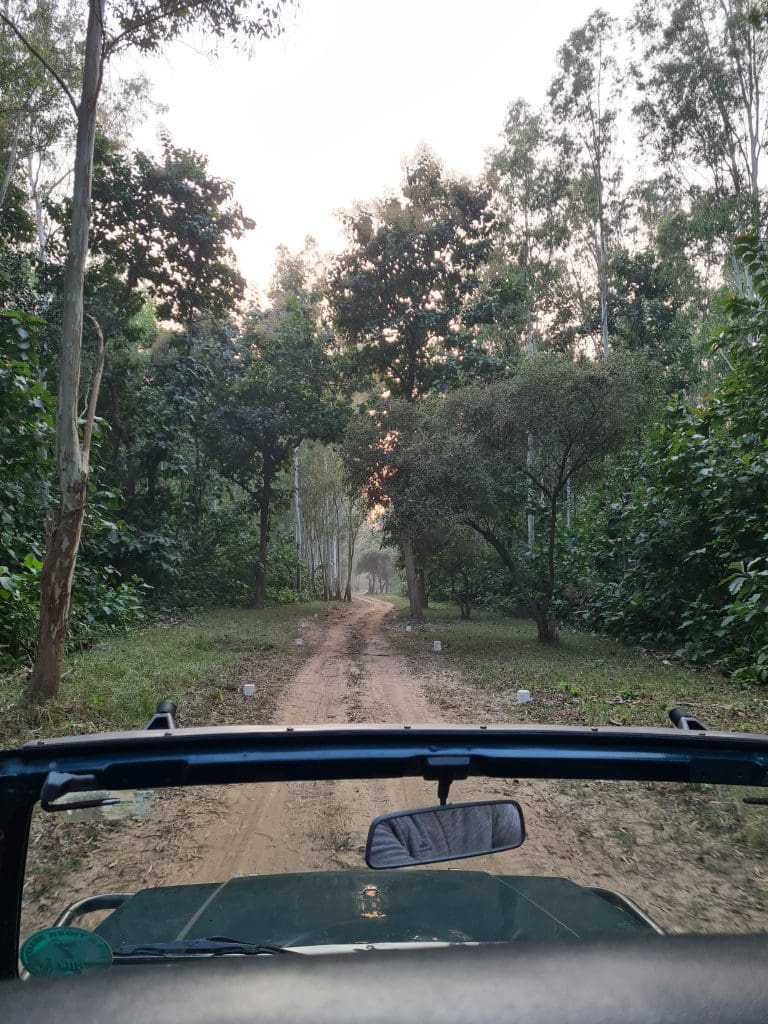 The area is rich in fauna and floral variety, with four kinds of deer (Chital, Sambar, Barking deer, and especially Swamp deer), a wild elephant, Nilgai, leopard, tiger, and a huge number of resident and winter migratory birds. Enjoy the panoramic view from a specially designed watchtower.

Wildlife Safari – Rajaji National park
Experience the wildlife safari in one of the most renowned wildlife sanctuaries in India – Rajaji National
Park. This region has more than 500 Elephants, 400 bird species, 12 Tigers, 250 Panthers, Himalayan black bear, sloth bear, and a good prey base including Spotted Deer, Sambhar, Wild Boar, Barking deer, and Goral making Rajaji National Park a perfect wildlife and bird-watching destination.
Guests can undertake the Safari via the Chila gate of the Rajaji National Park. Chila Gate is approximately 15 Km from Haridwar. Park is open from 15th November to 15th June.

The City Street Food Tour
We take you on foot through the busy market streets of the Haridwar ghat area, where we show you the cultural nuances of One of the holiest cities of the world. See the hundreds of local shops selling different artifacts holy or otherwise. Taste the local delicacies of the famous snack eateries of Haridwar. Enjoy the taste of the famous Mathura Peda, Punjabi Samosa & Kachori, and Poori from Mohan Ji poori waala amongst others.
Read More: Latest