ITA Airways launched its nonstop service between San Francisco and Rome.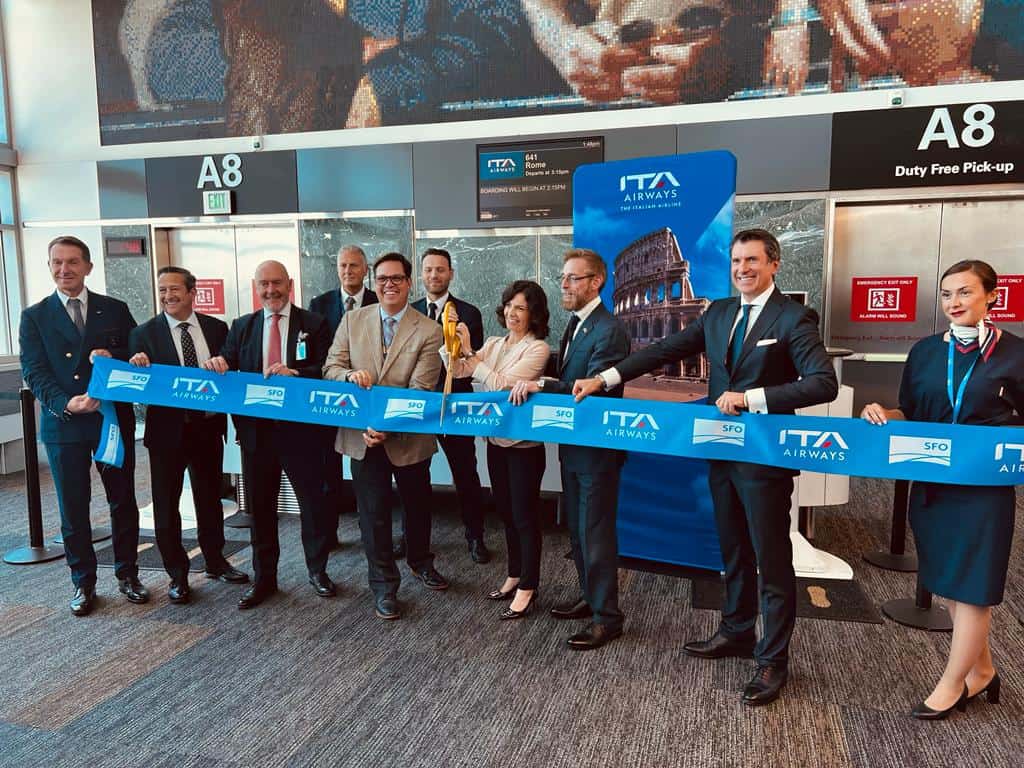 To celebrate the launch of the new intercontinental route between North America and Italy, a ribbon-cutting ceremony was held at the departure gate in San Francisco, in the presence of Emiliana Limosani, Chief Commercial Officer ITA Airways and CEO Volare, Pierfrancesco Carino, Vice President International Sales ITA Airways, Massimo Allegri, Regional Manager Americas ITA Airways, Kevin Bumen, Chief Financial and Commercial Officer San Francisco International Airport, Sergio Strozzi, Consul General of Italy in San Francisco.
"The new connection to San Francisco further enriches the intercontinental network of ITA Airways, which is one of the Company's main assets," said Emiliana Limosani, Chief Commercial Officer of ITA Airways and CEO Volare, adding, " With the launch of this new destination, the second in California and the sixth in North America, we consolidate the Company's expansion towards the U.S. market, which the first international market for ITA Airways.
The multiple services from Rome Fiumicino hub connecting to New York, Boston, Washington, Miami, Los Angeles, and the newly opened San Francisco will allow us to be the reference carrier from the United States to Italy and via Rome to Europe and the Mediterranean for the Italian community, the international business communities in North America as well as the major communities in the Mediterranean region".
The new San Francisco International Airport – Rome Fiumicino flight will operate from 1 July to 30 July 2023 with 3 weekly frequencies.
San Francisco is a destination registering a significant amount of leisure traffic and increasing weight in terms of business travel and high-yield leisure.
In opening this new North American route, ITA Airways met the high demand and expectation of its customers, who immediately responded positively to the launch of a direct flight between San Francisco and Rome, determining a promising performance as of July, the first month of operations.
For the launch of the new nonstop flight, ITA Airways has also developed a dedicated social communication campaign that builds on a simple proposition: when people want tips for their new trip, they ask questions on Google. A few experts from the two cities will be providing answers to travellers' most asked questions.
These are local influencers from Rome and San Francisco – lovers and experts in different areas of interest including Francesco Panella, Max Mariola, Giulia Latini, Alex Di Giorgio and Matteo Acitelli for tips related to Rome, and Geloy Conception, Violet Witchel and Kara Harms for tips on San Francisco.
For ITA Airways, 2023 is the year of big investments in the intercontinental market with the launch of new direct flights from Rome Fiumicino not only to San Francisco, but also to Washington (opened on June 2nd ), and Rio de Janeiro that will be launched in October. ITA Airways' expansion on long-haul routes is one of the key pillars of the Italian flagship carrier's strategy since it drives profitability while simultaneously increasing medium and short-haul load factors, contributing to the optimization of its performance.
The United States is the first international market for ITA Airways and the most strategic one after Italy, as well as the country with the highest number of citizens of Italian origins. Therefore, direct flights from North America to Italy are not only means for leisure and business travel but also "bridges" connecting the broader Italian community in the U.S.
Read more: News