Typical Goan cuisine is a delectable representation of the state's history and tradition. Its Hindu roots, 400 years of Portuguese colonialism, and modern technology have all shaped it.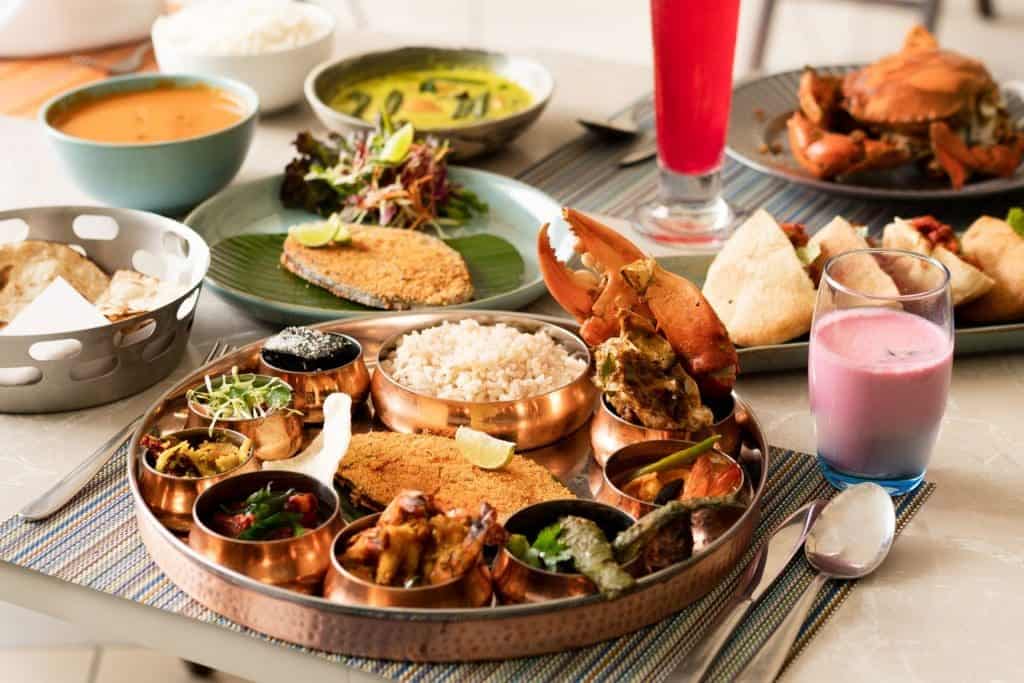 No other Indian cuisine can boast such a diverse range of influences. The key ingredients in Goan cuisine are seafood, coconut milk, rice, and native spices. The spices and flavours are robust presenting an irresistible combination of sweet, sour, and spicy notes, backed by centuries-old traditions and global influences. Another distinguishing aspect is the use of kokum, a native fruit with a distinct flavour and many uses.
An introduction to Goan food
The coastal Indian state of Goa, though diminutive in size, boasts a culinary scene that is as vivacious and diverse as its people. It's a true testament to its vibrant history, which is steeped in a fusion of Indian, Muslim, and Portuguese cultures that have left their indelible mark over a period of more than 500 years.
The Portuguese arrived on the shores of Goa in the early 16th century, and with them, they brought ingredients and cooking techniques that would forever reshape the Goan palate. From the introduction of vinegar and potatoes to the ingenious use of bread and pork, the Portuguese left a lasting legacy. Perhaps their most significant contribution was the introduction of the fiery red chilli, a staple ingredient in Goan cuisine today.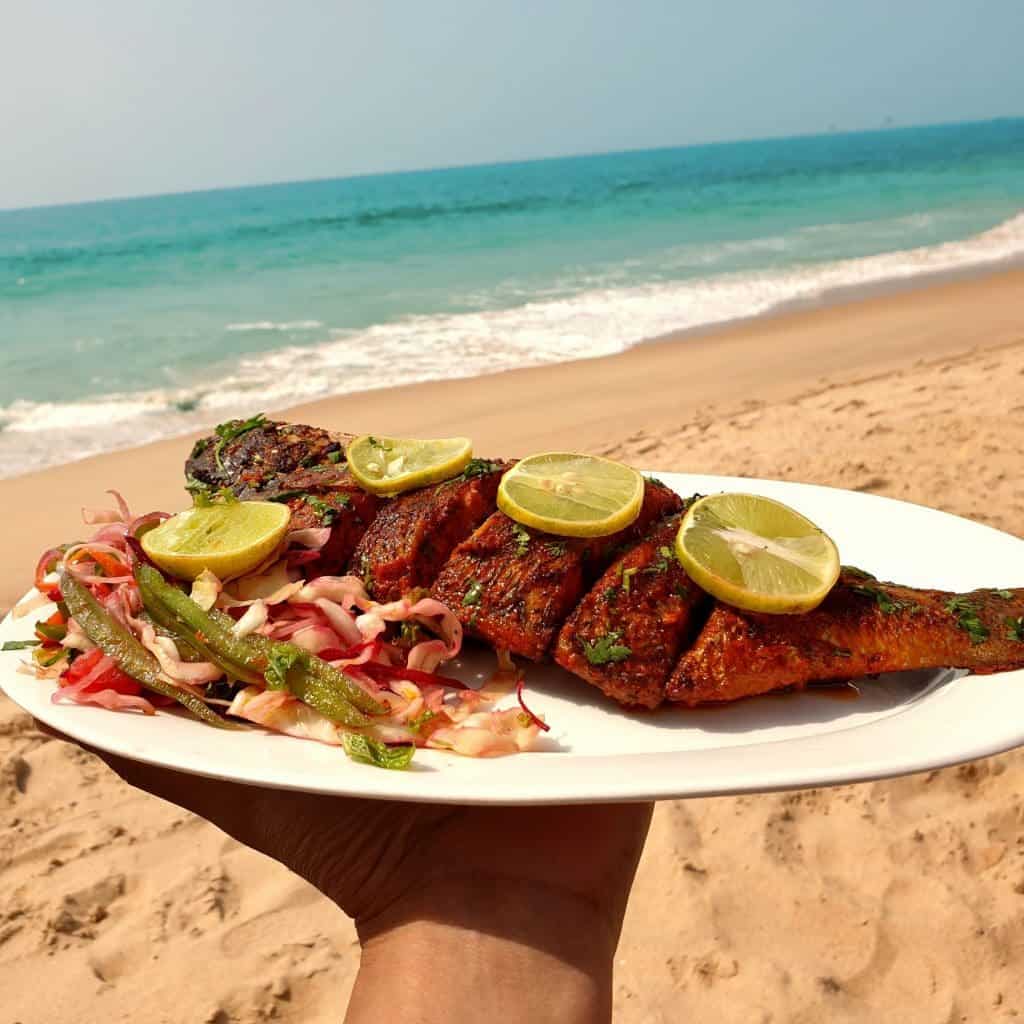 Yet, while the Portuguese influence is undeniable, the heart and soul of Goan food lie in its Hindu roots. Traditional dishes, often cooked over wood or charcoal fires, encapsulate the essence of the region's lush landscape. The abundant use of rice, fish, coconut, and local spices reflects the state's affinity for its coastal and tropical surroundings.
Today, Goan cuisine is a delicious medley of its historical influences and modern trends. Classic dishes like Pork Vindaloo, Xacuti and Fish Curry Rice continue to be favourites, yet they sit comfortably beside more contemporary innovations that cater to the evolving tastes of locals and visitors alike. You'll find everything from upmarket restaurants offering fusion Goan cuisine, to beach shacks serving the freshest catch of the day, right off the Arabian Sea.
Whether you're a seasoned foodie or a curious traveller, Goan food invites you to indulge in its vibrant flavours, dive into its rich history, and embrace its traditions. It's a taste of India that's unlike any other, always promising an adventurous culinary ride that keeps you coming back for more.
Chicken Xacuti
The Chicken Xacuti Recipe is a Goan-style chicken curry with a lot of flavor. The word Xacuti is derived from the Portuguese word chacuti and is pronounced as "shakuti."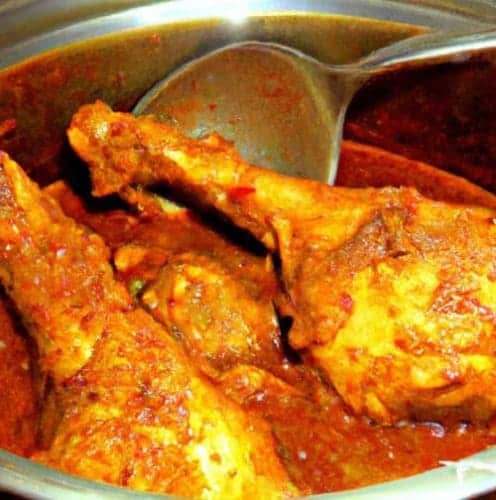 It's a traditional dish where chicken is marinated in a blend of rich and aromatic spices, including poppy seeds, grated coconut, and red chilies. The marinated chicken is then slowly cooked until it absorbs all the delightful flavours, resulting in a dish that's brimming with layers of complexity, sure to tantalize your taste buds.
Kashmiri red chilies, poppy seeds, coconut, onion, and spices are used in this one-of-a-kind cuisine. For a comfortable weekend breakfast, serve Chicken Xacuti with Steamed Rice or Ladi Pav.
Pork Vindaloo
The vindaloo curry originated in Goa. The Portuguese ruled over what is now Goa in the 15th century, bringing with them Portuguese recipes and ingredients from the new world — the Americas.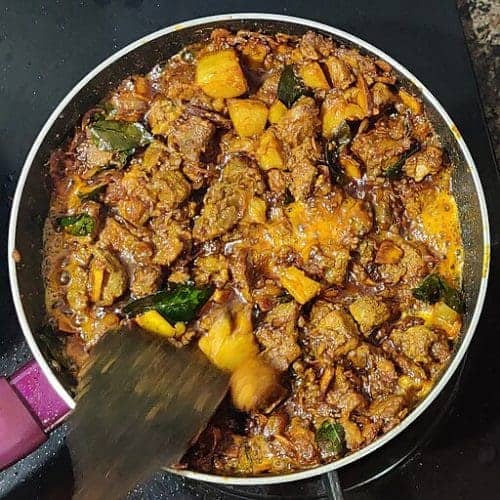 The Portuguese meal carne de vinho e albos, or meat with wine and garlic, is thought to have inspired the word vindaloo. This popular Goan dish is a fiery red curry, a sublime combination of spicy, sweet, and tangy flavours. It involves marinating pork in a mixture of vinegar, garlic, and a variety of spices overnight. The marinated meat is then simmered until tender in a tangy sauce that's laced with the heat of dried red chillies. Vindaloo is a true testament to the Portuguese influence on Goan cuisine and a must-try for spice lovers. Rice or crusty rolls can be served along with this dish.
Sorak
Goan Sorak Curry is a sweet, spicy, tangy, and delectable curry made with freshly ground coconut masala and a wonderful blend of coconut, onion, garlic, and red chilies.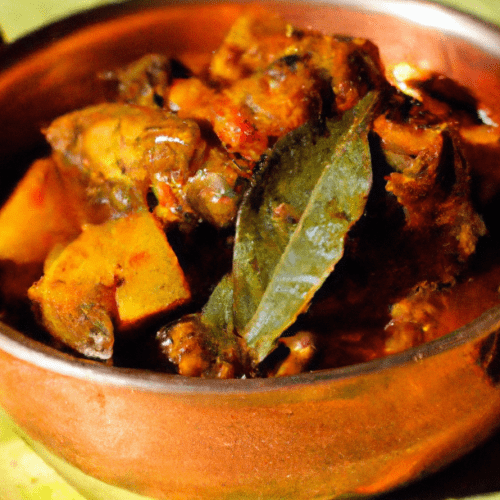 It's a flavorful dish with sweet jaggery undertones, sour kokum notes, and heat from red and green chillies. A monsoon staple, it's a hot and tangy dish primarily made from dried red chillies, tamarind, and a medley of spices. Although it's traditionally a vegan dish, locals often enjoy it with a side of fried fish. Its simplicity allows the natural flavours of the spices to shine through. For lunch or dinner, serve the Goan Sorak Curry with Ghee Rice or even Goan Poee.
Sannas
Sannas are steamed rice cakes or bread that are traditionally served with sorpotel, a classic Goan dish. The steamed rice cakes are somewhat similar to idlis but with a distinct taste owing to the use of toddy or palm vinegar for fermentation. Soft, fluffy, and mildly sweet, Sannas pair perfectly with a range of Goan curries. They are particularly popular during festivities, making a delightful accompaniment to fiery sorpotel or xacuti.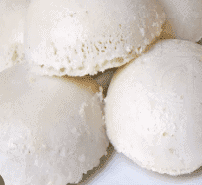 They can also be eaten simply by sweetening them with sugar or stuffing them with a jaggery and coconut combination during the steaming process. Traditional Sannas are made with coconut toddy, which functions as a fermenting agent.
Sorpotel
Goan Pork Sorpotel is a traditional pork curry from Goa, a former Portuguese colony and western Indian state. This dish is traditionally made from pork offal, simmered in a flavorful sauce that combines red chillies, garlic, ginger, and vinegar. Aged for several days to develop its complex flavours, Sorpotel is an indispensable part of any Goan festive feast, especially during Christmas.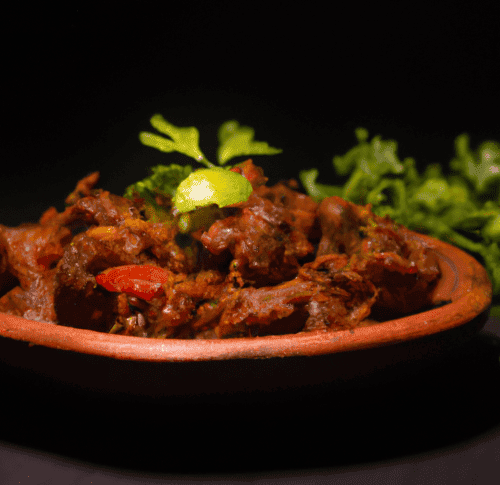 Cooking the delectable Pork Sorpotel curry over the Christmas season is a Goan tradition. Accompany this dish with sannas.
Ambotik
Ambotik is made up of two terms in Konkani: ambot, which means tangy/sour, and tik, which means hot/spicy. As the name implies, this is a spicy, sour curry cooked primarily with fish, prawns, or even calamari.
Prepared with fish, typically shark or catfish, and a blend of fiery red chillies and tart tamarind, this dish is a beautiful balance of flavors. It's traditionally served with rice, offering a delightful combination that leaves a lingering taste on your palate.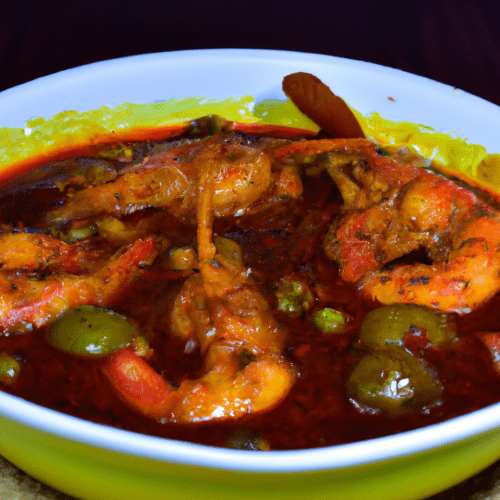 The tamarind and vinegar, which form the backbone for the sour component, are perfectly balanced with the spiciness in this curry.
Samarachi Kodi
Another of Goa's seasonal specialties is Samarachi Koddi, which is popular during the monsoon season when fresh fish is scarce. It's made using dried prawns, combined with a multitude of spices, coconut milk, and kokum for a tangy undertone. The dried prawns impart a concentrated, salty flavour that perfectly complements the spicy and creamy curry.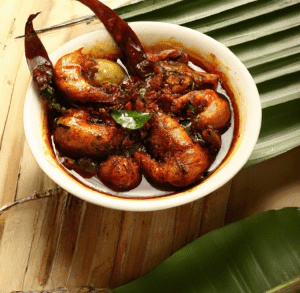 Fresh and dried shrimp, mango, and other freshly roasted spices give this curry a distinct flavour that will keep you going back for seconds and thirds! This curry goes well with red parboiled rice and a vegetable side dish.
Sol kadhi
Sol Kadhi in the Konkani Style is a light dish cooked with sour kokum fruit and coconut milk. In the summer, it is commonly offered with ordinary meals to help keep your body cool. The main component in this meal is kokum, which has a faint reddish tint. For your everyday supper, serve the Konkani Style Sol Kadhi Recipe with Steamed Rice and Karate Batate Puddi Sagle Recipe (Konkani Style Bitter Gourd And Potato Recipe).
Chicken Cafreal
Chicken Cafreal is a delightful Goan dish with a strong Portuguese influence. It involves marinating chicken in a vibrant green paste, made from coriander leaves, green chillies, lime juice, vinegar, chiles, garlic, and ginger that is acidic and spicy., before grilling or shallow frying. The result is a succulent and incredibly flavorful dish, often served with fried potatoes or a fresh salad.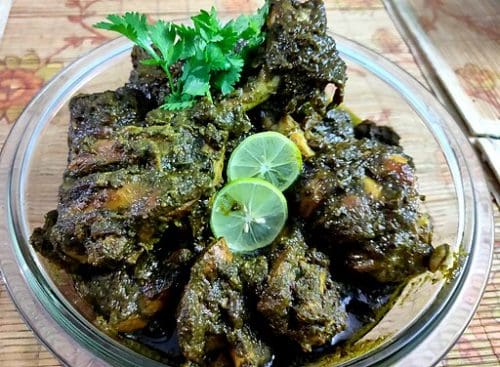 It is a popular dish in the Indian state of Goa and belongs to the Goan Portuguese cuisine. It is generally served with potato wedges, onion slices, and lemon.
Bebinca
Bebinca, often spelt Bebik, is a classic Goan dessert. It only requires four major ingredients: eggs, all-purpose flour, coconut milk, sugar with a dash of nutmeg, and ghee, but the cooking technique requires baking each layer separately, which can take up to four hours. Traditionally, bebinca contains seven layers, but it can have as many as sixteen.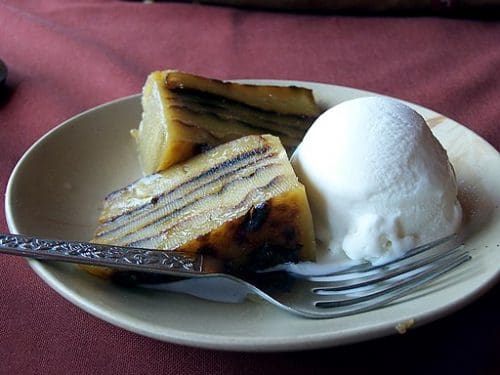 Often served during Christmas and other special occasions, Bebinca is the perfect sweet conclusion to a hearty Goan meal.
Goan cuisine is steeped in its rich cultural heritage and abundant natural resources. Each dish, from fiery Chicken Xacuti and tangy Pork Vindaloo to comforting Sannas and decadent Bebinca, tells a story of the land and its people. This cuisine is a vibrant medley of old and new, simple and elaborate, spicy and sweet. Whether you're sampling its offerings in a fine dining restaurant, a local home, or a beachside shack, a journey through Goan cuisine is a culinary adventure filled with delightful surprises and unforgettable experiences.
Read More: Latest