Lush and landlocked, Nagaland captures the mysteries of nature and folklore in abundance. For those willing to trek an off-beat path, the state is the perfect travel thriller to unpack.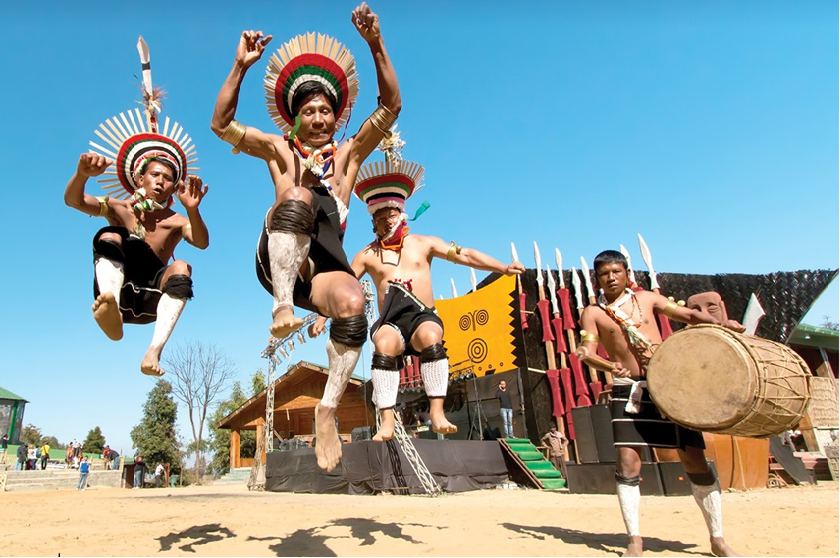 Pristine forests, photogenic treks, diverse culture and global fests – Nagaland captures both exotic and experiential beautifully within its scenic forests and picturesque treks. Amongst the easternmost states of India, Nagaland remains an untapped tourist wonderland, cradling a rich culture symbolic with exotic costumes, tales of warlords, nature inspired life and a very 21st century creation – the Hornbill Festival.
Nagaland shares borders with Assam, Arunachal Pradesh, Manipur and Myanmar, drawing in the culture and history of both India and its neighbours, into its own unique social milieu. Visit this state to experience one of the last few bastions of ethnic culture left untouched by consumerism.
Among the easternmost states of India, Nagaland's unique geo-political location makes it perfect for off- road travels and treks. Blessed with Nature's bounty and perfect 'perpetual holiday' weather, the mountainous state is a blessed land indeed, replete with exotic fruits, blooming Rhododendrons, Orchids and adorned by the gentle sway of bamboo swathes.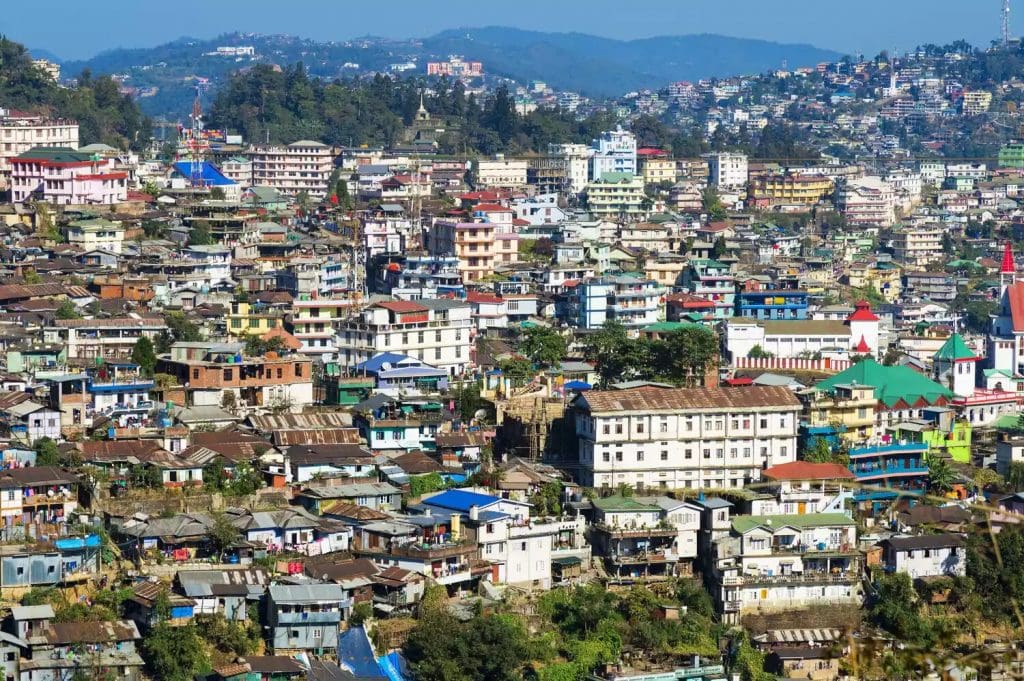 Kohima is the capital city with good connectivity to the mainland and the best time to visit the state is between October to May. The weather is at its best with sunny skies, the land painted myriad shades of green and cultural festivals just round the corner.
Loosely populated, when compared to the Indian mainland, the 1.9 million Naga population comprise of 16 major tribes, each of whom enjoy their own predominance amongst the 11 administrative districts. The various ethnic groups lead a life deeply revering Nature and an agrarian economy, which translates into diverse festivals which run all year long. Pencil in your calendar to enjoy these exotic cultural events, wildlife sightings along with some off-beat adventure treks and trails in the lap of nature.
THE HORNBILL FESTIVAL
An ambitious project to promote inter-racial harmony and showcase the rich ethnicity of the state, the Hornbill Festival was started in the year 2000. Twenty-two years on, the festival has become its most cherished and loved cultural export. Held in the first week of December every year to mark its statehood, this cultural extravaganza aptly named as 'Nagaland Hornbill Festival – Festival of Festivals' pays homage to the exotic Hornbill, a prized bird species of Nagaland.
The Hornbill, a revered theme in Naga culture across ethnicities, is symbolic of its unity and apt metaphor to showcase its diversity to the world. The ten-day festival commences at the foothills of Mount Japfu, in KISAMA, the Naga Heritage Village, which becomes a carnival of crafts, cultural performances, indigenous games, music, fashion, cycling, kids shows, motor sports, floral galleria, food courts, films and various competitions.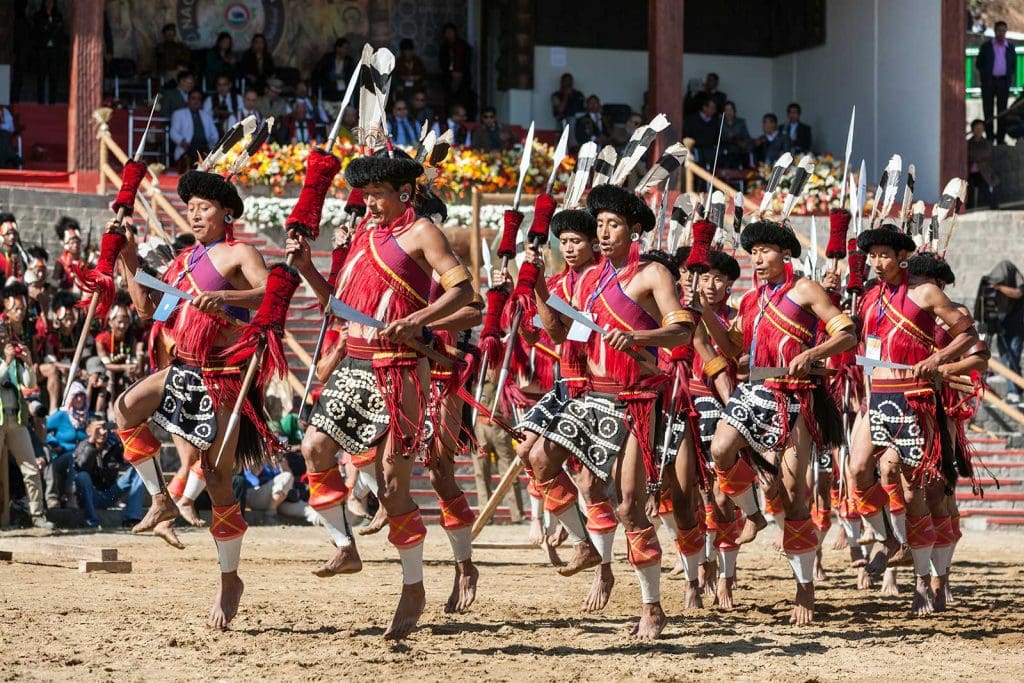 The name KISAMA is an amalgamation of two villages – Kigwema (KI) and Phesama (SA) and MA which means village on whose land the Naga Heritage Village is commissioned and established by the State Government of Nagaland.
Barely 10 kilometers from capital Kohima, the majestic Naga Heritage Village offers visitors is a culture capsule, offering a window to the soul of Naga customs and traditions. Different ethnicities, customs and traditions are brought under a common management umbrella allowing for promotion of tourism as well as an opportunity for visitors to savour the beauty of Nagaland under one roof.
A must-see and definitely Instagram worthy are the imposing, majestic tribal 'Morungs' or 'Male Dormitories'. An important part of Naga culture, these Morungs are examples of vernacular architecture, and each of the 16 tribes have their own. A sight to behold are the large log drums, used by tribes to relay messages using various sounds and tempos, long before mobile communications made the world flat.
The Morungs representing the different tribes showcase their individual dialects, songs, dances and festivities which echo through the Hornbill festival. The Heritage Village houses more historical spaces such as A World War II Museum, Bamboo Heritage Hall and Pavilion and stadiums for live concerts, and shows which continue through the year.
LANDLOCKED WITH WONDER
An ideal holiday in Nagaland is one that is best designed to be awestruck by Nature every day. The topography of Nagaland makes it replete with natural resources and an enchanting forest cover which truly is nothing short of an Alice-in-Wonderland feel.
The sixteenth state of the Indian Union is a treasure trove of rich flora and fauna, pristine mountains and gurgling lakes, all of which make for charming treks and at times, a bit of a climb.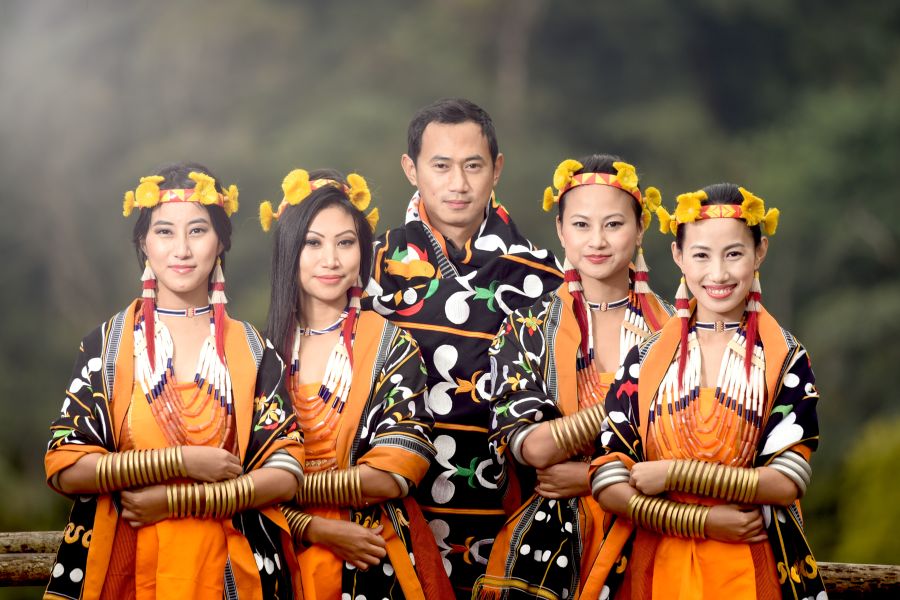 The land is hilly (Saramati being the highest peak) and cut by rivers such as Dhansiri, Tizu, Zungki etc, so appropriate tough weather clothing and shoes are advisable during tours and travels.
Nagaland truly enjoys near perfect weather all through the year and this makes for great treks, off-roading adventures and nature trails. Bird watching and wildlife trails are superb and it is worth taking the time to visit Pulie Badze Wildlife Sanctuary, especially for the rare Blyth's Tragopan and Dark Rumped Swift.
ORCHID CARPETS, BAMBOO CURTAINS, RHODODENDRON & RAJA MIRCHA
Of the many sights the state has to offer, blooming orchids and rhododendrons dotting the terrain puncturing verdant green swathes of bamboo are the most common.
The state is home to over 360 varieties of orchids, which accounts for more than 27% of India's total Orchid species. Flowers are fruits are abundant in its rich bio-diversity, as is evident from the plethora of fruits found in Nagaland.
Well-known ones include the delicious Naga pineapples, dragon fruit, mangosteen, passionfruit and the global icon of fiery pungency – the Raja Mircha (King Chilli), the GI tagged product from Nagaland which was exported to London for the first time in 2021.
The gorgeous Rhododendron, the state flower is amongst its prized flora, and efforts are underway to commercially cultivate and export it to the mainland. The red ones are especially beautiful, and if you are lucky enough to spot the blooms, take a minute to soak it all in. It is indeed a sight to see.
Another prized Naga export is Bamboo, which makes its way to everyday Naga life in its various usage in food, commercial products, paper and textiles. The Bamboo Pavilion in KISAMA is a testament to this wonder grass, revered in Naga culture.
THREAD TALES AND CRAFT CORNERS
A relatively lesser known fact about the state is its deft craftsmanship and edgy ethnic fashion. The unique designs of the Naga tribes, especially the ubiquitous red and black Naga shawls and throw overs are extremely popular worldwide. The Naga Heritage Complex, a permanent site at KISAMA, serves as a 'Window to Nagaland' (WTN), as a cultural preview to the state.
For the 16 recognised tribes, their customs and traditions translate into wearable art and artefacts and modern designers from the state are popularizing designs as well. Naga fashion is seeing its sunrise period and curating a few pieces is a must-do when visiting the state.
INDIGENOUS MUSIC AND WARRIOR ARTS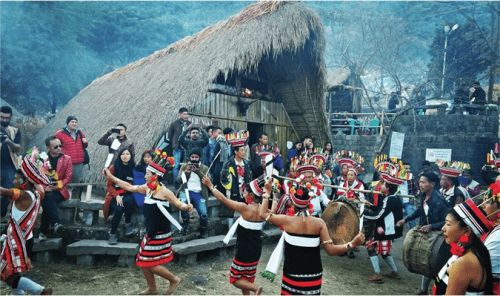 Music and indigenous warfare are important aspects of Naga culture and the Hornbill Festival is a perfect choice to soak in these lesser seen-and-heard culture nuggets.
Ancient Naga songs passed on by oral traditions and punctuated with instruments made from bamboo, log drums and cattle skin are a rare treat to experience.
The tribes take pride in displaying their unique ethnicities and younger musicians are bringing forth these ancient arts into modern culture.
Nagas are also skilled at traditional warfare, being primarily hunter-tribes, martial arts and a natural agility is much prized in Naga communities. Traditional martial art like Ki-Ti-Do is popular.
A trip to Nagaland is unlike any other. Among the last bastions of nature-fed tourism, still untouched by commercialism, the place is truly a Gift of Gaia. A place to bookmark for your next adventure.
Read more: Latest