It's dark, I am driving in heavy snowfall and am scared. This is no ordinary drive; we are part of a six-SUV convoy fully loaded and we are lost while driving over the world's largest and deepest lake, now frozen with over a metre of ice. This is Lake Baikal.
We can't see our way forward because of the darkness and snowstorm, and there is no cellular signal, so even Google map is useless. We stopped seeing oncoming cars a long time ago and now we find ourselves close to mountain islands, which wasn't the case when we left the island resort in the morning.
We all started calculating in our heads how long can we survive on the lake inside the car if we can't find the resort. I had a panic attack when I accidentally turned off the car engine and then couldn't turn it on again. I thought the car's engine was jammed due to cold but realised later that I had not put the gear shift into "Park" mode and once I did, the SUV instantly came alive. Such a relief!!!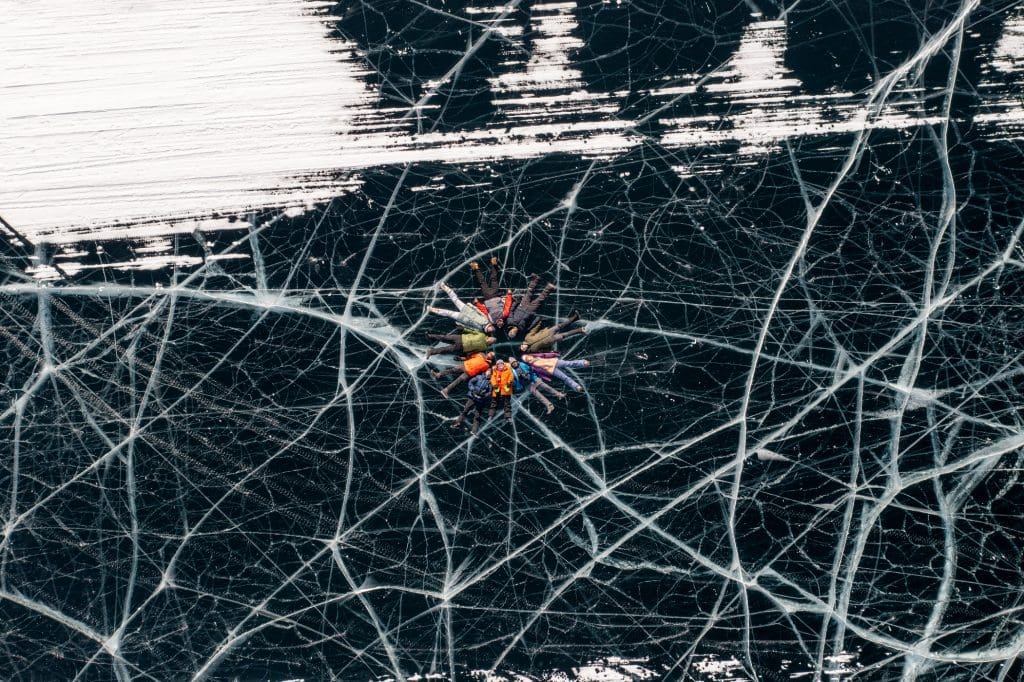 I met Venky, founder of Nomadic Road, in 2019 and heard about an amazing experience of exploring Lake Baikal in Siberia by driving over and around it while it's frozen during the extreme winter. It's been on my bucket list ever since.
Baikal is the lake of extremes: it is the largest, oldest, purest, deepest lake in the world. Around 330 rivers empty into it and only one river, the Angara flows out of it. Lake Baikal is 25 million years old and was formed as a rift that is still growing a few millimetres wide every year.
It spans over 625 km long, 80 km wide, and 1700 metres deep. It carries 20% of all of the world's freshwater and more water than all of the great lakes of the United States combined. Russians call Baikal their sacred sea.
Coming from the north of India, I am exposed to temperatures varying from 0–48*C during the year but preparing for -30*C with strong winds in Siberian winters is a whole new ball game.
It's all about retaining body heat, and we do that by wearing layers. base layer of body-hugging sweat-removing inner Marino wool (not cotton) thermals. A mid-layer of thick fleece over the base layer and an outer layer is typically a jacket with wind protection outside and fleece or wool inside. For Baikal, three layers are enough, but for regions colder than Baikal, the layers can go up to six. The same principle is applied everywhere, from head to toe.
In addition, UV protection for eyes and thin warmer pouches that one can slide into gloves, shoes, and anywhere else to provide temporary heat for a few hours. In camps, a sleeping bag to keep warm at night (up to -5°C) was also required.
After I secured everything, I even found a fleece made in the Nordics that had a battery-operated heated back which provided heat to the body for 10 hours per charge. Although Decathlon and Adventure Point in Delhi were a huge help in the preparation, I was mortally scared of spending 14 days in the Siberian winters.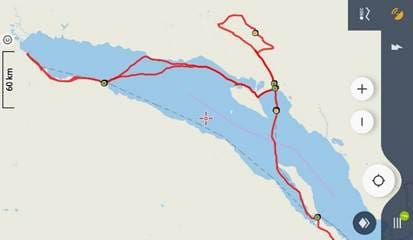 Obtaining a Russian visa, which was truly a breeze and a 3-day affair, was the easiest visa application ever. Most of the other preparation was, of course, done by Venky and his team, which included the overall experience and the route, cars, snowmobiles, sledges, food, stay, local guides, ice captain, participants, videographer, fuel, emergency response, picnics over the lake, transfers, check-ins, and checkouts, and even sleeping bags for some who did not carry them.
The mission was to drive across the lake and explore the life on the lake, as well as the towns and villages on its shores. Of course, driving over the lake is no joke.
Every year, approximately 250-300 cars go to the bottom of the lake due to driving over fragile ice, and I was assured that if we can find a way to pull them out from 800-1700 metres depth, most of them will be in good condition since there are no impurities in the lake.
To complete the mission safely, we had a guide in Dasha (a geologist), and Arthur, who, among his many talents, is also an emergency respondent, and the most important member of our crew, Maxim, our Russian-speaking fan of heavy metal and one of the best ice captains in that region. Ice captains are very experienced drivers who, by the looks of the terrain, colour of the ice, and design of the ice structures, can decide on a safe passage over a frozen lake.
The expedition team, apart from the crew (4 Russians), was made up of seven members, with Venky leading it, a Turkish celebrity chef, a pharmacist from Dubai, a doctor from Azerbaijan, and two ex-bankers from India, and myself.
They are all between the ages of 44 and 65, with some experience as adventurers and some amateurs. In addition to all of us, we also had Paul, the most interesting member of the expedition—a 22-year-old French videographer who would not think twice before putting himself in danger for that perfect shot that we will treasure all our lives or may post on Instagram for some short-lived fame. We were a small and diverse group, but we all bonded brilliantly.
Day 1 – 19th Feb
Landed in Moscow last night. I and the two Indian bankers started out on our trip by spending 2 days in Moscow, our transit, before landing in Irkutsk, the headquarters of eastern Siberia.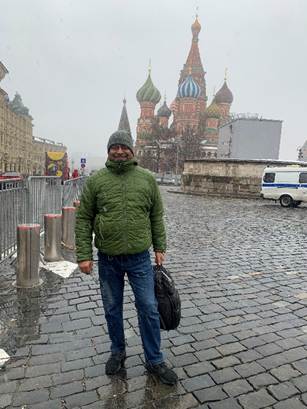 The days in Moscow were informative with visits to many museums. Our guide Irene was a middle-aged woman with lots of varied experiences, quite knowledgeable and we had great conversations. I wish we had planned this part a bit better with visits to nearby villages, dinner with a Russian family, and an afternoon at a Russian Banya with all the ancient rituals including a long luncheon. Well! Maybe next time.
Went to see the Kremlin, the Red Square, the Grave of the unknown soldier, the deepest metro escalator (120 M deep), and a long and lazy dinner on cruise. My first brush with cold (0*C). A comfortable night spent in a hotel. Moscow city officials had decided not to dismantle the new year decorations which turned the city into a dazzling capital.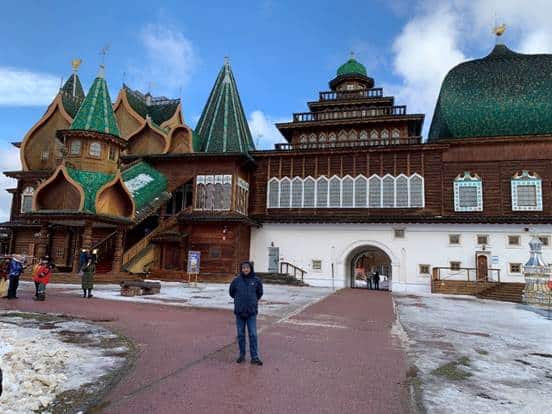 Day 2 – 20th Feb
Visited a few churches and Museums, etc. Boring kind of day. Did have a stomach upset midday may be due to a change in weather or food.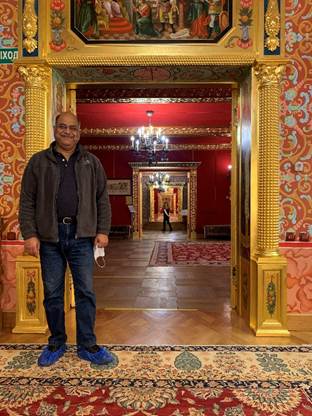 Day 3 – 21st Feb
The flight to Irkutsk was long. We stayed comfortably at Courtyard Marriott. Got Introduced to the crew and the cold (-25*C). Also tasted my first Omul, a Baikal fish.
Day 4 – 22nd Feb
The next day, late afternoon, we arrived at Listvyanka after lunch after a bit of shopping. The drive was short and uneventful. The stay was in a wooden hotel on the lake's shore. It was my first view of the frozen lake and the Angara River flowing out of Baikal.
We were looking forward to driving Siberian dogs, huskies pulling sledges all over the frozen lake, and temperatures of -25*C. The ride foreshadowed what we were about to experience as cold over the next few days. Siberian huskies are a great breed, very friendly, and eager to work.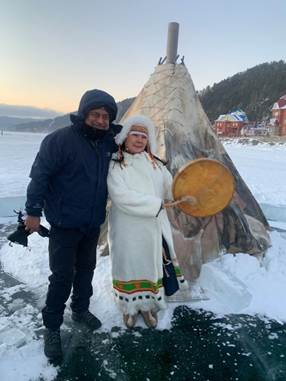 After the huskies' sledges, there was a surprise waiting for us: an evening with the Evankas tribe. This was like being transported to ancient times.
Somehow, all 10 of us fit into a small tent (made up of reindeer skin and shown in the picture) around a traditional Siberian wood-fired heater and the Evankas old lady performing rituals for our safe and successful trip. Mantras, food offerings to the fire, and tea afterward seemed so very similar to Havan in Hindu culture. The tribe tracing their origins to China and Mongolia is so rare that a Google search brings just one wiki page, and the rest is all Ivanka Trump:)
The cold during the evening terrified me of what lay ahead. After dinner, around 10 pm, I spent an hour going over my winter gear arsenal to ensure I was covered when I got the shock of my life: I heard giggling outside the window. I knew everything was covered with a few feet of snow. Who could it be? I peek from the window, and I see a few young teen girls in the smallest bikinis covered with water and snow, running to the hotel basement. I later learned what they were up to, the Russian Banya.

Day 5 – 23rd Feb
This was truly a magnificent day with the sun shining bright and all of us covered with layers and layers of protection and then, on top, the ski suit, matching warm boots, and the thickest mitts you can get. We all looked like we were ready to take off to the moon. We were all getting ready for a 60-kilometer drive to Mamay Mountain Cabin on snowmobiles all over the lake and then mountains at speeds of 60 km/hour. All of this at -30 °C plus windchill.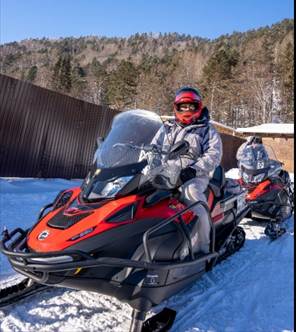 Snowmobiles are true beasts and look to me like a cross between a 4×4 and a motorcycle with skis. Driving requires a lot of strength, especially on the shoulders. We had lunch on the frozen lake right next to a cluster of ice blocks, which are formed when the wind blows the early ice, and then the ice plates crash into each other.
We were all like kids in a candy store, trying different stunts (read: overturned snowmobile by racing it), taking pictures, drone shots, etc. Despite all the layers, the cold somehow always managed to reach our toes, fingers, and neck. We also realised how we would not be able to answer nature's call with such heavy artillery on top of us.
As soon as we reached the lake's shores, we saw the snow-covered mountains, trees, and finally the mountain cabin (our night stay) itself, which was magical, almost out of Narnia. We found many families with kids walking in the mountains, skiing, and playing all sorts of games, including swings. Later, we found an Igloo too, near the cabin.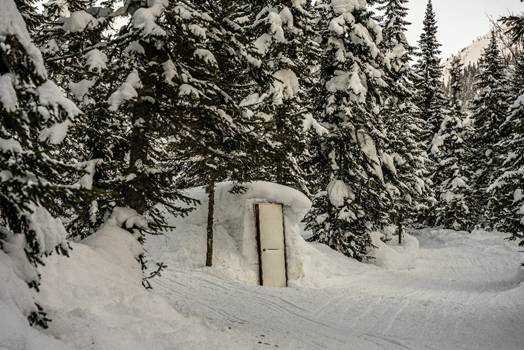 The dinner looked like Momo, a dish called Boozie, a Mongolian delicacy. It was all prepared by our guides in the cabin. The heating arrangements in the cabin were quite insightful as they not only heated the cabin but were also used to melt the ice into water and then heat the water.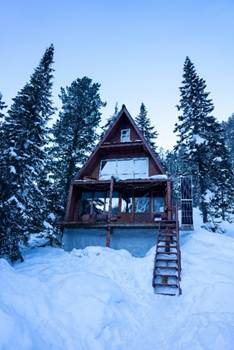 A long chimney of the massive hearth, built of 7-8 inches of metal pipe, ran through the floor's hearth, heating all of them. We were woken up in the middle of the night, first by extreme heating and then by cold. The formalities amongst the team also thawed in the cabin heat, and we all came much closer. All in all, a great experience.
Day 6 – 24th Feb – Total distance 280 km from the base of Mamay mountains to Ulan Ude capital of Buryat region. Terrain – Tarmac SUV – Toyota Prado
Breakfast was eggs, loaves of bread, and lots of Russian chai and my premixed Indian masala chai. We then came down the mountain on a snow mobile-driven sledge taxi which could accommodate 4-5 of us.
A 20-minute ride down (read roller coaster without a harness and any kind of security) and we then took delivery of our respective cars. I saw my first of many Siberian cats aged around 20 (equal to 100-man years) extremely friendly to humans with a few extra furs.
We drove on the tarmac (boring) for about 275 Kms and reached Ulan Ude. This is the capital of the Buryat region with Buddhism as a religion, part of the Russian federation. The town square had one-of-a-kind statues of Lenin with only his head with the legend of a secret tunnel. The town had strong evidence of the Soviet Union era with functional residential and official buildings. Dinner on the top floor restaurant of a star hotel we were staying at was fun with friendly banter among the newfound friends.

Day 7 – 25th Feb – Total distance – 243 Km from Ulan Ude to Barguzine. SUV – Toyota Prado. Terrain – Tarmac and frozen lake
The next morning, we left the town and saw normal life – people going to the office, kids to school, and some meeting customers in cafes. And all this when I thought Siberia winters would shut down everything. We stopped over at a Buddhist monastery on top of a hill. Again, we saw lots of connections to Hinduism.
We drove for about 250 km and reached Barguzine Village near the Barguzine river close to Barguzine valley. Max was eager to move us from the tarmac to the frozen lake. The first test of ice proved not safe enough so post-lunch on the lake we moved back to the tarmac. During the afternoon we all took a bio break in a gas station and I realised I pulled up my warm pants without pulling up the inner thermals, (the height of amateurish, and the number of layers!).
It's 4 pm and we finally are on the lake to go across it to the homestay we would call home for 2 nights. Max stopped us and brought out a manual ice drill to prove we are indeed on ice and a lake below it. What a demonstration. Water came gushing out after 3 feet of ice. Magical and scary, we were driving 2.5 Ton machines over the ice. Hope to almighty we go back home safe.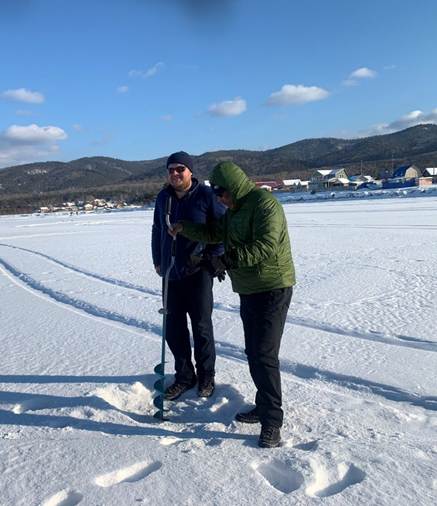 After a lot of fun, games, and pictures over the lake, we reach Michael and Julia's place in a fisherman's village on the lake shores opposite a frozen river.
Staying at Michael's place was very unusual, with wooden train carriage-like cabins built in his backyard. Each cabin could sleep four people, and they also had a small pantry. Heated from the floor, these cabins were extremely cosy and comfortable, covered by snow all over.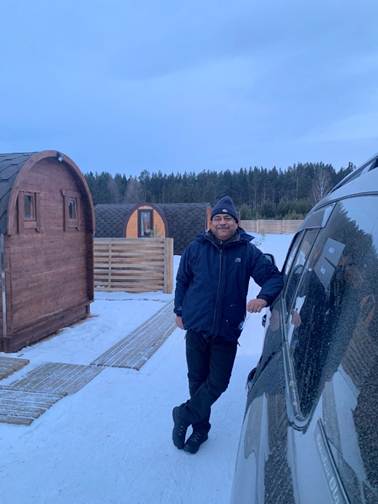 .
Michael and his wife Julia invited us for dinner inside their home. Theirs was a traditional Siberian home with a massive hearth in the middle of the house and its walls exposed to each room to heat. The hearth is also used to cook and heat water.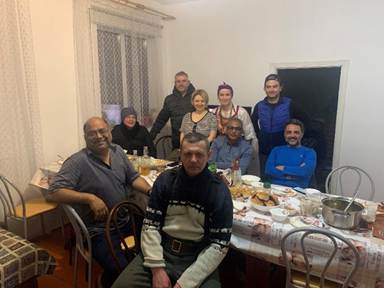 Michael was in the army and took up a job in utilities and post-retirement shifted to the village and built a homestay. The kitchen floor opened to an underground storage lots of vegetables were stored for long and brutal winters.
The underground chambers were further cooled by ice blocks from the lake. They belonged to a community of old believers who are conservative Christians. Their grownups' sons were in cities, and they sent their 4-year-old to their neighbours as they were serving us Russian whiskey.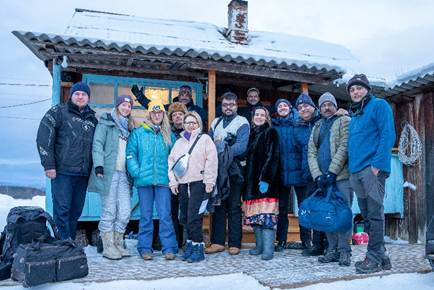 Little did I know that I was about to learn something about human bodies for the first time. Post dinner we all did Russian Banya (Sauna heated by wood and stone) where inside temperatures were 60-70*C and then we ran out in shorts too -17*C to cool off by diving into snow. This routine done 3-4 times in 30 mins was enough to ease all our aches/pains and prepared us for deep sleep. The human body tolerated these extreme temperature differences and healed by increasing blood circulation. This is only possible in Siberia.
Day 8 – 26th Feb – Total distance 253 km in a loop in Barguzine valley SUV – Toyota Prado Terrain – Tarmac covered with heavy snow and snowfall.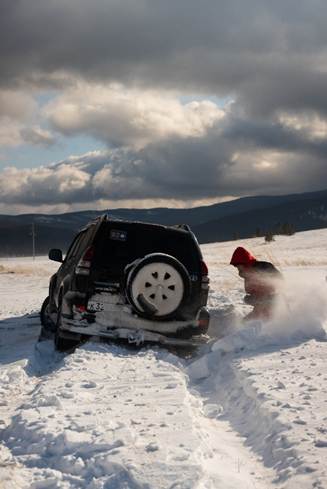 The next morning, we left for Barguzine valley and the village of the legendary Changez Khan's mother. Access to the valley was quite treacherous and all of us got stuck many times on the heavily snow-covered roads and falling snow. Max and Arthur patiently dealt with each of these episodes.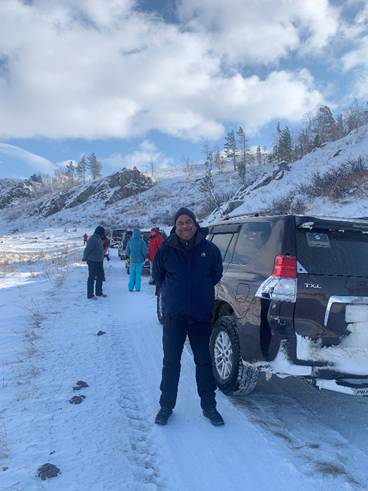 The Barguzine valley was mesmerising, with lots of yellow hay spread across the vast expanses of snow spread across it. There were some drawings too, on the rocks by cavemen dating back a few thousand years.
We finally reached the village for lunch after some true off-roading in the snow. Lots of fun. The lunch at an old lady's Siberian house was quite a spread with beef, fish, bread, berries, potatoes, and chai. Again, an old, friendly cat was nestled between my feet comfortably.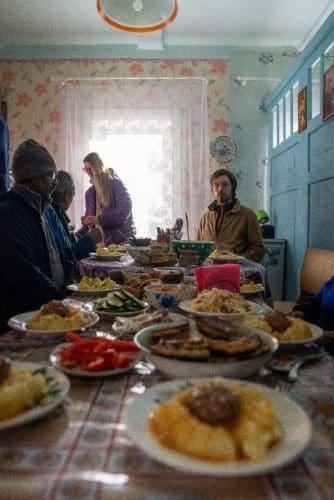 The drive back home was again spectacular with a landscape straight out of a painting. On the way, we had an appointment with a real Shaman who performed the rituals to bless all of us. Yet again, it was very similar to the Hindu Havan and the offerings included vodka, chocolates, and milk. Our guide told us that young girls to come and tie scarves on totem poles to pray for a good husband and family. Ring a bell? Remember the peepal tree in the middle of a village with tons of holy red thread around its trunk tied by village women and girls?
Stay at Michael's place again tonight, but this time each of us prepared a dish. The Indian soup (rasam), the main dish by a celebrity chef from Istanbul, and the finger-licking dessert from Azerbaijan were instant hits. Michael had invited a few of their friends from the village. great evening. I must say, the hostess was quite gracious to allow strangers into her little kitchen and family dining room. All this was followed by a Banya session. I'd befriended the cold by this point and had grown fond of it. Just to mention that Julia also had a 20-year-old Siberian cat.

Day 9 – 27th Feb – Total distance 233 Kms Crossed frozen Lake Baikal from east to west. SUV – Toyota Prado. Terrain-Frozen Lake and ice structures.
Today we had to drive around 235 Kms on the frozen lake. After a sumptuous breakfast and a warm send-off by Julia we loaded our SUVs yet again and drove off to our next destination. Julia gifted a homemade sweater to Venky on his birthday, we all were moved by the loving gesture.
The way on the road was marked by a series of Christmas or evergreen trees stubbed into the snow by expert Ice captains every year in early February to help the drivers find their way. Guides joked that these grow in snow which some even believed. On the way, we stopped by the Holinose peninsula first which had some beautiful gravity-defying ice structures.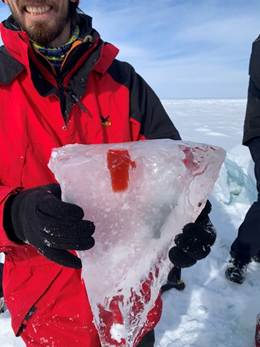 Mid-day after about 180 km, we had our own "Kiss of Baikal" which we had heard so much about. Arthur drilled holes into Baikal ice blocks, poured Vodka into them for each of us and we sucked the vodka from it.
We then had lunch on the lake with standard bread, leftover breakfast, eggs, cheese, fruits, and of course the endless flow of chai.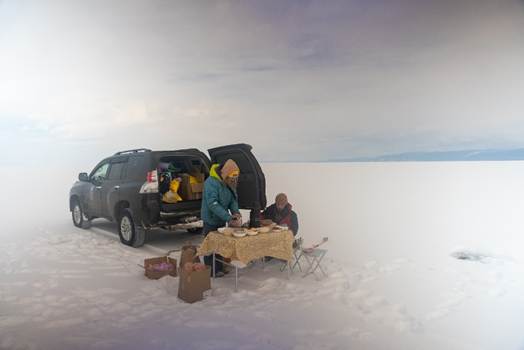 The lunch was followed by drifting on the lake with expert advice from Max. Driving with the gas pedal on the floor, going around in a circle, and then turning outside to kick up the speed and snow all around is unbelievable!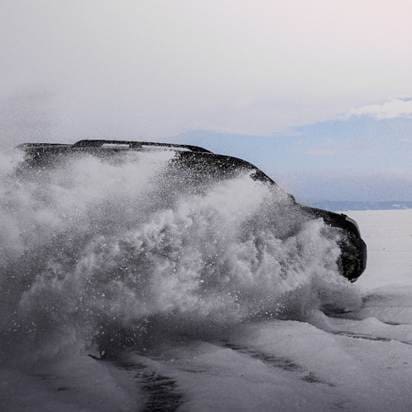 Some of us were expert off-roaders and some were amateurs, but this was thrilling for all of us. It's rare to do car stunts over a metre of thick ice on top of 1 km of deep water. Once again, magical!!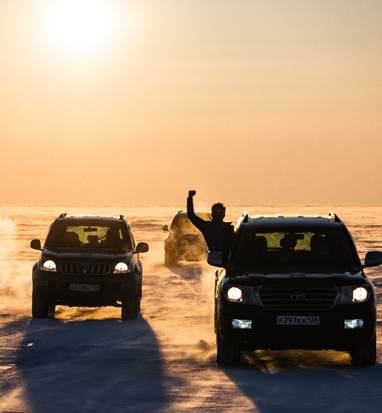 We finally arrive at Kotelnikovksy resort. This resort was built over an island around natural hot springs. For most of the year, this is approachable only by boat or helicopter. We were lucky to be able to drive to it.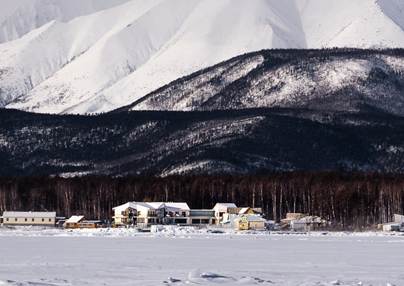 I must mention that there was no connectivity in the resort except for 1 hour every morning and night. Swimming in hot springs out in the cold was a completely different experience. Very similar to what we have in Badrinath, but much cooler.
What a day and that hour of connectivity from 8-9 pm was a gift from God and made us all realise how addicted we are to the mobile internet.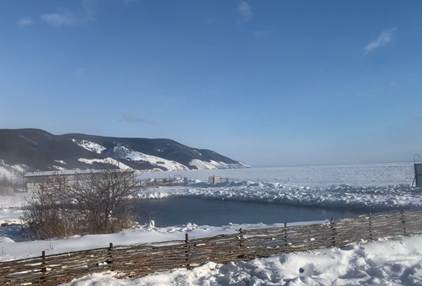 Day 10 – 28th Feb – Total distance 215 Kms from Frozen Lake to its northernmost point. SUV – Toyota Prado. Terrain-Frozen Lake, snow-covered tarmac, and mountains.
The next morning, we leave for a trip to the northern tip of the lake to a town called Severobaikalsk. The approach road to the northern tip was not motor-able due to heavy snow, so we walked over for quick pictures.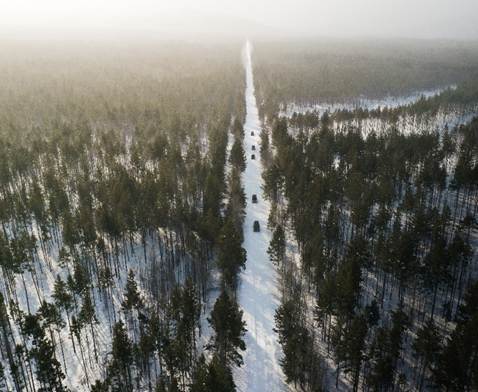 The town was quite laid-back, and we spent a few hours in a cafe. Snow has been falling the whole day. We also saw many villages on the way, and just like the rest of the world, many houses were deserted due to young people leaving for towns and cities. Quite unfortunate!!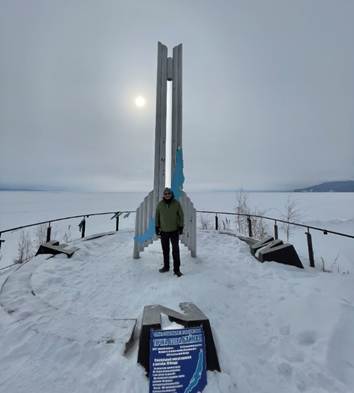 On the way back to Kotelnikovksy, it was quite late, and we got caught in a snowstorm. In the dark and with tracks covered by snow, we were all following Max's taillight. This hour on the lake was quite scary, and we were all planning a night in the car over the lake without food or water. The resort lights from far away gave us relief beyond words.
Day 11 – 1st March – Total distance 243 Kms from West to the east of the lake to reach yurt camp. SUV – Toyota Prado. Terrain – snow-covered frozen lake.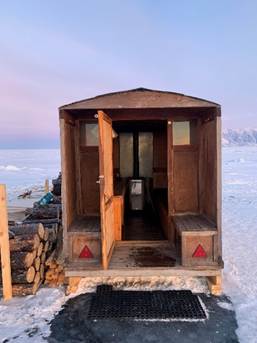 We will be driving over the lake during the day again and will retire to a Yurt campsite. On the way to the camp, there were vans with 10-15 tourists each on the frozen lake playing all sorts of games.
The whole camp on the lake was quite well built, with a kitchen and dining room, and three yurts with 3 camp cots in each. We immediately rushed to the Banya (now no longer scary) and spent an hour moving from Banya to an ice-cold pool in the lake and then to Chaand (a huge bathtub with a fire underneath it).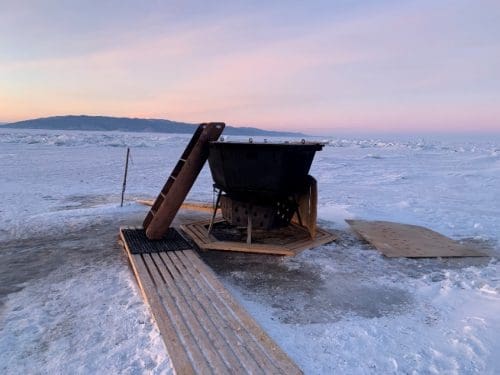 It's midnight and I'm trying not to fall asleep, though it was a long and tiring day. And this is so because I'm mortally afraid. We are sleeping in yurt camps on top of the lake itself, and now that there is no noise, we can hear the lake's own sounds-"crrekk," new cracks, "whoop," ice pieces breaking away below, and then some that are difficult to fathom.
Inside the camp, we have a red-hot stove to heat the camp and its three inhabitants. All this seems counterintuitive – fire on an iced lake. Really? I am imagining waking up in a floating or drowning camp alongside our heavy SUV parked outside the tent. The only saving grace was that everyone had the same feeling in the morning. I am fine if everyone was scared too!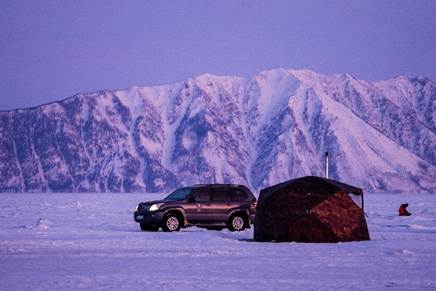 Day 12 – 2nd March – Total distance 400 Kms from yurt camp to Irkutsk via Olkhon islands. SUV – Toyota Prado. Terrain – part frozen lake and part tarmac
After just some leftovers from dinner eggs, bread, and chai we leave the camp. The breakfast chatter was all about the scary lake noises and whether they were cold or hot at night. Every hour the caretaker was supposed to check the wood-fired heater in the Yurt, but we are sure he probably visited maybe twice or thrice only.
It was the middle of the night – cold. I was meekly calling out "hello" from my sleeping bag to the passer-by's footsteps outside the tent but no result. It was however a potent content for jokes amongst all of us. Good fun and experience like never before.
On the way, Venky and the guides found some ice-covered caves and we all stopped to celebrate the birthday of one of us. Magical again. From here we would go to Olkhon islands, home to the Olkhon ice fest at this time of the year. Artists come from all over to carve sculptures from Balkan ice. Roaring lions, leaping dogs, and inviting pillars are all sculpted out of ice. Another magical place.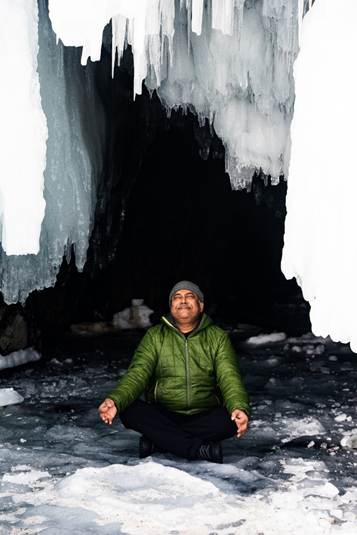 We finally reached Irkutsk in the evening and, post-freshening up, headed to an Indian restaurant for dinner. By now, all of us are friends who shared a magical journey driving on the frozen lake. We also realised that we are in the middle of a war and must leave as fast as possible. Back to the real world, I guess.
Day 13 – 3rd March flight to Moscow and Delhi.
I came home on March 4th, and after a sumptuous home lunch lovingly prepared by Dimpy, I slept, conscious of all the aches and pains now appearing from nowhere.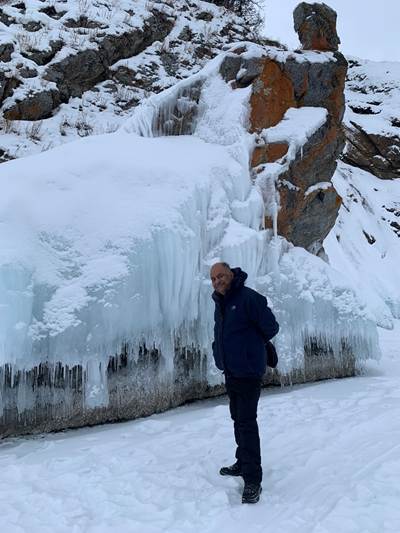 I kept waking up in the evening, even though I knew I was home, feeling that I must get up, pack my bags, put on my layers, and drive in the snow over the lake, following the trail marked by Christmas trees.
(Himanshu Goel is a business leader with over three decades of experience with organizations like IBM, Microsoft & Cisco. He is also an angel investor in upcoming technology-led software startups. His love for the road takes him to offbeat destinations in self-driving expeditions in domestic and international locations.)
Read More: Latest