When you visit India there is no doubt that you will be mesmerized by the most beautiful churches standing all across the geography of this land.
We bring you the 10 most beautiful churches in India which will make you dwell in serenity and serendipity at the same time.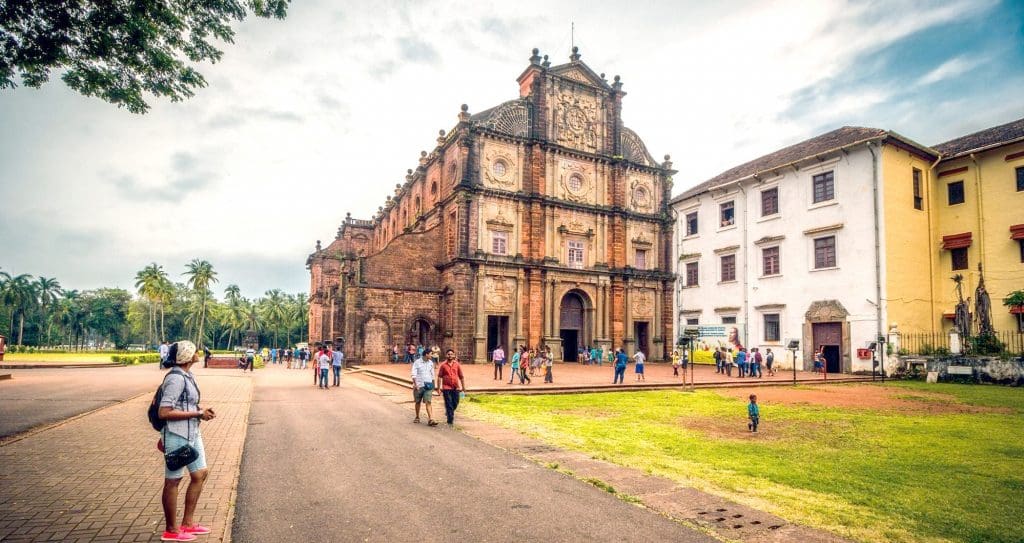 Basilica of Bom Jesus, Goa
More than 400 years old, located in old Goa, 10 km east of Panji, Bom Jesus Basilica is a UNESCO World Heritage monument.
This Roman Catholic basilica is Goa's most famous church and most revered by Christians, despite being partially in ruins this church is the very example of simplicity and elegance. This church is dedicated to 'infant Jesus' or 'good/holy Jesus' which is the literal translation of its name 'Bom Jesus'.
Built with Jesuit architecture, it is one of the finest examples of baroque architecture and Portuguese colonial architecture in India and also serves as one of the seven wonders of Portuguese origin in the world.
The foundation stone of this magnificent church was laid in 1594 and was consecrated in May 1605 by Archbishop Dom Fr. Alexo de Menezes. This monument is a landmark in the history of Christianity as it contains the body of St Francis Xavier, a very close friend of St Ignatius Loyola with whom he founded the Society of Jesus (Jesuit).
He died on a Chinese island named Shang Chuan but his body was buried in three different countries and each time when the body was exhumed it was found to be as fresh as the day it was buried.
First taken to Portuguese Malacca, the body was finally brought back to Goa after two years in accordance with his wish. It is said to have miraculous healing power and it still attracts a huge number of tourists from all over the world, especially during the public viewing of his body every ten years (last held in 2014).
You can visit the church from 9:00 am to 6:30 pm (Monday to Saturday) and 10:30 Am to 6:30 pm on Sundays.
Manarcad Church, Kerala
Located 9 km from the town of Kottayam in Kerala, India, St Mary's Jacobite Syrian Cathedral is one of the oldest and most famous pilgrimage sites in India.
According to the inscriptions written on this church's stone, it is estimated that it is more than 600 to 1000 years old.
Ancestors of Christians of that region started to pray for the purpose of wanting to construct a holy place for conducting religious ceremonies. On the 8th day of the prayer, they got a vision to construct a church where a cow and a calf were lying, where the fish and deer could be caught and canes were scattered around, after a long search they found the exact location where this church is standing till now.
Initially built with bamboo before the tenth century, this church was reconstructed in Portuguese fashion in the 16th century while the construction of the present church was completed in 1954.
It is famous for the annual eight-day feast called 'Ettu Nombu Feast' where thousands of people participate with decorated umbrellas and gold and silver crosses on the 8th day which is made up of rice, jaggery, and milk is served.
Timings to visit: Monday to Thursday from 7:00 am to 8:00 am, Friday and Saturday from 7:30 am to 8:30 am, and on Sundays from 9:00 am to 10:30 am.
The best month to visit is September when you can witness the annual feast of the Virgin Mary's birth.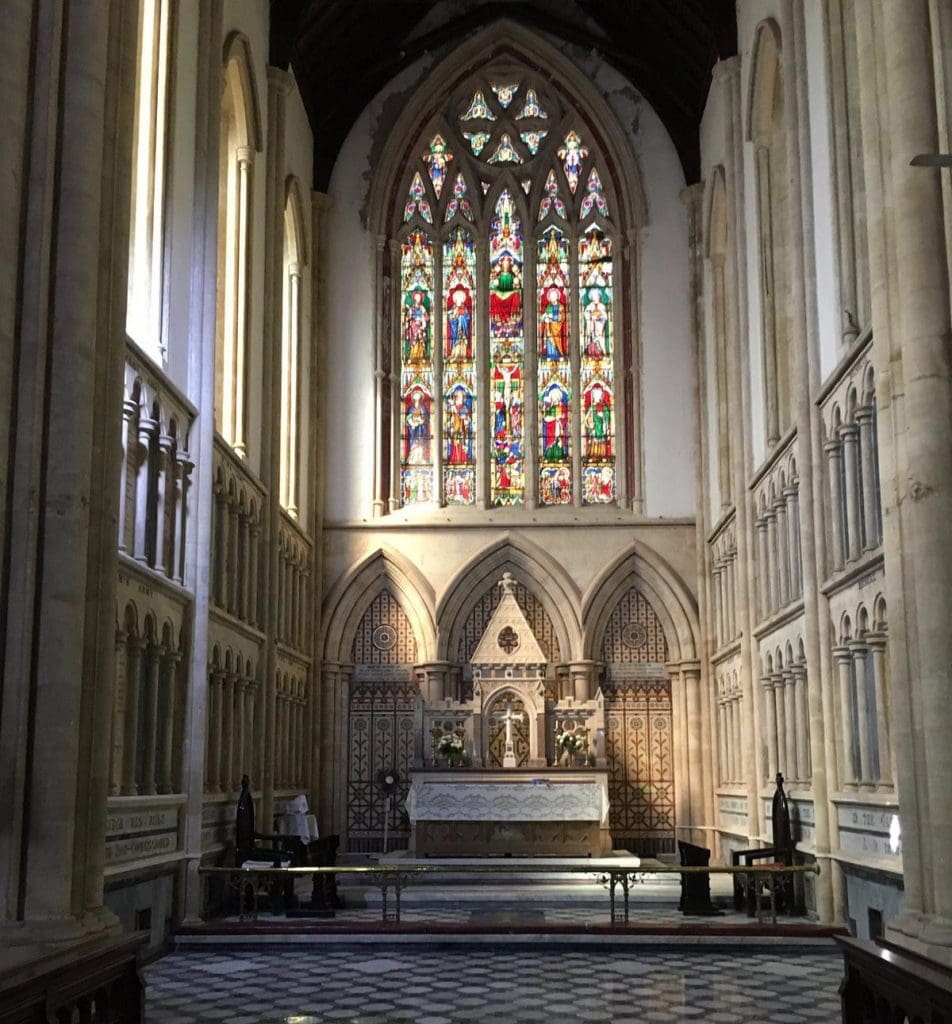 The Afghan Church, Mumbai
Also known as the church of St John the Evangelist is located in Navy Nagar in the Colaba area of South Mumbai, Maharashtra. It is designated as a Grade I Heritage monument by the Government of India.
Built by the British in 1847 and 1858, this 160-year-old monument stands tall surrounded by a beautiful garden with peepal and banyan trees in the midst of the metropolis of Mumbai.
The idea behind the construction of this church was to make a memorial for thousands of soldiers who laid their lives in the Anglo-Afghan war held between 1835 and 1842. This church is well known for its well-finished gothic arches and stained glass windows and is based on English gothic revival architecture. Now owned and managed by The Indian Navy it regularly hosts weekly services.
Timings to visit this famous monument are Monday to Saturday from 9:00 am to 5:00 pm and on Sundays 7:30 am to 7:30 pm.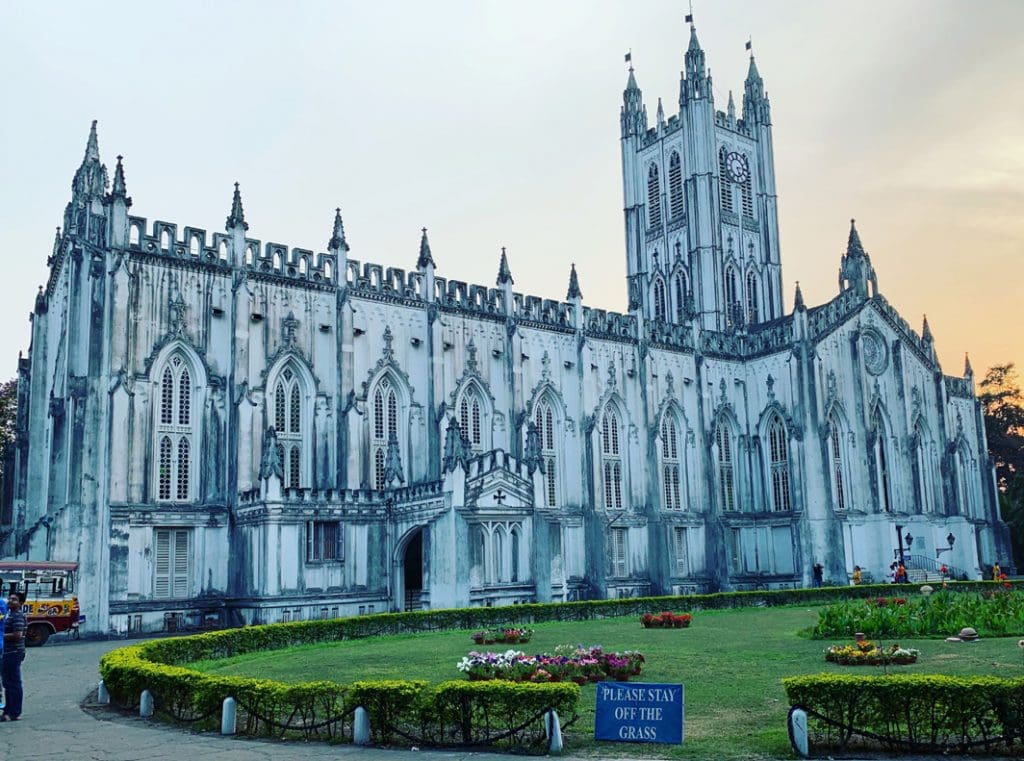 St. Paul's Cathedral, Kolkata
Located across Bishop's house at 51, Chowringhee Lane, cathedral road, Kolkata, West Bengal this church is one of the finest examples of Indo-gothic architecture.
It is the largest church in Kolkata and the first Anglican cathedral in Asia. The cathedral was built to replace St John's church which had become too small for the growing European population of that time. The special bricks used to make this cathedral's building were lighter and at the same time highly compressible to withstand extreme climatic conditions.
The cathedral complex also consists of a library situated over the western porch.
Timings to visit: Monday to Saturday from 9:00 am to 12:00 pm (morning), 3:00 pm to 6:00 pm (evening) and on Sundays: 7:30 am to 6:00 pm.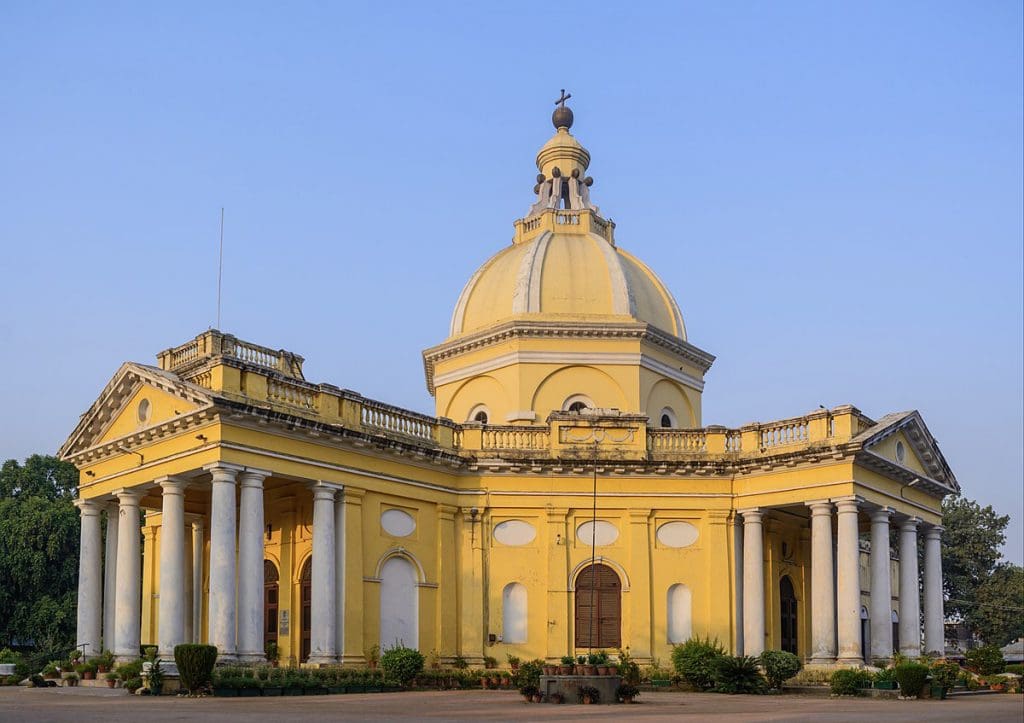 St James Church, Delhi 
Situated near Kashmiri Gate at the intersection of church road and Lothian road St James Church which is also known as Skinner's Church is the oldest and the first church built in the capital city of India and is designated as a grade II heritage monument by the Government of India.
Built in 1836 by colonel James Skinner showcasing the basic style of renaissance revival which is on a Greek cruciform plan with three porticoed porches, elaborated stained glass windows and a central octagon dome this Christian shrine exuberates serenity and spirituality in the midst of busy city life.
Apart from organizing various religious activities this church also runs a Sunday school for children which aims to connect them with their culture.
Timings of this shrine vary in accordance with the season. In summer, service starts from 8:30 in the morning to 5:00 in the evening, and in winter (October to March) it starts from 9:00 am to 4:30 pm.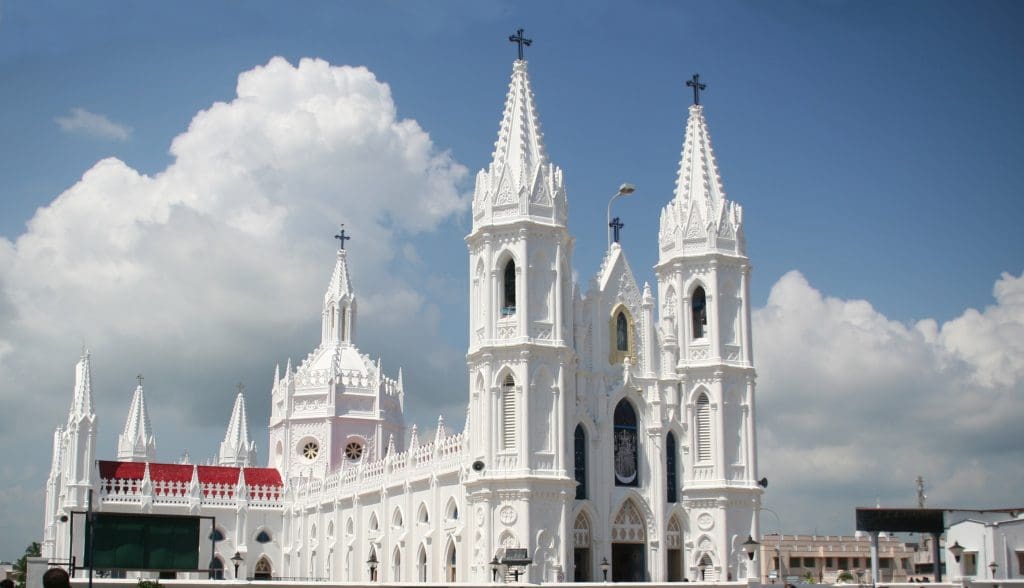 Basilica of Our Lady of Good Health, Tamil Nadu
This Roman Catholic Marian Church also known as Velankanni church is located in Velankanni, Nagapattinam, Tamil Nadu in south India.
It is also called the Lourdes of the East as it is one of the most frequent pilgrimage centers in South Asia.
This church was built as a thatched chapel in mid 16th century and became a parish church in 1771 when Indian Catholics were persecuted in the erstwhile Dutch coromandel, finally, in 1962 the shrine was elevated to the special status of the minor basilica and merged with the basilica of St Mary in Rome by Pope John XXIII.
Built with a fine Gothic style architecture this basilica contains three chapels, our Lady's tank, a church museum, stations of the cross, stations of the rosary, and shrine mega Mahal. The building is painted white with the roof made up of red tiles.
This site witnesses the extended influence of Hinduism and Catholicism as the Virgin Mary is depicted wearing a saree here and people also shave their heads as an offering and perform ear piercing rituals which are of major significance in Hinduism thus making it a grand meeting point of two major world religions.
The best time to visit the church is during the annual festival between 29th August to 6th September and on Christmas. This church is visited by over 5 million pilgrims each year during the festival time.
Mass timings are: 5:40 am to 6:00 pm on weekdays and 7:00 am to 6:00 pm on weekends.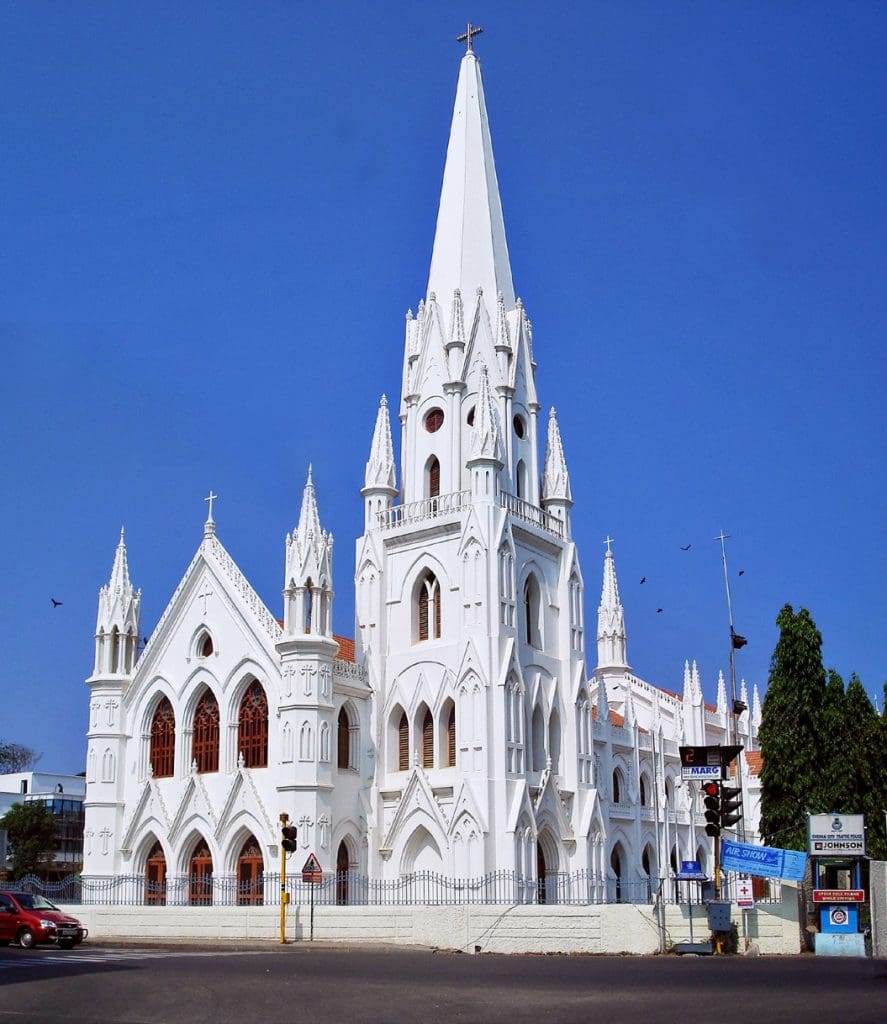 Santhome Church, Chennai 
St Thomas Cathedral Basilica is a Roman Catholic minor Basilica and is located in the emerging hub of information technology Santhome, Chennai, Tamil Nadu, India.
This 498 years old church was first founded by Portuguese explorers in 1521 and was rebuilt in 1896 by the British in the Neo-Gothic style of architecture with a rib vault ceiling made of teak wood, 16 windows, and 34 stained glass with a main stained glass in the Altar which represents 'St Thomas touching the wound of Jesus Christ'.
This church is one of the three known churches in the world which are built over the tomb of an apostle of Jesus that are still standing today.
Timings to visit are: 6:00 am to 9:00 pm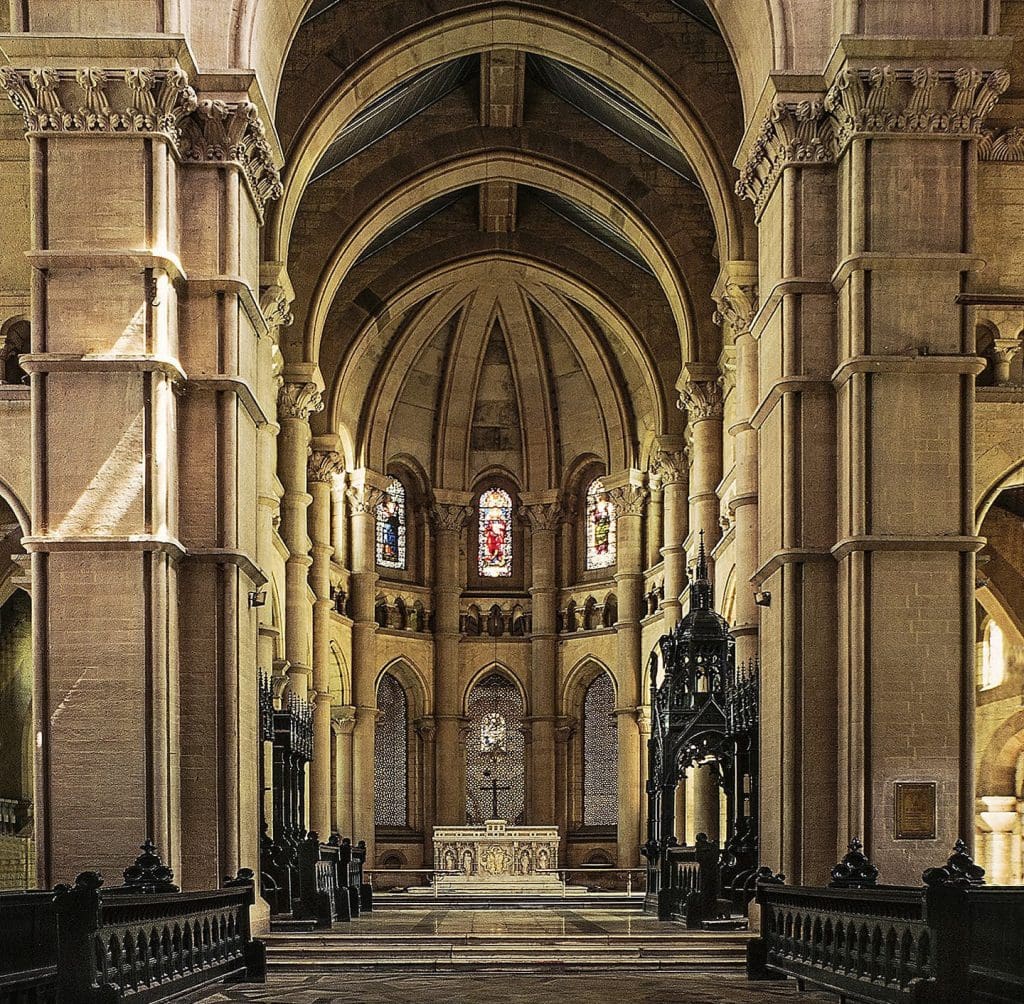 All Saints Cathedral, Uttar Pradesh
Also known as 'Patthar Girja' (church of stones) this magnificent church is located in Prayagraj, at the center of a large, open space at the crossing of two principal roads of Prayagraj MG Marg and SN Marg, Uttar Pradesh, India.
This beautiful shrine was founded in 1871 and consecrated in 1887. It is modeled after 13-century gothic-style churches and is one of the gothic revival structures built by the British during their rule in India.
The church celebrates its annual anniversary on November 1 on All Saint's Day. 
Timings to visit are 8:30 am to 5:30 pm.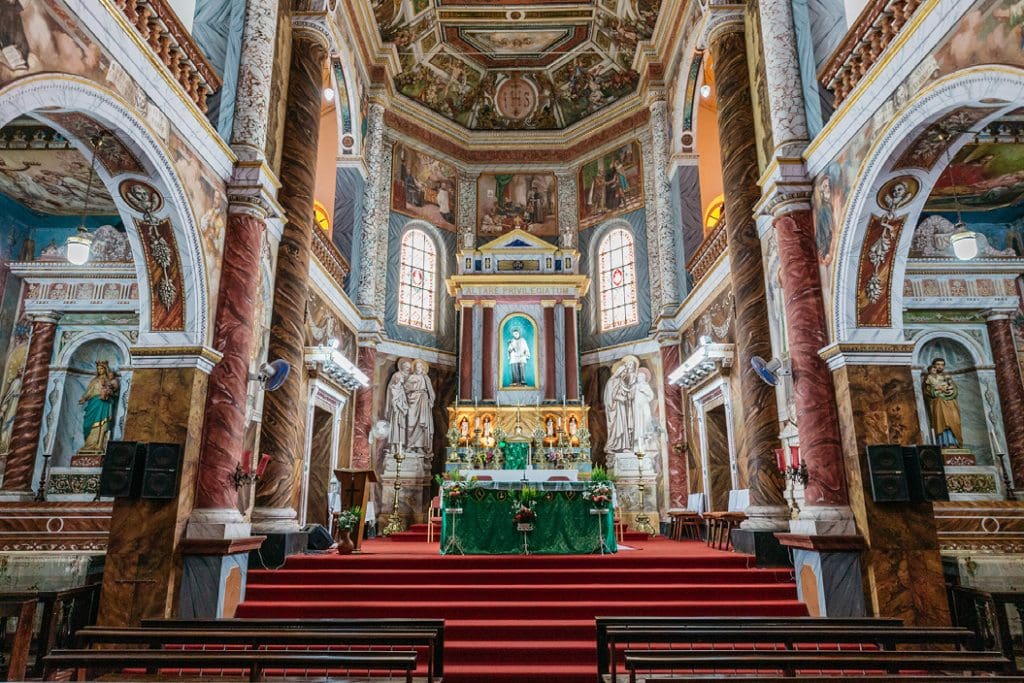 St Aloysius Chapel, Mangalore
This beautiful Christian chapel is located in the heart of the city on lighthouse Hill in Mangalore, Karnataka in the southwest region of India.  
It was built by Jesuit missionaries in 1880 and its interiors were painted by Italian Jesuit Antonio Moscheni in 1899. The interiors offer an eye-capturing site of paintings that depicts the real-life of Saint Aloysius Gonzaga.
Timings to visit this chapel are: 9:30 am to 1:30 pm (morning) and 3:00 pm to 5:30 pm (evening) except on Monday timings differ (9:00 am to 12:30 pm, 2:00 pm to 4:00 pm).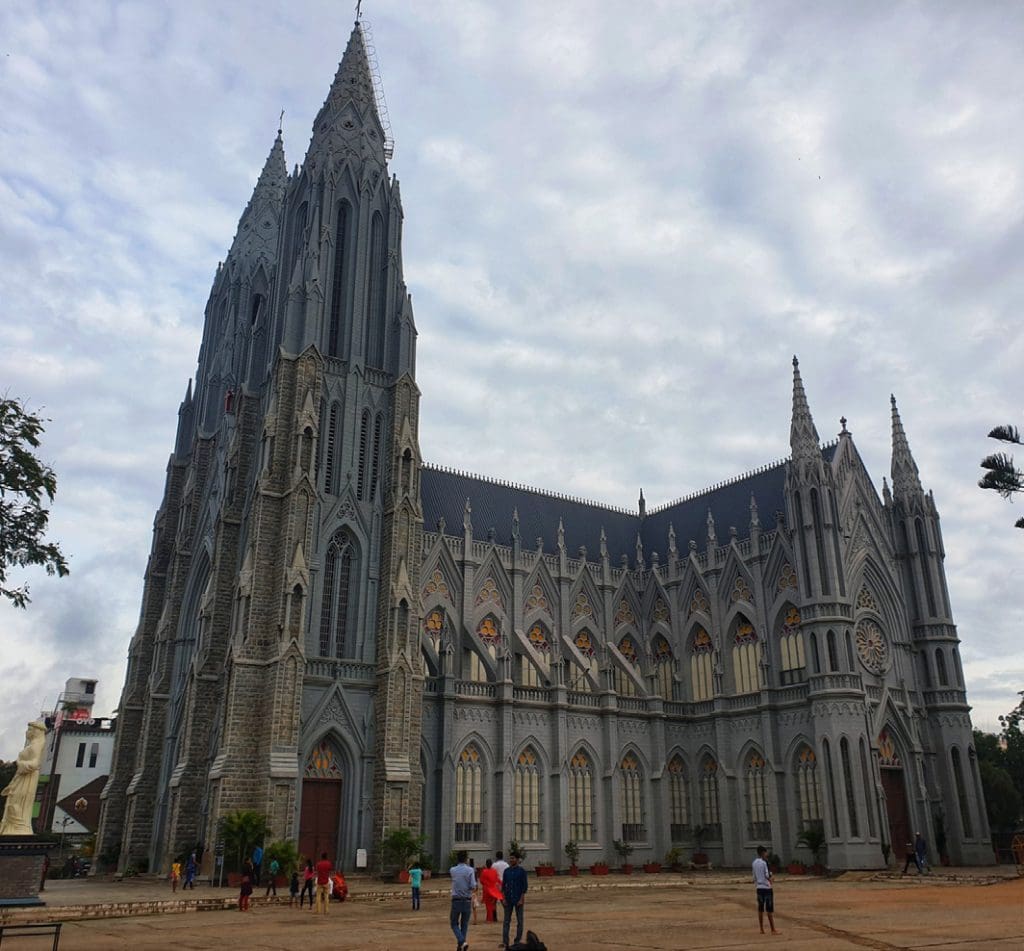 St Philomena's Cathedral, Mysore
Standing as one of the tallest churches in Asia this majestic church is located just 2 km away from Mysore Palace, in the city of Mysore 
It was built in 1936 using Neo-Gothic style and its architecture was inspired by cologne cathedral in Germany and is said to be designed by French artist Daly. The church was made in the shape of a cross and the main attraction being the twin spires with a height of 175 feet which can be spotted even from a mile away.
Timings to visit are: 5:00 am to 6:00 pm.
Read More: Latest