Rishikesh and Haridwar-top trips of 2022- on account of their epic spiritual calling. The holy cities of Rishikesh and Haridwar in Uttrakhand are twin cities of mysticism that present a different way of life.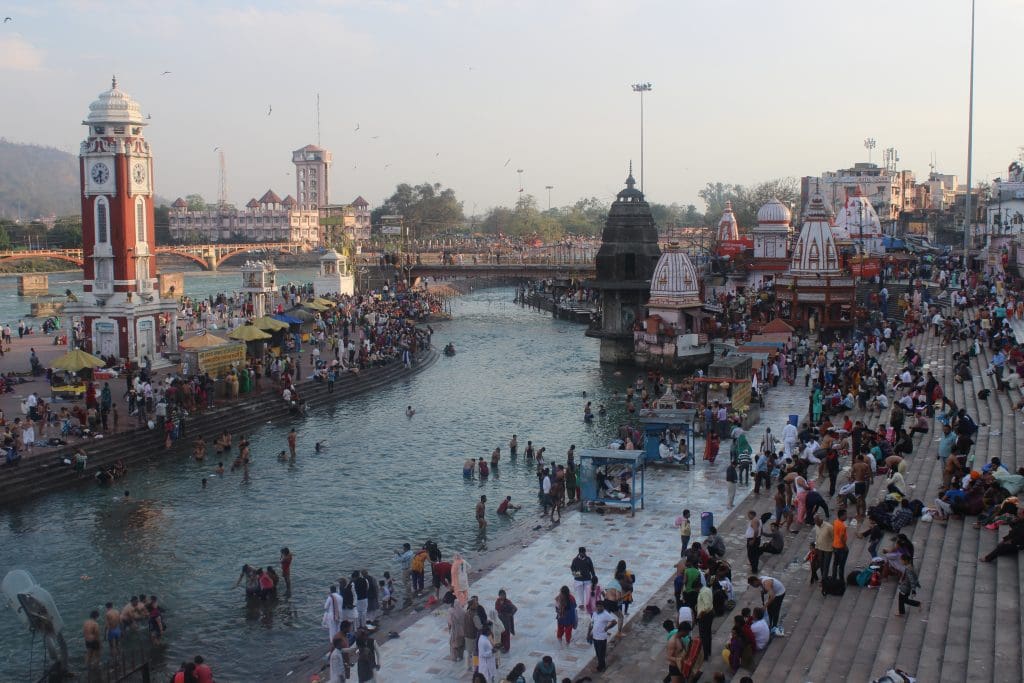 Some 10 years ago I visited the holy city of Haridwar and was mesmerised by the long evening walks I enjoyed by the Ghats. A decade later, I homed in on Haridwar instinctively as a place to revisit, as my first vacation after 18 long months of corona restricted travel.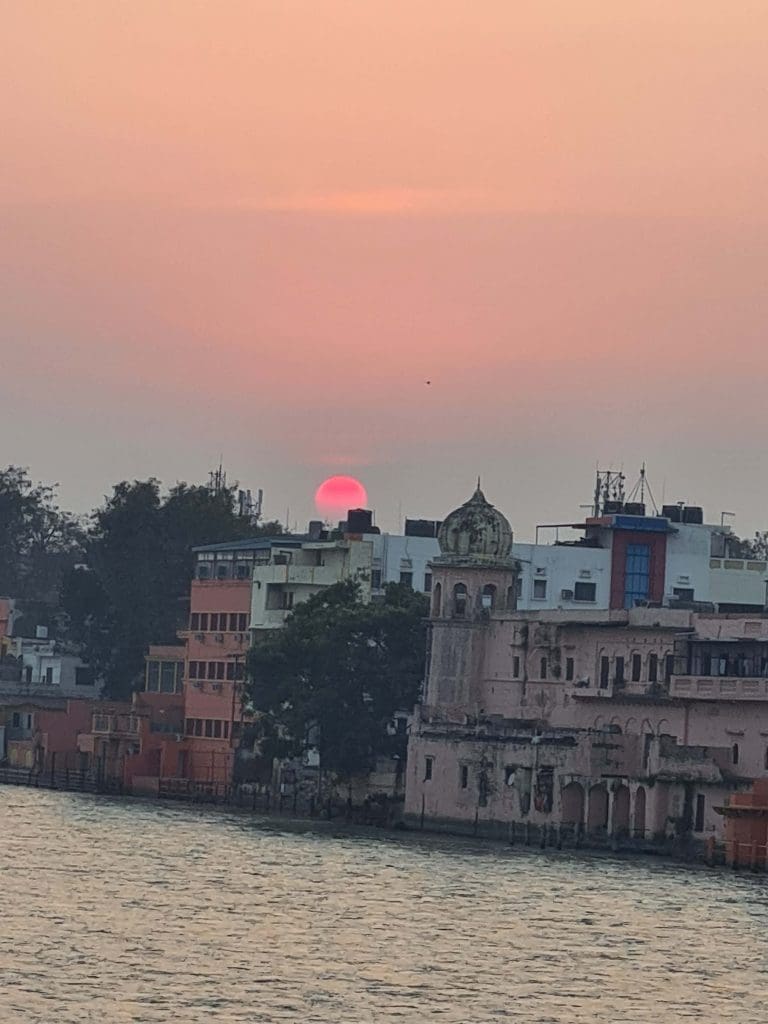 Why ancient Haridwar with its spiritual overtones? Perhaps solitude and the tragic loss of lives around me due to Covid attracted my interest. A subconscious desire for healing.
I don't know. But definitely what surfaced repeatedly was some sort of spiritual calling with the image of wide open spaces, hour long walks by the rapidly flowing waters of a blue Ganga, the fresh breeze wafting by and the distant sounds of chants and prayers if you came too close to the activity on the opposite side of the holy Ganga at Har ki Pauri.
Planning the trip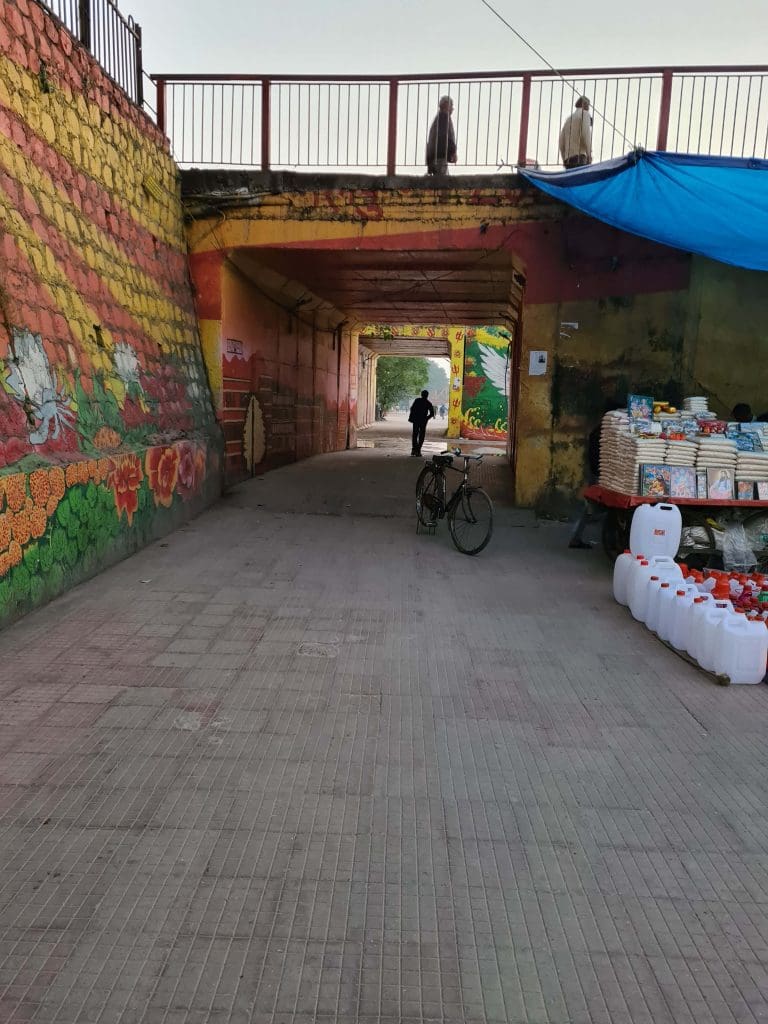 So, with these well remembered images from a distant past, I proceeded to make plans. The highways made for a great 200 km drive from Delhi. Next was where to stay. A 100 year old royal residence of an aristocratic family, now converted into a 30 room resort, right on the Ganga sounded perfect.

I googled the place for images. It was a restored mansion with an equally old mango tree spreading its ancient arms at the edge of the flowing waters of the Ganga below. That did it for me. This promised to be just the break I needed.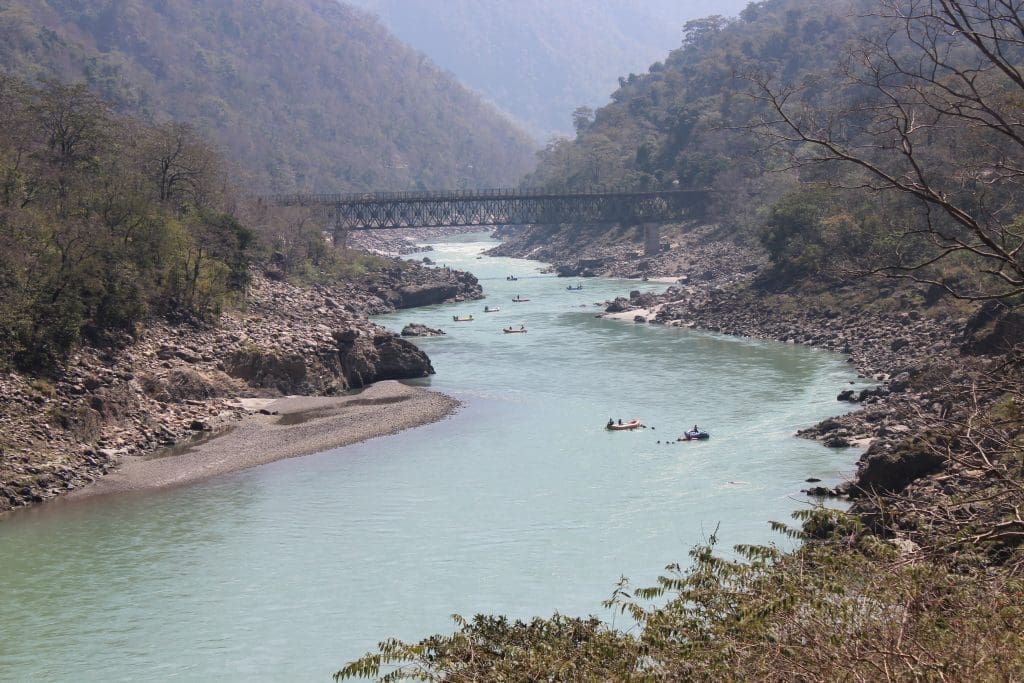 While planning the trip, I chanced upon an excursion to the sister city of Rishikesh, a holy town in the hills with a quaint air of yoga, meditation, ancient temples and long forest treks. A siren call indeed.
Rishikesh…mountains, ashrams and river rafting
The drive to Rishikesh was seamless. I decided to detour through Rajaji National Park…a 25 km km drive through the forest reserve to Rishikesh. This detour turned out to be a brilliant highlight of the trip.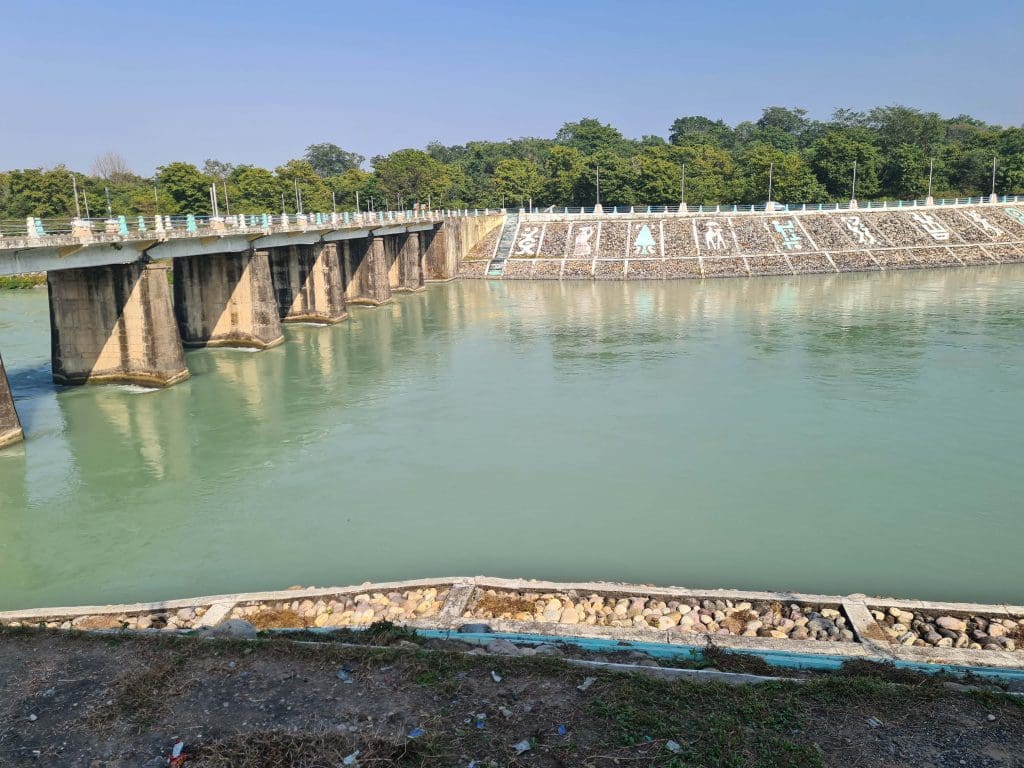 Here is one of India best kept secrets. The Rajajaji detour to Rishikesh is one of the best drives in the country with the road winding alongside a wide canal carrying the blue waters of the Ganga, skirted by deep forests, the fresh aroma of herbs and old trees, before it forks onto the main highway to Rishikesh.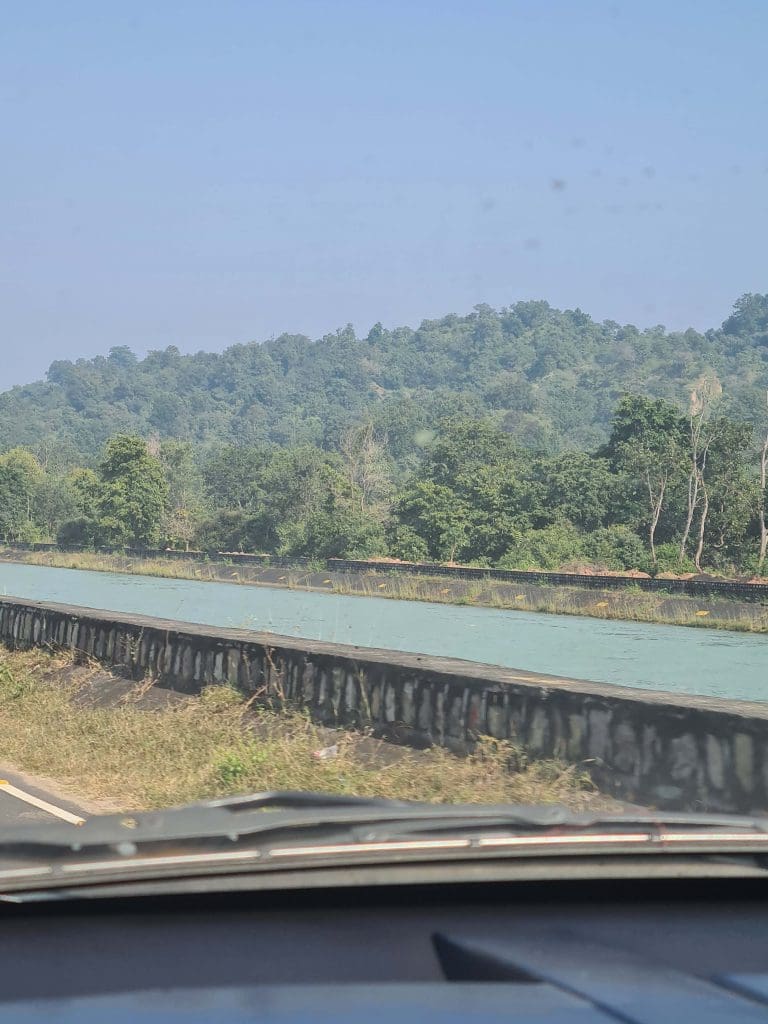 The hills rise up as we reach Rishikesh and while the town is crowded with pilgrims, monks, tourists and residents, there is a strange element of tranquility. We reach our hotel which is perched on a hillock, carries a tag line 'on the ganges' and from where appropriately, I can see the riverbed of the holy river. The hotel is remarkably comfortable with well-done interiors, good food and trained staff.
A walk through painted walls and mural lined streets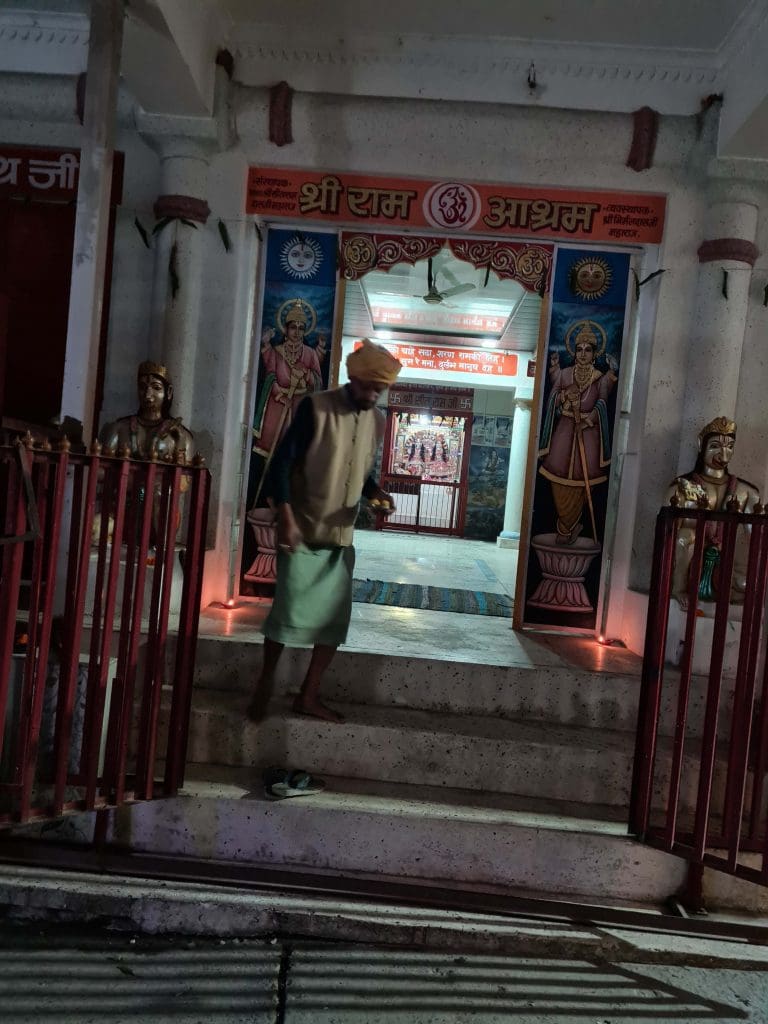 I take a walk to experience Rishikesh…the temple town with legends and stories tied into its existence which would pale every other story in the world. I walk into one of the alleys snaking downhill to the Ganga river at the end of the valley.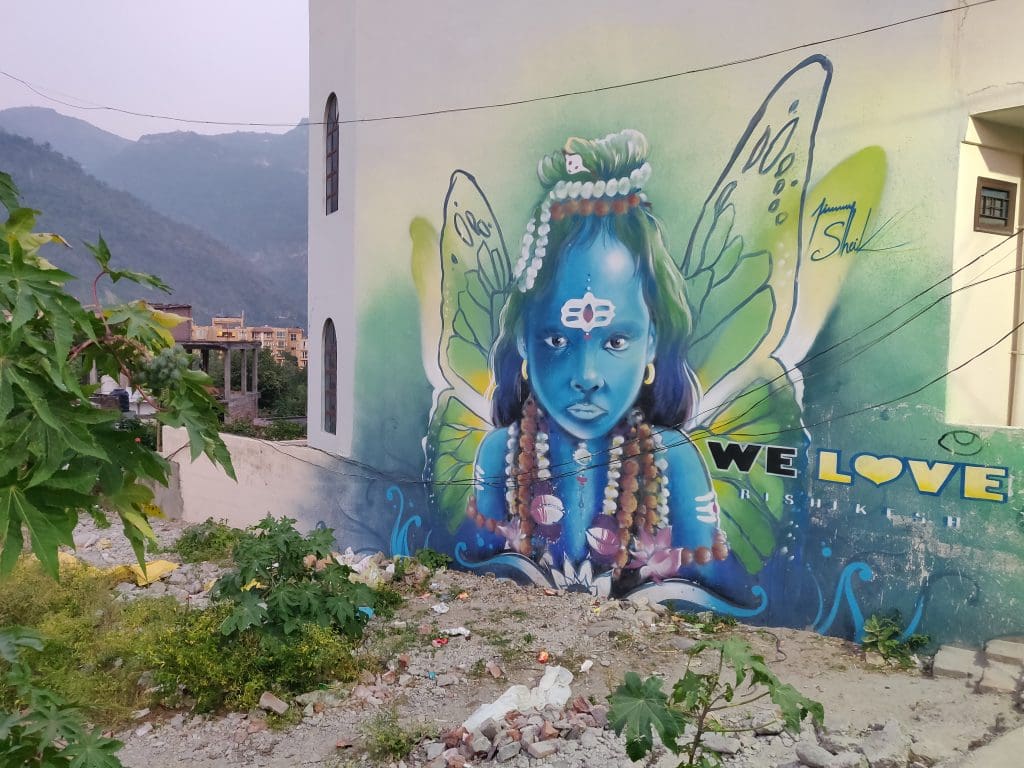 The winding road at a steep gradient downhill is edged by neat clean dormitories, rest houses, restaurants, shops, tiny motels and hotels, ashrams, meditation centres, temples and shrines.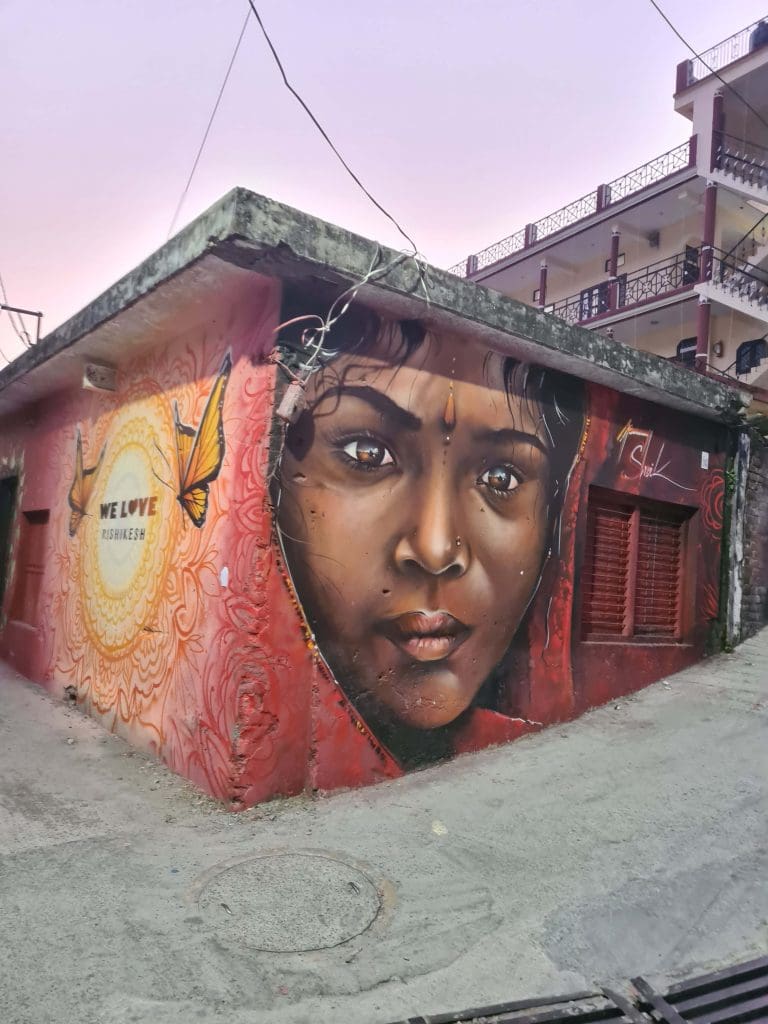 Up ahead the winding alley, I'm surprised by wall paintings and murals of gods, goddesses, trees, flowers, and modern art decorating the sidewalls of the buildings alongside.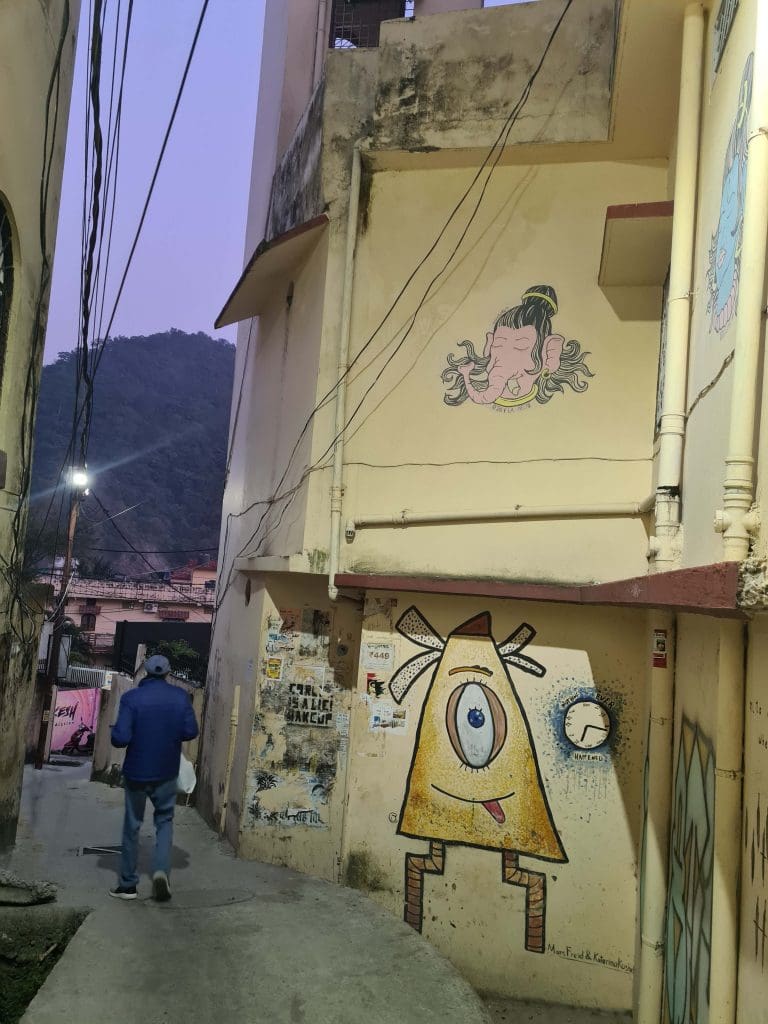 It feels surreal, as if art, meditation, spirituality and religious beliefs are all sitting side by side. Priests conduct prayers as the devout gather at the open doorways of the temple.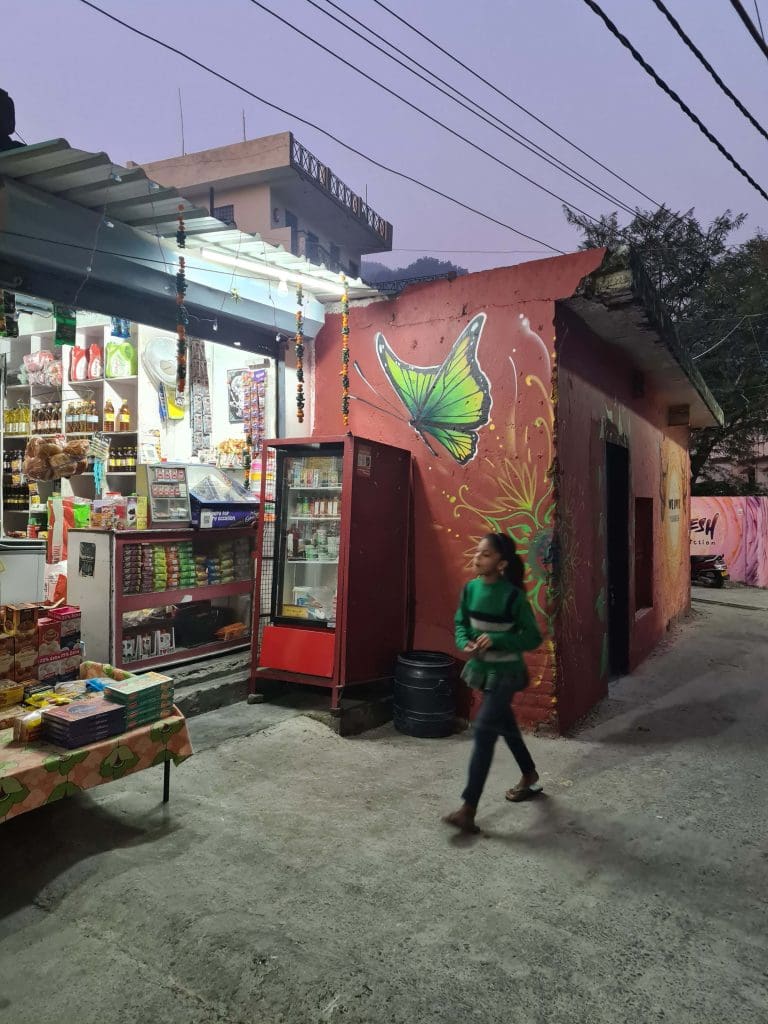 Bells, chants and the sweet notes of flutes come and go even as the murmur of prayers and chants mingle with the loud chatter of visitors haggling at shops.
A pilgrim view to Laxman Jhula and Ganga Aarti at Rishikesh
I decide to go ahead and visit the famous Laxman Jhula, a famous swinging iron bridge across the Ganga with a religious significance. Once again the crowds at this ancient bridge are unsurprising but the sheer energy of believers, families with children and senior citizens all walking the bridge is infectious.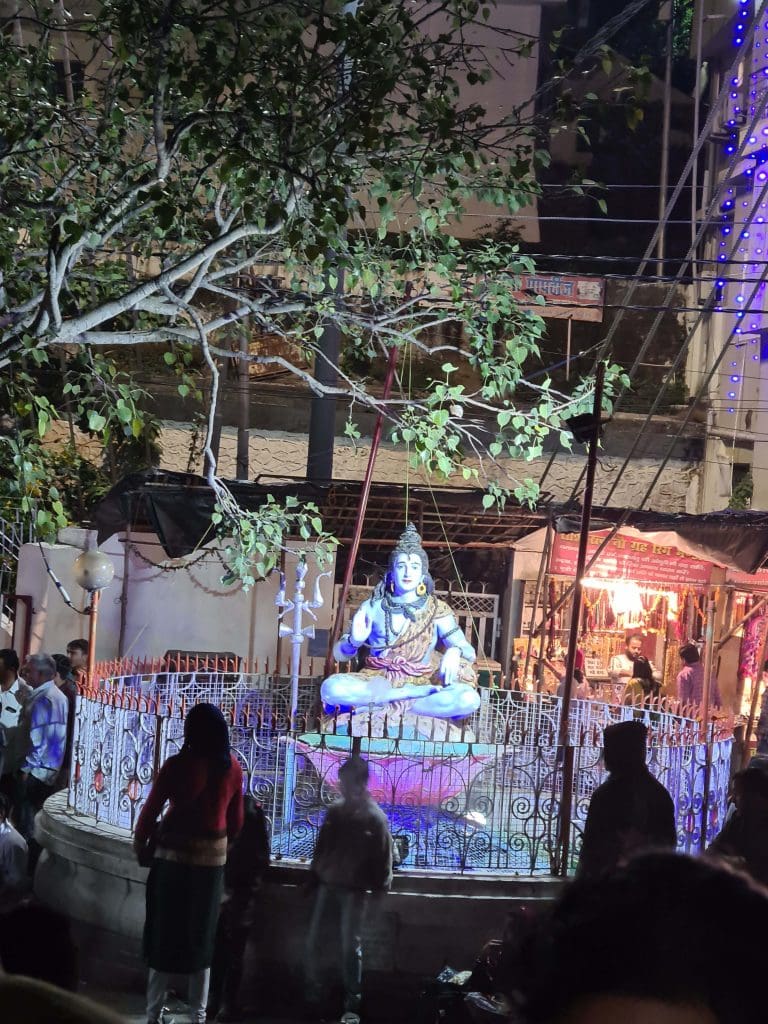 I reach the other end to see a temple of Shiva and worshippers in devout prayer. The simple faith of the visitors moves me deeply.

The sun is setting. The sky turns dark as the waters of the Ganga take on shades of pink and violet. Darkness falls suddenly and the temple lamps light up. So do little earthen divas floating in the water.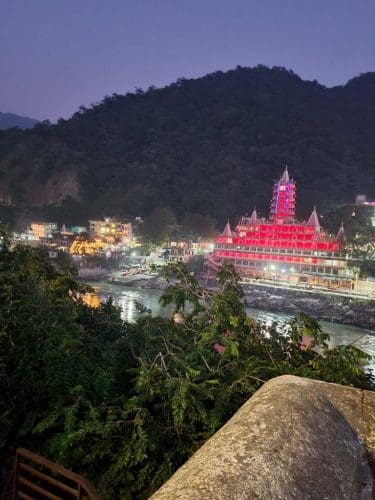 I look around at the many lit-up temples, shrines, eating places and food stalls alongside the Ghats of the Ganga and the evening Ganga Aarti chants begin to fill the air.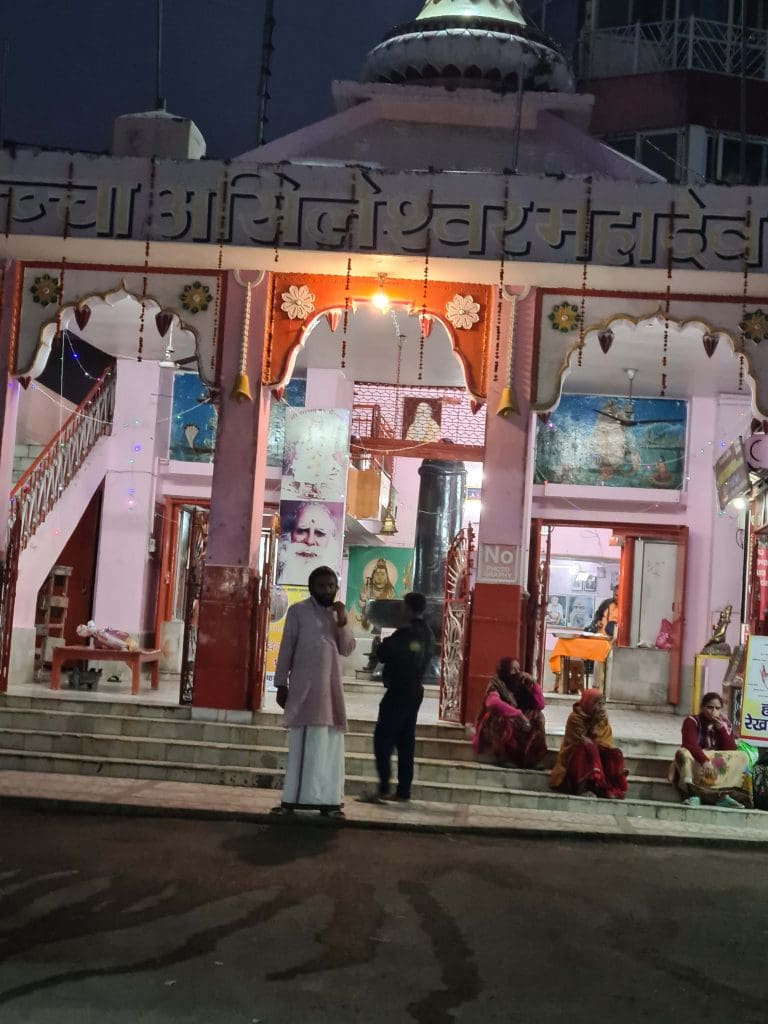 There are pilgrims taking a holy dip, temple bells ring and the hymns and prayers of priests performing puja fill the air. Faint threads of sandalwood smoke and incense waft in the breeze as silhouettes of old trees with huge branches darken the horizon. It's mesmerising. Another time. Another place. And I'm a visitor who sees Rishikesh's many faces.
The tourist who shops and queues for river rafting
Charmed by all I see. I make my way back to the hotel this time uphill through shopping stalls selling anything from prayer beads, cloth paintings of deities, statues of gods and goddesses, fabric in cotton and silk, necklaces and bracelets, spices, saffron scarves and shawls with the mystic symbol of Om on it.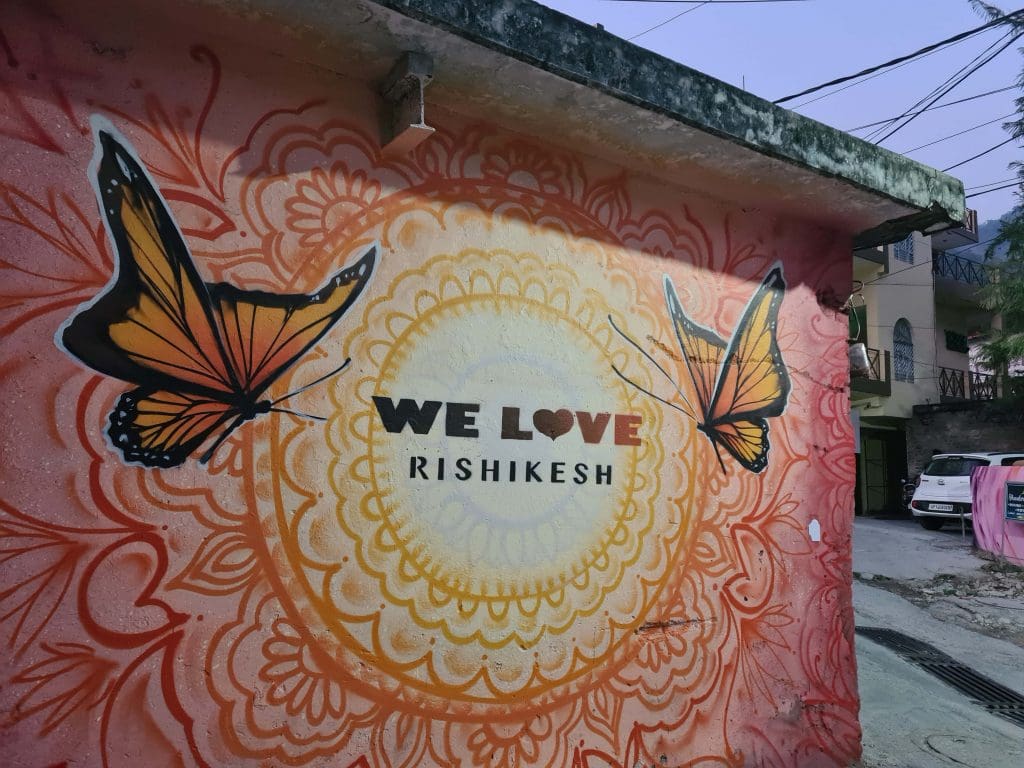 The freshly cooked food prepared at roadside eateries is a treat. Almost all restaurants are vegetarian and the food preparation is clean, imaginative and delicious.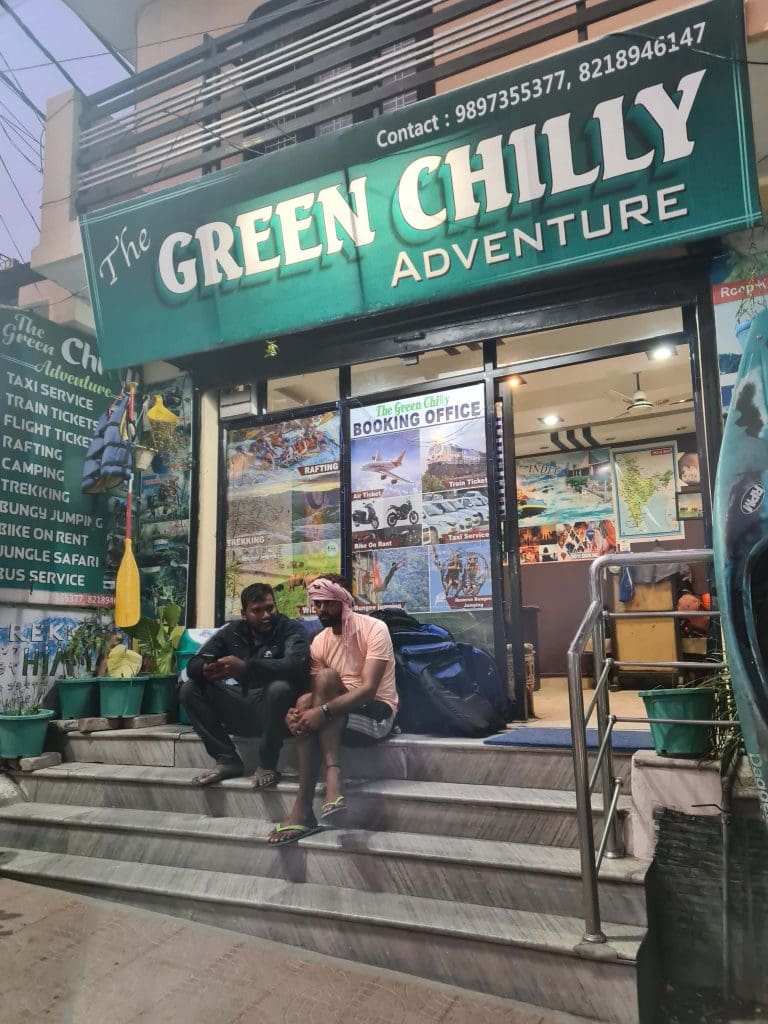 I see any number of rubber boats in blue, red and white being carried up or down to cater to the heavy demand for white water river rafting. I also see instructors and guides accompanying eager groups of tourists even as motorised boats on vehicles and other water sports products are ferried in quick response to visitor demand.
Siren call of Rishikesh
So here is this ancient spiritual township making way for a new kind of visitor, absorbing the carefree young into its old fold.
These are the adventure travellers seeking a thrill and a spill even as it remains the eternal home to pilgrims and soul seekers from far parts of the country and also across the globe.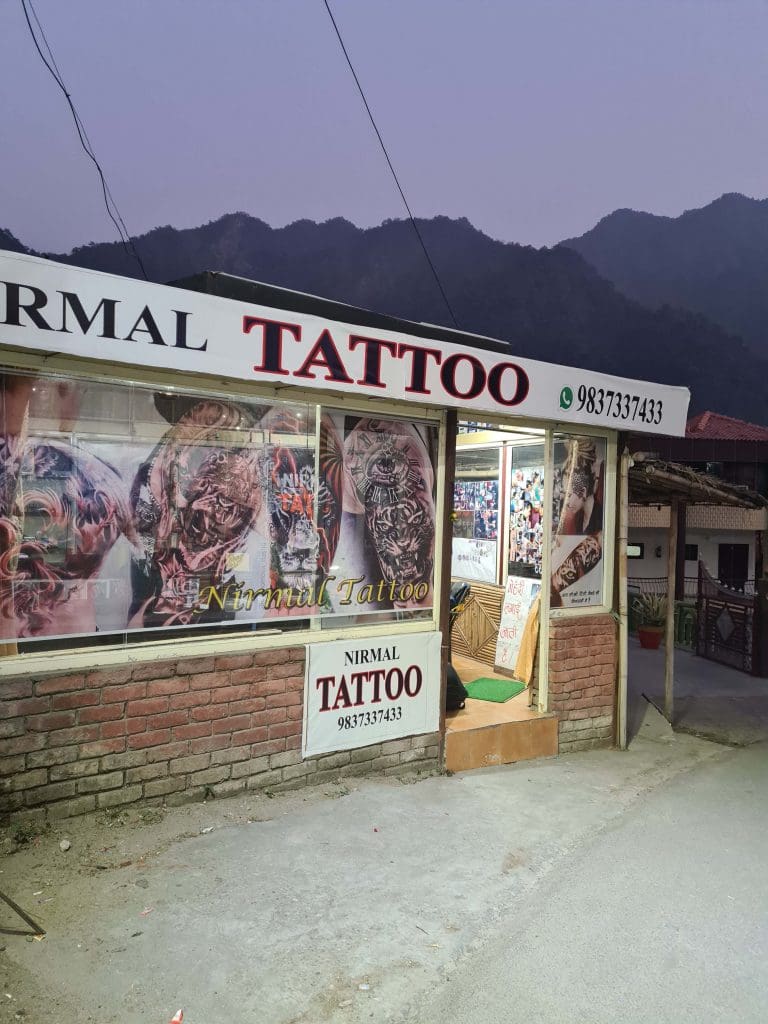 This is the reason Rishikesh retains its siren call.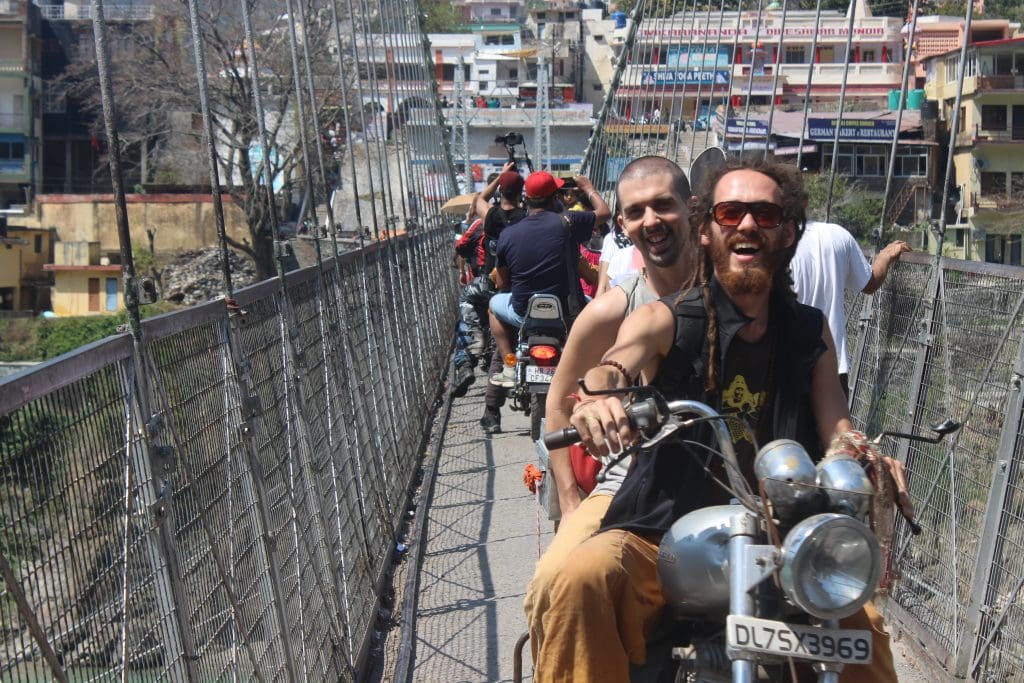 There is this ageless exuberance of acceptance – your way of life alongside my way of life- monks, sages, seekers and pilgrims at ease with singles and couples, families, adventure and soul seekers, rich and poor – travellers from every walk in life.
Haridwar…ancient holy city wrapped in the mists of time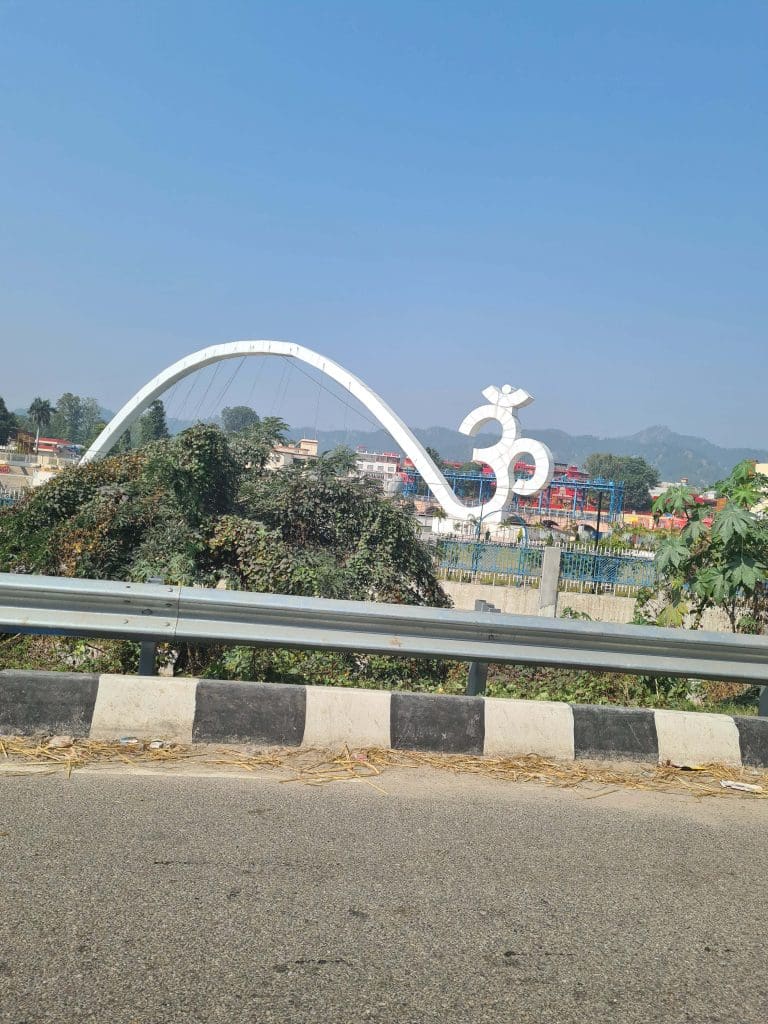 I drive down from Rishikesh to Haridwar which is an hour's drive on a busy highway. You can spot the temples of Haridwar from a distance. They stand tall, as does the symbolic Om icon on a bridge.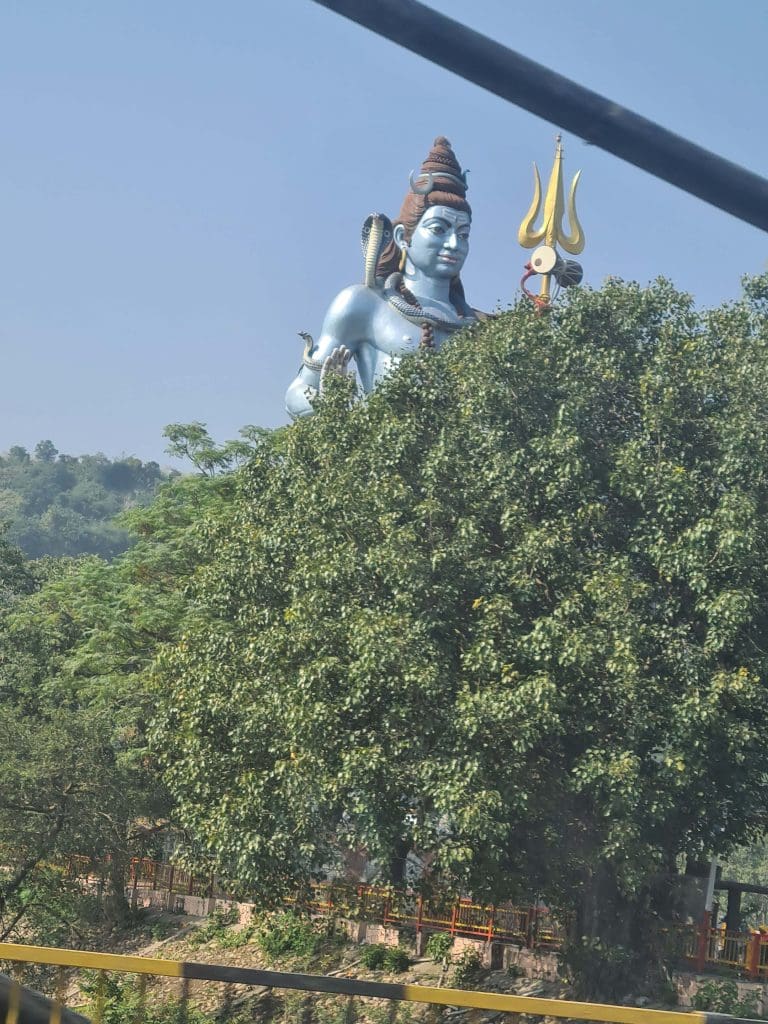 A sculpture of Shiva soars into the sky. Ah yes…these are both Shiva townships where Lord Shiva is intertwined in spiritual belief.

The car crosses a wide long bridge across the vast Ganga riverbed crisscrossed with white sands and deep swift waters. Then come the bylanes of Haridwar and the car moves slowly through tiny alleys alongside rickshaws, 4-seater open scooters and people walking alongside. The shops, stalls, shrines, ashrams and motels are tightly strung together with not an inch to spare.

Reaching my hotel in the middle of the ancient city is sharing a slice of the character of the holy city, as a busy, crowded spiritual epicentre.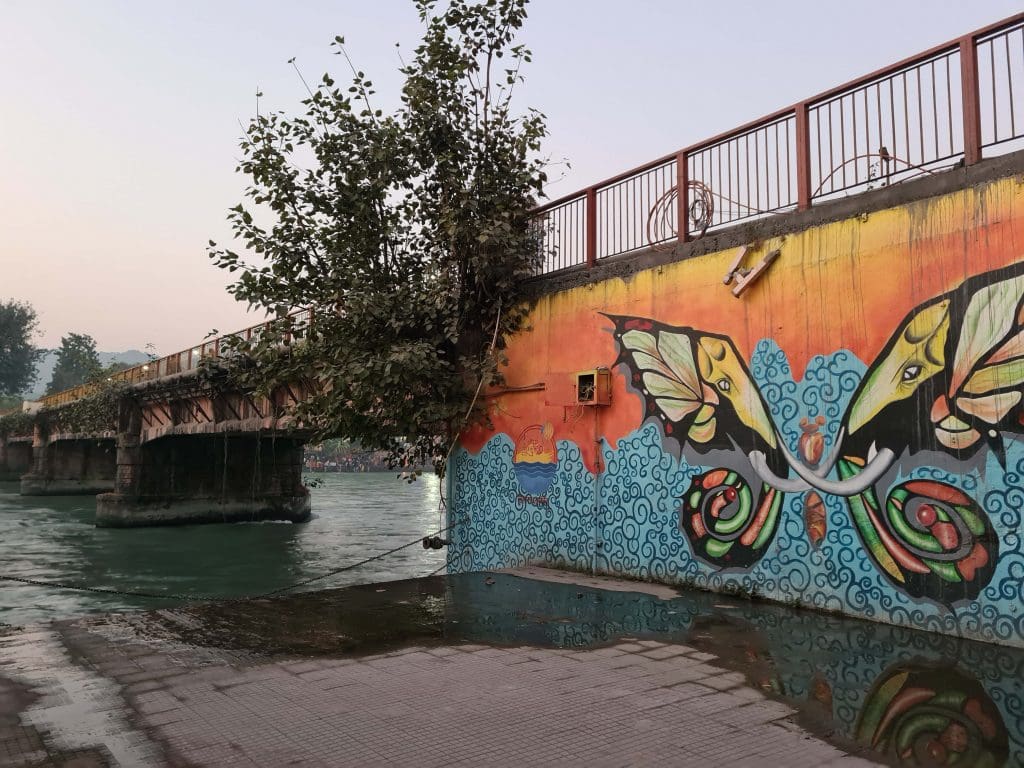 Haridwar is a never ending city of surprises that reveals yet another dimension to how we live, all the while awakening you to take in another perspective of our gathered experiences. It's no longer how you have known life or know life – it's how differently you can know life in all its edgy uncertainties.

The Ganga Aarti at Haridwar
It is a discovery to take a stroll at dusk, before the clock tower strikes 6 and temples resonate to the famous Haridwar Ganga Aarti at Har ki pauri amplified by speakers, bells, a hundred flickering diyas and prayer lamps. This is an immersive experience for believers and non-believers alike.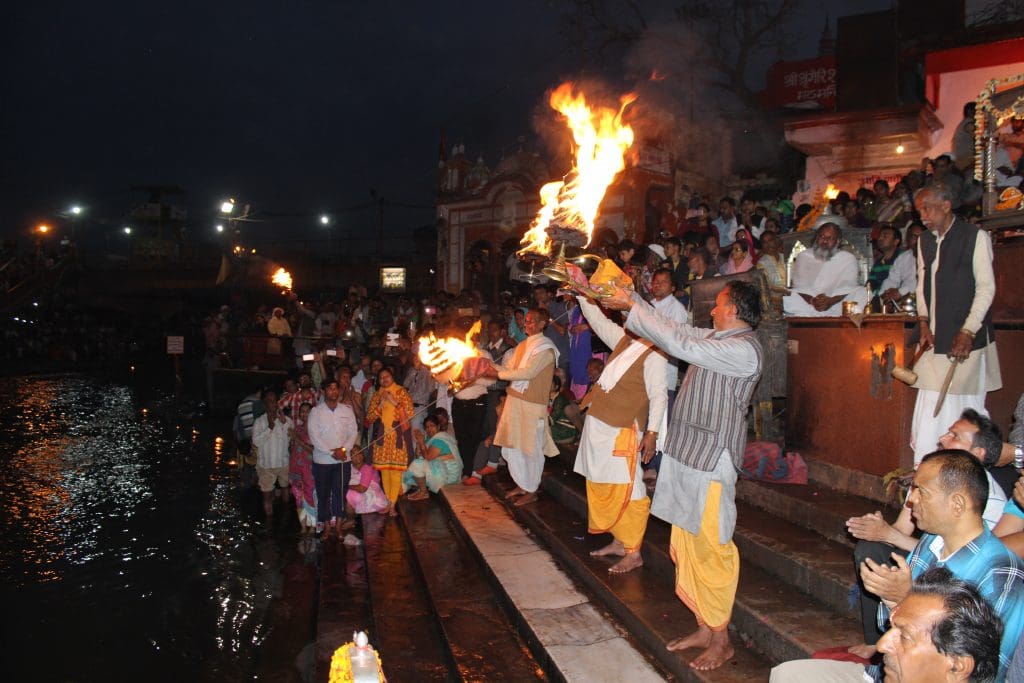 This time of the evening the Ghat at Har ki pauri, near the clock tower is thronged by pilgrims and devotees taking a dip, participating in the holy Aarti, seeking blessings of sages and rishis and taking the prasad with folded hands.

The Aarti reverberets in the air, as cymbals ring and bells toll. Pilgrims echo the prayers wherever they can find a place to sit or stand, eyes closed, hands folded, singing praise to the Lord as smoke from burning wood with sandalwood and incense waft in the breeze and many thousand rose and marigold petals and garlands are given in reverence to the holy emblems of gods and goddesses.

The Ganga Aarti or puja which is a ritual of worship is sung by 3 or 5 priests who stand bare chested with a holy thread around their waist, a spotless white dhoti, bare feet, and white, saffron and red tilak stripes on the forehead.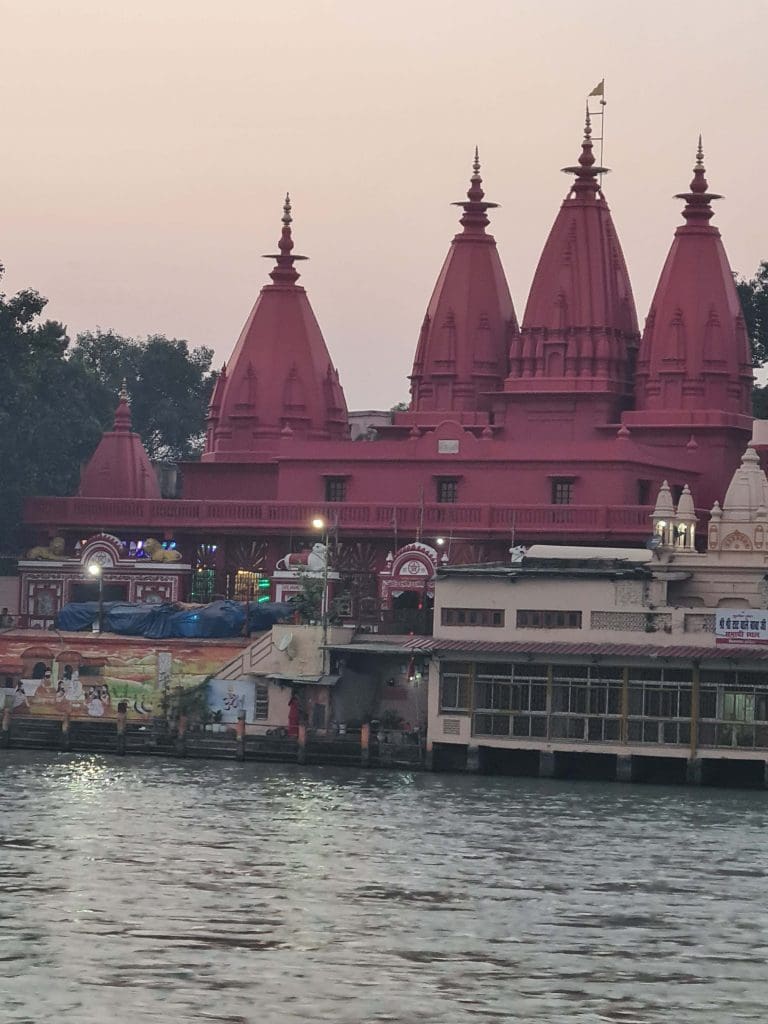 The reverberation of hymns is highlighted by huge lit torches or lamps swung in clockwise circles by the priests in rhythm to the Aarti. It is a visual treat and gives you goose bumps on account of the intensity of the moment.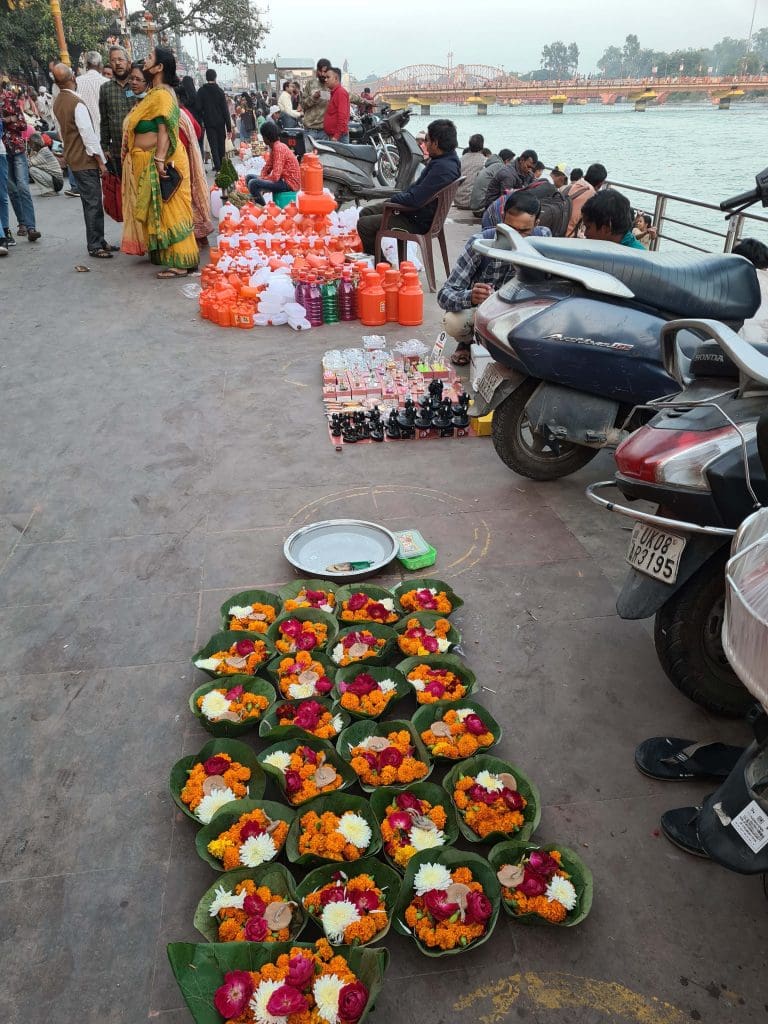 Little diyas are floated in the river along with leafy floaters with marigold flowers. Many hundred pilgrims walk down the same ancient stone steps polished by thousands of years by bare feet of pilgrims gone before. It is a moving testament of simple faith that spills over into time, bringing forth the unknown into the known.

On the other side of the Ghat – a discovery experience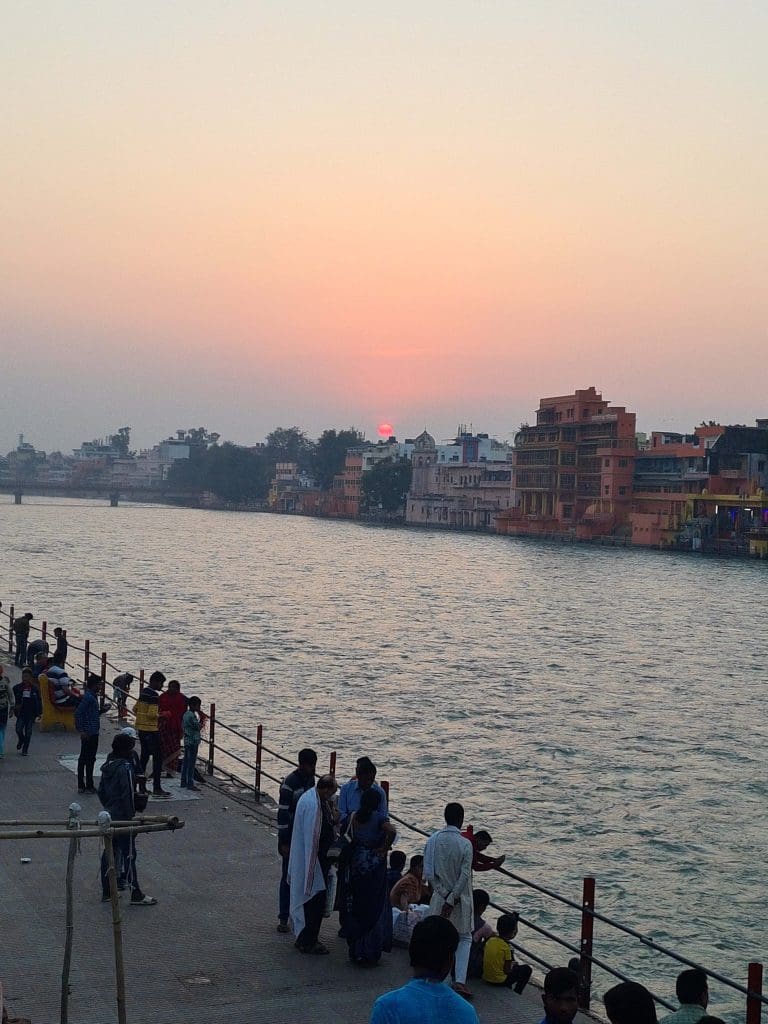 I visit the well-remembered Ghats of Haridwar and the extraordinary ambiance of the place. The promenade on both sides of the Ghats run for 4 kms and is 21 metres wide, which is astounding when you understand how difficult this would be to construct in the face of centuries old ashrams, temples and homes sandwiched cheek by jowl for miles, right on the steps of the holy river.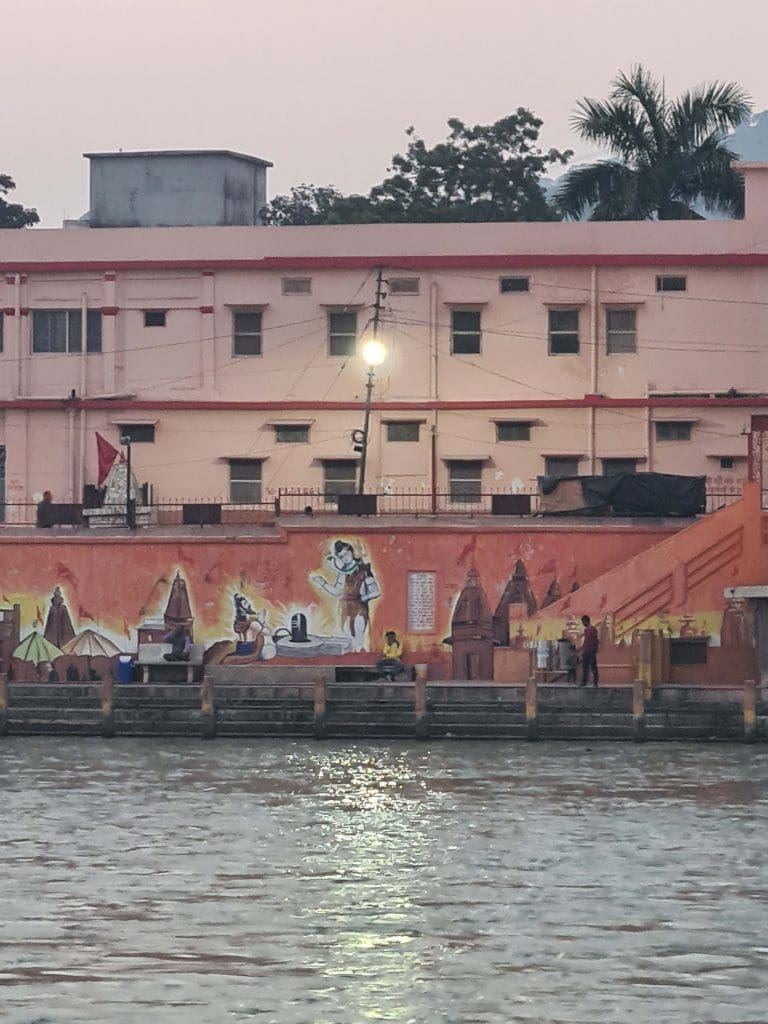 On the other side of the Ghat, life is less crowded and there are large stretches of empty space to walk and take in the wonderful ambiance.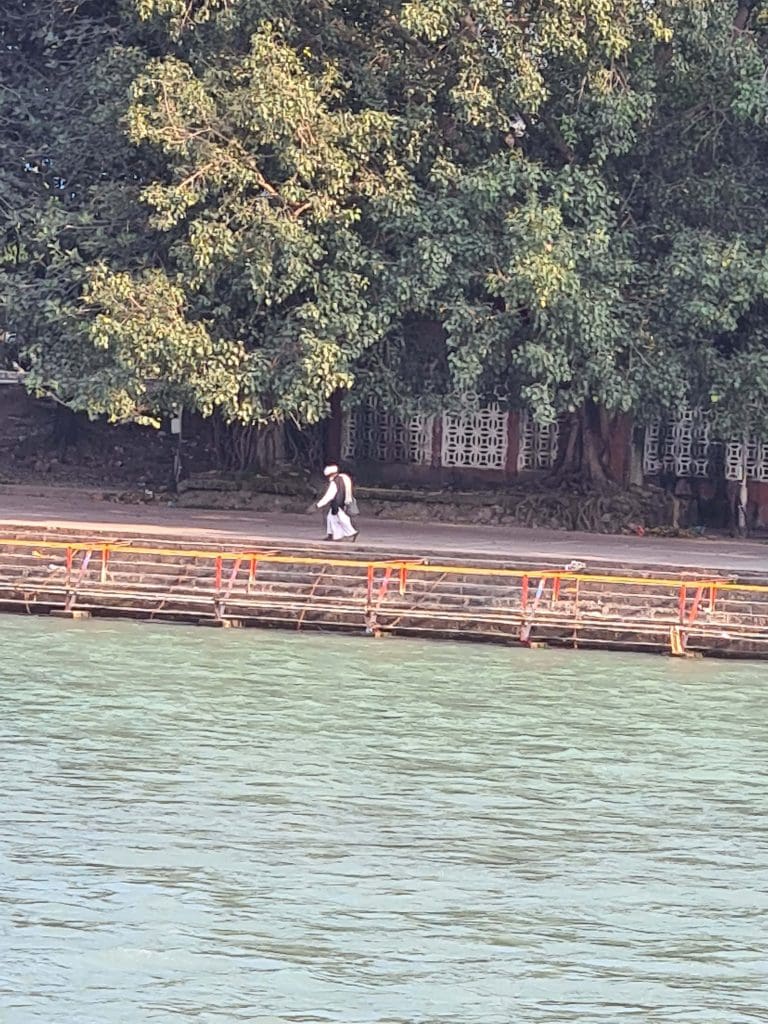 An early morning walk along the Ghats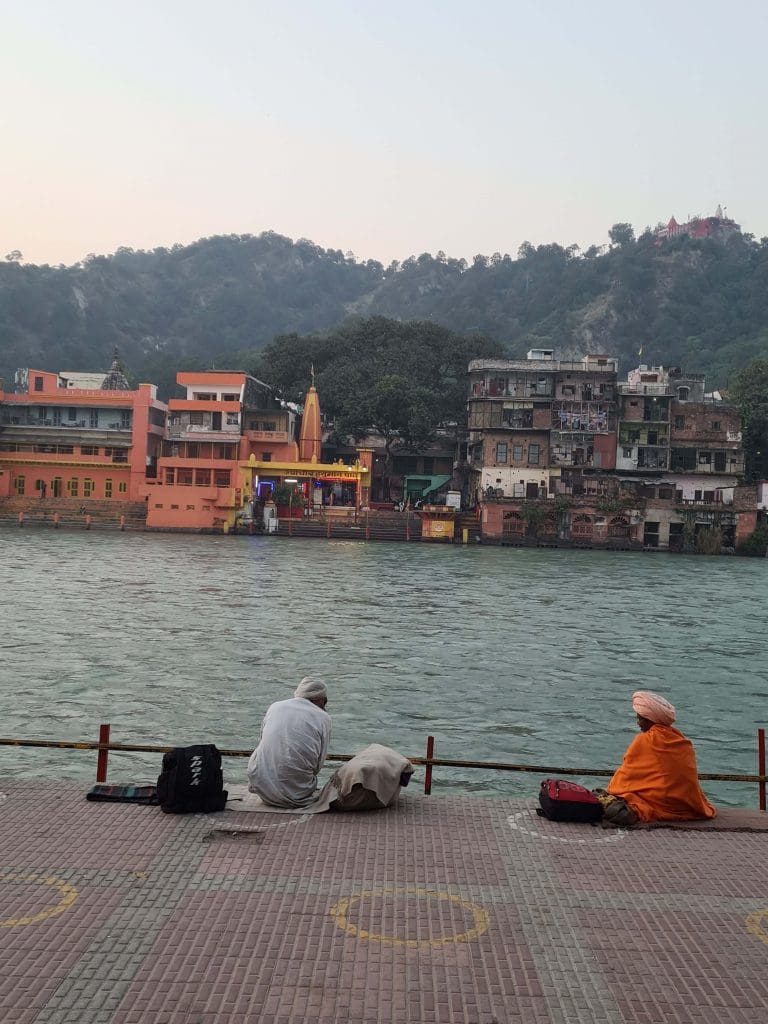 An early winter morning walk is a surprise. Here is a virtually empty, clean promenade echoing the sound of waves in the swiftly flowing Ganga, a faint essence of incense in the air, the sound of temple bells at intervals, patches of people in prayer, bathing and taking holy dips, oblivious to the world and life being lived right here right now.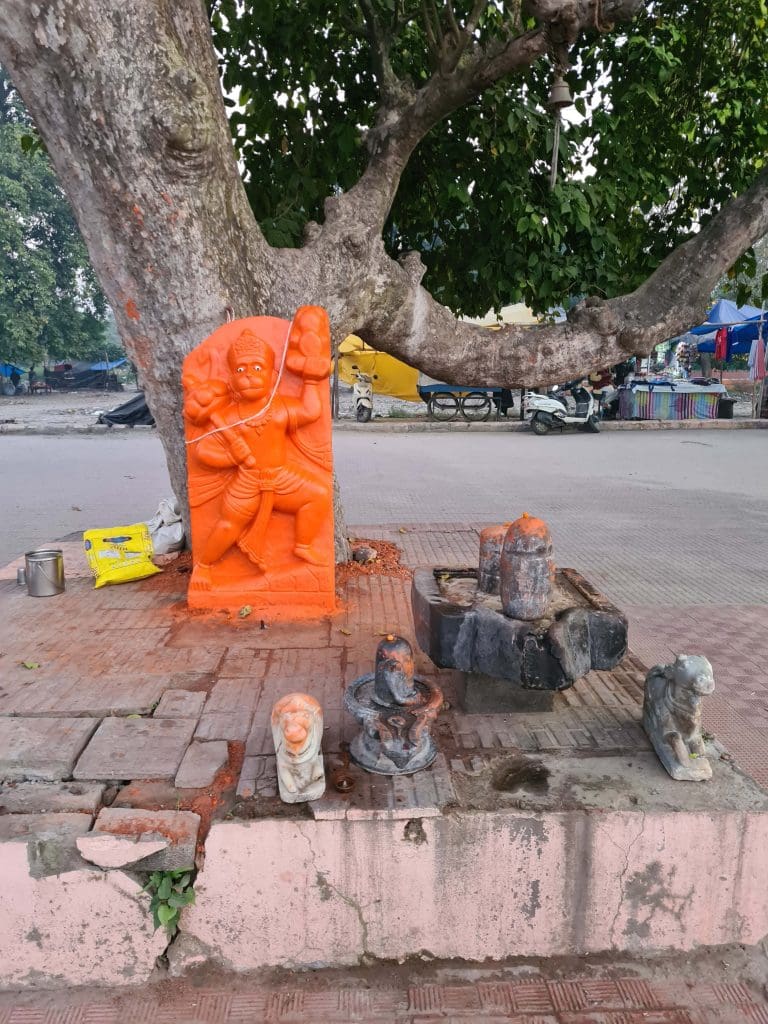 Every once in a while, you will come across a small shrine, a sculpture of Shiva, a stone symbol of the almighty, a tree trunk with a sculpted image of a divine being, a flower seller, mounds of red tilak powder for sale, a devotee in ochre robes sitting in prayer, a sleeping pilgrim and clumps of ashes of the night before.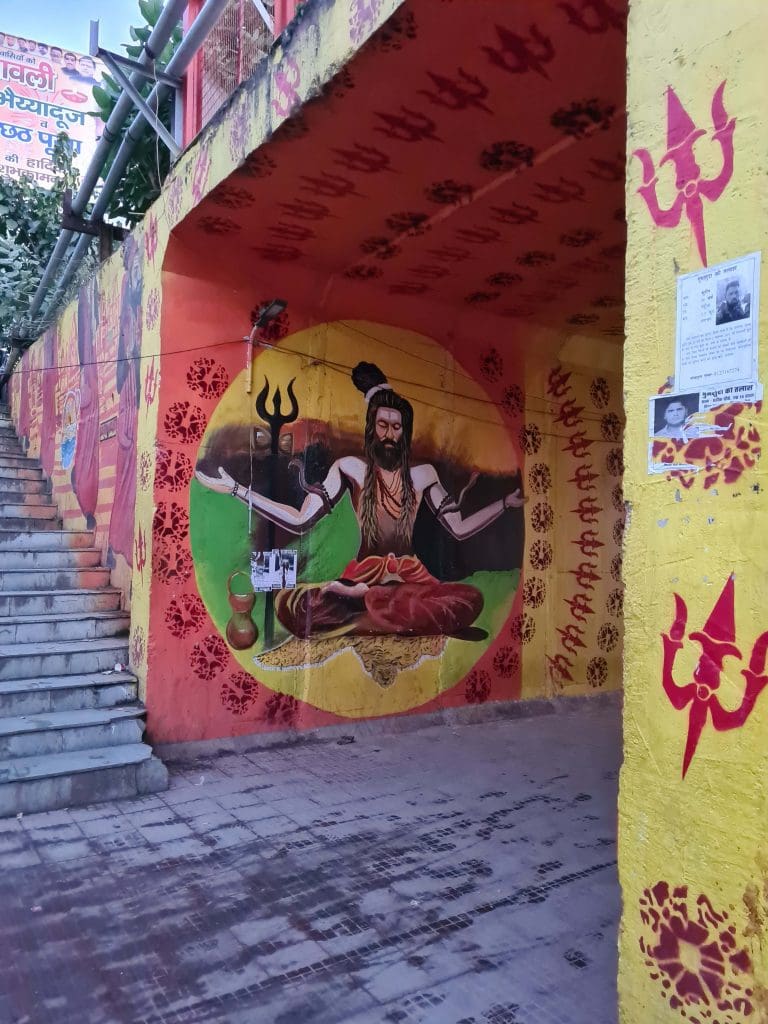 As the sun begins to rise, a rose hue envelopes the surroundings and the silhouettes of temples etch past the light fog. There is a sense of mystery and inner peace to be in a place resonating to a million years of prayers and devotee songs. No wonder that Haridwar is called an eternal holy city. One where legend, ancestry and tradition merge to create a fascinating mosaic of wisdom, which is extended to one and all, without judgement and exclusions.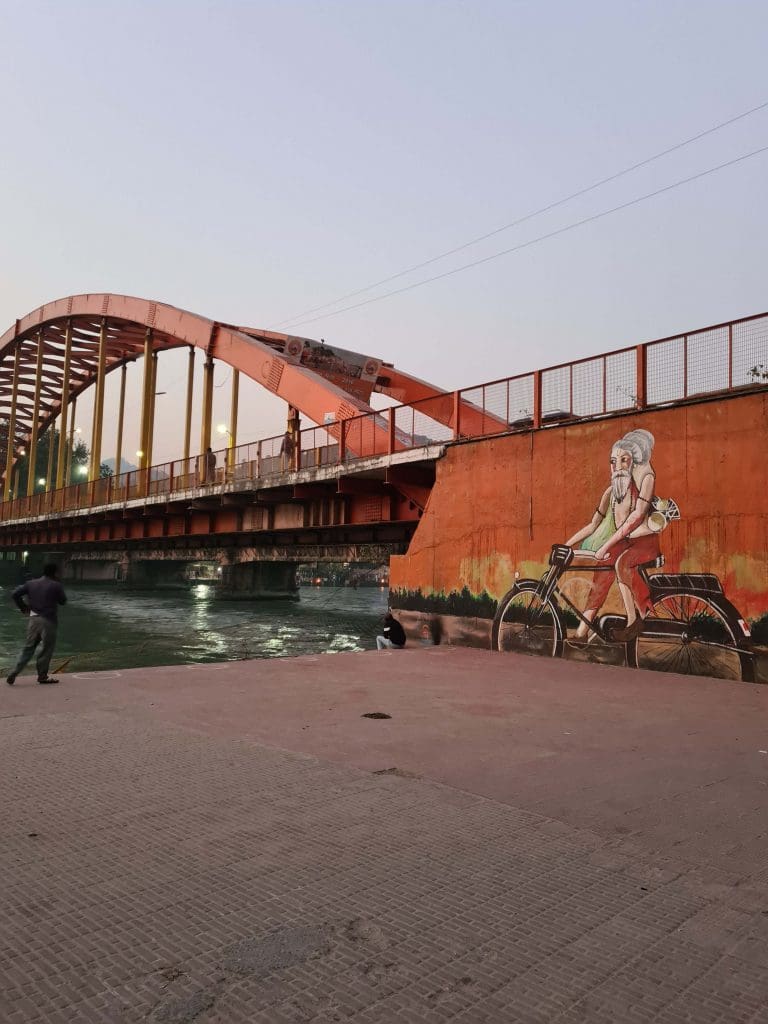 The colourful local street art brings alive tradition, character and ethos. There are painted walls and murals on the walls of many under bridges and side walls of the over bridges connecting each side of the Ghat with the one on the opposite bank of the river.
A melting pot of people from various walks of life
This quiet side of the Ghat is also a melting pot of people from various walks of life coming together in groups and mingling with saffron clad sadhus and other fellow travellers in search for a more peaceful existence.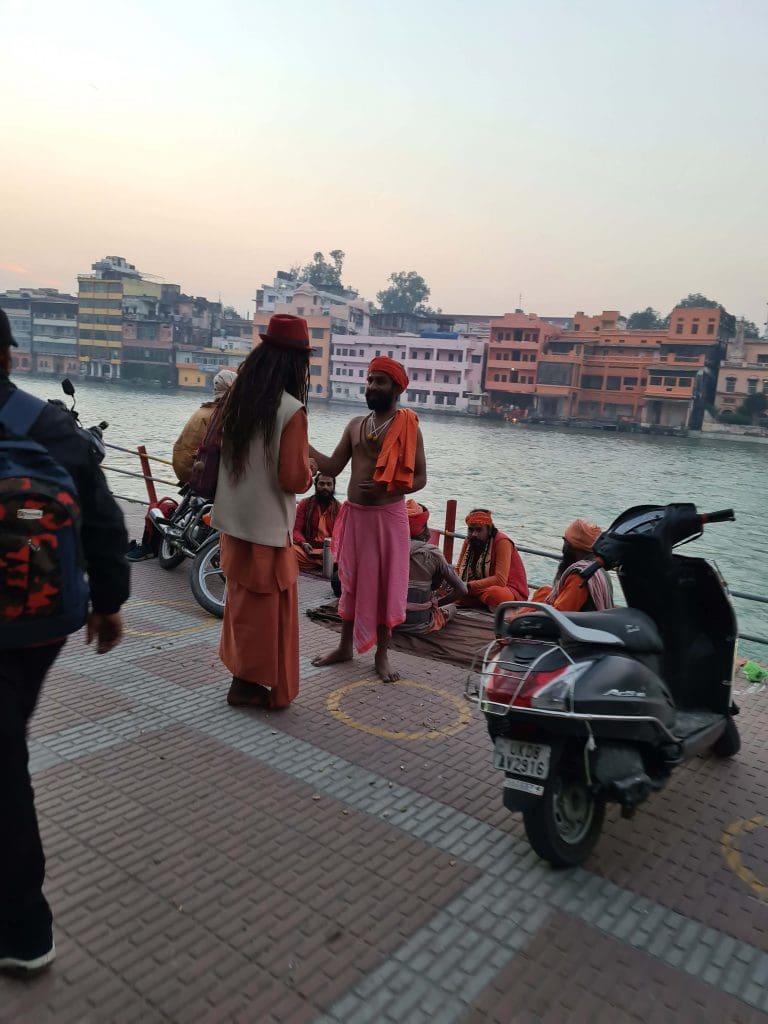 Students, boys, girls and women, yoga masters, bike riders and sages sit informally in groups, chatting and sharing experiences and inquiries.
Pilgrims walk barefoot down the open stone steps of the Ghats, row upon row of steps to take a dip, meditate, do yoga, sit and talk or simply sit in revere with no one giving you a second look.
Meditation of another kind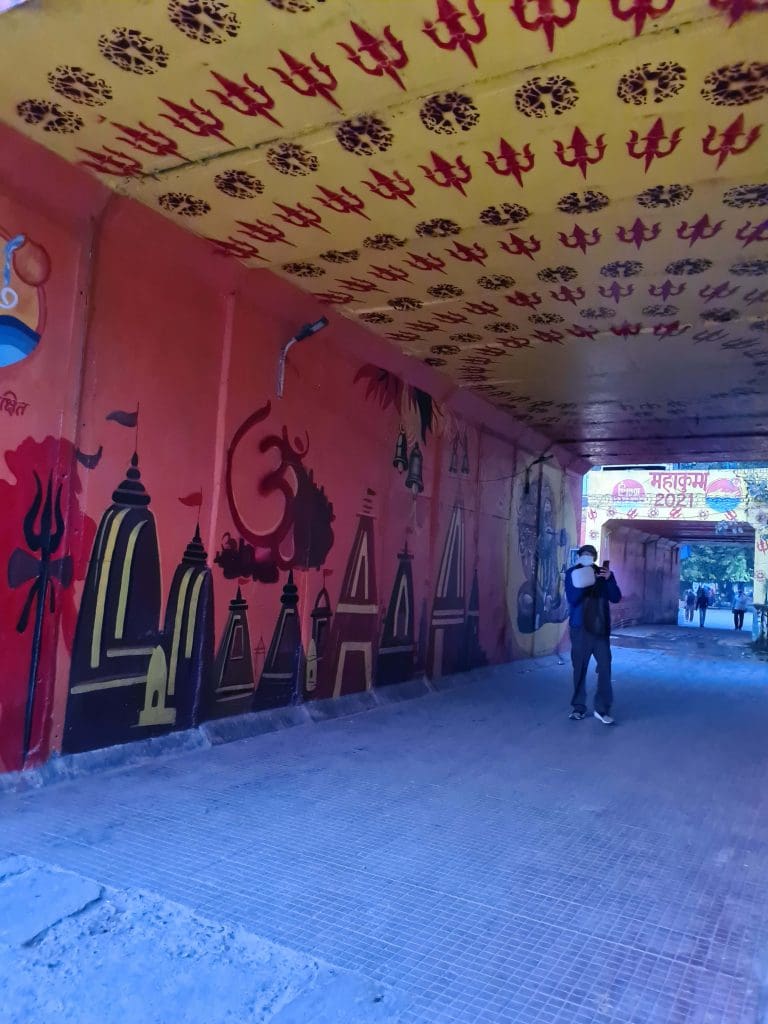 If this is not meditation what would you call it? There is softness everywhere with a newness that seems to beckon because it is something we are unfamiliar with. To find bird, animal, man and woman in a kind of togetherness forged by kinship is an altogether new experience. You can see how comfortably a mongrel lies next to a sleeping woman, stretched on a small cloth on the cement floor. Close by you have you have a bike rider drumming a guitar, a note at a time, one melting into the other.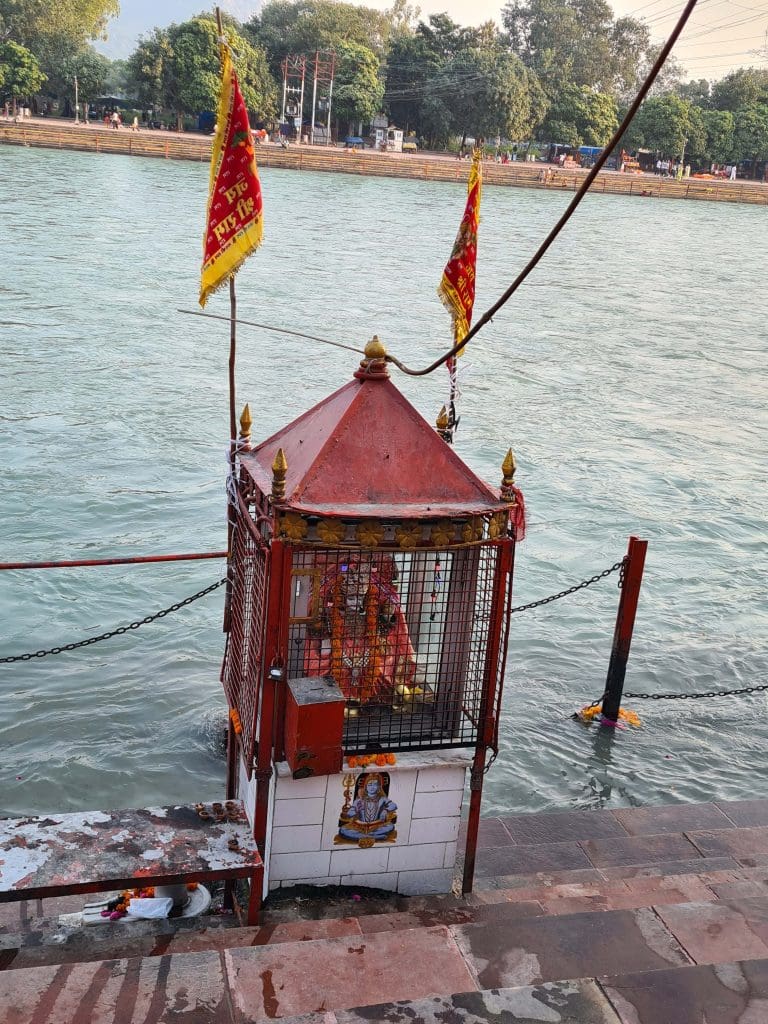 As each note hangs momentarily in the air, it is as if the nearby sadhu, with long hair, fresh face and washed ochre cloth, eyes closed – can hear the rhythm of the dog's breath, the rippling waters along with the notes of the guitar…a symphony of another world. So much for transformative energy.
Moving out of the extraordinary to a more pragmatic world, there is much to do in Haridwar. Taking in the sights and sounds of this pre-historic city is an unforgettable experience.

Bara Bazaar – an ancient bazaar like no other

Walking the city bazaar, especially the old bazaar is reminiscent of another time-vibrant, ancient, colourful shopping…where shop keepers and shoppers exchange pleasantries, time and money for goods small and big.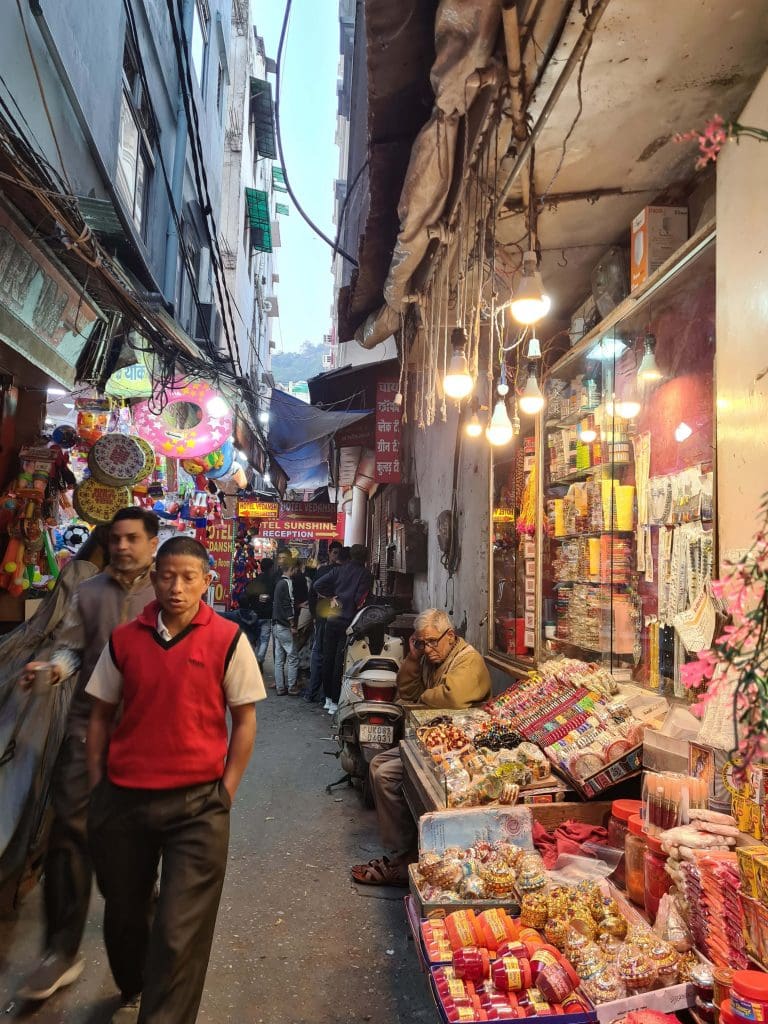 Good-natured haggling, plenty of loud talk and a never-ending bazaar is the essence. Winding street upon street, a nest of burrows, opening to yet another tight alley overcrowded with shiny goods and thronging people is all that eye can see.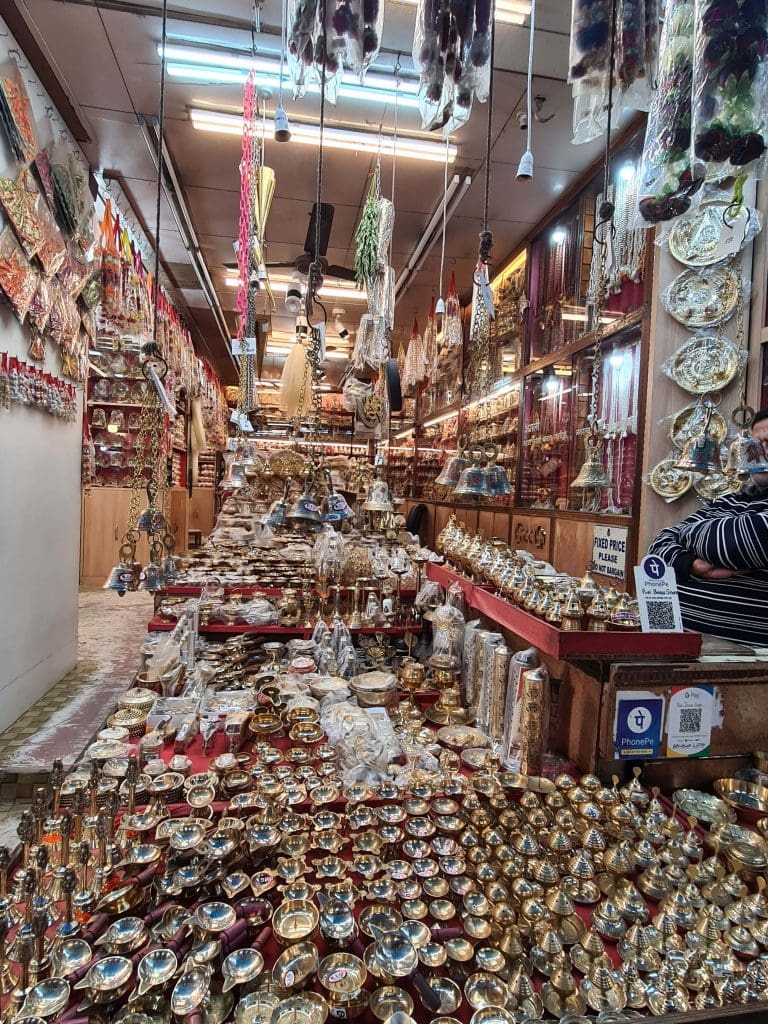 The character of the bazaar creates an altogether different mosaic of sights and sounds, a peep into another time and world.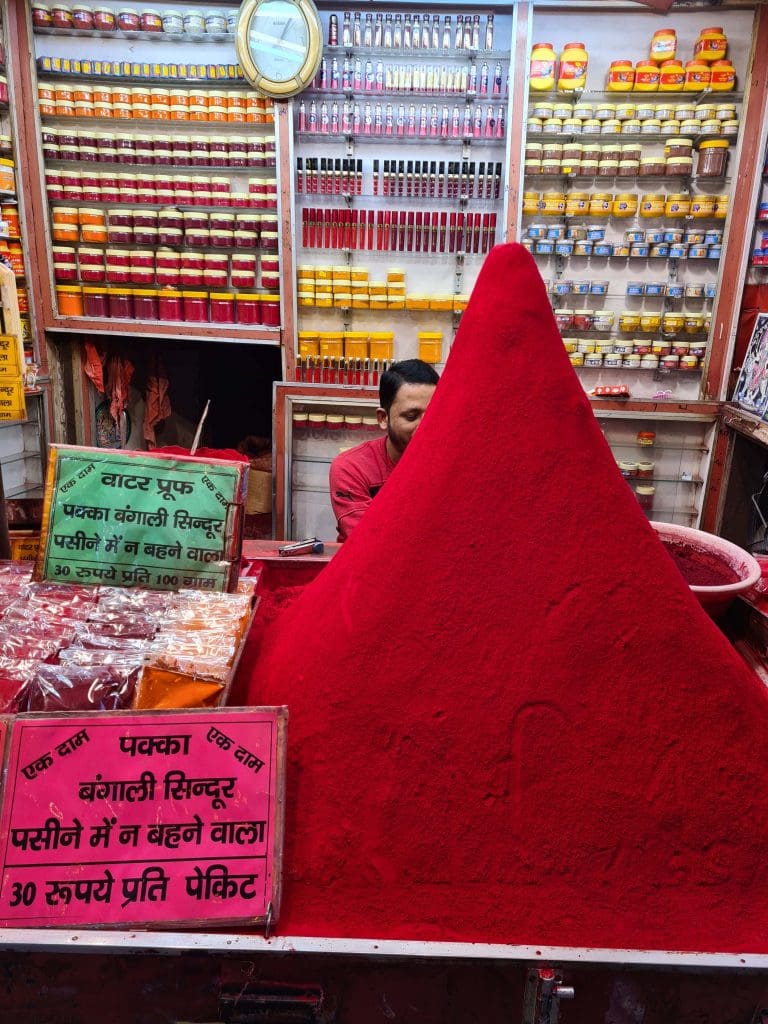 Mound of brilliant red sindoor, used in temples in one shop is juxtaposed with a curio shop selling pictures of the divine, prayer beads and figurines of gods and goddesses, brass temple bells, ceremonial lamps, puja trays, samagri or items used to throw in the sacred fire and incense to name a few.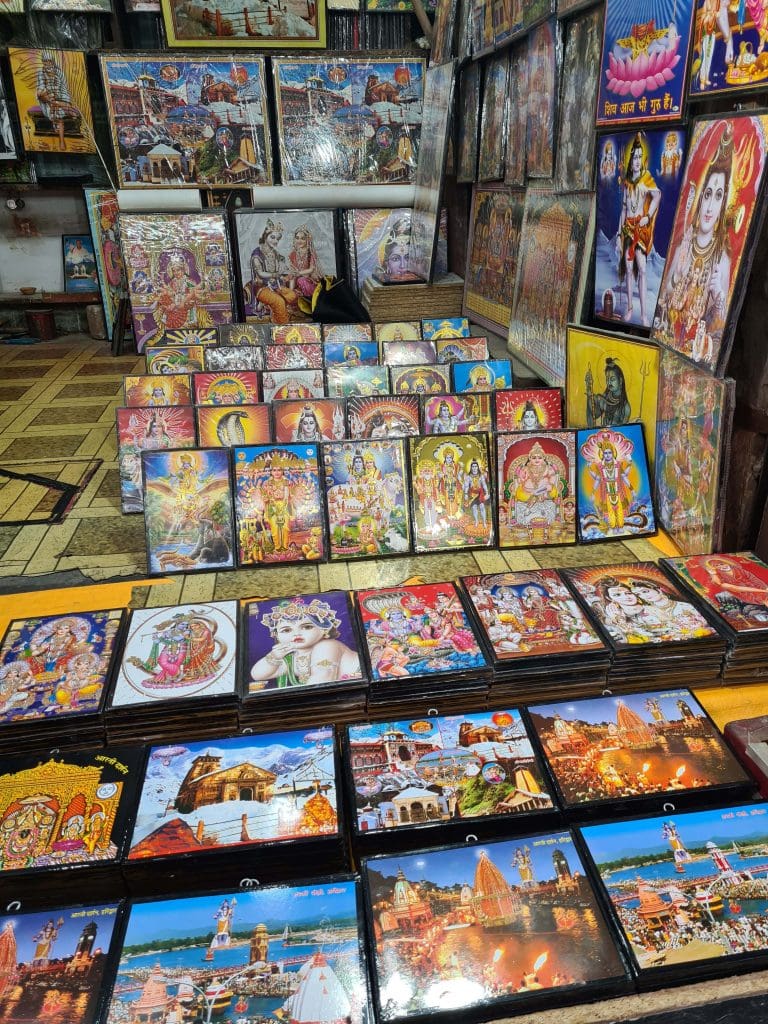 Everything traditional from printed motifs types of fabric to gold bangles and necklaces, kitchen utensils and bags of grains are to be found in glittering lighted shops.
Shopping has a different context

Shopping has a different context and you will see this in most of the older shopping bazaars of the old part of Indian cities.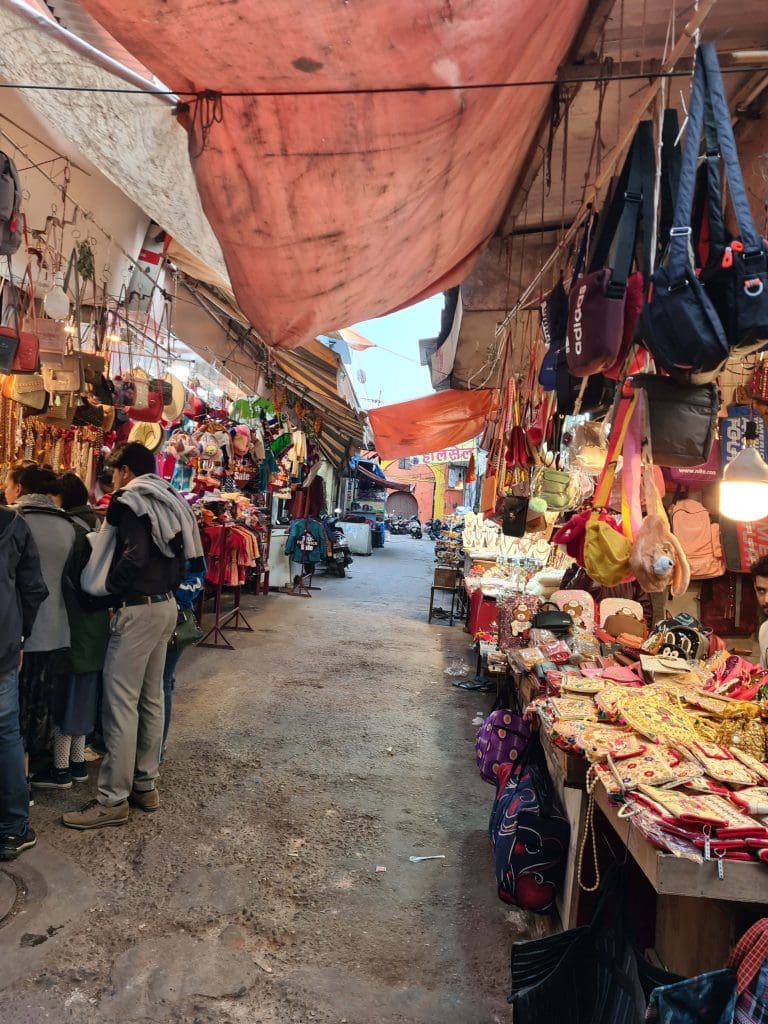 A clothing store for instance will have a white cushioned raised flat settee along the length of the narrow shop. This seats the shop keeper in a cross legged position and his bare foot helpers clamber up a hidden hold upstairs to bring down a stock of items needed to fit the customer.
Customers in turn sit across on long benches and point to what they like, while the shop helpers let you try outfits in front of a parallel mirror. There are no changing rooms, so the trail of items is limited. But this is more than made up for by the energy and eagerness, not to mention the skill of the owner to keep you engaged with small talk and tea, so a sale is guaranteed.
Time stands still

Here time stands still. You shop, you talk, the weather, politics, family, friends, festivals and of late – the poor economy on account of lockdown and the virus.
But life goes on its ancient ways…no masks, no fear, and a veritable feast of people in different ages, clothes and style. Attires range all the way from pyjamas, dhoti, sarees, salwar kameez, pants and jeans, and the occasional ochre robes not to mention loin cloth and a trunk of beads around the neck hanging low on the abdomen. Head gear too are interesting…from monkey caps in the winter, to mufflers, nehru caps, pagris in white and saffron to just cloth tied around the head.
A sea of shoppers wind their way, jostling with ease and dexterity amid cycle rickshaws and scooters weaving through in the opposite direction to the flow. No one is perturbed.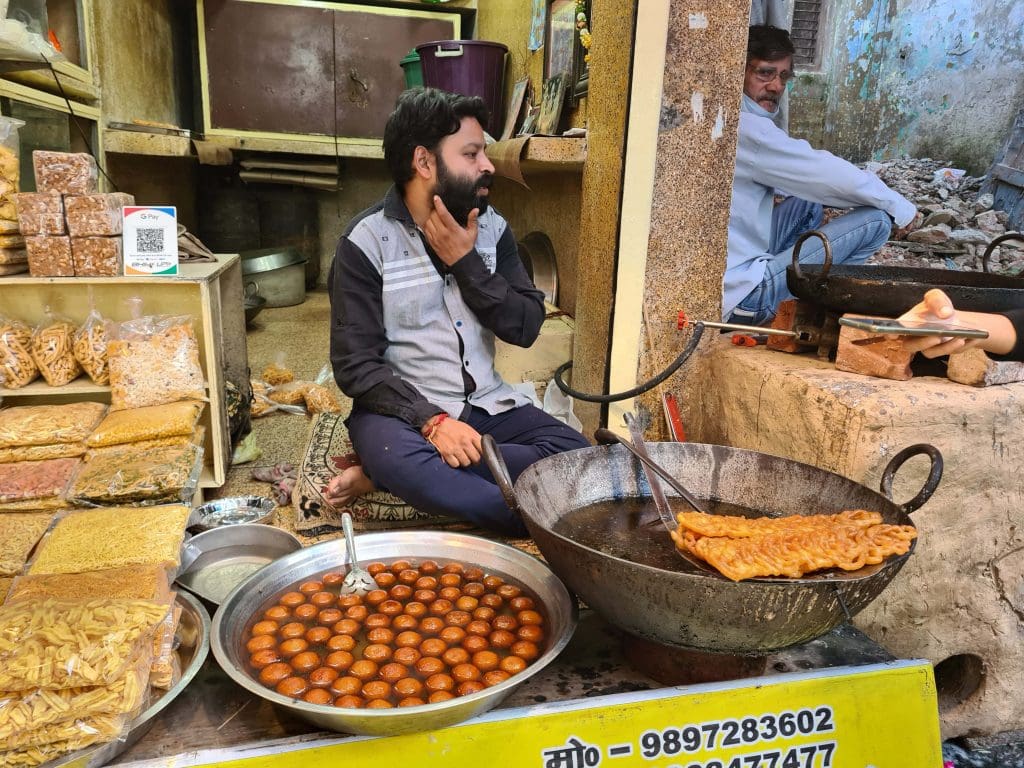 Stop by at leisure and sip piping hot tea, freshly cooked samosas with chutney, a pile of glistening golden jalebis being sifted through the boiling oil on a long handled sieve, being dunked in syrup and handed to you in a leaf stitched plate.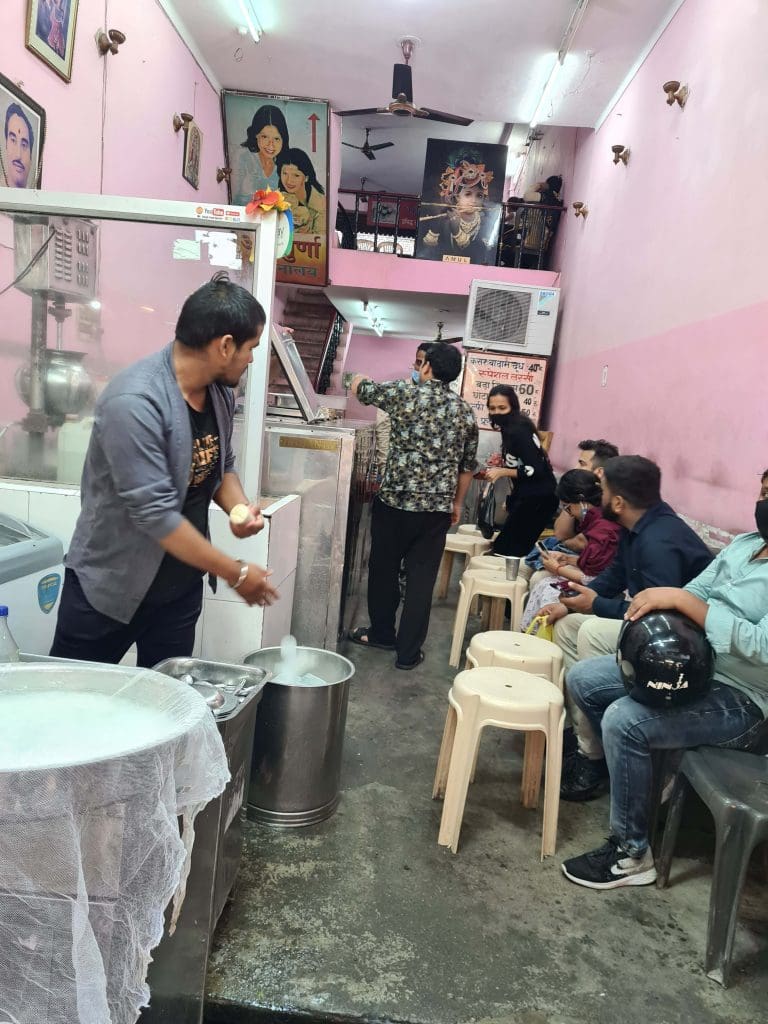 Try out the famous sweet houses known for delicacies, kulfi shops announcing their century old ancestry for the best kulfi faluda in town, famed puri-aloo eateries, lassi specialists whose flavoured concoctions of choice are a gourmet's dream and so on.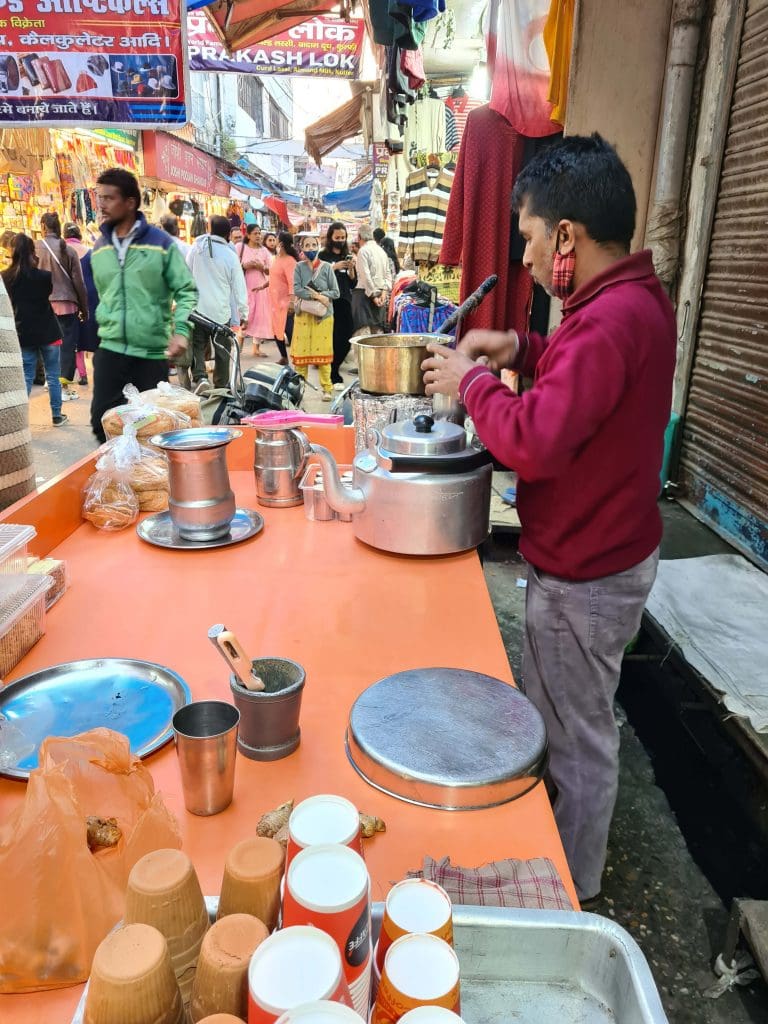 There are so many experiences in both twin holy cities of Haridwar and Rishikesh that it will take many lifetimes to know them all. Sufficient to say that each time you visit, a golden vista of the unknown is likely to open up for you.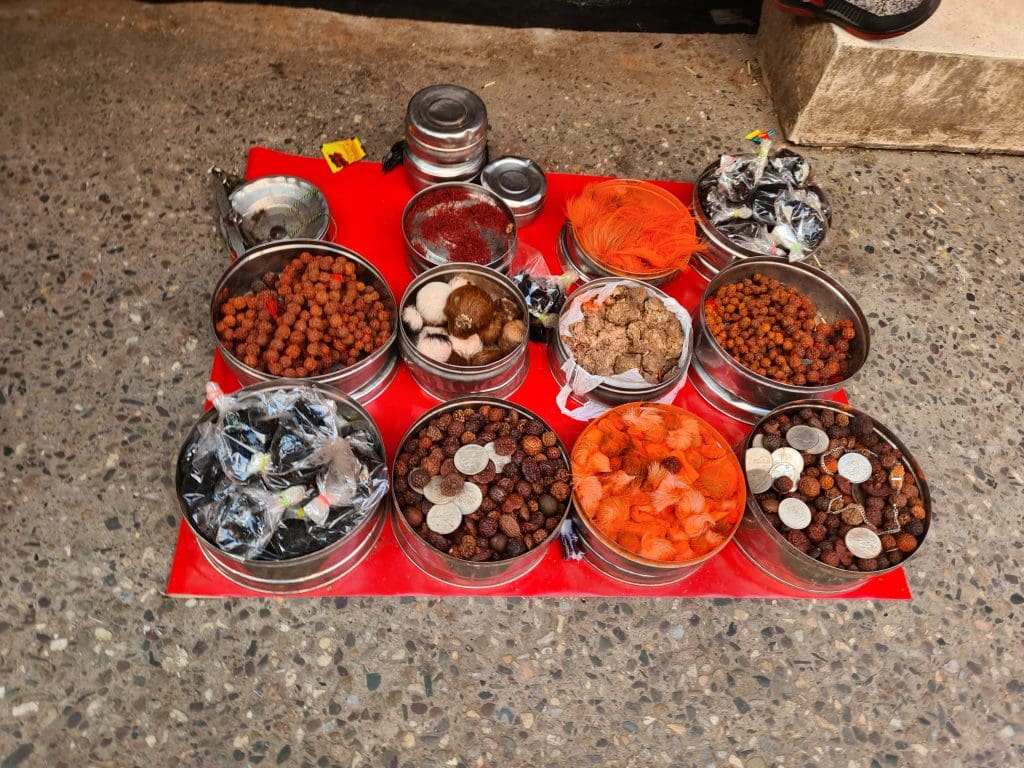 Anticipate. Acknowledge. Accept. Keywords for travel to pilgrim centres and holiness. My journey continues.
Read More: Discover your India