Songkran, the Thai New Year, held from April 13-15 every year, fosters a sense of community building and displays a cultural extravaganza at its best.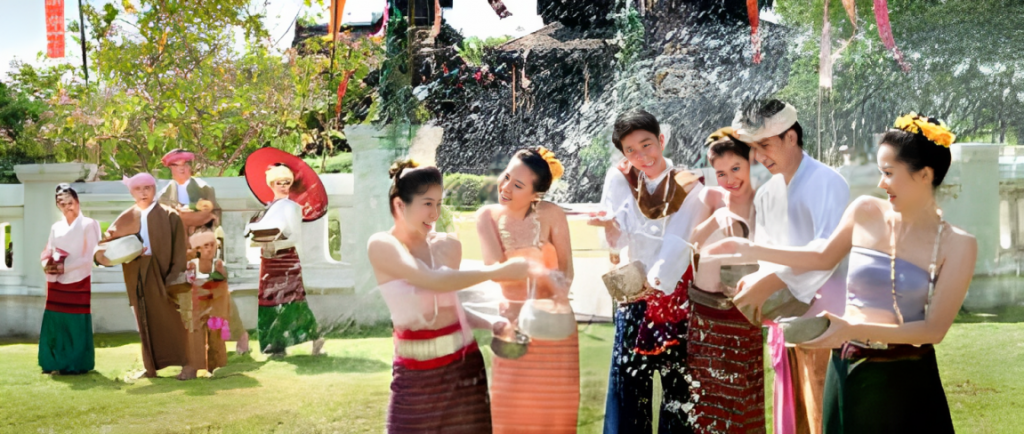 What is Songkran festival? Songkran is a traditional Thai New Year festival celebrated in Thailand.
The word "Songkran" is derived from Sanskrit, and Songkran means the transformation or change of the various zodiac signs.
According to astrology, the commencement of summer is marked by the sun moving towards Aries. Water plays a major role in all the celebrations surrounding the festival, as it is perceived that it cools down body temperatures.
The Songkran festival in Thailand also shows respect towards older relatives, evokes their blessings, and is a time for prayer for those who have passed away. All the activities engaged during this period – from building sand pagodas, sand merit (merit being a kind of atonement according to Buddhism), and throwing water at one another, in order to foster a sense of community.
Everyone looks forward to the festival every year as it's an occasion for them to welcome new beginnings. From cleaning their houses and presenting food offerings to monks, symbolizing the washing away of bad luck from last year; through freeing birds or fish – a way of merit making; ending with building sand pagodas at temples decorated with lighted candles, colorful flags, and flowers- believed by many as compensating for accumulated sins over time: there are various ways locals come together during this joyous festival.
On New Year's Eve in rural areas of Northern Thailand, locals observe ancient customs to ward off evil spirits. Piles of wood are burned and loud noises are made while candles light the way for good fortune. In bustling cities like Bangkok and Chiang Mai, Buddha images grace elaborate floral floats during a grand procession as Miss Songkran is paraded through streets draped in traditional Thai costumes – signifying an opportunity for all residents to sprinkle scented water upon them as reverence towards spiritual well-being.
Ayutthaya Festivities
Traditional Songkran is celebrated at the Ayutthaya historical park in Ayutthaya, which is also a World Heritage Site. Elephants and humans come together to celebrate this exciting festival. Visitors celebrate Songkran by splashing water with the elephants at the front area of the Tourism Authority of Thailand, Ayutthaya office.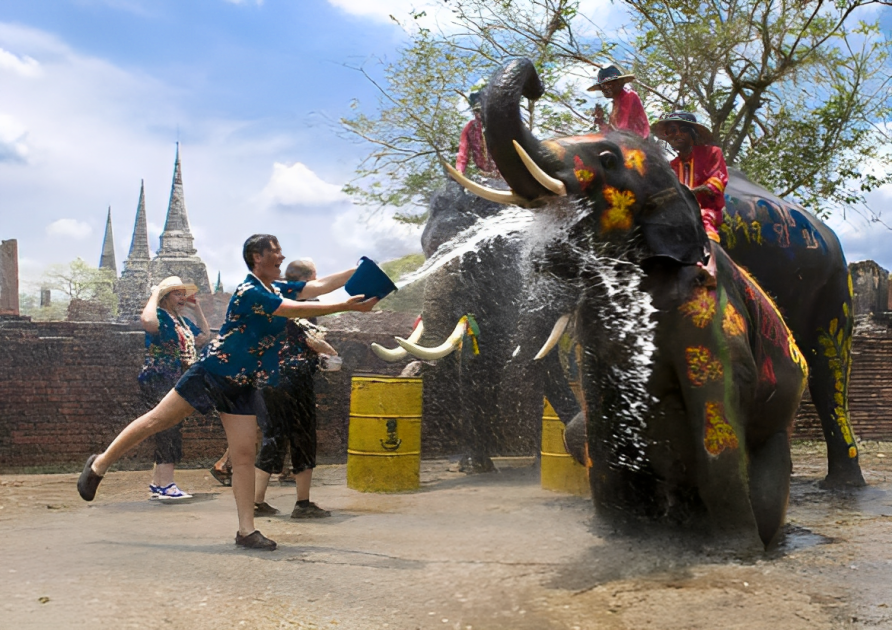 Some other activities include donating dried food and rice to the monks in front of the hall in Wat Mongkol Bophit and watching a colourful elephant and flower parade.
At Wat Thong Bo, which lies in the Bang-pa sub-district of Ayutthaya, throngs join the Buddha statue bathing rite, make merit, donate food to monks, and watch the Ta-khab flag or 'No' parade.
Chiang Mai Celebrations
In the northern city of Chiang Mai, Songkran is also called 'Paweni Pi Mai Muang,' or the 'Sangkhan Long' day. This day is also considered as the last day of the year in the northern region.
On the morning of April 13 witness the bursting of firecrackers in the belief that the sound emitted by them drives away any evil from the past. In the evening, a parade to commemorate Chiang Mai's significant Buddha statue is organised around the city. On April 14, which is also called "Nao" Day, people abstain from being rude or using swear words, as doing so is believed to bring bad luck for the entire year.
On April 15, also known as 'Phya Day' or the 'Beginning of a new era,' locals start their mornings early, visit temples to make merit, pour water on the hands of abbots while asking for blessings, and listen to preaching by monks. On this last day of the Songkran festival, locals cleanse themselves by brushing their bodies, which also symbolises doing away with bad luck.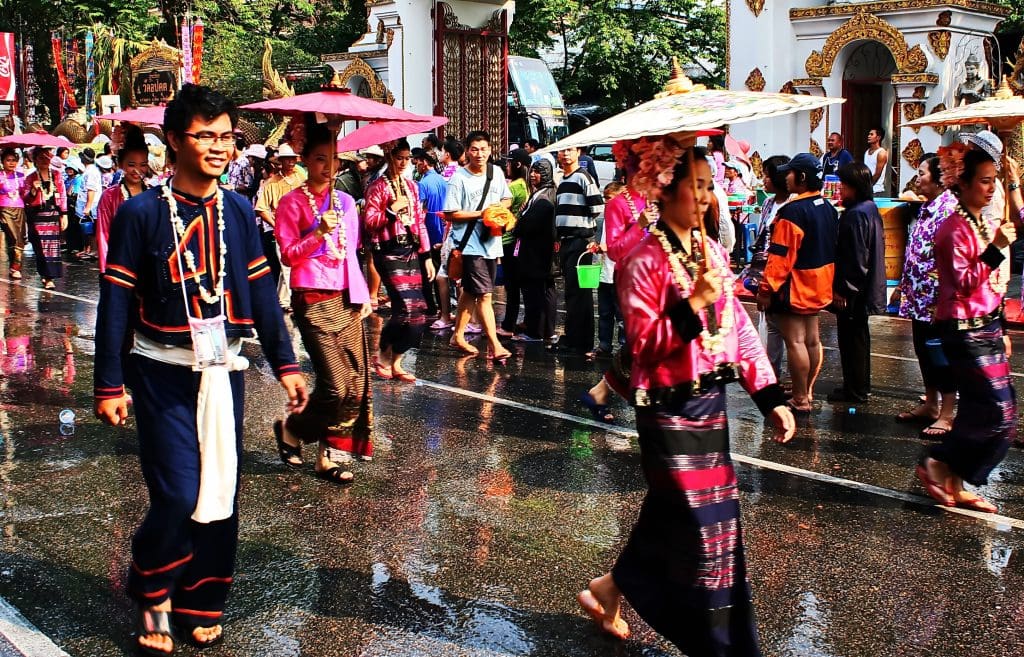 Bangkok Splash
One of the most popular places to celebrate Songkran in Thailand is Khao San Road. Throngs of Thai people, especially teenagers, come here to enjoy the water battle with foreign tourists, carrying water guns of all shapes and sizes and shooting at each other joyfully and tirelessly. Another place that celebrates the festival on a grand scale is Silom Road. During the Festival, Silom Road is closed from the late afternoon for the water splashing activity. However, a BTS train track above, which acts as a large sun shade, makes splashing water at Silom exceptionally cool.
Khon Kaen Fest
One of the most famous Songkran New Year celebrations occurs in Northeast Thailand in Khon Kaen, where there is a floral offering and floral competition.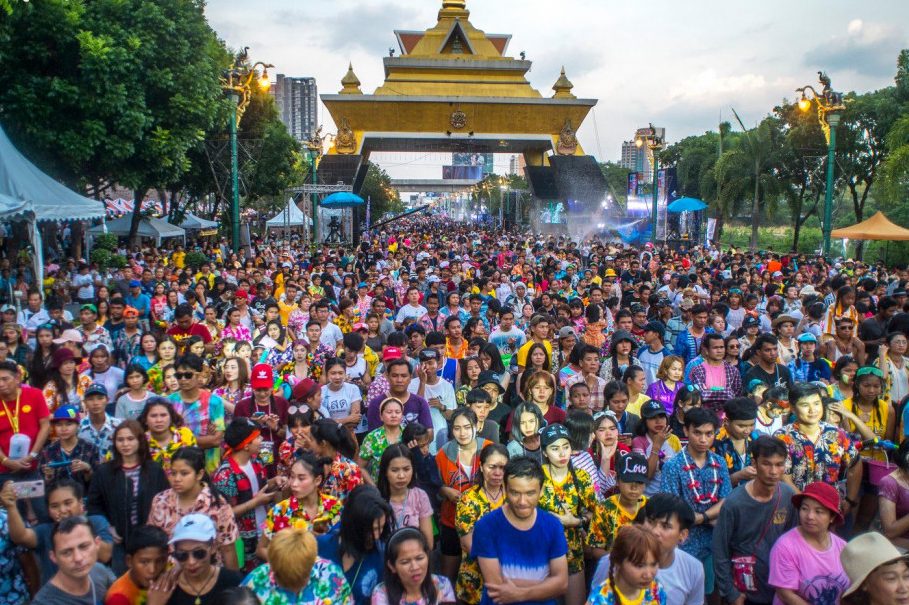 This celebration brings together people from all over the country and is often seen as a time of joy, unity, and happiness. During the festival, many traditional activities take place including processions, parades, and water fights. These are intended to symbolize the washing away of bad luck that has accumulated in the previous year. The most common event that takes place during Songkran is the traditional water-throwing. This involves people sprinkling or dousing each other with scented water as a way to show respect and good luck for the new year.
In addition, during the festival many people will visit local temples to pray, give offerings to the monks, and take part in traditional ceremonies. At some temples, the monks will bless people with holy water and sprinkle it on the visitors' heads. This is meant to bring a good start to the new year and ward off bad luck.
The festival features ox-cart processions decorated with flowers and beauty pageants. Khao Niao (Sticky Rice Road) witnesses grand celebrations similar to Bangkok's Khao San Road, where one can throw water as well as participate in folk dances with the local people.
Read more: Latest