The festival of colors is right around the corner, and many in India are looking to celebrate in style. Holi the festival of colours is the country's favourite and most-awaited festival.
All the young and old come together to soak in colours and a spirit of merriment during Holi. Pouches of vibrant colours filling up shops, pichkaris, and the smell of thandai lingering in the air have gotten us pumped for some celebration.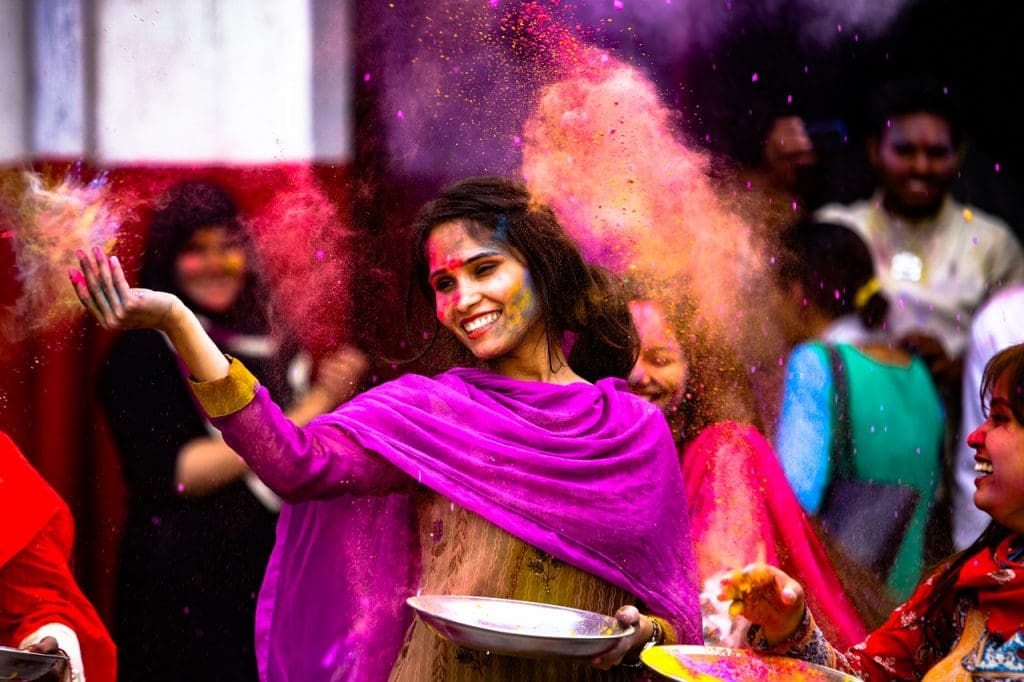 Legends of Holi – What is the Holi Festival and why is it celebrated?
The Indian festival of Holi is an ancient Hindu festival celebrated all over the world with much joy and enthusiasm. Holi has several legends associated with it- One popular legend narrates that Lord Krishna was very fond of colors, so he asked his mother why his skin was darker than that of Radha's who was a fair complexioned cowherd girl. His mother Yashoda playfully put a smear of color on her son's face and said "you are as beautiful as this colour."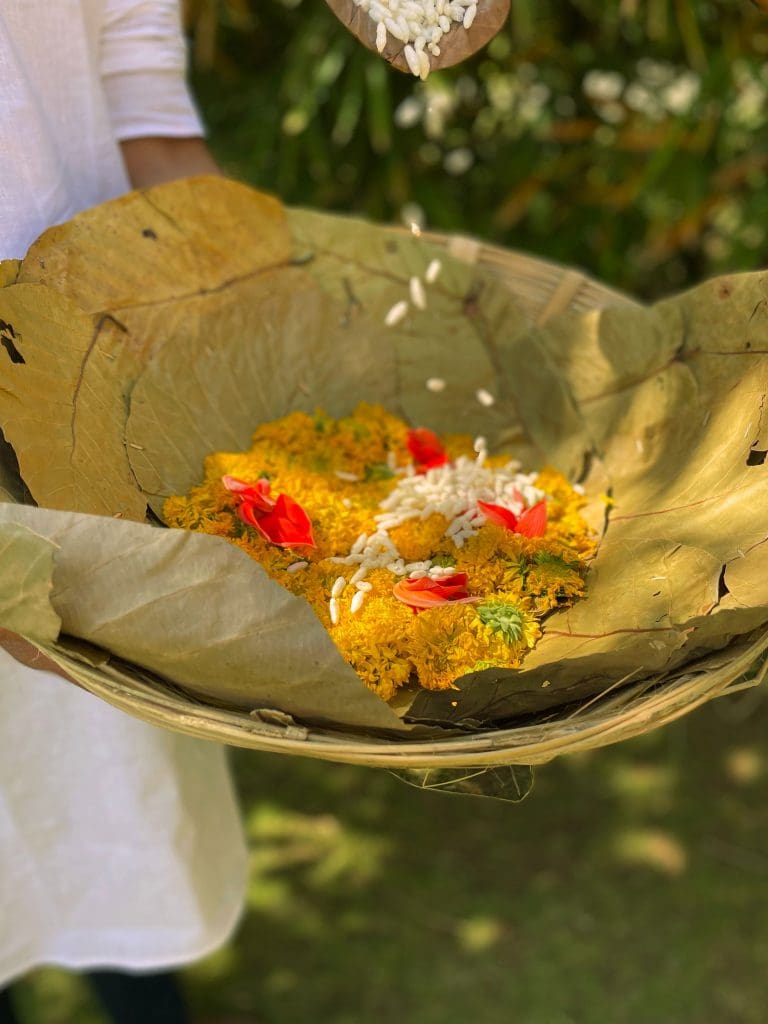 Another popular legend associated with Holi is the story of King Hiranyakashipu and his son Prahlad. It speaks of how good triumphed over evil, which is an integral part of this festival.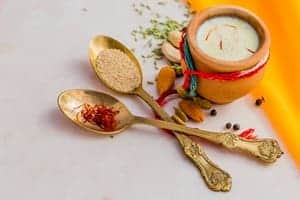 It marks the beginning of the spring season and is celebrated on the full moon day in the month of Phalgun according to the Indian calendar. Holi has great significance as both a Lunar festival and a spring festival. All through India people celebrate the festival by playing with colors. Natural colors are used in making the natural pigments known as gulal, influenced by nature's elements like flowers, herbs, and minerals. People play with different colors, spraying them on each other's faces until everyone looks like a kaleidoscope of vibrant hues.
The joyous celebration of Holi also brings people together and promotes feelings of goodwill and unity. During this festival, people forget their differences, share sweets and exchange greetings with each other, signifying the start of a happy new season. It is also a reminder of the cycle of life—of death preceding rebirth and joy following sorrow.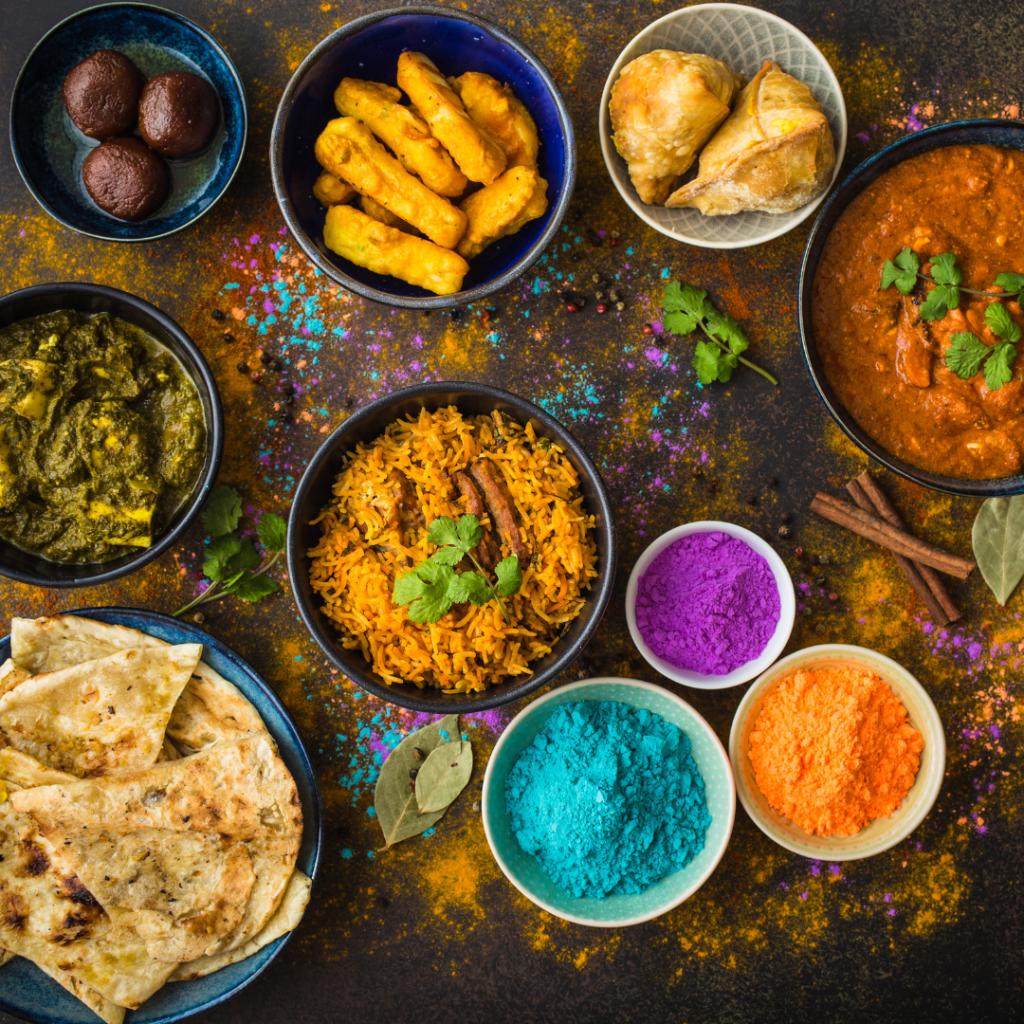 Thus Holi Festival is an important celebration that brings immense joy to everyone who participates in it and helps people build strong relationships with one another. Celebrating Holi every year gives us hope that good will always overpower evil no matter what circumstances we may be facing. So let us embrace each other with colors of love and harmony on this special day!
11 great destinations to celebrate Holi In India
On the night of a full moon, India springs to life in an epic celebration. Ancient tradition dictates that bonfires light up street corners and symbolize burning away bad omens. The following day is filled with excitement as people indulge in vibrant colors while visiting friends at Holi melas or their own homes to spread joyous greetings!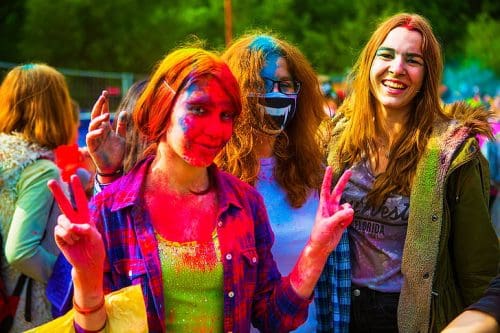 Visit these 11 great destinations which are traditionally known for their gaiety, fervour and where the festivities begin with traditional folk songs and dances, music and processions and temple prayers.
Mathura
Mathura, the birthplace of Lord Krishna, is home to one of India's largest and most famous Holi celebrations. Mathura is a place of special significance during Holi celebrations, as it marks the birthplace and origin story of Lord Krishna. Pilgrims follow the lively procession from Vishram Ghat, ending near Holi Gate. From here the procession makes its way to Dwarkadheesh Temple for a festive atmosphere filled with music and dance.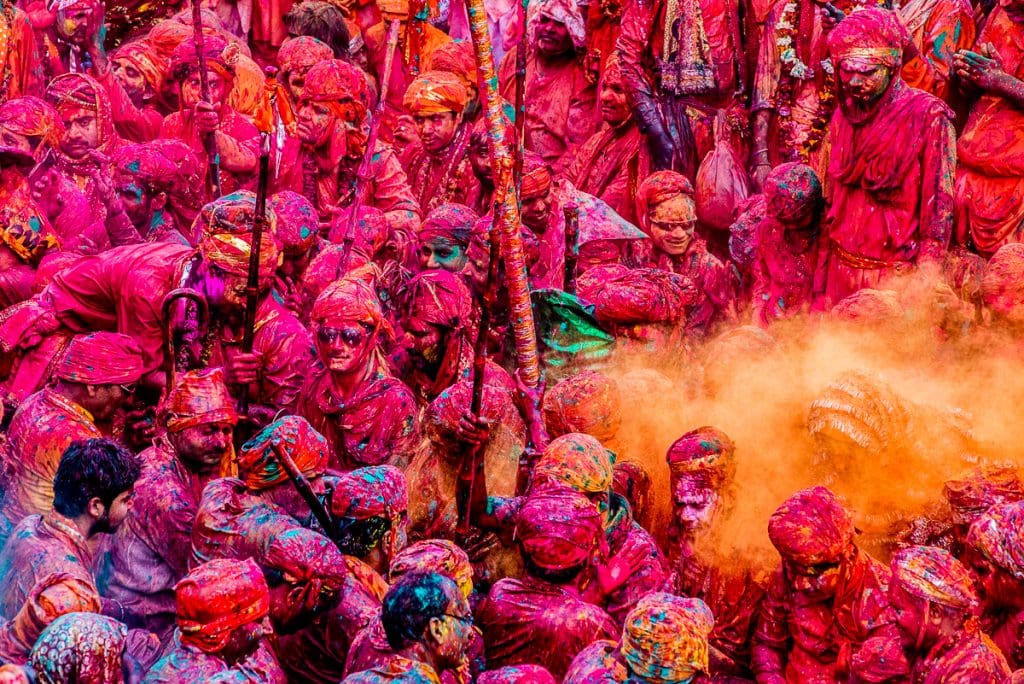 The Sri Krishna Janmasthan temple's memorable show preceding this vibrant holiday season is made for memories. Each year, hundreds flock to temples in Mathura for an experience like no other. While this festive event has gone on for centuries, devotees visit temples in Mathura that host elaborate pujas to celebrate the festival. Pilgrims are treated to magnificent events which create unforgettable memories that last far beyond the day itself.
Purulia
Purulia in West Bengal is a hidden gem endowed with spectacular landscapes and a serene atmosphere. Every year the locals here celebrate Holi – also called Dol festival -in an enthralling traditional style three days before its due date. This celebration revolves around Bandhar Deul temple dates back to the 8th century and features cultural performances such as Chau dance, Natua Dance, Darbari Jhumur along with Baul music. Moreover what makes it even more unique is Ayodhya Pa which has been practiced in this region since the 18th century! Don't miss out on visiting this amazing place during the festive season for some great memories!
Vrindavan
Vrindavan, the home of Lord Krishna in his childhood days, is also one of the most popular places to celebrate Holi. Celebrations here are marked by bonfires and special prayers offered to Lord Krishna at the temples. People dress up in vibrant colors and perform traditional dances and sing devotional songs during this festival.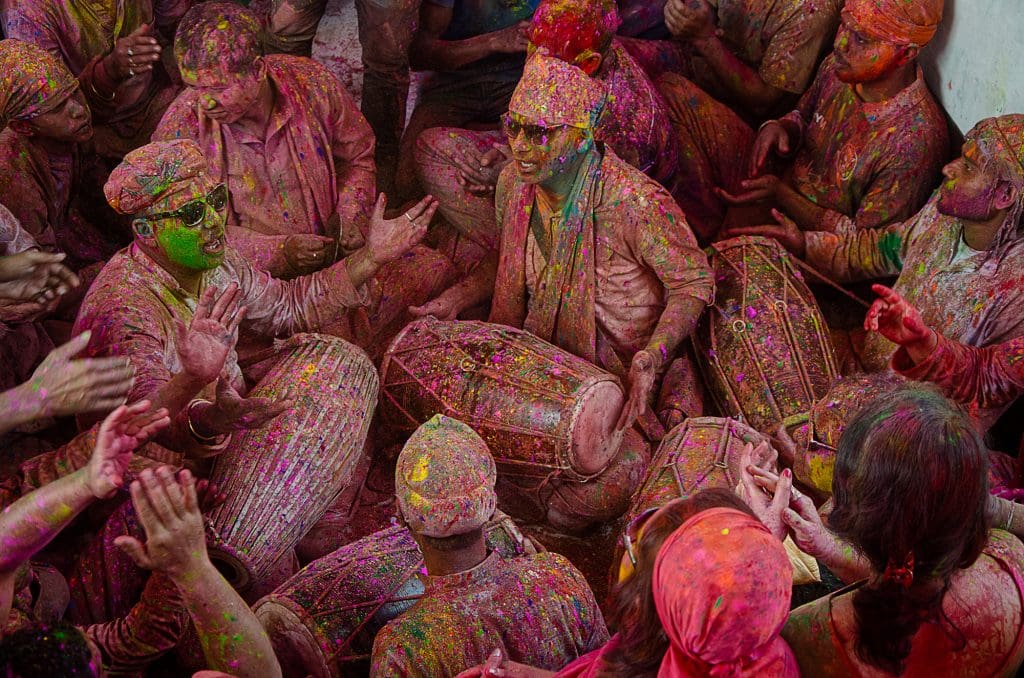 Hindus from all over flock to the sacred town of Vrindavan during Holi. The heart of this celebration – Banke Bihari Temple is where devotees come for a week-long event that begins with gentle flower splashes, followed by Phoolan ki Holi and culminates in an experience unlike any other – immersion into a kaleidoscope of vibrant hues. Welcome to Lord Krishna's playland, where ecstatic joy rules as people revel in His divine presence!
Experience the spectacular display of color in Vrindavan on Holi! Visit Gopinath Temple and witness how widows make this site look like a living painting with vibrant marigold flowers, gulal, and Krishna's devotional songs. Make sure to not miss out on this special opportunity for an amazing trip – it will be your greatest one yet!
Pushkar
Pushkar is renowned for its Holi celebrations, where people gather around the holy Lake Pushkar during the festival. There are colorful processions of camels, horses and elephants that wind their way through the streets of the city to celebrate Holi.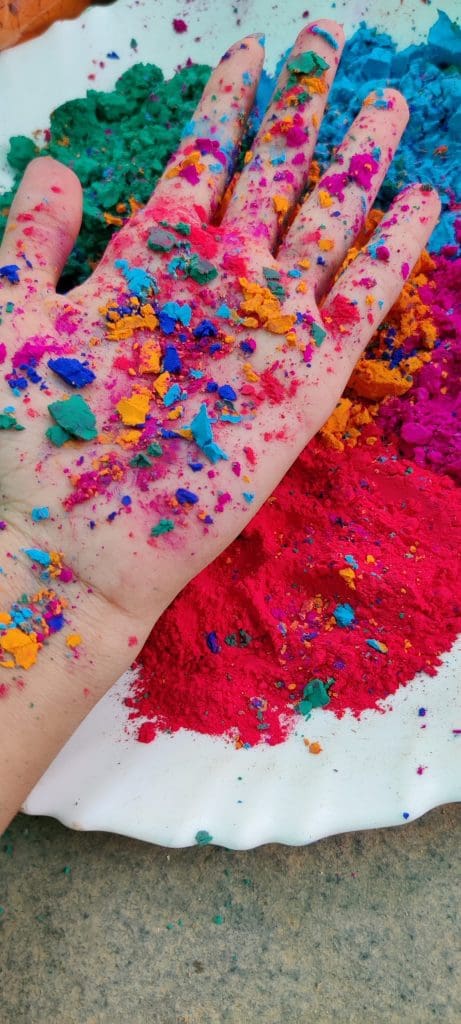 The vibrant streets of Pushkar come alive in celebration each year at Holi. In the main square, revelers dance to lively music while donning rainbow-hued clothes and sippingThandai or Lassi with Bhang – a local traditional intoxicant. When night falls on this town of holy pilgrimage, an exuberant bonfire ritual known as "Holika Dahan" marks their energetic beginning for festivities to follow! On the morning that follows, bright colors fill every space around creating an ethereal atmosphere.
Udaipur
The city of lakes, Udaipur, is known for its majestic palaces and lakes which add to the charm of Holi celebrations here. People flock to the city to enjoy colorful processions with traditional music and dance performances. Immerse yourself in the royal culture of Udaipur, as it celebrates Holi with full pomp and grandeur! Be part of Mewar's traditional bonfire 'Holika Dahan' at the palace courtyard, where the Maharaja lights the ceremonial bonfire. Holi is a vibrant celebration of the joyous new season.
Visitors join a colorful procession led by the Royal family on elephants, horses, and camels to Manek Chowk, the Royal residence followed by celebrations for all its guests. Tourists indulge in splashy colors while soaking in old-time traditions like Gair – an uplifting folk dance played around the holika dahan fire reflecting true local flavour.
Jaisalmer
The Golden City of India, Jaisalmer is one of the most picturesque places to celebrate Holi. Festivities here include a grand procession of camels, horses and elephants with traditional musicians playing devotional songs and folk dances to add to the joyous atmosphere.
Delhi
The national capital of India, Delhi, is known for its vibrant Holi celebrations. People gather in large numbers at different locations around the city like Ramlila Ground, Ramakrishna Ashram, Iskcon Temple and Chirag Delhi to celebrate this festival.
Amritsar
The holy city of Amritsar is known for its grand Holi celebrations. People of all ages take part in the festivities which include religious processions, traditional songs and dances, bonfires and the sprinkling of colors.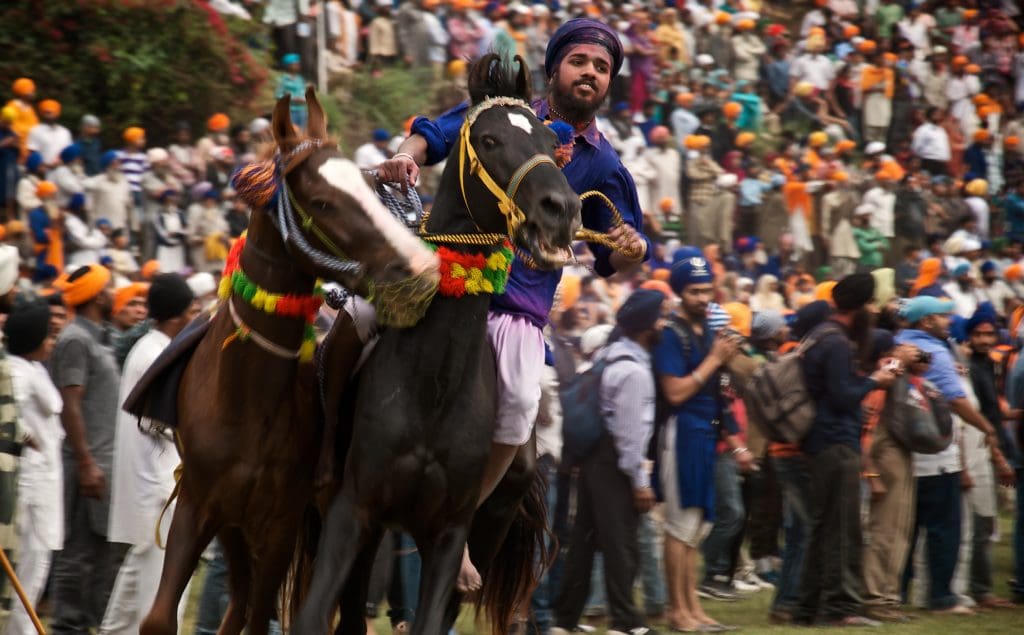 Anandpur Sahib's Hola Mohalla is a vibrant spectacle of Sikh pageantry. The three-day event celebrates the foundation of the Khalsa – or, as it's colloquially known, "the Sikh brotherhood." Nihangas lead processions in traditional costumes and partake in mock battles with swords and wrestling shows. Equally spectacular are displays riding stunts performed by mounted warriors – all culminating in poetry readings, kirtan singing sessions & community service like Langar (voluntary kitchen). Starring valor at its very center: Holi comes to life here!
Jaipur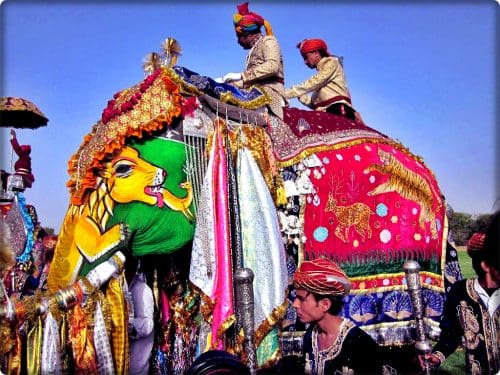 Rajasthan's beautiful Pink City, Jaipur is known for its majestic palaces and Holi celebrations are no exception here. People celebrate with great enthusiasm by playing with colors, dancing to traditional songs and taking part in processions. The Govind Dev Ji Temple is an enchanting oasis of devotion, where melodic bhajans create a sacred atmosphere. Idolized depictions of Krishna and Radha are adorned with fragrant marigolds to honor their presence in the City Palace.
Varanasi
Varanasi is known for its spiritual significance and the Holi celebrations here are truly unique. People gather around the ghats of Ganges to celebrate this festival with offerings to Lord Shiva, traditional songs and dances, and colorful processions.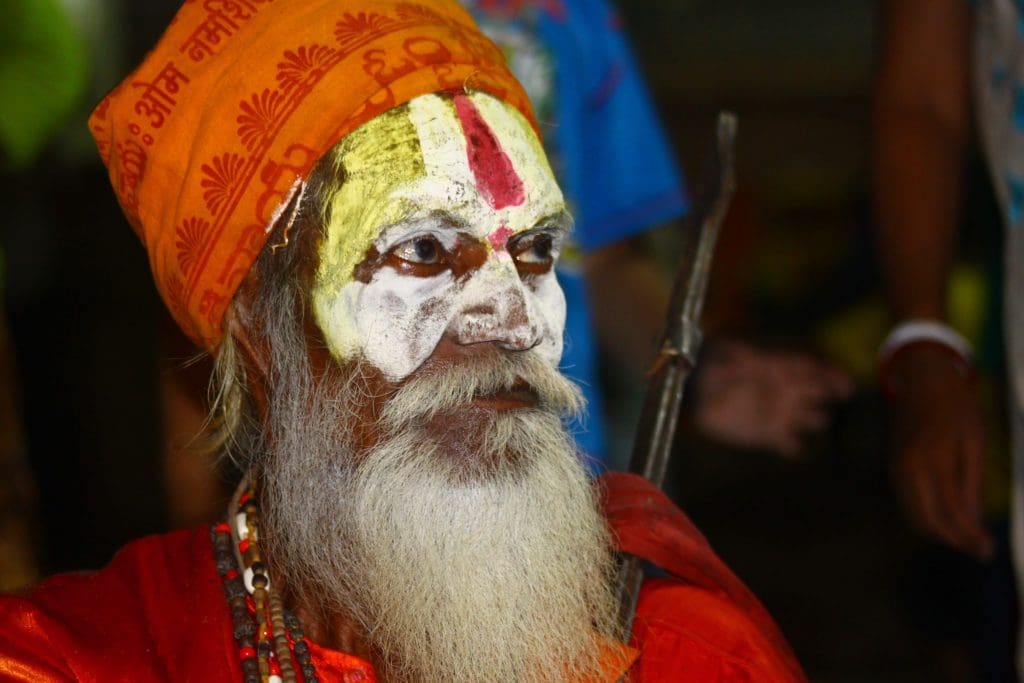 Varanasi's Holi is an extravagant and unique event that should not be missed. On the evening before, locals observe a custom called "Holika Dahan" which symbolizes good prevailing over evil: bonfires are generated with wood and cow dung cakes while offerings of grain to fire-gods seek prosperity in return. An additional ritual conducted only there involves rubbing paste (ubtan) all around one's body for healing purposes and then burning any remaining ubtan afterwords. In peak spirits, revelers made their way down Assi Ghat where clouds of colourful gulaal are accompanied by bhang thandai from nearby shops – creating an atmosphere perfect for total immersion into this grand festival
Goa
The beach state of India, Goa is known for its vibrant culture and Holi celebrations here are no exception. People flock to the beaches of Goa during this time to enjoy traditional folk songs, processions, and all-night parties with live music.
Colours, sand, and the sea come together to create an unforgettable combination in Goa during Holi. Celebrations start with bonfires the night before ushering in a week-long of sheer entertainment with traditional music and song filling up your senses. Enduringly beautiful beaches take on vibrant life as festivals occur day after day – revelers dancing around campfires, throwing splashes of colour all over each other while pumping beats playing into the sunset for ultimate fun! Holi parties and festivities at various centres are part of Goa's fabled charm.
Spruce up your Holi with 11 traditional dishes
Holi, the festival of colours, is celebrated with great enthusiasm and joy all across India. As part of the festivities, people indulge in a variety of traditional food and drink dishes that make up a delectable feast. From sweetened rice to savoury kababs and lip-smacking drinks, here are 11 delicious traditional dishes you can serve at your Holi party.
Thandai: This refreshing cold beverage made with milk, almonds, melon seeds, cardamom, and other spices is a must-have drink for Holi celebrations. It's served chilled and is often garnished with rose petals or pistachios to add a touch of colour.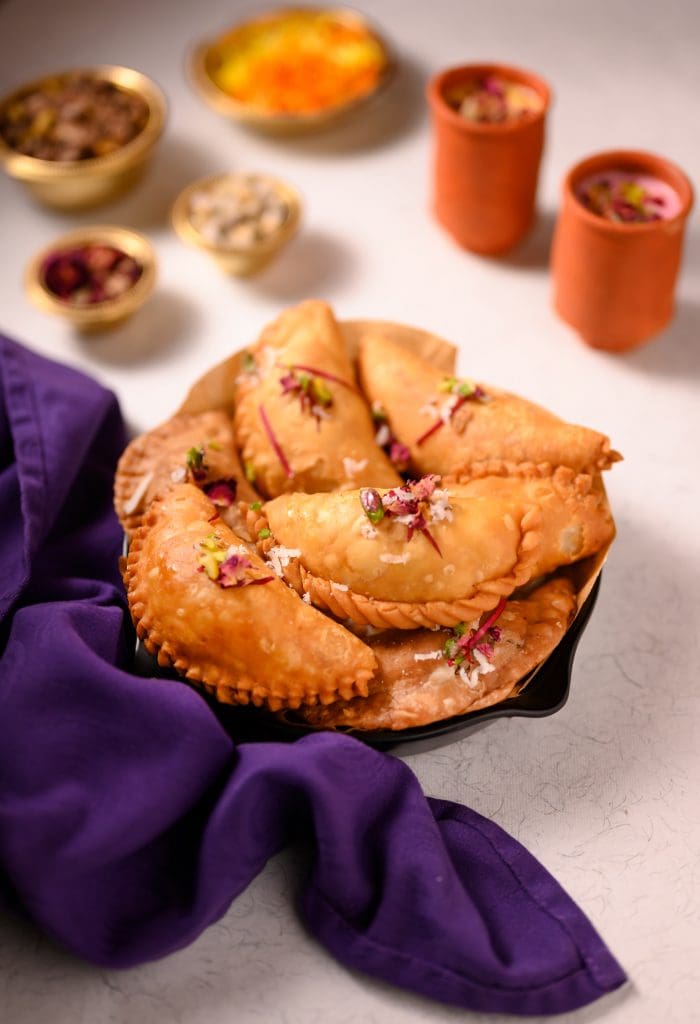 Gujiya: These deep-fried, crescent-shaped sweet pastries are filled with a mixture of khoya (reduced milk solids), dry fruits, and sugar. Crisp on the outside and lusciously soft inside, these melt-in-your-mouth desserts are sure to be a hit at every Holi party.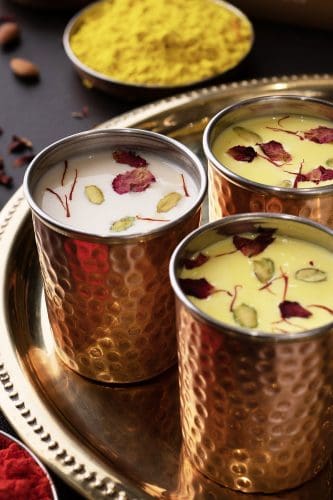 Puran Poli: A traditional sweet from Maharashtra, these flatbreads are made with an outer cover of dough that is filled with a mixture of chana dal, jaggery, and cardamom for flavour. They are usually served hot and are best eaten with dollops of ghee or butter.
Kanji Vada: This yummy snack from South India is made with a mixture of ground rice, lentils and spices that are deep-fried in hot oil to form crisp, golden vadas. These savoury treats are usually served with pachadi (a spicy yogurt dip) or coconut chutney.
Dahi Vada: Delicious and easy to make, these plump lentil dumplings are served with a tangy yogurt dip and topped with spicy chutneys made from tamarind, ginger, and chillies for an added zing.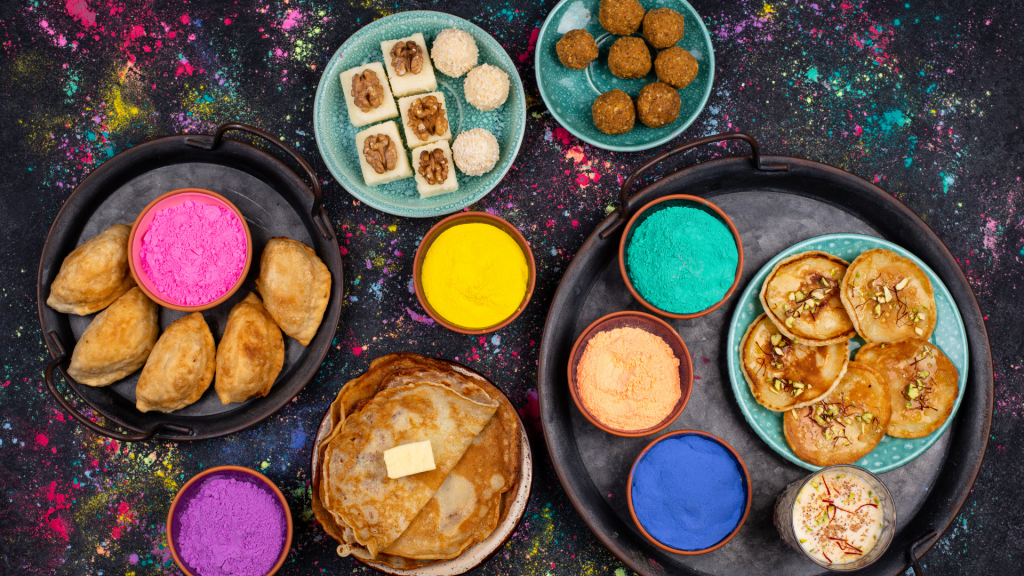 Papdi chaat: This popular street food is a favourite during Holi. It's made with papdis (fried dough wafers), boiled potatoes, onions, and sweet-and-sour chutneys that add flavour and crunch to the dish.
Bhel Puri: Another savoury snack hailing from Maharashtra, this crunchy chaat dish is made with puffed rice, boiled potatoes, onions, and a variety of chutneys. It's usually garnished with sev (fried chickpea noodles) to add texture and flavour.
Gud Ki Kheer: This sweet, creamy dessert is made with jaggery, milk, and rice that are cooked together in a pressure cooker until thick and creamy. It can be served warm or chilled, depending on your preference.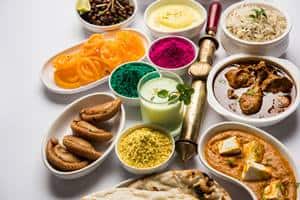 Aloo Tikki: Delicious potato patties made with mashed potatoes, onions, and spices that are shallow-fried to perfection. These savoury snacks are often served with chutneys or a yogurt dip.
Malpua: These decadent deep-fried pancakes can be served plain or dipped in sugar syrup for an extra sweet treat. They are often flavoured with cardamom and garnished with nuts for added crunch and flavour.
Namakpare are a traditional snack that is often served during Holi celebrations. These deep-fried doughy snacks are made with all-purpose flour, ghee, salt, carom seeds, and ajwain for flavour. They can be enjoyed plain or served with pickles, chutneys, and sauces to add a burst of flavour. Namakpare are a great snack to munch on while playing with colours at Holi.
To make your Holi party even more special, you can add some crunchy and delicious homemade traditional snacks to your menu! Enjoy these treats with family and friends to add a festive spirit to the celebrations.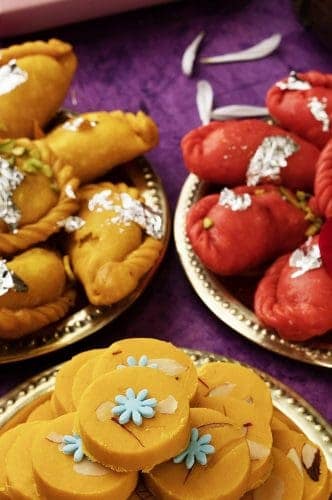 Read more: Latest