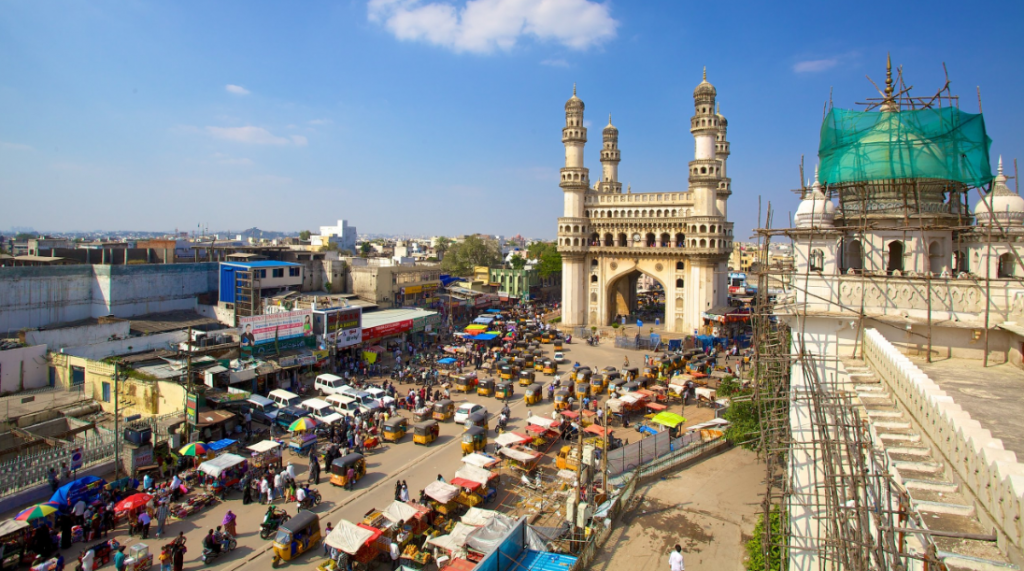 Here are 10 best things to buy in Hyderabad – the city of Nizams – and add it to your keepsakes…
Collecting souvenirs as a part of your trip is like taking a piece of the wonderful place you visited and storing it in your treasure trove of memories.
The city of Hyderabad boasts of a rich cultural heritage.
It is known as the "city of Nizams" because it continues to flourish in its rich cultural history.
Some of the city's best buys that will catch your eye are traditional crafts which are famous for their fine craftsmanship.
We recommend these 10 best things to buy in Hyderabad :
Pearls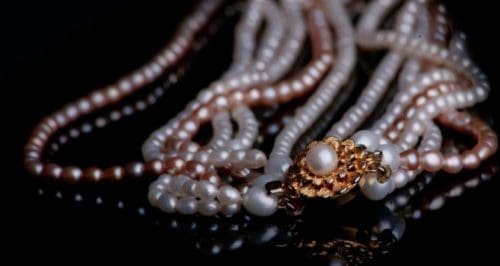 Rightly named as the City of Pearls, Hyderabad is considered the pearl hub of India. During their rule, the Nizams instructed the traders to bring in pearls especially from the Arabian Gulf. Referred to as the 'Queen of Jewels', pearls are simple yet shimmering. Though the jewellers in Hyderabad mostly have white pearls, there are some other types like rice pearls, Basra, pink and black pearls.
Apart from simple pearl jewels, jewellers also incorporate pearls with gold, silver, and other precious stone making ornaments like bracelets, Kundan sets and enamelled sets, satlads, lacchas, chand bali (a moon-shaped ear-ring), chokers, rassi (a chain set in the form of rope) chatai (a mat type chain, earrings and rings), hath phool (for the fingers and the wrist), vaddenam (waist belt) and Tanmani.
Where to buy: Charminar has the most exclusive shops for pearl jewellery among various other markets like Laad market in the city. The Char Minar Bazaar in Ghansi Bazaar is famous for pearls, especially the Basra pearls. The Patther Gatti street is filled with shops exclusively for pearls only.   These are some best shopping places in Hyderabad for weddings.
Bidriware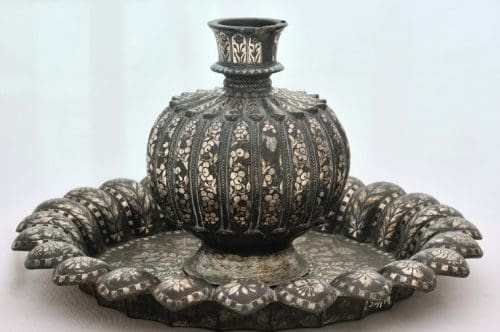 This alluring metalcraft, the Bidriware articles is a must-buy souvenir in Hyderabad. Bidriware, with its origins in Persia, is a fascinating craftwork with an intricate eight-stage process to make it.
Manufactured from an alloy of copper and zinc metals, vases, ashtray, bowls, plates, candle stands, hookahs, and jewellery box with designs like flowers, leaves, and geometrical designs are some of the famous artefacts available here.
Where to buy: These are available in all arts and crafts shops in the city and are exclusively sold in Begum Bazaar, Afzal Gunj. Try and plan a road trip to Bidar which is 3 hours away from the Hyderabad airport just to witness the beautiful making process of this metalware by the skilled artisans.  
Lac Bangles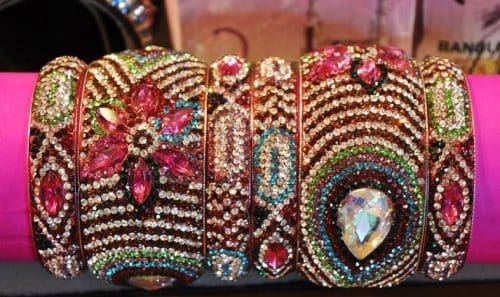 A trip to Hyderabad and missing to buy Lac bangles is the same as not tasting the Hyderabadi biriyani. Hyderabad is famous for its bangles and one such type is the lac bangles. This is definitely one of Hyderabad special items.
It is said that the Laad bazaar got its name around the same time as the lac bangles origination. Lac bangles are made of a mix of Belgium and titanium powder molded in hot kilns with a colour coating on top and studded stones, rhinestone crystal, mirror work, sequins, etc. in various colours like red, green, black, blue, etc.
Where to buy: Filled with vibrant and colourful bangle shops on either side of the streets – Chudi bazaar and Laad bazaar are the perfect destinations for bangle shopping.
Khada dupattas
If you are an experimental person in terms of fashion, then you should try the Khada dupatta for the next wedding season. Widely worn by Hyderabadi Muslims, this a heavy dress with heavy stonework comprising a kurta, churidar, and elegant 6-yard veil.
It was first worn by the Begums of the Nizams who had it embroidered with real gold and silver threads. Later these were worn by fashionable women of all ages and religions. There are many unique ways to drape the dupatta with your own creativity. Nath, payal, tika, jhoomar and satlada are some of the accessories that complete the Hyderabadi Khada dupatta.
Where to buy: Buy these elegant dupattas at the Char Minar Bazaar in Ghansi Bazaar.
Ittar/Attar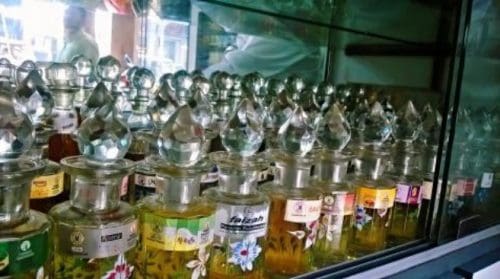 These fragrant-smelling perfume oils packed in small bottles are also a good souvenir to collect. Fondly loved by the Mughals, it is popularly known as ittar/attar and derives its name from the Persian word 'atr' meaning fragrance and is more than 60,000 years old.
The fragrance of the perfume is derived from the process of distillation and blending of flowers. There is a wide range of flavours ranging from rose to sandalwood with its price starting from Rs.100. Flavours like musk, amber and kesar help in increasing body temperature and are mostly used in winters and flavours like rose and jasmine give a cooling effect and are used in summers.
Where to buy: There are long stretches of shops with colourful glass bottles arranged beautifully on the shelves luring the visitors by its fragrance in the Perfume market located in between Laad bazaar and Moti Chowk near Charminar.
Kalamkari
Hand-painted using natural dyes usually depicting the Ramayana or Mahabharata, the kalamkari is produced in Andhra Pradesh and Telangana. Kalamkari is totally organic and eco-friendly.
The dyes are obtained from roots, leaves and mineral salts of iron, tin, copper, and alum, and are harmless to the environment. This art is available in form of paintings and fabrics like dupattas and dresses in cotton, silk, and synthetic materials. The Srikalahasti style and Machhalipatnam style are the two brilliant styles of Kalamkari.
Where to buy: Get your Kalamkari at the Laad bazaar in Ghansi bazaar, Shilparamam in Hi-Tech City or at Abid's street.
Nirmal paintings and toys

Originating from the Nirmal town in Telangana, the Nirmal paintings are created by the Naqash, the craftsmen of the town from the 14th century. Through the paintings, the craftsmen depict the Ramayana and Mahabharata, pictures of nature and dancers using organic colours from herbs, vegetable dye, gum and minerals.
The Nirmal toys, also known as 'ponki chekka' are made from wood, glue and 'chinta lappam', made from sawdust and boiled tamarind seed and then coated with white clay. Rightly called 'the land of toys', these craftsmen also produce articles like furniture, toys, plaques, bangles, jewellery and boxes.
Where to buy: Go on a 4-hour long road trip to Nirmal town and buy the Nirmal goods at the Nirmal Toys Emporium or visit handicrafts stores in Hyderabad city like the Golkonda Handicrafts, a government-run corporation. 
Silver filigree

If you like to invest in your souvenir, then buy the silver filigree articles, that originated in Karimnagar district of Telangana. A close examination of this artwork will leave you awe-struck.
The filigree is intricate craftwork where the artisans twist the delicate silver wire into delicate lopes and knit them into a zigzag form to bring in a lace-like appearance which is then modelled into figures of animals, birds, and flowers. Artefacts like spoons, button boxes, ashtrays, jewellery, perfume containers, key chains, and cigarette boxes are produced. Earrings, brooches, hairpins along with many other modern artifacts are new to the market.
Where to buy: The Golkonda Handicrafts is the best place to buy your silver filigree.
Pochampally sarees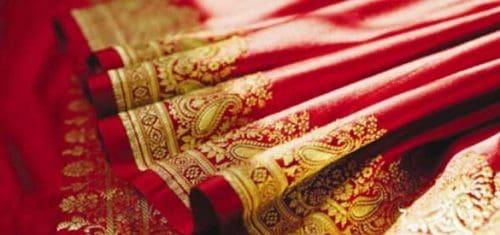 To all the saree lovers, if you haven't already, then you need to add the Pochampally Ikkat saree to your saree collections. Originating from the Bhoodan Pochampally, the 'Silk City of India', these silk sarees have an intricate geometric design with minute details and motifs of elephants, parrots, dancing girls, and flowers.
With the recent inventions, Pochampally fabrics are also available in the forms of bedsheets, dresses, and home décor items. In a warp ikat, the warp yarn is silk, jute, or cotton where the pattern is clearly visible even before it is woven with the weft. The weft ikat is a time-consuming process, where the patterns are visible only after the weaving proceeds.
Where to buy: Ranging from Rs.8000 to Rs.15000, the fabric is available in almost all cloth stores in the city.
Banjara embroidery

Made by the nomads of the Banjara group, banjara embroidery is made in the form of bags, letter holders, wall hanging, cushions, pillow covers, quilts, purses, and pouches. Considered the most colourful tribe in India, the banjara people reflect their culture and lifestyle through this craftwork.
The embroidery designs of these people are as vibrant as their dresses, cholis, and jewellery. With various colours, designs like diamonds, squares, and triangles, colourful thread, beads, shells, and mirrors are used to enhance the beauty. The embroidery of the Banjaras of the Telangana is much different from the Banjaras of Kutch and Gujarat.
Where to buy: Buy these vibrant articles in the handicraft stores in Laad Bazaar.
Read More: Latest