There's nothing like a good Harvest festival to celebrate! Get ready for the festivities – think regional lore, folk music, and let's not forget about the most important part- FOOD!
The Harvest Festival signals abundance and bounty with the food crop and is celebrated with great food and festivities.
The festival is given various names in different parts of India but the spirit is much the same – celebration with a lavish spread of delicious regional dishes and festivities to mark the occassion.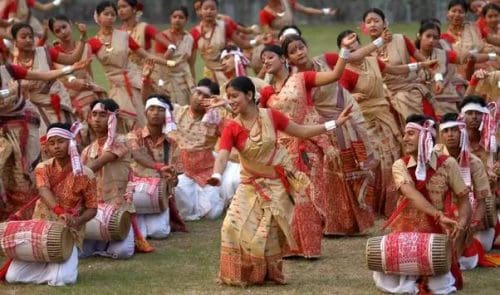 The Harvest festival is known variously as Makar Sankranti, Thai Pongal, Uttarayana, Lohri, and Magh Bihu or Bhogali Bihu and is celebrated with regional lore, folk dances music and of course food which is at the heart of the harvest,
One can get an idea of the popularity of these festivals with airline statistics. Ahead of Sankranti, Cleartrip, one of India's OTA platforms, saw the highest spike in flight bookings in January 2023 to Visakhapatnam, compared to other cities in South India. The hike in bookings from Bengaluru to Visakhapatnam is at 130% when compared to November 2022 which is off-season. Similarly, traffic from New Delhi, Kolkata, Mumbai, and Chennai, to Visakhapatnam has also registered 87%, 48%, and 33% spike respectively. During Sankranti, Visakhapatnam transforms into a centre of traditional festivities, decadent delicacies, and infectious energy. Popularly known as 'peda panduga,' the three-day harvest festival attracts thousands to revel in the city's celebrations.
Movie theatres, which are entertainment hubs for Indians, take to theses festivities with gusto. INOX, a multiplex chain with cultural inclusivity i mind creates a deeper bond with their guests by being a part of their culture and festivities with specially curated festive menus on the eves of Pongal, Bihu and Lohri, honouring the flavours and authenticity of each region.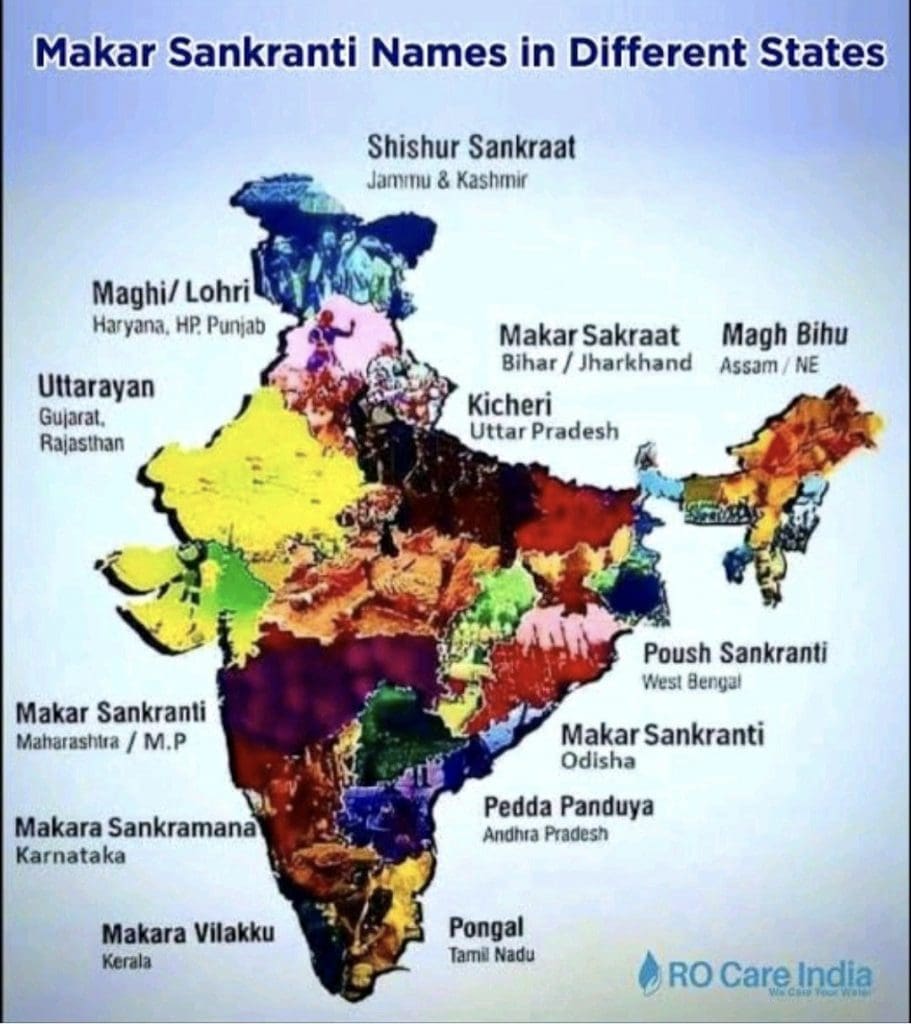 We take you around the country with a brief insight into mouth-watering spreads prepared to perfection and a true representation of traditional dishes that have been passed down through generations in families residing in villages, towns, and cities of India. The festivities cut across the rural and urban divide because the common factor is food – which is a national passion anyway.
To get an understanding of India's Harvest Festival, we share some background information to make the culinary journey more flavorsome.
India's Harvest festival
India is known for its diverse cuisine and festivities, with each region of the country bringing its uniqueness to the table. Starting the year on a festive note, Indians are gearing up for the festivals which come from different corners of India but has one thing in common – delicious treats.
Makar Sankranti ( 14 -22 January)
Makar Sankranti harvest festival is celebrated with traditional food, dance and festivities. People gather around to enjoy the delicious festival delicacies like sweet rice, sesame laddus and puffed rice cakes. The traditional flying of kites is an important part of the celebrations during Makar Sankranti. Kite flying competitions are also held and prizes are distributed to the winners. Fireworks and bonfires light up the sky, and a festive atmosphere prevails.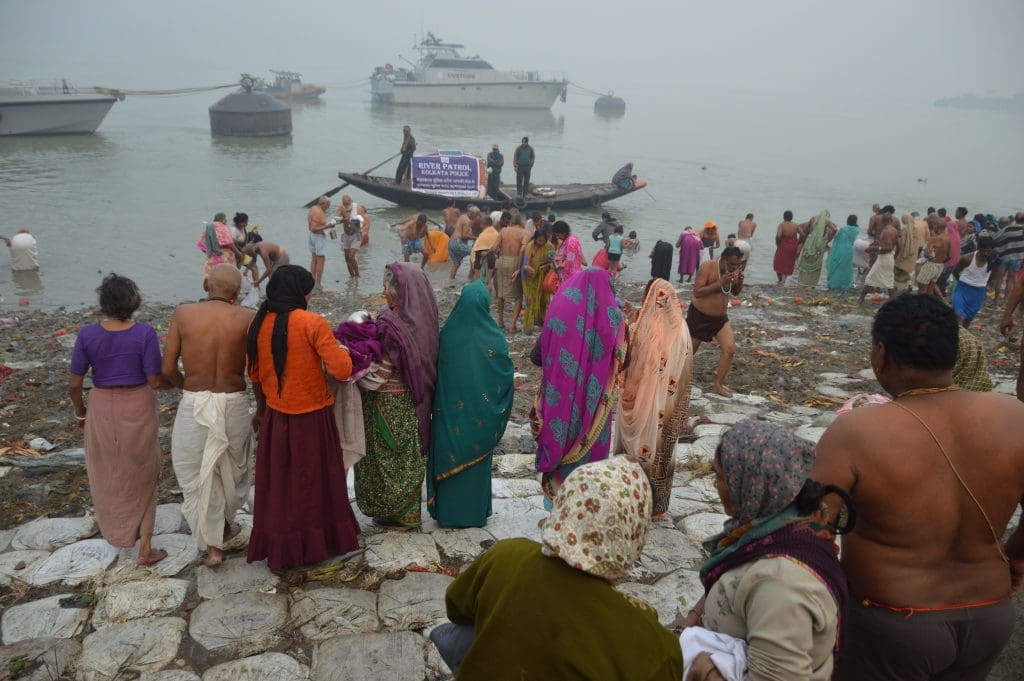 The joys of Makar Sankranti are further accentuated by the music and dancing that accompanies the festival. People come together to perform traditional folk dances and songs, expressing their joy and happiness. The drums beat loud, heralding the start of the festive season.
Makar Sankranti marks the end of winter and the onset of spring, which is why it is celebrated with such enthusiasm. The festival is a symbol of joy and hope, as it marks the beginning of a new season with fresh produce and plenty to look forward to. Wishing one another a prosperous and happy Makar Sankranti is the perfect way to signal the start of the harvest season
Pongal (11-22 January 2023):
The harvest festival of Tamil Nadu, Pongal, has a variety of sweet and savoury versions of Pongal, a kind of rice pudding. The main dish of Pongal is a sweet rice porridge called 'Pongal' which is made out of boiled rice, jaggery, and milk. Usually, the Pongal dish is offered to the sun god as a mark of gratitude for a successful harvest season. Special dishes include Khara Pongal, Ghee Pongal, and Chakkarai Pongal. The Pongal special delicacies.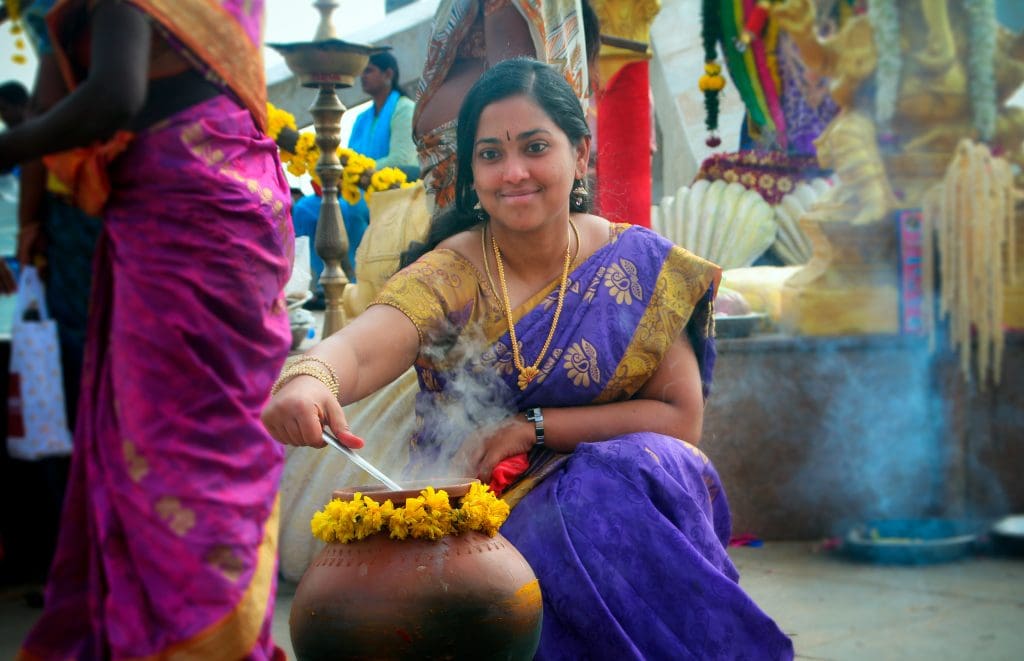 The streets of Tamil Nadu come alive with traditional folk dances, like the Karagattam and Kummiyattam. People dress up in their colourful traditional attires and join in the festivities. Festive decorations like kolams (geometric patterns drawn on the floor) are made to bring in the warmth and cheer of the festival.
On Pongal, people offer prayers to Lord Indra (the god of rains), Lord Surya (the sun god), and Lord Ganesha (the remover of obstacles). Pongal is also a time to express gratitude to the farmers for their hard work and dedication. At this time of the year, markets are filled with stalls selling traditional sweets and snacks like Adhirasam, Murukku and Pongal.
Magh Bihu (13-22 January 2023):
The Assamese rejoice at the end of their harvest season of January during the Magh Bihu and reap the fruits of their efforts and pray to the fire deity.
The festival is celebrated for three days, during which the Assamese enjoy traditional delicacies, community feasting and cultural activities. The first day of Magh Bihu is called Bhogali Bihu or Magh Bihu, when people prepare traditional cuisine like Pithas and Xaak. On the second day, known as Uruka, families and friends gather to enjoy a bonfire while they feast on pithas. The third day is called the Goru Bihu, where people pray to their cows and bulls for a good harvest.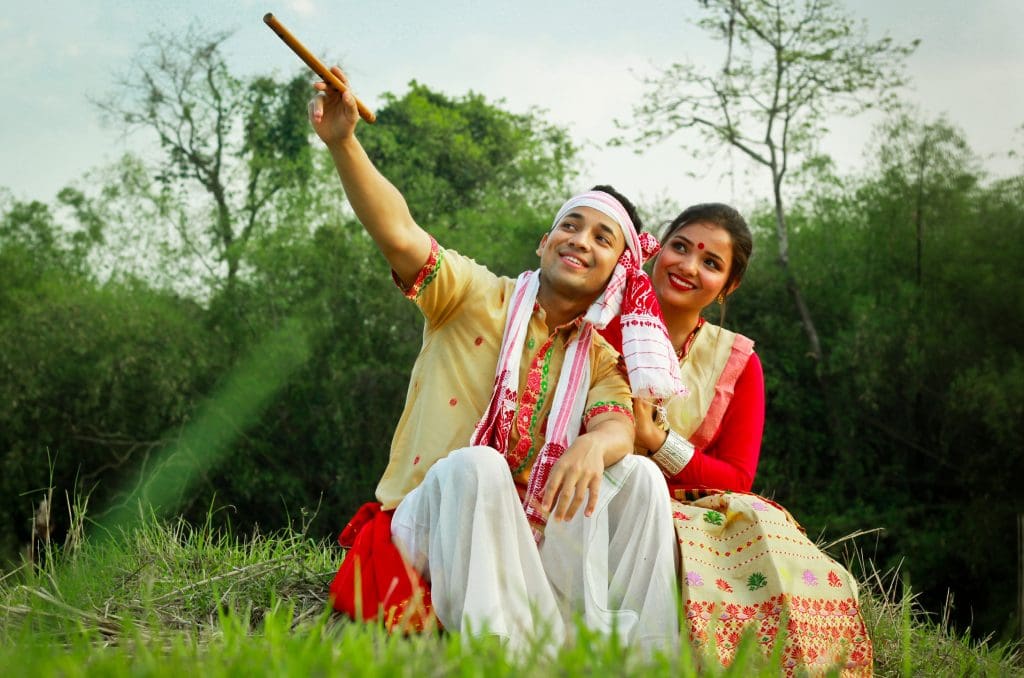 Magh Bihu marks the end of the harvest season and symbolizes hope, joy, and prosperity. It is an occasion to thank the Gods for a bountiful harvest and pray for another year of abundance. It is also a time for socializing with friends and family, singing, dancing, and playing sports like buffalo fighting. The festivities end with the traditional burning of Meji at night, symbolizing the end of all worries and ushering in a new beginning.
Magh Bihu is an important part of Assamese culture and tradition, and the celebrations are reflective of this. People from all over the state gather to take part in the festivities and celebrate the end of a bountiful harvest season. The traditional food, music, dancing, sports, and bonfire, all form a beautiful part of the festivities.
The traditional rituals, like worshipping cows and bulls, praying to the fire deity, and burning Meji at night, are all symbolic of the hope and joy with which people celebrate this important festival. The festivities spread cheer and hope, and the joy of a new beginning.
Selecting from the variety of Bihu treats, you must try Til Pitha, Narikol Pitha, Tel Pitha, Joon Pitha, Tailor Laru, Narikolor Laru, Murir Laru, Sandah Guri, Chira, Gur, Doi, Dugdh and Laal Saah.
Lohri (13-22 January 2023):
Lohri is one of the most popular harvest festivals of India, celebrated in Northern India, especially among the Punjabis. It marks the end of winter season and is marked by a bonfire at night, where family and friends gather to celebrate the occasion. The main Lohri dish is a sweet made from sesame seeds, jaggery and peanuts called 'Til-Gul'. This delicious dish is offered to the bonfire as a thanksgiving ritual. After that, people sing and dance around the fire.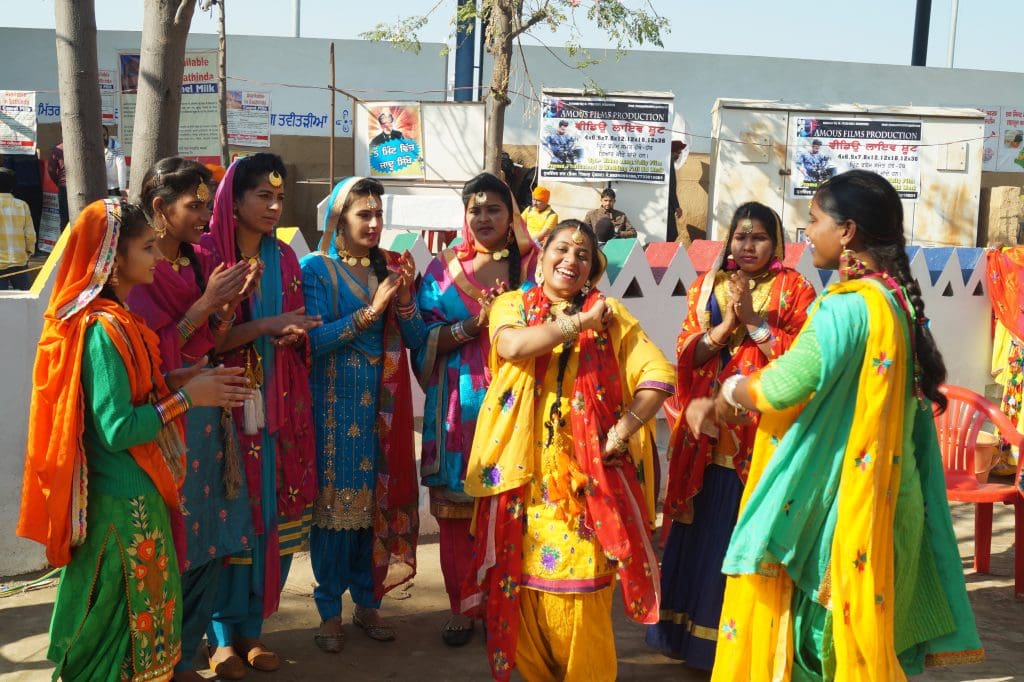 Lohri traditions include exchanging gifts, especially for children. People give money in the form of 'lohri', which is essentially a token amount given to children or unmarried people. This is done to ward of evil spirits and ensure a healthy and prosperous year ahead. Another important tradition of Lohri includes the 'lohri songs' which are sung by family members around the bonfire.
Lohri is celebrated with great fervour and enthusiasm in Punjab, Haryana and Himachal Pradesh. People dress in new clothes, gather around the bonfire and exchange greetings with each other. Food specialties like Sarson Ka Saag, Makki Ki Roti, Pindi Chana with Mint Paneer Paratha, Punjabi Wadi and Matar ki Tehri with Kulhad Chai, Gajar ka Halwa and sweets like Rewdi and Gajak are prepared to mark the occasion.
The festival is not just about the bonfire and merriment, it is also about celebrating fertility, productivity and well-being in the new year. Lohri is a symbol of joy and happiness, which is celebrated with much fanfare by Indians all over the world.
Hotels as custodians of traditional food
Much to the gourmet world's delight, hotels in India have become custodians of authentic Indian food – home to traditional delicacies of various regions. Hospitality giants across India preserve and celebrate local festivals which Indians observe and commemorate with great gusto and belief.
Harvest festival – a thanksgiving to the Sun and Mother Nature
The Harvest festival is around the corner. Variously known as Makar Sankranti, Thai Pongal, Uttarayana, Lohri, and Magh Bihu or Bhogali Bihu, it is a thanksgiving to the Sun, Mother Nature, and the various farm animals that help contribute to a bountiful harvest, and celebratory in nature. Food is integral to the festival.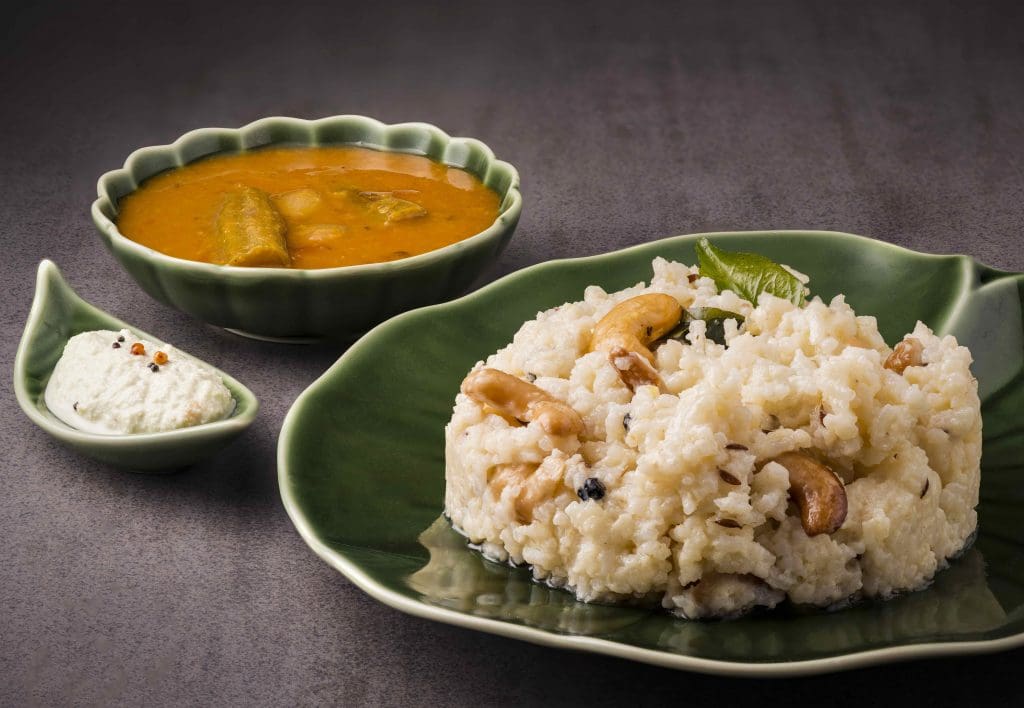 In keeping with the theme, ITC Grand Chola unveils a culinary festival to celebrate the Harvest festival between 16-18 January at the Madras Pavilion. On this auspicious occasion, Madras Pavilion will be bedecked in the Pongal ambiance with harvest grains, sugarcane, and traditional earthenware. The chefs will display their culinary prowess of traditional and inventive dishes on 15th January 2023.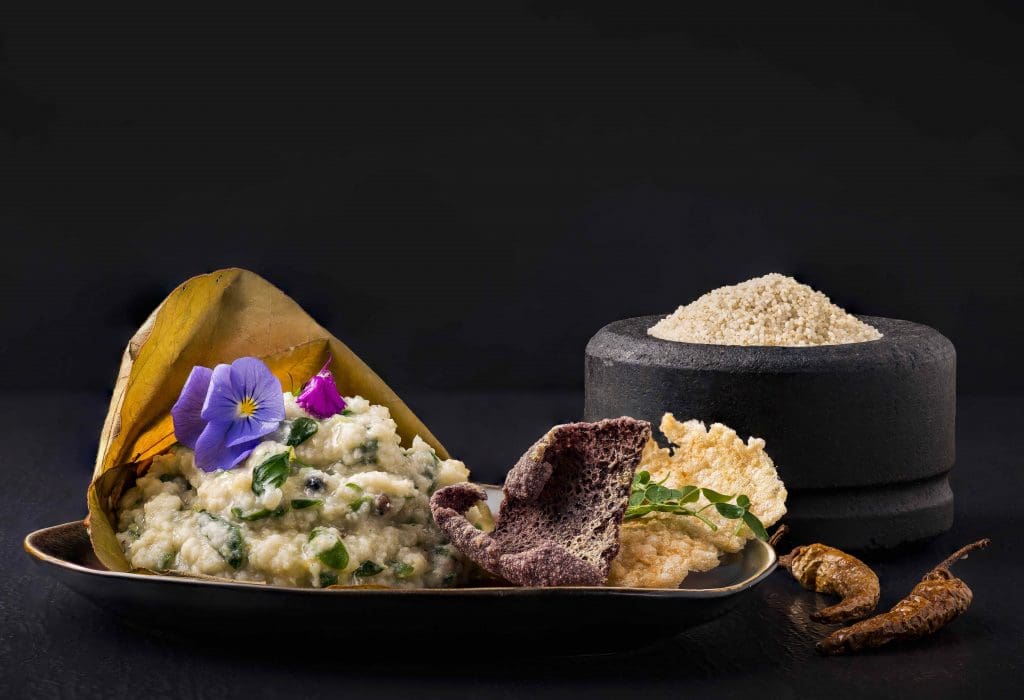 Traditional dishes like Arachuvitta sambhar – made with roasted and ground sambar masala without onions and garlic, Poricha kuzhambu – a healthy and delicious mix of veggie-based lentil gravy made with coconut and spice paste, Kadalai paruppu payasam – a delicious sweet dessert made with coconut milk, chana dal, and jaggery, Bobbatlu – Bobbatu or puran poli is wheat flour griddled bread filled with jaggery and coconut, Chakkara pongal – a delectable combination of rock sugar and rice will feature in the menu.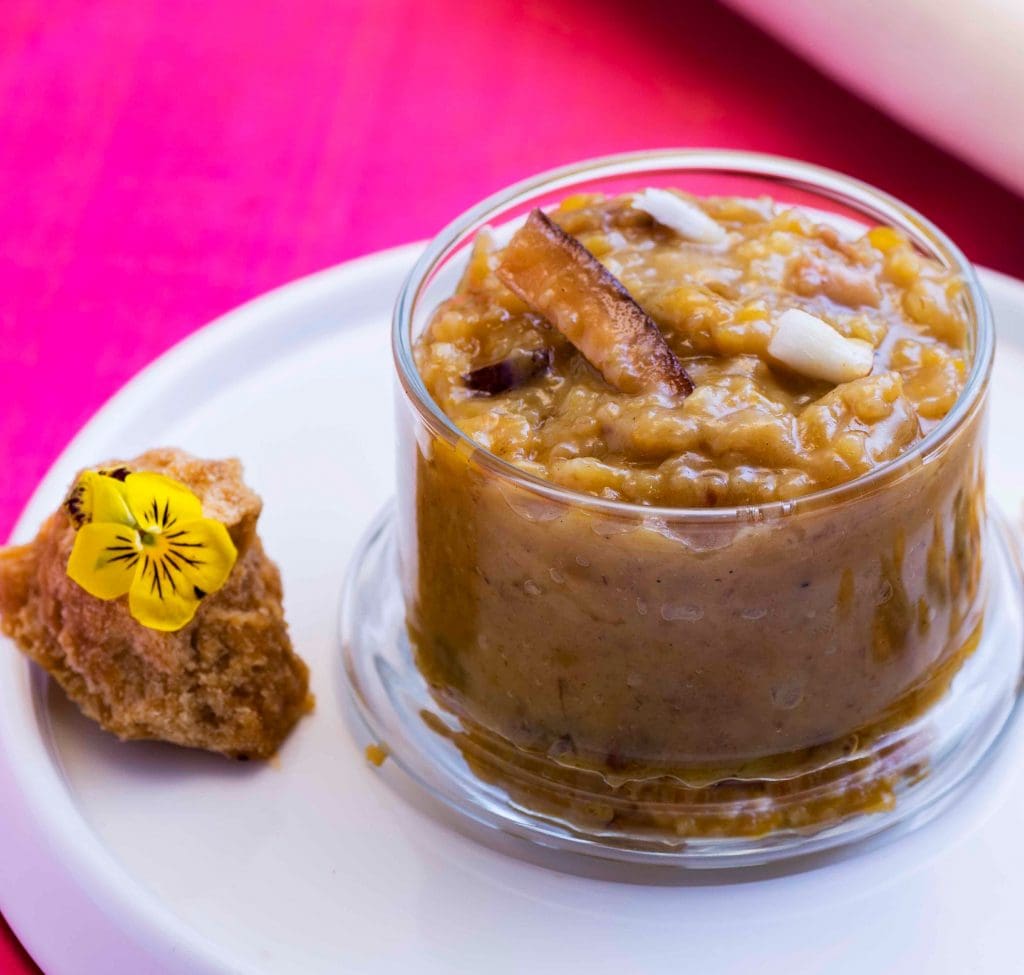 Inventive dishes with ingredients inspired by Pongal festivities – Jaggery and banana ice-cream, sugarcane, and ginger sorbet, Pavilion sundal bar with a variety of dressings and condiments will be showcased.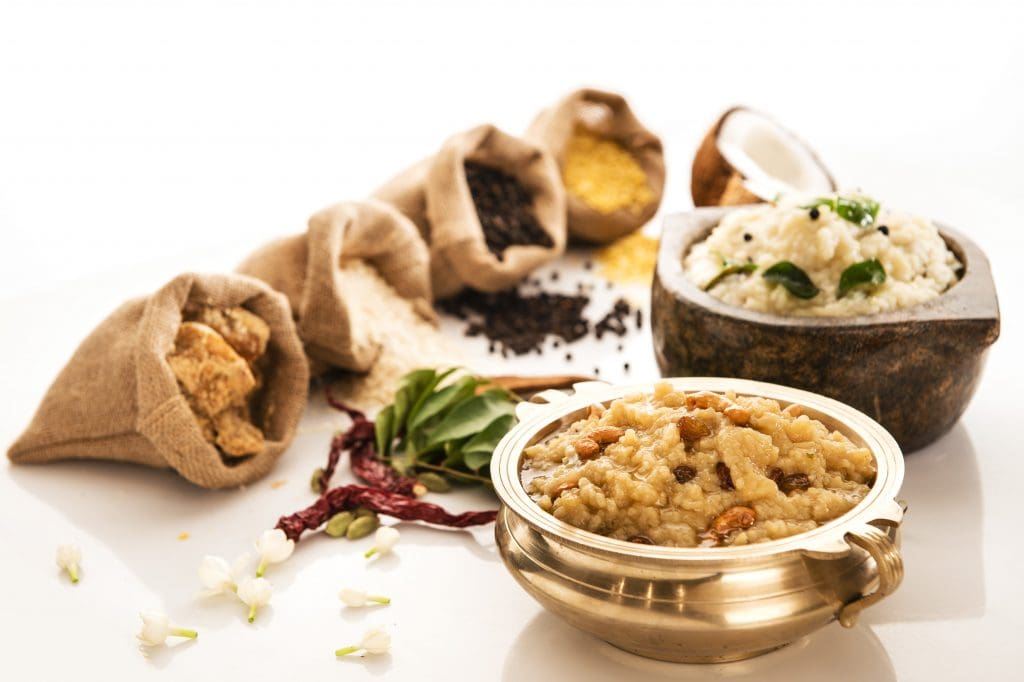 Apart from the celebrations in the hotel, for those who prefer to savour these seasonal delicacies in the comfort of their home, Gourmet Couch is just a call away.
Millet festival to celebrate the Harvest
January is the first festival month which marks the harvest season with Makar Sankranti, Pongal Lohri, and Bhogi in different states of India. To make this harvesting season more grateful, Novotel Visakhapatnam Varun Beach and The Bheemili Resort are celebrating the Millet Food Festival from 13-22 January 2023.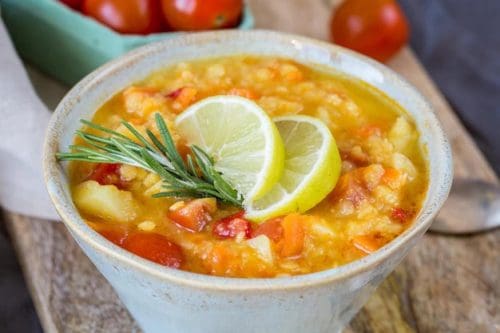 This year, the United Nations has declared it as the Millet year, and what better place to celebrate it than in India, the largest producer of Millet in the world. Not only does millet add a delicious and unique flavor to the dishes, but it also provides numerous health benefits, including being a rich source of vitamins and minerals.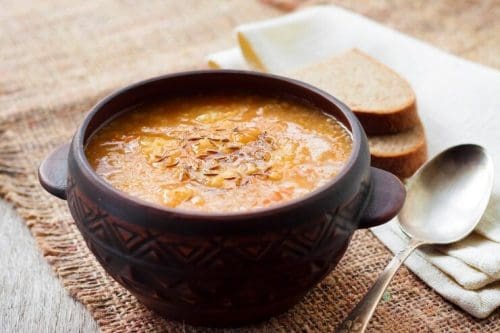 With a mission to offer a healthy lifestyle and to spread awareness in the City of Destiny, Vizag the properties will use organic millet from different geographical locations within India such as Amaranth, Buckwheat, Finger Millet, Foxtail Millet, Pearl Millet, Sorghum and many more.
Pongalo! Pongal! Pongal Vizha to bring in the Harvest Festival
Dakshin at Crowne Plaza Chennai Adyar Park brings to life the flavours of an authentic South Indian palette –Pongalo Pongal Thali in the truest of 'Dakshin Flavours' to celebrate Pongal, the Tamilian harvest festival with a traditional feast.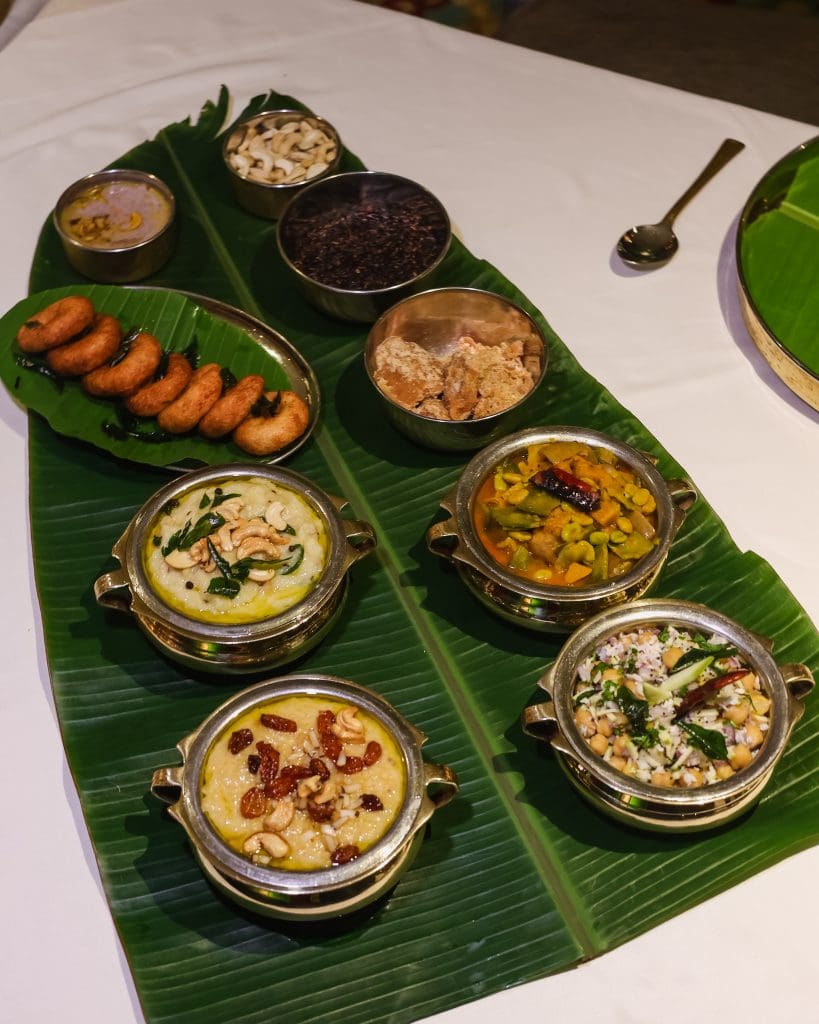 This thali is a perfect assortment of delicious Dakshin flavours and dishes on a single platter leaving you with a sense of wholesomeness and joy bubbling over. The platter menu has a mix of age-old personal recipes with delectable appetizers, main courses, and desserts with vegetarian dishes.
The menu for Pongal thali is curated by Master Chef, Vijay who is well known for his traditional South Indian dishes. The lavish spread held at Dakshin Iyer's Special Akkraravadisal, Thuthuvalai rasam, and from the main course kathirikkai mochai masala, chettinad pongal Kozhambu, Ezhukari kootu.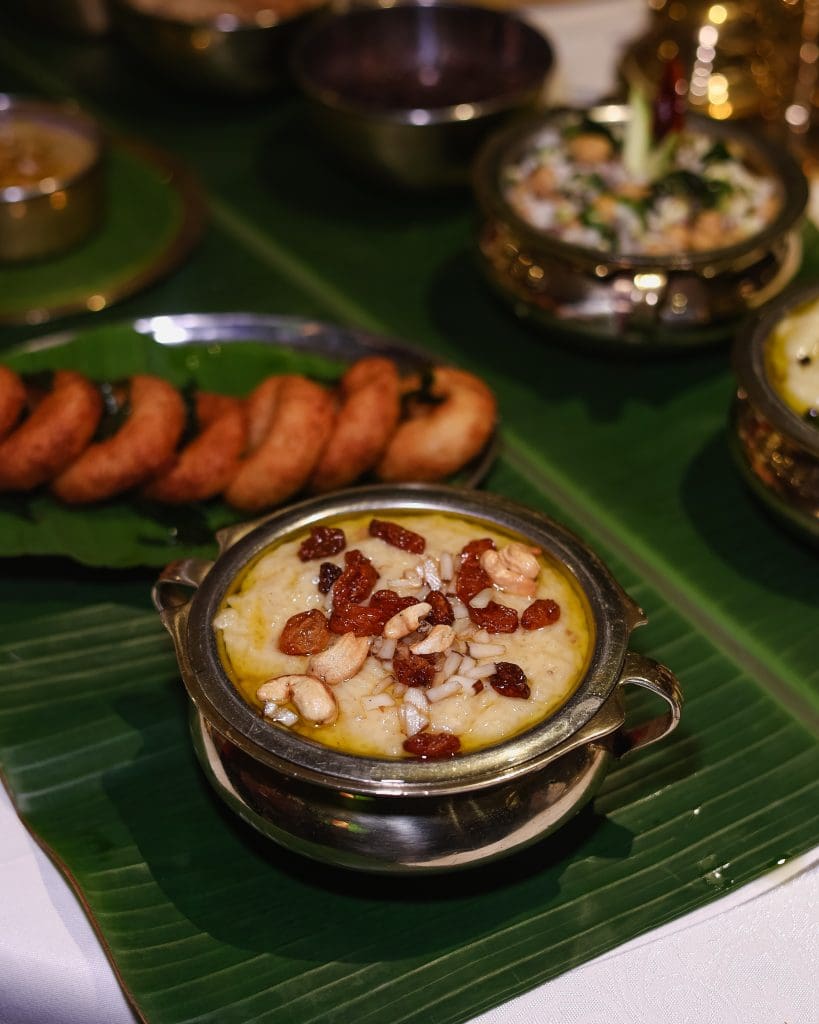 A Live counter has Veechu paratha, Idiyappam, and Appam. To end your gastronomic treat, indulge in traditional sweets like Vellai Poosanikai Halwa, Kavuni arisi payasam, Mukkani ice cream.
A great way to enjoy these festivities would be to drop by and experience the colorful and fun festivities with great food.
Harvest time – reviving ancient grains of India
This harvest season Hyatt Centric MG Road Bengaluru wants to bring back the focus to ancient grains of India lost to the sands of time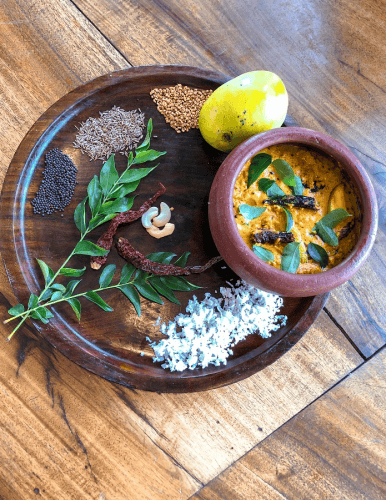 Millets will be the theme of the brunch on the 15th of Jan to celebrate our harvest season. The Chef has curated a menu that truly spells magic with millet. The brunch will have a live counter of millet dosa , Foxtail Millet, Beet and Orange Salad, Jowar Pesto Rolls, Bajra Onion and Rosemary Rolls, Foxtail Millet Pongal, Kodo Millet and Chicken Tawa Pulao and desserts like Ragi Chocolate pudding to name just a few of the highlights.
This brunch is an effort to revive the lost ingredient, support the local farmers and provide an opportunity to patrons to enjoy this delicious and nutritious grain in many modern and traditional forms.
A Scintillating Harvest Festival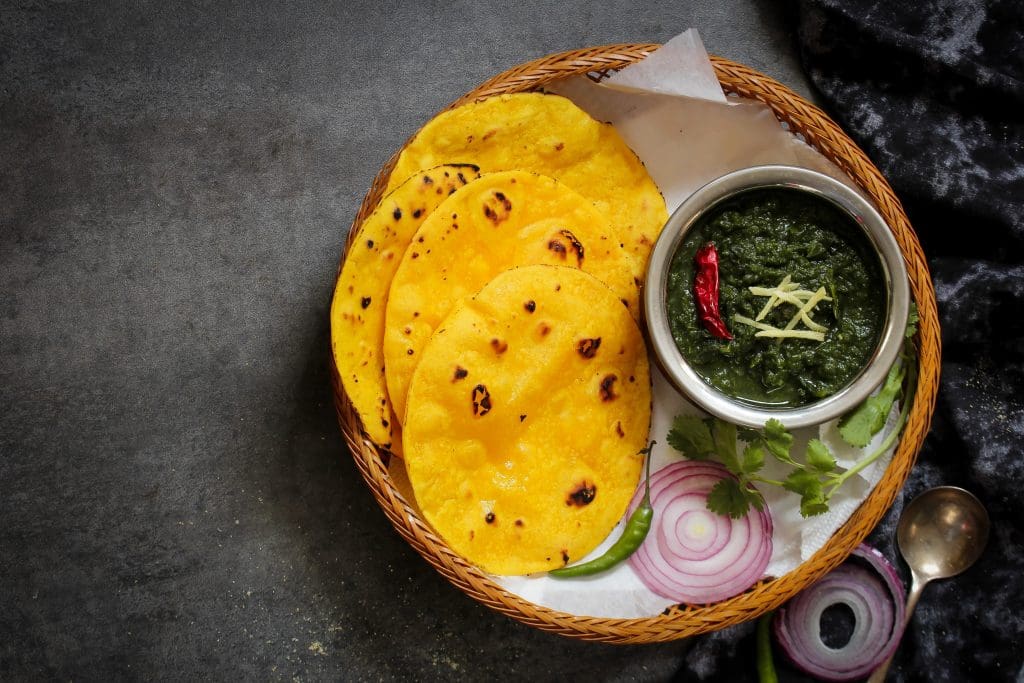 Experience a world of flavors at The Creek, at Den Bangalore as the culinary maestros craft a festive spread like never before. Guests can indulge in an array of flavorsome delicacies along with delectable desserts around Pongal, Lohri and Makarsankranti that feature the most traditional and authentic dishes such as Sarson ka Saag aur Makki ki Roti, Thiruvotharai kootu Kari, Vazhakkai Paal curry and much more!
Harvest festival Makar Sankranti with traditional dishes
With Makar Sankranti around the corner, it is time to adorn the sky with colorful kites and relish the taste buds with traditional dishes. The preparations for the festivities are taking place in full swing, and this year instead of planning what you're going to cook, plan where you're going to go.
Hotel Marine Plaza's Bayview Restaurant is all set to celebrate the occasion on 15th January 2023, with a special menu.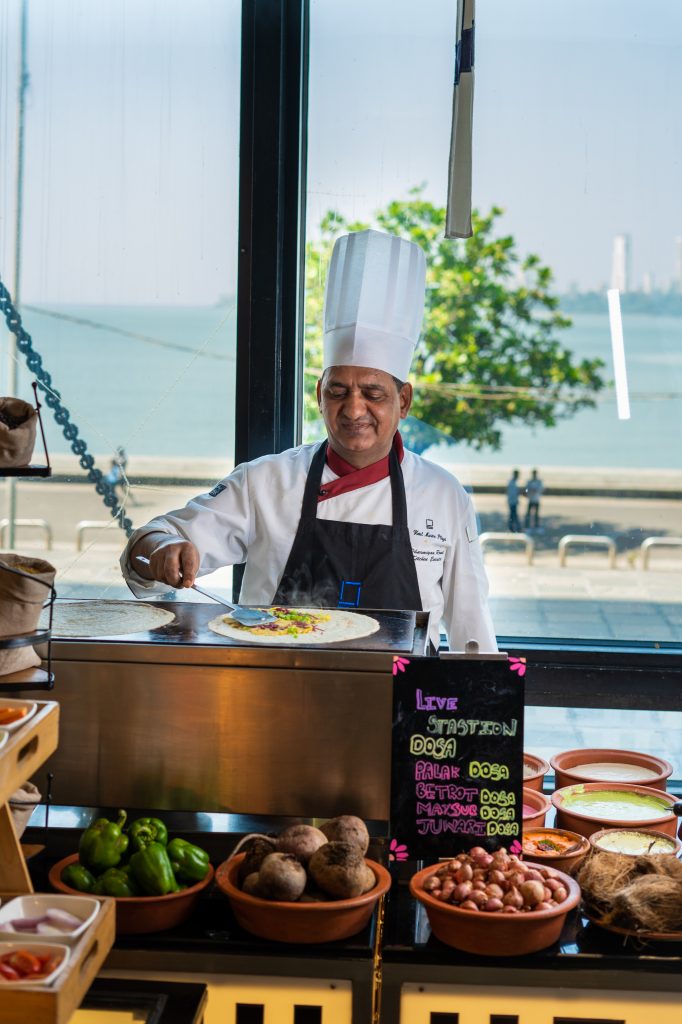 Commence your Sankranti celebration with menu highlights whic include, Soups like Shimla Mirch Tamatar Aur Dhaniya Shorba, Chicken and Asparagus Soup, Assortment of International Breads; Starters such as Curd Rice Arancini With Curry Leaves Tomato Dip, Palak Panner ki Seekh, Mutton Shikampuri Kabab.
Keeping up with the traditions, they will also be offering – Til ka Laddo, Gajak, Rajgira Laddo, Tilkut, Karanji, Dahi chuda,Kale til ke Patti, Chikki and Chakli. The live stations have Chicken Shawarma and Puran Poli. How can someone miss on the Indian Desserts – Jalebi, Kala Jamun,Chenna Toast,Nariyal ki barfi and Gajar Ka Halwa
Flavours of Pind to celebrate Punjab's Lohri, the festival of harvest
W Cafe, JW Marriott Mumbai Sahar, brings to you "Flavours of Pind" (Flavours of one's home in the village) to celebrate the festival of harvest, Lohri in a true Punjabi style. Immerse yourself in the festivities and uphold the true spirit of Lohri as W Cafe brings to you specially crafted Indian favorites by Amritsar's renowned Chef Succha Singh.
Guests will get to savor an assortment of culinary masterpieces that are sourced from the finest bounties of the harvest season, from 13th January – 25th January 2023.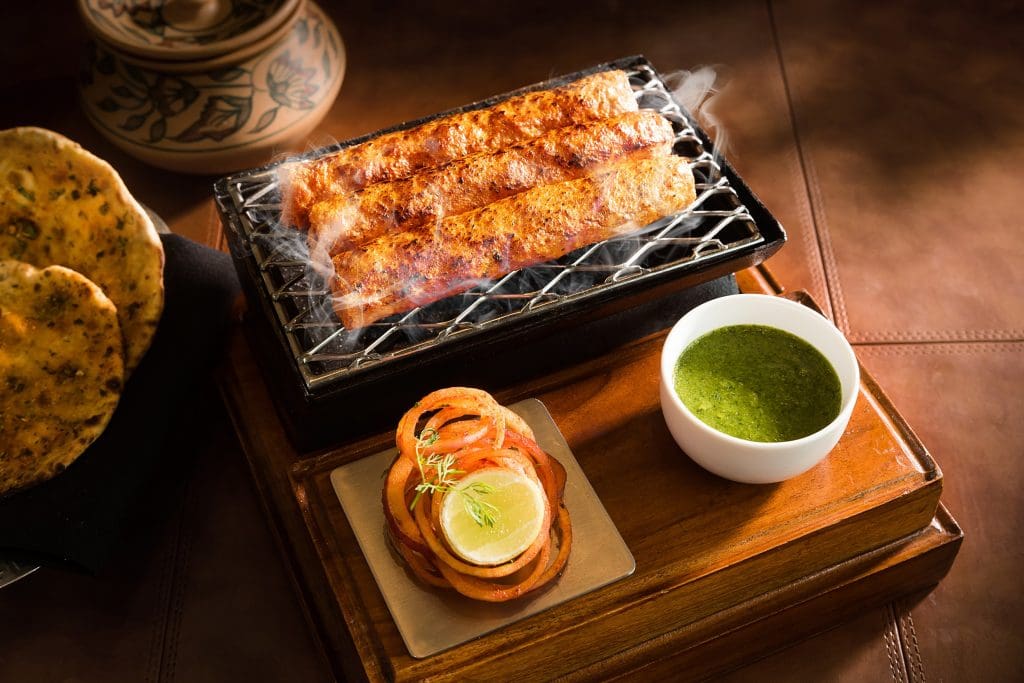 A celebration of rich indigenous produce and responsibly sourced ingredients, JW Cafe is discerning in its selective connections to the community. "Flavours of Pind" offers an experience where authentic Indian delicacies are recreated from traditional recipes translating the warmth and richness of the region.
Chef Singh who brings over 15 years of extensive culinary experience, has crafted an authentic menu that compiles some of the most diverse and vast culinary offerings from Amritsar.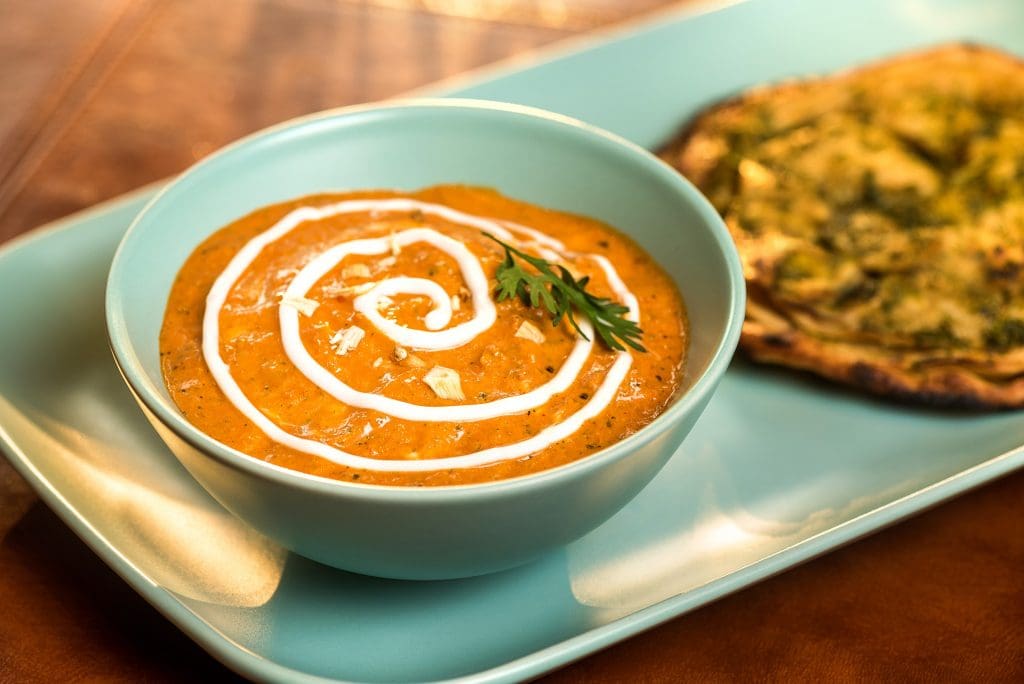 Guests can savor Indian signatures such as Mutton Seekh Kebab, Butter Chicken, Amritsari Fish Tikka, Matar Methi Malai, Mushroom Tikka, Rasile Rajma, Palak Meat and Aloo Methi among others. Round off your meal on a sweet note with traditional Amritsari Kheer, Gur ka Halwa or Amritsari Milk Sevain.
Festive dishes for Lohri / Pongal / Makar Sankranti
Give a kickstart to the year by celebrating the diverse cultures of India at Sheraton Grand Bangalore Hotel at Brigade Gateway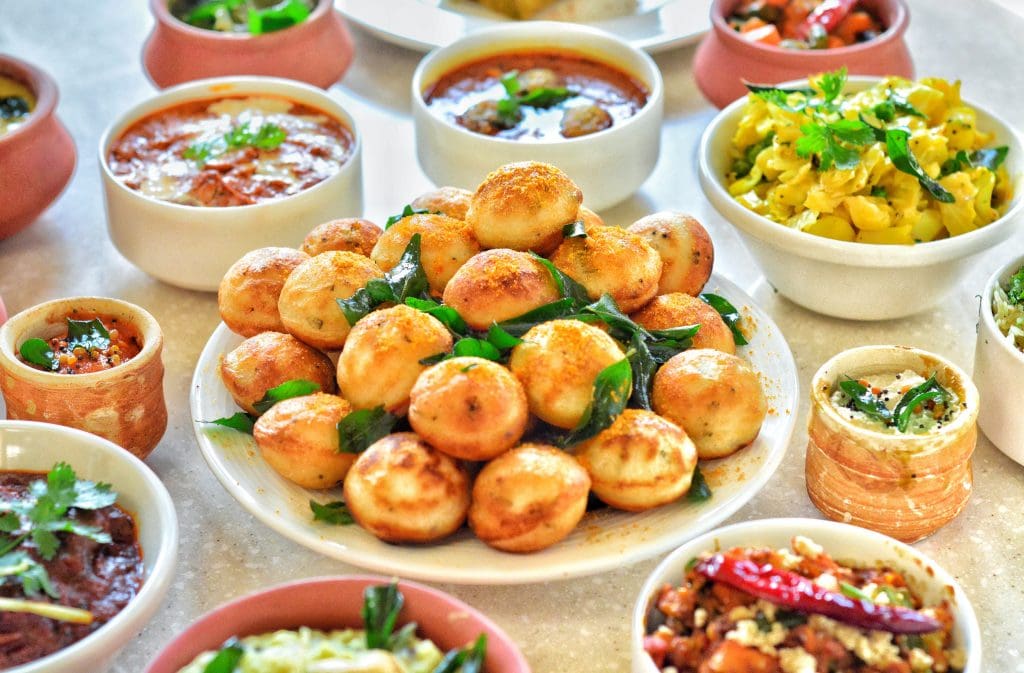 The property has curated a special menu at their all-day dining restaurant Feast to showcase the authentic festive dishes from some of the states that celebrate this festival elaborately.
The crafted menu revolves around Pongal, Lohri and Uttarayan with the most traditional and authentic dishes such as Sarson Ka Saag with Makki Di Roti, an exclusive station for Pindi Chole Bhature, live stations for different varieties of neer dosa both veg and non-veg, Watalappam, Dhokla, Khaman, stations for varieties of chaats including Shakarkand Ki Chaat, Palak Adrak Ki Khumb, and a live Lassi da Theka.
And that's not all, desserts like Til Ke Ladoo, Gud Ki Pinni, Chikki will also feature on the list for the Harvest Dinner on 14th January
Feast will also host a festive brunch on 15th January with the exclusive station of Pongal (Sakkarai Pongal, Khara Pongal, Ven Pongal), Kobi Batata, BhogiChi Bhaji, Gujrati Kadhi, Mukatsari Seekh, Rasa Wale Ghiye Kofte, Punjabi Wadi Pulao, Rara Gosht, Murgh Makhanwala, a live station for stuffed Kuzhipaniyaram, Ellu Unde and loads more.
Desserts like Jalebi Station with Gajar Ka Halwa, Doodh Puli, Puran Poli is sure to satiate your heart and taste buds at the same time
Sankranti is all about Nolen gur for Bengal's gourmets
For Bengalis Sankranti is all about Nolen gur, a special kinda jaggery only available during this month. Esplanade has a range of desserts that is available on 14th & 15th Jan 2023.
Sankranti for the Bengalees is all about different kinds of sweets with rice, sesame, Nolan Gur, and coconut.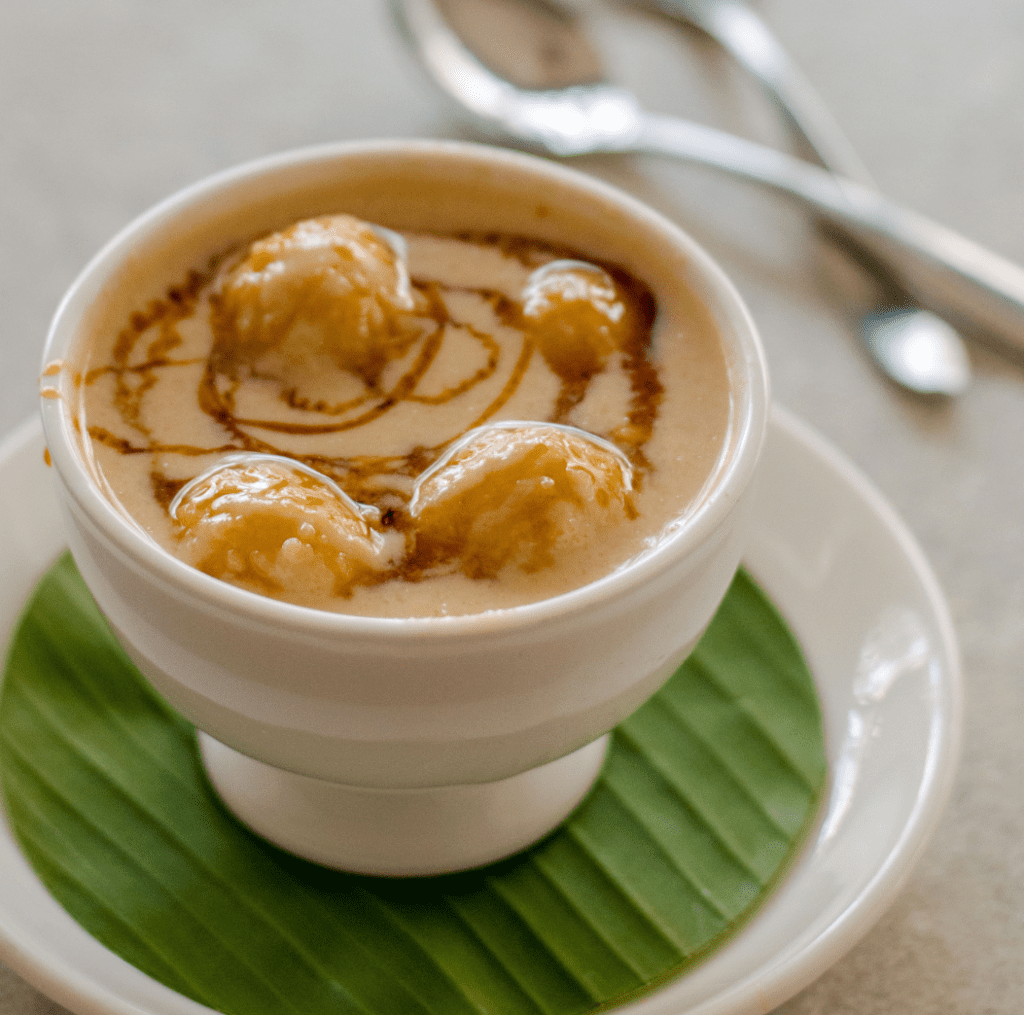 So this Sankranti, the specialty restaurant has curated a menu featuring some truly nostalgic winter delicacies.
The menu, this Poush, showcases a variety of desserts such as the famous Nolen Gurer Rosogollar Payesh to Doodh Puli to Pathishapta that salutes the Nolen Gur batch of 2023. For an unforgettable Poush Parbon experience and to enjoy the sweet flavors of Bengali culture, this is the place to be!
Celebrate the Indian Harvest Festival with a feast
Courtyard By Marriot Bengaluru Hebbal is hosting a food festival at The Hebbal Cafe. With the harvest festival around the corner, the hotel invites patrons to celebrate the Indian Harvest Festival in a grandiose way. The week-long food festival kick-starts from the 12th of January to the 18th of January.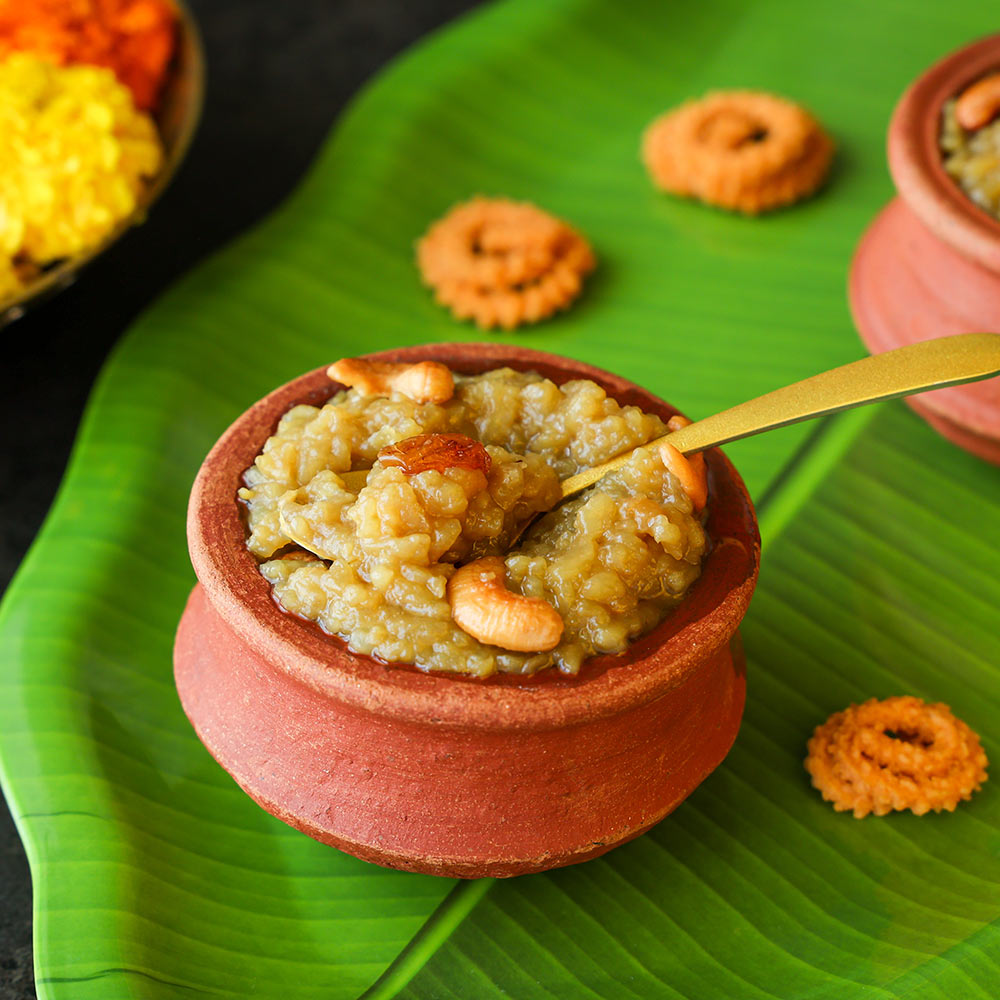 The crafted menu revolves around Pongal, Lohri, and Makarsankranti and features the most traditional and authentic dishes such as Sarson ka Saag aur Makki ki Roti, Pindi Channe, Gur ka Halwa, Til ki Chikki, Chakkara Pongal, Ven Pongal, Paal Payasam, Puram Poli and much more!
Get your hands on authentic mouth-watering dishes this festive season!
Read More: Latest