From caving, swimming, and safaris to discovery and explorations, Shillong offers something new with every visit.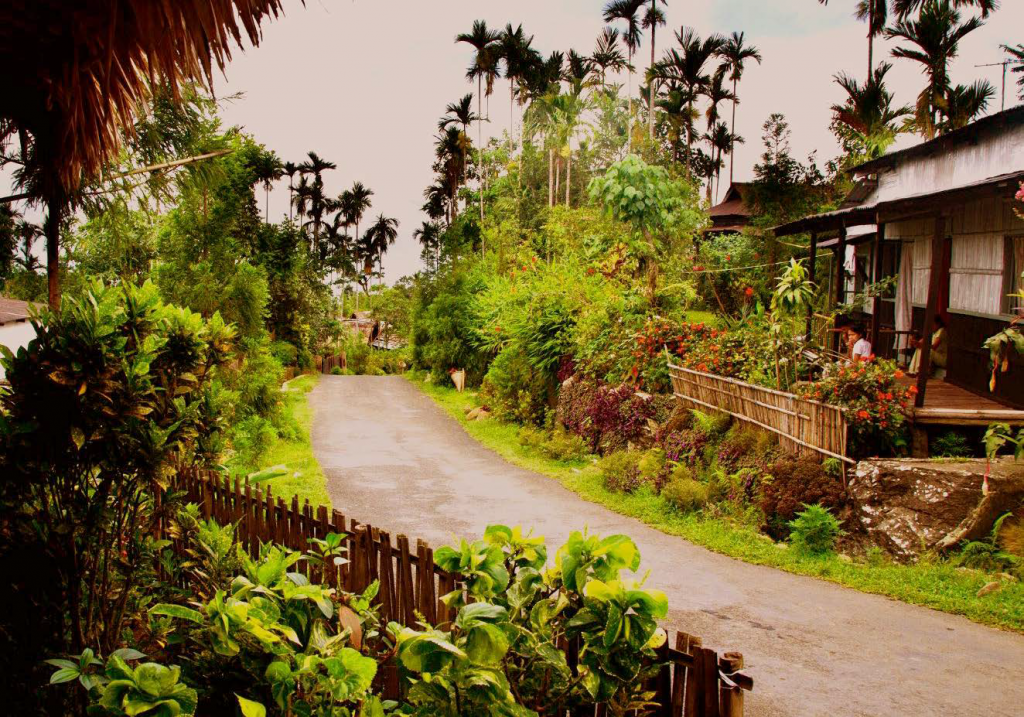 Located in Northeastern India is the picturesque state of Meghalaya. Bordered by Assam in the North and Bangladesh in the South, Meghalaya is bliss on earth. Meghalaya literally means – 'The Abode of Clouds,' and as the name suggests, it is the wettest place on earth with an average annual rainfall of 1,150cm.
With almost one-third of the state covered with lush forests, Meghalaya is truly a natural paradise. Meghalaya's ethnic communities add their rich cultural heritage to this verdant wonderland. All this makes for an unforgettable experience when you visit the capital of the state – Shillong!
Shillong, the state capital, is the perfect tourist destination
Situated at an altitude of 1,520m above sea level, Shillong, the state capital, is the perfect tourist destination. This picturesque capital is a sight to behold. With its waterfalls, sparkling lakes, pristine brooks, pine groves and gardens, the breathtaking natural beauty of the place enchants visitors who come here from all over the world. Far from the madding crowd, Shillong offers the world-weary traveller a quiet, rejuvenating retreat.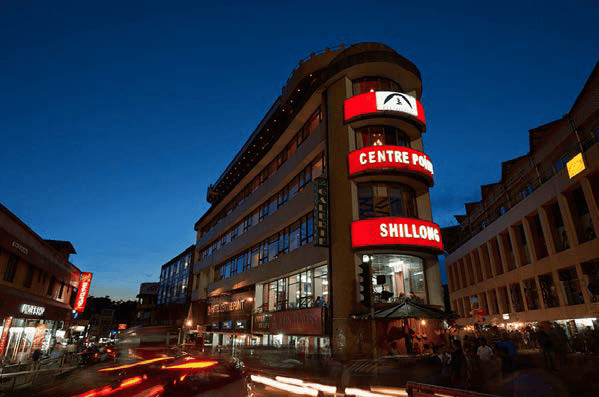 Nestled among forested hills, Shillong experiences a favourable climate throughout the year. There are numerous attractions here that enthrall visitors. Apart from the numerous waterfalls of spectacular beauty, there are many peaks that offer a panoramic view of the surroundings.
Shillong Peak
The Peak is the highest point in Meghalaya, standing at an impressive 1,965 meters above sea level. A must-visit for nature lovers and adventure enthusiasts, this mesmerizing vantage point offers breathtaking panoramic views of the entire city of Shillong and its surrounding hills. The Indian Air Force has an operational radar station atop the peak, but a designated tourist area is accessible for visitors. The journey to to the peak is a thrilling experience in itself, with winding roads through lush green forests and misty landscapes, making it a memorable destination for all.
Parks and lakes and waterfalls
Shillong, is blessed with an abundance of picturesque parks and serene lakes. Umiam Lake, also known as Barapani, is a vast man-made reservoir surrounded by lush greenery, perfect for boating, picnicking, or simply enjoying the tranquil ambience. Wards Lake is another popular spot, nestled amidst the city's hustle and bustle, with its charming ornamental bridge and vibrant gardens. This picturesque man-made lake was named after the then Chief Commissioner of Assam. A popular spot for both locals and tourists, Ward's Lake has short garden walks and also offers boating facilities.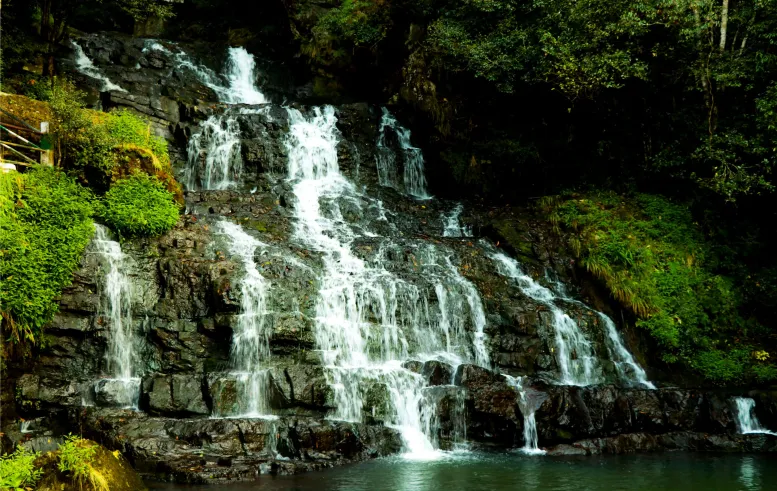 Lady Hydari Park, a well-maintained park with a mini zoo, is an ideal destination for families, while the Botanical Garden boasts a diverse range of flora and fauna for nature enthusiasts to explore.
There are some spectacular falls around Shillong. Located within the Shillong Cantonment, on the outskirts of the city, lies a dazzling waterfall that looks like an eagle with wings spread, hence the name Spread Eagle Falls. Other falls to watch out for are, Sweet Falls, Beadon Falls and Elephant Falls, among several others.
The Cathedral of Mary Help of Christians
The Cathedral of Mary Help of Christians is another must-visit. Located in the heart of Shillong, the Cathedral of Mary Help of Christians is an architectural marvel and a significant religious landmark. This stunning Gothic-style church, built in 1913, stands atop a hill and is dedicated to Mother Mary.
With its beautiful stained-glass windows, high arches, and lofty spires, the cathedral is a must-visit for its tranquil atmosphere and rich historical significance. The church compound also houses a well-maintained cemetery with graves dating back to the British colonial era.
Shillong Golf Course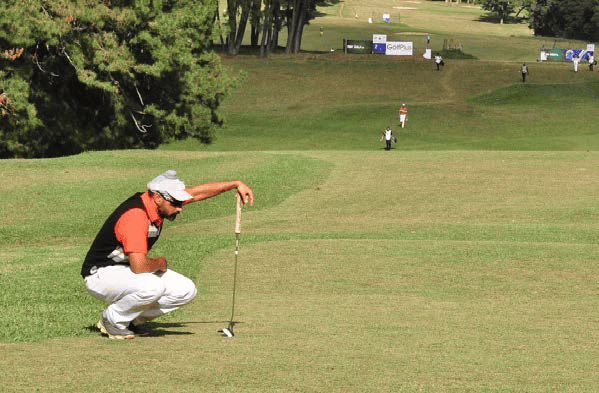 Shillong Golf Course is one of the oldest and best natural golf courses in the world. The site where the golf course is located provides a scenic view of the surroundings. One of the oldest and most scenic golf courses in India, Shillong Golf Course is a golfer's paradise. Established in 1898, this 18-hole course is surrounded by lush pine and rhododendron forests, making it an enchanting location for both players and visitors. The course is open to tourists and offers equipment rentals and professional coaching services, making it an ideal destination for golf enthusiasts of all skill levels.
Nokrek National Park and Biosphere Reserve
Nokrek National Park, nestled in the West Garo Hills, is a UNESCO-recognized Biosphere Reserve and a treasure trove of biodiversity. Home to numerous endemic and endangered species, the park offers visitors an unparalleled experience of Meghalaya's rich flora and fauna. From the rare red panda and hoolock gibbon to unique orchids and medicinal plants, Nokrek is a haven for wildlife enthusiasts and nature lovers alike. The park also boasts the oldest and tallest Citrus indica (Indian wild orange) tree, believed to be the mother tree of all citrus fruits
Home to various wildlife including herds of wild elephants, rare varieties of birds, pheasants and orchids, the Nokrek National Park and Biosphere Reserve located in the Garo Hills of Meghalaya and 45km from Tura is a nature lover's paradise.
Mawsynram – wettest place on earth
Mawsynram is a small village in the Khasi Hills of Meghalaya state, 56km from Shillong. Reportedly the wettest place on earth, Mawsynram receives an average annual rainfall of 11,872mm. A visit to Mawsynram offers an incredible experience of the region's heavy rainfall, lush greenery, and misty landscapes.
The Mawjymbuin Cave, with its stalagmite formation resembling a Shivalinga, is a popular attraction, along with numerous waterfalls that come alive during the monsoon season. The village also showcases the unique culture and traditions of the local Khasi tribe.
Sohra is a natural wonderland
Previously known as Cherrapunjee, Sohra is located on a plateau on the southern slopes of the state. Dotted with numerous waterfalls cascading over deep gorges, Sohra is a natural wonderland. Set against the backdrop of a stunning landscape, it is an enchanting corner of the Northeast that is waiting to be discovered.
Mawlynnong is the cleanest village in Asia
Located in the East Khasi Hills District, about 90km from Shillong, Mawlynnong has earned the distinction of being the cleanest village in Asia. Mawlynnong is often referred to as "God's Own Garden," because of its natural beauty. Mawlynnong offers a unique and refreshing experience for visitors. The village is adorned with well-maintained gardens, bamboo dustbins, and cobblestone paths, showcasing the locals' commitment to sustainable living.
Mawlynnong is also home to the enchanting living root bridges, a marvel of bioengineering by the indigenous Khasi tribe. These unique bridges, made from the roots of the rubber fig tree, are a testament to the harmonious relationship between the locals and their environment. This picturesque village offers many interesting sights, such as the strange natural phenomenon of a boulder balancing on another rock.
The village, which has a cent per cent literacy, is also taking the lead in spreading the message of conservation and protection. A dustbin made out of bamboo is found all along the village and everyone makes it a point that dirt and waste are not thrown everywhere. Mawlynnong's fame draws an endless stream of guests from India and abroad. The village is also an artist's delight and would appeal to creative writers and poets.
Nature quests and adventure
The abundance of nature in and around Shillong satiates even those with the biggest appetite for quests and adventure. The most popular activities include jungle safari, angling, bird watching, nature walking, trekking, adventure sports, etc. Enjoying caving in the baffling caves of Syndai and Siju is a curious and exciting sport. Besides many of the rivers, Umiam Water Sports Complex (at Khasi Hills) is a paradise for water sports lovers.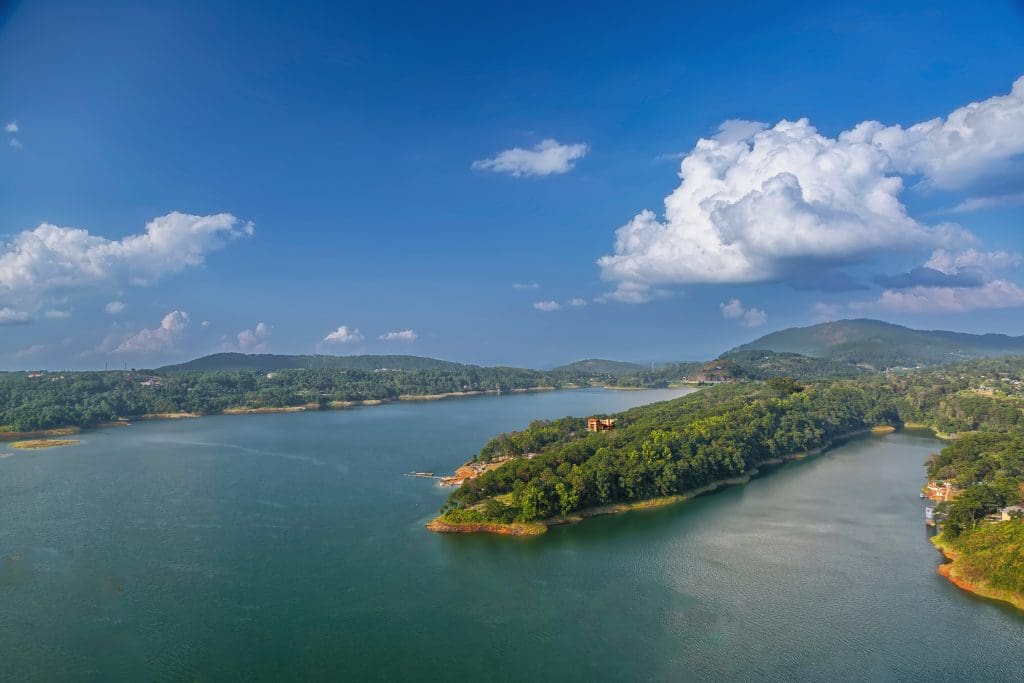 Trekking through the lush forests of the Khasi Hills, exploring the depths of the mysterious caves in Cherrapunjee, and rappelling down the thundering waterfalls are just a few exhilarating activities to indulge in. The region also offers thrilling experiences such as zip-lining, river canyoning, and rock climbing for adrenaline junkies. For those interested in wildlife, the numerous national parks and sanctuaries in the area provide the perfect setting for birdwatching and wildlife spotting. The diverse landscapes of Meghalaya are sure to satiate the wanderlust of every nature lover and adventure enthusiast.
How to Reach
By Air
There is a small airport at Umroi, about 35km from Shillong. At present, Air India operates with ATR42 type of aircraft on this route. Buses/taxis are available from Shillong to Umroi and back. Another convenient airport, the Gopinath Bordoloi Airport in Guwahati (128km from Shillong) is connected to the rest of India with regular flights. Helicopter services are also available from Guwahati to Shillong and back daily, except on Sunday.
By Rail
There are no rail lines in Meghalaya. The nearest railway station is Guwahati. It is 104km from Shillong and very well connected with all major cities of India.
By Road
National Highway 40, an all-weather road, connects Shillong with Guwahati. State Transport Corporation and private transport operators have services to various places in Meghalaya and to neighbouring states.
Read more: Latest