Selecting 10 amazing experiences of scenic Meghalaya is a daunting idea because the north-eastern state of India is noted for a variety of things, including beautiful monsoons, vibrant cultural festivals, and breathtaking scenery.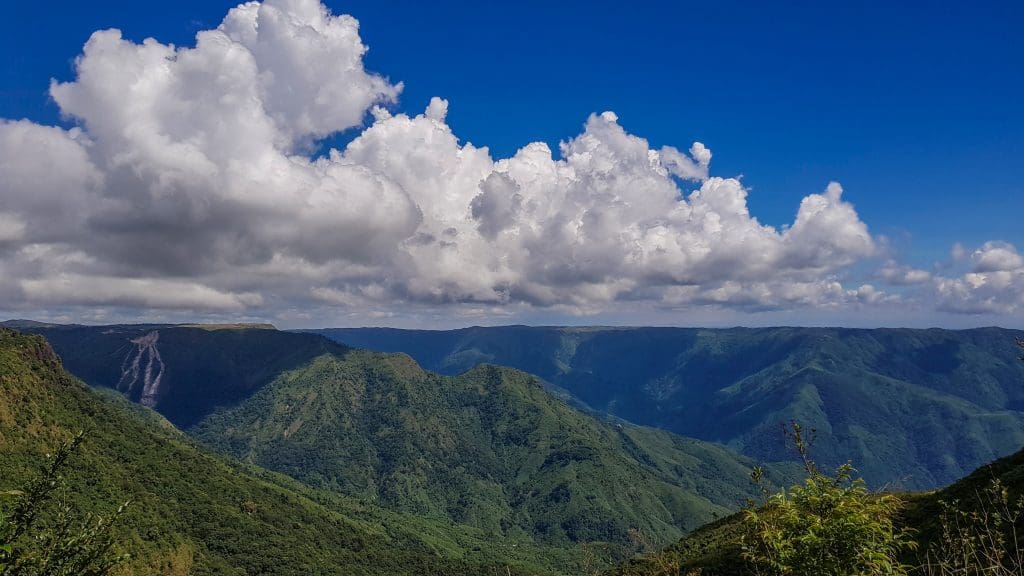 Meghalaya is one of Northeast India's most appealing tourist destinations, and no visitor has ever regretted visiting this stunning state.
There are several unexplored places in Meghalaya, even when you have visited the destination time and again.
Scenic Meghalaya, sometimes known as the "Abode of Clouds," is a state in north-eastern India with some of the world's most diversified ecosystems.
Whether you're looking for an adrenaline rush or a tranquil location to recharge your batteries, Meghalaya has plenty to offer. Many different tribes live in Meghalaya, with the Khasis, Garos, and Pnars being the most prominent. The Hajongs, Karbis, and Koch are among the other tribes.
The tribes are divided further into sub-tribes and clans, each with its own dialect, diet, and attire. Many citizens of the state, particularly in the capital Shillong, have relocated from neighbouring and distant locations, giving the city a cosmopolitan feel.
Without certain cultural experiences, a trip to Meghalaya would be incomplete. Traditional traditions and images are best observed during major festivals. Shad Suk Mynsiem is a significant event in the Khasi calendar, held in April to express gratitude to nature and to commemorate the harvest and sowing of new seeds. A dance in which the players are dressed in lavish traditional garb, draped with silk, gold, coral, and other embellishments, is one of the highlights.
10 Best Experiences of scenic Meghalaya
Of the 10 best places to visit in Meghalaya, we have selected unusual and awesome experiences for you to enjoy.
Nohkalikai Waterfalls (54 km from Shillong)
Standing beneath India's tallest waterfall, Nohkalikai Waterfall, is an experience not to be missed. This magnificent waterfall, which stands at 1115 feet tall, is a natural wonder in and of itself. The tall waterfall may be seen standing on the edge of the cliff, looking like a thick, white rope dangling from a lush green precipice.
This waterfall is breathtaking, and it's one of those spots where you can't help but take out your camera and take an endless number of photos. This must-see Meghalaya tourism attraction is only a short distance from Cherrapunji town.
There are also several intriguing legends associated with this location, which add to its allure. A word of caution: avoid visiting the waterfall during the monsoon season, as the view may be obstructed by dense cloud cover.
Entry Fee: Rs. 10 per person
Location: East Khasi Hills, Meghalaya
Double Decker Living Root Bridge (65 km from Shillong)
The height of this 3 kilometre long growing root bridge is 2400 feet. People take a 7-hour trek into Cherrapunji's rainforest to reach the location of the famous Living Root bridge.
This bridge, which is one of the top Meghalaya tourist attractions, is a good example of how wonderful things could be if people and nature worked together. Though scenic Meghalaya is home to a plethora of amazing living root bridges, some of which are thought to be over 500 years old, this double-decker one stands out.
Because it is one of the most unusual sites to visit in Meghalaya, one must take a walk on this unique bridge for a once-in-a-lifetime experience.
Location: Nongriat Village, Sohra.
Umiam Lake (15 km from Shillong)
If you think man-made lakes can't possibly be as lovely as natural lakes, a visit to Umiam Lake will persuade you otherwise. The lake is huge in terms of size, covering 221 square kilometres. Umiam is an ideal location for capturing exquisite frames and admiring nature's flawless ingenuity as well as human limitlessness.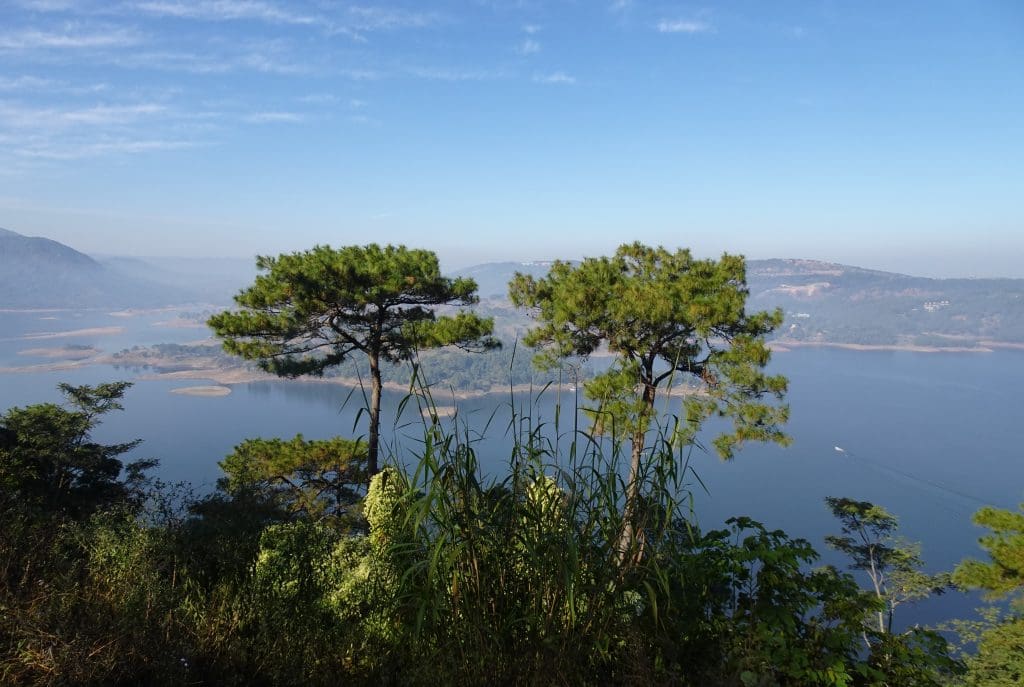 The sight of a setting sun here is so stunning that you'll want to savour every moment. This reservoir, which is surrounded by verdant hills, is one of the most famous tourist destinations in scenic Meghalaya. Boating, yachting, and skiing are just a few of the enjoyable water-based activities available at Umiam Lake.
Timing: Activities – 9:00 AM to 5:00 PM.
Location: North of Shillong
Elephant Falls (12 km from Shillong)
The numerous breathtaking waterfalls that Meghalaya is endowed with are partly responsible for the state's fame. Elephant Falls is one of the most well-known of these waterfalls. It's a three-tiered waterfall nestled in the midst of a lush green forest.
The sound of crystal clear water crashing on sturdy rocks, however absurd it may appear, is relaxing. The beauty of this waterfall is well worth photographing. These falls, located just a few kilometres from Shillong's main city, are one of Shillong's most awe-inspiring sights. On your journey to scenic Meghalaya, don't miss this natural wonder!
Timing: 10:00 AM to 6:00 PM
Location: Upper Shillong
Mawlynnong Village (78 km from Shillong)
A village that was named the cleanest village in the world in 2003, not just in India, but throughout Asia. But it's not just because it's clean that it's one of the nicest locations to visit in Meghalaya. Mawlynnong Village is also known as "God's Own Garden," and the reason for this is plain from the natural beauty that God has bestowed upon it.
The town's distinctive live root bridges are a sight to behold. Besides, the village's green, dense forest is invigorating in every way. Another Meghalaya tourist attraction that requires a visit to this village is the Mawlynnong Waterfall, where you can spend some precious time calming your soul.
Because the town is located near the Indo-Bangladesh border, a spot known as "Sky View Point" allows visitors to see the landscape of Bangladesh as well.
Location: East Khasi Hills district
Laitlum Canyon (21 km from Shillong)
This location is one of India's most beautiful landscapes and one of the greatest locations to visit in Meghalaya. For more than a number of reasons, this under-appreciated Meghalaya tourism attraction is well worth a visit. If you're a photographer, this is your opportunity to capture heaven on film.
This sanctuary of clouds, nestled in the East Khasi Hills, is your escape into nature if you are a nature lover. If you enjoy living on the edge, this location boasts a 3000-step stairway that allows you to climb up and down while gazing out at the magnificent panoramas that surround it. The splendour of its beautiful hill slopes is enhanced by sunsets and sunrises, which add a mystical touch..
Location: East Khasi Hills.
Dawki – Umngot River (81 km from Shillong)
Dawki is a small city on the border of India and Bangladesh that also serves as a crossroads for trade between the two nations. Umngot River, a river with crystal clear water, is what draws tourists to Dawki. And by crystal clear, we mean so clear that you can see the shadow of your boat floating on the river. Another reason to visit this river at least once is the Dawki Bridge, which is a suspension bridge spanning the river.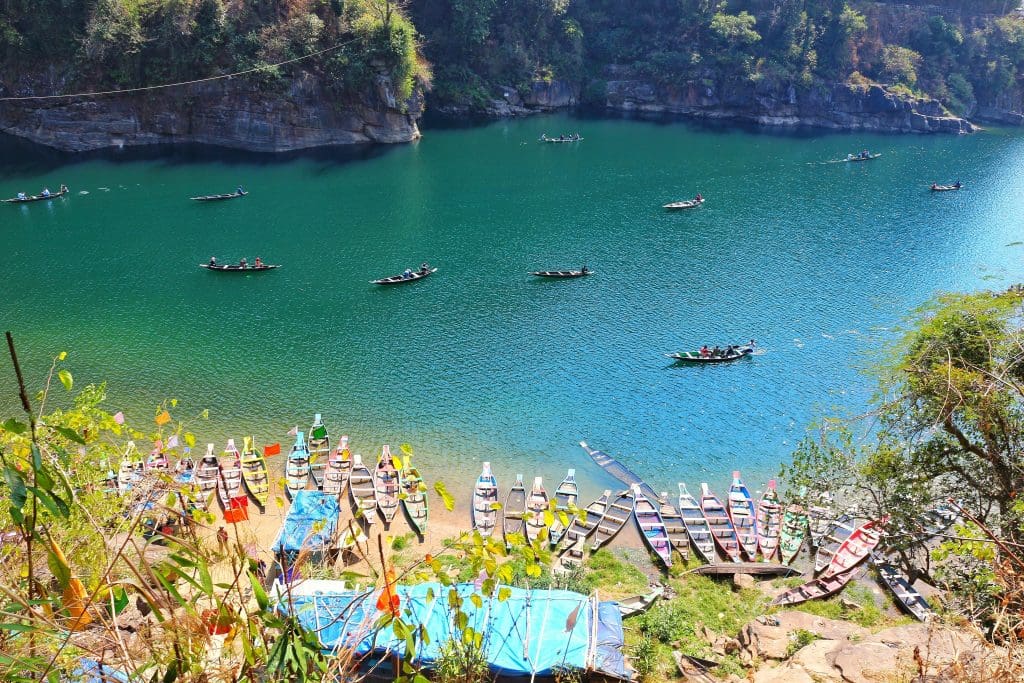 The unique charm of this river draws visitors from all over the country and even outside to have an exciting trip down the Umngot River, making it one of Meghalaya's most popular tourist destinations.
Location: Dawki Village.
Cherrapunji (53 km from Shillong)
It is a tie for the title of wettest spot on the planet with Mawsynram. This was, without a doubt, the title-holder before Mawsynram became famous. You may visit Cherrapunji at any time of year to be drenched in a "seemingly endless" rain, which is more common here than anything else.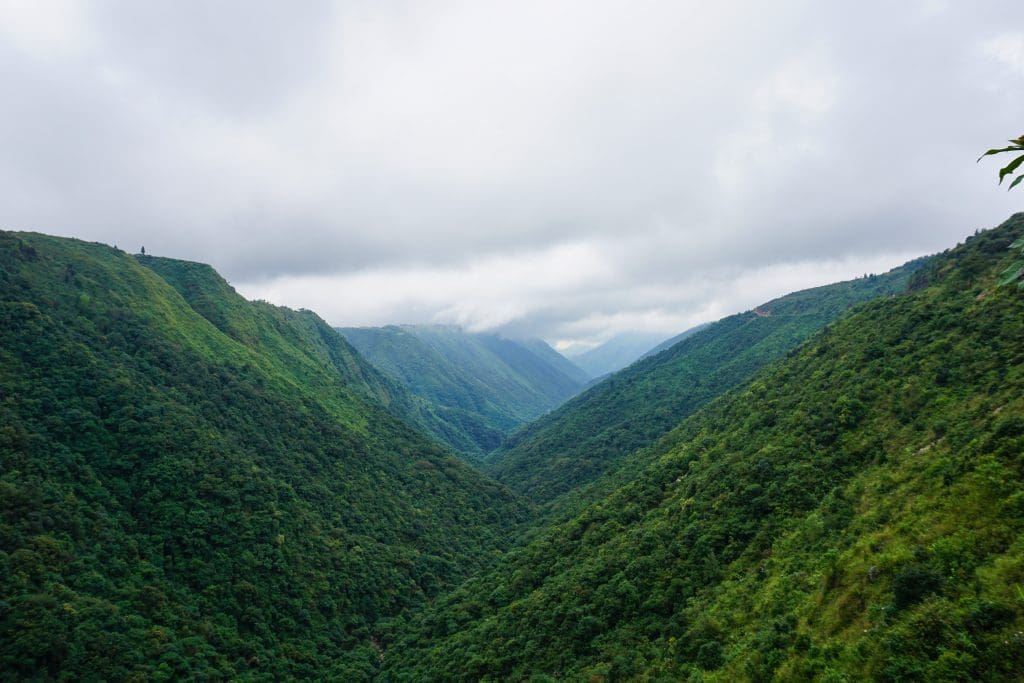 Many stunning waterfalls, such as Dain-Thlen, Noh-Kalikai, and Kynrem, add to the allure of this alluringly misty metropolis, green with nature's bounty. Cherrapunji's jungles are also known for their incredible living root bridges. Mawsmai Cave is another noteworthy sight in the city, making it one of the top Cherrapunji attractions.
Location: Cherrapunji, East Khasi Hills
Mawsynram (65 km from Shillong)
Mawsynram is the place to go if you've had your fill, or if you've had more than your fill. Because it receives an average yearly rainfall of 11,872 millimetres, it is generally recognised as the world's rainiest spot, where you may walk into the clouds and drown yourself in an endless stream of rain.
Clouds coexist with humans in this charming community surrounded by lush greenery. In the Khasi Hills, it is positioned on the top of a ridge. Apart from the rains, what makes this place special is the abundance of natural resources. This drizzly village is the perfect place to spend a relaxing weekend. In addition, there are some spectacular waterfalls in the neighbourhood of this settlement.
Location: Mawsynram, East Khasi Hills
Krem Liat Prah (58 km from Shillong)
Meghalaya is home to a plethora of natural treasures, including an untold number of natural caverns, some of which have yet to be explored. Krem Liat Prah, India's longest natural cave, is worth a visit if you enjoy caving or being intrigued by secrets. The cave is currently 34 kilometres long, but if new connected caves are discovered, it is likely to increase.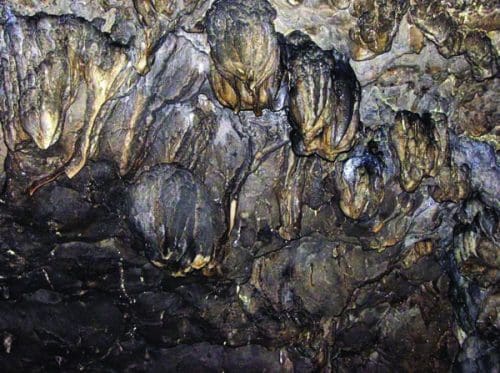 Krem Liat Prah is one of the 150 caves known on the Shnongrim Ridge of Meghalaya's East Jaintia Hills District. It undoubtedly ranks among the top Meghalaya tourist attractions due to its unrivalled reputation among adventurers. Purchase a Meghalaya trip package that contains all of the major attractions..
Location: Shnongrim Ridge of the East Jaintia Hills
Read More: Discover Your India