If you are looking for a tasty snack to enjoy while watching the Indian Premier League (IPL), delicious pork salami and sausages are great options from Indian-style street food-inspired Naan Pizza to pork chorizo sausages in a tangy hot Goan curry.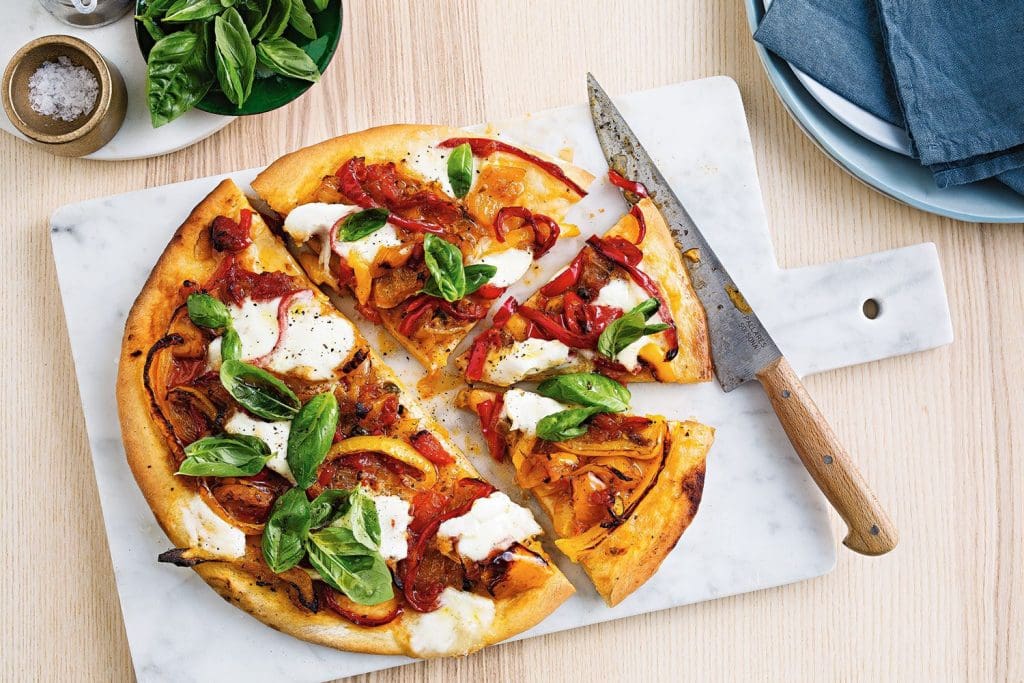 Indian-style street food inspired 'naan-pizza' with pork pepperoni salami in butter masala
Indians are known for their deft hand when it comes to tweaking 'desi' with 'videshi', & who is better than street food vendors? This ubiquitous Indian-Style Street Food Inspired by Italian Pizza using Pork Pepperoni Salami in a Butter Masala, takes the 'East-meets-West' flavours to another level! Italians & Indians eat Pizza like a religion…both love Pepperoni…both love food adventures!!
From: Meisterwurst Kitchen
Prep Time: 20 mins
Serves: 5-6
Cook Time: 25 mins
Cuisine: Indian Fusion (Italian Inspired) : Course: Main
250-350 g Meisterwurst Pork pepperoni Salami— Slice Rounds cut into half
100 g Mixed Red & Green Bell Peppers—slivers
1 large red Onion—finely sliced
5-6 small/mini Garlic-Coriander Naans (Indian Flatbreads)—readily available
8 tbsp Bottled / Packaged Readymade Butter Masala Sauce—Chicken or Paneer—available online & in supermarkets
150 g Mozzarella Cheese—grated
½ cup Coriander (Cilantro) – finely chopped
1 cup Indian Raita (Chilled Yoghurt)
Olive Oil
Salt to taste
For the Yoghurt Raita
1 Cup Fresh Yoghurt /Curd or Dah
½ Onion—finely chopped
½ Cup Cucumber—peeled & finely chopped
1-2 Green Chillies—deseeded & chopped tiny
2 tbsp Fresh Coriander/Cilantro—finely chopped
½ tbsp Cumin Powder—optional
Salt to Taste
Tips:
* You can substitute with Rogan Josh sauce
Nothing like sitting with friends…chilled beers in one hand & these scrumptious Indian-Style Pork Pepperoni Salami Naan-Pizzas in the other! It's a 'street treat' you can eat anytime…anywhere!!
Here's How—Instructions:
Preheat the Oven to Grill on medium—line a baking tray with aluminium foil—place the Pork Pepperoni Salami Slice Rounds that are halved, on- ions & bell peppers—drizzle with Olive oil
Grill for about 12-13 mins or until all items are cooked
Take out the readymade naans (Indian Flatbreads) from their packaging—spoon & spread the bottled / packaged readymade Butter Masala Sauce onto each naan generously—place on a separate baking tray
Portion the cooked mix of Pepperoni Salami, on- ions & peppers onto the naans—spread the Mozzarella shreds over each naan
Put the topped-up naans back into the oven & grill for another 6-8 mins or until the cheese is melted & the naans are golden & crisp around the edges
Remove from the grill & cool so that it becomes easy to handle
Drizzle with the chilled & refreshing Raita— garnish with the chopped coriander & serve immediately
Nutritional Value (Per Serving):
350 Calories 13g Fat 40g Carbs 21g Protein 2g Fibre
*Nutrition information is based & calculated using ingredient database & is considered to be an estimate
For The Yoghurt Raita:
Chill the Yoghurt/Curd—add salt & cumin powder—whisk to a smooth consistency
Add the chopped onions, green chillies, cucumber & coriander—Stir together gently
Nutritional Value (Per Serving):
108 Calories 4g Fat 13g Carbs 5g Protein 1g Fibre
Pork Chorizo Sausages In A Tangy-Hot Goan Curry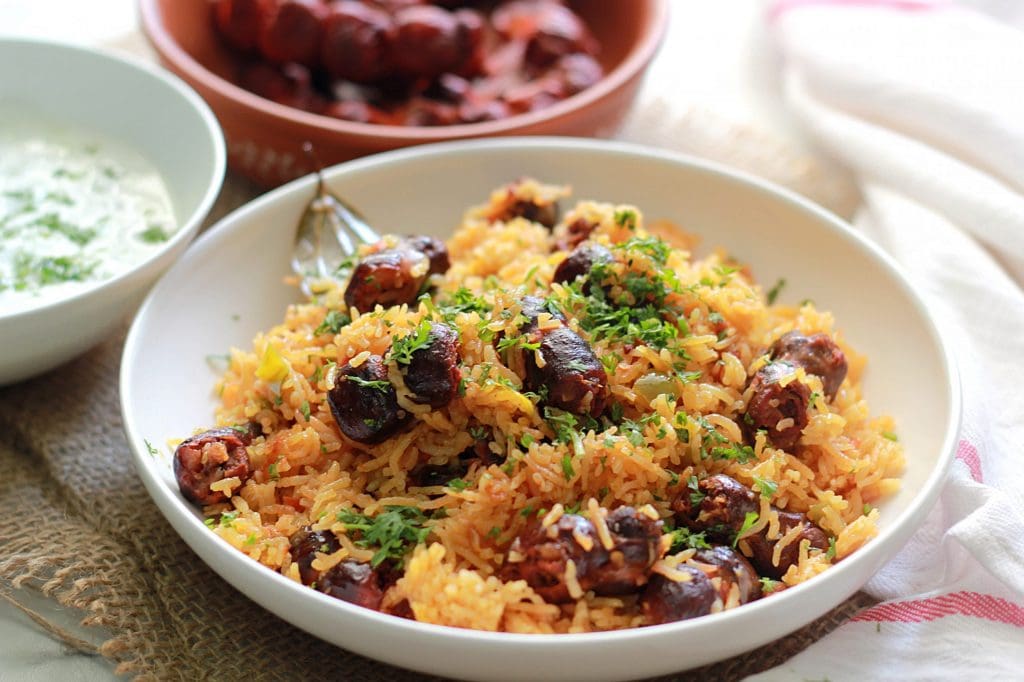 This subtly spiced tangy-hot Pork Chorizo Sausage Goan Curry is delicious & hearty. It is a harmonious blend of Indian & Portuguese cuisine that melds flavours in a global twist of East meets West! A staple of Goa found in welcoming homes, roadside stalls & beach shacks, this inviting & tasty dish is wholesome, flavourful & 100% satisfying!!
From: Meisterwurst Kitchen
Serves: 4-6
Cuisine: Indian Fusion (Goan Inspired)
Prep Time: 20 mins
Marinating: 30 mins
Cook Time: 30 mins
Course: Main
Ingredients:
1 kg Meisterwurst Pork Chorizo (mildly spiced) Sausage links—removed from casing & chopped)
2 large Potatoes—Peeled & Cut into 1-inch cubes
4 tbsp Vegetable/Sunflower/Canola Oil
2 large Onions—Thinly Sliced
2 large Tomatoes—Finely Chopped
3 Green Chillies—
2 tbsp Coriander/Cilantro—Chopped for Garnish
For The Marinade –
½ tsp Turmeric
2 tsp Paprika
2 tbsp Ginger-Garlic Paste
½ tsp Cinnamon Powder
½ tsp Black Pepper—Coarsely Ground
1 tbsp Red Vinegar/Apple Cider Vinegar
Nutritional Value (Per Serving):
465 Calories 33g Fat 30g Carbs 23g Protein 10g Fibre
* Nutrition information is based on & calculated using an ingredient database & is considered to be an estimate.
Here's How—Instructions:
In a large bowl place the delicately spiced chopped Pork Chorizo & add in the turmeric, paprika, cinnamon, black pepper, vinegar & 1 tbsp ginger-garlic paste—mix all the ingredients well together, so the sausages are coated nicely with the spices—set aside for about 30 mins or even overnight
Heat a large skillet or fry pan or wok, add oil & fry the potato cubes till golden brown—take out & set aside
In the same hot oil, add the onions & fry till translucent – add the tomatoes & green chillies along with the remaining ginger-garlic paste & some coriander/cilantro & fry nicely till the mix is smooth & pulpy
Add salt to taste & some stock or hot water, stirring well & bring the curry mix to a boil—
Now add in the chopped Chorizo sausage & potato cubes & cover & cook on low heat for abt 15-20 mins—if you want it saucier, add extra stock or water
Turn off the heat & serve to pipe hot with 'ghee' (clarified butter) rice, or Indian 'pau'' which are best 'fresh-from-the-baker' bread rolls
Tips:
Goan Curry or even its similar yet chunkier variety Vindaloo is traditionally enjoyed by scooping it up with the local bread roll called 'pau' which is Portuguese for 'bread'
Goan Chorizo Sausage Curry is a common street food found almost everywhere on the streets of sunny Goa & often accompanied by steamed white rice drizzled with desi ghee or clarified butter
You'll never get enough of this yummy Pork Chorizo in this Hot & Tangy Goan Curry…myriad flavours caress the palate…it's just a Goan thing!!
Read more: Food Voyager