There are ten vivacious and spectacular festivals and fairs in March in India. The season is cool and pleasant and it is probably the best time of the year for travellers to enjoy the festive experiences.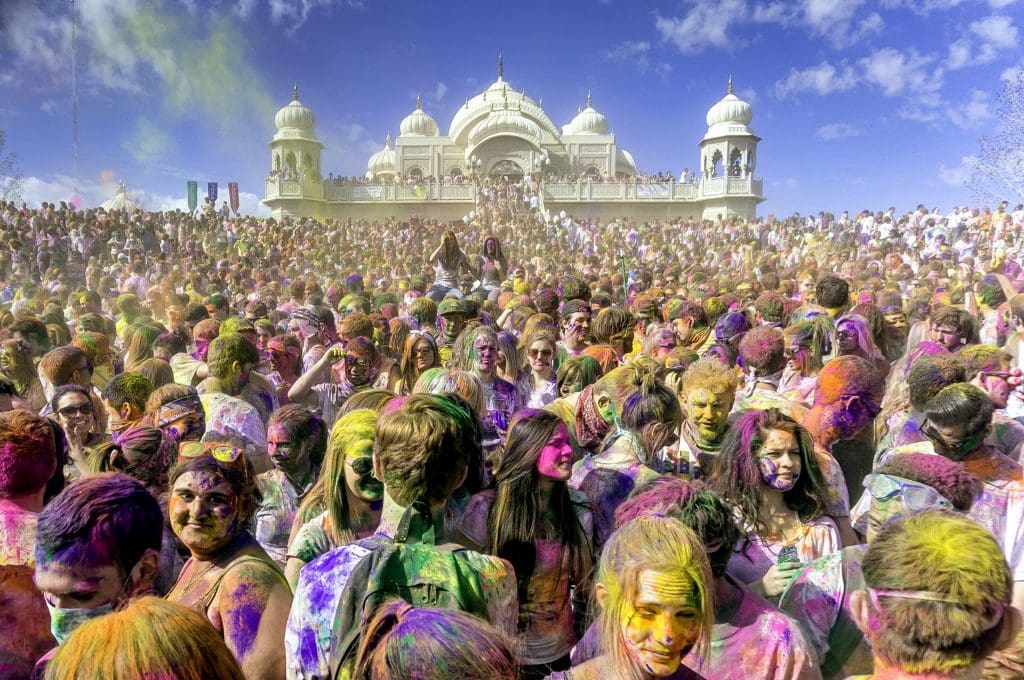 While almost all of the festivals in March celebrate spring and a good harvest season, it is remarkable how different each celebration is and how local cultural values find expression in the celebrations.
India is a vibrant and diverse land consisting of all the major world religions, and as many regional and local auspicious days and events to commemorate, and so there is much to celebrate in individual and distinctive ways.
As people say, when you live in India, each day is a festival and when you celebrate each day as a festival the spirit of vivaciousness, joy, holiness and compassion remains, in a big or small way, in your heart.
Holi 
This Spring festival is an ancient traditional festival famously known as the festival of colors. It is one of the major festivals of Hindus and of utmost importance. It marks the beginning of spring and is also celebrated as a mark of triumph of truth over evil. It is a two-day festival but in a few states of India, it is celebrated for up to a week.
The timing of this festival is synchronized with the moon which means every year the date or sometimes month of celebration will be different, mostly it occurs in the month of March.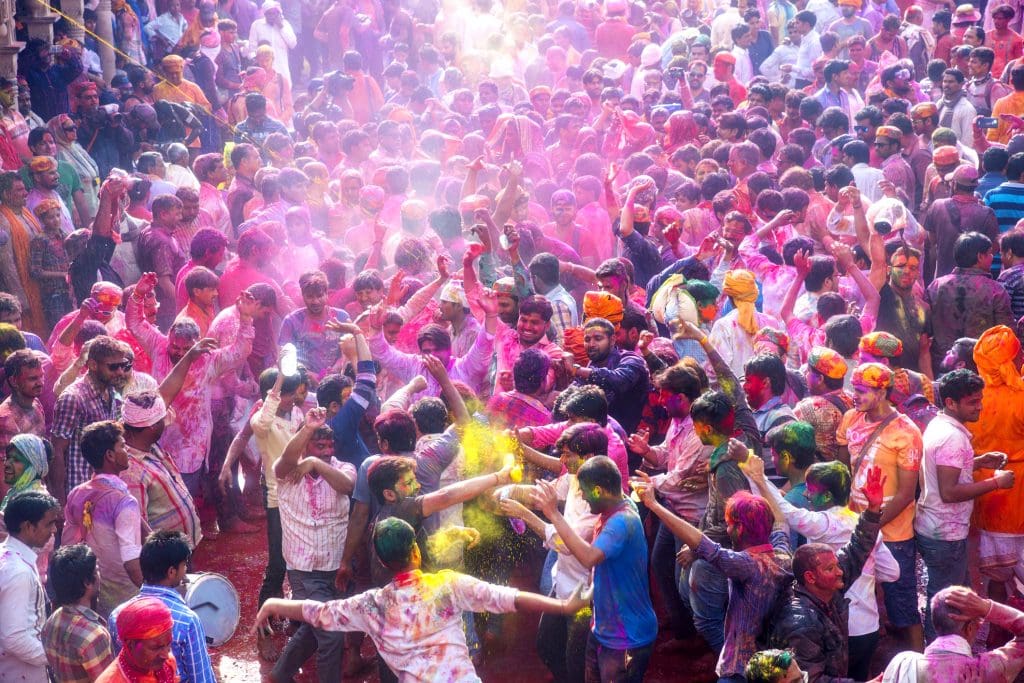 There are several ideologies behind why Holi is celebrated, some of which being;
The most common idea is to celebrate the victory of Lord Vishnu's Narshima avatar over the demon King Hiranyakashyap which signifies triumph of truth over evil.
Many people celebrate it as the arrival of spring and end of winter.
People of Braj celebrate this festival till 'rang panchmi' as they celebrate the divine love between Radha and Krishna.
How it is celebrated
On the night before Holi, which is also called Chhoti Holi, the ritual of Holika Dahan takes place. In this ritual people, light up a large bonfire and circle and pray around it. It is the mark of the burning of Hiranyakashyap's demon sister who took his son on his order and sat on a fire pyre with his son Prahlada sitting on her lap as a motive to kill him. Despite having a boon that night, Hiranyakashyap's sister got burnt while the devotee son Prahlada survived. 
The next morning is the morning when people gather on the streets wearing old clothes and smear color on each other. It is a large colorful party that happens all across India on the same day at the same time. On this day, people also visit their friends and relatives' homes with color and the traditional 'bhang thandai', and Holi sweet of 'gujiya'. 
The Elephant Festival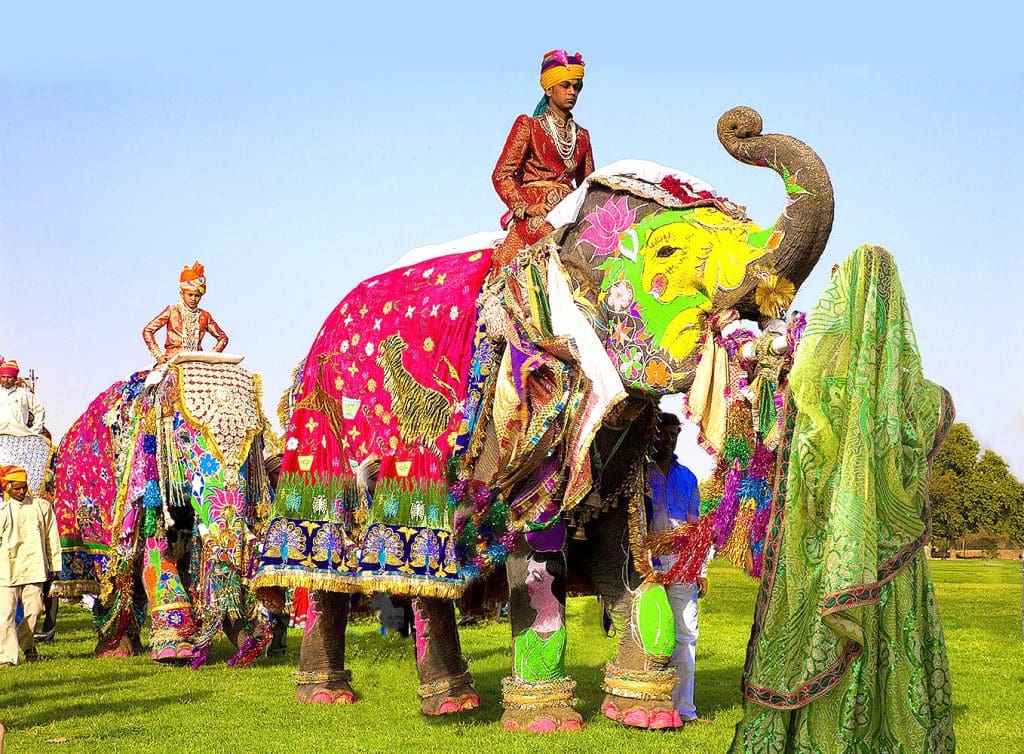 This festival occurs in the city of Jaipur in Rajasthan state of India to celebrate Holi in a unique way by celebrating the sacred animal. Elephants are considered very precious animals in India as according to ancient Hindu texts, they were one of 'navratnas', which reappeared during the time of stirring of the ocean.
Elephants are of great significance in Jainism and Buddhism too and they were always associated with Indian royalty as Indian royals have been using Elephants for travelling, in wars, and in ceremonies for a long time. Rajasthan has a long history of legends and royalty, warriors and dynasties. It is thus fitting that the capital Jaipur becomes a hub for this festival.
The owners beautifully decorate their elephants with vibrant colors, saddle cloth, and heavy jewellry, female elephants are decorated with anklets. The most beautifully decorated elephant is awarded. Sports like elephant polo, tug of war between elephants and nineteen men and women, elephant racing, etc are vibrant activities that mark the celebrations.
This festival usually occurs on the eve of Holi at Jaipur's Old Ground, opposite Sawai Man Singh Stadium.
Gudi Padwa
This is a traditional Marathi and Konkani Hindu festival that marks the region's New Year. The festival is majorly celebrated in Maharashtra, Goa, and the union territory of Daman.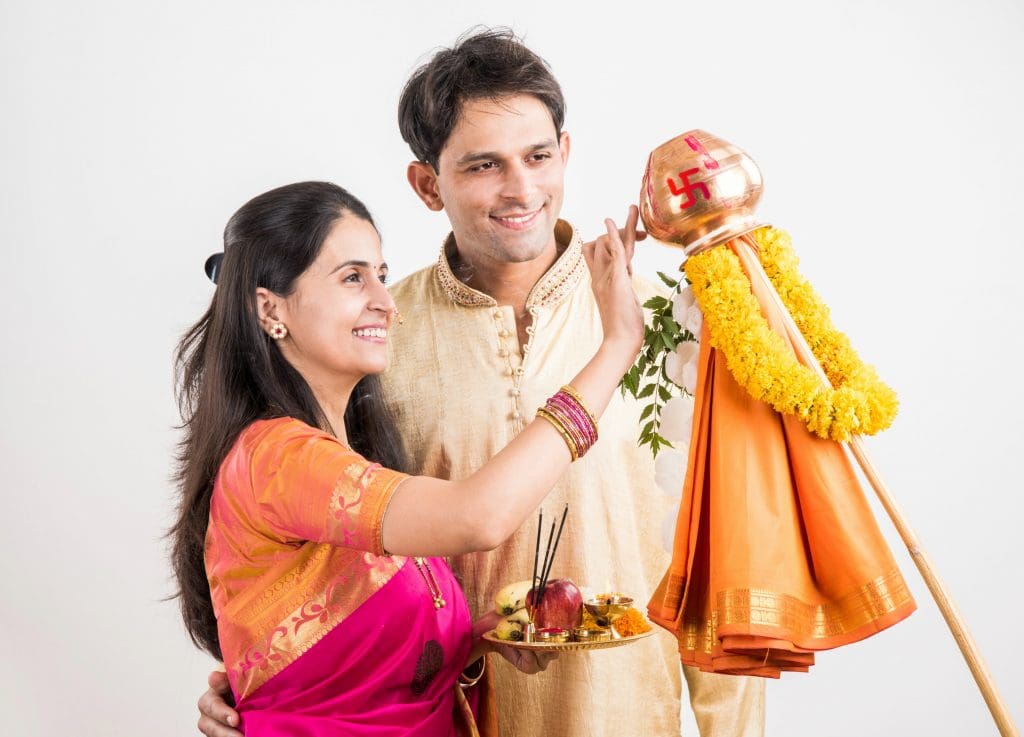 It is a springtime festival celebrated on the first day of 'chaitra' month according to the Hindu lunar calendar. The first 'chaitra' is celebrated as Gudi Padwa in Maharashtra, Chaitra Vishu or Puthandu in Tamil Nadu, and Ugadi in Karnataka and Andhra Pradesh.
It signifies the arrival of spring and reaping of 'rabi' crops and in rural Maharashtra, the festival is often dedicated to Lord Shiva as the community carries Gudi Kavads together to Shiva Temple.
On the day of the festival, courtyards of villages and houses should be cleaned and plastered with cow dung. Everyone dresses up in new clothes and hoist 'guddi' flags.
International Yoga Festival
It is a seven-day festival celebrated in the first week of March in Parmarth Niketan Ashram, Rishikesh, Uttarakhand. The International Yoga Festival is distinct from International Yoga Day.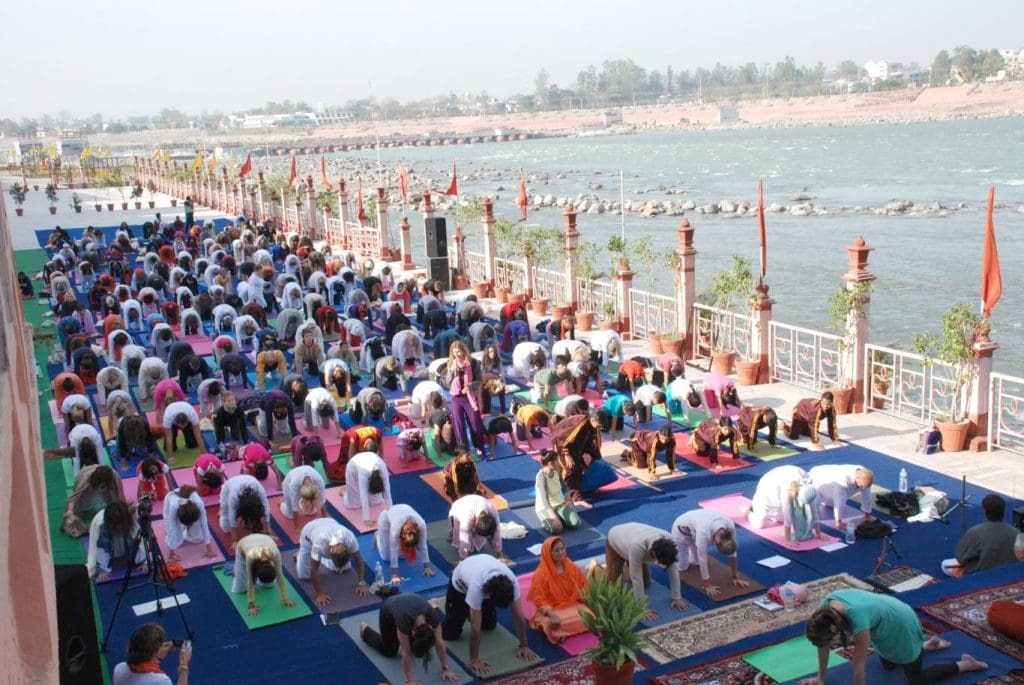 Rishikesh is also known as the birthplace of yoga and the yoga capital of the world. Many trainers and experts of yoga from all around the world visit this place during the time of the festival. You will be provided with an opportunity to learn from the great enlightened spiritual leaders, master yoga teachers and wellness specialists from all around the world. 
The programme starts at 4:00 am with 'kundali sadhna' which ends at 9:30 pm with traditional songs, kirtan, and dance. You can easily customize each day as per your personal needs. 
Chapchar kut Festival 
Celebrated on 5th March (mainly in the first week of March) in the northeast state of India Mizoram, this is the festival in which people celebrate as the harvest of bamboo shoots. The festival is said to have originated in 1450-1500 AD. It is estimated to be celebrated as a thanksgiving to gods for saving people's lives during the clearing of hill forests for Jhum cultivation.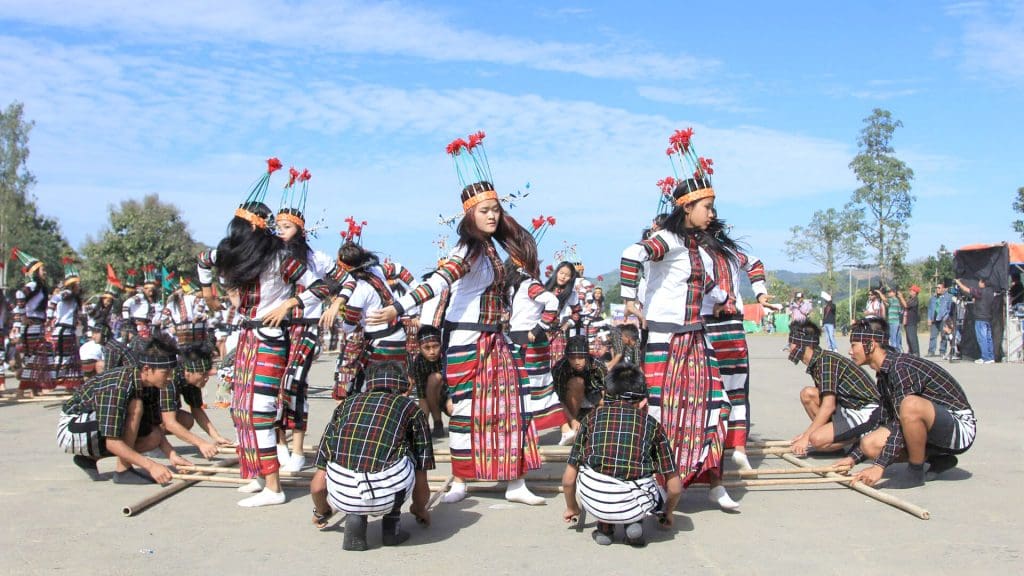 The festival starts with eating traditional foods and drinking and at night men and women dance to traditional beats. Both men and women dress up in their traditional clothes on this day. Women wear the traditional outfit of 'vakiria'.  Some of the activities which take place during this festival are;
Chhawnghnawh : It is a pre Christian ritual in which boiled eggs are stuffed in each other's mouth.
Dance form : The main dance form which is performed is 'cheraw' dance with some other dance form like khuallam, chai and sarlamkai.
Arts and crafts and photo exhibition.
Mizoram traditional games and costume parades also occur.
Various stalls with traditional cuisine can be observed.
This is a vibrant and harmonious festival with a wonderful display of local traditional cultural dress, dance, food, and beliefs.
Shigmotsav 
This festival is celebrated on 21st March in the state of Goa. The dates of this festival may vary as it is celebrated in the month of Phalgun that is in March, beginning on 9th moon day to the full moon day.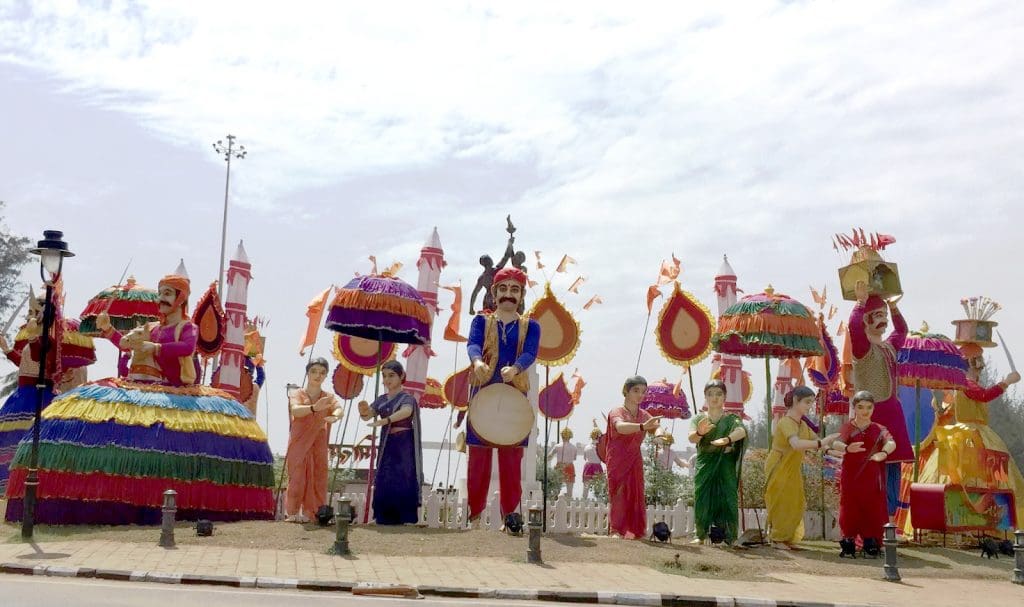 This festival is basically celebrated to mark the change of season, bidding farewell to winters and welcoming the spring season, and serves as the most famous festival of Goa in the month of March.
The festivities initiate with the bathing of the deity and covering it with saffron clothes. On the fifth day of the festival which is also known as 'rang panchami',  people color each other with red 'gulal'. On the 11th to 15th day, the villagers get together in temples wearing colourful clothes, carry flags called 'dhwajas', beat drums, blow the flute and other instruments, and perform various lively folk dances.
Brij festival
Celebrated in Bharatpur, Rajasthan between 13th to 14th March, that is 'shukla paksh' of 'phalgun', a three-day festival of color, dance, and music. Since braj is the birthplace of Lord Krishna, people here take every chance to celebrate their lord in the best possible way.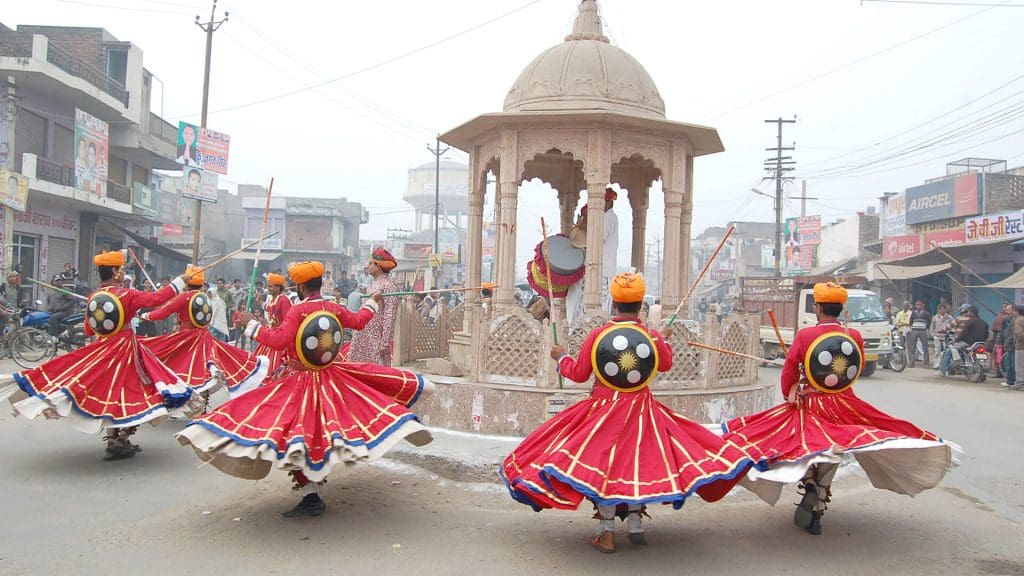 In this festival, people dress as Radha and Krishna and perform the iconic dance of 'Raslila'. Many artists also join this festival and put up a  performance depicting the life of Krishna. People also take a holy dip in the Banganga river in the early morning and perform various rituals.
Doljatra festival
Also known as Dol Purnima, this festival is celebrated on 18th March in the Indian state of Sikkim, Assam, Odisha and some other regions. It is a full moon celebration dedicated to Lord Krishna and Radha. The festival is called Dolyatra in the Indian state of West Bengal, while the same festival is called Dol Purnima in Assam and Odisha.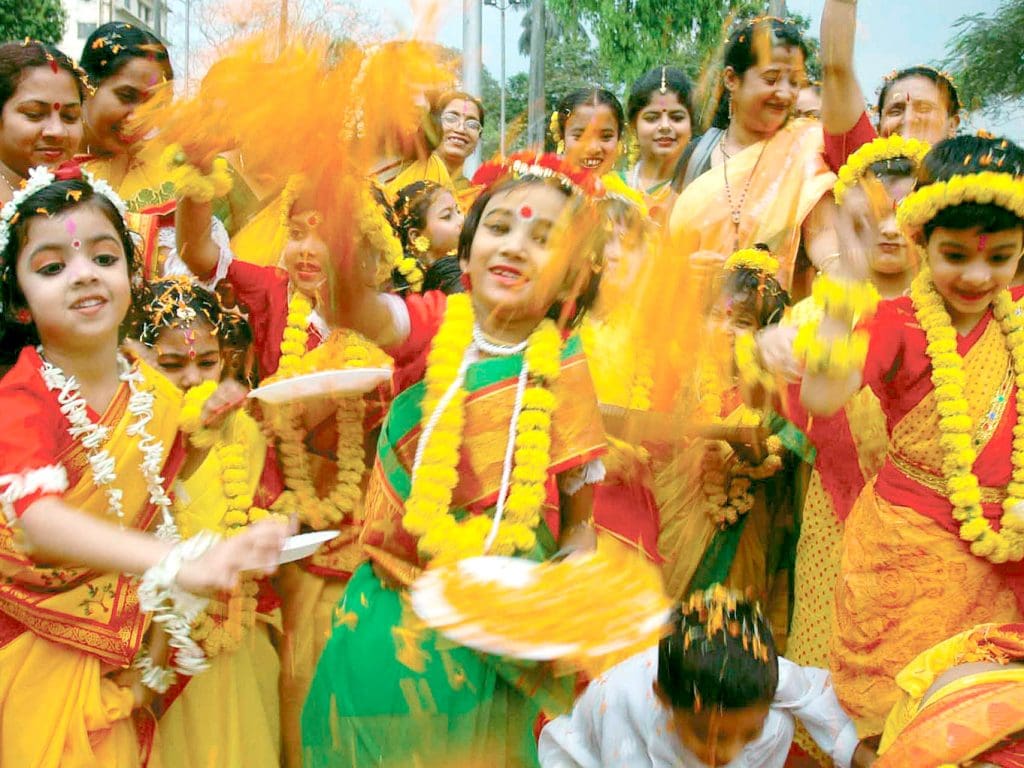 In West Bengal, milk preparations which include homemade butter, cream, and panchamrit are offered to everyone in the community. For Bengalis, the festival holds more significance as it marks the birthday of Chaitanya Mahaprabhu — a revered Vaishnavi saint credited with bringing modern "sankartina" to the states of Odisha and West Bengal.
According to mythological belief, the first day of DolJatra is called "gondh" as Lord Krishna prepares to visit Ghunucha's place, and the second day known as Dol is celebrated with colour and sweets, as well as sprinkling colour at the feet of elders. The festival is celebrated over four days with celebration, sweets, colour, prayer, and processions.
Holla Mohalla 
Starting in the early 18th century this Sikh festival is celebrated between 18th-20th March. It is celebrated majorly in the North Indian state of Punjab.
Hola Mohalla is said to have started in Punjab the 17 th century by the Tenth Sikh leader, Guru Gobind Singh, as a symbol of valour, brotherhood, and spirit of fraternity.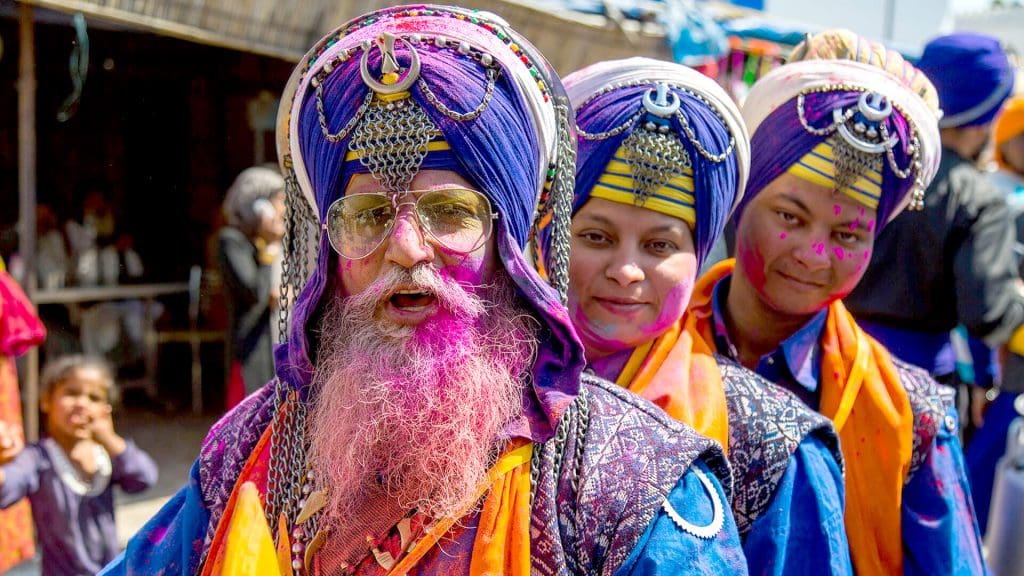 In this festival, Sikhs present their skills with traditional weapons. This festival initiates at one gurudwara with beating drums and ends at another. This one-week festivities are marked by daring feats and mock battles with actual weapons, processions in traditional clothes with weapons on display, and stunts and acts of bravery through sports like bareback horse-riding, tent pegging, standing erect on two speeding horses, and various other war-like feats.
A spectacular sight is the awesome procession of Nihangs in traditional dress as they ride past on horses and elephants and on foot showcasing traditional weapons and demonstrating their skill and mastery with them.
This is followed by kirtan, music and poetry competitions, and traditional food served as a community. By witnessing this festival you can catch a glimpse of the entire history of Sikhs.
Gangaur Festival 
This festival is celebrated between 18th March to 4th April in the state of Rajasthan. This festival is dedicated to Goddess Parvati as it celebrates marriage and love.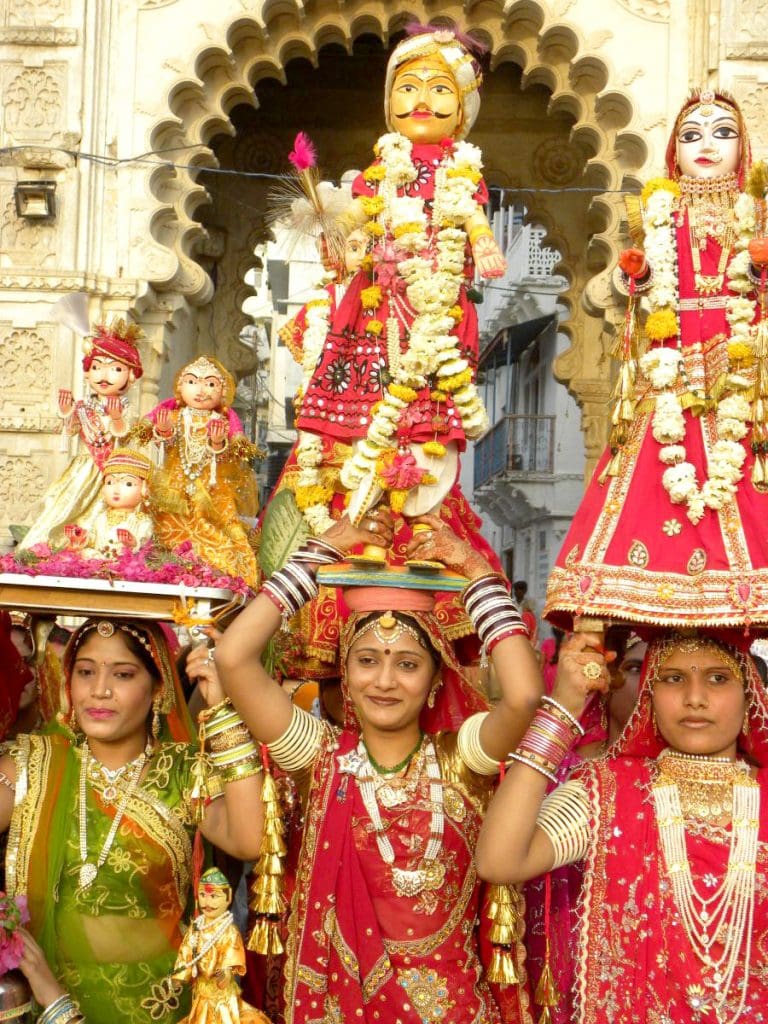 In Madhya Pradesh, the Gangaur festival is a celebration of Lord Shiva and Goddess Parvati and has several rituals to be followed by women.
In Rajasthan, the Gangaur festival also celebrates the same theme of the eternal bond of Lord Shiva and goddess. Parvati is referred to as Goddess Gauri and rituals include married women keeping fasts for the health of their husbands while unmarried women pray for a good partner to marry.
In this festival, small clay idols of Lord Shiva and Goddess Parvati are created and beautifully decorated. On the last day of this festival, which is also the most important day, a large gathering with dance and music takes place and people walk together towards the nearest water body to submerge the clay idols.
As the royal families of Rajasthan also participate in these festivities, the colourful traditional folk dances and songs, dresses and jewellery worn by women, and the idol being taken in a palanquin in processions – are all part of a spectacular celebration.
Read More: Discover your India