Urban Indian Gen Zs following of travel influencers is the highest across the globe, making social media a powerful tool for engaging them.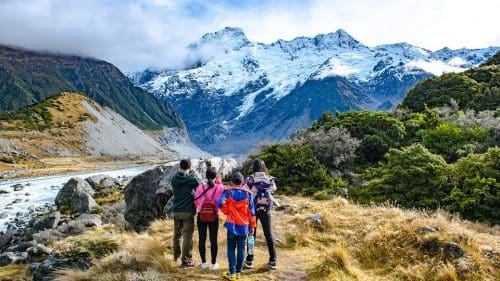 Following two years of restricted travel amidst the pandemic, there is a resurgence in the global travel appetite.
YouGov's latest report "Youth of Today, Travel of Tomorrow" indicates more than two in five Gen Z in India plan to take a domestic trip in the next 12 months as compared to less than a fifth who wish to travel internationally (43% vs 18%).
The report aims to understand Gen Zs globally, explore what matters to them as well as uncover their expectations from travel, and identify the best ways to connect and engage with this generation of travellers.
Data from the whitepaper shows that amongst all the surveyed markets, Gen Zs in Asian countries like Indonesia (57%), Thailand (55%) and Malaysia (54%) are most likely to take domestic vacations in the next 12 months.
The enthusiasm for international travel is higher in European markets like Germany (50%), Denmark (47%) and France (43%).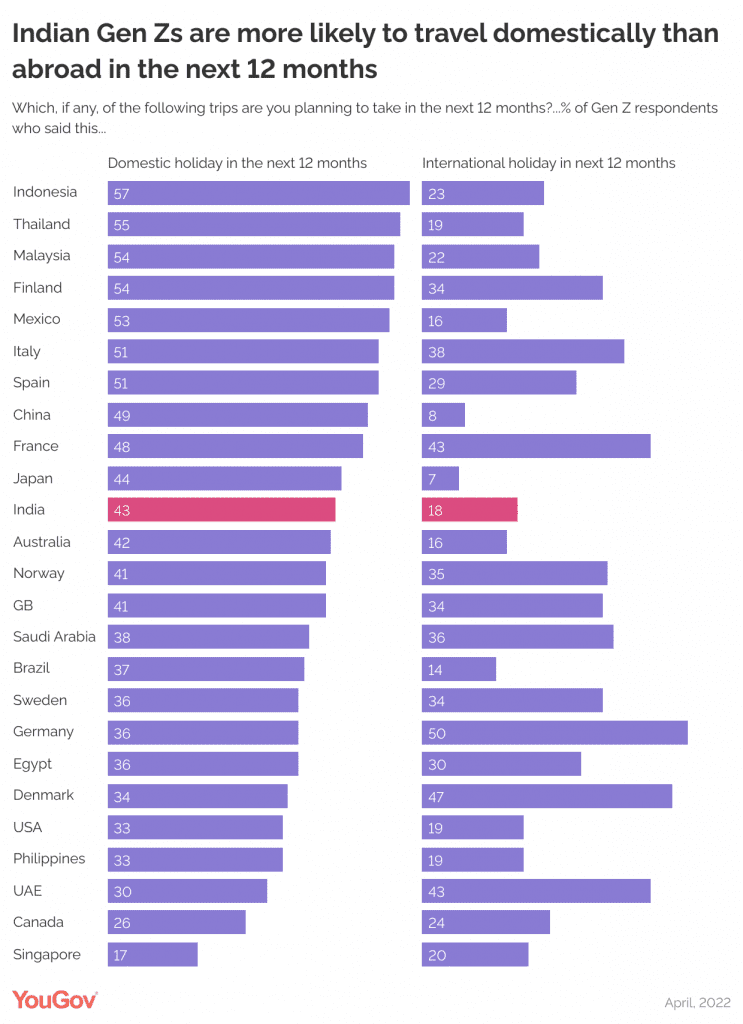 While Gen Zs appear to be eager travellers, costs associated with travel (37%) and accommodations (32%) are cited as major barriers by nearly a third of these respondents globally.
This indicates a more price-sensitive attitude among this younger group that might influence their choice of budget-friendly alternatives.
In India, standard accommodations (3 stars or less), staying with friends/family while traveling, and luxury accommodations rank among the top 3 preferences for Gen Z.
This indicates that although this cohort is price sensitive, they are willing to try more upscale accommodations, making it crucial for travel companies to ensure that they offer a variety of accommodations matching their expectations.
In terms of selecting travel destinations, referrals play an important role for global Gen Zs, with half of them (50%) stating that recommendations from family and friends influence their decision to choose a place.
After this, two in five (40%) Gen Zs said they seek reviews from other travellers before selecting a destination.
The influence of reviews from other travelers (51% vs 40%) is higher in the case of Indian Gen Zs compared to the global average.
However recommendations from friends/family (50% Indian Gen Zs vs 50% global average) is in line with global numbers.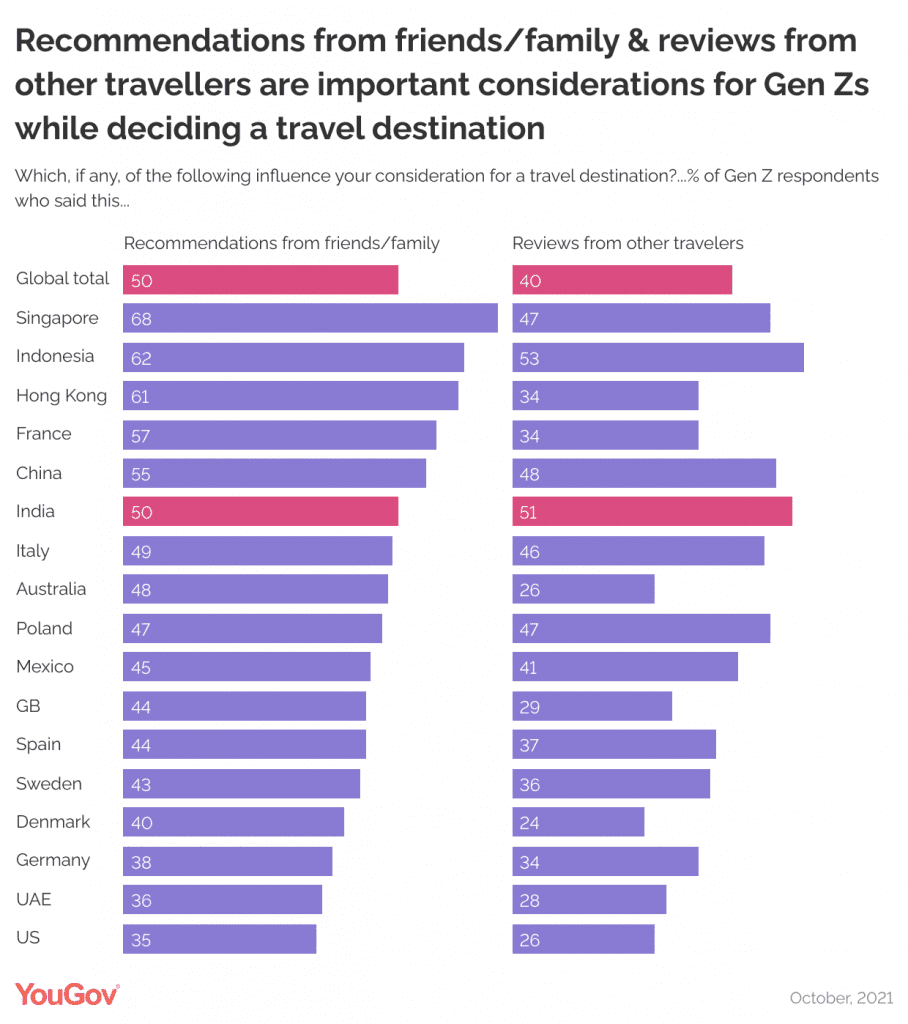 It comes as no surprise that Gen Zs, as the first generation of digital natives, are more dependent on technology. Social media also forms an integral part of the way Gen Zs communicate with each other as well as interact with brands.
Data shows that globally, about nine in ten (88%) Gen Z consumers currently follow a social media influencer, and almost one in five among them (19%) follow a travel influencer.
When we look at travel influencer following by country, we find that India (30%), Indonesia, and Hong Kong (both 26%) register the highest travel influencer follower penetration in Asia.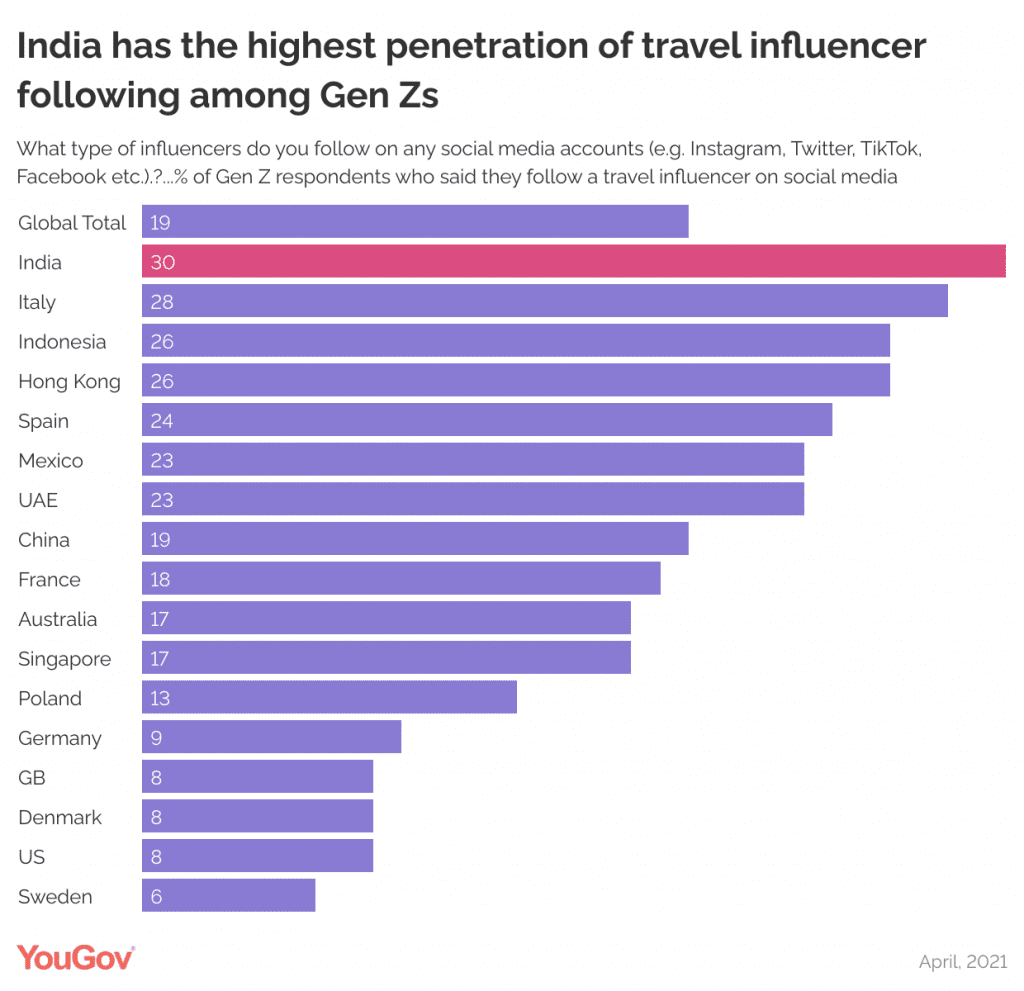 Gen Z's heavy engagement with social media and its influence on their decisions presents an opportunity for brands and travel companies to engage them effectively by creating immersive online experiences. Building strong and positive brand associations is a long-term effort, and with Gen Zs, the time to start is now.
For this study YouGov connected research fromtheir syndicated solutions including, YouGov Global Travel Profiles, YouGov Global Profiles, and YouGov BrandIndex whilst also leveraging YouGov Custom Research.
The data from Global Travel Profiles used in this study is based on the interviews of 25,918 adults aged 18 and over across 25 countries in April 2022. All interviews were conducted online and the results are nationally representative. The countries in the poll include Australia, France, Germany, India, the UK, the US, China, Sweden, Indonesia, Canada, Spain, United Arab Emirates, Denmark, Italy, Singapore, Thailand, Japan, Malaysia, Norway, Kingdom of Saudi Arabia, Finland, Brazil, Egypt, Mexico, and the Philippines.
Global Profiles tracks 1,000+ questions in 43 major markets, offering the largest globally consistent audience dataset. Data was collected in April 2022.
Read More: Latest