There is a world of magic and wonder in the Solan hills. Road trips are the best way to explore the untamed wilderness of the forests of Himachal Pradesh.
Driving through the yet undiscovered stretches of the Solan hills, you catch glimpses of snow-capped mountains in the distance and drive through lush green meadows, dark forests, and breathtaking scenery.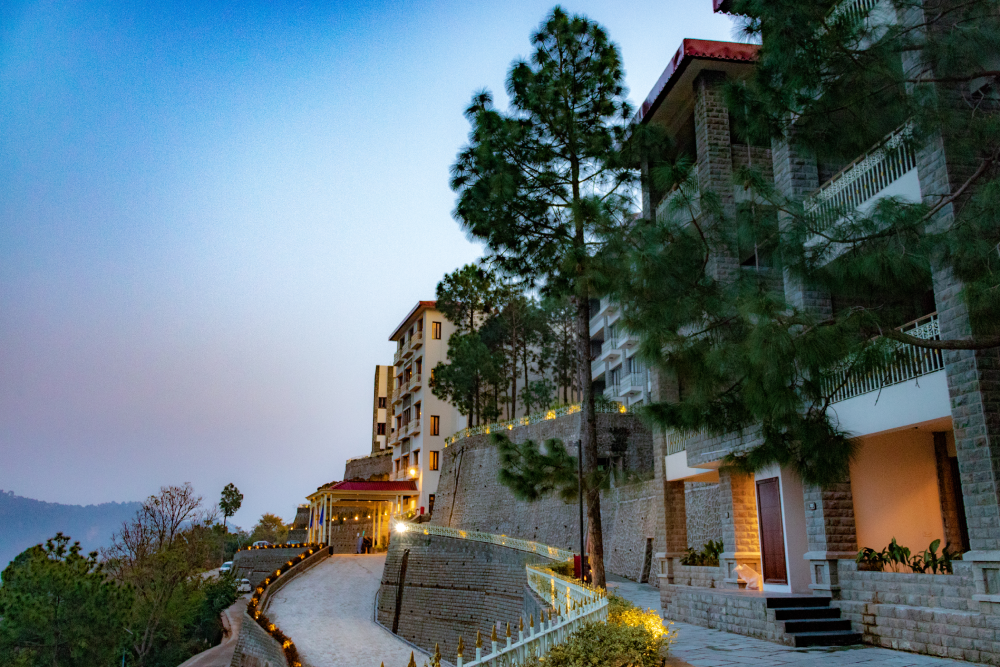 It's a surprise adventure because you do not expect such great charm in this lesser-known region of the Himalayan state of Himachal Pradesh. The road is good as you drive through the rugged landscape, past green terraced mountainside, several clear gushing streams and temples built above hillocks.
We found a retreat of pure enchantment when we ventured down the pine-crested, undulating roads of Himachal Pradesh – Fortune Select Forest Hill, Mahiya!
Situated above the lush pine trees of the Solan Valley, the picturesque retreat of the Fortune Select Forest Hill, Mahiya is bursting with fairytale charm. You can simply lose yourself in the beauty and tranquillity of the Mahiya forest and let your imagination run wild in this remarkably picturesque location.
It feels great to escape the fast-paced activities of everyday life and indulge in some quality time with oneself or your family deep within lush forests. This incredibly quaint resort is perched on a hill, a secluded haven allowing you to relax and unwind amidst majestic mountains and green valleys.
Set in the Solan Valley, the hotel is a short drive from the Himalayan Express Highway (NH-22). Just 45 km from Chandigarh, a single detour from Chakki-Mod and another 13 km scenic drive through the forests, takes you to the single ridge adorned by Fortune Select Forest Hill, Mahiya.
A fusion of classical, colonial, and contemporary architecture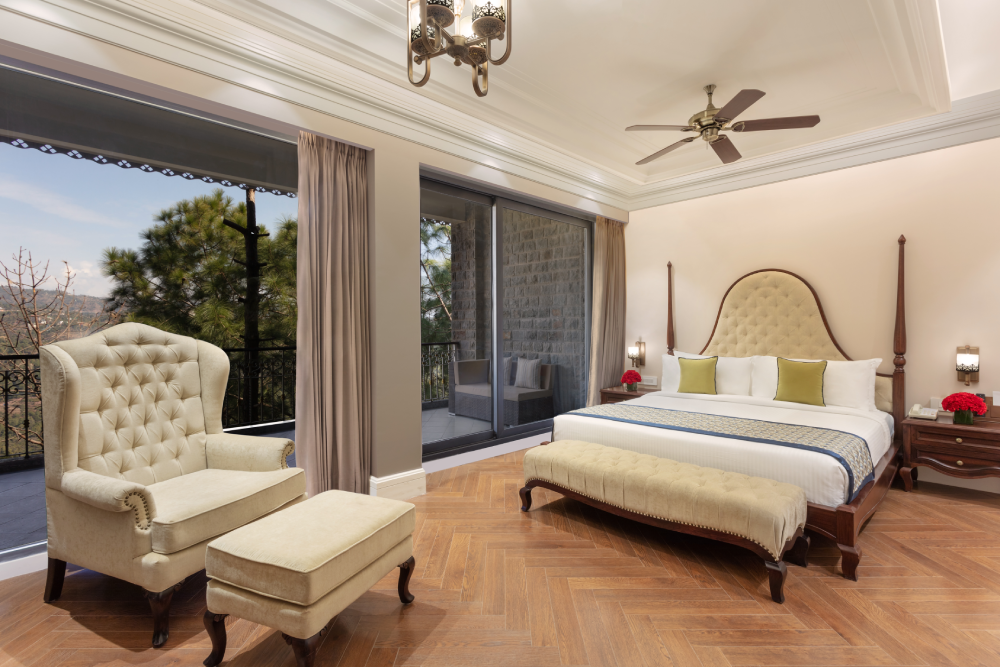 The hotel offers 63 guest rooms designed with a fusion of classical, colonial, and contemporary architecture complemented by a tasteful sprinkle of art deco. I found the carefully constructed space made for a luxurious and comfortable stay.
But the real gem is the stunning views of majestic mountains that can be enjoyed from large balconies overlooking the mountains and valleys. The wooden flooring and old-world charm provides a perfect blend of comfort and idyllic bliss, ideal for relaxation and rejuvenation.
Great features that make a stay seamless
Here is a wonderful getaway to enjoy the great outdoors. The hotel offers an array of exciting outdoor activities including a swimming pool! You can go trekking, hiking, angling, and bird watching in the surrounding mountains and streams cutting across valleys.
In fact, there are so many practical help points, that it makes a vacation seamless. Need to exchange currency or get some travel assistance, maybe even airport/railway station transfers? No problem, they've got you covered. There is even an efficient Business Centre in case, work crops up suddenly. Plus, the doctor is on call in case of any emergencies. And don't worry about parking – they offer convenient valet service.
Experience delectable Food and Beverage
If you're a foodie who loves to try new things, then you are in for a pleasant surprise at the Fortune Select Forest Hill. Their restaurant and bar are perfect for indulging in exquisite cuisines from around the world. Zodiac is the 24 hour restaurant that offers a Victorian-inspired setting that you won't be able to resist. Flooded with natural light during the day and transformed into a buzzing fine-dining venue at night, Zodiac brings you the best flavours from across the globe.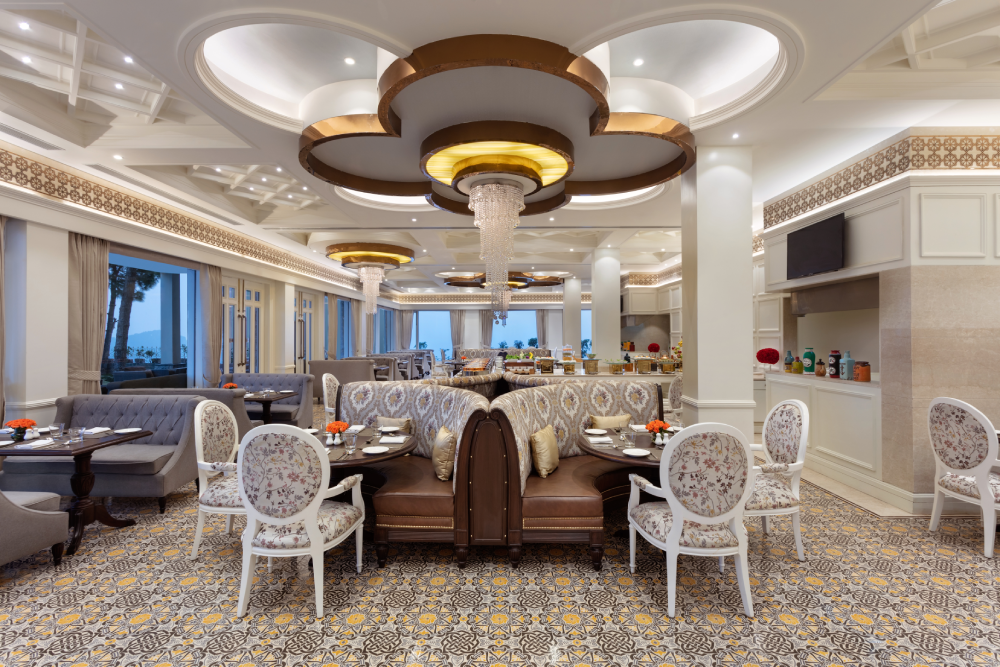 If you love freshly baked goodies that are coated with mouth-watering aromas, you would find Fortune Deli your heaven!
A contemporary outlet that serves light snacks, cakes, pastries, chocolates, and bread, perfect to graze on after a long day.
And if you looking to catch up with friends or relax in a contemporary setting, head over to Neptune. With an excellent collection of spirits, wines, and beers this bar offers a perfect ambiance to relax and unwind.
Discover Unforgettable Meeting and Conference Facilities
Life is full of surprises. Fortune Select Forest Hill, Mahiya does not only charm holidaymakers into dreaming they are in paradise, but it also doubles up as your go-to place for Meetings and conferences.
It is actually a great Bleisure hotel as it allows you to create unforgettable memories with your conference guests on account of an elegant venue surrounded by stunning landscapes and sophisticated settings.
Here is a naturally perfect and stunning backdrop for your special event.
One can experience the flair and whimsical charm of a grand and spacious ballroom with ornate chandeliers, and rich colours – a perfect venue for destination weddings that is sure to transport guests to a fairytale world. Of course, the ballroom works just as well for corporate events and meetings and can accommodate up to 225 guests, which we saw during our visit – a large pan-India bank was holding a conference here.
For important business meetings, a private boardroom accommodates up to 50 guests and is equipped with state-of-the-art business facilities. You can also count on a dedicated team to provide exceptional tailor-made services and lip-smacking gourmet options during your stay.
Distance of the hotel from access points
Chandigarh: 45 km; Chakki-Mod: 13 km, Kalka Railway Station: 25 km; Shimla: 70 km; Delhi: 300 km; Solan: 25 km
Read more: Latest