Replete with flavours and aromas, Qatari cuisine is both sumptuous and hearty. The fact that it has much more to offer than the traditional fare is what attracts people to this multi-faceted culinary destination.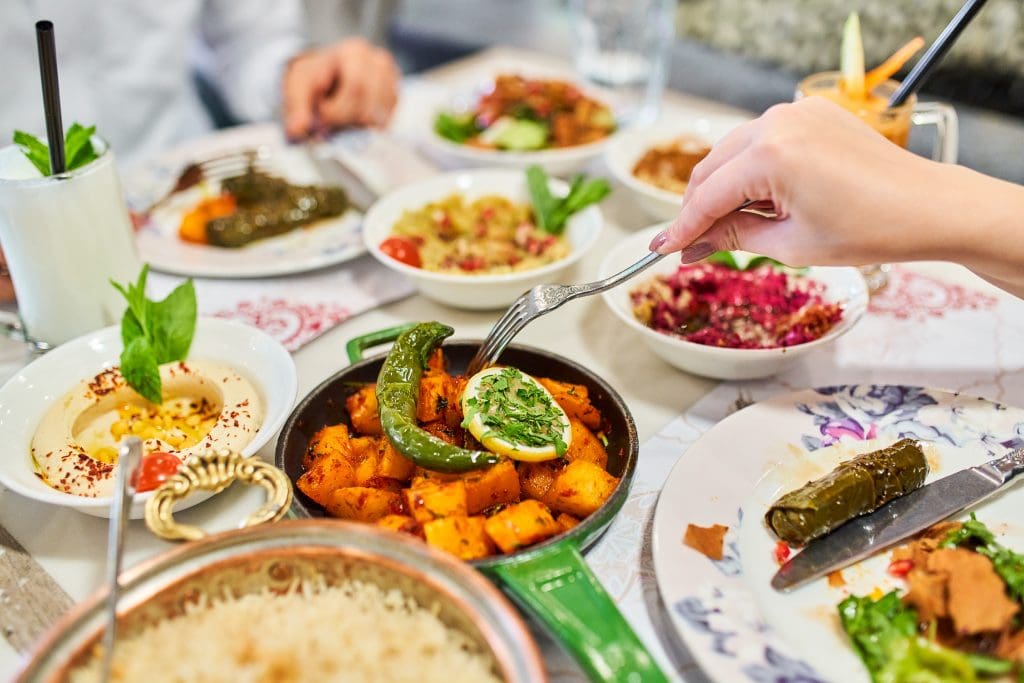 Qatar is home to people from more than 100 countries.
This diversity is reflected in its multi-ethnic cuisine, which is brimming with flavours, aromas, and diverse influences.
While Arabic and Middle Eastern cuisines are well represented in the culinary landscape, Asian, Indian, and European food also feature prominently.
The options are also plentiful with world-class restaurants by Michelin-starred chefs sharing space with family-style restaurants, cafes, and street-food stalls.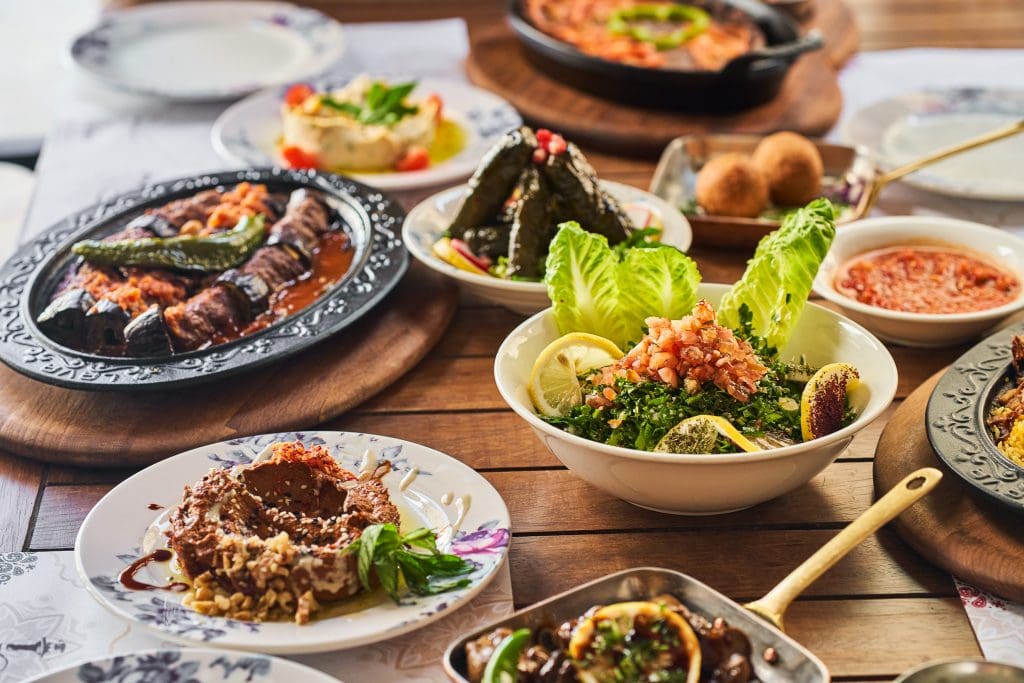 Here's a glimpse of the food scene and some of the best places to eat in Qatar:
Fine Dining Restaurants
The country boasts of several fine dining experiences that brings the best of the world to Qatar. Here are some of the finest restaurants that have become a part of the cityscape of Doha as much as the palm trees and the swanky buildings.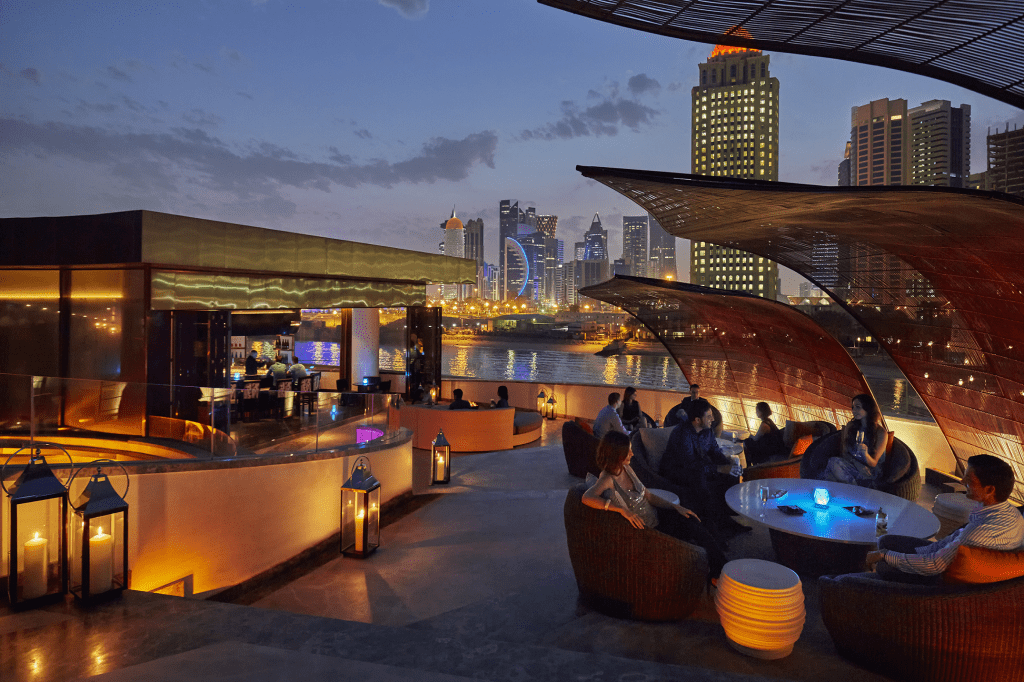 Nobu Doha: Chef Nobuyuki Matsuhisa's blending of traditional Japanese dishes and Peruvian ingredients finds the most articulate expression in Nobu Doha – one of the largest Nobu flagship restaurants in the world. Overlooking the Arabian Sea and featuring the exquisite open-air architecture of David Rockwell, Nobu is known for its signature dishes that use fresh produce obtained through sustainable means. Be it the silky-smooth miso cod, foie gras shitake mushroom dumplings, or the flawless sashimi – every dish bears the stamp of excellence of Chef Nobuyuki.
Bayt Sharq: If you are looking to sample quintessential Qatari dishes amidst a traditional Qatari environment, then pay a visit to Bayt Sharq. It has both indoor and outdoor dining options and is situated in a historical site known as Al Khulaifi heritage house. Priceless artifacts are on display and the food is the perfect representation of the local cuisine. Many of the dishes are only available during the holy month of Ramadan, which makes a visit to this restaurant absolutely imperative.
CUT: Celebrity chef Wolfgang Puck's signature restaurant has won the hearts of many, including the judges of the coveted Michelin Guide. As a steakhouse, the focus at CUT is on the various premium cuts of beef that are popular across the globe. Equally delectable are the seafood and shellfish preparations that should be paired with a rare wine chosen from Puck's extensive international wine list.
Kailash Parbat: For those longing for Indian fare, Kailash Parbat is a veritable heaven. It serves North Indian street food along with a wide selection of main dishes. Dishes are usually accompanied by sweet and sour sauces and chutneys that make for a delightful gourmet experience.
Spice Market: The name might remind you of a Middle Eastern souk, but Spice Market is the go-to place for all lovers of Southeast Asian food. Packed with traditional flavours and lovingly prepared by its special team of in-house chefs, Spice Market serves tasting plates, piping hot soups, fresh salads, and dishes straight from the wok. Do check out their Tuk Tuk brunch, which features in-house specials along with a live DJ belting out popular numbers.
La Maison Martinez: Experience the elegance and sophistication of afternoon tea amidst a Victorian setting right at the heart of Qatar. La Maison Martinez, situated in JW Marriott Doha, has a set menu featuring tea, coffee, sandwiches, tarts, and other sweet and savoury selections. You can also enjoy a delectable selection of mezze platters and breakfast items too.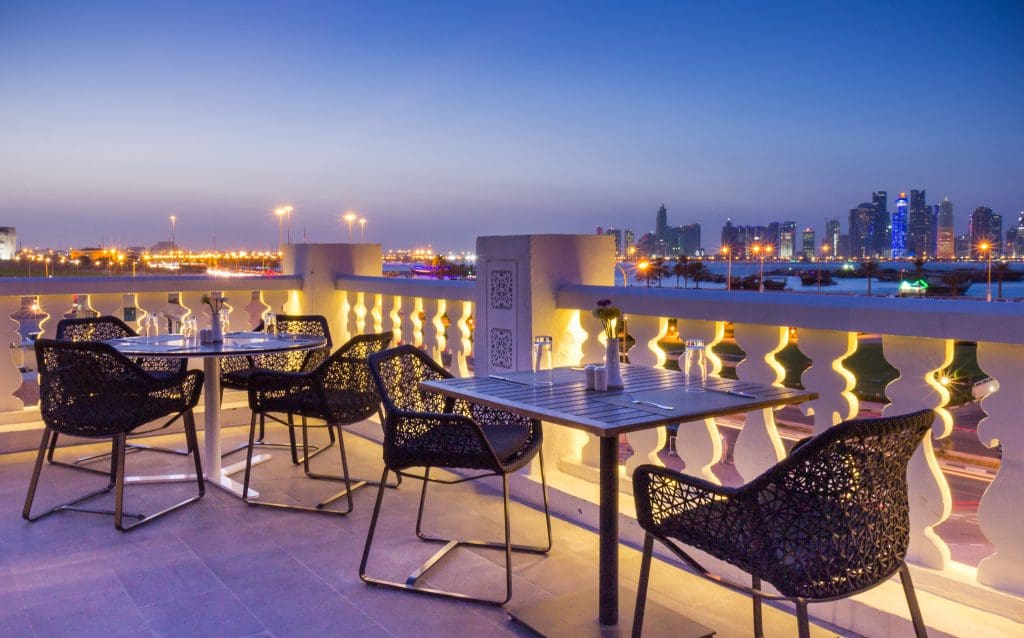 Business Restaurants
For business travellers, Doha offers you a range of choices – from fancy, Michelin-star institutions like Morimoto Doha and Nobu to more casual places like Dante Cucina Italia and B-Lounge. Here are some of the top favourites for business dining setting:
Dante Cucina Italia: This restaurant focuses on authentic Tuscan cuisine made with local ingredients and traditional Italian cooking techniques. Inspired by the poet Dante and his love for Italian gastronomy, it offers a range of pasta dishes, antipasti platters, freshly baked pizzas, and decadent desserts.
B-Lounge: Facing the Ritz Carlton, B-lounge is a lounge-cum-restaurant that specialises in fusion food and Asian cooking.
Astor Grill: The restaurant has an uber-chic and contemporary vibe that is perfect for client meetings and business lunches. The open kitchen serves prime cuts and fresh seafood to be paired with hearty rustic sides and wines. A private dining area for small gatherings is also available.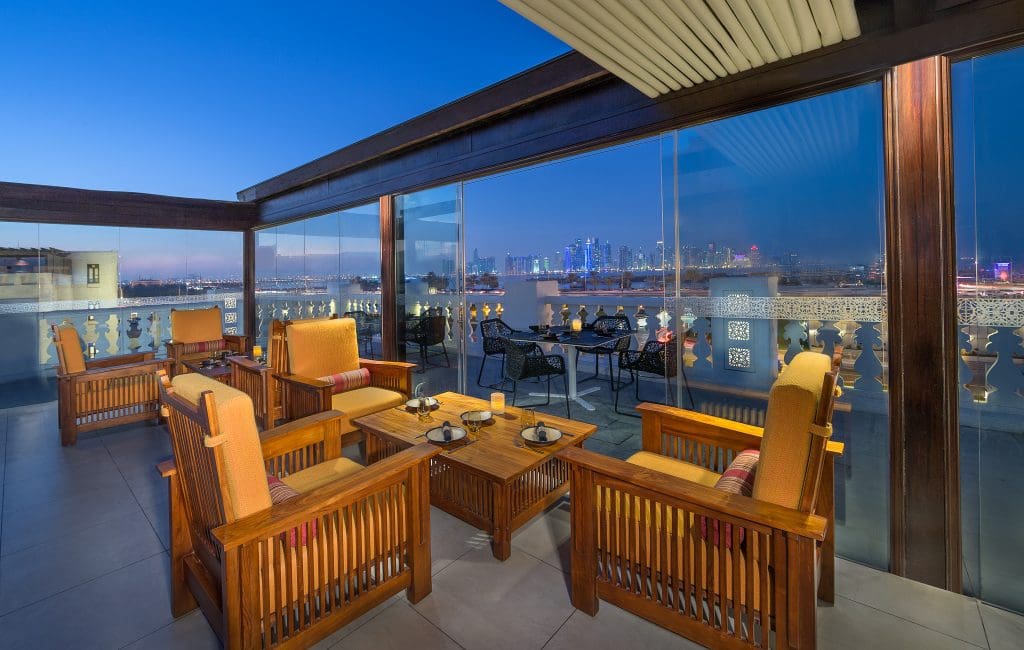 Al Shurfa Arabic Lounge: For business travellers who love to dine in a place with a view, Al Shurfa (literally meaning the balcony) is just the choice. More than a restaurant, it's a happening place to hang out and overlooks the heart of old Doha and the famous Souq Waqif (the traditional marketplace of Doha). The cuisine served is a mix of Lebanese and Mediterranean. Various flavours of shisha are also available.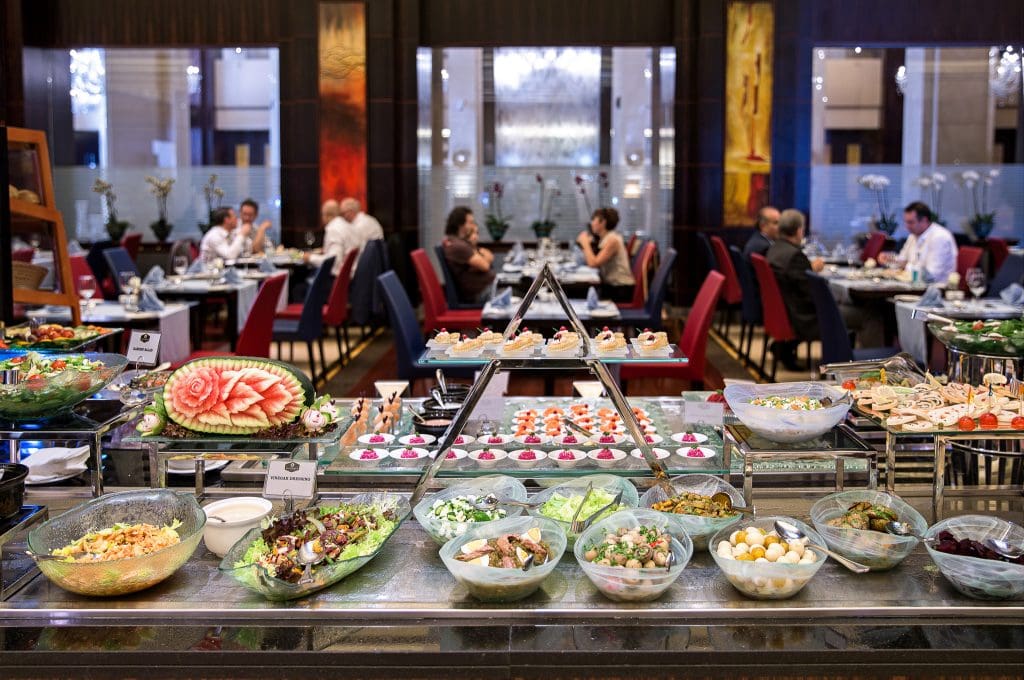 Sky View, La Cigale: The Sky View lounge atop the La Cigale hotel offers a panoramic view of the Doha skyline along with delicious cocktails and finger foods. The DJ nights, when world-class jockeys play for the guests, can be great for a casual team outing.
Si Restaurant: The newly opened SI Restaurant at Astor Grill at St. Regis offers an outdoor experience like no other. The Mediterranean-themed restaurant features an outdoor patio, where one can indulge in contemporary Lebanese, Spanish and Italian cuisine.
Casual Dining Restaurants
The choices are plenty when it comes to casual and family-friendly dining. The options vary from mid-range to budget restaurants. There are also food trucks for quick bites. Here are some places you must try out: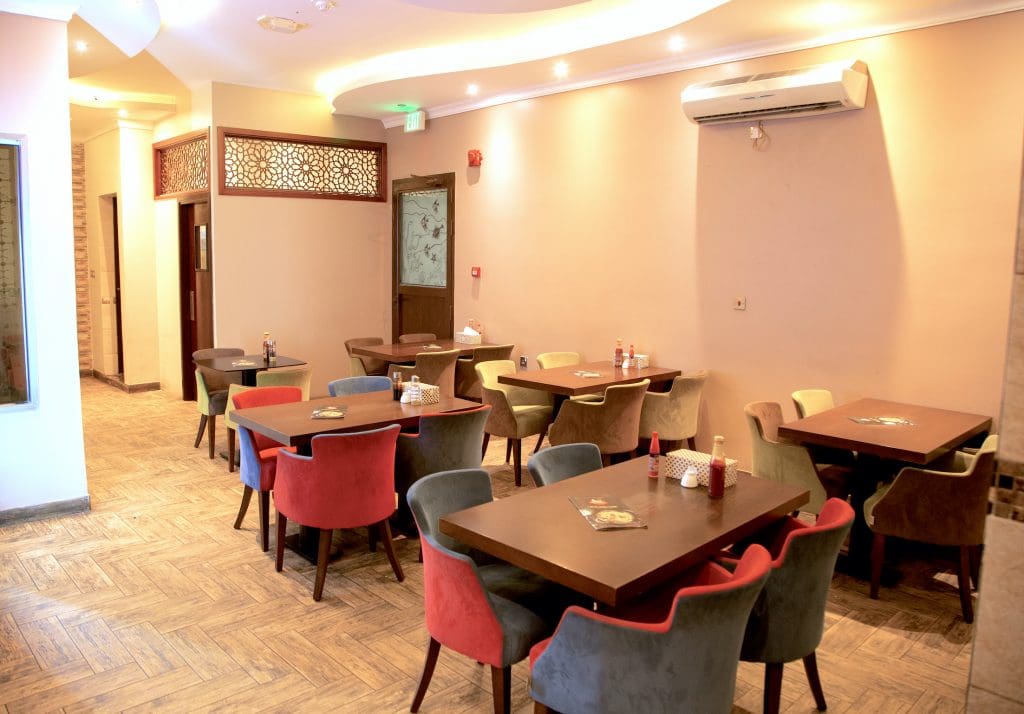 Biryani Corner: It is the home to an array of scrumptious biryanis that are extremely popular with both locals and tourists.
Al Jasra: If you are digging some home-cooked Qatari food, then look no further than Al Jasra that serves freshly prepared traditional dishes cooked by Qatari women.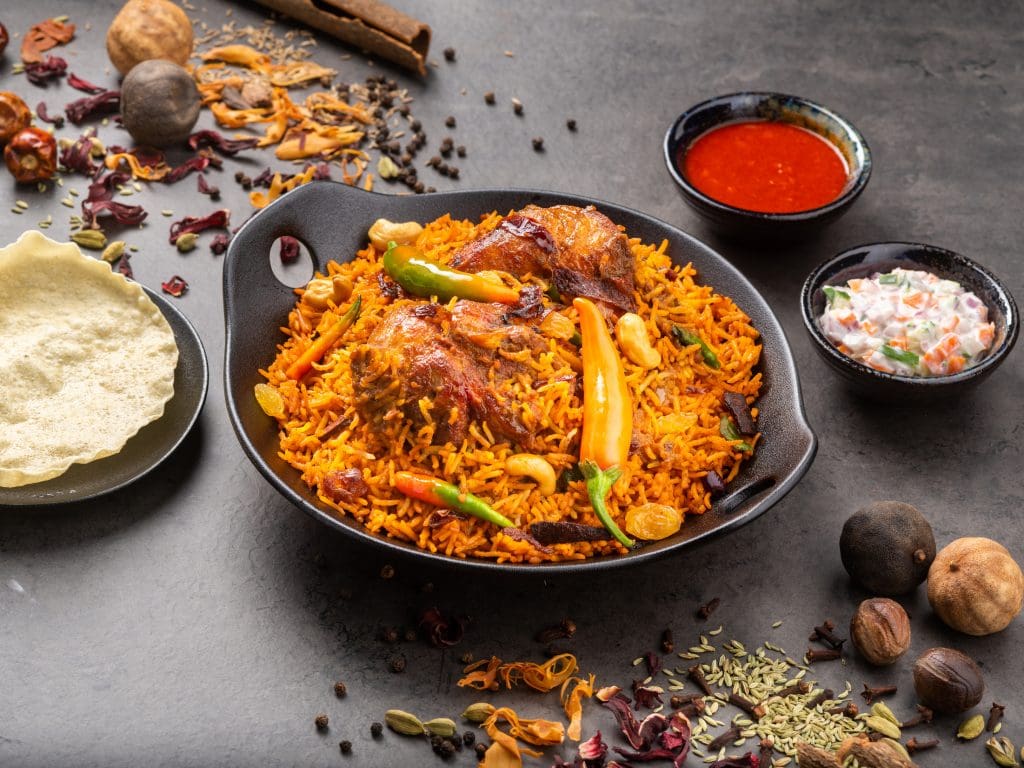 Karak Mqanes: Forget fast food chains! Karak gives a modern twist to the age-old recipes of Qatari mothers and grandmothers by serving them in easy takeout packages. On the menu, we have traditional sandwiches and breakfast items to be enjoyed with cold coffee. The institution is also dedicated to preserving the dying art of falconry that now enjoys a UNESCO living heritage stamp.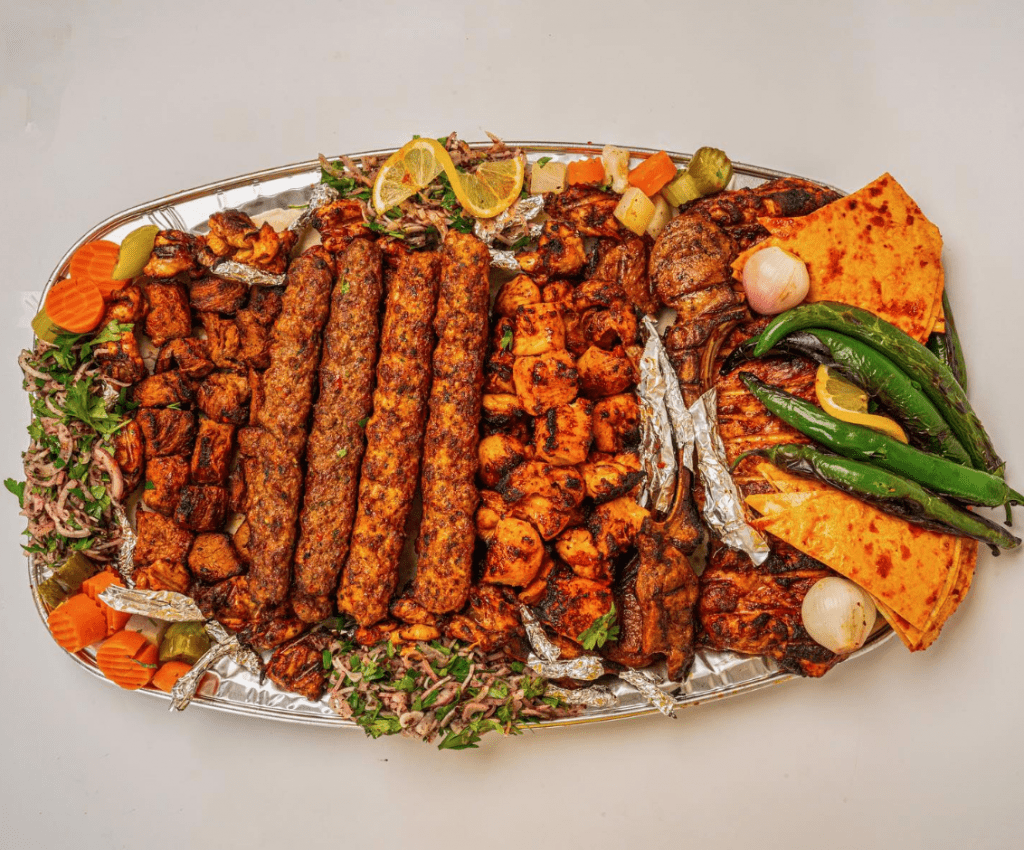 Turkey Central: This quaint take-out place is always buzzing with locals and tourists who come here to sample some of the best Turkish kebabs and koftes.
Food Experience during Ramadan
Perhaps the best time to visit Qatar is during the holy month of Ramadan.
There is a general spirit of festivity in the air, and the whole city of Doha comes to life after sundown.
Many restaurants serve sumptuous Iftar fare, buffets, and Ghabga specials after sunset, while there are Ramadan tents where one can sample cuisines from across the globe along with hot and cold beverages.
Read more: Qatar