Tigers of Kanha – their names and their history is the stuff legends are made of.
Kanha National Park has a great story, to begin with. It was the inspiration behind Rudyard Kipling's famous novel "The Jungle Book." The book is set in a forest that is said to be based on Kanha.
Let us take you to this vast wildlife reserve in India where the famous 6 tigers of Kanha are widely photographed, affectionately referred to, and yes have a great fan following.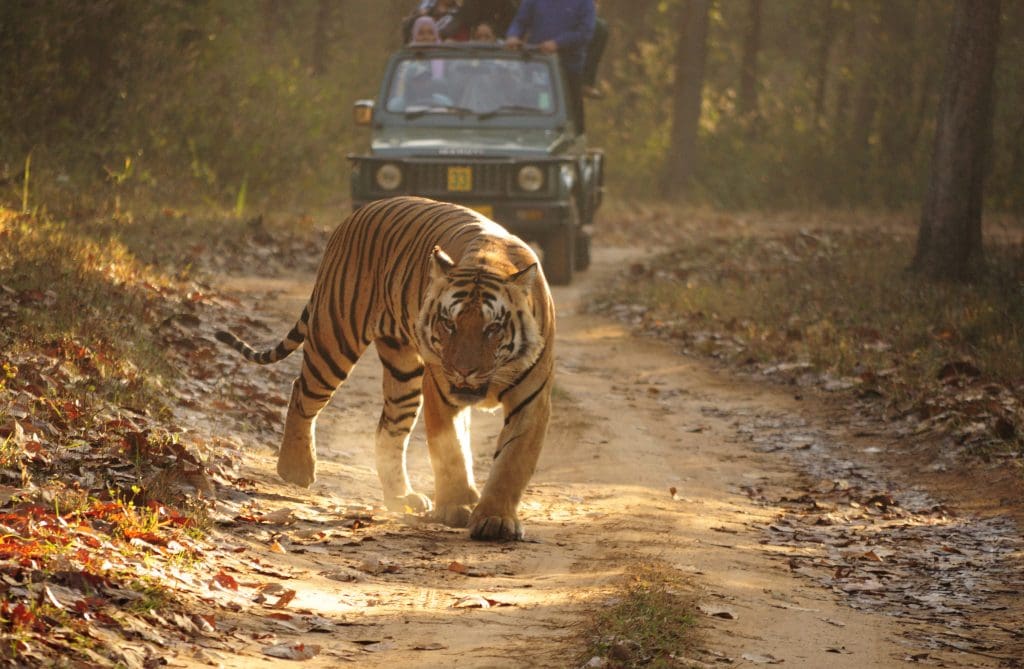 The Kanha Tiger Reserve is also known as Kanha-Kisli National Park. It is the largest national park of Madhya Pradesh and one of the top tiger reserves in India. It was established in 1955 and covers an area of approximately 940 square km. The park is known for its dense sal and bamboo forests, grassy meadows, and numerous streams and rivers.
The park is home to a variety of wildlife, including tigers, leopards, wild dogs, Indian bison (gaur), sloth bears, and many species of deer and antelope. It is also home to over 300 species of birds, including the Indian pitta, which is known for its bright colors and distinctive call.
The Kanha zone, Kisli zone, Mukki zone, and Sarhi zone are four safari areas (core zones) that are particularly popular among visitors.
They are now all central areas of Kanha National Park, where most visitors go on safari drives. In addition to these four safari zones, the Kanha park administration has established buffer safari zones like Khatia, Khapa, Phen, and Sijhora. It's crucial to note that there's no physical barrier between such safari zones, and animals aren't aware of them, thus their mobility isn't restricted as much as a safari zone's, hence tiger sightings can occur everywhere.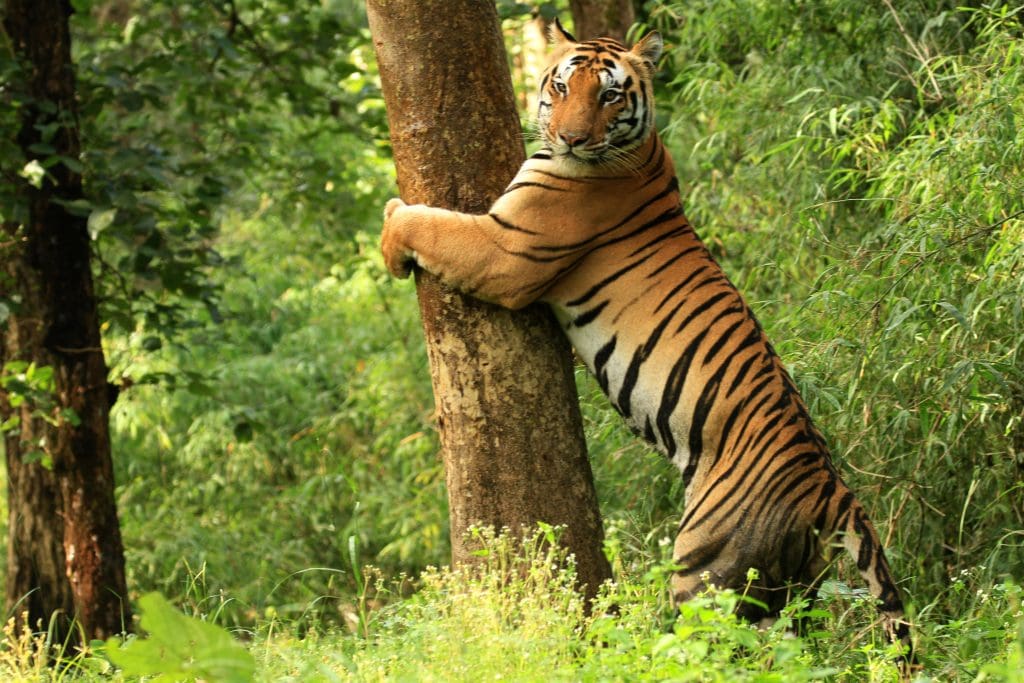 The tiger is at the top of the Kanha eco-biological system's pyramid. They are rufous in hue with distinctive black stripes that add to their charm. Each tiger's face markings are distinct, allowing them to be identified uniquely. Their body colour frequently aids them in avoiding their natural prey by allowing them to hide in the shade and big grasses.
A completely grown male tiger can reach a length of 2.7 to 2.9 metres, while a fully-grown female can reach a length of 2.5 to 2.6 metres. Male tigers are larger than female tigers. Tigers typically weigh between 185 and 245 kilogrammes, whereas female tigresses range between 140 and 170 kilogrammes.
At the age of two, a tiger hits puberty. A tigress' gestation span is around 105 to 110 days. A wild tiger's average lifespan is 15 years; however, it may survive up to 20 years in captivity. It has been observed that aged tigers frequently die in territorial conflicts or owing to an inability to kill, resulting in starving death.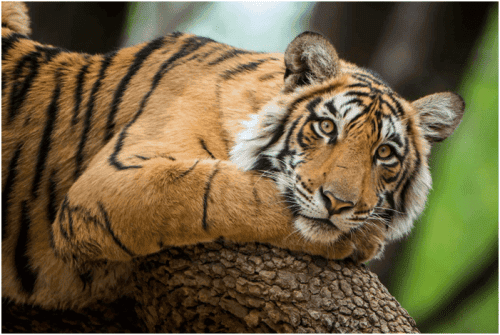 Tigers have excellent eyesight. Tigers have six times the eyesight ability of humans in the dark. Tigers are solitary creatures who are very territorial. They identify their area by scraping trees and releasing a distinctive aroma in trees on a regular basis. They monitor their region on a regular basis and don't dare to fight to keep or expand their current territory.
Given the fact that visitors and safari guides have widely visited all four main areas of Kanha national park, one can now identify some of the most often spotted tigers and tigresses in each safari zone. Therefore, there is an attempt made to compile a listing of recent tiger sighting in Kanha so that people may have a general notion of which tigers can be located in certain safari zones.
We attempt to familiarise you with the famous tigers of Kanha and their stories with the understanding that there can be further developments and poachers or other tragedies could befall the famous tigers.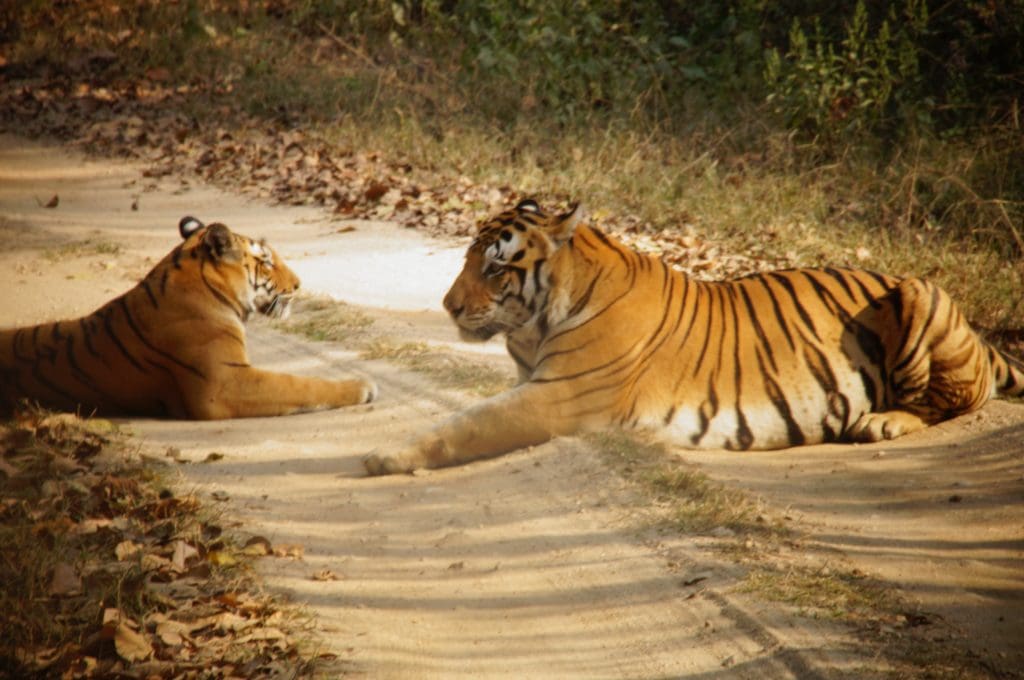 Neelam (Female Tigeress)
Neelam (T-65), a stunning young female in her prime, is the unquestioned Queen of Kanha Meadows. She was radio-collared for a short time as a sub-adult in 2014 for research purposes. She controls a large portion of the Kanha Zone. Since their territories cross in a few spots, she had a few conflicts with Naina (T-76). With a genealogy that includes Munna and Munna Dadar, Neelam appears to be in good shape to carry on her parents' history.
Naina (Female Tigeress)
Naina, one of the park's most gorgeous and assertive Tigresses, shares a portion of her territory with Neelam (T-65) and her mother (T-8). She was given the name "Naina" not just because of her lovely eyes, but also because, unlike many of her peers, she makes direct eye contact with visitors more frequently than not. Her home range is located in the Kanha zone's tourist regions.
Dhawajhandi (Female Tigeress)
T-27 was born in Chhoti Mada's first litter (T-31). She spent her whole youth in the Mukki zone's Dhawajhandi, Baba Thenga, Singarpur, and Malkhedi regions with her brothers. She was victorious in claiming a portion of her mother's land when she reached maturity.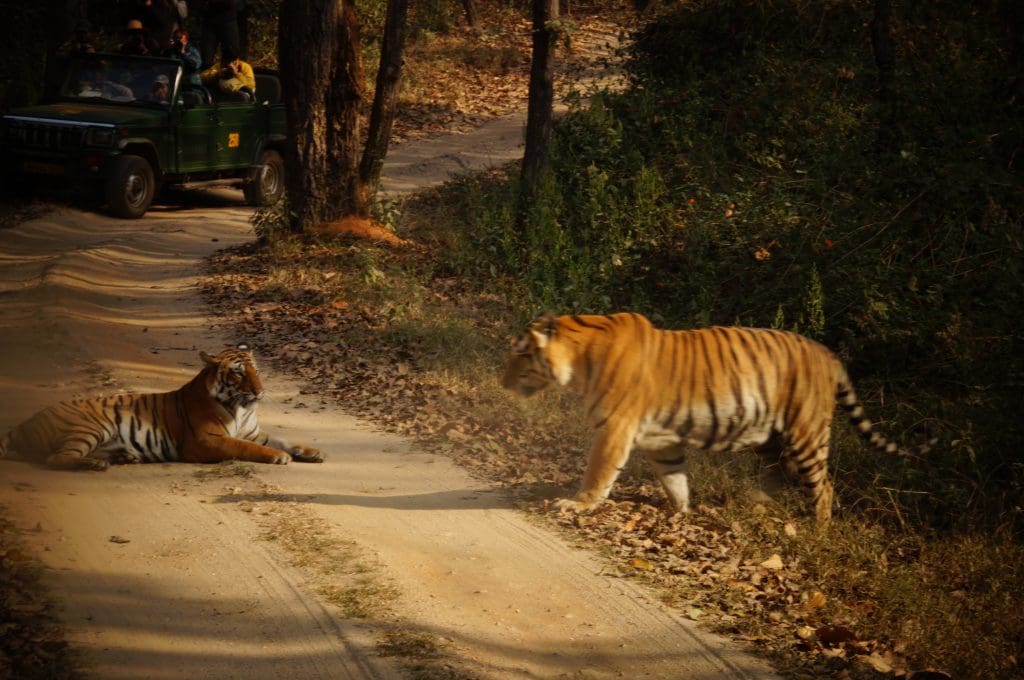 Bheema, a young dominating male tiger, and T-27, a renowned pair of Mukki, were the famous couple of Mukki in early 2015.
During the winter of 2016, Chhota Munna (T-29) took over Bheema's area and was befriended by Dhawajhandi females. She is one of the most outspoken females in the area, and she is frequently seen. Her home range is located in the Mukki tourism zone and the Kisli zone's outskirts.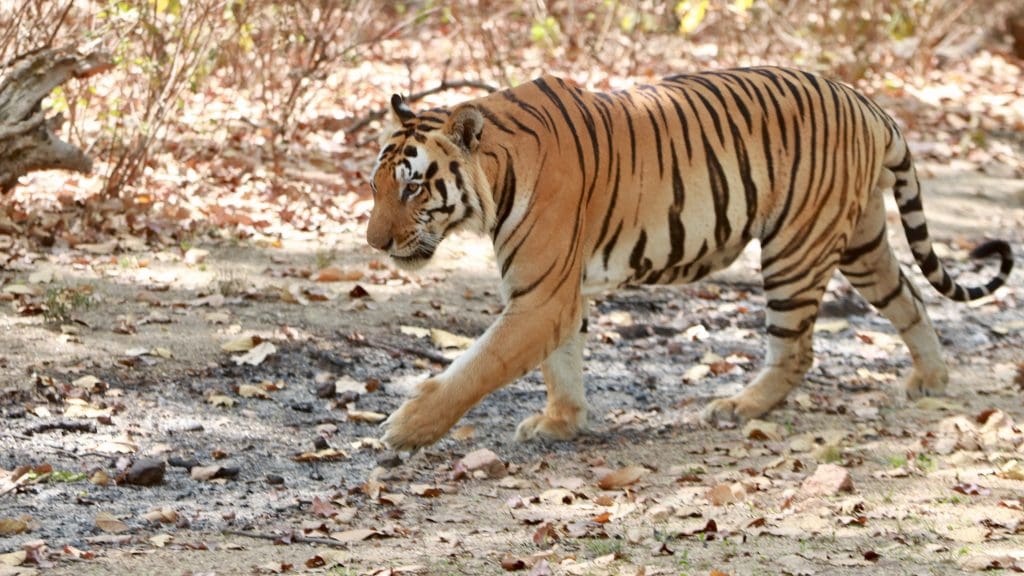 Munna (Male Tiger)
Munna or T-17, the King of Kanha and the world's largest and oldest living tiger male tiger, was among the most filmed tigers in the world at 17 years old. Umarpani Male T- 30 is one of Kanha's biggest male tigers, having been born in a litter of two cubs to one of Kanha's famed tigresses, Umarpani Female. Umarpani Male spent much of his childhood at Kanha zone tourism sites. When Umarpani male reached adulthood, he established authority in Mukki.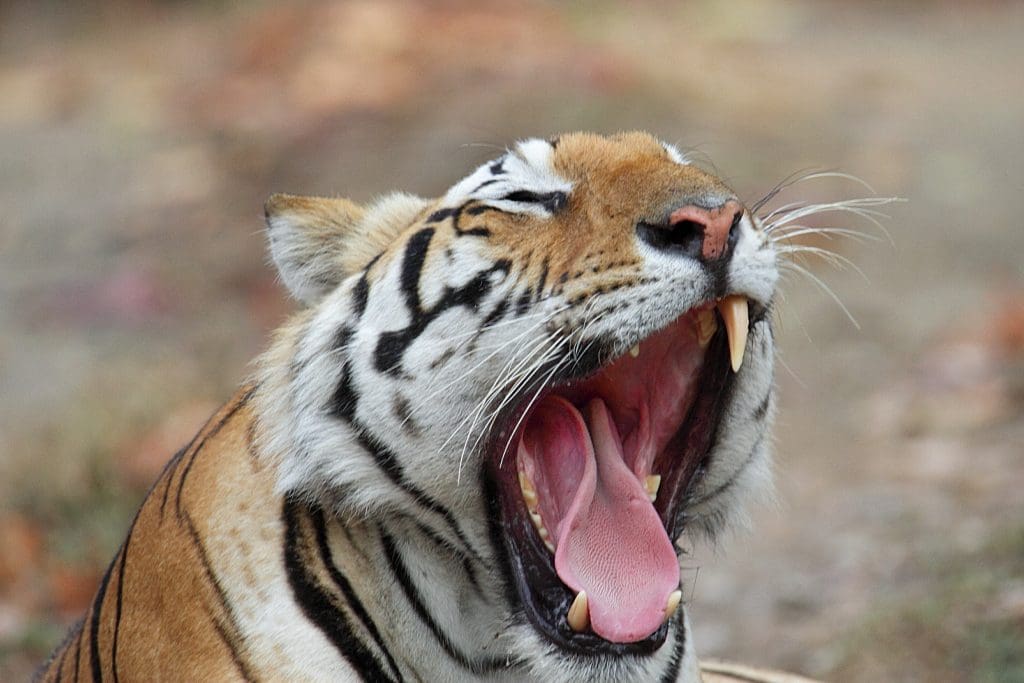 He spent the following few years attempting to build his own region. His primary enemy turned out to be Kingfisher male, with whom he had fought brutally on several occasions and who may have been responsible for his death in late 2016. A big battle took out between Umarpani male tiger and his half-brother Chota Munna tiger during the summer of 2017, resulting in considerable bruises to both.
He is well-known around the world for the prominent CAT mark on his forehead. This striped cat's moniker comes from his limp, which is akin to that of a park guide named Munna. Munna spent his golden years in the buffer zones, subsisting mostly on slaughtering animals from neighbouring settlements. Munna was sent to Bhopal Van Vihar for his protection in order to prevent additional confrontation with humans.
Kingfisher (Male Tiger)
The exquisite male was given the moniker "Kingfisher" because of a hovering kingfisher-like marking over his right eye. In 2010, this male, also known as Raja ram, was born in a litter of three cubs to Neela Nala mother. As a subadult, the wanderer was first observed in Bamhani Dadar in 2012.
The seasoned sub-adult increased not only in size as well as in area as time passed. Due to its peaceful temperament and unhurried sightings, our child was the star attraction of Mukki in 2014-15. In his golden days, the gorgeous guy dominated the southeast region of Mukki. In 2017, the male was embroiled in a fierce territorial battle and died.
Sangam (Male Tiger)
T56 is the offspring of the famous tiger Kankata and an ancient Indri female and is one of the largest tigers in Kanha Tiger Reserve. He was born in a litter of three cubs in 2009. His domain comprises the Deewan behra meadows, the deep cover near Ganghar nallah, and the Khairwadi plains. In 2017, he mated with Budbudi female (T-83) and may have a litter. He is well-known for his daring and unhurried sightings.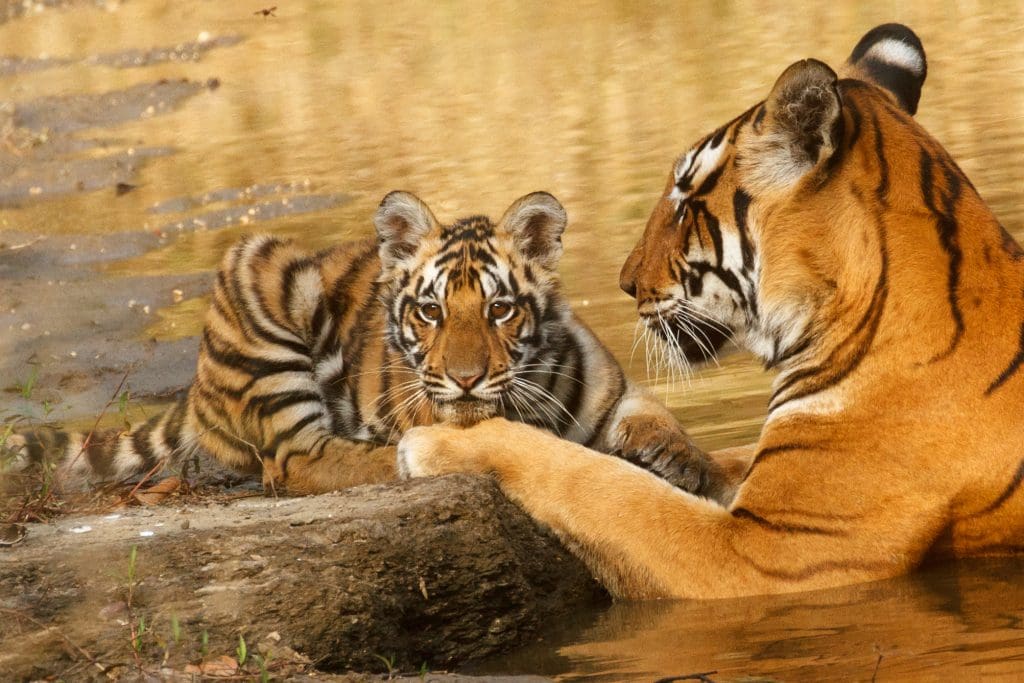 To make the most of your visit, here are some tips:
The park is home to a rare species of barasingha (swamp deer) that was once on the verge of extinction. The park's conservation efforts have helped to increase the population of this deer species.
You can book a unique "hard ground" barasingha safari, where you can explore the park on elephant back and view these magnificent deer species
Kanha National Park is also a cultural destination. You can book a tour, take a village walk or see a local cooking demo in the nearby tribal villages and learn about the traditional way of life of the Baiga and Gond tribes
The park offers night safaris, which are a unique way to experience the park's nocturnal wildlife, including leopards, civets, and porcupines.
Kanha National Park is also home to a significant population of Indian wild dogs, so keep a watch out
Visit the Bamni Dadar sunset point for a stunning view of the sunset.
Learn about the park's conservation efforts and support them in any way you can.
Guided Safaris – Visitors can take guided safaris through the park in open-top jeeps or on elephant back. There are also several watchtowers and sunset points that offer panoramic views of the park and animals. Book your safari and guide in advance.
Months to visit- The Kanha National Park is open to visitors from October to June each year, and is closed during the monsoon season, from July to September. The park's headquarters is located in the town of Mandla, which is approximately 160 km from the city of Jabalpur.
Safari timings – A single-day jeep safari in Kanha National Park may be done twice. Using a six-seater open car, one in the early morning(6:00 am-10:00 am) and the other in the late afternoon(4:00 pm-7:00 pm).
Cost – The trip costs Rs 250 per passenger and Rs 1500 for the entire vehicle.
What are the options for jeep safari routes? – Kanha National Park has four main zones where Jeep Safari trips may be taken. Sarhi, Kisli, Mukki, Kanha
Read More: Latest