When it comes to traditional Goan weddings, they are not confined to just one day of celebrations but are extended across four to five days, allowing you to indulge in infinite pleasure and frolic.
A Goan wedding is a full-fledged event with a wide range of authentic traditional ceremonies and customs.
Rituals
The bride wears as many bangles as she can in a Goan wedding called 'Chuddo' which is a celebration be it a Hindu or a Christian ceremony. This custom is intimately linked to Goan culture, as the people place a high value on bridal accessories during weddings.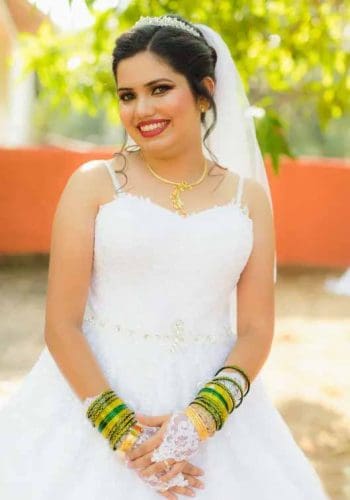 Chuddo are gorgeous bangles that are particularly fashioned in a specific colour and size. Additionally, the colour and size of the bangles vary by the village. These glass bangles are exceedingly fragile and are obtained from the 'Volar,' a local bangle merchant in the area.
Following the Chuddo ceremony, the 'Roce' or 'Ros' ceremony is performed, in which the bride and groom are coated with fresh coconut milk. This is a pre-wedding ceremony that takes place two to three days before the wedding. The bride and groom's parents, as well as their friends, relatives, and other guests, execute the ceremony at their respective homes. The custom of pouring coconut milk over the bride and groom before the wedding is meant to purify or purify the marriage, and it simply symbolises a new life filled with happiness and success.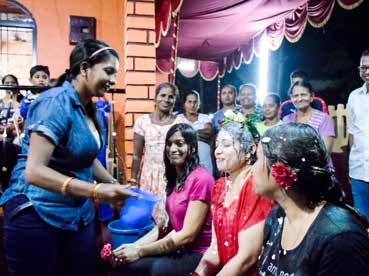 A lunch known as 'Bicareanchem Jevonn' is held in honour of the house's departed souls. An elder member of the household cracks a coconut in front of the house before the cooking of this dinner begins. This lunch's highlight is a spicy, aromatic dry prawn curry called 'samarachi koddi,' which is made with dry, unripe salted mango (mango sol). Rice 'Voddes' and urid dal are also available.
Soji, a sweet consisting of wheat and sugar cooked in coconut juice, and 'Vonn,' a sweet made of gramme dal, coconut juice, and jaggery, are also available. This dinner includes unique paddy that has been boiled, as well as zotis'.
On the wedding day, a groom's close relative who is meant to assist the bride in getting ready arrives at her home with the bridal gown and other accessories. All close family and friends bless the bride and groom in their own homes before coming to the chapel. After the groom arrives at the church, the wedding car arrives to pick up the bride. The couple says their wedding vows here, and the priest then pronounces them husband and wife.
Following this, the newlywed arrives at the groom's residence, where the groom's mother slips a gold chain around the bride's neck and the 'saddo' on her shoulder. They then continue to the celebration venue, where the wedding cake is cut and food and drinks are provided, as well as dancing and celebrations. A toast is also made for the married couple's happiness and success.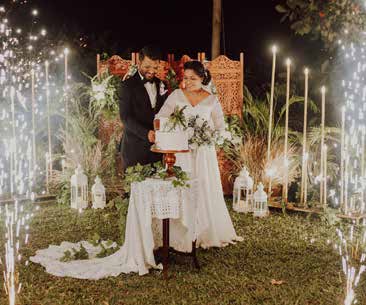 This Goan wedding custom is usually carried out after the wedding. The Xim refers to a boundary marked by the pouring of liquor. The brides, and therefore the groom's family, would stand on either side of this line, offering prayers, reciting sacred scriptures, and showering blessings on the newlyweds. Also, to put an end to all of the family feuds and return home happy.
The bride's family may make a few sweet items at the groom's residence to distribute among family, relatives, and locals as vojje. After that, some of it is restored to the bride's family. The Goan sweet "Boll," Doce, and a Banana are all included in the Vojje. Other goodies are distributed as well. The Vojje is given to the village and family as a show of appreciation for their help during the wedding preparations.
The Appoune or Porthopon follows the wedding ceremony.
The bride's family normally invites the groom's family over to their house the day after the wedding ceremony or reception, according to this tradition. A large feast is prepared for the bride, who wears a brilliant red saree or outfit known as Saddo. Both families have the opportunity to interact in a more informal and comfortable environment while getting to know one another better.
Wedding Attire
The groom is usually dressed in a formal suit Black or white suit typically accompanying the wedding theme. He's dressed in a white shirt with a boutonniere on his jacket's left lapel.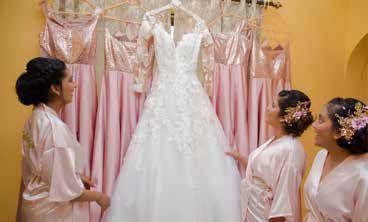 For brides in Goa, the traditional gown is a virgin-white gown. Catholic women wear expensive garments to their white weddings. Non-Catholic brides, on the other side, dress in a traditional lehenga or a 9-yard sari known as the Pano Bhaju for Indian-style weddings.
For a Catholic wedding, grooms wear a western-style suit, but for an Indian wedding, they wear a kurta. Traditionally women wear fota, a piece of jewellery worn on the head, neck, arms, and ears, as ornaments. A green stone was sandwiched between two corals in Fator, a double-chained adornment. The wedding necklace is traditionally called Cordao, and the traditional bangles are called nille.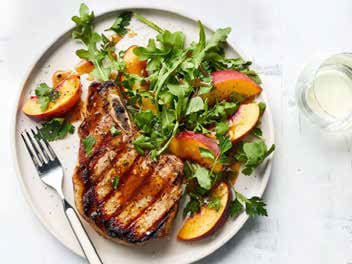 Goan wedding cuisine
Goan cuisine is a fascinating blend of influences, and it is unquestionably one of India's most evolved cuisines. A Goan wedding will typically have a gastronomic feast laid out for guests which will include most of the following delicious dishes: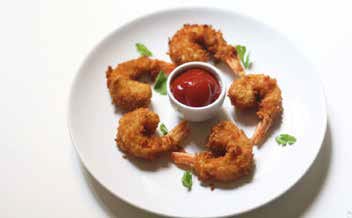 Goan masala fried fish fingers – These are boneless fish fillets that have been finger-shaped and wrapped in Goan spices before being fried until crispy. They are served hot.
Fried prawns with a crispy coating – These are tail-on prawns that have been spiced with spicy home-style masala and stir-fried in coconut oil.
Goan fish curry- Indian salmon is simmered in a coconut-based stew in this meal.
Boiled rice – This dish consists of rice that has been parboiled and is served steaming hot with curry.
Grilled Pork Chops – This meal consists of marinated pork ribs that have been barbecued.
Pork Sorpotel with Sannas – Served with sannas, a spicy stew with hog flesh, liver, and kidney.
Prawn and Rice Salad – In a salad, tiny freshwater catch prawns are combined with parboiled rice.
Lobster Salad – Freshwater lobster is filled with a cheesy prawn combination and served with fenny.
Cocada – A traditional Goan dessert made with coconut and poppy seeds.
Bibinka – A traditional dessert made with coconut milk and eggs topped with palm sugar.
Read More: Latest