With its wide-ranging cultural heritage and natural attractions little known Georgia, which has a population of 3.7 million, is of immense value to tourism.
Its culture draws on many influences, and it spans a unique bridge between Europe and Asia. Both this year and at the next ITB Berlin, Georgia will present its culture, history and art as well as an architectural heritage dating back more than 1,300 years.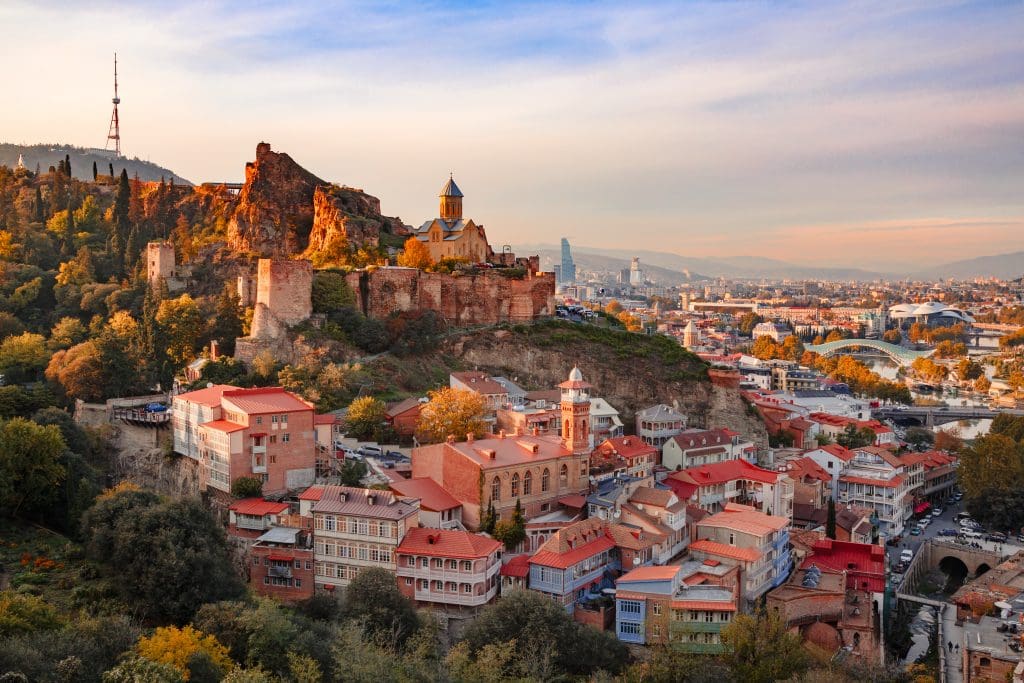 In Georgia, as in many other countries, sustainability is an increasingly important topic.
Bordering on the Black Sea's east coast, on the southern flanks of the Greater Caucasus Mountains, it boasts a pristine natural beauty in many parts, spread out across more than 40 nature reserves. The country's mountain ranges are taller than the Alps, with Mt. Schkara the highest peak (5,200 metres).
Furthermore, since 2001 Georgian polyphonic singing has been on UNESCO's list of the Intangible Cultural Heritage of Humanity. Other attractions include the country's wide-ranging cuisine and a wine-growing tradition that dates back more than 8,000 years.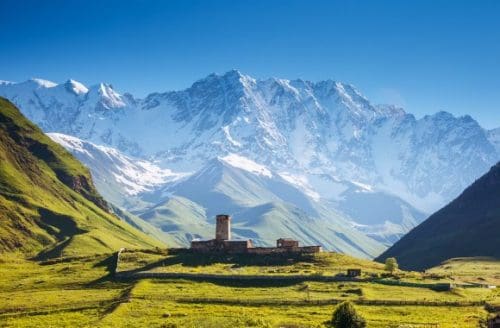 All this has made Georgia and its capital Tbilisi, founded in the fifth century, one of the region's most important travel destinations. Before the pandemic it attracted more than 9.3 million international visitors annually – about three times the country's population.
"With this year's ITB Berlin we are part of a virtual and global platform, through which we can spread our message to the world. No other event of this kind manages that, particularly in these times", said Medea Janiashvili, Acting Head at Georgian National Tourism Administration.
"As the Cultural Destination and future host country, we want our tourism strategy to receive long-term funding. We are convinced that tourism will be an enduring factor in the success of our country, people and economy. The partnership will also help to underline and further Georgia's role as a meeting place of Europe and Asia."
"We are really looking forward to welcoming Georgia at this year's ITB Berlin. For many years, the country has impressed with a spectacular rise in tourism services – it is a unique travel destination that offers visitors a wide range of experiences, adventure and impressions", adds David Ruetz, head of ITB Berlin.
Georgia is recognized as the homeland of wine
Georgia is recognized as the homeland of wine. Artifacts have been found in the territory of Georgia that provide evidence for an 8000-year-old continuous tradition of wine-making.
For millennia, the varying cultures of Georgia have maintained the Qvevri technique of making wine. Today, the same wine-making style is still as popular and is an integral part of the identity of Georgian wine-making.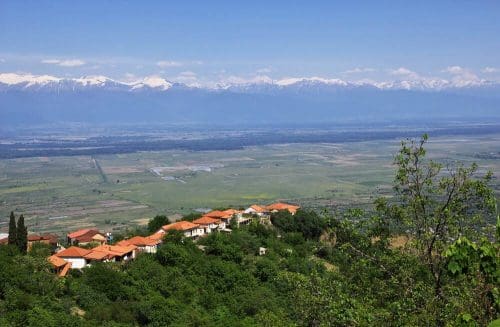 Georgian wine country is famous – Discover Kakheti
Qvevri winemaking method is what every Georgian is proud of. A Qvevri is a large clay vessel with a specific shape. In the Georgian language, Qvevri means "buried in the ground", which in itself tells us about the essence of this technique.
The Qvevri is buried in the ground but with the top exposed above ground to easily control the vinification process. The Qvevri is sealed with a wooden or stone cover, which is encased in a layer of clay, acting as a sealant.
The opening of a Qvevri usually takes place in spring and is always followed by a celebration, an event worth witnessing. It makes spring one of the best periods to visit Kakheti.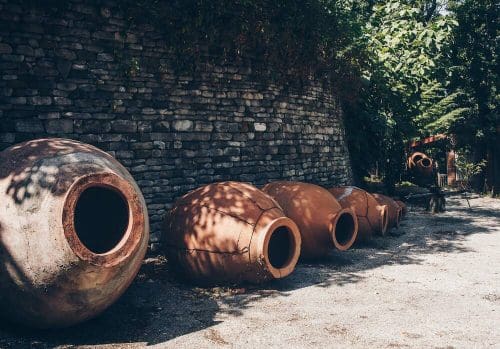 Since the processes of fermenting wine in a Qvevri are largely natural, without human intervention, it is often a big surprise what wine you will find when opening the Qvevri.
That is why every winemaker is excited to open the Qvevri and why it is followed by a celebration. It may sound like a big risk for the wine maker to take, but they will quickly tell you it is a risk worth taking, and that this uncertainty is an intrinsic part of Qvevri's uniqueness and charm.
The constant temperature under the ground and micro-oxidation process of clay vessels gives the wine a special color and characteristics. It also softens the tannins, even after several months on the skins, and gives the wine a delicate and velvety structure.
The Qvevri technique is practiced all over Georgia, but when you hear this word, the first thing that comes to mind is the Kakheti wine region.For most Georgians, "Kakhetian wine" cais closely associated with "Qvevri wine". Therefore, the best way to be introduced to the Qvevri method is to start from the Kakheti wine region.
Since 2013, when UNESCO introduced the ancient tradition of Qvevri winemaking in the list of intangible cultural heritage, this method has become even more popular and has spread beyond Georgia.
Trends in re-mastering the Qvevri technique can be found in different wine regions around the world.
Get to know Kakheti wine region and its terroir
The Kakheti Wine Region is located in the eastern part of Georgia and comprises two river basins, Ivri and Alazani.
The northern part of Kakheti is bordered by the Caucasus ridge and there is nothing more beautiful than looking at the Kakheti vineyards glistening in the sun and counting the white clouds floating above the Caucasus ridge.
Together with the location, the climatic conditions of the region play an essential role in the formation of Kakheti wines.
On both sides of the road from Tbilisi to Kakheti, you can see rows of beautiful vineyards and if you can not resist the temptation, you can easily stop and take a walk through them – most Kakhetian vineyards are not fenced and you can visit them freely.
You will probably notice a particularly dark-colored soil – the reason for this is the high concentration of iron in it. Don't forget to look for these same tones of the earth in your wine glass later.
Go ahead. Check out this beautiful, new affordable destination which offers scenic beauty, adventure activities, cultural delights and the finest cuisine and wine you can ever imagine.
Read More: Latest