Explore the winding streets of India's capital city, known for having some of the best street food in Delhi, if not all of India.
If you live in Delhi, food is a never-ending culinary adventure for you.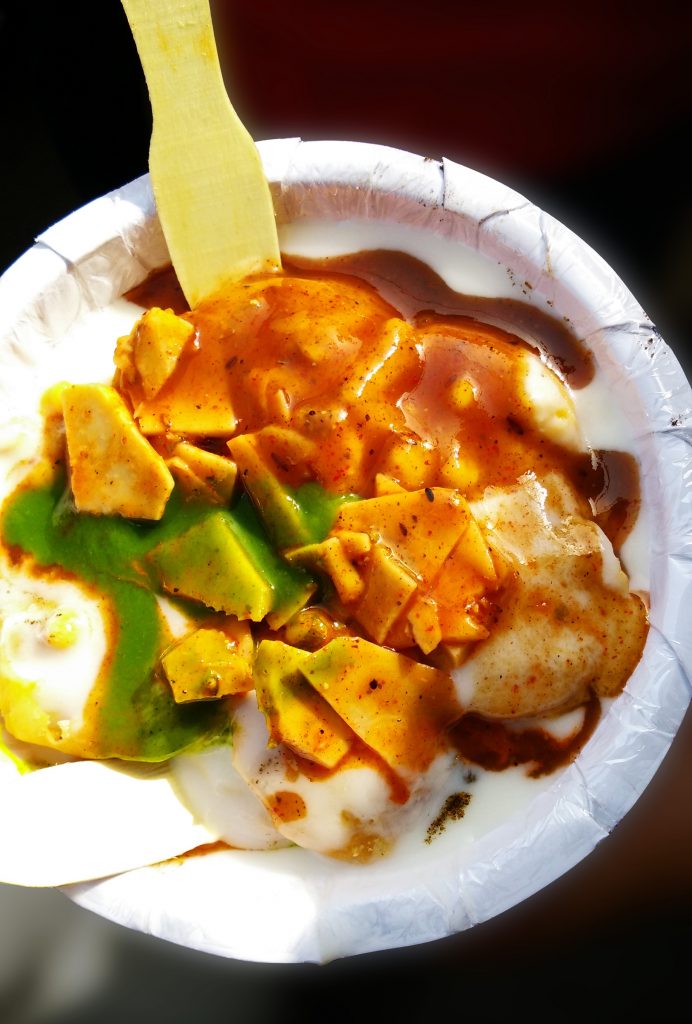 Here, you get amazing dishes that cater to different tastes and are guaranteed to leave you coming back for more. Try these 10 best street food of Delhi, India's capital – a gourmet delight.
Momos
Are you even a Delhiite if you're not obsessed with momos? Although momos are native to Nepal, it is widely consumed in Delhi with their own delicious twist.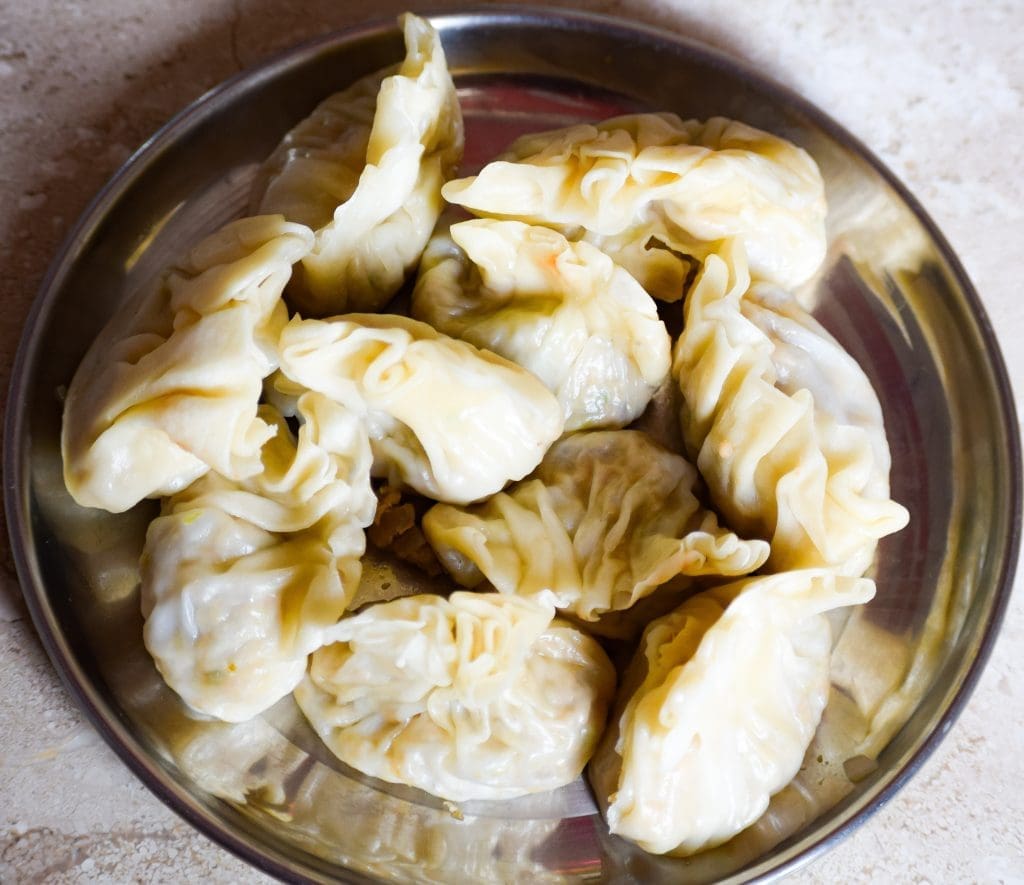 This flour-based dough stuffed with vegetables, meat, or cheese and served with tomato and mayonnaise dip has captured the Delhi street food market. Try them at Amar Colony market, or in Connaught Place or better still at every shopping street corner.
Dahi Bhalle
Also known as Dahi vada in other parts of India, these are deep-fried fritters made with lentils and served with yogurt and chutneys. Dahi bhalle papri chaat is a mouth watering delicacy that is fresh, crisp and tangy.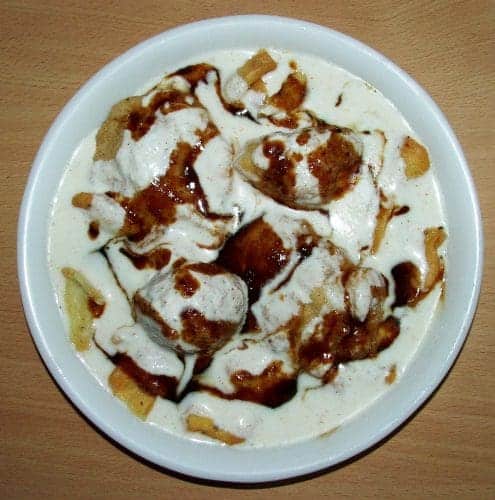 This snack is also water during various festivals such as Holi, Diwali, etc. Some of the best places to find this delicacy in Delhi are Old Delhi, Rajouri Garden, and Kamla Nagar.
Butter chicken
Having butter chicken is a no-brainer when it comes to Delhi.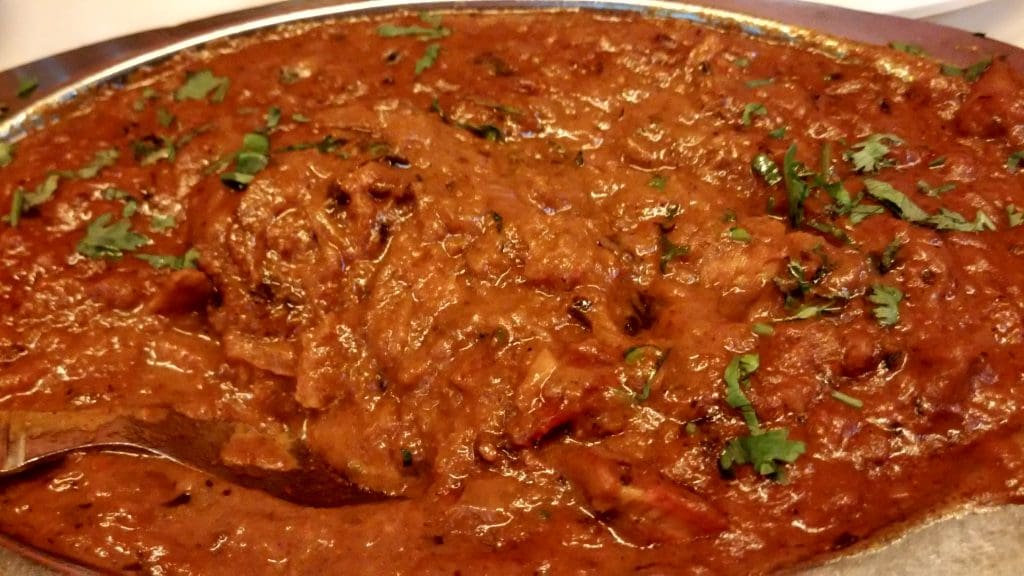 This spiced tomato, butter, and cream sauce make all the chicken lovers' mouths water. Add in chunks of grilled chicken and we have a delectable dish. Although butter chicken is easily available all over Delhi, the best butter chicken dishes can be found at Aerocity and Connaught Place.
Chole Bhature
Also known as Chana Masala, this Punjabi dish is liked by people all over the world.
Chole Bhature is a spiced tangy chickpea curry with fluffy fried leavened bread. It is famous in North India, particularly in Punjab and Delhi. The level of spice can be controlled depending on the needs of the consumer. Places to try Chole Bhature include Gole Market and near Delhi university.
Golgappe
It is common street food in Delhi enjoyed by everyone. Finding people who hate golgappe would be a difficult task. It is also known as Pani Puri in Maharashtra, Puchka in West Bengal, and gupchup in Bihar and Jharkhand.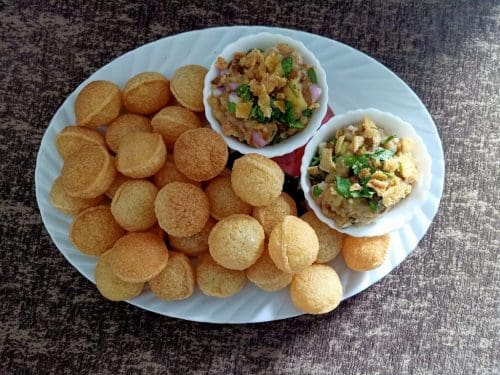 The stuffing in Golgappe found in Delhi includes white chickpeas or black chickpeas with some boiled potatoes. This is stuffed in the Puri which is usually made out of whole wheat flour and filled with mint water and tamarind chutney. The best places to have this snack are Kamala Nagar and Connaught Place.
Chicken Shawarma
Although Shawarma is originally an Arab dish, Delhi has made this dish its own by adding its own flavors and spices to it.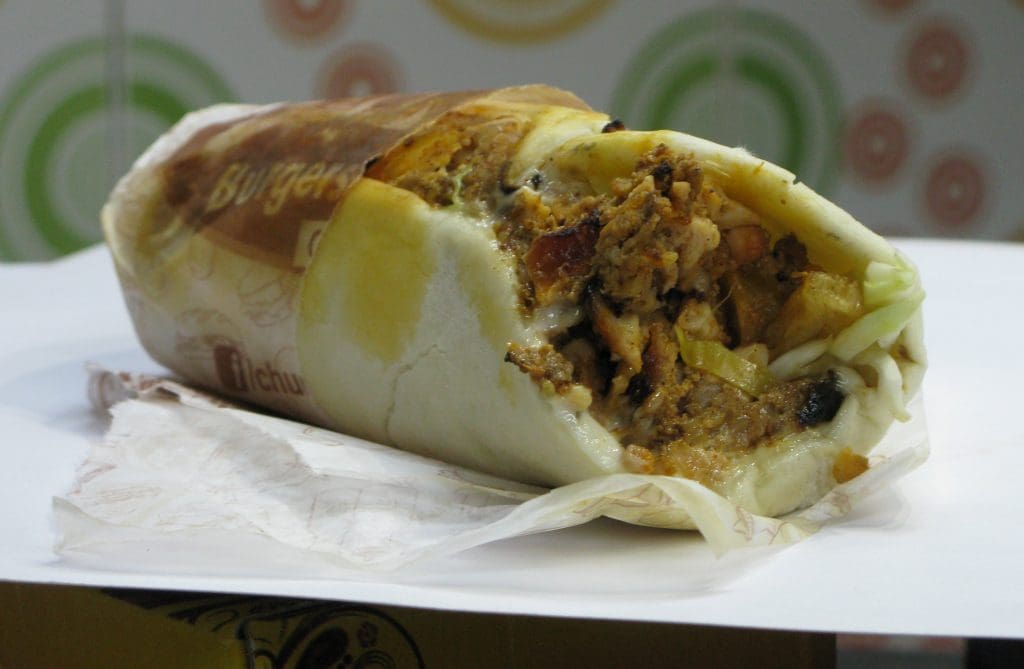 Chicken Shawarma is prepared from thin cuts of seasoned marinated chicken and stacked on a skewer. It is then filled with spicy sauce and mayonnaise. Try some delicious shawarmas at Kamla Nagar and West Patel Nagar and see for yourself why it is ranked as the best street food in Delhi non veg.
Rabri Falooda
This delectable treat originated from the northern part of India and is a cold dessert made using ice cream (ideally kulfi), rabdi (thickened milk), and falooda.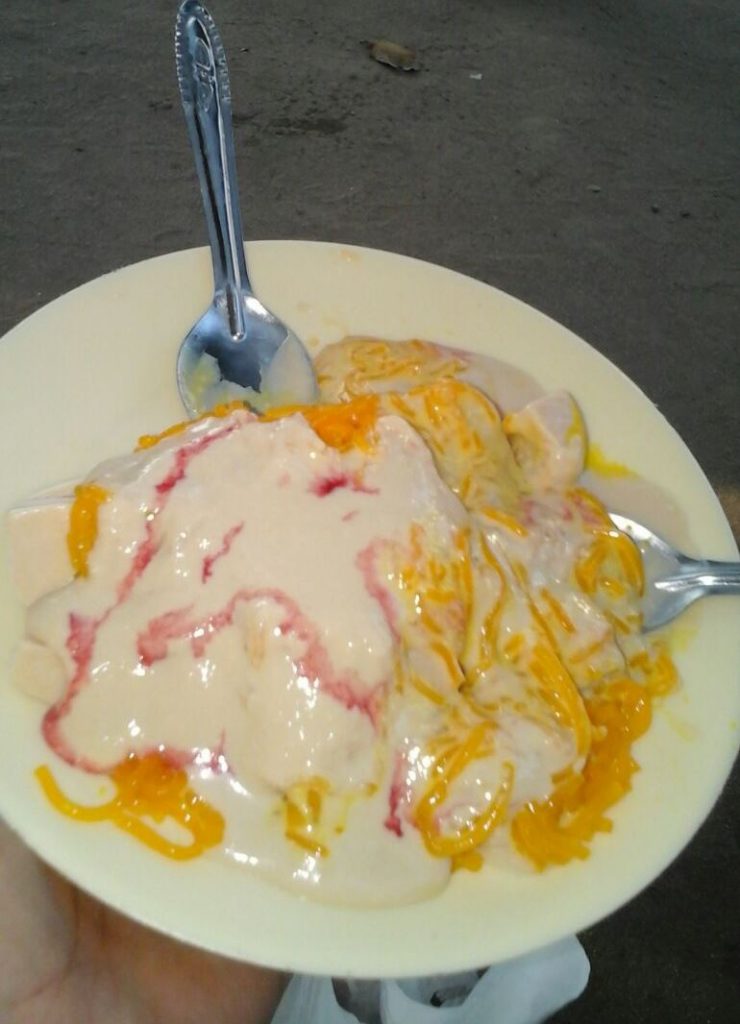 Rose syrup is also added to this to give it an additional flair. This is mainly consumed in the summer as people take a break from the heat. The best Rabri Falooda is available in the Chandi Chowk area.
Aloo/Pyaaz Kachori
This is a north Indian street food widely consumed in Uttar Pradesh, Delhi, and Agra.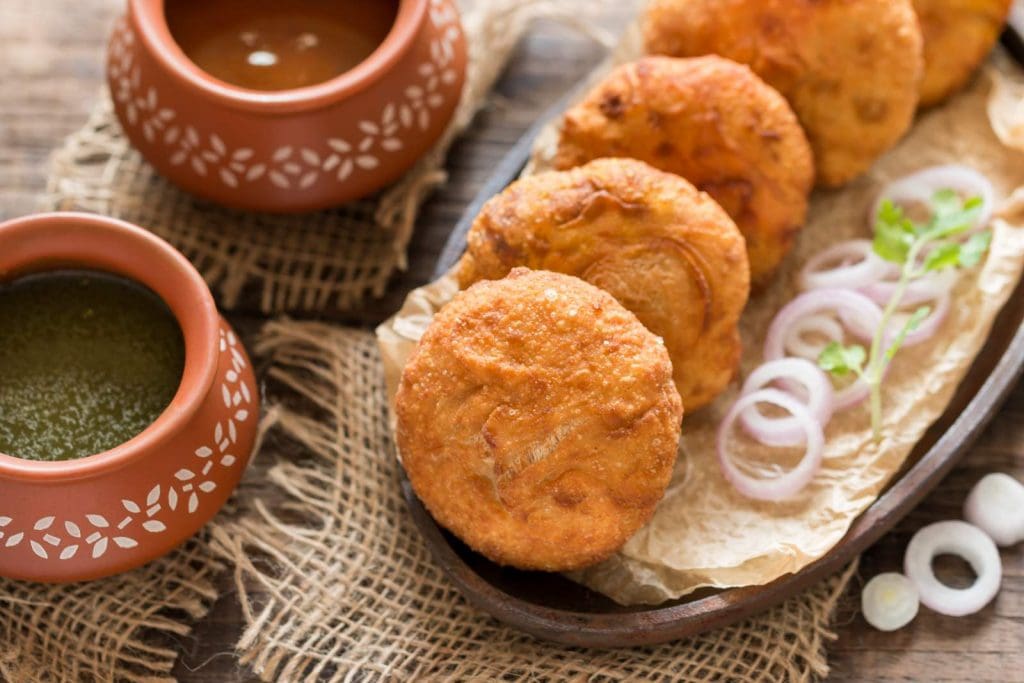 It is a delicious, spicy, fried puff bread prepared with spicy potato and onion masala stuffing and is an ideal evening snack but can also be served for breakfast. Generally, it is served with green chutney or tomato ketchup which enhances its taste. Try Aloo/Pyaaz Kachori as Mangal Bazaar and Connaught Place.
Rajma Chawal
This is a delicious curry made with red kidney beans which are known as rajma. It is served with rice and is a popular dish among many Indian households. You can accompany it with onion and lemon pieces.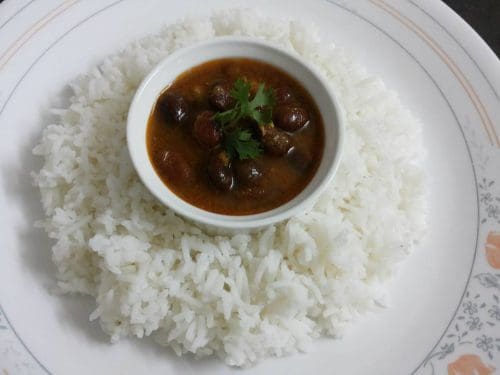 It is also a highly nutritious dish providing plenty of fiber and protein. Rajma Chawal is found in many areas of Delhi but the best Rajma Chawal can be found at Lajpat Nagar and Nehru Place.
Paratha
Known as the breakfast for kings, this best street food in Delhi has a special place in everyone's heart. It is a layered flatbread made with flour, salt, ghee & water, and traditionally these were made with stone-ground whole wheat flour.
It is stuffed with spiced savory potato, vegetables, and even cheese. Try some delicious parathas. Find some of the most delicious parathas at Chandni Chowk. For sampling other delicacies rated amongst the best street food in Delhi Chandni Chowk has no peer.
Read More: Latest