Maharashtra Tourism presents 5 delicious fruits of Maharashtra and how to savour them:
Just like every region has its own traditional cuisine, certain agricultural produce is unique to every State.
The great State of Maharashtra sees several kinds of farming on its soil, from food grains to fruits and vegetables.
However, some fruits are identifiable with the State that produces the third largest horticulture crop in India, as one doesn't find its kind anywhere else in the country.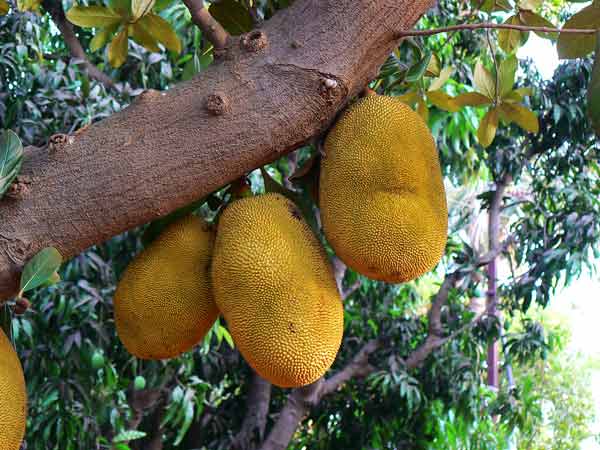 Jackfruit aka Phanas – delicious fruits of Maharashtra
India is not only the largest producer of jackfruit in the world, but also believed to be the place of its origin.
Native to India, especially Maharashtra, it's been growing here for centuries, dating back to 3000- 6000 years.
In Maharashtra, it is found in places like Raigad, Ratnagiri and Sindhudurg. One of the largest fruits in the world, a single piece weighs up to 100 pounds. 
Getting this fruit home is akin to an event and planned a day in advance. Space is cleared out in the home and paper is spread on the floor to clean the fruit. A bottle of coconut oil is kept handy and the hands are literally doused with it before proceeding to cut open the jackfruit.
The fruit and nuts are highly nutritious, packed with protein, dietary fiber, vitamins A and C and also some minerals. While the leaves become food for the cattle, the roots are considered medicinal and the wood is used for furniture. The fruit is cooked when raw, semi-ripe and ripe. 
The best season for Jackfruit is early and mid-monsoon, from June to August and mid-monsoon to early winter, from September to December. Moreover, the Maharajpuram variety yields fruits even during the off-season, from December through July.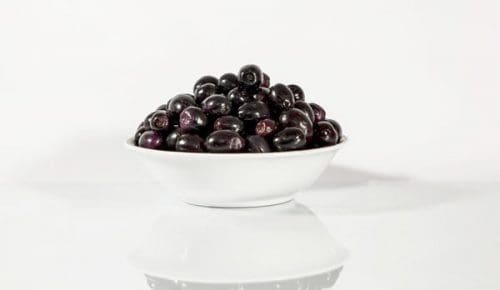 Indian Black Plum aka Jamun – delicious fruits of Maharashtra
Indian Black Plum aka blackberry is a hardy crop that can even be grown in neglected and marshy areas where trees of other fruits can't be grown successfully.
It is cultivated in India in a rather unorganised manner, so consolidated information about its yield and area of production can't be ascertained. However, recent reports state that of the total global production, India produces the second highest quantity at about 15.4 % of the total production. In India, Maharashtra is the largest jamun-producing State.
Jamun is a rich source of Vitamin A and several acids and enzymes, other than minerals like copper, iron, magnesium, phosphorus, potassium and sodium. 
Primarily available during the summer season, from March to June, one can get jamun in Thane, Nashik, Dhule, Pune, Satara, Nandurbar, Ratnagiri, Sindhudurg, Sangli and Kolhapur. 
While it is eaten raw, many also soak the jamuns in salt water for a while before relishing on the fruit.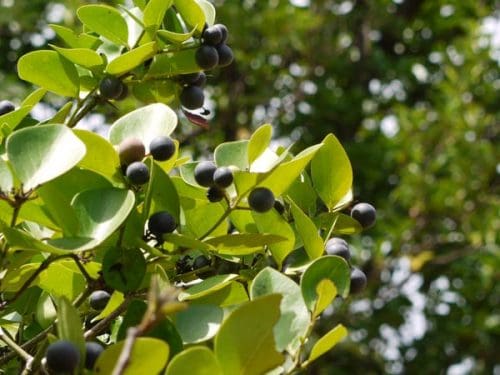 Wild Berries aka Karwand/Karonda – delicious fruits of Maharashtra
Averaging 1 cm to 3 cms in length, having an oval to ovoid shape with curved ends, Wild Berries grow in clusters of three to 10 fruits that ripen at different stages, giving the shrub a multi-hued appearance. Ranging from green to white when they first appear, the fruits transition into bright red-pink colour before finally turning dark purple, almost black shade when ripe and mature. The thin yet tough skin also changes from taut, smooth and glossy to slightly wrinkle when ripe.
The Wild Berries have been growing across India from the 19th century when they were incorporated into a living fence known as the Great Hedge of India.
While the young fruits are pickled, the ripe ones are eaten raw. Karondas have a subtly sweet, herbal taste with prominent sour, bitter and acidic notes. Each berry varies in flavour, depending on the growing environment and maturity.
Found usually from February to June, Karwands are commonly available in districts like Thane, Nashik, Dhule, Pune, Satara, Nandurbar, Raigad, Ratnagiri, Sindhudurg and Kolhapur. Karwands are an excellent source of iron and help in transporting oxygen within the blood and Vitamin C to boost the immunity, produce collagen and reduce inflammation. The fruits are also rich in Vitamin A, calcium and phosphorus.
Moreover, in traditional medicines of Asia and Africa, these fruits are used to help in treating indigestion, colds and flu, and anemia. The wild berries juice can also be cooked into a syrup and incorporated into sodas and fruit punches. The fruits are also cooked into jellies or jams and used as fillings for baked dishes like tarts and pies, and also main course preparations like curries.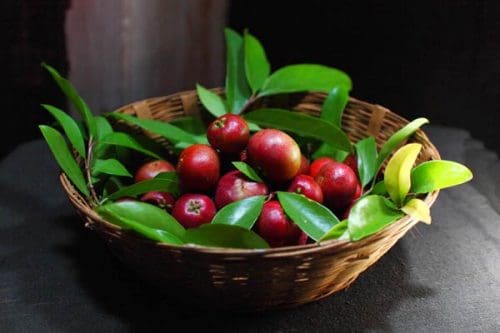 Kokum aka Amsul – delicious fruits of Maharashtra
This round, dark purple fruit, about 4 cos (1 inch) in diameter with five to eight seeds is yielded by slender, tropical evergreen tree that grows up to 15 metres (50 feet) and has sloping branches. While the thin bark of the tree is lined, the leaves are semi oblong.
Hitherto difficult to cultivate, the Kokum is usually down as solitary trees in a tropical forest environment. Of the 200 different species in the world, 30 are reportedly grown and found in India.
Interestingly, the National Medicinal Plant Board has identified Kokum as one of the 32 prioritized species of plants for promotion and development. Despite its several virtues, no systematic effort had been reported to popularise this fruit to harness its commercial potentials until the first National Seminar on Kokum was organised in 2001, at Sindhudurg. The need of the hour is to aggressively focus on every detailed development of the fruit with regards to its production, processing and marketing.
The leaves are important ingredients in some curries, and so is the fruit's outer rind, after being dried in the sun. The fruit pulp is used to make syrup. Edible fat from the plant, also known as Kokum Butter, is used in some preparations as well.
In Maharashtra, Kokum is available from December to March in Pune, Sangli, Satara, Raigad, Ratnagiri, Sindhudurg and Kolhapur. It is rich in Vitamins B and C, Citric Acid, Malic Acid, Hydro Citric Acid, other than minerals like Garcinol Manganese, Magnesium and Potassium.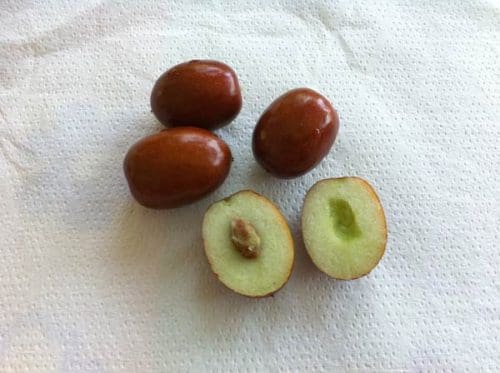 Jujube Apples aka Ber/Bor – delicious fruits of Maharashtra
Found along the Western Ghats boundary in Maharashtra, Ber is a climbing shrub grown in the dry deciduous forests. Available from September to February, the fruit is eaten raw when ripe. Ber fruit is rich in Vitamins A, B and C, besides minerals like Calcium, magnesium, iron, phosphorus, potassium and sodium.
Ber is very significant in the history and culture of India. The earliest reference is found in The Ramayana, when a Bhil woman Shabari, offered Ber to Lord Ram while he and his brother Laxman were searching for Sita, post her abduction by the demon king Raavan. Moreover, in recent history, Guru Nanak is said to have attained enlightenment under a Ber tree.
Mehrun village in Jalgaon is famous for Jujube Apples production, though several Ber trees can also be found in Thane, Nashik, Dhule, Pune, Satara, Ratnagiri, Sindhudurg, Nandurbar, Sangli and Kolhapur in Maharashtra.
Dr Mahesh Kulkarni, Assistant Professor, Udyan Vidya Mahavidyalaya, a constituent college of Dr Babasaheb Sawant Konkan Krushi Vidyapeeth, says, "Maharashtra is a land that enjoys a rich variety of natural resources. Here, we find a variety of medicinal plants, fruits, vegetables etc., out of which some are taken on a commercial basis."
he goes on to say, " However, apart from mango and cashew nut, every other fruit, the vegetable crop is non-commercial hence, mostly neglected. Among these non-commercial plants, we have Kokum, Jamun or Indian Black Plum, Jackfruit, Mamphal, Karmal, Bimbal, Neer Phanas, Atak, Forest Amla, Bhokar, Karonda etc., which are rich in antioxidants."
He adds, "If we consume these fruits seasonally and include processed food made out of them in our daily diet, we can easily get the vitamins and minerals required to stay healthy. These fruits act against many diseases such as cancer, diabetes, obesity, brain diseases, ophthalmic diseases, heart diseases etc. Therefore, their inclusion in the mainstream is necessary."
He adds, " If we plant them commercially and also focus on allied businesses such as food processing, we can create innumerable opportunities for the locals. If we plant them as per the vagaries of climate and plant them in an organic manner, we can also create a sustainable system of cultivation."
Since these fruits, commonly found in Maharashtra, are rich in vitamins, minerals and various other nutrients, it is advised to consume these local and non-commercial fruits to stay healthy and improve immunity.
Read More: Discover your India