Iceland for a winter vacation? We kid you not. In stunning Iceland, you're confronted by a new breath-taking, life-affirming natural sight literally every 5 minutes.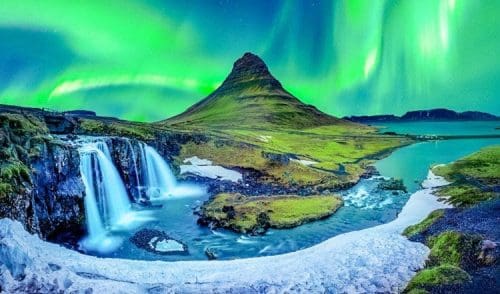 It's the power of Icelandic nature to turn the prosaic into the extraordinary. A dip in a pool becomes a soak in a geothermal lagoon; a casual stroll can transform into a trek across a glittering glacier; and a quiet night of camping may mean front-row seats to the Aurora Borealis curtains of light, or the soft, pinkish hue of the midnight sun.
Iceland has a transformative effect on people too – its sagas turned brutes into poets, and its stories of huldufólk (hidden people) may make believers out of skeptics. Here you'll find some of the world's highest concentrations of dreamers, authors, artists, and musicians, all fuelled by their surroundings.
Get your woolens and warmers on! Here are the 10 best places to visit in this unique destination!
Soak in the Blue Lagoon, Grindavik
Between the airport drive to Reykjavík lies this most iconic of geothermal spas . Here, you'll find natural bathing in pale blue water and an entire Blue Lagoon industry has grown around this attraction since it first became a hit with locals in 1976. The water from the underground hot springs reaches 37-39 degrees Celsius and is said to be highly beneficial for both health and skin. You cannot visit Iceland without coming here !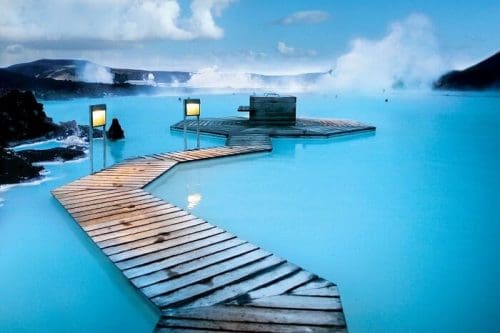 Rub on a mask of natural mud in minerals from one of the tubs located on the edges of the lagoon. For the ultimate relaxing visit, you can stay at one of the two hotels at the Blue Lagoon and add on a day at the Retreat Spa. If you want to add an extra element of Iceland adventure, one can book a day trip on an ATV that will have you drive there over lava rock paths and bring you back by coach/car to your hotel.
Landmannalaugar National Park
In the south of Iceland, 180 kilometers from Reykjavik, is Landmannalaugar National Park, one of Iceland's most popular tourist destinations. The main features of this mystical landscape are the multi-hued rhyolite mountains, Hekla volcano, and extensive lava fields.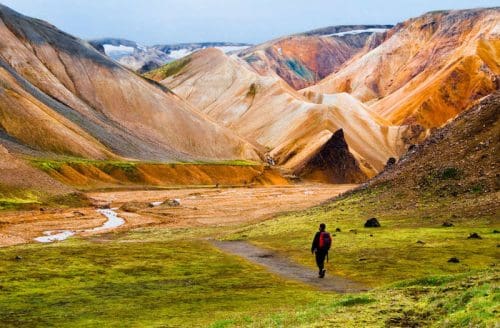 Hiking and horse riding are popular things to do here, and hikes range from a couple of hours to several days. You can visit from June to late September, after which the road is closed. Expect raw nature, rugged scenery, and utterly spectacular views.
Dettifoss Waterfall
Dettifoss, in the north of Vatnajökull National Park, truly is a breathtaking example of the raw power of nature. Plunging 45 meters and with a width of 100 meters, it's said to be the most powerful waterfall in Europe.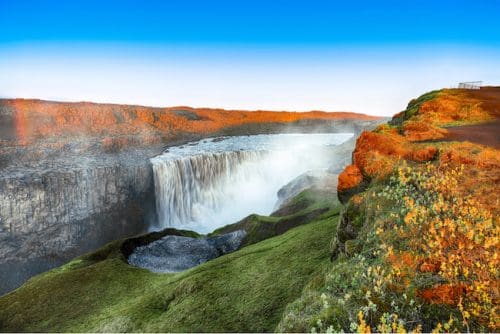 Generally, it's best to approach on the east side of the River Jökulsa, where the road is better. Along easy paths from Dettifoss, Selfoss is a smaller waterfall around one kilometer upstream with a drop of around 10 meters. Below Dettifoss, the Hafragilsfoss waterfall tumbles 27 meters into a steep canyon.
Glacial Lagoon
While Iceland is full of natural wonders, one of the most spectacular is the Jökulsárlón Glacier Lagoon. You will ride in a boat through large chunks of ice that have separated from the glacier.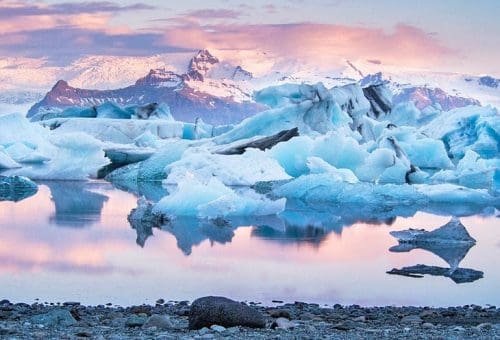 The floating ice in the lagoon ranges from the size of small pebbles to the size of cars, but since you are floating in the lagoon with them, they are close enough to touch. Witness the blue hue of glacial cave formations and birds flying above in this natural environment.
Black Sand Beach
While Iceland has some stunning beaches, the Reynisfjara black-sand beach on the country's southern coast has an other-worldly appearance. This unique beach is known for its black sand and rocky sea stacks that protrude from the oftentimes ferocious waves coming in from the Atlantic Ocean.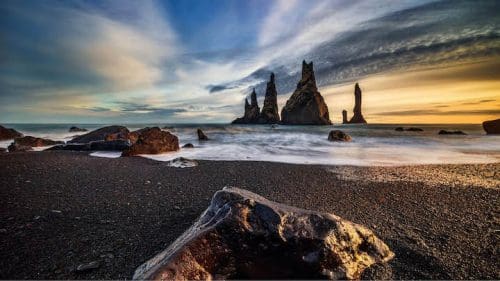 The eerie yet stunning landscape of natural beauty at Reynisfjara beach is one of the reasons it was selected as a filming location for films like Star Wars. The lighting at this beach adds to its contrasting allure, which is why it is a must-visit for anyone who enjoys photography.
The Lava Tunnel
The land of fire and ice has so many intriguing natural elements that visiting is an exciting science lesson into how volcanos work. One way to find out is by visiting the Raufarhólshellir lava tunnel in southwest Iceland.   At 4,461 feet, it is one of the longest lava tubes in the country. You can take a guided tour through the cave to get up close to the stunning lava rock formations and colorful walls that have formed below the earth.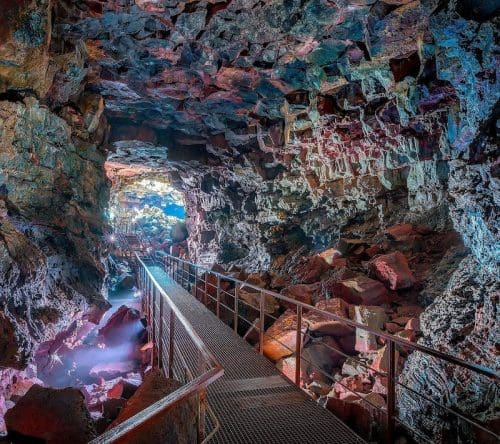 A tour through the tunnel will walk you through the path where lava flowed during a volcanic eruption of the Bláfjöll Mountain Range more than 5,000 years ago. These tunnels were formed as flowing magma hardened and thickened, creating a crust roof resulting in a lava tube.
Outside the lava tube, you will see stunning green moss covering lava rock and craters formed from the eruption. It is only about a half hour from Reykjavik, and you can visit year-round.
Gullfoss Waterfall  
Magnificent Gullfoss Waterfall lies around a 90-minute drive west of Reykjavik. The river Hvítá plummets into a canyon, which forms three step terraces, creating a powerful torrent. Gullfoss encompasses two cascades; the upper one drops 11 meters, while the lower one cascades about 21 meters.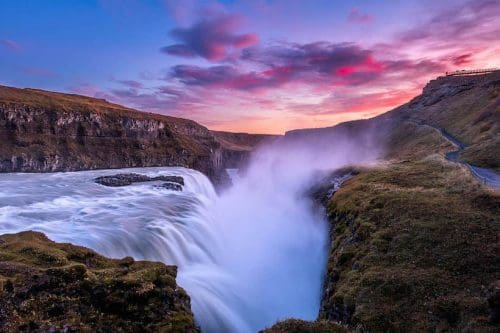 Torrents of water flow over Gullfoss at an average rate of 109 cubic meters per second, although heavy floods have recorded an astonishing rate of nearly twenty times that. A word of warning: there are no rails or barriers, just a spine-tingling spectacle to enjoy amid surroundings as nature intended.
Skaftafell Ice Cave
In the south of the country, Vatnajökull National Park is a land of glaciers and magnificent ice caves, which attract adventurers from across the globe. The vast national park consists of Vatnajökull glacier and its surroundings.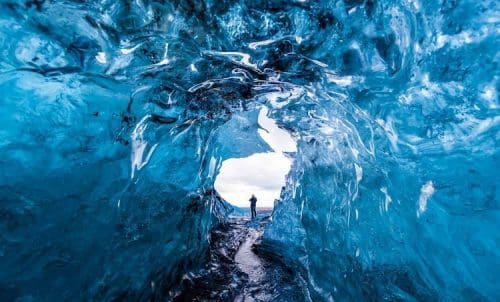 You'll find a number of visitor centers; those in Skaftafell Ice Cave and Höfn are open year-round . The best time to visit Skaftafell Ice Cave is during winter after heavy rain has washed the top layer of the glacier away.
If seen at the right time, the cave is bathed in spectacular blue light. Group visits to all areas can be arranged off-season. If you are in healthy shape, you might consider doing a glacial trek with an experienced guide. The treks get you on the ice for an unforgettable experience to see glacial cracks and caves and even drink fresh water from small pools on the surface.
The Northern Lights, Aurora Borealis
The Northern Lights, or Aurora Borealis, are among the most popular tourist attractions in Iceland. Auroras are linked to solar wind, a flow of ions radiating from the sun.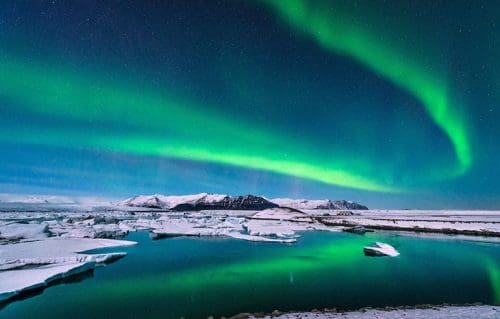 These particles become ensnared in the earth's magnetic field and collide with atmospheric molecules, causing bursts of energy, which appear as large circles around the poles. This spectacular natural light show is best admired in remote places and is particularly impressive at times of increased solar activity.
Strokkur Geysir
An easy 50-minute drive from Reykjavik , Strokkur Geysir is the most popular fountain geyser in the country and famed throughout the world. This highly active hot spring area lies in the southwest of Iceland beside the Hvítá River and is a favorite stop along what's known as the Golden Circle.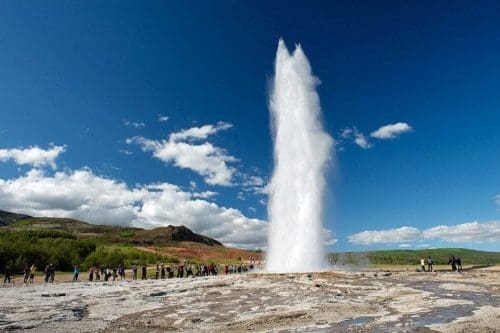 Boiling mud pits and around 100 other smaller exploding geysers are waiting to be explored here. Every few minutes, Strokkur shoots water 30 meters into the air.
A memorable experience is digging up Geysir or "hot spring" bread, rye bread that has been baking underground for 24 hours. Visitors can also help a chef boil eggs in a hot spring to accompany the bread.
Whale Watching, Reykjavik
No matter when you plan to travel, whale watching happens year-round, although summer is the most popular time to see these gentle giants. During the warmer months, trips run day and night, including whale watching in the midnight sun.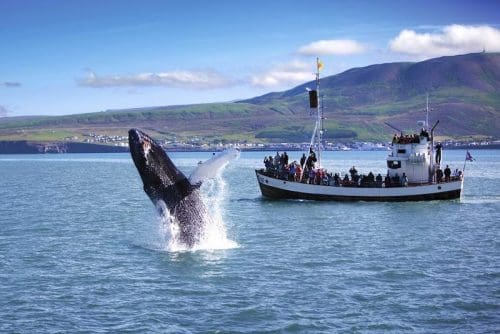 There's an 80-95 percent chance of seeing these magnificent creatures, depending on the time of year. Best of all, surfacing often happens right near the boats, so you may well enjoy a ringside seat for one of nature's most awe-inspiring spectacles.
Askja Caldera
In the northern region of Vatnajökull National Park, the Askja caldera and the geothermal pool in the Dyngjufjöll Mountains is not one for the faint-hearted. However, if you'd like to say you've taken a dip in a live volcano, then this is for you.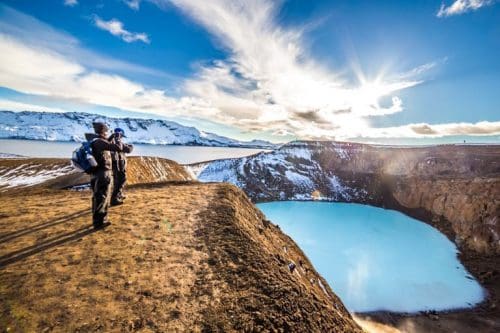 Askja is an impressive 50 square kilometers in size. The surrounding mountain range was formed during volcanic activity, and Askja was partly created by an eruption of burning ash that collapsed the roof of the central volcano's magma chamber. The water in Viti, the geothermal pool and volcanic crater, is generally around 30 degrees Celsius.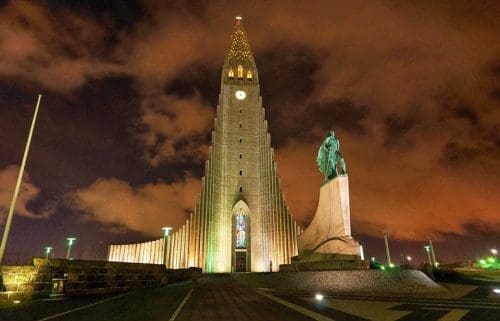 Read More: Latest
---