India is a haven for vegetarian lovers. Many might think that vegetarian food only involves Paneer, Pulses, and some vegetable.
That is not the case, there are vegetarian dishes that involve ingredients that are very indigenous to small towns and states.
To experience the incredible range of vegetarian cuisine one has to travel to every corner of the country. North Indian dishes involve lots of different vegetables, while coconut dishes are generally popular in Southern and coastal states.
You can get an idea of how extensive Indian vegetarian food can be from the fact that India has the largest number of vegetarians in the world. So finger-licking vegetarian food has to be a pre-requisite if we are talking about vegetarian dishes in India.
Vegetarianism is an ancient philosophy in India on account of its Vedic traditions and Ayurvedic principles of healing food which is largely based on vegetarian fare as far back as 4000 BC. The nonviolence philosophy reinforced by Buddhism and Jainism which abhors taking of animal life was further developed by herbal medicine systems which emphasised plants and herbs as healing food.
It is also a fact that many Indian religious festivals encourage fasting and permit the intake of vegetarian food. In addition, the number of pulses, vegetables, and grains grown in India is phenomenal and has led to an extensive and brilliant range of vegetarian dishes.
We share popular vegetarian dishes which are a favourite with the locals which in turn infuse wonderful flavours and tastes into these remarkable preparations.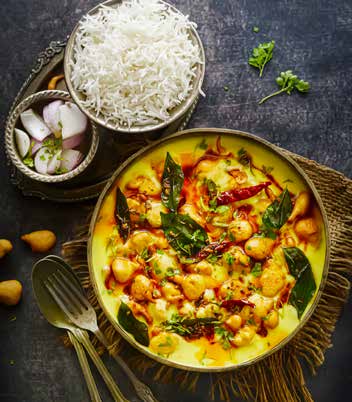 Rajma Chawal, Chole Chawal, Curry Chawal( Delhi)
An amalgamation of various cultures. the region of Delhi NCR has a vast range of delicious and popular dishes made with pulses and grain dishes. Rajma Chawal, (Kidney Beans, with rice), Chole Chawal (Chickpea with rice), and Curry Chawal, ( A yellow spicy gravy with rice) are a staple and favoured dishes of the region.
These sought-after preparations make for a filling meal and are usually eaten for lunch or dinner. It is not necessary for the dish to be eaten with rice. You can enjoy the gravy lentil dish with Chapatis and Puris also.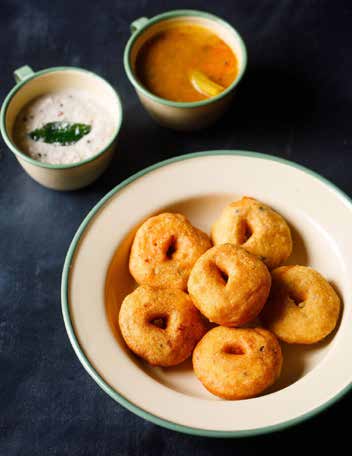 One of the best snacks in the state or country,  vada is a savoury doughnut made from ground pulses and deep-fried.. The crispiness of the Vada and the rich taste of Sambhar ( a spicy stew of pigeon pea and tamarind, lentils, and vegetables) is just out of this world. Make sure you have your crisp vada while it is hot, else it turns very chewy and loses its outer crunchiness. Enjoy it with a slightly spicy Sambhar which gives you a relaxing evening.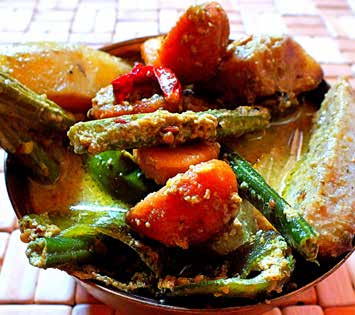 Bengali cuisine is diverse, but Sooktho takes a new turn as it traces its origins to a Portuguese dish. Sooktho is a delectable gem of a dish and while it is a simple mixed vegetable dish just like chochodi, but with white gravy, the five spices or paanch phoron, ginger, chillies in mustard oil lend it an exquisite warmth.
The dish is very light, perfect for the hot weather, and healthy for the body too. The broth is simple but very tasty. Even with fewer spices, the light dish is perfect for the weather.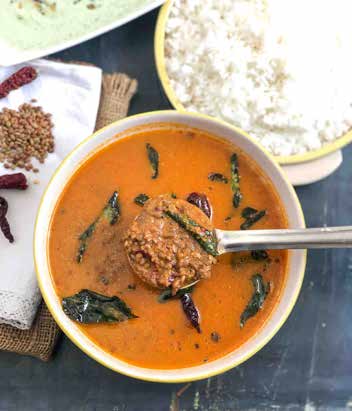 Ulavacharu (Andhra Pradesh)
One of the tastiest and celebrated dishes of Andhra Pradesh and Telangana, Ulavacharu is a thick, earthy coloured curry produced using horse gram and has a hearty, sweet-acrid taste.
It's cooked during special events, presented with a touch of cream, and eaten with rice. It looks like chocolate sauce, in appearance, but don't be mistaken! This wonderful comfort food for the soul takes time to prepare as it is best prepared by slow cooking the horse gram over several hours, then ground to a paste, and then blended with onions, garlic, tamarind, spices like cumin, to make a curry.
The curry is often soaked and cooked with rice and the awesome flavours make for a great vegetarian biryani. The Spicy Venue—a surprisingly decent eatery for veggie lovers—make extraordinary ulavacharu.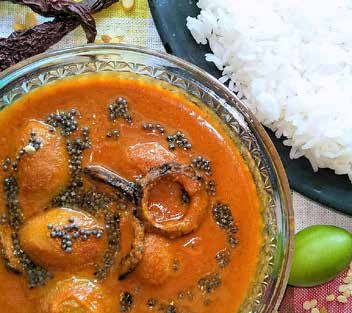 Amado Curry (Goa)
Amado, likewise called amade or ambade (hoard plum in English), is a hard, light natural product that looks similar to a little unripe mango. This natural product is cooked in a light and tart curry, which is made at home. Try not to be astounded if you can't nibble through the entire organic product, however. Just the external tissue is palatable, even though the entire natural product is cooked in the curry. The rest is a bit like a hard wipe, which you can bite assuming you need a greater amount of its tangy juice.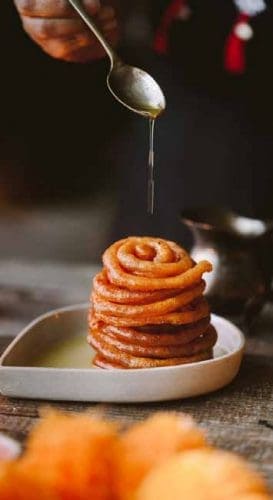 Jalebi ( North India, and especially Gujarat)
 Crisp, dipped in a sweet treacle, jalebis are quite possibly the most famous Indian veggie lover dessert ever.
These famous sweet, crunchy twistings are, obviously, available all over India. In any case, in Gujarat, where they're generally had for breakfast, they've been taken to another level altogether. They're generally eaten with the exquisite fafda, which tones down the outrageous sweetness of the jalebis. You can also dip your Jalebis in cold milk which is an outstanding combination.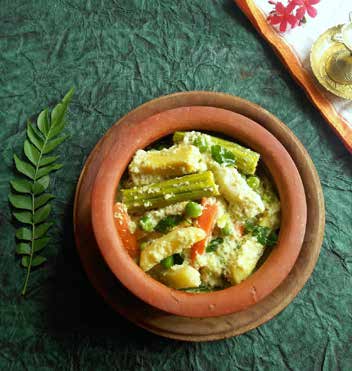 Avial (Kerela)
This is a gently enhanced dish of blended vegetables cooked with curd and coconut, and is made either with a thin or thick sauce. Avial is one of the dishes which is an essential component of customary Kerala 'sadhya' or vegan meal and is eaten with rice. Fresh and light, this is the ideal dish to eat in the warm and wet Kerala climate. Fun fact: There is an Indian band named Avial, so feel free to listen to it too.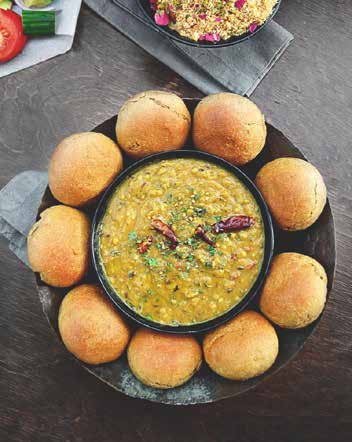 Daal Baati (Rajasthan)
This is a basic dish, which is exceptionally fulfilling, with the ghee giving it an additional richness that brings the flavours to a new high. This is one of the numerous North Indian veg dishes that doesn't get its due. A principal staple of Rajasthani food, dal baati is a straightforward dish of heated wholewheat mixture balls presented with yellow dal (lentils). The new baati is broken into little pieces before being blended in with ghee and dal and eaten afterward.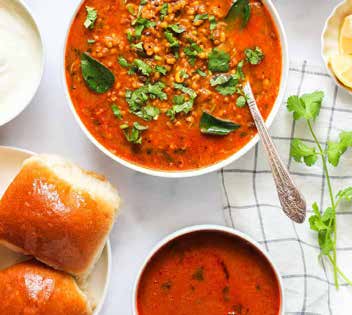 Misal Pav( Maharashtra)
Technically, misal pav is a tidbit and not a feast. In any case, it's fantastic enough for there not to be a lot of contrast. Famous street food across Maharashtra, missal is a combination of bean sprout curry, spiced bubbled potatoes, and quite a few crunchy seared tidbits covered with flimsy, zesty sauce and sprinkled with slashed onions. It is presented with pav—little square portions of bread. In Maharashtra specifically Mumbai you can also enjoy Vada Pav, which is a spicy potato patty served with a bun, and Pav Bhaji which is also a very tasty dish.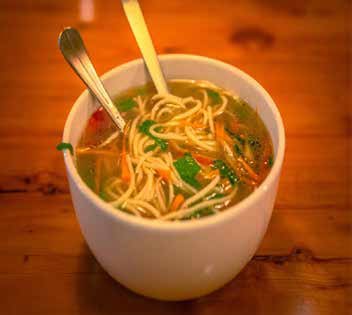 Thukpa (Himachal Pradesh)
Thukpa is a warm, satisfying soupy dish of broth, noodles, and vegetables, and is a meal on its own—which we found perfect for the cold summers and freezing winters of Ladakh.
Since Ladakh shares borders with Tibet, it is natural to have Tibetan influence in the land. Beware, though: Thukpa has many non-vegetarian versions as well, so be careful when you order. It's also a little messy to eat, so don't worry if you're splashing soup all over while slurping your noodles.
Read More: Latest