If you're passionate about experiencing the true essence of Indian culture, there's no better time than Ganesh Chaturthi Festival celebrations to immerse yourself in spirited festivities, captivating rituals, and heavenly cuisine.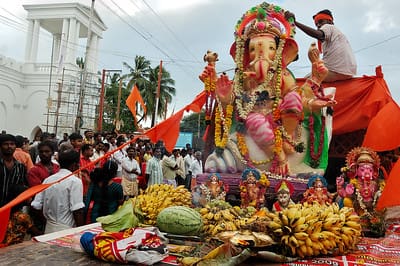 Ganesh Chaturthi is not just another Hindu festival; it's a vibrant spectacle celebrated with unparalleled zeal and grandeur, especially in India. This guide takes you on a journey to discover the top 6 locations in the country where the celebrations reach their pinnacle. From Mumbai's iconic Lalbaugcha Raja to Pune's historic Dagdusheth Halwai Ganapati, we've curated a list that encapsulates the diversity and splendour of this beloved festival.
Stay tuned as we delve into each must-visit location, offering you insider tips, historical insights, and a glimpse into the celestial festivities that await you.
Mumbai, Maharashtra: The Pinnacle of Ganesh Chaturthi Celebrations
When it comes to Ganesh Chaturthi, Mumbai is more than just a city celebrating a festival—it turns into a grand, vibrant tapestry of faith, culture, and awe-inspiring grandeur. It's no exaggeration to say that Mumbai sets the gold standard for Ganesh Chaturthi celebrations in India, and perhaps the world. Here's why this iconic festivity in Mumbai is an experience you simply cannot miss:
Scale and Spectacle
Mumbai's Ganesh Chaturthi celebrations are nothing short of spectacular. The towering Ganesh idols, exquisitely adorned and crafted with meticulous detail, are a sight to behold. These magnificent structures make their way through the streets amidst throngs of fervent devotees and enthusiastic onlookers, creating an atmosphere that is electric and uplifting.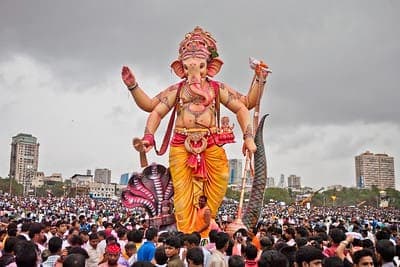 Lalbaugcha Raja
Lalbaugcha Raja is one of the most famous Ganesh idols in Mumbai, attracting millions of visitors each year. People from all walks of life queue up for hours, sometimes days, to seek the blessings of the "King of Lalbaug." The idol is known for fulfilling wishes and draws not just locals but also people from different parts of India and the world.
Diversity of Themes
Every year, various mandals (associations) go above and beyond to create thematic Ganesh pandals that range from replicating famous landmarks to depicting social issues. These serve as not just visual treats but also talking points, stirring conversations and engaging the community.
Cultural Extravaganza
Mumbai's Ganesh Chaturthi is not just about the deity; it's a full-blown cultural festival. Traditional dance forms like Lezim and Dhol-Tasha troupes contribute to the captivating cultural tableau. The sound of drums and cymbals reverberating through the streets adds to the palpable excitement.
Celestial Cuisine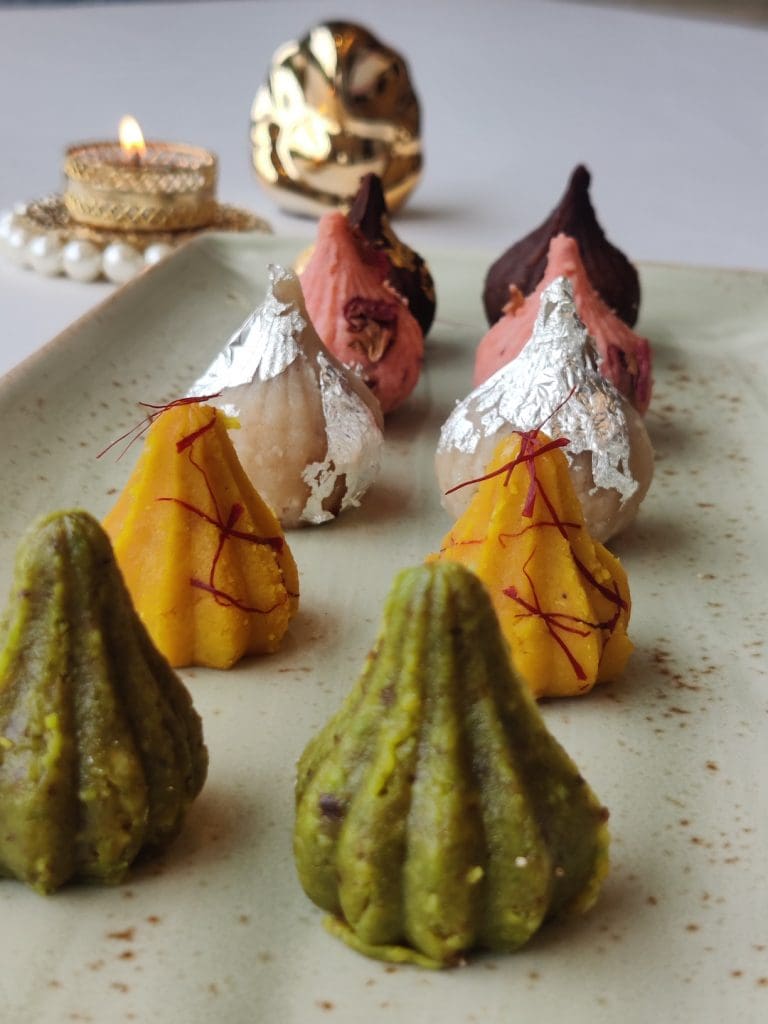 No celebration is complete without food, and Mumbai offers an array of culinary delights during Ganesh Chaturthi. From the famed 'modak' to a variety of savoury dishes, the food complements the euphoric atmosphere.
Community Involvement
Ganesh Chaturthi in Mumbai is a unifying event, transcending barriers of age, caste, and social standing. Residents participate wholeheartedly, coming together to volunteer for various activities, making it a true community celebration.
Eco-conscious Initiatives
In recent years, there has been a notable shift towards eco-friendly celebrations. Many mandals are now opting for biodegradable materials for idols and decorations, aiming to minimize the environmental impact.
Safety Measures
Despite the overwhelming scale, the local authorities and volunteers work tirelessly to ensure safety measures are in place, from crowd management to health protocols, especially important in the current times.
Spiritual Upliftment
The spiritual essence of the festival remains at its core. Amidst the grandeur and spectacle, there is a profound sense of devotion and a palpable connection to the divine.
What's unique about how this Festival is celebrated in Mumbai
Lalbaugcha Raja is one of the most famous Ganesha idols in the city, drawing millions of devotees. Unique to Mumbai is the practice of "Sarvajanik Ganeshotsav," where neighborhoods come together to host public celebrations. The immersion ceremony, known as "Visarjan," is an awe-inspiring spectacle at Chowpatty Beach, where thousands of idols are immersed in the Arabian Sea amidst music, dance, and chants of "Ganpati Bappa Morya!"
Pune, Maharashtra: A Rich Tapestry of Tradition and Innovation in Ganesh Chaturthi Celebrations
In the realm of Ganesh Chaturthi celebrations, Pune holds a unique and esteemed position. Known for its blend of tradition, culture, and modernity, Pune offers an experience that pays homage to the festival's historical roots while embracing contemporary practices. Here's why Pune stands as one of the top 5 must-visit locations for Ganesh Chaturthi celebrations in India:
Dagdusheth Halwai Ganapati: The Jewel of Pune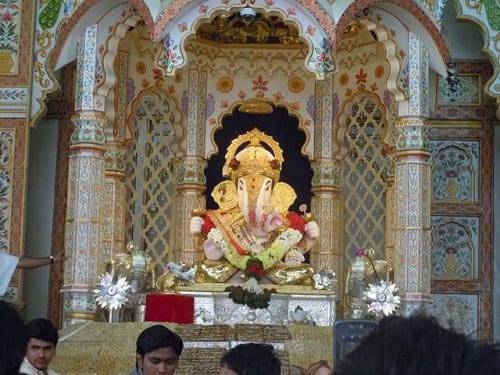 At the heart of the city's celebrations lies the famed Dagdusheth Halwai Ganapati Temple, which hosts one of the most opulent and revered Ganesh idols. Year after year, the temple sees lakhs of devotees and tourists, all eager to catch a glimpse of the majestic deity and to partake in the festive rituals.
A Melange of Cultural Activities
Pune's Ganesh Chaturthi is a cultural extravaganza, complete with traditional dhol-tasha drum performances, classical dances, and vibrant processions that reverberate through the city's streets. Each neighbourhood or "mandal" competes to produce the most creative and elaborate displays, making for an exhilarating visual feast.
Reverence to History
Pune's celebrations date back to the times of Lokmanya Bal Gangadhar Tilak, who popularized the festival as a public event to promote unity during British rule. The rich history is evident in the various customs and rituals that are faithfully upheld to this day.
Focus on Social Issues
In recent years, many mandals in Pune have used the festival as a platform to address pressing social issues. From environment-friendly idols to themes centred around social justice, Pune's Ganesh Chaturthi serves as a thoughtful reminder of the festival's deeper meaning.
Artistic Brilliance
Whether it's the intricate craftsmanship of the idols or the elaborate decorations that adorn the pandals, artistic brilliance is on full display. Talented artisans work for months to bring these awe-inspiring creations to life, making each visit a new revelation.
What's unique about how this Festival is celebrated in Pune
One of the unique features here is the "Pune Festival," which includes classical music concerts, dance performances, dramas, and art exhibitions alongside religious rituals. The Dagdusheth Halwai Ganapati Temple is a must-visit, known for its beautiful, ornate idol covered in gold. The city is famous for its 'Dhol-Tasha' troupes, a form of drumming that reverberates through the streets, marking a distinct musical tradition unlike any other city.
In essence, Pune's Ganesh Chaturthi celebrations are a compelling blend of the old and the new, the spiritual and the social, the artistic and the pragmatic. This multifaceted approach is what places Pune firmly on the list of the 5 most famous Ganesh Chaturthi celebrations in India you absolutely can't miss.
Goa: Where the Spiritual Meets the Scenic in Ganesh Chaturthi Celebrations
While Goa is globally celebrated for its sun-kissed beaches and vibrant nightlife, the region unfolds a different, more spiritual aspect during Ganesh Chaturthi that's equally mesmerizing. As one of the top 5 must-visit locations for witnessing Ganesh Chaturthi celebrations in India, Goa offers a unique blend of devotion, tradition, and natural beauty. Here are compelling reasons why you can't afford to miss the Ganesh Chaturthi festivities in this coastal paradise: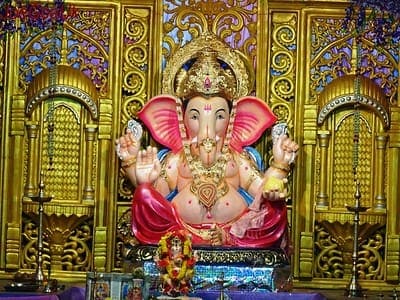 Community Bonding: The Essence of the Celebration
In Goa, Ganesh Chaturthi is celebrated as a community festival. Families come together to honour Lord Ganesha, embodying the true essence of the festival. Even the Goan diaspora often returns home to participate in the celebration, making it a reunion of sorts.
The Elegance of Traditional Goan Art
One of the most distinctive features of Ganesh Chaturthi in Goa is the craftsmanship of the Ganesh idols. Crafted in traditional Goan artistic styles, these eco-friendly idols are a testament to the region's rich cultural heritage.
Musical and Cultural Performances
The festival is not just confined to rituals and prayers; it is also an occasion for vibrant musical and cultural performances. Folk dances like 'Ghode Modni' and 'Fugdi' are performed, adding local flavors to the festivities.
The Scenic Processions
The immersion of the Ganesh idols is an event in itself. The processions are conducted with great fanfare, often accompanied by traditional music and dance, against the backdrop of Goa's stunning natural landscapes. The blend of spirituality and scenic beauty makes it a once-in-a-lifetime experience.
Sustainable Celebrations
Being a coastal state, there's a strong focus on eco-friendly celebrations in Goa. Many families opt for clay idols and avoid plastic decorations, aligning the festivities with environmental consciousness.
What's unique about how this Festival is celebrated in Goa
Goa offers a unique Konkani twist to Ganesh Chaturthi. The locals, primarily from the Saraswat Brahmin community, make clay idols at home as a traditional practice, often passed down through generations. The "Matoli," a decorative canopy of local fruits, vegetables, and flowers over the Ganesha idol, is a distinct feature here. Rural processions often include traditional Goan dance forms like "Ghumat Aarati," making the celebrations truly unique.
Ganesh Chaturthi in Goa is a captivating mix of tradition, community, and natural splendour. This is why it earns a rightful spot in the list of the 5 most famous Ganesh Chaturthi celebrations in India that you absolutely cannot afford to miss.
Hyderabad, Telangana: The Convergence of Grandeur and Devotion in Ganesh Chaturthi Celebrations
Stepping into Hyderabad during Ganesh Chaturthi is akin to entering a celestial realm where grandiosity meets spirituality. The city's festivities earn it a spot in the top 5 must-visit locations for Ganesh Chaturthi celebrations in India. Here's why the 'City of Pearls' is an epicenter of Ganesh Chaturthi festivities that you simply can't afford to miss:
Khairatabad Ganesh: The Colossal Attraction
One of the most striking features of Hyderabad's Ganesh Chaturthi is the gigantic idol at Khairatabad. Towering at staggering heights, often exceeding 50 feet, this idol is a monumental feat of art and devotion. The spectacle attracts millions of visitors from across the country, making it one of the most photographed icons during the festival.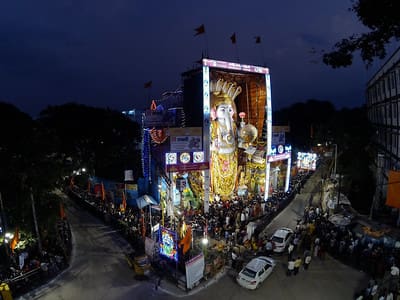 Traditional Pujas and Rituals
Despite the commercial fame, the essence of the festival in Hyderabad lies in the traditional 'pujas' and rituals performed with meticulous detail. The city's temples and households are abuzz with sacred chants, devotional songs, and the aroma of incense and 'prasadams' (offerings).
Cultural Extravaganza
Hyderabad's Ganesh Chaturthi is not just a religious affair; it is also a cultural fiesta. Traditional dances, music performances, and dramas are organized by various communities, turning the city into a melting pot of culture and spirituality.
Immersion Procession: A Grand Farewell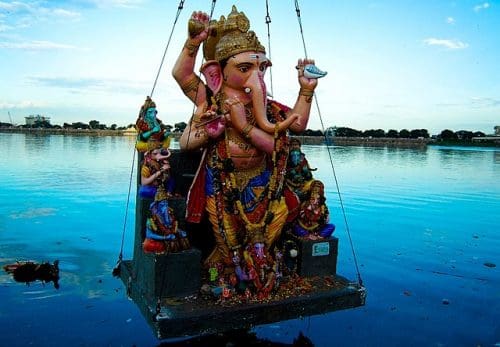 The 'Nimajjanam' or immersion procession of the Ganesh idols is an awe-inspiring spectacle. Lakhs of devotees join the processions that wend their way through the city to reach water bodies like the Hussain Sagar Lake. The sheer scale and enthusiasm of the event are bound to leave you spellbound.
Unity in Diversity
One of the most heartwarming aspects of the festival in Hyderabad is its secular nature. People from various religious backgrounds come together to participate in the celebrations, exemplifying the unifying spirit of this grand festival.
What's unique about how this Festival is celebrated in Hyderabad
The Khairatabad Ganesh is one of the tallest idols in the city and is a significant attraction. Unlike other places, the Prasadam offered to Lord Ganesha here often includes local sweets like "laddu" and "pulihora" (tamarind rice). The immersion procession, known as "Nimajjanam," takes place at the Hussain Sagar Lake and is one of the largest such ceremonies in the country.
Hyderabad's Ganesh Chaturthi offers a dazzling tapestry of artistic magnificence, deep-rooted traditions, and vibrant cultural events. Its unique blend of scale and spirituality make it a must-visit during this festival season.
Trivandrum, Kerala: A Blend of Tradition and Modernity in Ganesh Chaturthi Celebrations
Trivandrum, the capital city of Kerala, may not be the first name that comes to mind when you think of Ganesh Chaturthi, but the city has been quietly carving out its own niche in the grand tableau of the festival's celebrations across India. Often overshadowed by the more famous locales, Trivandrum's Ganesh Chaturthi festivities offer an experience so rich and unique that it rightfully earns its place among the top 5 must-visit locations for celebrating this festival in India. Here's why:
Traditional Kerala-Style Celebrations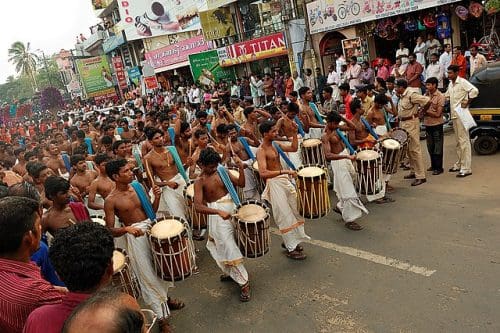 Ganesh Chaturthi in Trivandrum is often celebrated with a unique Kerala touch, integrating local traditions like Kathakali performances and traditional Malayali drum ensembles into the festivities. It's a beautiful blend of the pan-Indian celebration of Lord Ganesh and Kerala's own rich culture.
Eco-Friendly Practices
Kerala's deep-rooted affinity for nature is reflected in the Ganesh Chaturthi celebrations. You'll find many eco-friendly idols made from clay, organic colours, and even coconut and plantain leaves. This sustainable approach is gaining more and more appreciation and provides a unique facet to the celebrations.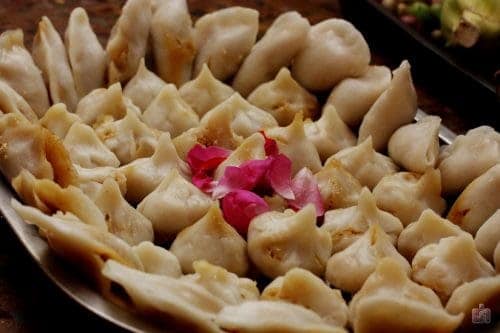 Public Feasts and Cultural Programs
One of the highlights of the festival in Trivandrum is the offering of public feasts known as 'sadyas.' Alongside this, cultural programs like dance and music performances, art exhibitions, and literary events make the festival a rounded cultural experience.
Grand Processions
While not as large as some other cities, the processions in Trivandrum still possess a grandeur of their own. Filled with traditional art forms, music, and often firework displays, these processions are a treat for both the eyes and the ears.
Inclusive Celebrations
What stands out about Trivandrum's Ganesh Chaturthi is the participation from various communities, irrespective of caste or religion. It encapsulates the true essence of Kerala's slogan 'God's Own Country,' bringing people together in a divine setting.
What's unique about how this Festival is celebrated in Trivandrum
The rituals often incorporate local practices like "Kathakali" performances, a stylized classical Indian dance-drama, in the evening poojas. Coconuts, instead of the usual sweet modaks, are commonly offered to the deity. The idols are generally made from eco-friendly materials and are often immersed in household ponds or nearby rivers, emphasizing environmental consciousness.
Ganesh Chaturthi in Trivandrum offers a medley of experiences from a different lens—one that is as rooted in the unique culture of Kerala as it is in the broader tapestry of Indian spirituality
Delhi: The Melting Pot of Traditions in Ganesh Chaturthi Celebrations
While Ganesh Chaturthi may be deeply rooted in the traditions of Maharashtra, the national capital of Delhi brings its own flair to the festivities. It's a compelling blend of cultural diversity and spiritual fervour that puts Delhi on the map as one of the 5 must-visit locations for Ganesh Chaturthi celebrations in India. Here's why you can't miss experiencing Ganesh Chaturthi in this eclectic city: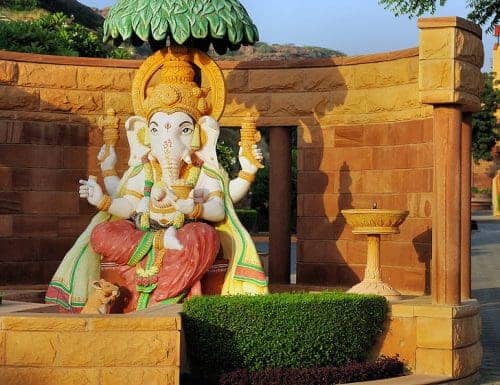 Diverse Celebratory Styles
In Delhi, Ganesh Chaturthi is a panorama of cultural influences from various parts of India. From Maharashtra's dhol-tasha to South India's classical Carnatic music, the city sees a myriad of traditions amalgamating into one grand celebration.
Artistically Crafted Idols
In the lanes of Chandni Chowk and various artisan quarters, you can find an array of elegantly crafted Ganesh idols. The artistry is commendable and the idols range from the traditional to the contemporary, offering a visual feast for the devotees.
Community Events and Social Programs
The city's various community centers and societies often organize events that go beyond just rituals and prayers. Social programs, blood donation camps, and charitable activities become part of the larger Ganesh Chaturthi celebrations, adding a humane touch to the divine occasion.
Eclectic Food Fare
No festival in Delhi is complete without its share of gastronomic delights. Ganesh Chaturthi is no different, with stalls offering modaks, laddus, and other sweets, as well as a variety of savoury snacks that bring culinary richness to the celebrations.
Vibrant Immersion Processions
The visarjan (immersion) ceremonies in Delhi may not be as grand as in Mumbai or Hyderabad, but they are equally vibrant and heartfelt. Colourful processions take to the streets, eventually leading to the Yamuna River, where the idols are immersed amid chants and hymns.
What's unique about how this Festival is celebrated in Delhi
Temples like the Moti Dungri Ganesh Temple are beautifully decorated, and community pandals pop up across the city. Unique to Delhi is the fusion of various regional cultures, as the city is a melting pot of traditions. You may encounter different styles of "aartis," music, and even food offerings at various pandals. The immersion ceremony often takes place in the Yamuna River, albeit amidst concerns and measures for environmental protection.
Delhi's Ganesh Chaturthi celebrations offer a rich tapestry of cultural, artistic, and social experiences that are deeply anchored in spirituality. The city's blend of traditions and the modern aesthetic make it a must-see during the festive season.
Vibrant diversity, rich traditions
Ganesh Chaturthi encapsulates the vibrant diversity, rich traditions, and profound spirituality of India.
From the grandeur of Mumbai's mammoth installations to the cultural potpourri of Delhi, from the classical elegance of Pune's celebrations to the communal harmony exemplified in Hyderabad, and from the quaint charm of Goa to the other notable mentions across the country—each locale offers a unique rendition of devotion and celebration.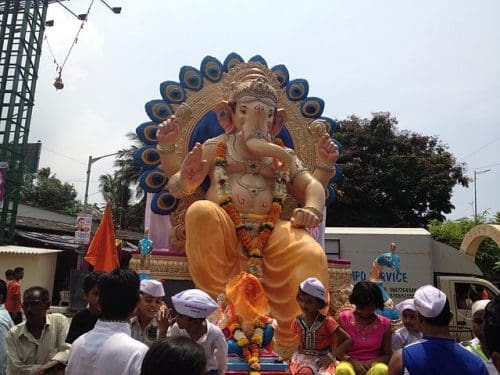 What ties these varied festivities together is a common thread of faith and an overarching spirit of unity in diversity. People from all walks of life and religious backgrounds come together to celebrate, proving that the essence of Ganesh Chaturthi transcends geographical and cultural barriers.
The festival captures the imagination of millions, young and old alike, who partake in the joyous rituals, listen to the resounding beats of the drums, taste the delectable sweets like modaks, and bask in the communal celebration of Lord Ganesh's homecoming.
Read More: Latest