Hyderabad's Jewellery Heritage makes the city a rich glittering hub of connoisseurs who seek traditional iconic styles in hand-crafted jewels.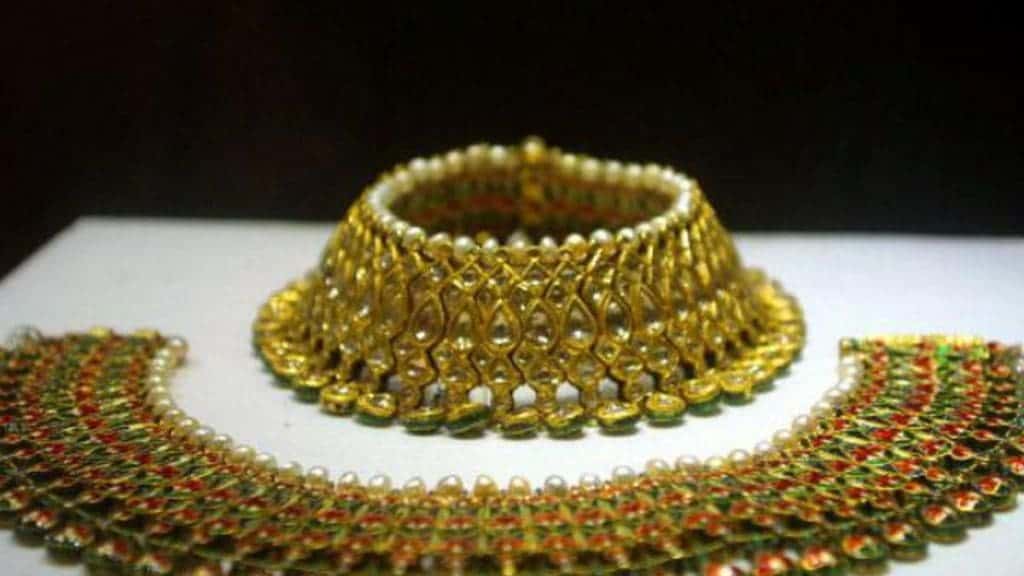 Hyderabad, the City of Pearls, holds a rich lineage of bejewelled history and is famous for its timeless traditions of keeping alive the legacy of the jewellery of the Nizams. The regal past of this bustling city is beautifully embedded in the myriad styles of its traditional jewellery, which still charm connoisseurs with their exquisite craftsmanship and allure.
Tracing back the lineage of Hyderabad's jewellery-making tradition, it's impossible not to mention the wealthy reign of the Nizams. The royal house of Hyderabad is renowned worldwide for its priceless collection of jewels, diamonds, pearls, and other precious stones. Their fondness for jewels and adornments shaped Hyderabad's jewellery culture, influencing the aesthetics, techniques, and materials used even today.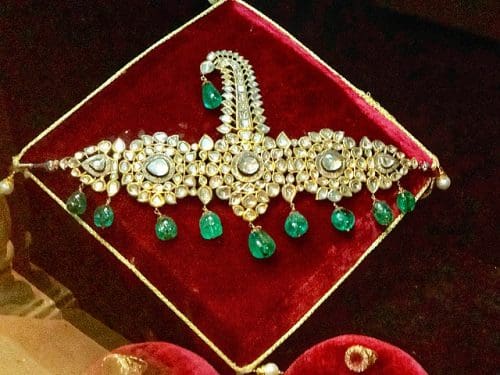 The city of the Nizams, remains a premier destination for jewellery enthusiasts, as it is home to about 2000 jewellers that range from small-scale artisans to leading industry giants. The city alone consumes 120 tonnes of gold annually, translating to approximately 15,000 crores. It's the beating heart of India's jewellery business and the historic birthplace of the world-renowned Kohinoor diamond, along with Golconda diamonds, Kashmiri sapphires, and Gulf pearls.
Incomparable Collection of the Nizams
The Nizams of Hyderabad were known for their lavish lifestyles and a great fascination for gems and jewellery. They amassed one of the world's most spectacular collections of jewels. This collection included over 173 jewels, including emeralds, diamonds, pearls, rubies and other precious stones. One of the most famous jewels in the Nizam's collection was the Jacob Diamond, which is the fifth largest diamond in the world. It is a 184.75-carat diamond and was used by the last Nizam, Mir Osman Ali Khan, as a paperweight!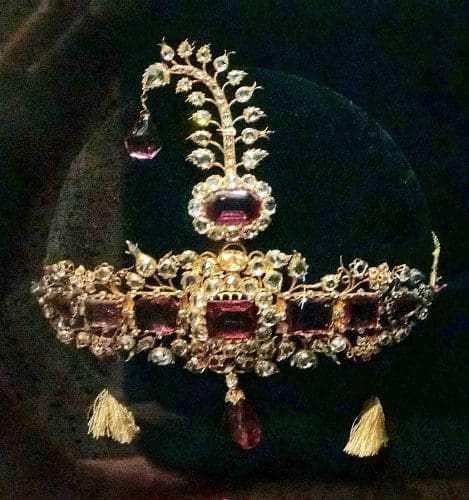 The incredible Nizam jewellery collection was bought by the Government of India for around Rs 218 crore and is now kept in the Reserve Bank of India's vault in Mumbai. It is exhibited only occasionally at the National Museum in Delhi.
Hyderabad, often referred to as the 'City of Pearls', has been a vital global centre for pearl trade since the time of the Nizams. The city was renowned for its traditional methods of pearl drilling and stringing. The Nizams had a special fondness for Basra pearls, which come from the Persian Gulf. Hyderabad is still famous for these pearls, and you can find them in various markets around the city. The Nizams also patronised the local goldsmiths and craftsmen, leading to the development of the unique Deccan School of art in jewellery, which combined Turkish, Arabian and local Indian elements in its design.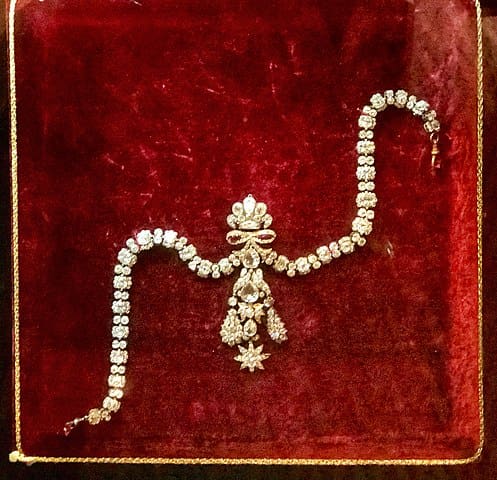 The Kollur mines near Golconda were the only known diamond mines in the world for many centuries and produced many of the world's most famous diamonds, including the Koh-i-Noor, the Hope Diamond, and the Regent Diamond. Hyderabad's connection to these historic mines further elevated its reputation as a jewellery hub.
Handcrafted Perfection: The Artistry of Hyderabadi Jewellery
The charm of Hyderabadi jewellery lies in its intricate craftsmanship. Skilled artisans employ age-old techniques to fashion gold, diamonds, pearls, and various other gemstones into stunning pieces. Kundan work, pearl stringing, and silver encasing are some of the handcrafted processes that highlight Hyderabad's jewellery heritage, imbuing each piece with a unique character.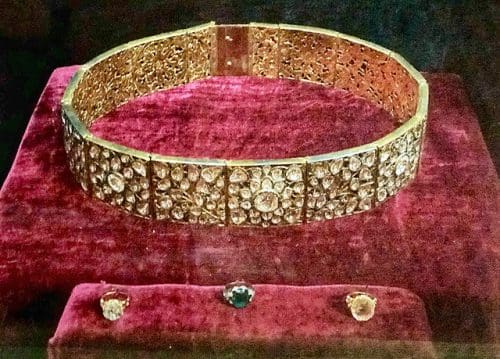 The city is still home to many skilled master craftsmen and local artisans who have been practising their craft for generations. Their unique skills, passed down from their forefathers, ensure that Hyderabad continues to produce some of the finest jewellery in the country.
Hyderabad's jewellers work with a broad array of materials, each adding a distinctive touch to the city's jewellery designs. The city's title 'City of Pearls' speaks volumes about its centuries-old pearl trading tradition, while Golconda's diamonds have made it a hub for diamond lovers. Gold and platinum jewellery, inlaid with precious and semi-precious gemstones, also form an essential part of the city's jewelled heritage.
Hyderabadi jewellery embraces a range of styles, from the traditional Satlada haar and Jadau work to modern, minimalist designs. While traditional styles exude a royal grandeur, contemporary designs cater to the tastes of the modern clientele, seamlessly blending tradition with trendiness.
We take you on a journey of Hyderabad's jewellery heritage, its traditional styles, intricately handcrafted processes, precious gemstones used, and the finest places to indulge your love for these splendid creations.
Discover 7 Quintessential styles in Hyderabad's Jewellery
Nath:
A sign of the bride's purity, the Nath or nose ring is usually a gold piece featuring a ruby bead flanked by two pearls. As per Hyderabadi custom, the bride pierces her nose before the wedding day. This ornament is considered a bridal essential and can be removed post-wedding. Hyderabadi gold jewellery designs for a Nath are popular among bridal stylists.
Sat Lada: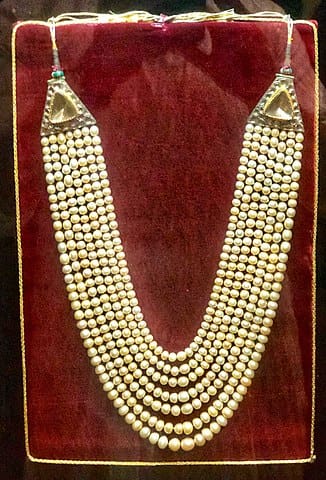 The Sat Lada, a bridal favourite, differs significantly from a choker. It is a multi-strand necklace, each strand enriched with Hyderabadi pearls. This piece is a real head-turner, designed to extend from the neck to the navel, with each strand featuring a pendant of gold and gemstones. A must-have for brides seeking a royal aura!
Maang Tikka and Jhoomar:
The Maang Tikka, is a forehead ornament that illuminates the bride's face. Crafted from gold and adorned with exquisite pearls and gemstones, this piece is a token of blessing from the bride's maternal relatives.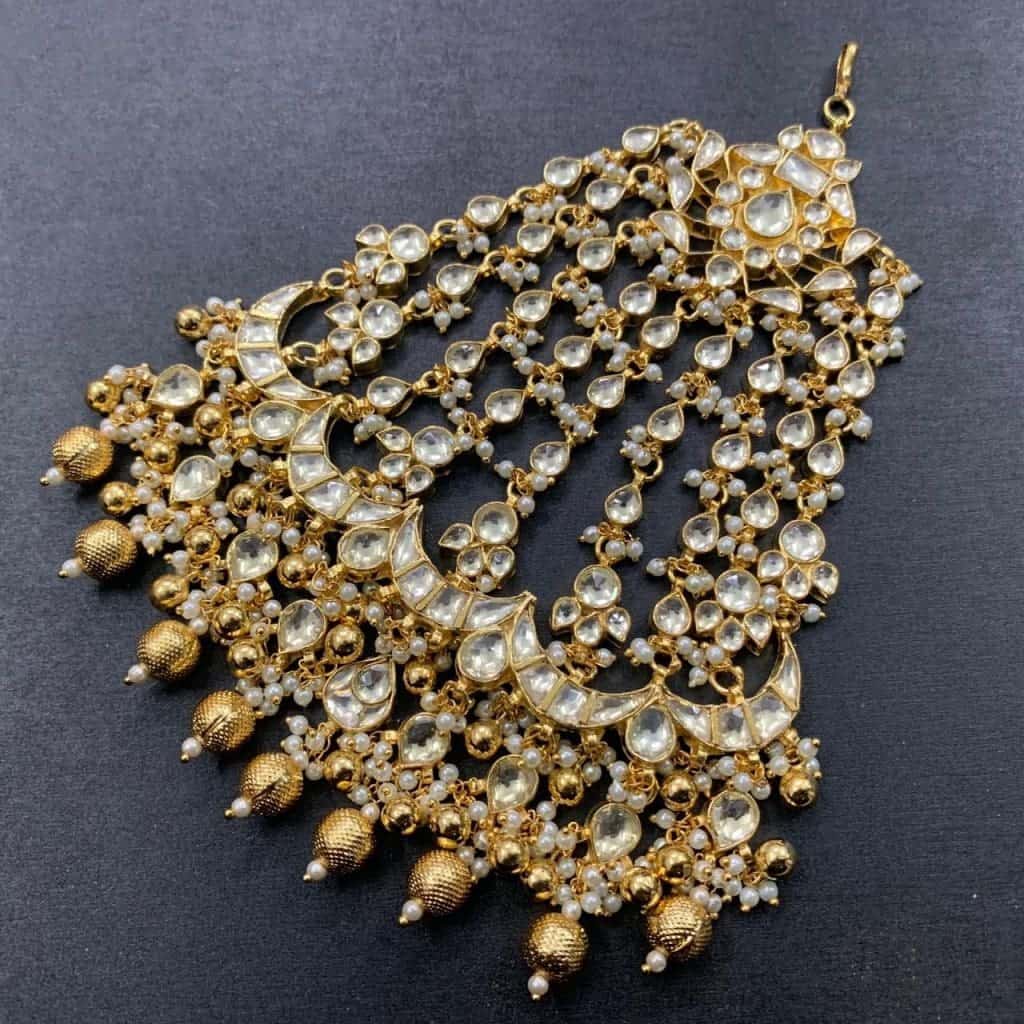 The Jhoomar or Pasa, another Hyderabadi favourite, is a triangular ornament made from pearls and gold, often highlighted with red stones, worn on the left side of the forehead.
Jada Huwa Lachcha:
This is no ordinary piece, it's a traditional Hyderabadi choker-style necklace studded with uncut diamonds, pearls, and vibrant gemstones. The Jada Huwa Lachcha is an antique beauty that reigns supreme over other jewellery types. Its crowning glory is the green gemstones, beautifully accented with the intricate pearl-work characteristic of Hyderabadi designs. For variety, one can opt for red or maroon gemstones in place of green.
Karan Phool and Chandbali:
These two unique earring styles are essentials for a bridal trousseau. The Karan Phool, shaped like a large flower, complements the Jada Huwa Lachcha and is connected to strands of pearls that attach to the bride's hair.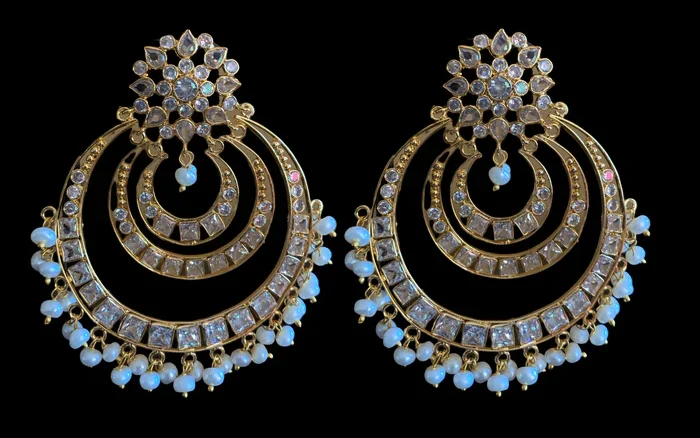 The Chandbali earrings, a celebrity favourite, resemble a crescent moon and feature uncut diamonds, gems, and pearls.
Jugni:
The Jugni necklace, designed with two to three strings of pearls, often incorporates Kundan elements.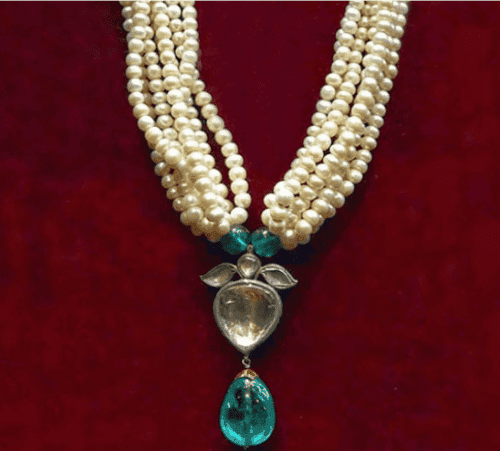 This is one of the most exquisite pieces in a Hyderabadi pearl set combination. It's not merely an ornament but a masterpiece that symbolises the rich craftsmanship of the city.
Tirmani:
This intricate necklace style embodies Hyderabad's rich jewellery heritage. Made with three rubies or emeralds, Tirmani is also adorned with uncut diamonds and Hyderabadi pearls, giving it a regal finish. This piece exudes royalty and is highly sought after for its elegance.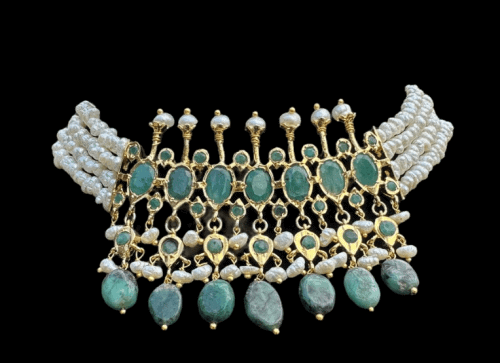 Hyderabad's jewellery legacy, with its diverse array of nose rings, necklaces, earrings, and headwear, has carved a niche for itself in the world of bridal adornments. Although this style of jewellery is steeped in antique designs, it has successfully embraced contemporary trends, making it a must-have addition to any bride's wedding collection.
Where to Buy Jewellery in Hyderabad
Hyderabad boasts numerous reputed jewellery stores, offering a broad spectrum of pieces to suit every preference and budget. From age-old shops in the Charminar area, known for their traditional and bridal jewellery collections, to luxury boutiques in Banjara Hills and Jubilee Hills, showcasing contemporary styles alongside heritage pieces, Hyderabad offers a unique shopping experience for jewellery lovers.
Vibrant Bazaars for Precious Gems and More
Charminar Bazaar: This charming street market is an alchemical blend of rustic allure and chic finds. A haven for pearl lovers, you can discover some of the finest and rarest pearls here, including the famed Basra.
Laad Bazaar: Situated near Charminar, this historic marketplace dating back two centuries, is best known for its vast array of beautifully crafted bangles. A visit to Hyderabad is incomplete without a shopping spree in Laad Bazaar.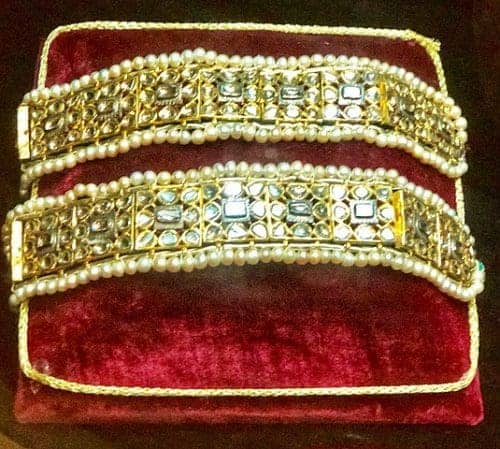 Koti Sultan Bazaar: Nestled between Abids and Koti, this market, formerly known as Residency Market, has been a shoppers' paradise for nearly 200 years. Here, you'll find various earrings, bracelets, and necklaces in myriad hues and designs.
Basheer Bagh: This locale, adjacent to popular commercial areas like Abids, Koti, Nampally, and Himayat Nagar, is brimming with pearl shops offering pearls of various shapes, sizes, and prices. Among the best wholesalers is Meena Jewelers, Babukhan Estate, famed for their authentic saltwater and cultured pearls.
Pattherghaati: This street, another offshoot of Charminar, is filled with shops offering pearls of all shapes, sizes, and prices. If pearls are what you seek, this is your go-to destination.
The Best Jewellery Stores in Hyderabad
Lalitha Jewellery: Located near Somajiguda Circle, this store is renowned for its certified gold and internationally certified diamond jewellery.
Mohammed Khan and Sons Jewellers: Established in 1936, this brand is known for its exceptional collection of gold and diamond jewellery.
Shree Jewellers: Situated near Peddamma Temple, Jubilee Hills, this store offers uniquely styled gem-set jewellery.
Jagdamba Pearls: Also known as JPEARLS, this is among the finest jewellery stores in Hyderabad, known for their gold collection.
GRT Jewellers: Located near Punjagutta officers colony, Somajiguda, this store features a vast collection of traditional and orthodox gold ornaments.
Kalyan Jewellers: Situated near Central Punjagutta, Hyderabad, this store is famed for its traditional and antique jewellery.
Mangatrai Jewellery: Located near Peddamma Temple, Jubilee Hills, this store specialises in pearl jewellery design and gems sourced from around the world.
Khazana Jewellery: Located near Chandanagar, this store offers an exquisite collection of bridal jewellery and Indian gold jewellery designs.
Krishna Pearls and Jewellers: Located near Metro Station Check Post, Jubilee Hills, this shop is internationally recognised for its pearl, diamond, and stone jewellery.
Totaram Sons: Located near Grammar School, Abids, this store offers an excellent collection of gold, diamond, and gemstone jewellery.
Manepally Jewellers: Located near Amrutha Hills, Punjagutta, this store features a variety of gold, kundan, diamond, stone, and fusion jewellery.
Tibarum Jewels: Located near Sri Nagar Colony, Banjara Hills, this beloved and trusted brand in Hyderabad offers a broad collection of gold, diamond, kundan, and gem-set jewellery.
Hyderabad's heritage jewellery encapsulates the city's rich past and its evolving present. With their unique blend of traditional styles and contemporary trends, handcrafted processes, and a wide array of precious materials, these pieces narrate stories of an era bygone, while shaping the future of India's jewellery tradition. Whether you're a jewellery connoisseur or a casual admirer, a visit to Hyderabad promises an exquisite exploration of this timeless art form.
Embark on your sparkling journey through the lanes of the City of Pearls.
Read More: Latest