With all the vibrant colours and aesthetics that embody tradition and culture, the historic shopping bazaars of India are a world of their own.
The historic shopping bazaars of India are a wonderful representation of a golden historic era where everything from priceless jewels to famous spices to grain and cloth was bought and sold by nobles and royalty as much as the common men and women of the day.
Today much of the same charm is imbued in the colourful canopied stalls and ancient shops with legendary names and reputations of their trade. The traditions and the infrastructure of these bazaars and their valuables are still carried forward in much the same way as it was presented in olden times – and that is the wonderful joy de verve of these quaint bustling historic bazaars of India.
It is amazing how these historic bazaars give us a glimpse of our glorious past – recreated every time we visit them in diverse regions of our country.
Let's revisit the 10 most iconic historical bazaars of India.
CHANDNI CHOWK, DELHI
With an ancestry tracing back to the 17th century, this historic bazaar was a favourite of the Mughal Emperor Jahangir and his daughter Jahanara. The entire shopping area is clustered with colourful shops that were once a favoured outing and recreation palace of the Mughals. The rich architecture, colourful facades, fragrances of street foods, ancient and regal havelis, shrines, the decor of the shops, mansions, etc. give you the perfect vibe of ancient times that is paradoxically juxtaposed within a contemporary era.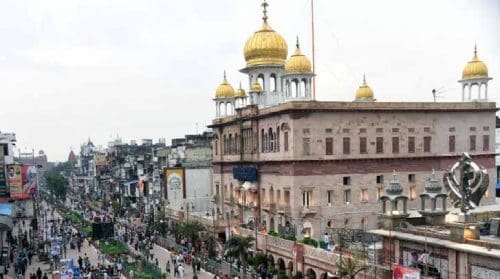 With the endless collections of shops of different kinds such as traditional clothes, jewellery, wedding paraphernalia, perfumes, spices, antiques, souvenirs, and some delicious food, your entire day will be occupied and you won't even realise it. For all the spice lovers you should definitely visit the Khari Baoli wholesale market.
This old Delhi charm can be enjoyed by rickshaw ride as it will help you cover every nook and corner of the place. Do not forget to visit the famous eateries of Chandni Chowk – which have earned global fame among gourmet food lovers. Try the chaat, the parathas in the Paratha wale gully, the famous Jalebis in asli ghee, Rabri, and the mouth-watering poori – alloo and much much more.
JEW TOWN, KOCHI
This market in the Mattancherry area of Kochi traces its history all the way back to the sixteenth century. The bazaar is replete with Portuguese-style structures and narrow roads, lined by shops that offer everything from trinkets to collectibles, local crafts, fragrances, gems, and spices. The exotic fragrance of pepper, chillies, cloves, and cardamom fill the spice street which has warehouses storing these spices.
A considerable number of the retailers likewise come from a long tradition of Jewish families who have lived here for ages and are entirely familiar with the history and living cultural mores of the local people.
Jew Town is a historic jewel famous for its 16th-century Paradesi Synagogue and was once the hub of commerce in the former thriving Jewish neighbourhood.
Well known for its old-world ambiance with traditional shops lining the narrow lanes of Synagogue Lane and Jew Town Road, you can buy anything from carved wood collectibles and vessels to locally crafted curios and sculptures, as well as unusual handmade toys. Every one of the shops here contains wonderful buys with peculiar and intriguing stories.
One experience you must not miss while shopping is a look at a prized antique – a big vaarpu (a large bronze vessel with handles) that is three metres in diameter. Another big attraction next to the Paradesi synagogue in Mattanchery is a 1760 clock tower that sports four faces with numerals in Latin, Hebrew, and Malayalam. It was built by Ezekiel Rahabi, a Jewish businessman.
The quarter is full of quaint cafes and al-fresco eateries which serve up local gourmet fare. This remarkable bazaar knits so many parts of history and goes about living their ancient ways as they gift memories and wonderful experiences to visitors.
NEW MARKET, KOLKATA
Kolkata is definitely a place that people love to shop at, as this lovely city is known for its cultural and historical ambiance and legacy. One such place that embodies the history of Kolkata is New Market on Lindsay street which was established in 1874. The massive arcade of the grand Victorian-Gothic architecture is an emblem of the New Market and has survived two large fires that have taken place here. The red brick clock tower is a landmark that towers above the sprawling maze of shops that stretch in a labyrinth of stalls and arcades.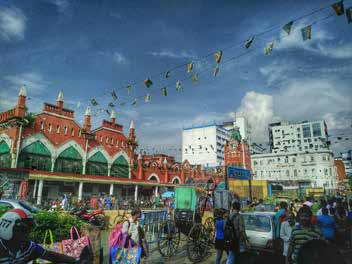 Formerly known as the Sir Stuart Hogg Market, this chaotic, crowded yet colourful place is home to about 2000 stalls and shops that come under one roof. If you have great bargaining skills you can definitely shop at great prices or take the help of the coolie dada who will give you all the tiny details of which shops specialize in which item and at the right price.
The market is a lively hub of everything you may want to buy – famous street foods, exotic flowers, utensils, leather bags, electronics, clothing, expensive jewelry, fresh fruit, seafood, etc.
Don't miss the ethnic Tibetan shop Chhamba Lama, which sells Tibetan jewelry and artifacts. You can treat yourself to some marzipan and fruitcake at Nahoum and sons, which is one of the oldest shops in the market. Step out for a while and take in the old bookstores like Modern Book Depot, Piccadilly Book Shop, or Bengal Book Stores which stock rare titles and are the oldest dealers of second-hand books. Finally pick some exotic fresh vegetables like avocados, Chinese cabbage, and fresh herbs at Stall 80 in Block N of New Market!
LAAD BAZAAR, HYDERABAD
This crowded place is set in a narrow alley, where no vehicle is allowed. This well-known historical place is situated near Hyderabad's famous Charminar. It is said that the market has been there since the Qutub Shahis and the Nizams period and consequently presents a living legacy of the city.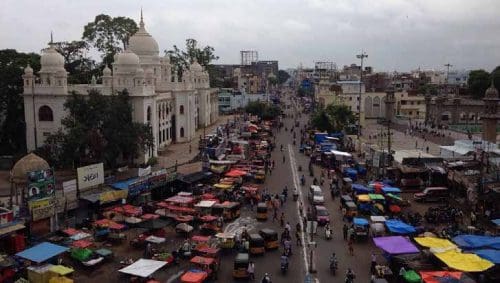 There are many stories as to how it derived its name, interestingly the meaning of Laad bazaar is lacquer. Lacquer is one of the significant materials used to make bangles studded with stones; these ethic lac bangles are a popular buy among guests. Imagine a one-kilometer long strip with shops selling every kind of bangle… glass bangles, studded bangles, Laquer bangles, silver bangles, gold bangles, semi-precious stone studded bangles, and expensive wedding accessories.
The heritage bazaar has a wonderful traditional ambiance – the narrow lane is dotted with shops, stalls, hanging wooden balconies, and old buildings of historical splendour where lively bargaining and haggling is a vibrant part of the shopping experience.
The market also offers several exquisite items such as sarees, perfumes, silverware, and famous pearl jewellery. The most famous buys include traditional master crafts like silverware, Bidri ware, Nirmal, Kalamkari paintings, hand-woven fabrics for weddings like velvet, brocade, and gold embroidered tunics, sherwanis, traditional Khara Dupattas in silk and cotton, and traditional perfumes in glass bottles called ittar.
After all is done, don't forget to eat some local food treats which are delicious.
IMA KEITHEL, IMPHAL
A traditional bazaar that is entirely run by women, the renowned Ima Keithel market traces its origins back to the 17th century and is popularly known as the mother's market. It is situated in the capital city of Manipur, Imphal, and is probably the largest all-women market in Asia.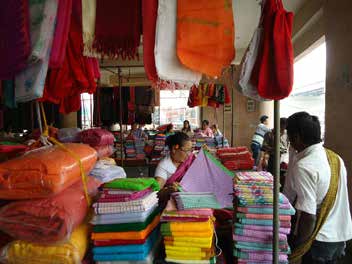 This unusual all ladies' market has 5000 "Imas" or moms who run the shops and stalls. What an amazing experience it is to see a bustling legendary market with only women selling wares, colorfully dressed in the local phaneks (sarong) and innaphis ( shawls), and confidently reaching out to hundreds of customers who come to this veritable shoppers paradise.
The 500-year-old market has been a significant exchange market of the state and keeps on drawing countless shoppers. As history has it, the bazaar's all-ladies force began after the Lallup-Kaba, an old forced labour framework, where men were away in forced labour and women had no other resource except to start these small shops to feed their families.
Over the years this evolved into a thriving marketplace that is now housed in three pagoda-styled buildings. This traditional bazaar is not merely a thriving market – but remains a symbol of Manipur's cultural identity and recognition of women as a successful workforce.
The bazaar is divided rather well into two buildings on either side of the road with wholesale products and food items like groceries, fish, vegetables, and organic products like the famous Morok chilli housed in one building and handicraft and traditional handloom material and household requirements in the other building. Close by shoppers can buy fine baskets and wicker works.
DEVARAJA MARKET, MYSORE
If you want to picture the life of Mysore then you must visit the streets of Devaraja market with their picturesque clock towers. This is the most iconic bazaar of Mysore that dates back to the time of Tipu Sultan.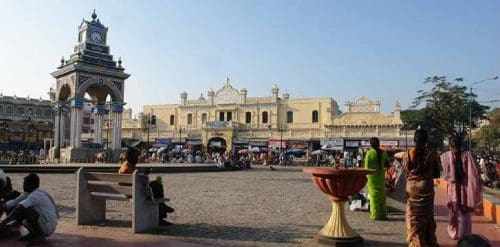 This unique heritage bazaar lies in the central Sayyaji Rao road of Mysore and was expanded by Chmaraja Wodeyar IX in the late 1800s. At present, the bazaar is spread over 3 acres of land with 800 shops that are established over time. There are several entrances to the structure that houses the bazaar and shops are to be found along three aisles that run right through the market.
This legendary bazaar has so much to offer, and shoppers can find anything from a wholesale flower market with dozens of shops selling exotic flowers, marigolds, jasmine, and roses and making garlands for shoppers, to a wholesale fruit and vegetable market with over 40 different kinds of fruit and an endless supply of vegetables to a spice market with everything from mounds of turmeric to chilli and fresh herbs.
Shops sell silks, sandalwood, red kumkum powder, incense, and green betel leaves to everyday household items in their own allotted section. Do not forget the famous sweet shops at the outer rings of the bazaar and grab a bite of the famous Mysore Pak.
FLEA MARKET, GOA
If you want the flavour of a traditional Goan market that has its own twist on what an open-air shopping hub should be, you must visit the legendary bazaars or flea markets of Goa. They date back to the 1980s when they began as "hippie trade spots" where foreign travellers sold off their assets from time to time.
The most colourful historical bazaar is the Anjuna market which is truly a melting pot of European, and Indian ethnic goods with a strong Gujarati touch as tribal women sell a mixed bag of garments of every kind. These include scarves, wraps, shirts, and T-shirts to colorful sarees, sweaters, and bags.
In this cultural milieu, tourists will find some unusual artifacts as sellers from Kashmir present rugs and carpets, kaftans, shawls, and wood and brass handicrafts. Sculptures and curios are sold from ethnic Tibetan stalls as are bedspreads, saris, quilts, and puppets from Rajasthani traders. A fascinating addition is spice, handicrafts, and clothing sold by shopkeepers from Kerala and Karnataka.
Another seasoned market is situated at Arpor. Ingo's is an absolute flower child heaven with quaint stores and Indians and foreigners selling garments, hats, food, souvenirs, sarongs, seashells, handicrafts, leather products. and antique items as local bands and artists play for you.
While you shop anywhere in these local and traditional markets and bazaars, ensure you additionally bring your haggling game to the market.
JOHARI BAZAAR, JAIPUR
Known as a shoppers' paradise, this historic market lies in the Pink city of Jaipur. Johari Bazaar as the name suggests is a market for gems and jewellery. Shoppers will discover a colonnaded street coloured in orange, pink, and rose.
You will find a long line of shops belonging to a well-established lineage of traditional jewellers who can trace several generations devoted to the buying and selling of jewels and the fine art of jewellery craftsmanship. Shoppers will be awed looking at the array of vibrant coloured stones, precious and semi-precious stones, diamonds, emeralds, and topaz that are used in making jewellery.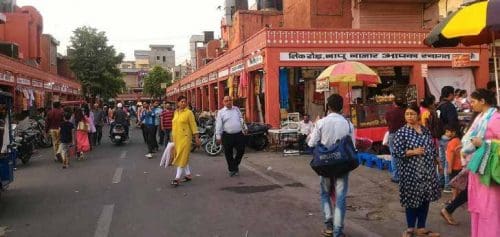 There is so much to explore in the ancient market of Johari Bazar, as you move towards the east you will spot shops selling metal antiques. You can also visit the Maniharon ka Raasta, off Tripolia Bazaar, where you can witness the lac bangle-makers at work. To find traditional jute and wood cots, silver items and other local handicrafts do pay a visit to the Kishanpol Bazaar. Shoppers will find a wonderful selection of locally made Mojri Shoes, Souvenirs, handicrafts, Rajasthani fabric like bandhani work, and block-printed textiles.
For all the food lovers the street food is delicious and for all sweet lovers you must stop by the Laxmi Mishthan Bhandar.
CHOR BAZAAR, MUMBAI
The famous Chor Bazaar is one of the biggest flea markets in the nation and has been the city's go-to for collectibles and a plethora of shopping goods for well over a century. Chor Bazaar didn't begin with its present name. The 150-year-old market was once known as Shor Bazaar, referring to the boisterous merchants in the souk who had settled along the little paths of this area.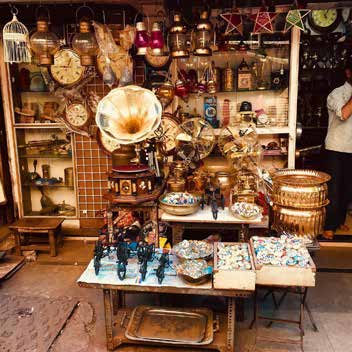 Located on Mutton Street, Chor bazaar has a traditional old-world charm with Mughul architecture dominating the old buildings with their crowded alleys and crammed shops.
Today this colourful local bazaar offers everything from spare auto parts, to retro Bollywood banners and one-of-a-kind boom boxes, to antiques and Victorian furniture to electronics, second-hand gym equipment and salvaged material of every kind.
Because of its endless array of goods, the market stays a famous tourist location. Notwithstanding, quite a bit of its shoppers come from the city itself. Bollywood regularly sources its props from the Bazaar's main shops. From lights to utilized vehicle parts, there's nothing you can't find in Mumbai's historic bazaar.
AMINABAD MARKET, LUCKNOW
This is one of the most ancient bazaars in the old quarters of Lucknow and has been drawing in shopaholics for ages on account of its range of products. The Aminabad bazaar traces its history to the time of the Nawabs of Lucknow.
Aminabad Bazaar is the place where you will find ethnic embroidered chikankari garments, hand-woven sarees, bedcovers and bedsheets, footwear, wedding gems and jewellery, belts, mats, utensils, and substantially more. Dupatta Mahal is a specialist dupatta store in the market to search for an incredible assortment of various colours and designs of dupattas while Madan Sarees and Sargodha Cloth House offer fabrics and silks from Uttar Pradesh.
Shopping in Aminabad Market includes a stop at Wahid Biryani for a delicious meal. There are a variety of food stalls and cafés serving street food and other savouries. The renowned Prakash Kulfi and Tunday Kababi are a must-try for all food lovers.
Read More: Latest