With sustainability at the heart of everything they do, ITC Hotels offer world-class luxury in harmony with the environment and society by setting new benchmarks for Planet Positivity.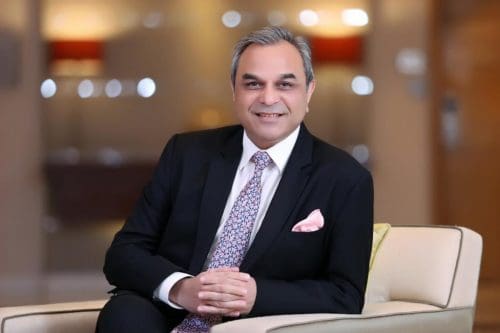 Long synonymous with immersive luxury, ITC Hotels are famed for their hospitality ecosystem and curating a mosaic of authentic, indigenous luxury experiences. While sustainability is revolutionizing every facet of the world at the moment, for the prodigious ITC Hotels, eco-consciousness is a core belief that was introduced over a decade ago.
With several awards and accolades under their belt for pioneering innovations that combine grandeur with ecoefficiency, sustainability is incorporated into the very essence of ITC Hotels—all their properties and services reflect an inherent commitment to be ecologically sound—be it design or the detailing that goes behind creating iconic hotels that celebrate the destination and its local culture through cuisine, decor, and art. Brandishing innovation in sustainable luxury from using renewable energy to recycling solid waste and conserving water, these initiatives don't even begin to scratch the surface of the endless measures taken by the brand in order to bring their guiding premise—Responsible Luxury—to life, while offering unparalleled bespoke experiences to their guests.
10 properties of the ITC Hotels Group have attained "Net Zero Carbon Status" by achieving coveted "LEED Zero Carbon Certification" by USGBC [United States Green Building Council], in a one-of-a-kind remarkable feat.
Anil Chadha, Divisional Chief Executive, ITC Hotels said, "Responsible Luxury is our guiding ethos at ITC Hotels. We endeavour to create planet-positive experiences. The Net zero project aligns with India's vision of significantly cutting emissions and is a critical driving force behind the transformation of buildings, cities, and communities to continue to sustain future generations."
ITC GRAND CHOLA
Located in the heart of Chennai is the palatial ITC Grand Chola, a veritable destination in itself. Exhibiting awe-inspiring architecture, the property's grandeur reveals sustainability at its helm: as the World's second and largest "LEED Zero Carbon Certified" hotel and largest LEED platinum certified hotel during inception, ITC Grand Chola meets close to the entire of its electrical energy demand through wind & solar farms and also successfully achieves almost complete recycling of waste generated by hotel operations.
ITC GARDENIA
Set in the heart of Bengaluru, ITC Gardenia is an ode to the city's lush gardens and is the first hotel in Asia to have a LEED platinum rating in the new construction category. It is World's third hotel to achieve "LEED Zero Carbon Certification". A breath of fresh air in the lively metropolis, ITC Gardenia reflects the brand's unwavering commitment to planet positivity with a unique wind-cooled lobby and by harnessing renewable energy, recycling water and solid waste, and sourcing a significant portion of ingredients locally to curate an ingeniously opulent experience for their discerning guests.
ITC KOHENUR
Nestled in Hyderabad's new business district, ITC Kohenur overlooks the picturesque Durgam lake. Taking inspiration from the famed jewel, the property boasts excellence in accommodations and experiences that mirror Eco consciousness at its roots. The LEED platinum-rated hotel is constructed at a specific alignment to optimise its interaction with the sun, maintaining an ideal balance of sunshine and shade to enable effective cooling.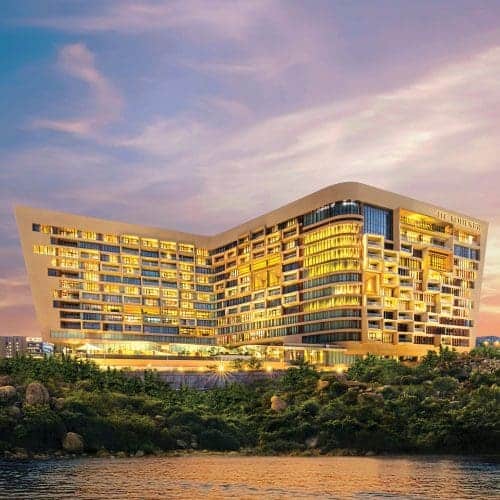 ITC MAURYA
An imposing structure of timeless luxury and inspiring architecture, ITC Maurya, New Delhi, epitomises luxury with a conscience in its truest sense—with the world's first solar paraboloid concentrator in the hospitality landscape, renewable energy is harnessed, water is recycled and reused to prevent wastage.
ITC WINDSOR
The First hotel in the World to receive the LEED Zero Carbon Certification, ITC Windsor is imbued with an endless charm and overlooks the rolling greens of Bangalore Golf Club. Almost the entire electrical demand of the hotel is met through renewable energy sources. With an exquisite facade rich with intricate details, one can only expect true opulence to come into realisation inside, married with environmental stewardship.
SUSTAINABILITY AT ITS CORE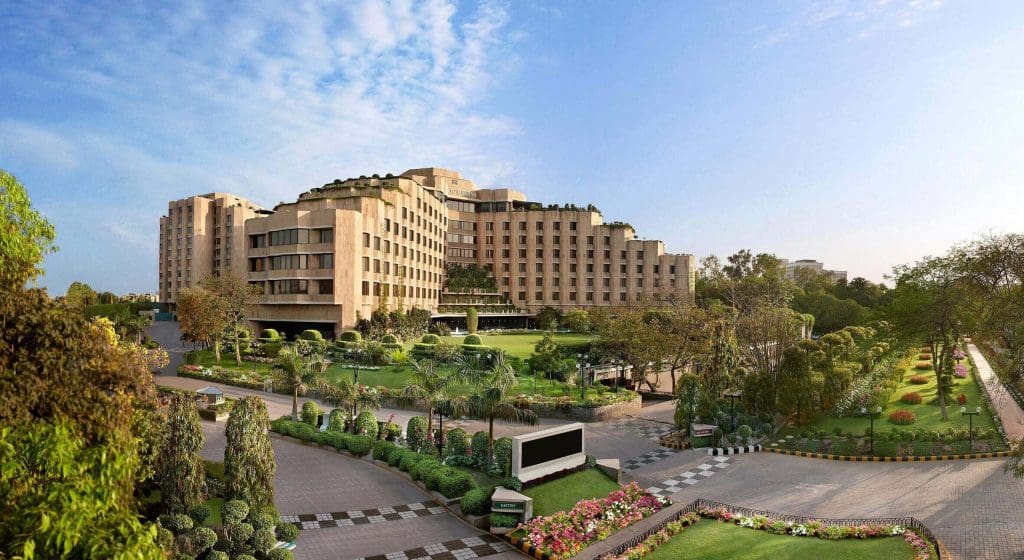 ITC Hotels has been a pioneer when it comes to setting new benchmarks in planet-positive initiatives, which is evident in the luxury hotel chain's many measures. From using renewable energy, recycling solid waste, conserving water, and mitigating the usage of single-use plastic, to reduce their carbon footprint at every step, ITC Hotels has made significant strides in safeguarding biodiversity. Here's looking at the five main pillars that the brand's long-standing focus on sustainability firmly rests on:
DESIGN AND ARCHITECTURE
As much as good design and architecture is about being innovative and aesthetic, it is also about being eco-conscious and reducing the environmental impact. And, when it comes to employing sustainable practices in design, ITC Hotels is leading by example. The hotel chain holds the title of being amongst the first, largest, and greenest chains in the world to achieve LEED platinum certification (Leadership in Energy and Environmental Design) for all its luxury properties in the country. This global rating granted by the U.S. Green Building Council is the highest certification awarded to organisations around the world that are employing sustainable practices.
WATER CONSERVATION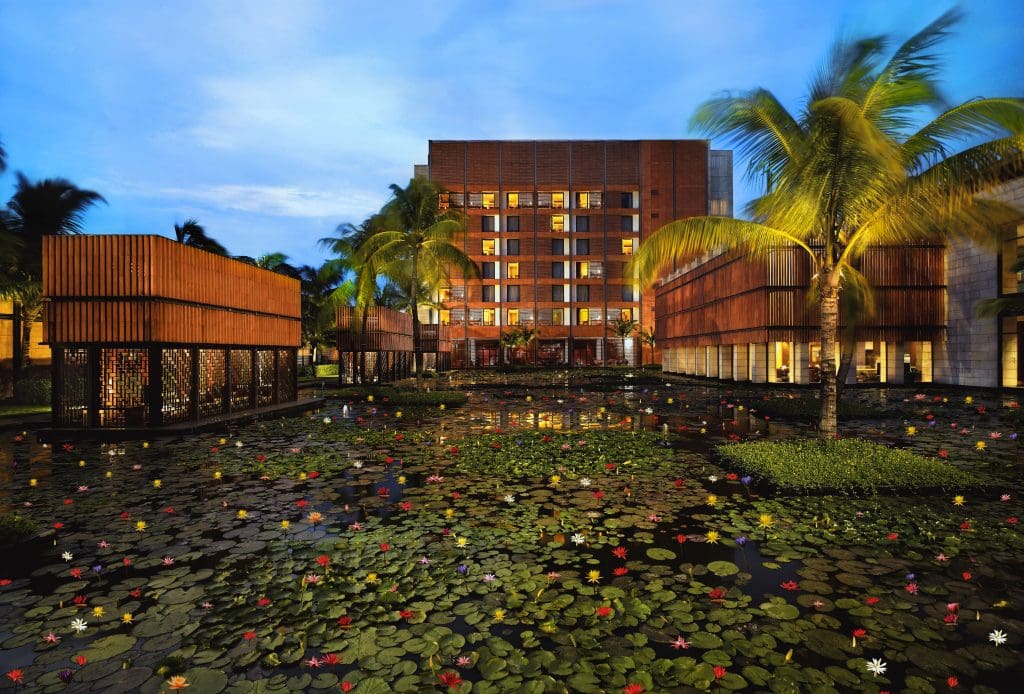 From reducing water consumption at all hotels and recycling water to augmenting rainwater harvesting activities and employing unique methods of irrigation, ITC Hotels has reduced its freshwater consumption significantly over the last few years with entire wastewater being treated and recycled, and reused. In fact, adding to their mission is the SunyaAqua program that purifies drinking water inside the hotel premises using state-of-the-art bottling and filtration technology that meets stringent global standards.
RENEWABLE ENERGY
To ensure a positive environmental footprint, ITC Hotels has adopted a low-carbon growth strategy that focuses on the enhanced use of renewable energy sources as well as the reduction in energy consumption.
The brand's over a decade-long commitment towards sustainability has resulted in over 57 percent of the total electrical energy requirements being fulfilled through renewable sources such as windmill farms and solar panels. In addition, a major portion of electrical energy at ITC Mughal, ITC Rajputana, ITC Maratha, ITC Grand Central, ITC Windsor, ITC Gardenia, ITC Grand Chola, Welcomhotel Sheraton New Delhi, Welcomhotel Bengaluru, Welcomhotel Chennai, Welcomhotel Coimbatore, Welcomhotel Guntur, and others are met through renewable sources.
WASTE RECYCLING
More than 99 percent of the solid waste generated in hotels is recycled/reused. Organic waste is converted into manure through OWC machines and many properties such as ITC Maurya, ITC Maratha, ITC Grand Bharat, ITC Grand Goa, and Welcomhotel Sheraton New Delhi also have an onsite biogas plant, where biogas generated from waste is utilized in hotel kitchens for cooking.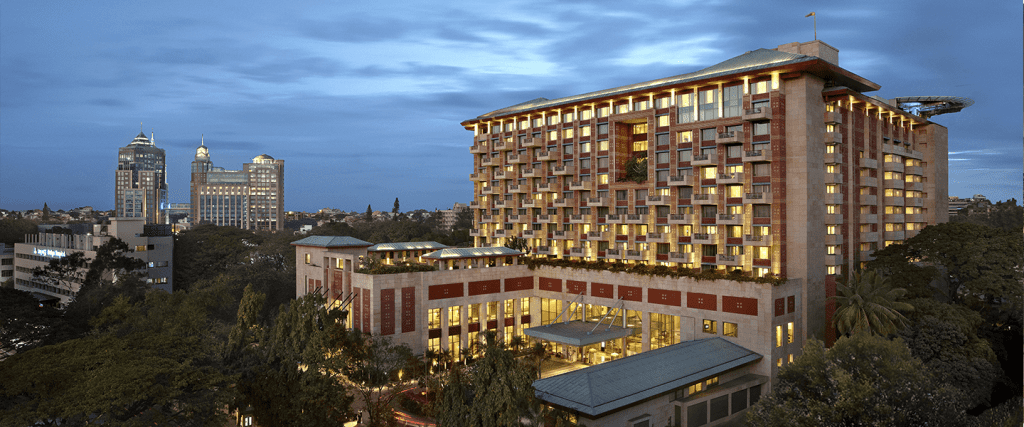 LOCAL SOURCING
Over 50 percent of the food consumables used at ITC hotels are sourced locally ensuring reduced carbon footprint by saving on transportation costs, packing costs, and fuel costs. What does this essentially mean? The product does not need cold storage, and the consumables come from local farmers or communities, ensuring your food is organic. That's not all. Over 70 percent of paper, stationery, and wood used at ITC Hotels is either FSC (Forest Stewardship Council) certified, sourced locally, or recycled.
MITIGATION OF SINGLE-USE PLASTIC
ITC Hotels is among the First hotel chains to mitigate single-use plastic by about 2.5 Lakh Kg/year. The key contributors identified were 150 lakh water bottles, 15 lakh straws, 8 lakh stirrers, 8 lakh toothbrushes, 7 lakh earbuds, 3 lakh shoe shine, and others. These plastic items have been replaced with a sustainable & eco-friendly alternative. Two simple words, though rarely found together, have become the bedrock of belief and commitment for ITC Hotels- Responsible Luxury. This is luxury most certainly, but luxury with a conscience.
Read more: Latest