Fleeting, irreverent and unexpected. Street art surprises in Portugal are a sheer delight for tourists, who are often surprised by drawings on the streets, on billboards, on façades and large walls.
These are true open-air galleries, where prominent artists from around the world try to give life and colour to hidden-away places, with various techniques and messages, giving each place its own story.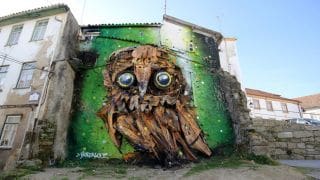 Street art is already an attraction for people visiting the cities, with international recognition for the quality of the works you will come across. Several Portuguese artists already made a name for themselves around the world:
-The work of Bordalo II in Covilhã and Ella & Pitr, in Abrantes, were highlighted by Street Art News in their list of the 25 most popular urban works of art. 
– Odeith, with his street painting in Setúbal, was included in a special about the best of these works by the movement I Support Street Art
– Vhils was mentioned by Forbes magazine in its list of under-30s success stories, in the Art & Style category. More recently, he was invited by U2 to produce the video for one of the songs on their last album, Raised by Wolves. The video was recorded in the former Lisnave shipyards in Cacilhas. 
Although born out of an attitude of transgression and illegality, this artistic expression has sparked the interest of public and private bodies. Many domestic and foreign artists have been invited by local authorities and cultural associations in Portugal to produce work in public spaces and derelict buildings, giving them a new image and as well as attracting the attention of passers-by. 
The work that can be seen in Lisbon, Porto and Coimbra includes pieces by Costah, Os Gêmeos, C215, Miguel Januário, Hugo Makarov, Mário Belém, Nuno Saraiva, Pedro Soares Neves, UAT, Vanessa Teodoro, Add Fuel e Gonçalo MAR, to be found in easily-accessible places and included on the tourist circuit.
There's a whole world of art to be discovered in Portugal. On your next visit, don't forget to look around you, even on the ground beneath your feet. Record what you find and share it with us.
Street Art Events
Several street art events have contributed to city cultural agendas, especially during the summer months.

It's a good time to experience cities at their most relaxed, surprise yourself with true works of art and, who knows, get involved and leave your mark in history.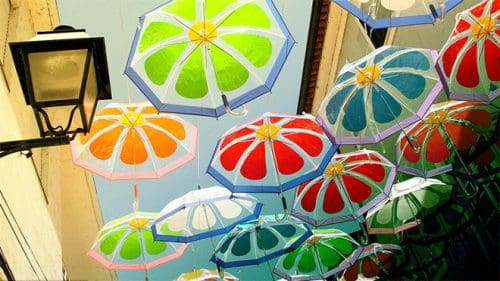 Location: Av. Fontes Pereira de Melo, Lisboa
Born in 1974, in São Paulo, Brazil, Gustavo and Otávio Pandolfo have always worked together. As children in the streets of the traditional neighbourhood of Cambuci in São Paulo, they developed a distinctive way of playing and communicating through art.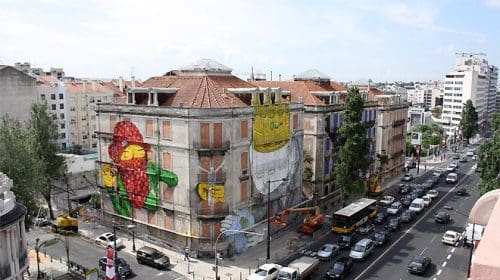 With the support of their family and the arrival of Hip Hop culture in Brazil in the 1980s, Os Gêmeos (The Twins) found a direct link between their magical and dynamic universe and a way of communicating with the public. They explore the various techniques of painting, drawing, and sculpture with dedication and care, and use the streets as their place of work.
In Porto, at Avenida dos Aliados – the best destination of Street Art.
Big names of Porto street art and renowned international artists of street art showcased the building AXA. The result was seen for a whole month, at the largest Street Art exhibition that ever took place in Porto. An event that promised to put the centre of Porto, and its most respected artists, at the centre of national and international street art!
This exhibition organized by the Porto City Council, through PortoLazer, was designed to pay homage to Urban Art, namely Street Art made in Porto.
The combination of Porto- born artists and great international names will certainly highlight Porto and its renowned street artists, as far as national and international Street Art is concerned, marking a beginning for other City Council's projects related to this kind of artistic expression.
The interventions by the several artists participating in this exhibition will include paintings, graffiti, installation, stencil and paste-up.
International Artists: Fra.Biancoshock (Italy), L'Atlas (France), Okuda (Spain);
National Artists: Alma, Bifes, Bug, Dexa, Doc, Draw, Ego, Eime, Natz, Fedor, Godmess, Hazul, Mesk, Mots, Mr. Dheo, Neutro, Oker, Third, Virus;
Read More: Latest