From Gujarat to the rest of India, the Garba dance has become a beloved dance tradition for its vibrancy during festivities.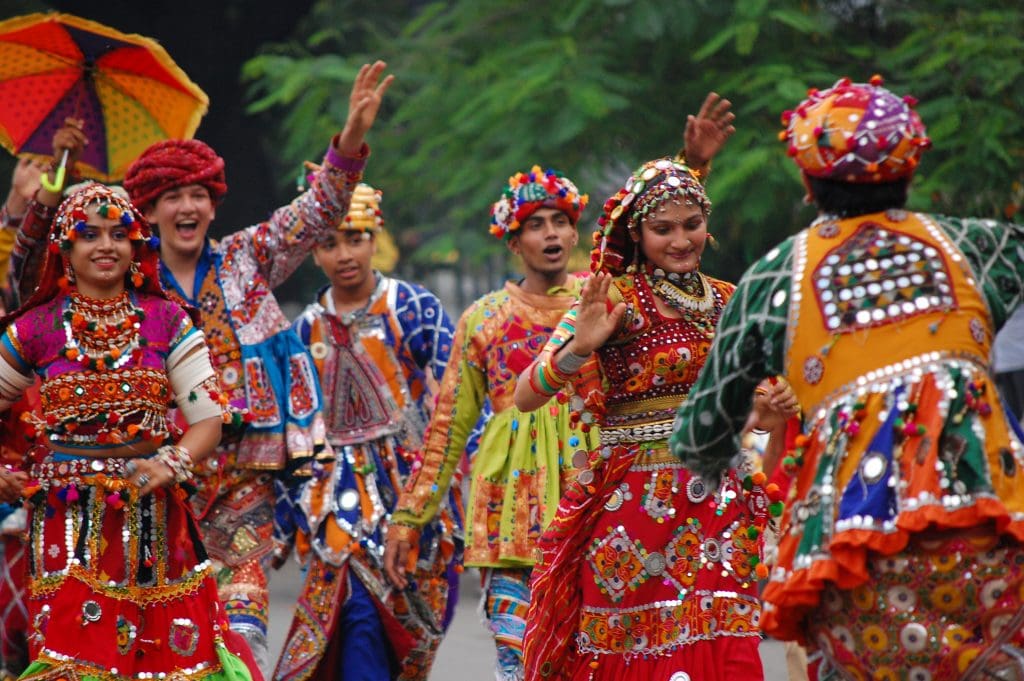 This joyous dance brings people together in places big and small from temples to homes around the country. As dancers move gracefully under an open sky or illuminated lantern, they sing and clap with rhythmic steps representing a circle of life. Accompanied by traditional instruments like dholak drums or handclapping, the Garba dance of Gujarat has spread its passionate movement side-to-side nationwide – creating unforgettable experiences wherever it goes!
The Garba dance
Garba is an Indian folk dance genre from Gujarat, India, that is practiced every October to honor Goddess Durga, the Hindu Deity of Divinity. The popular folk dance is performed during Navratri, a nine-day Hindu festival that celebrates the worship of Goddess Durga. Although Garba is most often associated with Navaratri celebrations, it is a holy custom in Gujarat to perform this happy folk dance on practically every important occasion.
As a matter of interest, the traditional Indian folkdance form Garba has been nominated by India for inclusion in UNESCO's intangible cultural heritage list.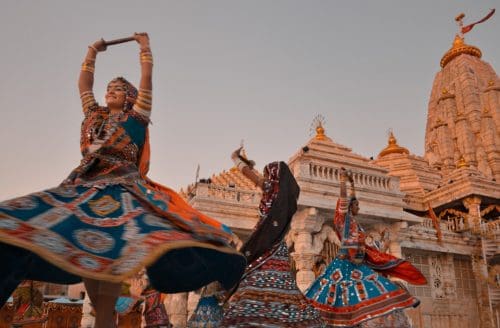 Origin of traditional Garba dance
The name "Garba" is derived from the Sanskrit word "womb" or "depth," and it has a profound metaphorical connotation. This traditional dance originated in Gujarat and was initially performed in Vadodara, which is now known as Gujarat's cultural capital due to its strong influence on religion. Depending on the dialect, Garba is also known as Garbha, Garbha Deep, and Garbhi. The dance is usually performed as a homage to females and honors fecundity.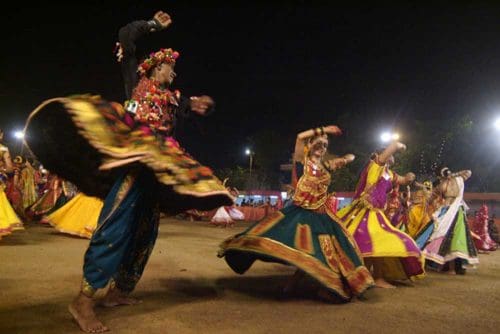 The dance originated in the 8th century AD and gradually spread to other parts of India, including Rajasthan and Maharashtra. The dance form involves two rows of women dancers standing opposite each other, clapping their hands and moving with synchronized steps, forming intricate patterns. The steps of the Garba dance form are based on a circular pattern and involve circling around a clay lamp or an image of Goddess Durga.
The Garba dance is done in front of a lantern, which symbolizes the human body holding the spirit within it. Garba celebrates the endless nature of life, death, and rebirth by having dancers spin around this in concentric rings, exactly as Hinduism sees time as a cycle. Whereas the rest of the cosmos changes and evolves, Goddess Durga and her strength within the dancers' spirits remain constant.
As a representation of the Hindu perspective of time, Garba is danced in a circle. Time is continuous in Hinduism, so the performers' rings rotate in rotations. The Goddess, that one motionless symbol in the middle of all of this continuous and limitless activity, is the one thing that remains constant as the cycle of time circles, from birth to life to death and back to rebirth. The dance represents God, who is depicted in this case as a feminine figure, as the one constant in an ever-changing cosmos.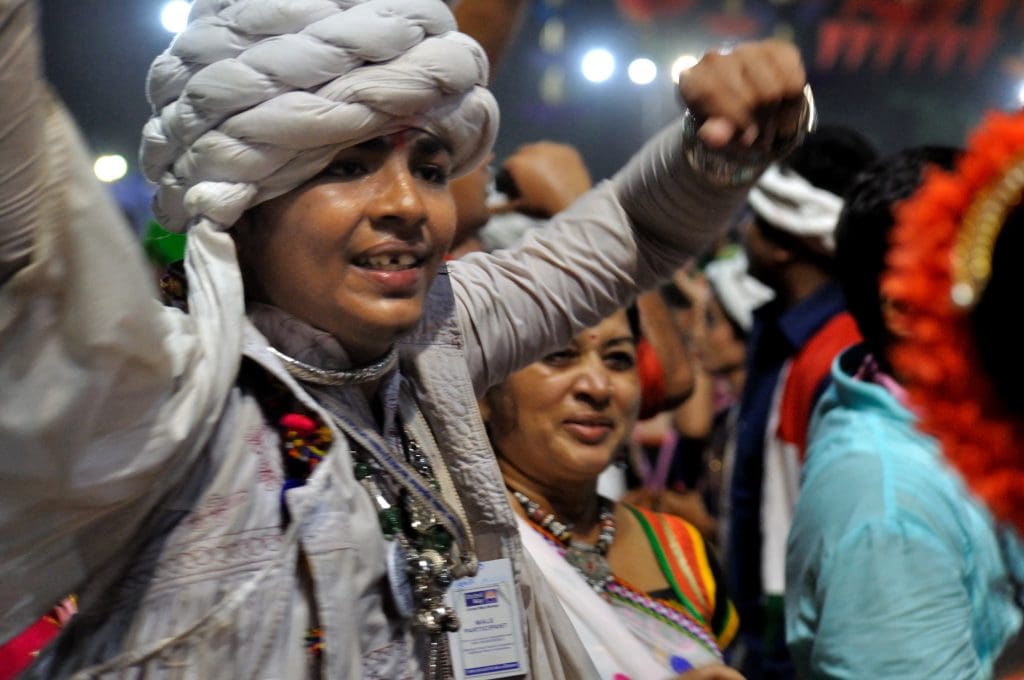 Garba dancers are generally women and young girls, although boys and men also engage in some of these dances. While performing the Garba, men, and women sing traditional devotional songs that narrate stories from Hindu mythology. It is believed that performing the Garba brings good luck and prosperity to the family who performs it.
Navratri Festival
Navratri is a Hindu celebration that means "nine nights" in English. Since this festival is observed in a variety of ways throughout India, Gujarat adheres to the traditional practice of playing the Garba dance for nine nights as a sign of reverence to the goddess.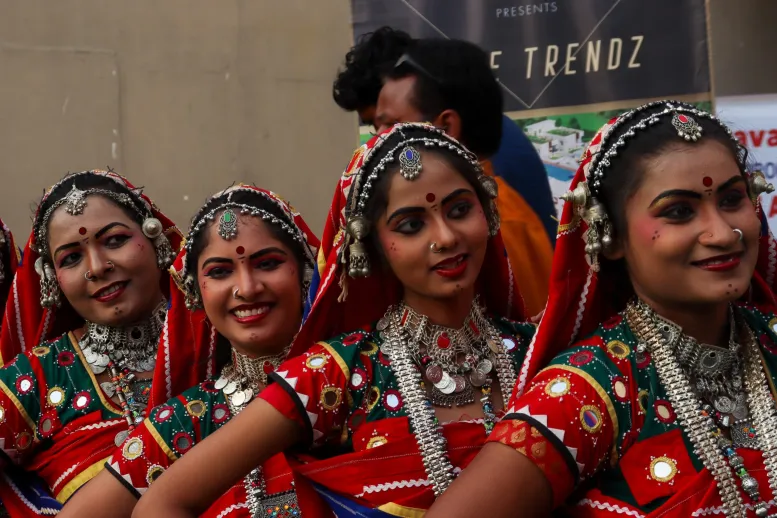 The dancing starts late evening and continues till midnight. During the nine days and nights of Navratri, males, and females follow particular meals and ingest limited meals in accordance with their religious beliefs. Garba is also done at Holi, the spring festival, marriages, celebrations, and social events in addition to Navratri.
Importance to culture
Garbha dance has a significant cultural value. Its actual advantages and popularity are highlighted by the costumes, singing, and the gathering of people. The garments are frequently red, orange, yellow, or brilliant vibrant hues with mirror work, which is one of the state's prominent embroideries.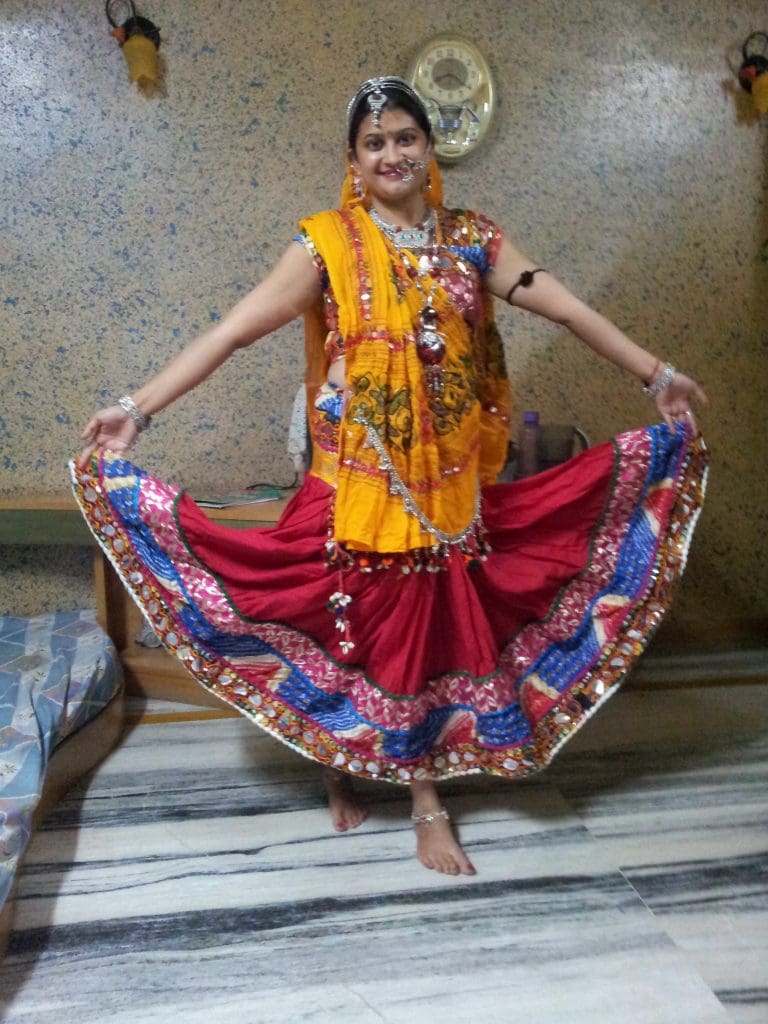 When playing Garba and dandiya, both males and females frequently dress up in colourful clothes. Chaniya choli is a three-piece outfit consisting of a choli, which is an embellished and colourful top, chaniya, which is a stretched, skirt-like bottom with detailed embroidery, and a dupatta, which is often worn in the typical Gujarati fashion.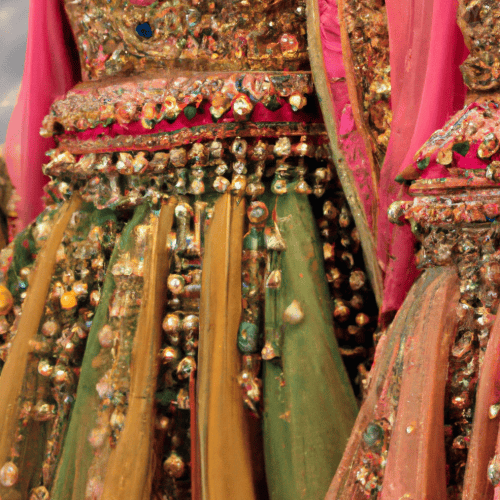 Beads, shells, mirrors, stars, embroidered work, mati, and other embellishments may be seen on Chaniya Cholis. Jhumkas (big earrings), necklaces, bindis, bajubandh, chudas and kangans, kamarbandh, payal, and mojiris are all customary jewellery worn by women.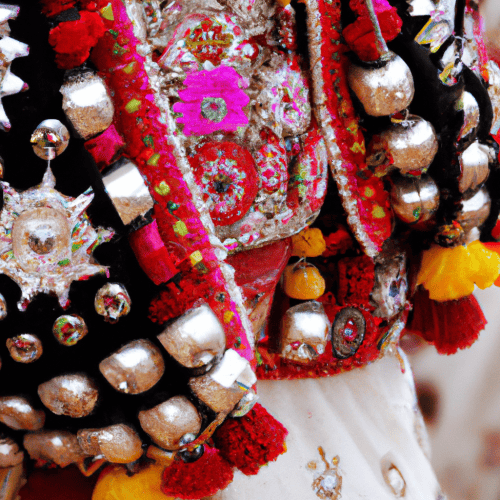 Boys and men dress in kafni pyjamas with a Ghagra – a small round kurta – over the knees and a pagadi on the head, as well as bandhini dupatta, kada, and mojiris.
This men's attire is known as 'Kediyu' in Gujarati. The popularity of Garba has only grown over time. Garba has sparked a lot of interest amongst India's young, particularly the Gujarati diaspora. This dance is normally conducted in concentric rings, with the entire community doing one step in unison, with the beat beginning slowly and gradually picking up speed.
Traditional dance elements
The songs are largely in Gujarati, and despite its numerous modern elements, the Garba is impossible not to link with its rich heritage. Due to western influences such as remixes and Bollywood elements, as well as international mainstream appeal, the core idea and performance of the traditional dance style have not altered significantly.
Dhol, drum, and double-reed organs, or shehnai, are all Indian rhythmic instruments regarded fortunate for the event and are played by professional performers. Bongos, synthesizers, harmoniums, and octapads are all common instruments in the early twenty-first century, thanks to modernity.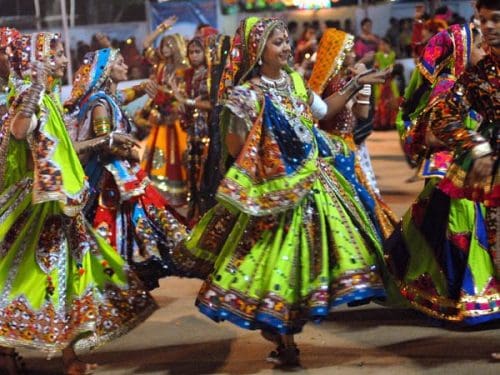 The Garba traditional dance events combine many Gujarati dancing techniques to produce a snap, clap, whirl style. The two varieties of dancing styles are taali Garba and tran taali Garba, which mean 2-clap Garba and 3-clap Garba, respectively, in Gujarati. Garba is always performed barefoot, and performers do it on a variety of surfaces. Hindus believe that doing so ties you to the Goddess and Mother Earth.
Today's Garba is frequently blended with Dandiya Raas, another Gujarati folk dance. The biggest distinction between Garba and Dandiya Raas is that Dandiya Raas involves dancing with sticks in both hands. Many current Garba dances are influenced by Dandiya Raas as well, and the border between the two folk dances is sometimes blurred in order to produce a fusion that encompasses both dancing genres.
The outfits, as well as the tunes and the energy of the dance, remain unchanged. Thanks to the movies and media business, this ancient dance has been modernized into a beautiful mixture that is done now. The dance begins at a sluggish speed, but as the song progresses, so does the dance, which becomes faster and more enjoyable.
Garba and Dandiya celebrations in other countries
In recent years, Garba has become increasingly popular in the West due to its infectious music and colorful costumes. The dance has also been featured in films like 'Monsoon Wedding' and 'Hum Saath Saath Hain'. Today, Garba is still a popular form of entertainment for festive occasions and is performed in many parts of the world, including the US and the UK.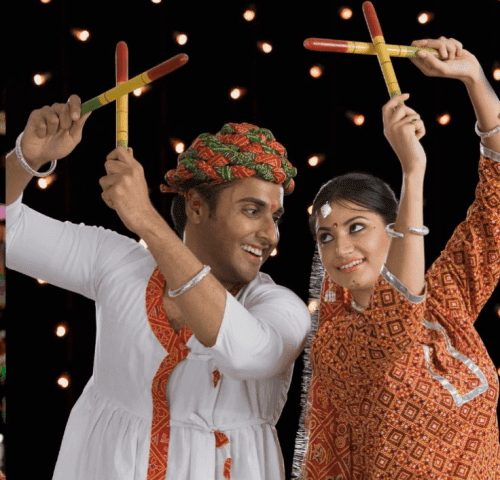 Garba Since a large number of Gujaratis have migrated to the United States and Canada, the Garba has become a popular community event in these countries as well. Annually, more than 20 institutions in the United States host large-scale Garba dancing contests.
Toronto, Canada, currently holds the largest annual garba in North America in terms of attendance. Garba is also quite popular in the United Kingdom, where several Gujarati communities have their own Garba nights, and is pretty common among Gujaratis worldwide.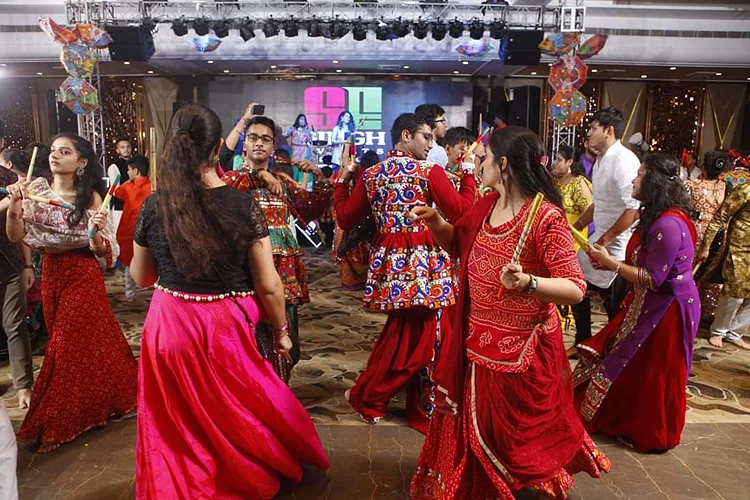 The most valuable aspect of Garba is its amusement value. It is one of India's most popular dance genres because of the social interaction, as well as the high intensity and tremendous excitement.
It's difficult not to get caught up in the whirlwind of fury and movement when a Garba performance is taking place, no matter where you are in the world. It's also difficult not to find yourselves tapping your feet and swaying your body to the rhythms of a language or music you might not ever fully comprehend.
Read More: Latest