Honeymoon destinations are the flavour of the season and newlyweds can have a great time exploring and discovering incredibly romantic honeymoon destinations that will create unlimited memories.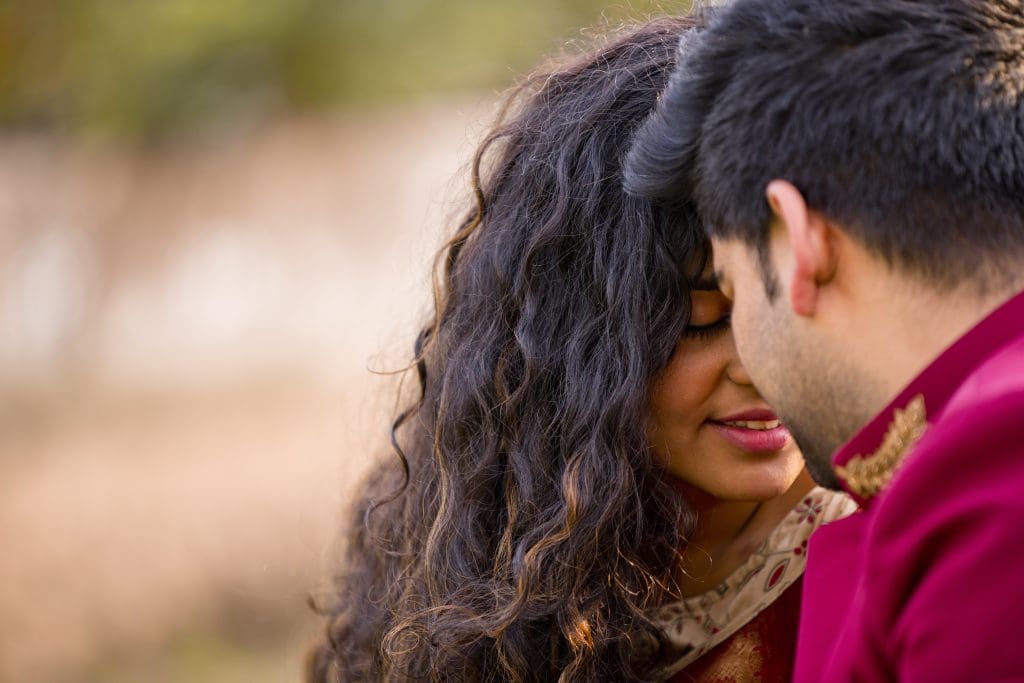 India's many romantic destinations will leave you speechless. Its beauty and diversity have no match. To help lovebirds keep abreast of wedding trends and find the ultimate postnuptial getaway, here are some of the best honeymoon destinations 2021 to consider,
So, which are the romantic destinations for honeymoon in 2021?
Shimla- one of the best honeymoon destinations
The state capital of Himachal Pradesh, surrounded by cedar, rhododendron, fir, and Himalayan oak trees, is among India's most popular hill stations and popular with honeymooners due to its good weather and gorgeous surroundings.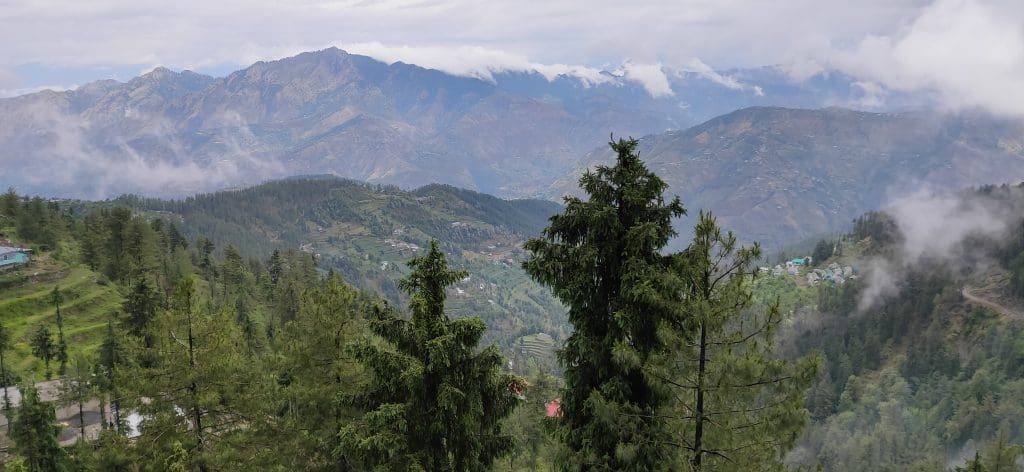 It is one of the best hill station destinations to visit in North India for a honeymoon because of its luxury hotels and pleasant temperature. Do visit the imperial Viceregal Lodge, the graceful Christ Church, Gaiety Theatre, Gorton Castle, Barnes Court and several buildings that are part of the colonial architectural heritage of the town.
Places newlyweds can visit in Shimla
Shimla offers everything from romantic dining to spellbinding views, and memorable activities like a couple-dip in the natural springs, horse riding, hiking and even ski-ing and other winter sports depending on the time of the year.
Considered a must-visit honeymoon place in Shimla, Naldehra Peak showcases a scenic golf course located at 2000 meters with wonderful views of snow-covered mountain peaks and soft mist-covered valleys.
Leaving newlyweds spellbound is Kufri which at 7000 m above sea level is a most popular attraction. Togetherness activities include skiing and horse riding. Not to be missed is a romantic walk in the lush green meadows and a trek through deodar thickets.
Chail is known for its stunning beauty and thickly covered oak forests. This scenic outpost, 55 km far from Shimla, also provides opportunities for honeymooners to go horse riding or seek divine blessings at well-known Temples here.
Jakhoo is all about treks and winding trails in soothing green hilly surroundings! At 8000 m Jakhoo presents romantic trails – which honeymoon couples will love.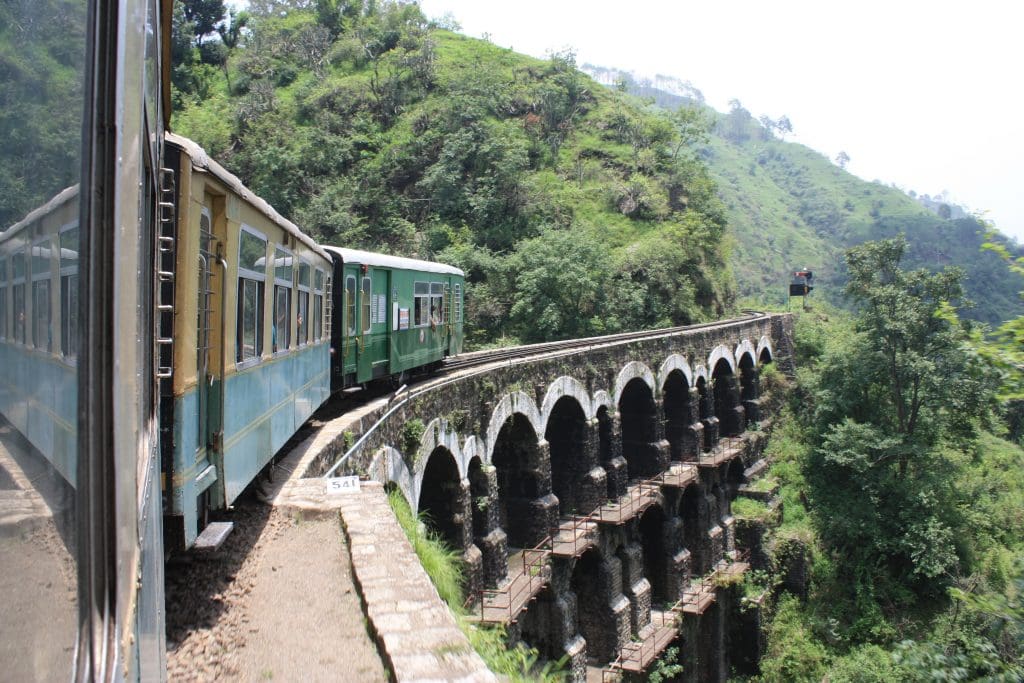 Romantic activities for you and your loved one in Shimla:
Catch the sunrise flicking gold at Chadwick Waterfalls
A breathtaking trek to any of the valleys with rolling meadows and pine and deodar forests.
Give a try at Ice-skating at the Scandal Point ice skating rink. Be prepared for muscle soreness if youve never skated before!
Pack a delightful picnic hamper to eat at Jakhoo
Experience the Kalka-Shimla toy train ride winding through forests and picturesque valleys
Enjoy a bonfire and stories with dinner at your hotel ( book in advance)
Darjeeling- One of India's coolest Honeymoon destinations
Would you like to plan your honeymoon in an absolutely beautiful destination? Then look no further than Darjeeling in West Bengal. This hill station in West Bengal is a hidden treasure noted for its youthful atmosphere as well as modern and colonial charm. Its stunning snow-capped peaks that overlook the town, lovely tea plantations on the undulating hillsides, orchids, pines, and much more will leave you awestruck.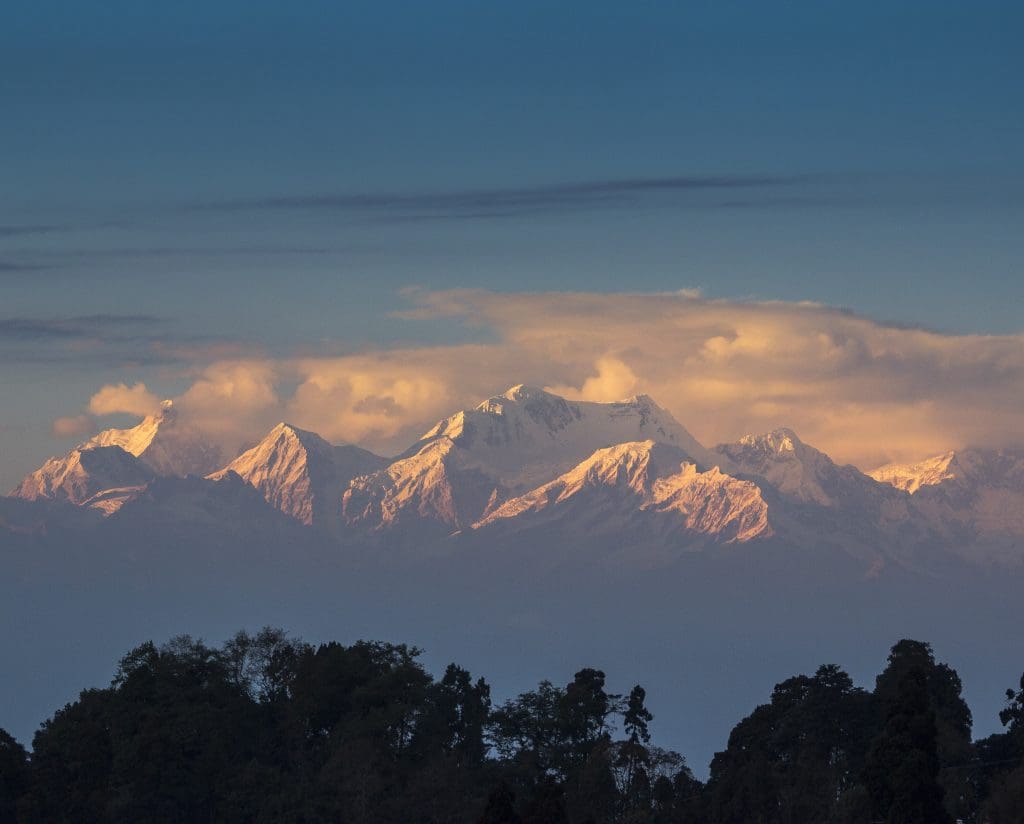 Darjeeling is perfect to take in the snow-covered panoramas of the greater Himalayas, and the mouth-watering local hill cuisine This picture-postcard hill town offers the great outdoors like you have never experienced before, excellent trekking trails as well as a range of adventure sports
Places newlyweds can visit in Darjeeling
Visiting Tiger Hill is a memorable experience for newlyweds as here is an observatory hill with stunning panoramas of the Greater Himalayas. It is a 13 km drive from Darjeeling. Tiger Hill stands at an altitude of 2590 meters. The summit of Ghoom is the highest point of Tiger Hill which is well known for its mesmerizing display of a golden sunrise at Mt Kanchenjunga and on a clear day even of Mt Everest, the town of Kurseong as well as the rivers Teesta, Mahananda, Mechi and Balason.
An excursion to Tinchuley Village offers an experience of rustic life amidst pine trees, tea gardens, and an old Buddhist monastery.
An experience of the picturesque Darjeeling Himalayan toy train is a must. Check out the unique design of the magnificent Batasia Loop which allows the track to wrap itself around through a hilltop tunnel.
A day spent at a tea garden is super for newlyweds. Breathe in the fragrance of well-manicured tea shrubs in a lush green wonderland, where you can engage in tea plucking and tea tasting. There are homestays too which offer a most romantic experience.
A must-do activity for couples is a ride on the Darjeeling Ropeway cable car which offers bird's view of panoramic landscapes, the wonderful snow-capped mountains to green valleys, and charming local villages and tea estates.
Romantic activities for you and your loved one in Darjeeling:
Wake up very early to get to Tiger Hill to catch the sunrise. Get awestruck as the golden rays of the sun illuminate the peaks of Kanchenjunga, cast the third-highest peak in the world. The magic spell on the mountains will cast the same on newlyweds. If the sky is clear, you can see the Mt Everest glistening in the morning light.
Enjoy delicious local snacks of 'pakoras', 'samosas' and tea at Ghoom Summit
Ride the 'Darjeeling Toy Train', a UNESCO World Heritage Site with a 2 feet narrow-gauge that runs between New Jalpaiguri and Darjeeling, with its panoramic scenery, mountain views and local charm.
Try out the famous local food of Darjeeling like Thukpa, Traditional Nepali Thali, Naga cuisine, and the local snack Churpee made from cow's or Yak's milk
Adventure activities like Paragliding, Whitewater Rafting, Kayaking, Zorbing
Jaipur- One of the best honeymoon destinations in the world
What better way to celebrate your honeymoon than visiting breathtakingly beautiful palaces that will give you Royalty's feeling. Jaipur is the first planned city in India, having been designed by Vidyadhar Bhattacharya.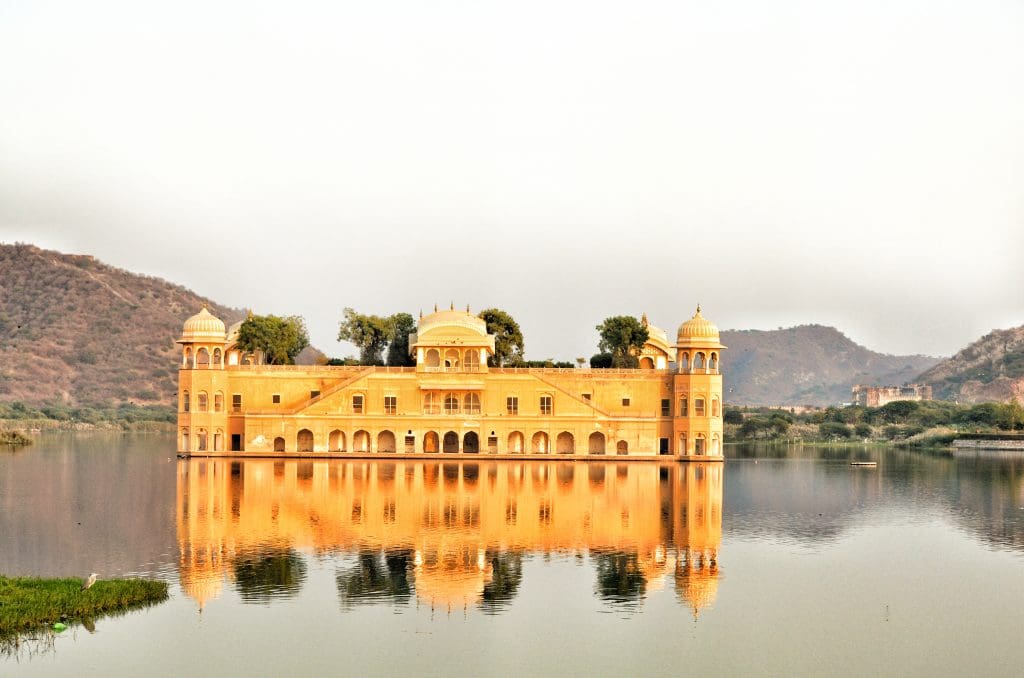 Rajasthan's capital city, known worldwide for its coloured gems, mixes the charm of its ancient heritage with all the benefits of a metropolis. For all you couples who are history buffs, this place is just for you.
Places newlyweds can visit in Jaipur
The beautiful pink city of Jaipur, with its old-world charm, is home to many UNESCO World Heritage sites, including Amer Fort and Jantar Mantar, This heritage city holds magnificent forts, palaces, temples, and museums not to speak of famous old bazaars full of handicrafts and traditional weaves. The city is famous for its local cuisine, and popular dishes like Pyaaz Kachori and Dal Baati Churma and the sweet Ghewar.
Save a full day to visit the Forts and Palaces which recreate romance and history. A heritage tour Jantar Mantar Observatories & Planetariums, Hawa Mahal – Palace of Wind. Nahargarh Fort, Jaigarh Fort, Birla Mandir Temple and City Palace of Jaipur is a full-day activity.
If you want to catch your breath, opt for serenity and check out the Smirti Van – a Biodiversity park. Here you can hear the twitter of birds as winding paths through natural foliage makes for romantic strolls.
Another beautiful place at Lal Dungri is the Sisodia Rani Garden, an architectural marvel offering peace, tranquility, and charm. With picturesque fountains, pavilions, fresh green gardens, and art galleries with the paintings of Radha- Krishna's eternal love, everything about this place is idyllic for a date with your loved one.
Romantic activities for you and your loved one in Jaipur:
Visit Amer Fort known for its majestic architecture, its heritage and spectacular views of the city. Dont miss the Sheesh Mahal and elephant ride. Romantic couples can close the experience with a Rajasthani meal at a restaurant in the fort itself with great food and wonderful views.
Experience cultural heritage, food and stay at Chokhi Dhani
Visit scenic Ramgarh Lake in natural green jungle setting and enjoy bird watching
Dont miss a visit to Hawa Mahal, with its honey combed windows in hundreds – a totally instagrammable fort
Enjoy a picnic at the salt water Sambar lake, home to migrartory birds like flamingoes and pelicans
Goa- One of India's most romantic Honeymoon destinations
With its gorgeous beaches and laid-back atmosphere, Goa is yet another destination to choose for a romantic getaway. There are several places to visit for a good time such as exploring the numerous forts and enjoying a romantic dinner along the beach.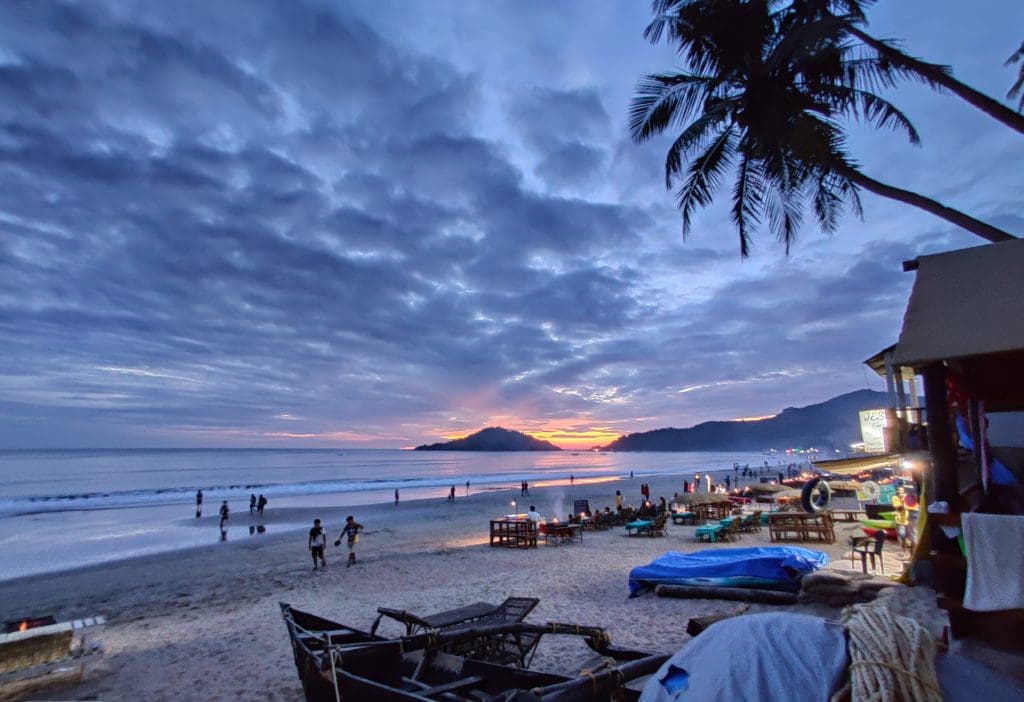 With endless sandy beaches, water sports, wildlife, forts, ancient Portuguese architecture, and more than 7000 bars and restaurants, Goa is an ideal honeymoon destination.
Places newlyweds can visit in Goa
The waterfalls here also have a romantic atmosphere to them and create such a captivating scene that you and your partner will be fascinated as you sink into the eternity of love. Goa has a wide range of hotels, resorts, and guest homes to suit every budget and taste.
Couples can breathe in exotic aromas and spend a fascinating day at the Tanshikar's Working Spice Farm & Ecological Rest House. Here you can see how spices grow using organic farming. Check out the various spices like pepper, vanilla, cardamom, chili, nutmeg, and turmeric. The tour includes other unusual crops like betelnut, coffee beans, as well as beekeeping, and all-natural honey.
Foodie couples will fall in love again! The delicious Portuguese and Goan flavors, fresh seafood, coconut and spices create signature meals that are distinctive. Try out a fiery Goan specialty, Vindaloo, a great meat curry made with palm vinegar and red chili peppers or Xacuti, a mouth-watering curry with poppy seeds, chili, and coconut.
A day at Old Goa is a must-visit. Visit attractions dating back to the 16th century, the Basilica de Bom Jesus, a UNESCO World Heritage Site since 1999.
Goa has interesting local markets, which are lively and full of chatter, The most well-known is the Anjuna Market which opens every Wednesday at Anjuna Beach. Anything and everything from a hammock, to a trinket, t-shirts, spices, and toys to beaded jewellery is all there. Don't forget the snacks and street food which is tempting and delicious. Haggling, bargaining and light-hearted exchanges are all part of the fun while visiting these local markets.
Romantic activities for you and your loved one in Goa:
Have Breakfast with the Dolphins at Sinquerim Beach. …
Spend a morning on Butterfly Island. …
Sunset cruise with music on the Chapora River. …
Walk around Old Goa and its Portugese charm
Visit the the dramatic Dudhsagar waterfalls
Enjoy Windsurfing or scuba diving at Anjuna Beach
Enjoy a romantic candlelit dinner at the beach
Shillong- One of India's finest Honeymoon destinations
For all you music lovers out there, Shillong in the state of Meghalaya is just the place for you. If you're a musician, you will enjoy this beautiful Northeastern destination.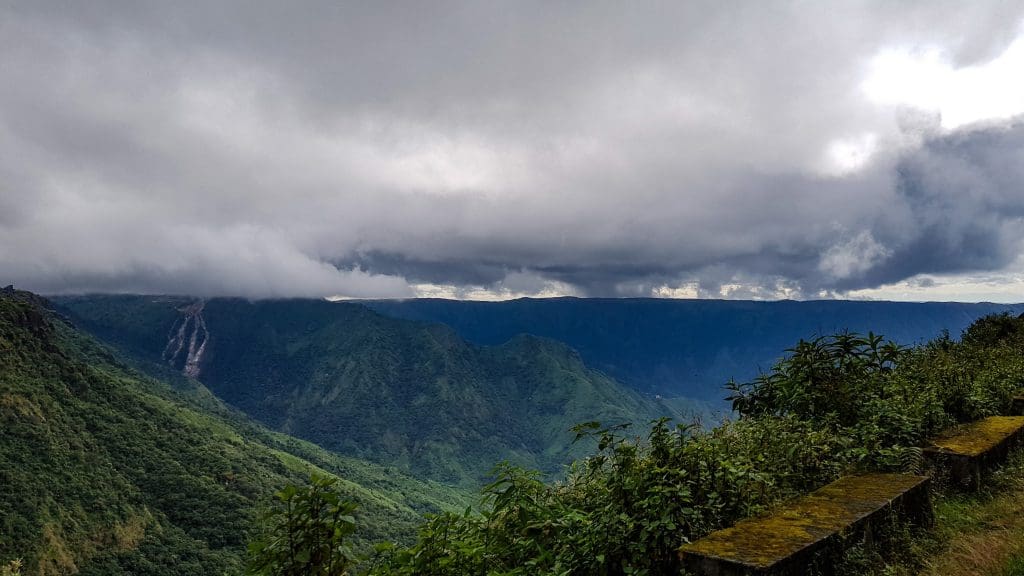 Shillong's modern reputation is based on its love of music, and the city has produced many great musicians. Shillong has various faces: there are calm neighbourhoods, food with whistling pines, but there is also a bustling downtown centre for a livelier experience.
Places newlyweds can visit in Shillong
The 12 km Umiam Lake is a water sports haven with activities like water skiing, yachting, pedal boating, high-speed boat ride, cruising, and scooter water ride.
Walk together on natural trails absorbing the natural beauty and invigorating fresh air of you surroundings. Trekking opportunities are particularly good if you both are interested in following trekking trails through waterfalls and forests to interesting places which are quite far away like Living Root Bridge, Kyllang Rock, and David Scott Trail.
Hold hands as you explore adventure-filled caves in Shillong like the Mawsmai caves and the Mawjymbuin Caves.
If you and your life partner enjoy a round of golf, then the Shillong Golf Course is a classic and its scenic beauty is an additional plus.
A bit of adrenaline to race the pulse? Try canoeing at the Sohra river and enjoy a bit of trekking and perhaps even a swim on your honeymoon.
Romantic activities for you and your loved one in Shillong:
Visit the Mawphlang Sacred Forest, 45 kms from shillong, near village Mawphlang
Plan a trip to Laitlum Canyons, which is a fine lake afforing panoramic views of mountains and valleys
Take pictures at gorgeous Elephant Falls, a charming two-tier waterfall over fern-covered rocks in Shillong.
Go up to Shillong Peak, the highest point of Shillong and enjoy breathtaking panoramic views
Wander through the Japanese style Lady Hydari Park a mini Zoo and a park full of b and gardens
Rishikesh- One of India's most loved Honeymoon destinations
The historic town of Rishikesh, set against the backdrop of the Himalayas and with the immaculate Ganga flowing through it, is one of the major tourist and pilgrimage destinations in northern India, attracting visitors from all over the world in pursuit of calm.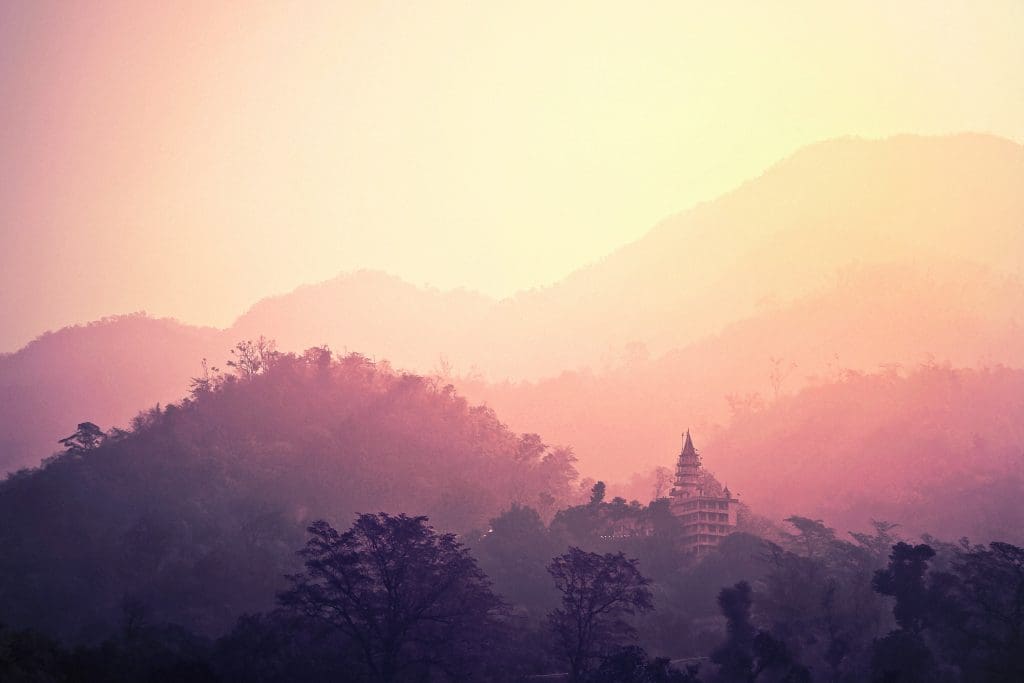 The city of Rishikesh in Uttarakhand is known as the world's "yoga capital." Combine your honeymoon with some mindfulness and peace and you will come back home feeling refreshed and ready to start your life together.
Places newlyweds can visit in Rishikesh
Couples can try out new experiences that create memories. Bungee Jumping and Para Gliding at Mohan Chatti near Rishikesh is one such fun activity that will thrill you.
A walk down Lakshman Jhula is a memorable experience. This is a very popular hanging bridges across the holy river Ganga and connects Tapovan village in Tehri Garhwal and Jonk village in Pauri Garhwal. Made of iron the hanging bridge is almost 450 feet in length and is suspended 70 feet above the river. According to Hindu Mythology, Lord Ram and his brother Lakshman had crossed the Ganga river where the bridge has been built.
A stay at Parmarth Niketan, 3 miles from Rishikesh is a great experience. It is one of the most popular yoga centers and the biggest ashram in the area on the banks of the holy Ganges River. Meditation, yoga, Nature cure, Ayurvedic treatments, Satsangs and lectures all add up to a calming experience.
Enjoy a dip in a natural hot water spring – and receive blessings from the sages at nearby Rishikund. The name itself means the 'Pond of the Sage' The legend goes that a pious sage named Kubz received blessings from Goddess Yamuna who promised to stay in Rishikesh forever.
Romantic activities for you and your loved one in Rishikesh
Cross the hanging iron bridge Laxman Jhula together
Enjoy river rafting at Rishikesh
Attend the Triveni Ghat Aarti at Triveni Ghat
Camp out and have a bonfire dinner at any of the camping sites
Have a meal at Little Buddha Cafe
Visit the Rajaji National Park and take a jeep ride for tiger sighting.
Puducherry- One of the top honeymoon destinations
Do you want the feeling of a French holiday but would prefer exploring incredible India? Then Puducherry is just the place for you. Puducherry is also known as Pondicherry is a Union Territory town that shares its boundary with Tamil Nadu state.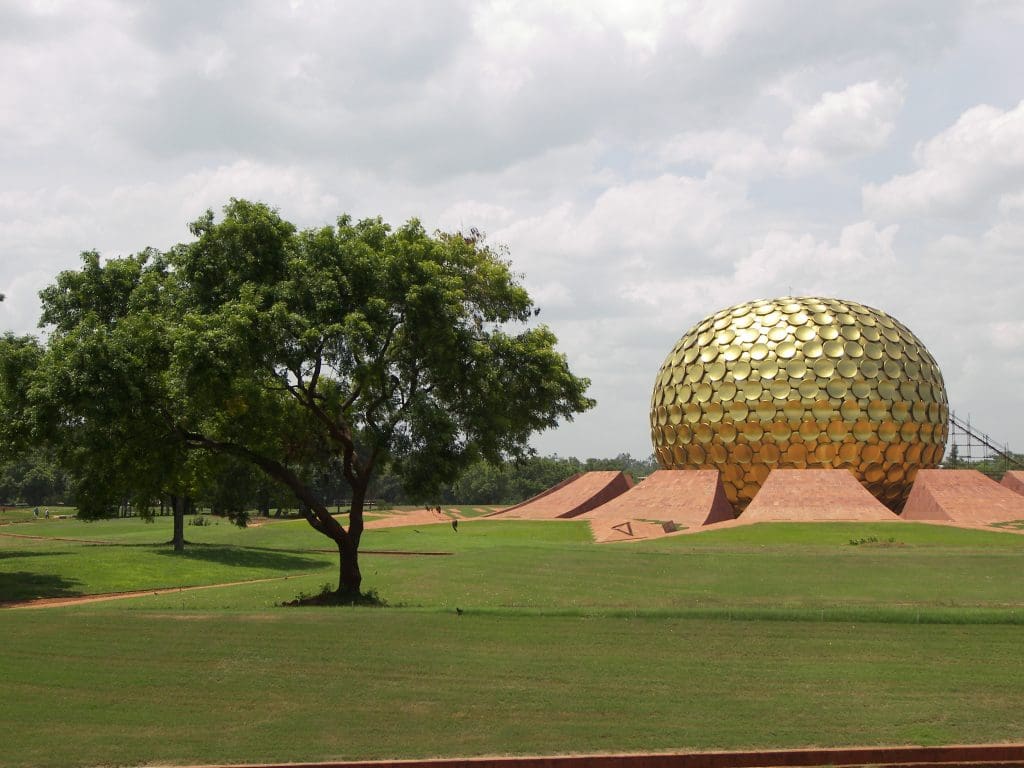 Pondicherry's beaches are so beautiful and peaceful that the only sound you can hear is the sea waves. Relax and meditate while strolling along with the sandy expenses with your significant other.
Places newlyweds can visit in Puducherry
Find inner peace together at the world-famous Sri Aurobindo Ashram in Pondicherry Founded in 1926 by Sri Aurobindo, the large ashram is sprawling and has any number of books in libraries. You can enjoy activities like yoga, meditation, strength training, and swimming. At the heart of the Ashram lies the Samadhi or mausoleum of Sri Aurobindo under a frangipani tree.
A unique experience is a day spent at Auroville Ashram, a futuristic township – a brainchild of the Mother, the spiritual collaborator of Sri Aurobindo. A highlight is the meditation center shaped like a golden globe called the Matrimandir where you can simply sit and meditate. You can stroll the Matrimandir Gardens.
Take a walk around the spectacular seaside rocky promenade, piers and boardwalks with its refreshing cool sea-breeze. Here is just the place to enjoy romantic strolls. Stopover at the many restaurants around this area for a snack or a cup of coffee and even a delicious meal.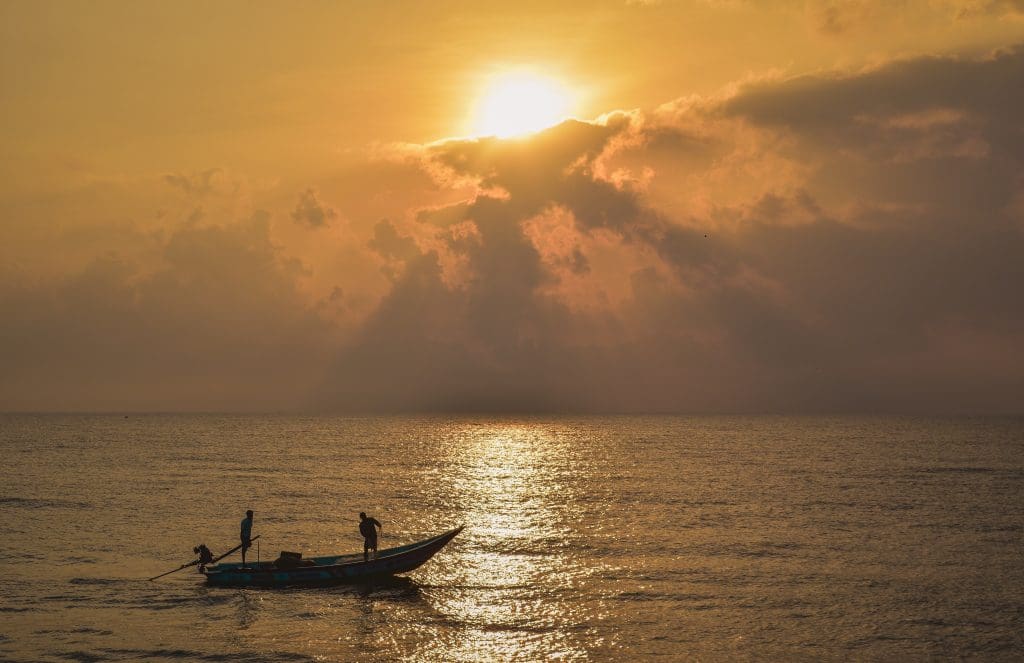 Romantic activities for you and your loved one in Puducherry:
Scuba Diving in Puducherry at Temple reef, Arvind's wall, the Hole and Coral shark reef.
Enjoy a thrilling paintball experience at the Paintball Zone
Explore beautiful churches in Pondicherry
Enthrall each other with surfing and enjoy the waters and picturesque beauty
Take a scenic boat ride in the Chunnambar Backwaters
Enjoy the Pondicherry Botanical Gardens with its exotic plants
Munnar- One of the greenest honeymoon destinations for newlyweds
Celebrate the start of your new life together in Kerala, which is known as God's own country. At 1600 metres above sea level, Munnar is one of the world's most popular hill stations.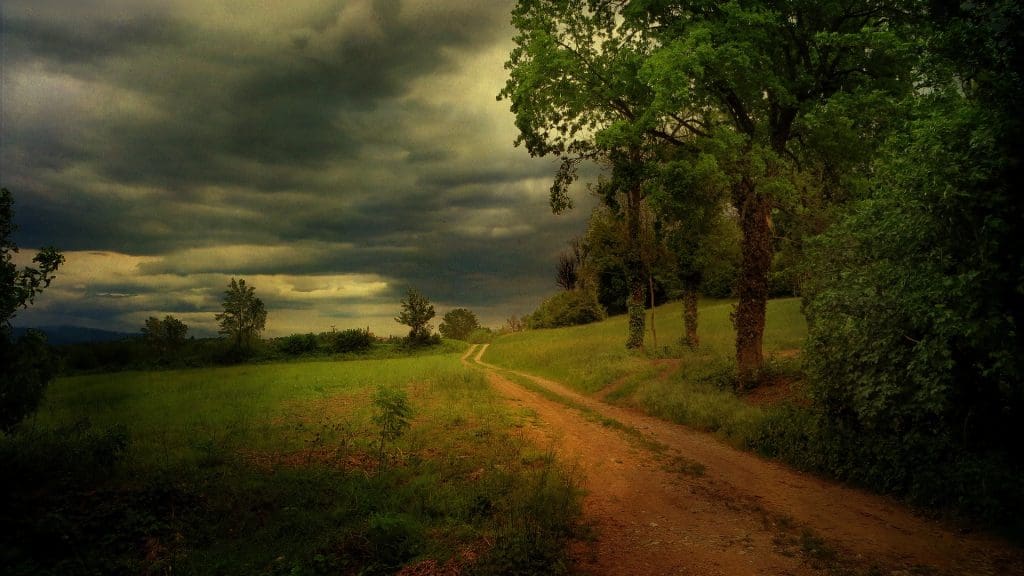 Its panoramic view, which includes tea plantations, wonderfully planned villages, uncommon flora and wildlife, gigantic peaks, and dams, and delicious cuisine makes it ideal for a romantic getaway.
Places newlyweds can visit in Munnar
A drive to Top Station, 32 km away from Munnar, is the highest point in Munnar at 6276 ft and take pictures of cloud-covered mountains, misty valleys, green meadows and forests and the natural majesty of the Western Ghats. Stopover at Echo Point, 15 km away from Munnar, on the way to Top Station. Located at the confluence of three scenic mountain streams, this picturesque location is a great place to visit together.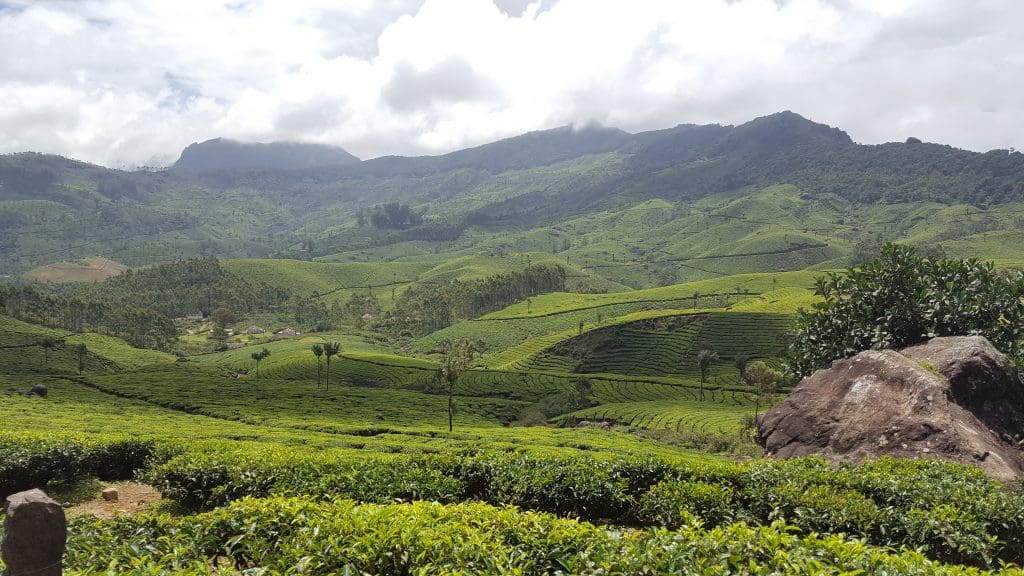 For a romantic getaway, the attractive Attukad Falls, just 2 km away from Munnar is perfect. Take in the panoramic views of the rolling hills and lush forests, this pristine waterfall makes for romantic escapades.
Take a 45 – minute drive away to the Eravikulam National Park (Rajamalai Wildlife Sanctuary), a UNESCO world heritage site. Spot good wildlife like the elephant, lion-tailed macaque, tiger, and birdlife.
Romantic activities for you and your loved one in Munnar:
Rent a houseboat on the backwaters of Kerala and have an amazing time
Enjoy a visit to martial arts centre Kalari Kshethra
Take a dip in the pool at the foot of the Attukad waterfall
Scream your love messages at Echo Point and have fun hearing your voice echo
Smell the roses at the Rose Garden and take romantic pictures
Visit the aromatic spice plantations at Idukki
Dehradun- One of the loveliest honeymoon destinations in India
This city makes for a lovely honeymoon destination with its beautiful scenery and pleasant atmosphere. At the crossroads of this magnificent hill station, one of the most popular in the country, fascinating history, and intriguing folklore collide.
High mountains and thick Sal woods surround Dehradun. Dehradun is nice all year, although March to June and October to December are particularly lovely.
Places newlyweds can visit in Dehradun
Couples can enjoy the beautiful landscape at the Dehradun Zoo, known as Malsi Deer Park, 10 km from Dehradun at the foothills of the Shivalik range. There is a wide variety of animals, reptiles & fishes to view.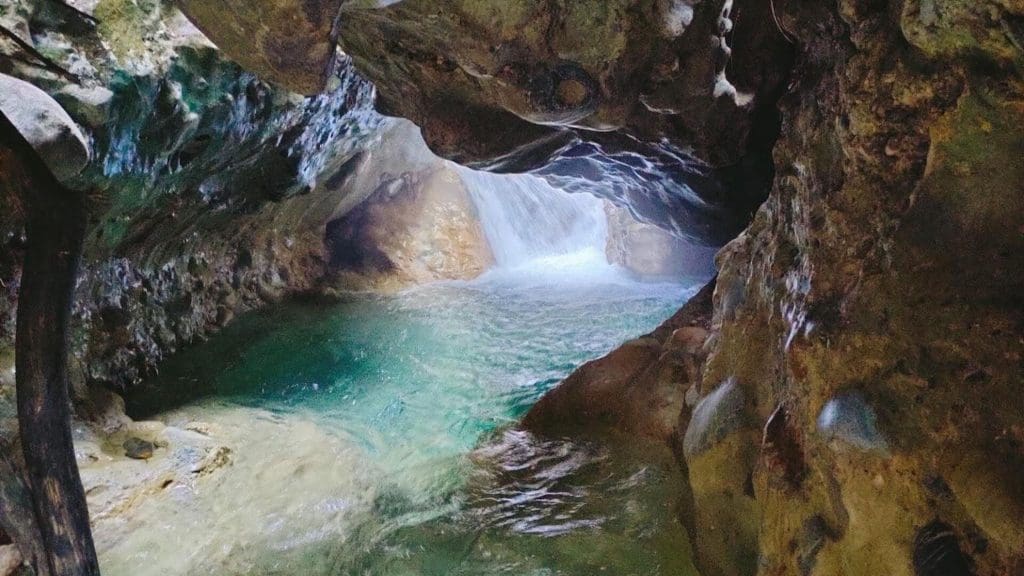 A must-visit for couples is the attractive Buddha Temple with its fine architecture, beautiful wall paintings, and scenic gardens. Just standing in silence and awe at the great statue of Buddha in the Temple complex is healing for visitors.
Catch a golden sunset at Lachhiwala. Here is a wonderful picnic spot surrounded by Sal trees in Dehradun. If you both love the outdoors, put on your trekking gear and follow the trails, and enjoy bird watching.
Ever heard of the 'thousand fold' spring' in Dehradun? Couples will fall in love again at this scenic spot which has sparkling streams flowing through limestone rocks at the Sahastradhara Sahastradhara Road.
Romantic activities for you and your loved one in Dehradun:
Spend a morning at the scenic Neergarh waterfalls
Bollywood shoots? Visit the film locations at the Forest Research Institute
Explore limestone caves built by the river at Robber's cave
Go paragliding, picnicing, and trekking at Maldevta, on the outskirts of Dehradun
Couples can spend quality time at the Asan Barrage at the confluence of the beautiful Asan River and Yamuna Canal
Andaman and Nicobar Islands- One of the most amazing island honeymoon destinations
These islands are yet another amazing destination to choose when it comes to your honeymoon. The Andaman and Nicobar Islands, which are geographically located to the east of the Indian mainland, float in beautiful isolation in the Bay of Bengal.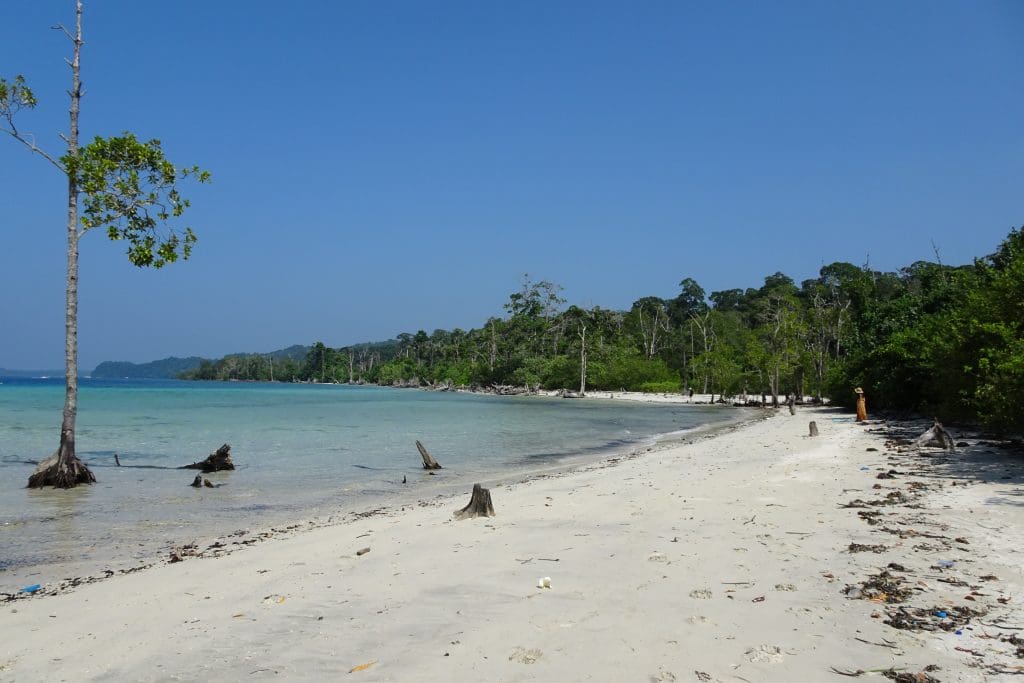 The islands have a tropical climate which is ideal for a romantic getaway. If you're from North India, you will find relief from the burning heat and chilling winter if you visit the island from May/June/July and in December/January.
Places newlyweds can visit in Andaman and Nicobar
Straight out of a movie set with stunning sunsets, white surf, and blue ocean, the Radhanagar Beach on Havelock Island is perfect for honeymooners. Take the ferry ride to Havelock Island with your partner and enjoy the sea breeze before you touch down on the most beautiful beach you can imagine.
Get ready to be wowed by the coral reef at Elephant Beach. The corals start within a meter from the shoreline which is rare even globally. Have some thrills and spills as you and your partner go diving and snorkeling.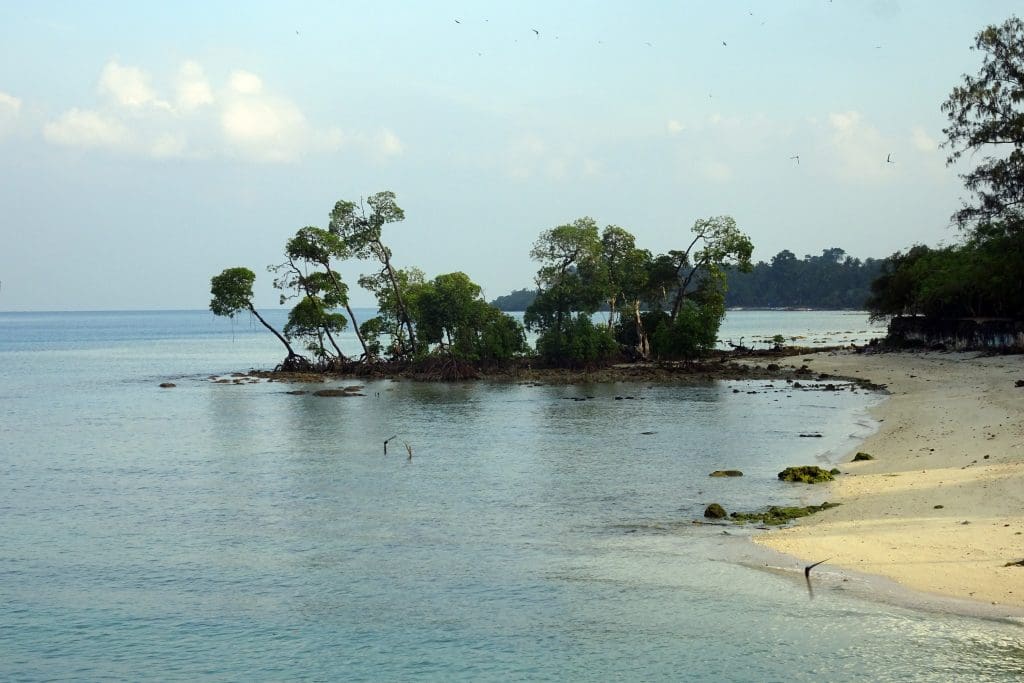 Book your boat ride to unique Baratang Island with its thick mangrove forests, enormous tropical forest canopy, and big rivers.
Visit Ross Island, with its well-known historical past of Kalapani, and visit the Cellular Jail or Viper Gang Jail. The solitary island was a penal colony by the British to punish participants of the 1857 Rebellion.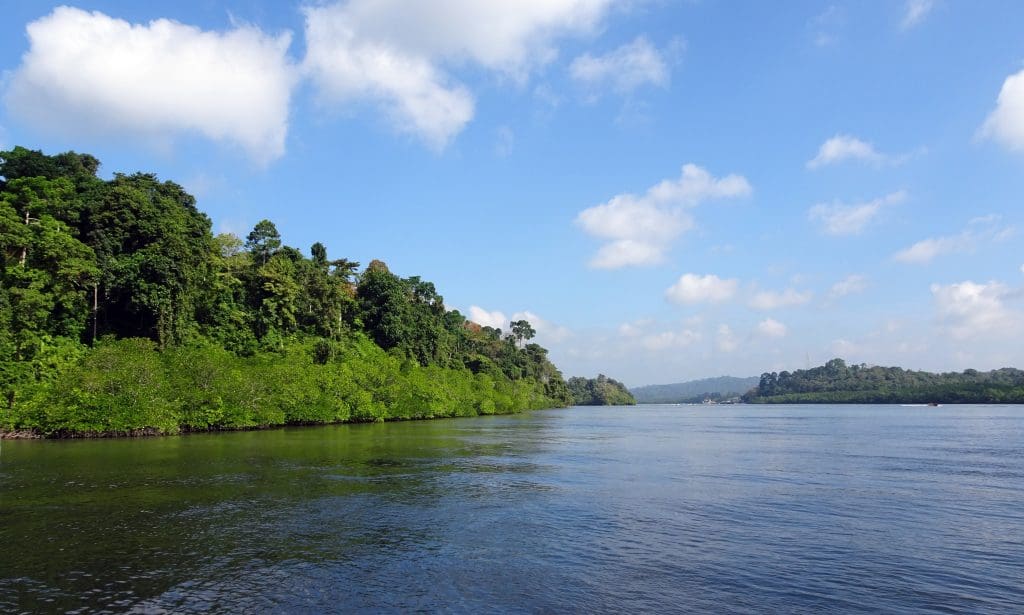 Take the ferry from Wandoor Beach to Jolly Buoy for a great experience over crystal blue waters. The island is a part of the Mahatma Gandhi National Marine Park and couples can enjoy each other's company and enjoy exploring the ocean's marine life. mud volcanoes and limestone caves
Romantic activities for you and your loved one in Andaman and Nicobar:
Go diving and snorkeling at Elephant Beach
Enjoy swimming at Havelock Island and explore the coral gardens on the seabed
Stroll, swim, lounge on white sands and topaz waters at Amkunj Beach
Surf at scenic Little Andaman Island
Explore mud volcanoes and limestone caves at Baratang
Read More: Discover your India