Watch out for these stunning secluded beaches in India for newlyweds that we got together specially for you.
Hole up in these quiet beach getaways and sunbathe and swim, or head to a nearby coastal town to sample local cuisine and revel in quaint surroundings that allow newlyweds to be themselves.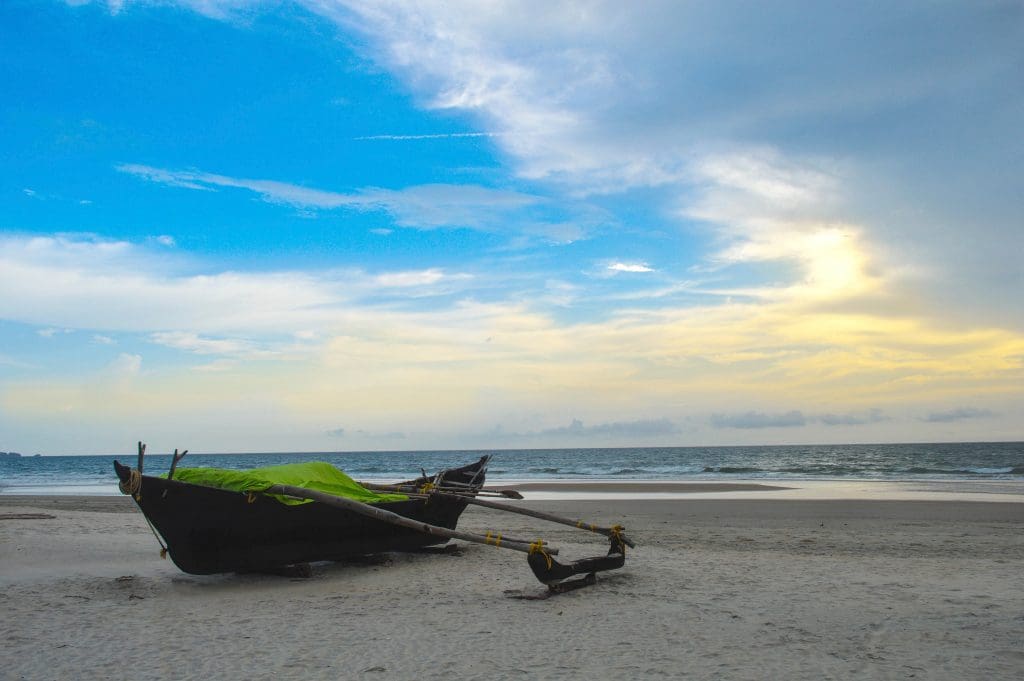 Lesser-known beaches in Goa, and Gujarat, Maharashtra, Puri, Karnataka Kanyakumari, and Kerala provide unforgettable backdrops for a honeymoon vacation.
Explore the nearby lagoons or lounge together on warm sands under palm trees. When you're ready for some adventure, opt for some great activities like scuba diving, parasailing, jet-skiing, snorkelling, and more. If chilling relaxation is more your taste, you can simply chill in your amazingly serene surroundings
Betul beach, Goa
Betul Beach is a small beach among Goa's beaches, located along the southern bank of the Sal River. Betul's serene beaches offer total seclusion for postnuptial relaxation. Swimming, strolling on the beach, and a perfect 'time-out' will be experiences you and your new spouse will never forget. And, of course, no trip would be complete without a private couples candle-lit dinner on the beach
Ever wanted to try your hand out at fishing? Then Betul beach is just the place to visit. The quiet Betul beach, often known as Goa's fishing beach, is well-known for its secluded environment and is perfect for newlyweds. Because the fishing port located nearby is fully developed, there is much to explore and enjoy beyond the beach.
For a real treat, newlyweds who want a private beach all to themselves, Kelva beach known by the names Kelve and Kelwa is the real deal. Kelwa Beach is located about 80 km north of Mumbai.
This beach is in the Indian state of Maharashtra has many secluded areas although it is also a popular weekend destination for visitors from Mumbai, Gujarat, and the surrounding areas. The beach stretches for roughly 8 kilometers. This beach is perfect for people who love enjoying the beach without the crowds.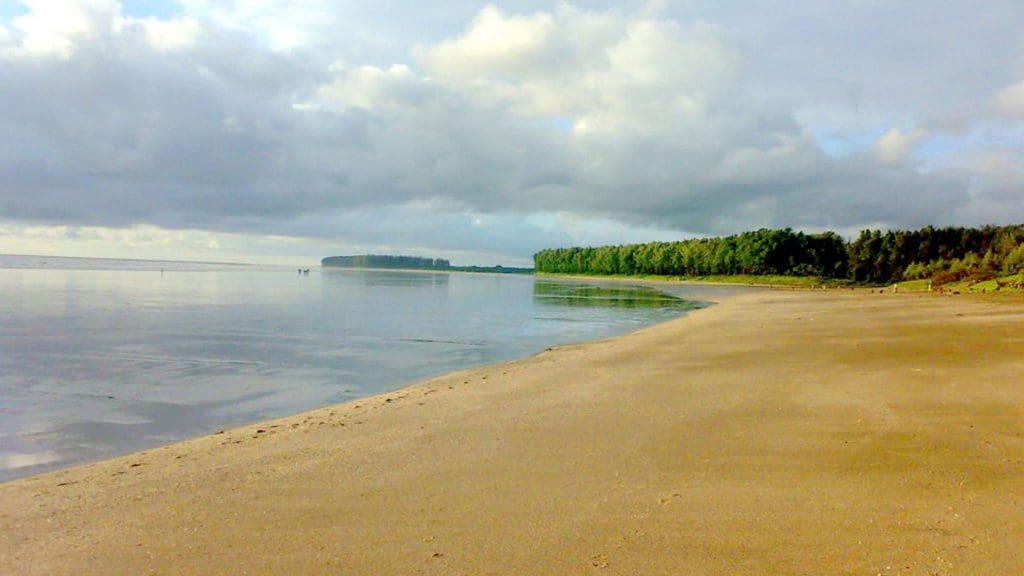 The Mandvi beach is a golden-brown sand stretch that runs along with the southern point of Gujarat's Kutch district and is the perfect spot for newlyweds.
It is located south of Bhuj, which is an important intersection. The quiet beach is a welcome addition to the town for visitors. With the sunset and the bustle of snack stalls and balloon sellers, the evenings are especially enjoyable. Explore these beautiful beaches without the hustling and bustling crowd.
Newlyweds who dream of spending their days on the water should consider celebrating their honeymoon in the secluded beach, where duos can cozy up in a hammock and sip fresh coconut water.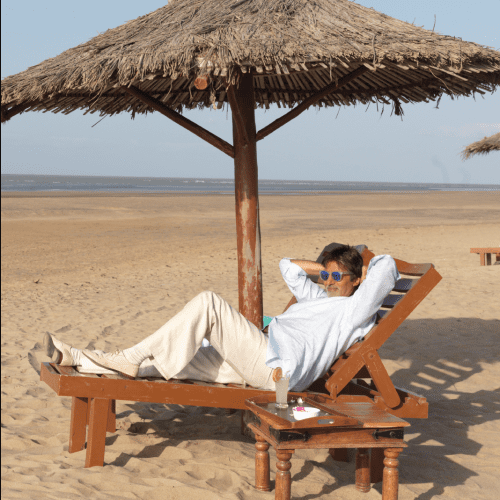 Vallikunnu beach, Kerala
Kerala offers some of the world's best beaches, which are serene, quiet, and enchanting – just what newlyweds want. At the Vallikkunnu beach in Malappuram district, you can surf, tan, create sandcastles, or simply sift sand through your toes. The Kadalundi River and a beach resort built in the middle of a coconut grove are the main attractions here.
There is a beautiful Bird Sanctuary, which is only a short distance away where several hundred bird species can be found. Whimbrels and Brahminy Kites are an attraction and can be spotted. There is a wide variety of mussels, crabs, and fish to be enjoyed.
Known for its brilliant sunsets and languid waters, this lovely beach is tailor-made for newlyweds. Anything you do here will relax you and help you unwind.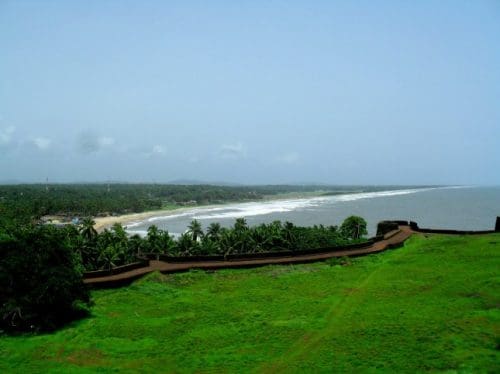 Chandipur beach, Odisha
Chandipur Beach is unlike any other. The waters of the sea recede up to 5 km during low tides, allowing tourists to walk on the seabed. This one-of-a-kind phenomenon aids the beach's similarly one-of-a-kind biodiversity. Horseshoe crabs, starfish, and sea urchins, to name a few, can all be found there.
What's more, the 'Vanishing Sea' phenomenon occurs twice a day and when the waters recede at low tide, couples can grab the opportunity to walk into the sea, even ride a bike or drive a car! The very notion of being able to venture fearlessly into the seabed is an awesome experience.
The spectacular seashore lends an air of romance and idyll to Chandipur's unexplored coastline. Relaxing together on the soft white sands, newlyweds can watch the sea recede and advance with the tides is a memorable experience.
Whether you and your spouse are looking for a relaxing honeymoon or one filled with adventure, Chandipur Beach has you covered. Here, you can simply relax on soft powdery beaches or explore sand dunes, rocky coasts, verdant Casuarina groves or get a glimpse of a wide range of biodiversity – the rare Horseshoe crab and tiny red crabs to name a few.
The beach is well known for its seafood. Couples can try out the small beach shacks peppering the shore for mouthwatering Odisha-style fried prawns and pomfret.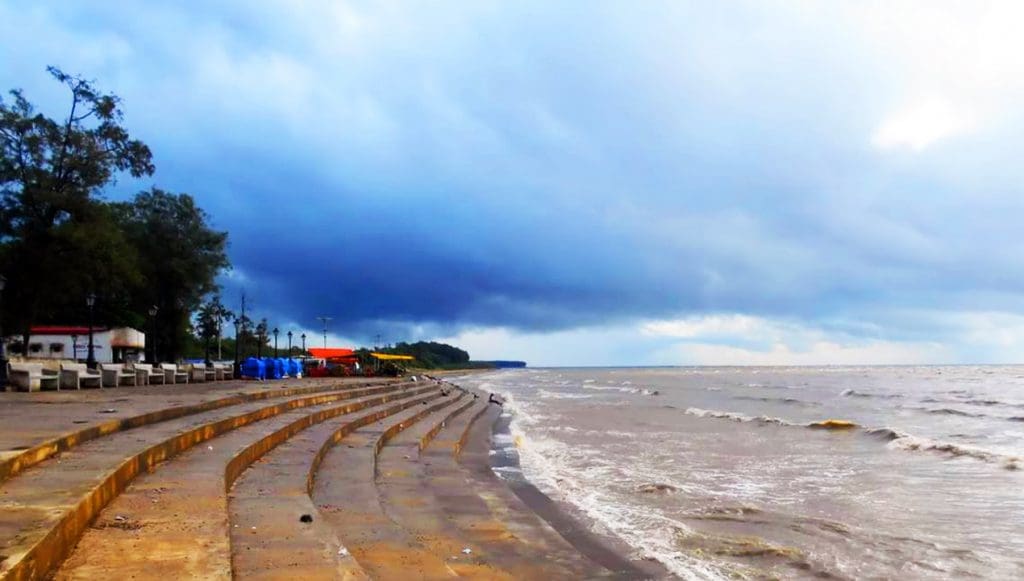 Karaikal Beach is a prominent beach in Karaikal, Puducherry and is so in demand by newlyweds. It is located on the coast of Karaikal city in the Bay of Bengal and is considered amongst India's best beach honeymoon destinations. The Karaikal sandy beach is one of the most beautiful natural beaches in Tamil Nadu's south-eastern region. Activities such as kayaking, boating, and canoeing are among the many things to do at Karaikal Beach.
Couples can pass the time boating, filling up on wonderful local dishes, or simply sunbathing by the seaside. There are attractive seats made of trunks of trees by the walkway on one side and a lovely flowing river with fishing boats on the other.
There are good lighting arrangements by the walkway which makes an evening stroll extremely attractive. When one has explored the beachfront, a trip to the mangrove trees on the backwaters is a delightful excursion.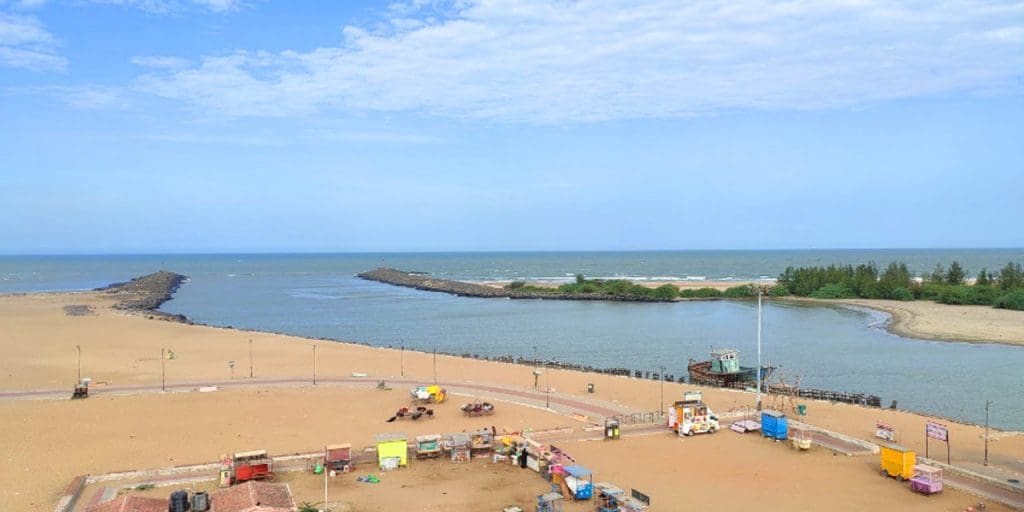 Known for its special dark sandy beach, the Tilmati beach in Karwar is located in Uttara Kannada district of Karnataka. The beach is dubbed Tilmati because the sand looks like black sesame. The number of people visiting this beach is far lower than that of adjacent beaches. Rated amongst the best honeymoon destinations, the beach is noted for its stunning sunsets and breathtaking views of the sea. It's great for newlyweds who want to spend some time relaxing and unwinding.
This beach is a great choice for honeymooners looking for both relaxation and adventure. There is a lovely 1 km hike to Majali Village as couples cross a small stream, then climb a small hill with the Arabian Sea on one side.
During the day, newlyweds can walk to Majali Village to enjoy activities like kayaking, rowing, pedaling, and nature walks. There is also the chance of taking a romantic boat trip. Adventure activities include rock climbing, dolphin watching, bird watching, and a cruise ride.
Because of the presence of the elite society and government bureaucrats, Elliot Beach is regarded as a good and clean stretch of beach. Within a one-km radius of Velankanni Church, the Karl Schmidt Memorial, and Arupadai Veedu Temple, this is a relatively busier beach with visitors going to this beach near the Marina. This is a popular area for visitors to spend their evening hours.
Newlyweds can enjoy beautiful ocean views and many architectural wonders like the Ashtalakshmi Temple and the Velankanni Shrine. Couples can try the many tasty treats at local snack stalls and restaurants serving great South Indian cuisine.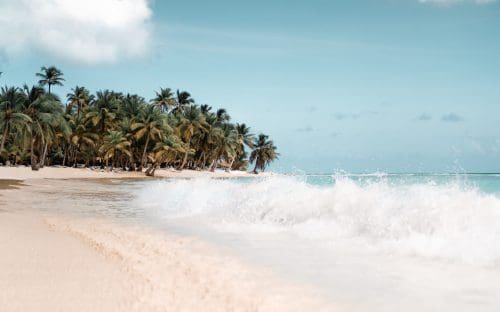 Here is a coral paradise of the Lakshadweep archipelago that is a tropical fantasy in a brilliant blue sea – just made for newlyweds. On the international trade route between the Persian Gulf and Sri Lanka, the uninhabited Island of Kiltan is located 51 km northeast of Amini Island.
A high storm beach can be seen on the island's northern and southern ends. The island is lush with vegetation and fertile. In Kiltan, the summer nights are warmer, and it is common for people to sleep outside their homes, on the beaches.
You too can step into the wild side, and sleep outside on the sand as you say hello to the stars.
The beach offers the best of both worlds: a laid-back setting and great local food with different appeals to a different kind of couple. One of the most secluded romantic getaways, you and your spouse can relax on the soft sands, hear the waves washing against the shore and enjoy the folk dances and culture of the inhabitants.
A picture-perfect destination, Wandoor beach is located 25 km from the airport and is one of Port Blair's most secluded destinations. Amongst the best romantic beach getaways, Wandoor itself is isolated and can only be reached by travelling down winding roads through the woods. The trip to the beach is spectacular because you're occasionally greeted by a sudden jump of wide blue sea visible through the forest canopy.
With colourful corals to explore, natural caves carved by high tides to tour and trails to hike, the Wandoor beach is a great place to vacation with your new spouse. Newlyweds can sprawl across miles of shoreline or enjoy short treks through the thickets or just walk along a scenic shoreline.
Newlyweds who desire privacy can feel perfectly comfortable in the wide expanse of the seaside with no one else for long distances. An occasional swim in the calm blue waters is truly refreshing, and there are changing rooms and sit-outs built for visitors.
Read More: Discover your India