Jaipur, which is the capital city of Rajasthan is a city with its own magnificent grandeur and majestic history. It is a city that sings the glory of great Indian kings and every atom of its soil carries the spirit of sacrifice.
The City of Jaipur is a remarkable instance of indigenous city planning and construction of the 18th century as it was designed in a grid model according to traditional Indian Vastu Shastra – the Hindu science of architecture.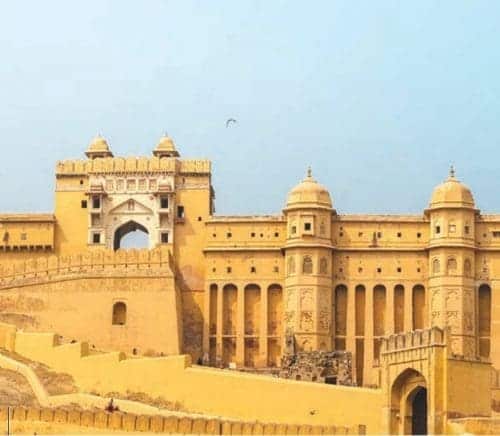 'The pink city', 'Paris of India', and in the great physicist Dr. CV Raman's words 'The Island of glory' is located just 167 miles from the capital of India, New Delhi. It holds iconic monuments and is designated as a 'world heritage site' by UNESCO in July 2019.
It serves as one of the most famous tourist destinations in India and also is a part of the golden triangle tourist circuit with Delhi and Agra being the two other cities of the triangle.
History
It was named after the Rajput ruler Jai Singh II the ruler of Amer who also founded this city in 1727. The king shifted his capital from Amer to Jaipur due to the growing population and scarcity of water. It took four years to complete the construction of major roads, offices, and palaces.
Divided into nine blocks, this city contained two blocks for state buildings and the rest for the public. The city was painted pink during the rule of Sawai Ram Singh I to welcome HRH Albert Edward prince of wales in 1856. Finally, it became the capital of the Indian state of Rajasthan in 1956 after its independence from the British.
Culture
The heritage city of Jaipur is a fascinating mix of tradition, culture, and urban finish, even as it modernises and blends the old with the new. From its food to clothes, from jewelry to shoes, from art to literature this city has it all. If you want to experience the royal treatment by yourself, then welcome to this city of the most democratic country in the world which still offers you a gist of royalty with its nature and serves your sight with the glorious palaces and forts, once belonging to the Maharajas. 
Fairs and Festivals
You can witness a large number of fairs and festivals here, mostly belonging to the Hindu culture ready to mesmerize you. Some of the festivals and fairs are Teez, Sitala Mata fair, Mewar festival, Nagpur festival, Desert festival, etc.
Art and Handicraft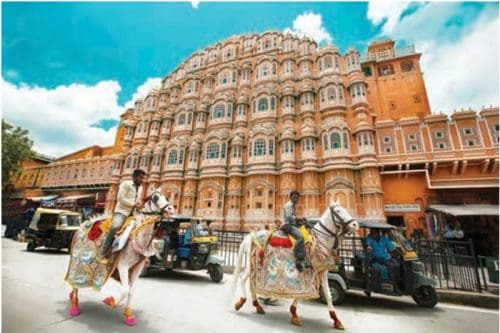 The famous art and handicraft of Jaipur are carved silver jewellery, Kundan, Meenakari jewellery, wood crafts, blue pottery, and leather goods. Apart from these traditional master crafts, handlooms like zardozi, zari, and bandhani also attract shopaholics. While one of the special artistic creations of Jaipur is bagru block printing and miniature paintings.
Cuisine
Showcasing one of the most royal cuisines in the country, the Jaipuri cuisine consists of its famous 'lall maas', a meat delicacy as well as culinary delights like 'dal-bati-churma', 'missi roti', 'ghewar', 'gajak', 'chaugun ke laddoo', etc.
10 PLACES TO VISIT IN JAIPUR
Hawa Mahal
Built in 1799 by Maharaja Sawai Pratap Singh this palace contains a five-storey exterior and nine hundred fifty-three windows traditionally referred to as 'jharokhas.' This palace was specially built for royal ladies who can easily watch everyday life and festivals celebrated on the streets without being seen by the public. At the top of Hawa Mahal, you can catch a glimpse of the City Palace and Jantar Mantar.
Timings: 9:00 Am to 4:30 Pm every day.
City Palace
Located at Jaleb Chowk, Jaipur, this palace of complex and unique structures is an amazing architectural wonder.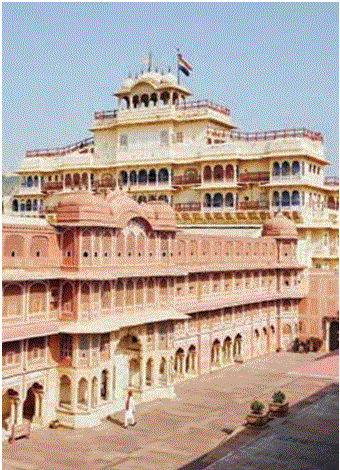 Until 1949 this beautiful palace served as the ceremonial and administrative seat of the Maharaja of Jaipur. A blend of Rajput and Mughal architecture can be observed here. It consists of unique courtyards, buildings, pavilions, and many temples.
Timings: 9:30 Am to 5:00 Pm every day.
Amber Fort 
Located in Devisinghpura, this giant fort with architectural brilliance is built on a hilltop setting. In 2013 this fort was declared a UNESCO world heritage site.
Several buildings of this fort were influenced by Mughal architecture. Some of the structures of this fort include the Sheesh Mahal, Sukh Niwas etc. You can even enjoy a light and sound show in the evenings, both in Hindi and English.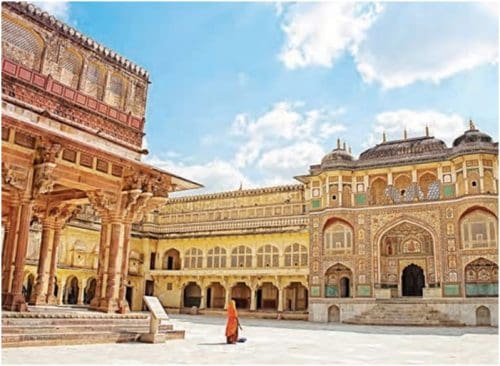 Timings: 9:00 AM to 6:00 Pm.
Jantar Mantar
Jantar Mantar is a UNESCO world heritage site and this site features the world's largest stone sundial. It contains 19 astronomical instruments and with the help of these instruments, one can observe the astronomical positions with the naked eye. It was built in 1734 by Maharaja Sawai Jai Singh and is located in Kanwar Nagar, Jaipur.
Timings to visit: 9:30 Am to 4:30 Pm every day.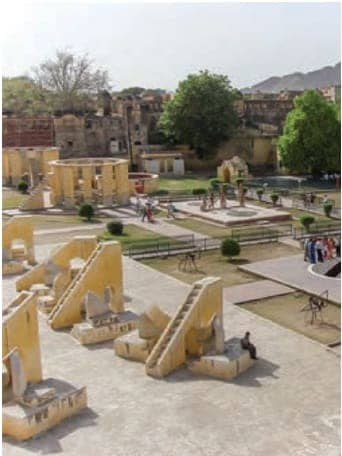 Jal Mahal
Jal Mahal literally translates into 'the water palace' and is beautifully set in the Man Sagar Lake in Jaipur city. It is a five-storey building built with fine Rajput architecture.
Four storeys get submerged underwater when the lake is full and only the top half can be seen. You can enjoy the picturesque view of this palace by taking a boat ride on the Man Sagar Lake. 

Rambagh Palace
Located at Bhawani Singh road, this palace was once a royal hunting lodge, and later became the majestic residence of the Maharaja of Jaipur. Currently, this palace is serving as a grand luxury hotel.
Choki Dhani
Spend a day in Choki Dhani and experience the rural Rajasthan here.
On offer are authentic Rajasthani foods, folk music, puppet shows, dance performances, magic shows, art and crafts, and a lot more.
Timings: 5:00 Pm to 11:00 Pm every day.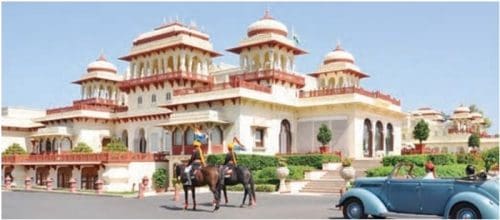 Birla Mandir
Located at Jawaharlal Nehru Marg, Tilak Nagar, this Laxmi Narayan temple made with white marble is one of the most beautiful temples of Jaipur. You can observe various scenes and quotes from Bhagwat Gita depicted on the temple walls.
Timings to visit the temple are: 8:00 Am to 12:00 PM and 4:00 Pm to 8:00 Pm.
Galtaji Temple
Also known as Shree Galtha Peetham, It serves as a Hindu pilgrimage located just ten kilometers away from Jaipur in the Aravalli Hills. This temple consists of a series of ancient Hindu temples at one place exhibiting splendid architecture and a peaceful environment.
Timings: 5:00 Am to 9:00 Pm every day.
Anokhi Museum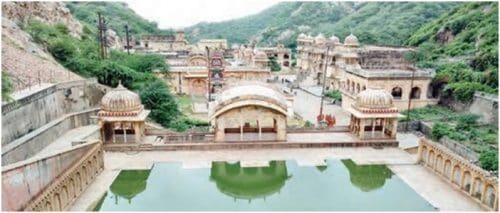 Located at Kheri Gate, Amber, this museum is dedicated to hand printing and woodblock printing. It also contains rich artifacts, photographs, tools, carvings etc.
Anokhi museum consists of the world's best block-painted fabrics and garments. Anokhi even has a brand of its own and set up shops all across India. The museum also holds a UNESCO certification with the purpose of celebrating the rich craft and culture of Rajasthan.
Timings: 10:30 Am to 5:00 Pm (Tuesday to Saturday) and 11:00 AM to 4:30 PM (Sundays). Closed on Monday.
Read More: Latest