Dubai boasts an impressive range of culinary experiences, with a diverse mix of international cuisines and local Emirati cuisine.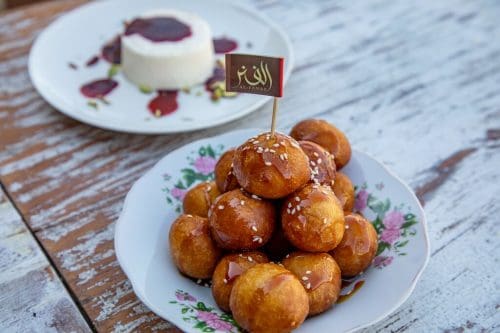 The city is home to an array of dining experiences, from restaurants championed by world-famous chefs to homegrown Dubai talent showcasing the city's 200+ nationalities and diverse flavours feeding into its rich culinary tapestry.
Dubai has witnessed a significant rise in the trend of homegrown eateries in recent years. These eateries are typically small, locally-owned establishments that are known for serving unique and innovative dishes that are inspired by both global cuisine and the region's rich cultural heritage. The trend towards homegrown eateries has been driven by a growing interest among locals and tourists in experiencing authentic cuisine that reflects the city's diverse cultural landscape.
Embark on a culinary journey and discover the top places in Dubai where you can indulge in Emirati cuisine and experience the true taste of the Emirates.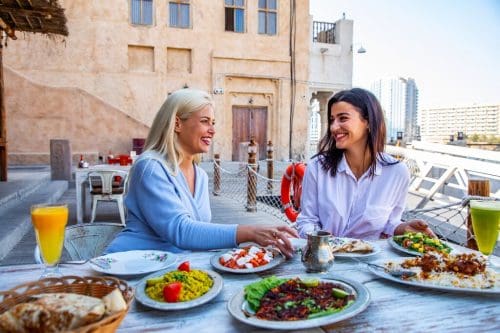 Arabian Tea House
Nestled in one of Dubai's oldest neighbourhoods, the Arabian Tea House is a popular eatery and one of the best places to try authentic Emirati cuisine and a piping hot cup of traditional Arabic coffee. The atmosphere alone is enough to draw you into this quaint little café. It offers more than 150 different types of tea and drinks and mouth-watering dishes like reEmbark on a Gastronomic Journey and discover the Top Places in Dubai to Indulge in Emirati Cuisine.gag bread, a tempting slice drizzled with honey and stuffed with egg and cheese, and khabisah, a sweet blend of sautéed flour and molasses.
Siraj
Siraj, a restaurant in Souk Al Bahar, fuses contemporary cuisine with traditional Emirati flavour. The cosy and welcoming atmosphere of the restaurant is a reflection of traditional Emirati hospitality. The grilled saffron prawns, one of their hallmark dishes, are to die for and are perfectly spiced with the appropriate combination. You may also sample the lobster kibbeh, chicken biryani served in a flatbread packet, and mouhalabiya, a rich 24-karat gold honey-drizzled Lebanese milk pudding.
Al Fanar Restaurant and Café
Nestled in Dubai Festival City, Al Fanar Restaurant and Cafe takes diners on a culinary journey back in time. Step into the recreated ambience of a traditional Emirati village and relish in the delightful flavours of dishes prepared with age-old recipes. With a varied menu to match, featuring Emirati classics such as maleh nashef (salted fish in tomato sauce) and jesheed (baby shark with Arabic spices), Al Fanar offers a quintessential Arabian dining experience.
Local House
Established in 1997, this restaurant is a longtime local favourite. The ambience of this place pulses with Arabian hospitality in every corner and Instagram-friendly backdrops. At the entrance, you will find the oldest buckhorn tree in Dubai. We suggest having the camel burger and ice cream for foodies who like to try unusual things. The restaurant also offers a wide range of other traditional dishes, including seafood, starters, salads, sandwiches, burgers, and desserts.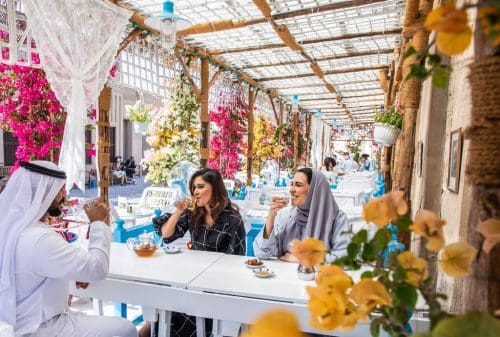 Bait Maryam
Nested within a prime location in one of Dubai's newer neighbourhoods, Bait Maryam promises a taste of true Arabian hospitality. The restaurant is helmed by Salam Dakkar, who is award-winning in her own right, having clinched the MENA region's best female chef title by the World's 50 Best in 2023.
To Chef Salam, the venue serves a slice of home, as it is named after her mother and inspired by many dishes and keepsakes from her childhood.
Prepare yourself for a feast and tuck into mouthwatering portions of manakish, falafel, lamb chops, and other Levantine specialities with hot potatoes or fried eggplant. Don't pass up the dainty kunafa rolls with creamy ashta and a garnish of pistachios if you have a sweet tooth; they are exquisitely presented and delectable.
Read more: Latest